You can have it all on an Allure of the Seas cruise!
Some people like to party. Others enjoy lounging. I prefer excursions. That being said, some want a family-friendly atmosphere. Being that we are all individuals, it's no surprise that we vary on our cruise preferences as well. Royal Caribbean's Allure of the Seas caters to these differences by offering all-encompassing cruise options. With its many ambiances, multitude of activities, and awesome amenities, Allure of the Seas is the perfect way to get out of town and unwind. Here are a few reasons why Allure of the Seas is one of our favorite cruise options–
A Little Bit About Allure of the Seas
Credit: Wikimedia Commons, Jonathan Palombo
Of course before you book the Allure of the Seas, it's important to evaluate each of the options. Allure of the Seas has quite the selection for customization. Depending on who you are traveling with, you will want to adjust these accordingly.
Clocking in at a whopping 225,282 tons, Allure of the Seas is a majestic beast in terms of cruise ships. Until May 2016 when Harmony of the Seas took over this title, it was the world's largest cruise ship. Nonetheless, Allure still offers one of the best options on the market. At double capacity, the ship carries 5,492 passengers, or 6,452 when every berth is full.  Although this would seem to make this ship overly crowded and noisy, nothing could be further from the truth. The ship is uniquely divided into seven distinct neighborhoods, each of which has its own ambiance and vibe. You definitely will not want to miss the opportunity to hop aboard Allure to see for yourself.
Travel Itinerary
Allure of the Seas has two main options for a travel itinerary. While both trips are seven nights each, the port locations can vary depending on your preferences and selection. The Royal Caribbean website lists these two itineraries:
1. Eastern Caribbean Cruise – this itinerary departs from Fort Lauderdale, Florida or Miami, Florida. The ship ports in Nassau, Labadee, and Falmouth over the course of seven days. Occasionally, the trip may go to St. Maarten and Puerto Rico.
2. Western Caribbean Cruise – this itinerary also departs from Fort Lauderdale or Miami, Florida, but is slightly different. Rather than stopping in Nassau, the Western Caribbean Cruise ports in Labadee, Falmouth, and Cozumel. Occassional itinerary switch-ups may offer the potential for stops in Puerto Costa Maya, Mexico and Roatan, Honduras.
Regardless of which option you choose, Allure of the Seas promises fun and sun! However, be advised that the itinerary is subject to change based on Royal Caribbean policies and promotions.
Pricing Options
For starters, your lodging selection largely determines the overall price you pay. Inside cabin types are the cheapest, ranging from $500 to $1100. Following behind are outside cabins with a range of $800 to $1,200, balcony cabins starting from $700 to $1,400, and suites for the grand total of $2,000 to $2,250.
In researching the pricing options, we noticed that the Western Caribbean Cruise prices are slightly to painfully higher than those of its Eastern counterpart. For the most cost effective choice, select the Eastern Caribbean Cruise. Additionally, prices may vary based on which site you use to make your booking. You will definitely want to compare prices!
Allure of the Seas Features & Benefits
With so many decks, venues, and activities, it's difficult to choose which of Allure of the Seas' amenities to highlight. Nonetheless, we've done our best to narrow the list down to highlight the best of the best.
Spacious Cabins
Credit: Wikimedia Commons, Rennett Stowe
Allure of the Seas will rock you to sleep each night.  Even though the waves work their magic, the offering of cabins assists in your beauty sleep as well.  In fact, Allure has over 20 cabin combinations to make your stay as comfortable as possible. The four most common options are inside cabins, outside cabins, balcony cabins, and suites.
A standard cabin contains two twin beds that convert to queens, a sitting area, and bathroom. Within the room, complimentary Wi-Fi, television, an iPod dock with speakers (compatible with iPhone 5 and above), and a hair dryer wait for cruise goers. Of course, each room is able to call room service, although whatever you order is not complimentary. As you can see in the picture above, the standard cabins are apartment style, with neighboring balconies allowing for interaction with fellow travelers.
Similarly, if you wish to travel in style aboard the Allure, a suite is the best option. Although more expensive, staying in one of Allure's many suites has its perks. These include a free cocktail hour each night from 5 PM to 8:30 PM, priority check-in, reserved theater seating, a private sun deck, and an exclusive reception. If that doesn't make you want to stay in a suite, perhaps the complimentary luxury bathrobes or free dining in the suite-reserved Coastal Kitchen will.
Reviewers mention a few notes of importance. The rooms can be extremely tight to luxuriously spacious. Handicap accessible rooms are available for guests with mobility restrictions. In addition, travelers note that the noise level depends on which area of the boat in which you stay. Nonetheless, Allure is sure to have a room with the comforts you want and deserve.
Comfort Foods
Credit: Wikimedia Commons, Makele-90
Coupled with the spacious cabins, Allure's food selections prevent homesickness. Dining options abound, with options for fast food all the way up to a fancy dining experience.
Formerly the three-deck Adagio Dining Room, Allure of the Seas has revamped the ship to now have three main dining venues for the general public. These are Silk, The Grande, and American Icon. Despite their different locations, each of the restaurants features the same exact menu. The main differences are decor and time.  From 6 PM to 8:30 PM, diners can choose to eat at Silk or The Grande. This differs from American Icon, which seats diners from 5:30 PM to 9:30 PM, but requires that gratuities be pre-paid.
Within the three major dining areas, foodies can expect dishes such as bay scallop gratin, lobster bisque, chilled banana and rum soup, and prawn cocktails. Beef tenderloin, roasted duck, shrimp ravioli, and corvina fillet are a few of the unique options that diners enjoy most. There are also traditional options, including salads, linguini, chicken, salmon, beef sliders, and steaks. Desserts may include chocolate souffle, strawberry cheesecake, lemon pie, and many sugar free options.
If that isn't enough to make your mouth water, not to worry. Allure of the Seas has more restaurants than we can name. Here are a few of the highlights:
Cafe Promenade:  Night owls love this 24 hour spot.
Sorrento's Pizzeria: Open until 3 AM, Sorrento's is a favorite of club goers and teens.
Boardwalk Dog House: This hot spot features Austrian style wunderdogs (or a skinny wiener on a hollowed out bun).
Park Cafe: Diners appreciate Park Cafe's hot panini and build your own bagels.
Wipe Out Cafe: Wipe Out offers several fast food options for those who just need a quick bite to eat.
No matter what you have a hankering for, Allure is sure to meet this desire. Reviewers rave about the number of food options. Additionally, they assert that The Boardwalk sells cheaper, more casual fare, while Central Park seats the more sophisticated diner.
Diverse Amenity Options
Credit: Flickr, Rennett Stowe
As we mentioned, Allure of the Seas is separated into seven "neighborhoods." These sections help travelers understand the immensity of Allure, without overwhelming them by the vastness of the ship. While it would take many reviews to fully cover each neighborhood, here are a few of the highlights:
1. Boardwalk Neighborhood
This locale is just as it sounds. Inspired by Coney Island, the Boardwalk neighborhood is perfect for all ages. Family-friendly restaurants, shops, the AquaTheater, two 43′ rock-climbing walls, and even a functional carousel sit within the vicinity.
2. Central Park
Flora filled and brimming with green, Central Park brings a shady spot to the otherwise sunny cruise ship. Over 12,000 plants reside in this neighborhood, 60 of which are trees. You can find upscale restaurants and shopping here.
3. Royal Promenade
The Royal Promenade is certainly something to see! The hydraulically operated Atlas Bridge teams up with a giant copper globe to create a gorgeous focal point for this neighborhood. You can find guest services, retail outlets, restaurants, and even parades here.
4. Pool and Sports Zone
The Pool and Sports Zone is great for jocks and kids alike. Four unique pools give trekkers a choice of their relaxation type. For those with a heart for adventure, a zipline, H20 Zone, surfing simulator, basketball courts, a glass-enclosed Ping Pong area, and miniature golf course lay waiting in this neighborhood.
5. Vitality at Sea Spa and Fitness Center
This neighborhood is all about health and wellness. From the spa, travelers can buy Swedish massages, waxing, acupuncture treatments, shaves, hair and nail treatments, facials, and much more. The fitness center is complete with all of your typical workout machines. For an additional fee, travelers can sign up for classes like yoga, Pilates, kickboxing, and spin.
6. Entertainment Place
If you are the life of the party, Entertainment Place is a must! This neighborhood functions as the ship's nightlife. Cruise-goers are able to attend movies and performances as the Amber Theater or AquaTheater, jam to jazz music at Jazz on 4, go ice skating, catch a comedy show, gamble at the casino, or dance the night away.
7. Youth Zone
While many cruises seem to be geared towards adults, Allure of the Seas is sure to include the whole family. In the Youth Zone, kids have access to play areas, crafts, a science lab, sports, games, an arcade, and a children's theater. This neighborhood is a great place to send the kids if you and your honey want some relaxing alone time.
With activities, performances, and amenities grouped into common locations, Allure of the Seas makes it easy to try a bit of everything. If the Entertainment Place is getting too noisy, head on over to beautiful Central Park. The wide array of offerings allows you the flexibility to plan your day, your way.
Endless Activities
Credit: Flickr, Wilson Hul
The many neighborhoods are a testament to the various activities in which you can partake. It's safe to say that the ship never sleeps! You will be hard pressed to find a time when you don't have something fun to do within your grasp. Outside of taking a dip in one of the many pools like the one shown above, these are a few of our favorite activities:
Try your Luck
If you're feeling lucky, take a chance at gambling. The Entertainment Place's Casino Royale hosts 450 slot machines, table games, poker, and a bar and lounge. If you're a card shark, you can even enter the daily Texas Hold'em tournament.
Boogie on Down
Solarium is an adults only, open-air pool area. Don't let its tranquil appearance fool you though! Solarium quickly becomes Club 20, a pop-up disco with a DJ. Take it to the dance floor to show off your best moves.
Grab Dinner and See a Show
We recommend heading over to either Amber Theater or AquaTheater after you've gotten your fill for the evening. Amber Theater offers viewings of shows such as Mama Mia and Blue Planet, as well as hosting a rotating headliners show. AquaTheater, on the other hand, features 2,000 water nozzels. In Ocean Aria, acrobats perform daring feats. Be advised that these shows fill up quickly and are often standing room only.
Off-the-boat Excursions
While you could easily go on an Allure of the Seas cruise and be perfectly content to stay on the ship the whole time, don't miss out on off-the-boat excursions. Before you pull into port, be sure to book any day excursions. There are options for snorkeling, scuba diving, culinary tours, historical sites, nature walks, and interacting with the locals when you get off the boat.
For example, reviewers of Allure recount their Pearl Island adventure while the ship ported in Nassau. After a boat ride to the island, these trekkers found food options and beaches complete with snorkeling, canoeing, and kayaking.
It is important to note that most of these adventures are generally NOT included in the price of the cruise and cost extra. Henceforth, be sure you are ready to give your credit card digits to schedule port activities.
What People Are Saying About Allure of the Seas:
Travelers love Allure of the Seas. How could you not?!  Even though there are so many wonderful aspects of this cruise, there are a few things you should know. Here is our official list of pros and cons.
PROS
The kids program is second to none of any cruise ship. Travelers rave about the cruise staff's attention to safety and fun. It's also hard to beat the sheer number of things there are to do for kids and families. Age appropriate activities, games, sports, and scavenger hunts will keep your child occupied and entertained.
There is no such thing as being bored! The sheer number of activities, shows, performances, and excursions ensure something for everyone. If you need recommendations, don't hesitate to ask your cruise staff.
The neighborhood layout prevents crowding on the ship. As each section is dedicated to something different, tastes, styles, and even noise preferences can be accommodated by simply changing neighborhoods.
Travelers rate this Royal Caribbean cruise one of the best for the overall professional services, cleanliness, and quality of food and entertainment. Reviewers cite that this is the perfect selection for your first cruise, or your tenth cruise.
CONS
Even though some of the cruises' amenities and activities are included within the price of your stay, there are so many charges that are not. Travelers report being put off by the amount of up-selling and fees for customization of food, lodging, or excursions. To enumerate, everything from ice cream to build-your-own animals and Coach bags will rack up your bill if you aren't careful.
It may be different for the more expensive suites, but reviewers note that the walls of the cabins are thin. Expect to hear some noise from your neighbor's room.
In addition to thin walls, the less expensive cabins can be a tight squeeze.
By taking each of these into consideration, we believe the benefits far outweigh the drawbacks. Yes, there are some disadvantages to the Allure of the Seas cruise. However, the cons listed above are common complaints of all cruises. We believe the overall spotless reputation of Allure is reason enough to overlook the few grievances.
Alternative Cruise Ships
If, for whatever reasons, Allure of the Seas isn't your choice for a cruise, here are three reputable alternatives to consider.
Disney Cruises
Disney Cruises bring all of the enchantment of "the happiest place on Earth" (Disneyworld and Disneyland) aboard the ship. Perfect for families and adult Disney lovers alike, the Disney cruise line is jam-packed with fun.
Carnival Cruises
As the world's largest cruise line, Carnival knows how to keep its guests entertained. For families and all ages, Carnival specializes in fun and laid-back adventures. For those looking to save a few dollars, Carnival is one of the more affordable cruise options.
Norwegian Cruises
Norwegian Cruises are known for its free-spirited and plan-as-you-go trips. The brand specializes in choice, providing one of the most vast selections of dining and entertainment options per ship. Better yet, the cruise fare includes your choice of free Wi-Fi, dining, drinks, or onboard credit.
Ready to book your Allure of the Seas cruise?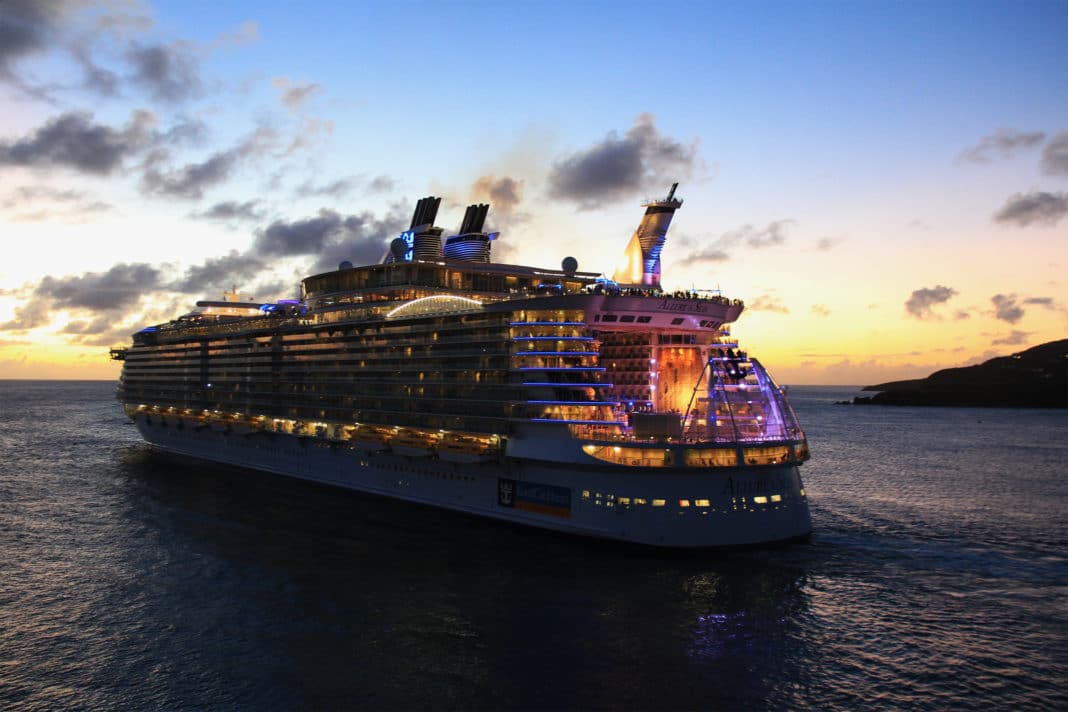 Credit: Wikimedia Commons, Andreas von Oettingen
If you want quality and excitement for an affordable price, book your Allure of the Seas cruise. Between the activities and comforts of home, Allure will not disappoint! It goes without saying that as the winner of the 2017 awards for Best Large Cruise Ship,  Best for Entertainment, and Best Individual Cruise Ship, Allure speaks for itself.
You can book your trip on Royal Caribbean's website. Once you've returned from your Eastern or Western Caribbean adventure and unpacked your bags, let us know how it went!
Bon voyage!
Related Article: Climb Aboard the Largest Cruise Ship in the World