Get Ready for a Wild Ride Onboard the Disney Fantasy Cruise Ship
All cruise ships boast in copious entertainment options, dining venues, and recreation activities. Yet, some are more formal and sophisticated than others. So much so that dragging in water from the pool area is frowned upon and unwelcome. For some, these upscale cruise lines are their cup of tea. For others, namely families with young kids, they can be a challenge. It can be difficult to find a cruise line that not only allows children to their goofy, silly selves, but encourages it. For families wanting to set sail on a ship that welcomes both kids and adults to unleash their inner child, then the Disney Fantasy cruise ship may be worth considering.
Why the Disney Fantasy Cruise Ship?
Credit: Disney
Simply the name of "Disney" brings smiles to faces. By this point, Disney is a household name. The Walt Disney Company produces not only movies, television programs, music, games, merchandise resorts, and theme parks, but also cruise ships! Leading the world in entertainment and family-friendly fun, Disney cruise ships are no exception. In particular, the Disney Fantasy ship is an adventure of its own where keeping travelers engaged and entertained is a priority.
Onboard this ship, fantasy meets reality. Dream about what would make your cruise vacation most enjoyable and memorable. The things you come up with are most likely already on Disney Fantasy. Kids can splash around at Nemo's Reef, watch Disney musical performances, and swim in Goofy, Mickey, or Donald's pool. The ship also offers tea parties with Cinderella and a pirate-themed dinner, so bring your princess dresses and pirate costumes with you on your next family vacation aboard the Disney Fantasy.
Features & Benefits
Staterooms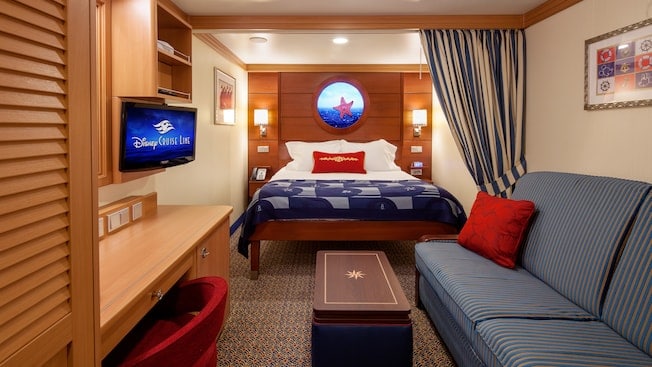 Credit: Disney
The staterooms available onboard the Disney Fantasy include inside staterooms, overview rooms, rooms with an additional verandah, and concierge suites. Within each category, guests can choose from a couple room layouts. For instance, the inside staterooms come in either the standard or deluxe option (note: the way Disney defines "standard" is much more spacious than how other cruise lines define "standard"). The oceanview staterooms come in the same standard or deluxe options. The only difference is, of course, the views.
Do you want a room with its own private balcony? Disney Fantasy offers staterooms with a verandah too. These additional sanctuaries (also known as private balconies) attached to your room will provide the fresh air and colorful sunrise views. All balconies come equipped with private furniture, so guests can sit down and stay awhile. In the morning, bring your cup of coffee, your morning breath, and your sleepy self onto your verandah to catch a wonderful sunset. It is conveniently outside your room.The most luxurious and spacious accommodations onboard the Disney Fantasy is the concierge suite options. All concierge rooms come with a verandah. Choose from the concierge 1-bedroom suite, the concierge royal suite, and the concierge family oceanview stateroom.
Dining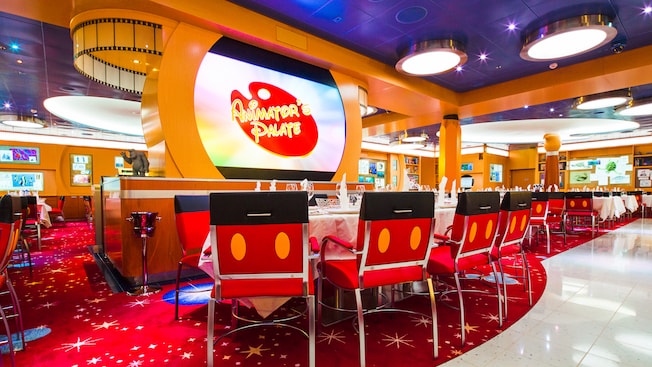 Credit: Disney
Dining options on the Disney Fantasy accommodate for the picky-eaters and the out-of-the-box eaters. You already know Disney loves kids. That's why most of their restaurants are like giant kids menus – filled with all the favorites of your little ones. However, parents don't worry. There are adult-exclusive restaurants that serve more sophisticated meals. Couples desiring a kid-free dining experience can venture to Palo for Italian cuisine or Remy for French cuisine. In both restaurants, they will be served gourmet food within an intimate setting.
Dessert before dinner, anyone? Stop by Sweet on You for a decadent dessert, including ice cream, cookies, and cupcakes. Another spot to grab smooth soft-serve ice cream in Eye Scream Treat (can you guess which Monsters, Inc. character this eatery is named after?). When your fuel is running low and you need a more substantial, but quick food option, swing by Flo's Café. There are three food options within Flo's café, including Tow Mater's Grill, Luigi's Pizza, and Fillmore's Favorites. Burgers, pizza, sandwiches, and salads from Flo's Café make great grab-and-go meals.
Cabanas is a buffet-style indoor restaurant that gets transformed to a standard table-service dining experience. Animator's Palate offers scrumptious food with a show. At this restaurant, guests can eat dinner while watching Disney characters come to life before their eyes. For more elegant dining options, the Royal Court and the Enchanted Garden are both sit-down restaurants with fine silverware, chandeliers, and meals fit for kings and queens.
Amenities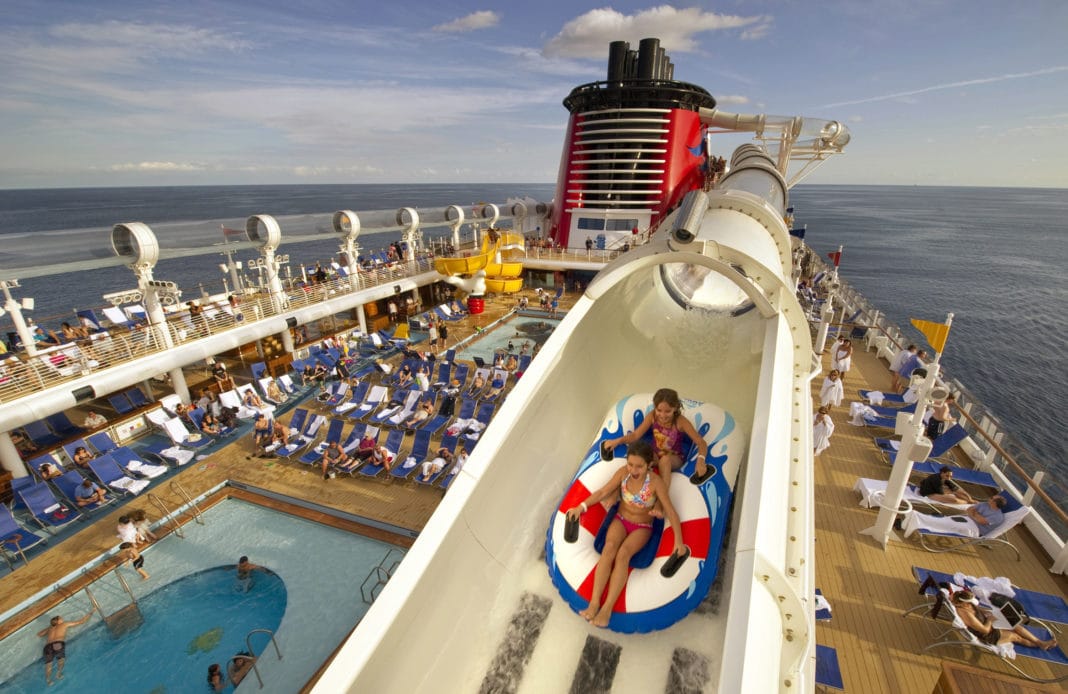 Credit: Disney
Beat the heat with a jump into Mickey's Pool, Donald's Pool, or Goofy's Pool. Splash around at Nemo's Reef. Grab a tube and whiz down the AquaDuck slide. When you aren't participating in the water activities, check out the activities offered on land (we mean, ship deck). Goofy's Sports Deck has a mini golf course, a basketball court, ping-pong tables, foosball tables, a running track, and a virtual sports simulator. If your kids love solving mysteries, then check out Midship Detective Agency. Midship Detective Agency is the place for investigators to put their examination skills to the test as they try to accomplish their given-mission.
Adults in need of quiet time can visit the private Quiet Cove Pool. The Quiet Cove Pool is a kids-free pool zone. Guests have to be 18 or over to enter this place of refuge. Adults can also enjoy the fitness center and spa. When your muscles are sore post-workout, treat yourself to an afternoon at the spa to soothe those tense muscles. 
Entertainment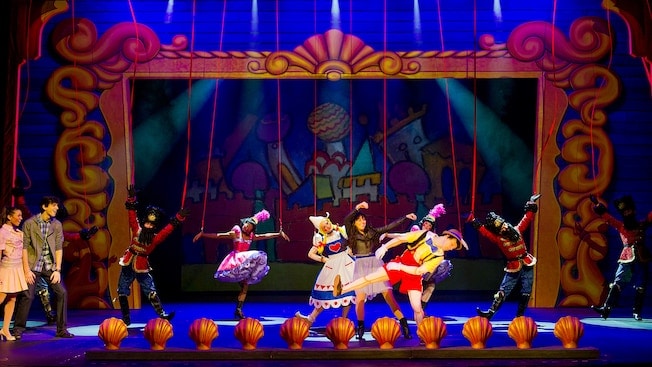 Credit: Disney
As far as entertainment, there are themed deck parties, live shows, meet and greets with Disney characters, and more. See Aladdin ride his magic carpet in the live musical performance of Disney's Aladdin. Catch a showing of Disney's Believe too. Different times of the year bring about different themes onboard the Disney Fantasy. For instance, come Halloween, the ship transforms into a spooky experience. New Year's Eye is another time of year when the Dinsey Fantasy goes all out. Every year, December 31 comes paired with music, dancing, and delicious food. After a special New Year's Eve dinner, join the deck party where there will be a lively celebration as passengers ring in the New Year. Of course, party hats and all the bells and whistles are a part of the New Year's festivities as well.
What People Are Saying About the Disney Fantasy
Most Travelers vacationing with their family appreciate the many activities for kids onboard the Disney Fantasy. There is no doubt that this cruise ship offers a great experience for kids. However, adult travelers vacationing without kids have stated that they do not recommend going on the Disney Fantasy in you are in their same situation – adults without kids.
Alternative Cruise Options
Disney Dream Cruise
A cruise on the Disney Dream will, of course, feature many of the same activities, amenities, and entertainment options as the Disney Fantasy. The Disney Dream has its own distinct restaurants, activities, and live performances as well. If you love the sound of the Disney Fantasy, the Disney Dream may be worth considering because it provides the same family-focused and family-friendly vibes.
Allure of the Seas
The Allure of the Seas is a part of the Royal Caribbean Fleet. If you are finding that the Disney Cruise line has too many kid activities and not enough places for adults to enjoy, then Royal Caribbean provides the happy balance between the two. The Allure of the Seas is another family-friendly cruise ship. It is tailored to both adults and kids.
Regal Princess
The Regal Princess is similar to the Allure of the Seas, in that it was built with kids and adults in mind. There is a sports court, boutique shops, an art gallery, original musical productions, a casino, a club, music, dancing, and even movies under the stars.
Dreams Really Do Come True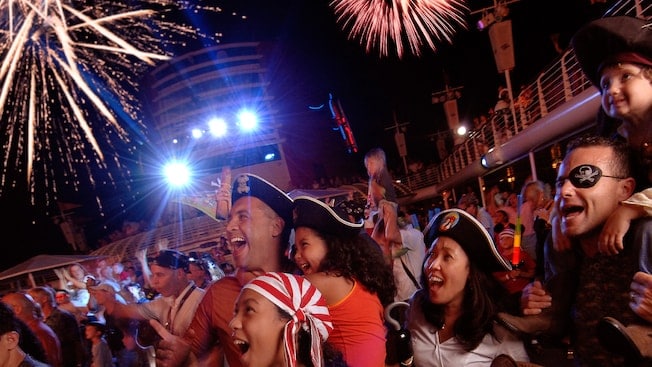 Credit: Disney
This Disney Fantasy review only scratched the surface of the wonders and excitement found on this ship. To experience the fun for yourself is something else altogether. Jump into Goofy's pool, get autographs from your favorite Disney characters, eat Disney-inspired foods, dine in Disney-themed restaurants, and watch a live Disney musical performance. For families looking for an eventful and Disney-full vacation, we invite you to consider climbing aboard the Disney Fantasy. Whether you are a child or an adult, we highly recommend considering this cruise ship. If you love Disney, then this cruise ship was designed specifically for you.If you have set sail on the Disney Fantasy, then please share about your experience in the comments sections below!
Related Article: Oceania Marina Review: Cruise Around the World in Luxury!