Choose the Celebrity Reflection and you won't be let down.
Cruise to Europe, Alaska, The Mediterranean or The Caribbean on Celebrity Cruises' ship The Celebrity Reflection. The Reflection marks the evolution of Celebrity's Solstice class; this ship offers new entertainment options,  changed layouts for public areas, and updated accommodations. We're impressed with the overall quality and deal that the Celebrity Reflection presents. Modern luxury is a theme throughout the ship. The not-so-cliche artwork creates a nice atmosphere inside the ship. For example, you'll be impressed with the beautiful tree (real and alive) inside the foyer with accents that are pieces of art.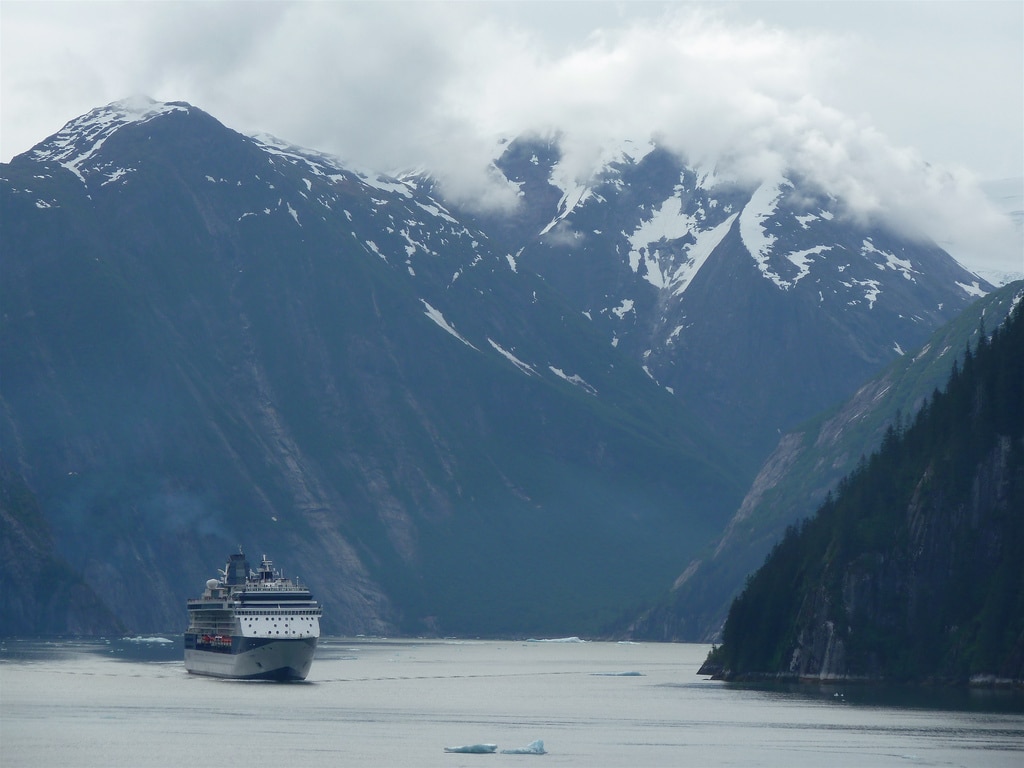 Why the Celebrity Reflection?
The Celebrity Reflection settles itself right in the middle of what we consider an all-around good deal. Here's what we mean: the destinations are exciting and worth seeing, the food is delicious, accommodations are nice, and entertainment is plentiful. Plus, the staff is courteous and works to keep the ship in tip-top shape. The Celebrity Reflection is cruising in luxury, but without the price tag that accompanies so many other other fancy lines. Plus, her size (over 3,000 capacity) means that the Celebrity Reflection can offer you plenty of entertainment options, and space to explore on board.
Features & Benefits
Staterooms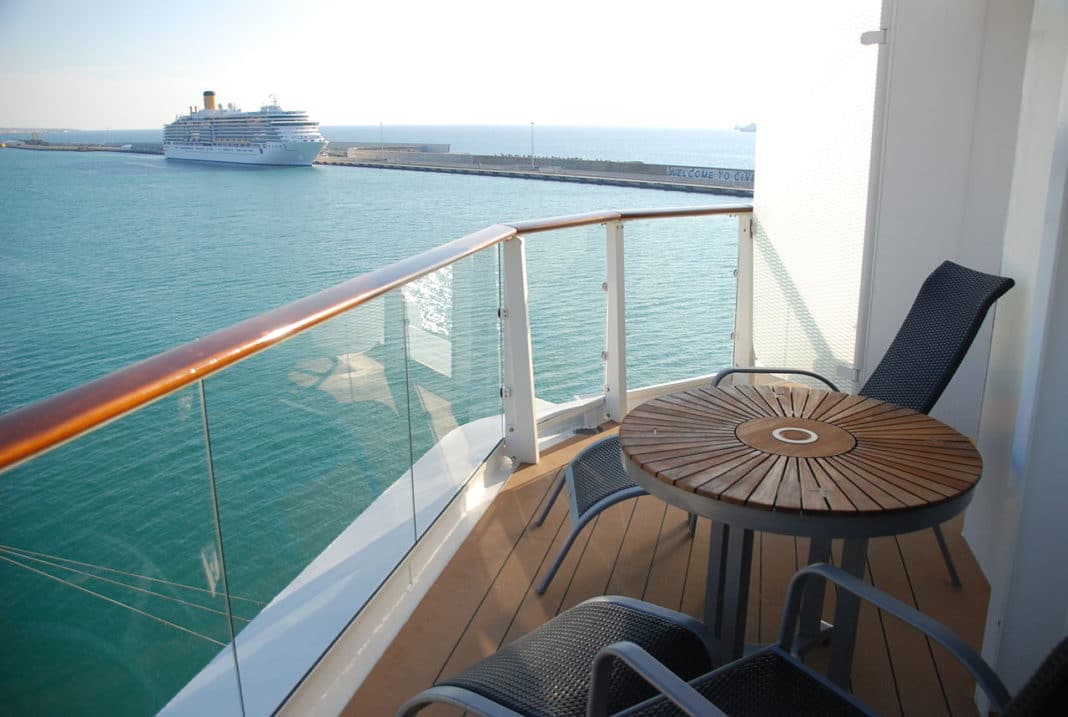 Choose your level of luxury here on the Celebrity Reflection. There's the typical choice of standard stateroom: window with the ocean view, or the cheaper inside room (since you'll get to spend time at any of the various "lounge areas" with plenty of opportunities for ocean gazing). Staterooms come equipped with a flat screen TV, twice-daily maid service, 24-hour room service, Celebrity Xhale bedding. You'll find a decent amount of counter space, and plenty of outlets.
Choose a suite and you'll find some extra perks: Luminae-private restaurant, Michael's Club Exclusive Lounge, and personal butler service. The suites also provide priority check-in and debarkation, reserved seating on Evening Chic nights, and in-suite breakfast, lunch and dinner.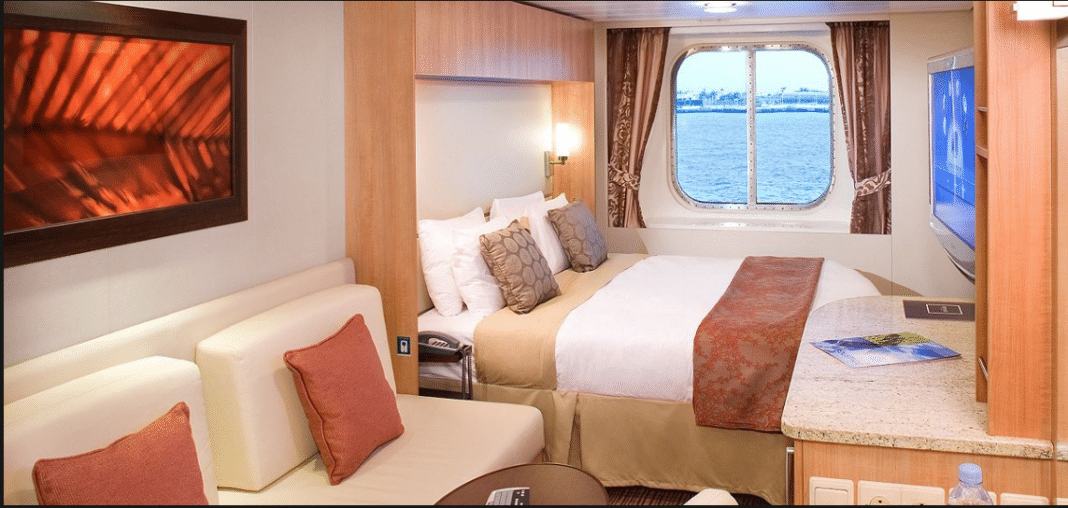 Credit: Celebrity Cruises
Beyond the standard rooms, you have options for various levels of luxury.  Of course, the rooms on these levels are different, but upgrading means you'll also have access to exclusive benefits around the ship. The Suite Class entitles you to VIP service in an exclusive lounge with complimentary cocktails. AquaClass staterooms give you the chance to experience spa-elements right in your suite and room. This also means you'll have access to the Persian Gardens (a beautiful, secluded lounge with fantastic view). The Concierge Class rooms promise access to exclusive events, in addition to a beautiful room with adequate space and extra furnishings. Another option, the Veranda Staterooms, means that you'll get your own truly-private veranda. In a Veranda Stateroom, you can order room service and enjoy breakfast outside with the sunrise over the ocean.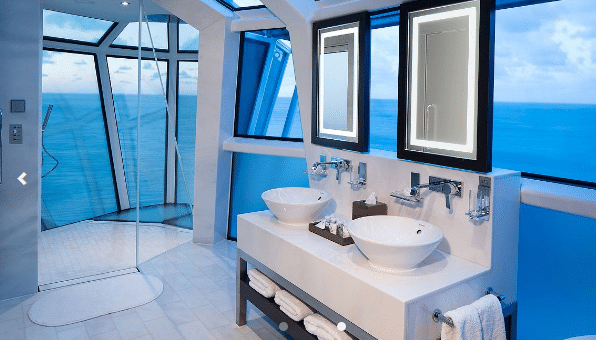 Credit: Celebrity Cruises
Want to travel in ultimate luxury on the Celebrity Reflection? Choose to stay in a Reflection Suite, the first two-bedroom suite in the Celebrity collection. You'll get a personal butler, private restaurant, and a lounge with huge windows and incredible views! Because it's exclusive, you'll be one of the limited passengers who get to access this part of the ship.
Dining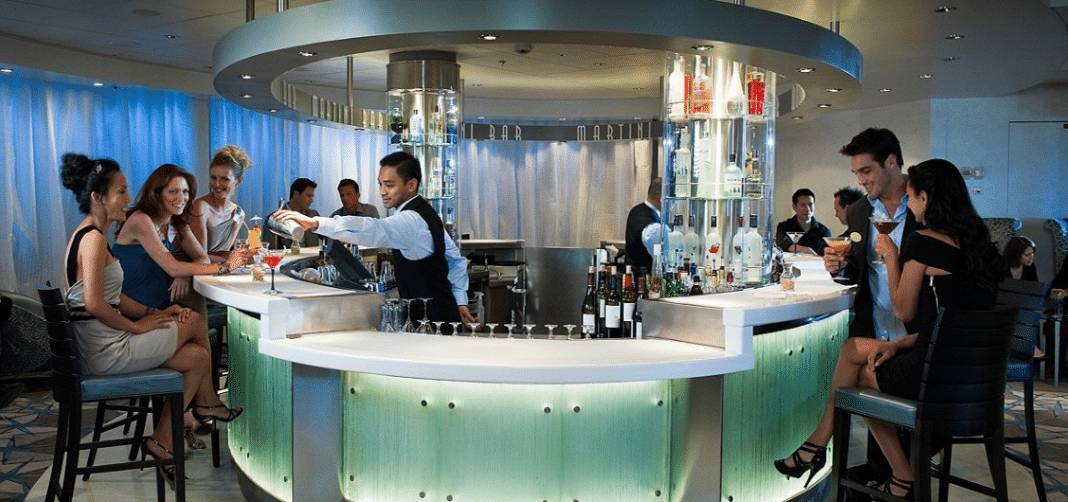 Credit: Celebrity Cruises
The Celebrity Reflection dining offers some good options for your three meals. You can also purchase a dining and drink package before you board. In addition, Celebrity offers for-a-fee specialty dining options if you'd like to be extra fancy or just try out something different.
Standard Dining Options
The main dining restaurant features a modern, sophisticated atmosphere (complete with a beautiful chandelier in the center!) You can choose between the early or later dinner. If you'd prefer, you can sign up prior for the Celebrity Select dining and have access anytime from 6 to 10. The menu here offers a pleasant variety, and the service is attentive and thorough.
The Oceanview Cafe offers an atmosphere that suggests "international market." The clean, sparsely decorated and furnished space provides a relaxed, open feel. Menu options change daily, and you'll find a great variety of different tastes in here.
The Mast Grill means you won't have to hit pause on your afternoon fun. Located right at the pool, you can grab sandwiches, burgers and the like here.The AquaSpa Cafe is your go-to spot for anything you need in between meals. Grab drinks, coffee,  snacks, juices, and smoothies here. You can even enjoy a yogurt parfait for breakfast on your way to the pool deck.
Specialty Dining Options
Credit: Celebrity Cruises
Some restaurants on the Celebrity Reflection remain exclusive to guests staying in various levels of suite accommodations such as the Blue Restaurant, and Luminae.
The following options are available in addition to the main dining options, but for a fee. However, they're unique and make for an extra-special evening. The Tuscan Grille of course offers great Italian in a beautiful atmosphere. Sushi on Five is a must-visit for sushi lovers. The Qsine restaurant has a really neat, quirky atmosphere that you'll want to see. In addition to these, the Murano specializes in French cuisine and offers some excellent variety dishes. Rich wood furniture, chandeliers, and white textured fabrics create the lovely atmosphere in Murano.
The Lawn Club Grill is a beautiful patio on the top deck. You'll get to dine alongside the beautiful green lawn. Here, you'll find tasty grilled dishes. The Porch Seafood Restaurant is your go-to for some great seafood. (You'll want to enjoy seafood here at some point, considering you're in the middle of the ocean!) And lastly, you can add some Asian-inspired variety to your vacation at Silk Harvest.
Amenities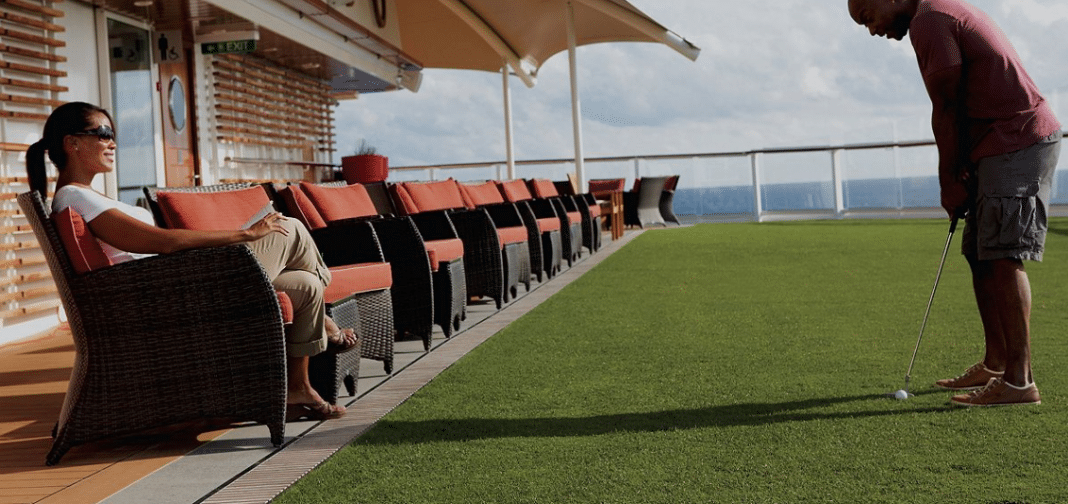 Credit: Celebrity Cruises
Spend some time outdoors on the deck. Out here, you can play basketball, ping-pong, or practice golf putting. Join others in a game of Bocce ball (and other lawn games) or play pool volleyball.  Lounge by the pool, or relax in the hot tub.
If you're curious, ship officers will show you some of the behind the scenes and teach you about navigation, recycling, and solar power.
You can check out the rooftop terrace. Up here, you'll find a lounge area with a huge television. Taste of Film happens here, so you'll want to check out what's playing on the big outdoor screen. It's also fun to see how many pictures you can make your way into when the photography crew comes around. Then, check them out displayed in the gallery before you head to dinner!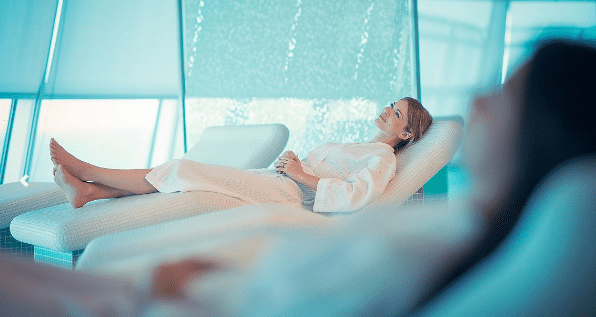 Credit: Celebrity Cruises
In addition to the outdoor area amenities, the Celebrity Reflection amenities continue inside. The Celebrity Reflection hosts the Canyon Ranch Spa Club. Make an appointment to treat yourself one day here. You'll also find a casino on the Celebrity Reflection: Fortune's Casino. Spend some time browsing the various boutiques and shops on "Shops on the Boulevard." Kids ages 3-5 have their own play area, too. Of course, there are plenty of bars with specialty drinks throughout. You'll also have access to a fitness area. The Celebrity Reflection deck plans reveals all the fun to be had on the top deck, as well as the bars, lounge areas and amenities on all levels.
Entertainment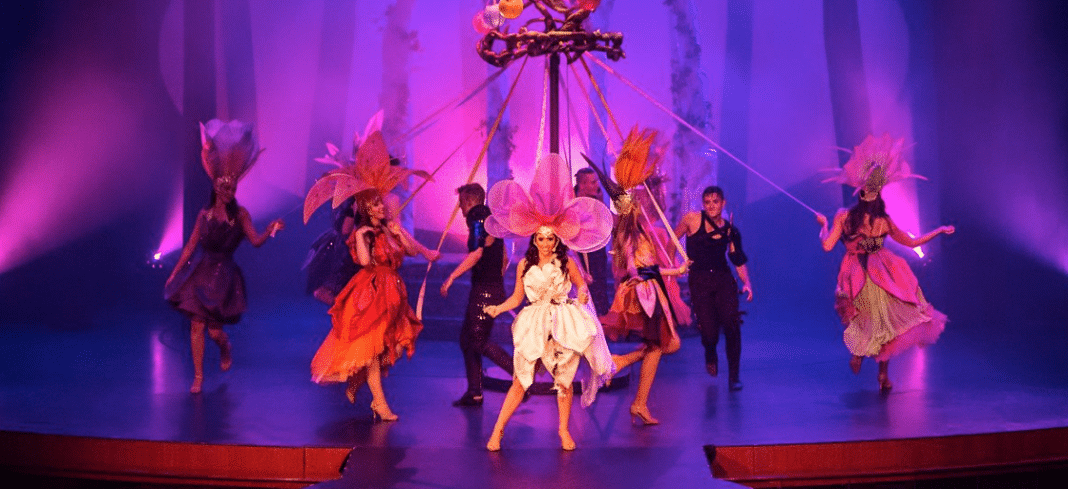 Credit: Celebrity Cruises
After dinner, head to the main stage theater, where all the world's a stage. Elyria is an adults-only performance with fantastic costumes, lights and fog machines for an over-the-top show. You can bring the whole family out for iMagic and Topper. You'll get to see some dazzling performances. Simply Ballroom captures your attention with a compilation of various dances with spectacular costumes and imaginative staging. The Celebrity Reflection Cruise also hosts nights of concerts: Star Factory, Life, and Rock City.
While there's plenty to do on the ship, your destination and excursions there are the highlights, too. Celebrity Reflection staff wants to make sure you get a unique experience with something that you'll enjoy. Ranging from a few hours to full days, you can choose your activity level: hike, explore waterfalls, enjoy a show, tour a castle, or eat some local cuisine. You can book these excursions (and excursion packages) from the extensive catalogue online, or the concierge on board can help you decide which options to choose!
What other travelers are saying about The Celebrity Reflection
Reviewers and other travelers comment largely with "excellent" and "very good" reviews. Families tend to love the amenities and active options, retirees appreciate the relaxation, and all vacationers love the service and cleanliness. Some passengers who have stayed in the staterooms have described the cabins as "outdated," with some signs of wear and tear. However, the attentive staff is a consistent positive. Some passengers didn't appreciate the extra hidden costs throughout (excursions and specialty dining), but others suggested that this luxury cruise line is still a good deal.
Alternative Celebrity Cruises
The Celebrity Edge will carry you away to the Caribbean while the Celebrity Eclipse will show you the world in the Mediterranean and Europe. These ships offer the excellent service, amenities and entertainment that Celebrity Cruises promise. The unique pool veranda on top of the Celebrity Edge, the Magic Carpet, and the private pools within set the Celebrity edge apart.
The Celebrity Equinox was voted the best overall cruise ship (for large ships) in 2015. Explore the Caribbean and take advantage of some amenities unique to this ship in the Celebrity Cruises' collection. You'll find a large grass lawn, and a glass, ocean-view elevator.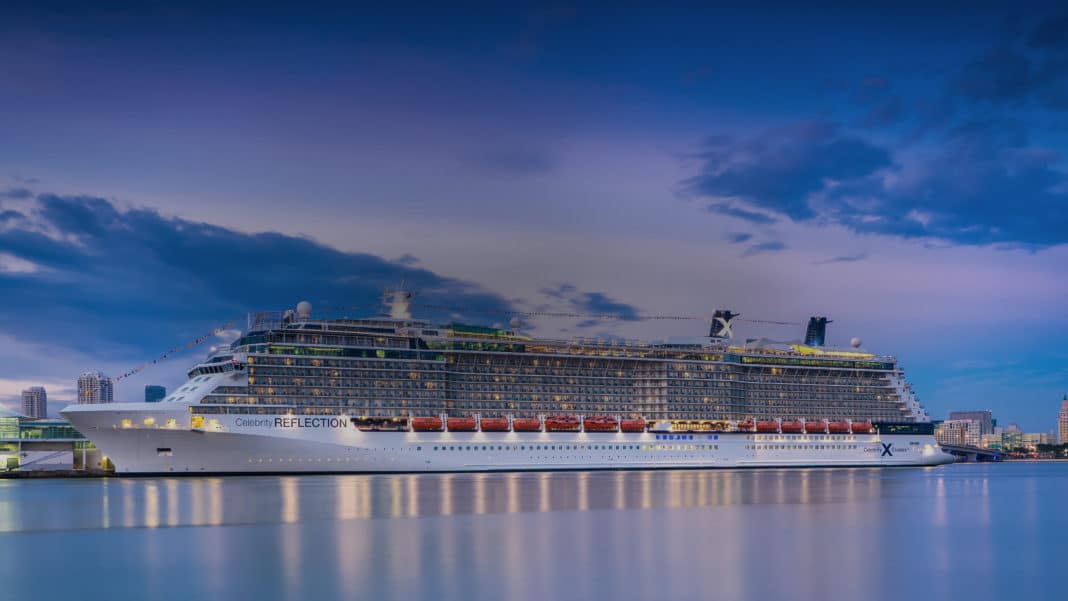 Credit: Celebrity Cruises
Overall, we're impressed with the Celebrity Reflection cruise ship. Celebrity Cruises understands your vacation time is precious, and they'll work hard to make sure you have a great time. Many Celebrity Cruises passengers return for other trips. We suggest starting with the Celebrity Reflection cruise ship, and then trying out many more destinations and ships with Celebrity Cruises!
Related Article: ​Oceania Marina Review: Cruise Around the World in Luxury!​​​