Check into an all-inclusive experience at the Twin Farms, Vermont.
Steeped in romance and tradition, the Twin Farms, Vermont offers an escape like no other. First and foremost, it sets itself apart as Vermont's only luxury five-star experience. Tucked away on a sweeping 300-acre property, this adults-only getaway offers all the tranquility you desire of a vacation.
Ultimate Customization
Every detail is customized with a refined elegance. Browse an extraordinary fine art collection through 20 uniquely-designed accommodations. Indulge in superb meals and fine wines. Choose from a myriad of outdoor adventures. Retreat and relax. Reconnect with the people you love most. Be inspired by your surroundings.
All-Inclusive Luxury
Come and experience your second home at Twin Farms, Vermont. Quality amenities provide all the comforts of home. Choose to make your stay as adventurous and social or serene and private as you wish. The thoughtful staff attend to every detail. You'll really feel like the hotel is all yours.
At Twin Farms, one rate — sans tipping — starts here:
Luxurious cottages and suites, each individually designed by famed architects and eminent interior designers, and made truly extraordinary by the owners' whimsical contemporary museum-quality art collections.

Guests ages 16 years and older are welcome, with the exception of two annual family weeks.

Prepared to order sumptuous Vermont breakfasts

check

Customized lunches, including picnics, in any location

check

Cocktails and canapés each evening

check

Farm-to-table dinner served nightly from 6:30pm-8:00pm

check

You are invited to share your dietary preferences or restrictions with the guest services team through the online concierge form.
Let's Talk Accommodations
The accommodations are so good you'll never want to leave. Choices include cottages, the Farmhouse at Copper Hill, the Lodge, and Rooms. You will find the following amenities in every room, suite, and cottage:
Fireplace

Complimentary high-speed wireless Internet access

Free  unlimited phone calls worldwide

check

Complimentary same day laundry service

check

Free  packing and unpacking services

check

Windows and private views in every spacious bathroom, plus a separate dressing area, tub, and shower

check

Complimentary handcrafted Stave jigsaw puzzle for your own collection

check

Out of the Woods bath and body products, hand-blended especially for Twin Farms

check

Fully stocked refrigerator with coffee, tea, seasonal snacks — all complimentary

check

Linens by Anichini and The Purists

check

Twice daily housekeeping service

check

Satellite television

check

Table for writing or dining

check

Reading area

check

Selection of games, movies, music, and puzzles

check

Complimentary handmade confections nightly

check

Tesla Charging Stations

check

Featherbeds, down pillows, and comforter

king bed (except for Guest room, which has a queen)
Cottages
Credit: Twin Farms Vermont
Tucked away among 300 acres, the Twin Farms, Vermont freestanding cottages offer comfort, support, and inspiration. There are ten different types of cottages offered, each with slightly varied styles, design, and size. The cottages include the following: Aviary, Barn, Chalet, Log Cabin, Meadow, Orchard, Perch, Studio, Treehouse, and Woods.
The Aviary
One of the smallest cottages, the Aviary spans 950 square feet across two levels. Floor-to-ceiling glass windows offer spectacular views of your natural surroundings. Mid-century furnishings, rich wood, and leather compliment warm fireplaces. A wood stove and indoor stone hot tub lend to a cozy atmosphere making you feel right at home.
The Chalet
The largest cottage, the Chalet, spans a whopping 3,000 square feet. Step inside and explore. This vacation cottage is bigger than most people's homes. Two levels are decorated with oversized furnishings. A floor-to-ceiling fieldstone fireplace graces the living room space. Swiss detailed hand railings complement earth tones and warm hues.
Guests can enjoy two bedrooms, bathrooms, and fireplaces at their leisure. In the bathrooms, you'll find a circular tile mosaic shower, 18th-century limestone flooring, and a double soaking tub.
Farmhouse At Copper Hill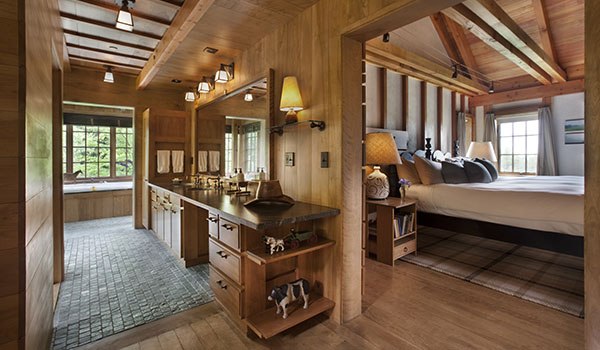 Credit: Twin Farms Vermont
Famed architect Peter Bohlin designed the Farmhouse At Copper Hill. Here, four suites with private entrances are connected by a lounge and library. There are four types of farmhouses available, each with slightly varied styles, design, and size. The farmhouses include the following: Birch, Lilac, Maple, and Willow. Each spans 1,000 square feet, and offers a shared hot tub. For specifics on the room styles, please visit the hotel website.
The Lodge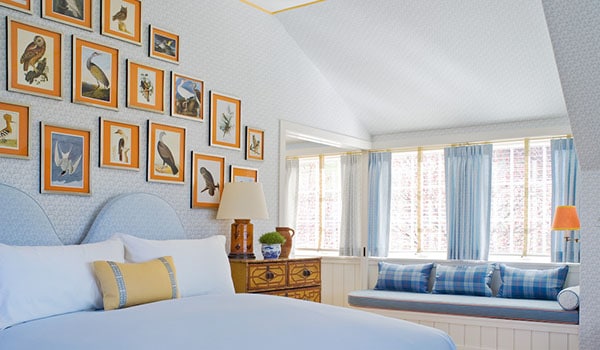 Credit: Twin Farms, Vermont
Amber and wood accents highlight the suites at the Lodge. Here, two suites and a common area are conveniently located next to the the Twin Farms, Vermont Main House. There are two different types of lodges with slightly varied style and design. The lodges include the following: Hillside and Grotto. Each spans 650 square feet, offers a fireplace, and a porch or patio. For specifics on the room styles, please visit the hotel website.
Rooms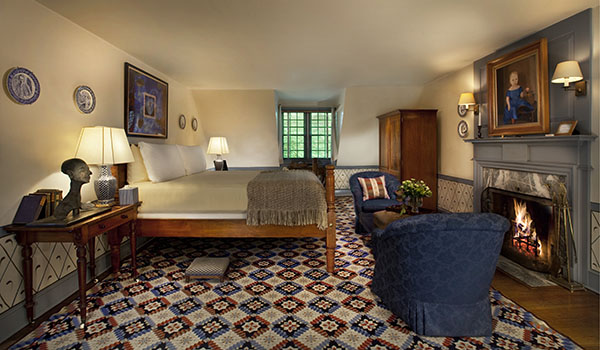 Credit: Twin Farms, Vermont
History and legend envelope all four rooms at the Twin Farms, Vermont. You can find these lovely spaces tucked away in the Main House near the dining room while featuring the spacious interiors of suites. The rooms include the following: Red's Room, Dorothy's Room, Washington Room, and the Guest Room.
Spanning 560 square feet, the Guest Room is the smallest of these spaces. It features a queen bed, green marble fireplace, and windows suspended over the hotel gardens. Washington Room is the largest, spanning 950 square feet. Inside, you will find two fireplaces, paintings and drawings of the first U.S. President, and a lovely mosaic fireplace. From your windows in the sitting room around the fireplace, you can see open views of the lawn, woods, and maple trees below.
Let's Talk Dining
All meals, wine pairings, and fine dining are a part of your all-inclusive rate. Your stay at Twin Farms, Vermont is customized just for you. The staff strongly believe a superb culinary experience is an integral part of your visit. Their philosophy revolves around the changing seasons. Locally-grown herbs and vegetables are served daily. Each dish is a delightful surprise. Enjoy your meals in the dining room, on the main terrace, beside the garden, or from the comfort of your cottage, room, or suite. 
Wine
To complement your meal, choose from a selection of over 15,000 bottles collections of wine. Their cellar ranges from well-known Californian blends to French estates and nouveau vintners across the world. Wines are carefully paired with just the right meal palette thanks to Chef Nathan Rich and his team. Indulge yourself in a world of flavor and possibilities. For dining, choose from either the Chef's Table or the Wine Cellar. Advance reservations are necessary. Please call for pricing and details.
Let's Talk Amenities and Activities
Why stay at Twin Farms, Vermont? Because of the way it makes you feel. Guests are given nothing less than an attentive VIP treatment from the moment they step onto the resort grounds. Participating in a vast selection of indoor and outdoor activities will strengthen your well being.
About the Activities
Each season ushers in a new blend of activities to participate in across the grounds of this beautiful 300-acre resort. You can either choose to explore independently or request a guide. Furthermore, equipment, instruction, and service are all included in your hotel rate. Activities include bicycling, billiards and music at the pub, canoeing, croquet, cross-country skiing, downhill skiing, running, hiking, fly fishing, and much more. For a full list of activities offered, please see the hotel website.
Spa and Fitness Center
Come feel whole, rested, and transformed. At the Twin Farms, Vermont, opportunities abound to reconnect with good health. Everywhere you turn, healthy alternatives are offered. Fresh, organic food is served three times daily and a state of the art spa and fitness center await you. After a morning of canoeing, hiking, and snowshoeing, pamper yourself in one of two treatment rooms in the Bridge House Spa.
What to Expect At the Spa…
When you walk in, you are greeted by glass brick steam rooms and seasonal treatments are offered courtesy of Vermont's own, Tata Harper and Lunaroma. Of course, you can always escape to the Japanese furo too or choose to bring the spa to the comfort of your own private cottage with in-room couples' massages. Celebrate the wonderful simplicity the spa has to offer. Using all-natural ingredients, the services will help to renew your mind and body and restore your well being. Come and experience complete serenity.
What Travelers Are Saying About the Twin Farms, Vermont
With a five star rating, the reviews of the Twin Farms, Vermont really speak for themselves. Travelers admit it's extraordinarily expensive but very worth it. If you're on vacation, why not splurge for the best. After all, it's all-inclusive. Every detail is done perfectly – From the food to the comfort and decor of the cottage, to the lovely staff. In reviews, guests laud the hotel as not only meeting but exceeding their expectations.
Our Take On the Twin Farms, Vermont
Book your stay at the Twin Farms, Vermont today. If you're looking for a charming, elegant escape from the big city life with all the comforts (and more) of home, this is it. The all-inclusive nature of the hotel is certainly a big draw. While the rates are pricey, you have to keep in mind how much you'll save on meals and activities. If you want our advice, make the most of your stay and indulge in a little bit of everything. After all, you deserve it. Why not treat yourself?
If You Have Some Extra Time On Your Hands…
If you have a little extra time to travel, you should check out our list of the best things to do in Vermont as well as some of the area's top ski resorts. This state really does have it all.
Related Article: Best All-Inclusive Resorts In The USA