Merax Luggage is Simply A Good Deal
We realize that searching for a new, checked suitcase means you're presented with the usual features: your choice of hard or soft shell, a telescoping handle, extra-smooth rolling wheels, and great organizational pockets. These are often advertised as "the greatest wheels ever," or "the world's strongest telescoping handle." Perhaps you don't need your suitcase's internal pockets to win any Grammys for their performance. Maybe you're simply looking for a quality suitcase to get the job done, and you want to pay the fair price for it. Especially because of airline restrictions, there aren't too many deviations from the usual boxy suitcase intended to deliver your belongings safely. However, we'd argue that quality and price are often the differences. Therefore, if you're looking for a budget-friendly, yet trustworthy suitcase, then Merax Luggage is for you! 
A Little About Merax Luggage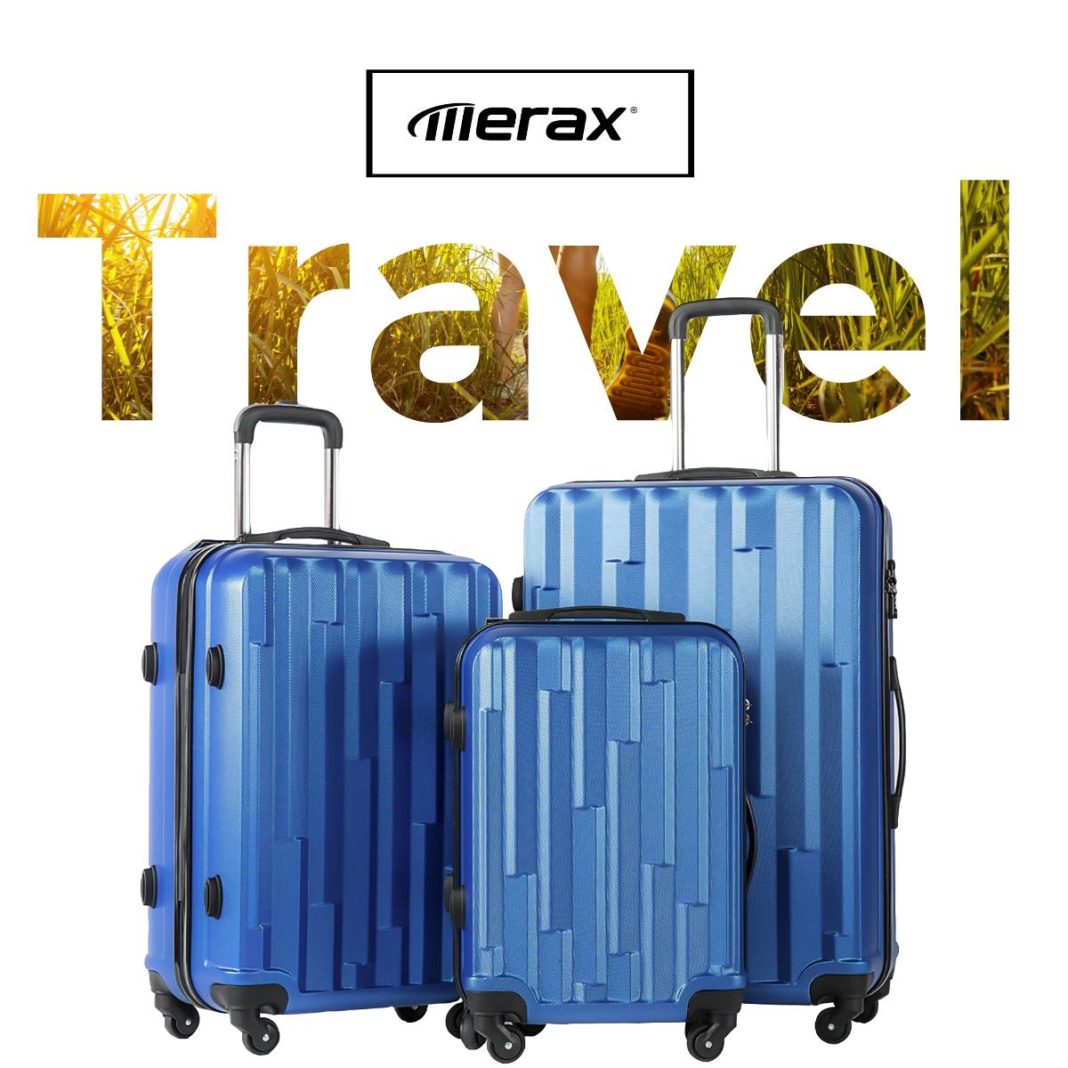 Credit: Merax / Facebook
Merax was founded in 1995 in Los Angeles, and now has offices all over the world. In addition to luggage, they offer home and office products. You can find their luggage on Amazon, as well as on their Merax website. Their Merax Flieks Aluminum Frame Suitcase is a new release. 
Merax Flieks Aluminium Frame Suitcase Features & Benefits
Crafted From PC and ABS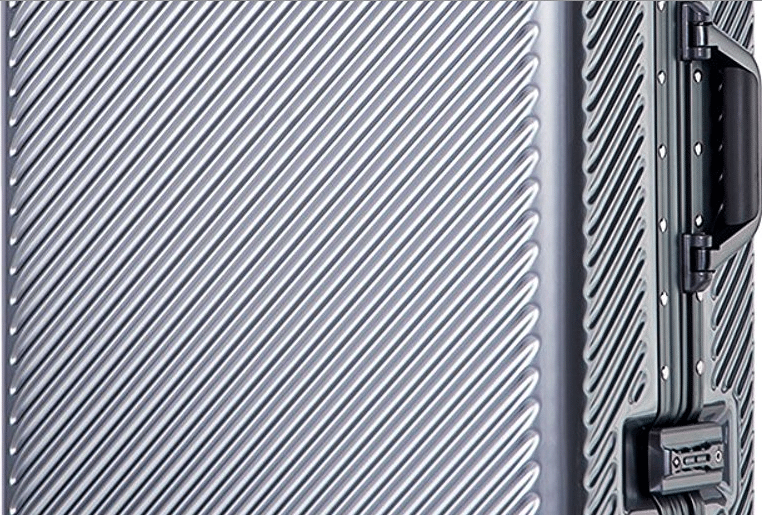 Credit: Amazon
Merax Luggage uses both PC and ABS materials to create their luggage. PC stands for polycarbonate while ABS is acrylonitrile-butadiene-styrene. ABS tends to be a cheaper option for hard shell luggage, so this helps Merax Luggage to keep their costs down. However, the addition of PC adds some strength and quality to the luggage. Polycarbonate can resist more scratches and dents. It's important to note that the aluminum frame, as advertised in the title, does exist, but it's a very light frame. Therefore, this hard shell has the appearance of metal (especially in the gold or silver color options), but is actually hard plastic. 
TSA Lock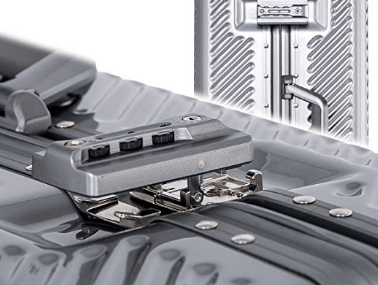 Credit: Amazon
To help keep your belongings secure, Merax Luggage includes a quality lock. This lock doesn't require a key, but rather is a combination lock which you can set to any series of numbers. Since TSA needs access to your luggage for the security check, this combination lock allows only you and TSA personnel to have access. The lock itself is aluminum. 
Spinner Wheels
The smooth rolling wheels on the Merax Flieks Aluminum Frame Suitcase will glide through the airport. Often wheels are the "make-it-or-break-it" for a piece of luggage, since one frustrating trip through the airport will have you dropping that bag forever. You won't face that problem with Merax Luggage. Additionally, the wheels are advertised as "quiet." Thanks to the softer material covering the wheels, you won't be the obnoxious wheeler throughout the airport! 
Telescoping Handle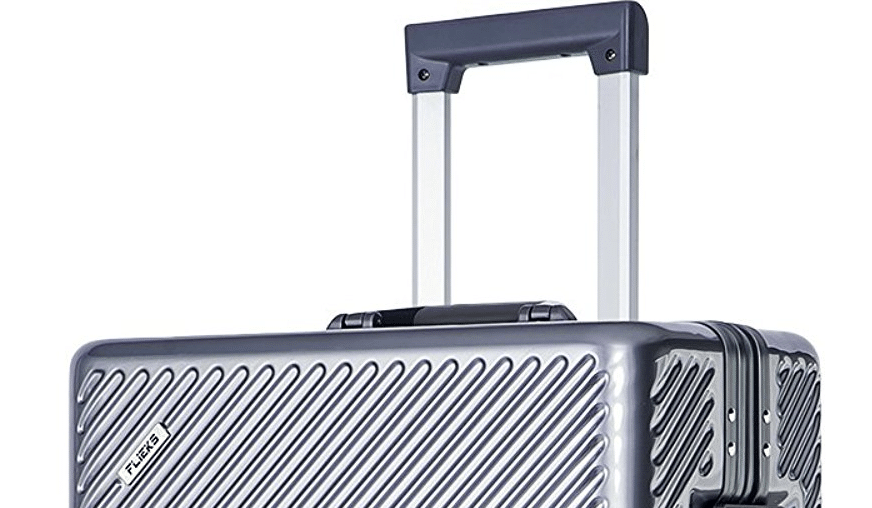 Credit: Amazon
This suitcase, as well as others in the Merax Luggage collection, features a telescoping handle. It locks at three different stages. Therefore, this is helpful for preventing the large suitcase from clipping your heels while wheeling through the airport. Additionally, the suitcase has a side handle to make it easy to pull off the baggage claim, or lift upright. 
Various Color Options for a Sleek, Sophisticated Look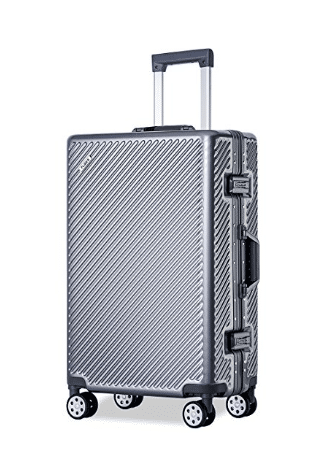 Credit: Amazon
Amazon offers the Merax Aluminum Frame Suitcase in black, gold, space silver or white. The polycarbonate outside has the appearance of metal, and any of these color options look stylish. Diagonal indentations and smooth edges provide a nice, finished exterior. 
Interior, Organizational Pockets
Credit: Amazon
Inside the Merax Luggage, you'll find some helpful features to keep your belongings organized. This is especially useful in the largest of the checked bag sizes. Thin panels divide your clothes. These are clipped in to metal hooks on the inside frame of the suitcase, so that they work and stay in place. Each of these divider panels features its own mesh zippered pocket. This mesh is reinforced with ribbing that helps the large pocket not to rip in the middle. You'll find Y-shaped straps with buckles to keep your clothes compact, and not floating around on the inside. 
Latched, Not Zippered Closure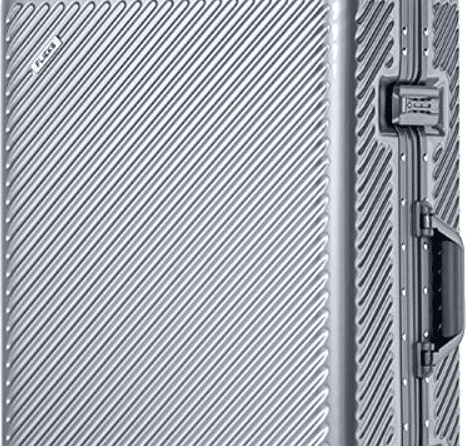 Credit: Amazon
On a zippered hard shell suitcase, an inevitable weakness is often created by the zipper line. With the Merax Aluminum Frame Suitcase, you'll find latches and hinges that keep your belongings secure. The advantage means that the suitcase is potentially stronger, since there's no break for the soft zipper material. 
Lightweight
The Merax Flieks Aluminum Frame Suitcase weighs 10.4 pounds at the check-in size of 25 inches. The 29 inch checked bag weighs 12.6 pounds. Both options are relatively lightweight for their sizes. 
What Other Travelers Are Saying About The Merax Flieks Aluminum Frame Suitcase
Travelers appreciate the features of the Merax Flieks Aluminum Suitcase in addition to its low-budget cost. Most positive reviews reveal total satisfaction with the rolling wheels. They glide well and don't let other customers down. Other travelers appreciate the aesthetic appeal of Merax Luggage; it compares to way more expensive brands in regards to style. Many travelers report that this suitcase has held up well for them through various trips. Travelers also appreciate that, for a checked suitcase, the bag is light and therefore easy to maneuver. 
Some travelers report dissatisfaction at the durability of the material. Common complaints involve denting and scratching. The corners are not reinforced, so this weaker area often becomes smashed in airline baggage machinery.  Overall, many travelers are content with Merax Luggage. For the price, customers find themselves with a suitcase that looks nice, rolls smoothly, and delivers their belongings. Other travelers reveal that the suitcase has held up for various international trips, despite some inevitable scratches. For the price, many travelers begin with low expectations, but end up delightfully impressed with their Merax Luggage. 
Alternative Checked Luggage Pieces
Delsey Helium Aero 29″ Expandable Spinner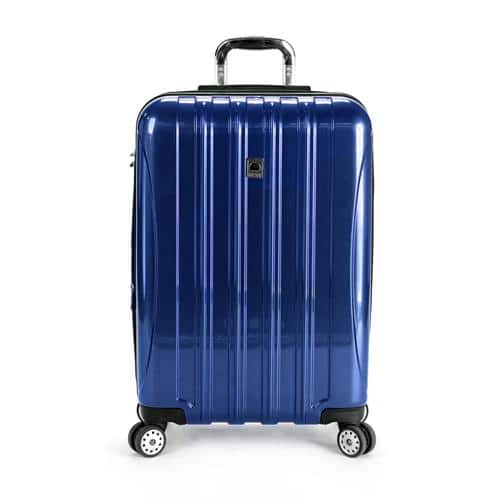 This Delsey Checked Suitcase is made from one-hundred percent polycarbonate. So, while it may scratch, it's going to be super durable. The material also means that this suitcase is lightweight for its size: the hard side weighs around 12 pounds. Amazon offers some great color options including Cobalt Blue and Emerald Green (these bonus colors means you'll be able to more easily identify your suitcase on the baggage claim). The wheels on the Delsey Helium Spinner work really well; they'll maneuver effortlessly through airports. On this Delsey suitcase, the double wheels mean extra stability when the bag is upright. Plus, the durability of those two wheels is tough to beat. This hardside features a TSA lock as well. Additionally, the expandable part means that you can add an extra two inches of space, which would definitely come in handy on that return trip. 
TravelPro Platinum Magna Expandable Spinner 25"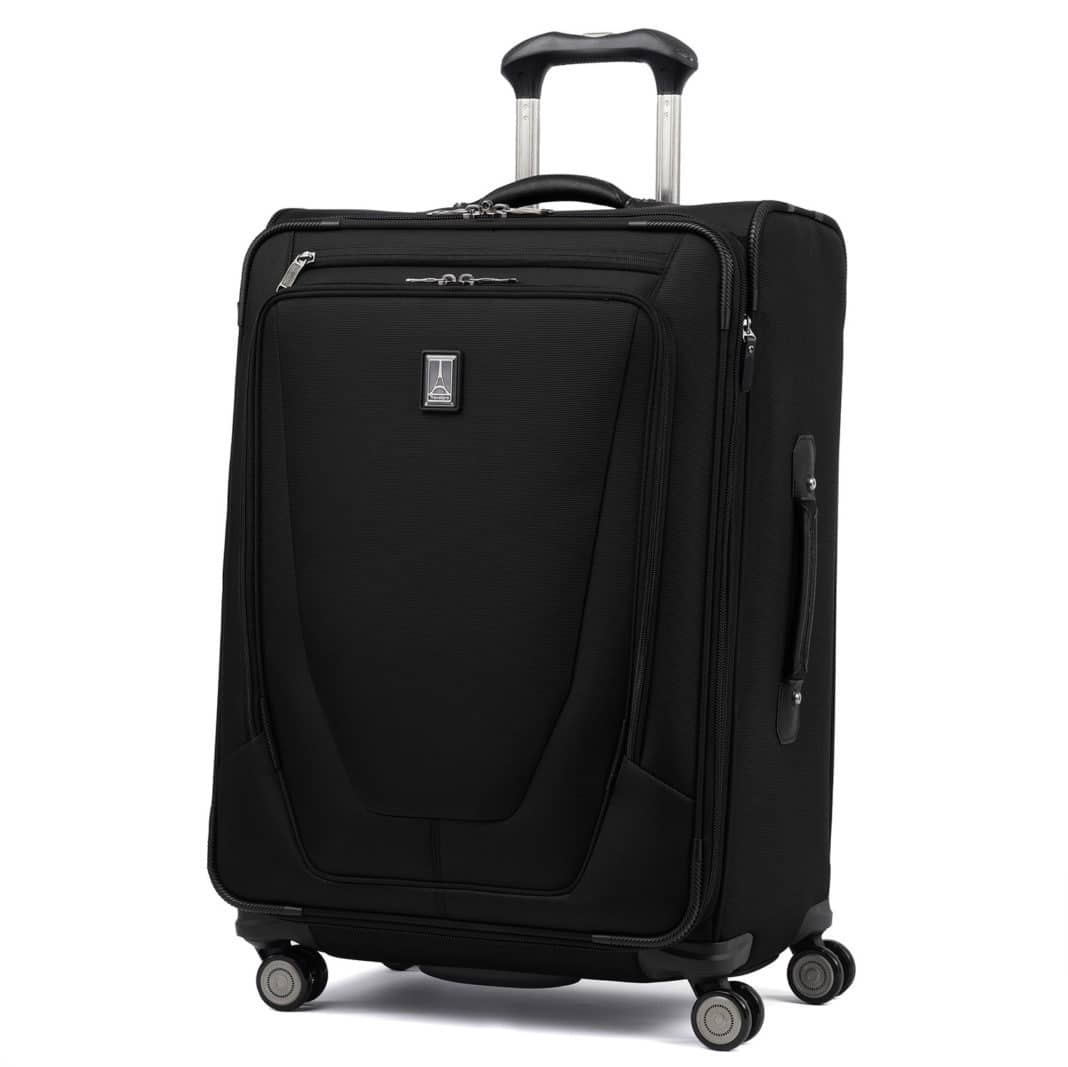 The TravelPro Spinner's name advertises its best quality: the super smooth wheels. This TravelPro checked suitcase will easily glide through airport corridors as well as sidewalks. Grab the sturdy handle and swivel the large suitcase right in place. Additionally, the expandable feature provides you with an extra two inches of wiggle room. The exterior is a soft shell, which allows for this extra feature: external pockets. That's precisely the perk of a soft side. You can have quick access to belongings in the outer, zipped pockets. Besides gliding smoothly across the floors, the zippers will work smoothly for you, too.
We even like that the zippers themselves are large; this makes them easier to pull. High density ballistic nylon makes up the exterior, aided by DuraGuard to provide resistance to stains or other damage. Additionally, the PowerScope telescoping handle has three stops which won't break on you since it's made from aluminum! 
Samsonite Winfield 2 Hardside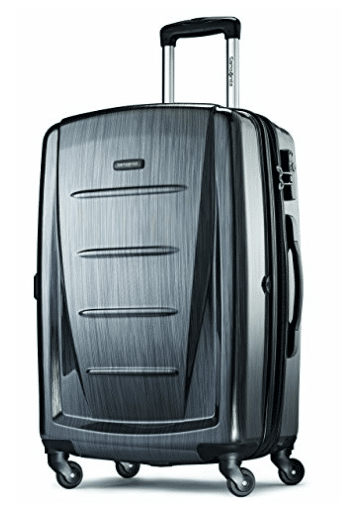 Here's another great option if you're looking for quality and budget-friendly. The material of this Samsonite checked suitcase is polycarbonate. Inside, you'll find a nylon lining. This piece of luggage rests on four spinner wheels that are multi-directional, so it's ready to roll with you in any direction. The handle is lightweight and telescopes, locking in different positions for length. The airbrushed design looks sleek and helps hide any scratches that are inevitable with the otherwise perfect suitcase material of polycarbonate. Inside, you'll find a full zip divider as well as buckled straps to help the contents stay in place, even when you open the suitcase after a flight.
This Samsonite Winfield Hardside also features a built-in TSA lock. Customers are really happy with the look and color options from this Samsonite luggage. You can choose from a variety of matte colors, all with front panel indentations to make this suitcase appear less boxy and more sleek. 
Merax Luggage Can Offer You Some Great Travel Solutions
The Merax Flieks Aluminum Frame Suitcase will transport your belongings safely. The TSA lock as well as the polycarbonate and ABS materials help to ensure this. Additionally, the internal pockets make your packing task easier. Plus, this helps if you'll be living out of this suitcase while you're on your trip. The Merax Flieks Aluminum Frame Suitcase offers lots of space for those longer trips. A telescoping handle makes it easier to wheel through the airport, and the color options are stylish. Though it's not made from the best scratch-proof material, the price means that you'll remain content. It's a great, budget-friendly option for a long trip. Overall, this Merax Luggage checked bag will roll smoothly through the airports, and happily meet you on the other side of the baggage claim. 
Related Article:​Best Checked Luggage Pieces (Plus How to Choose Yours)​​​