Explore better ways to carry your gear with the Filson Duffel.
Treat yourself to a great carry-on bag with the Filson Duffel. This medium rugged bag is made of tough twill and bridle leather to create a durable, dependable option just for you. It's designed to meet carry-on size restrictions, so you only need one bag for all of your journeys.
A rustproof brass zipper and storm-flap closure offer additional protection from the elements, making this versatile bag good for all types of overnight trips. For added durability, the interior pockets are made of dry finish tin cloth.
About Filson
Filson is built to last. Headquartered in Seattle, Washington, this company is renowned for making products from fabrics including heavyweight tin cloth and warm mackinaw wool. Their company stands for the highest quality and most durable apparel and accessories on the market.
Since 1897, they've been the "gold standard" for tough, outdoor clothing prized by outdoorsman and other modern adventurers. Anglers, engineers, explorers, miners, and anyone who has a passion for the outdoors simply loves them. Filson strives to offer the level of customer service their founder, C.C. Filson, would expect. Their motto is "Your satisfaction is the whole purpose of our transaction." They make it real with what they say, make, and do.
Features and Benefits of the Filson Duffel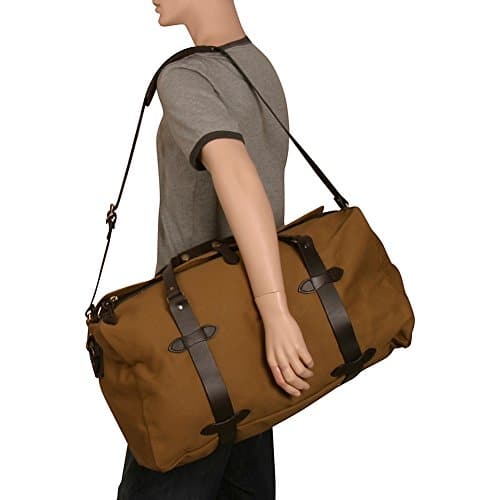 Credit: Amazon
If you're a traveler and not just a tourist, you're going to want a bag that will get you through a lifetime of traveling. This fits the bill. Filson builds gear to last; there's no doubt about it. The Medium Duffle bag is no exception. It's water resistant and any abrasion on the bridle leather handles will only lend to its rustic appearance.
This bag is guaranteed to age well with time. Offering solid brass hardware, two interior pockets, a removable leather strap, and storm flap closure, this bag covers all the bases. If you're looking for a classy, quality duffel, you've found it. For more detailed information, check out the following tech specs:
Solid brass zipper closure custom cut at Filson with storm flap for added security

2 interior stow pockets

Water- and abrasion-resistant Rugged Twill

check

Adjustable, removable leather carrying strap with shoulder pad

check

Bridle Leather handles with two-snap grip

check

Sized at maximum airline carry-on size requirements, so you don't have to check your bag

check

Includes iconic Filson Bridle Leather body tabs

check

Bridle Leather handles wrap around bag to support heavy loads

check

20″L x 12″W x 13″H

check

Capacity: 3 lbs. 12 oz.
Filson Duffel at a Glance
If you're looking at the Filson Duffel online, you'll be pleasantly surprised at how much this medium bag can hold in person. The bag reflects the quality in make and model that Filson has exemplified throughout the years. The cotton is made from rugged twill and the straps, from leather. It's a straight forward weekend bag that everyone can appreciate.
Build Quality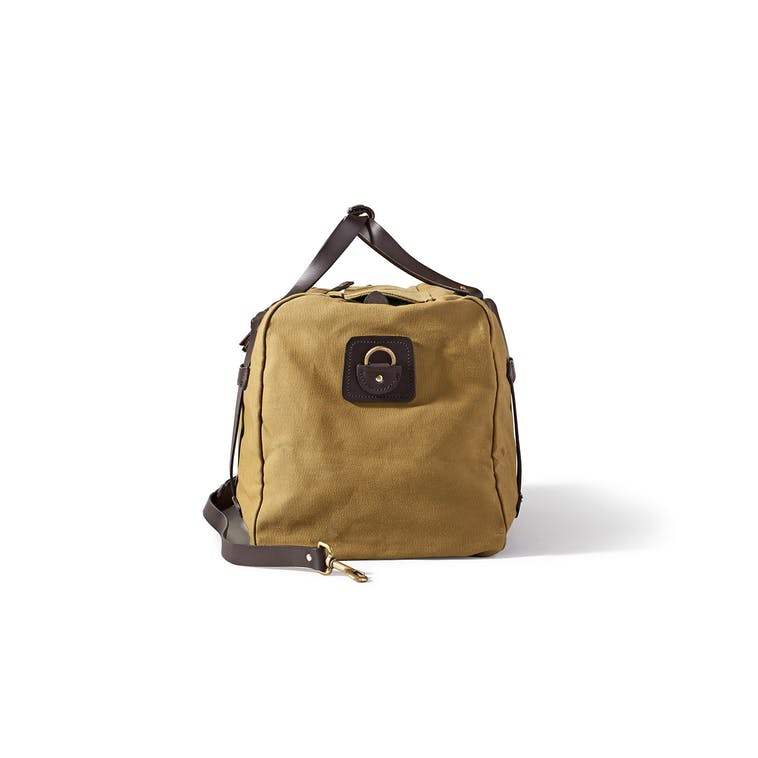 Credit: Filson
When we first unpacked the bag, our reaction was 'Wow, this is why lighter and more durable than we expected.' Look closely and you'll see the quality is not compromised. The attention to detail and quality of the leather is top notch. You won't see any loose threads and the fit and finish are impeccably precise. Needless to say, we're impressed.
The fabric is made up of a 12 oz water-resistant nylon with a nice semi-matte finish. The inner part of the fabric is lighter and softer to the touch than the exterior. We love how the green nylon contrasts to the light interior tan. As we mentioned earlier, the bag also comes with a leather trimmed nylon strap. You don't need to break it in; it won't cut into your shoulder. In fact, it helps to distribute the weight of the contents nice and evenly.
Performance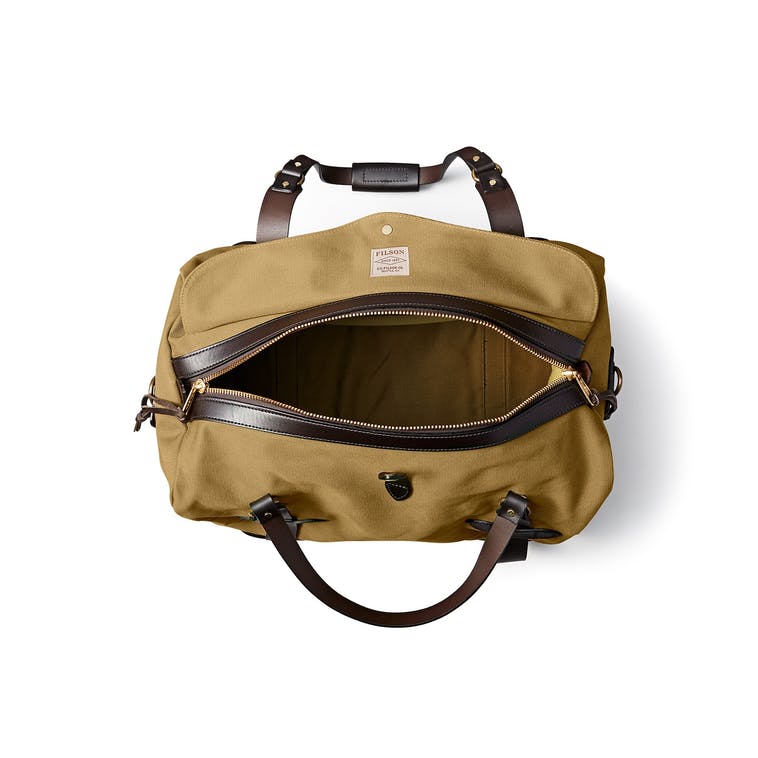 Credit: Filson
If you're looking for something you can pack a lot of clothes in for weekend trips across the country (and beyond), we've got just the thing. The Filson duffel can take rough handling, hold an abundance of clothes and products, and fit in the overhead compartment of a plane.
Many reviewers said they owned the bag for over a year now and it's held up very well under the wear and tear. The bag holds an abundance. Depending on how much you bring with you when you travel, there's no reason this bag shouldn't be able to hold up to a week or a week and a half's worth of clothes in it.
Filson's medium duffel can be utilized as a carry-on even when it's fully packed. Even if the overhead compartments are full, you should be able to fit in under the plane seat in front of you with ease. Just like that, you've saved yourself some cash from checking a bag. The Filson Duffel will pay for itself in no time.
What Travelers Are Saying About the Filson Duffel
The Filson Duffel is the travel bag you need for all your adventures. Smart travelers rely on only the best gear; you've found it here. Whether you're adventures consist of a last minute road trip, city explorations, heading to a ski chalet, or braving the elements, you want gear that holds up.
Adventure gear is adaptable to any weather condition. It should also be versatile, providing ultimate utility. In the event that it doesn't hold up or function well, it's not suitable for adventure-oriented trips. Solid travel gear should be able to withstand the elements in a variety of different conditions.
We're sure you know it's not easy to find a bag that meets these strict conditions. That's where the Filson Duffel comes in. Travelers praise its solid construction and durable fabric. The storm flap is such a handy feature too. It's honestly one of the most dependable bags we can find on the market right now.
The Filson Medium Duffel bag is pretty much indestructible by natural forces. The bag is constructed from a tough abrasion-resistant fabric. It can survive damage from being dropped or lugged around in various types of terrain. We love that it is water repellant, being fully-lined with nylon. The handles offer a quick-drying webbing material.
Last but certainly not least, the interior is very roomy for a bag this size. The interior compartment offers plenty of place to store your clothes and gear for a long weekend trip. Two additional pockets provide great organizational capacity for smaller items.
Other Weekender Bags You May Like
Do you want to shop around a little longer? No worries. We've got you covered. Choosing a good travel bag is such an important part of your trip. We've included a few other weekend bags here that you may like.
Madewell the Weekend Transporter In Canvas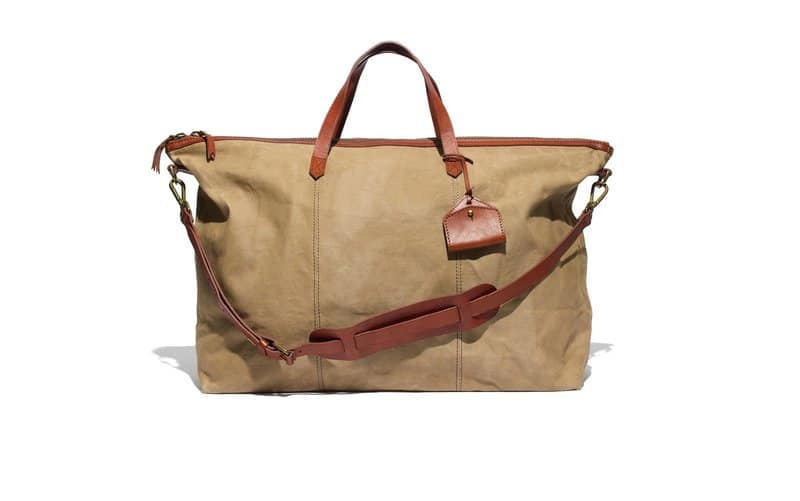 Credit: Madewell
Get in line to wait for this sold out style. Here's another great sturdy canvas bag. Madewell designed a great canvas weekender that looks a lot like the Filson Duffel. This cool bag has a neutral tone and style, allowing you to take it pretty much anywhere. We love that it offers a lot of space and comes at a fairly low price point for a travel bag of this caliber. Waxed finish gives it a water resistant quality and it's durable enough to handle a little overpacking.
Tech Specs:
Sturdy canvas with a rugged waxed finish and rich leather trim.

Zip closure.

1 interior zip pocket, 2 interior pockets.

check

12 1/2″ (at shortest) to 17 1/4″ (at longest) crossbody drop

check

Select stores.

check

13 3/4″H x 18 7/8″W at bottom, 24 3/8″W at top x 8″D.

check

4 3/4″ handle drop.
Fjallraven Unisex Duffel No. 4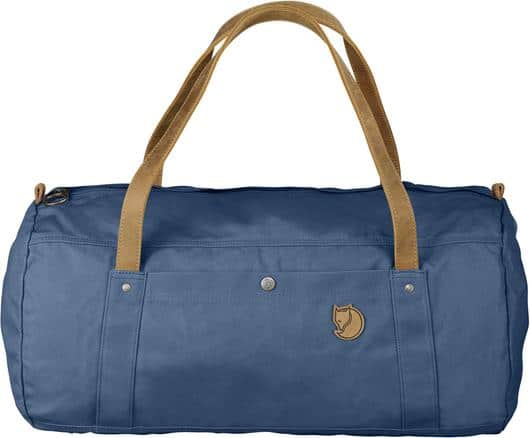 You can't go wrong with anything made by Fjallraven. The No.4 bag is perfect for both short weekend trips and carrying your workout clothes to the gym on the daily. The bag opens down the middle, revealing a large interior with plenty of storage space. An easy to grip pull zipper makes it easy to pack and unpack.
There are two inner safety pockets which used to hold small items. There are also two outer pockets for ease of storage and accessibility. Last but certainly not least, the bag's strong leather straps are designed so that they can be carried either on the shoulder or across the back. Like the Filson Duffel, this durable bag will hold up for years of adventure.
Tech Specs:
Polyester

Imported

Snap closure

check

Handles are dimensioned for carry in hand, on shoulder or even on back.

check

Zippered main compartment with easy-to-grab metal puller.

check

Double layers in bottom. One zippered and one buttoned pocket on outside.

check

Internal safety pocket.
Herschel Supply Co. Novel Duffel Bag 1-Piece, Raven Crosshatch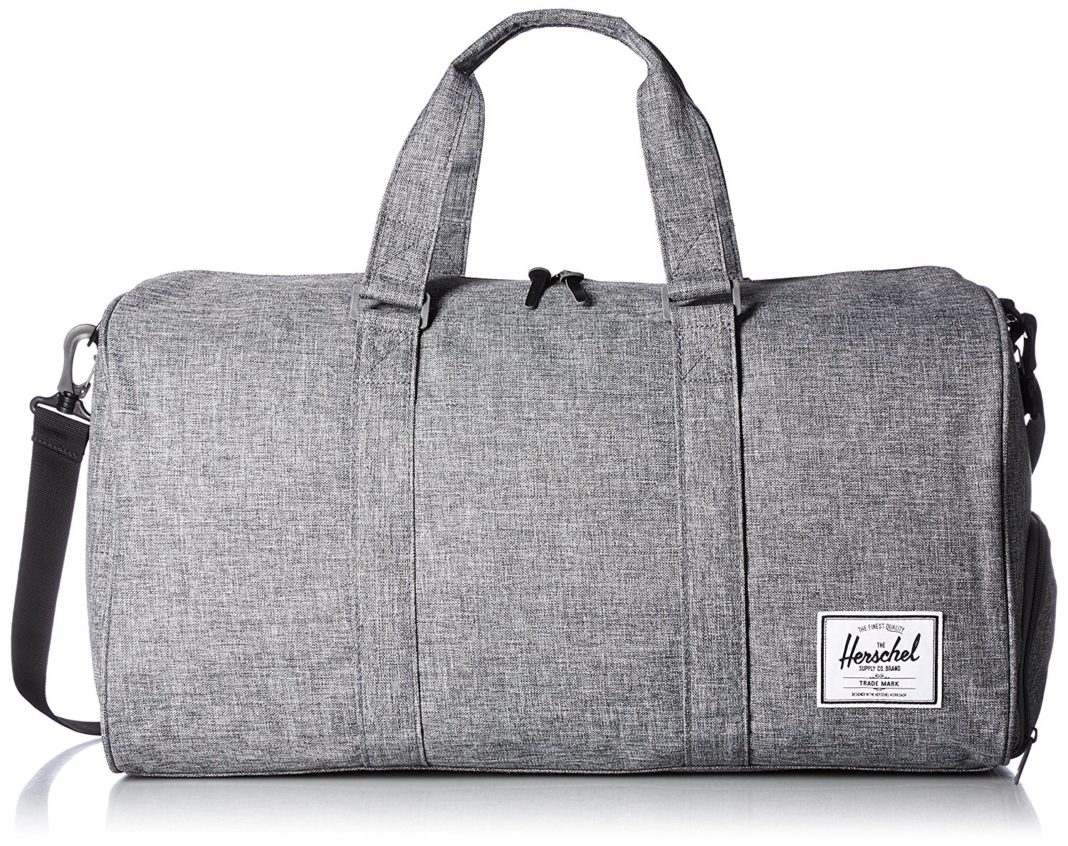 We absolutely love this style. The Novel Duffel Bag 1-Piece Raven Crosshatch is one of Herschel supply's most popular duffel silhouettes. It features Herschel supply's signature shoe compartment for easy and organized travel while keeping to Herschel supply's classic styling. This bag is great to take to the gym or for a short weekend away. Furthermore, the Herschel Novel duffel is an ideal weekender that features plenty of storage, including a convenient shoe pocket.
Tech Specs:
Duffle bag featuring top handles with wrap-around bands and logo patch at bottom corner

Signature shoe garage

Two-way waterproof zipper

check

Removable padded webbing shoulder strap
Ban.do Getaway Duffel Bag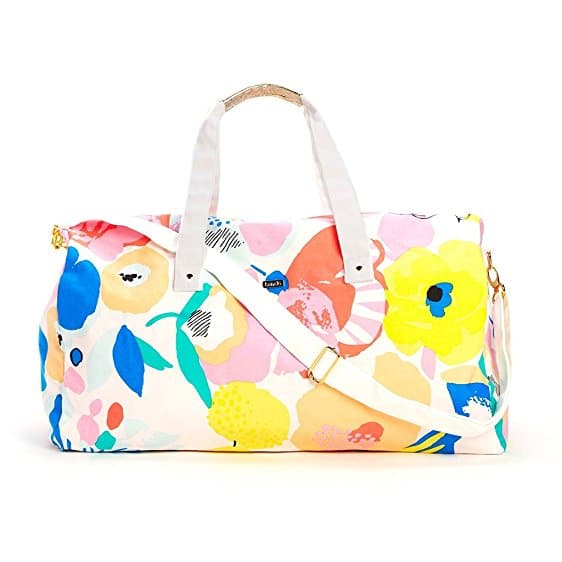 Have you ever seen a more fun bag? This color explosion from Ban.do is sure to brighten up every trip you take. We absolutely love this cheeky brand and their plethora of bright brints. We love that it offers plenty of internal storage space but is still foldable when unpacked. A leatherette handle and bottom panel keep the bag structured, while the adjustable strap offers maximum comfort for the wearer.
Tech Specs:
12.5 inches x 21.5 inches x 12.5 inches – perfect as a weekender bag or carry-on bag

Duffel features gold hardware, full cotton lining, and metal zipper close

Leatherette handle cover and bottom panel keep things structured, while adjustable/removable strap offers max comfort

check

Foldable and anti-wrinkle heavyweight canvas body makes this duffel easy to store when not in use

check

Features a surface design by Helen Dealtry + typography by Katy Jones
Invest In A Great Travel Bag for Your Next Adventure
So here's the bottom line. The Filson Duffel bag is a durable, all-round high-quality bag that will literally pay for itself if you take care of it. If you travel with it exclusively (or almost exclusively) as a carry-on, you'll save big bucks. We'd say that alone justifies the price point of the bag. However, the quality and capacity it holds make this a must-have travel item.
There are people out there who will shy away from this bag because of the sticker price. We understand that not everyone can afford it or is willing to pay the price. That's why we added some of our other favorite weekender bags for your viewing pleasure. With this said, we still love the Filson Duffel though. If you have the cash and you're in need of a great travel tote, we'd say you shouldn't hesitate to splurge a little in the moment. You'll thank yourself (and us) later.
Related Article: Best Weekender Bags For Travel In 2018