It takes a bit of ingenuity to make a suitcase that actually stands out these days.
IT Luggage has done just that, integrating unique features into their IT Luggage World's Lightest suitcase. Gone are the days of wrinkly clothes, sticky wheels, and broken handles while traveling. Instead, the IT Luggage World's Lightest carry on will give you a new kind of suitcase. If you're in the market for a carry on, you've already decided go minimalist and stay away from the hassles of checked baggage. Nice work for making that first step. But now you need the perfect carry on luggage piece for packing. Look no further than the IT Luggage World's Lightest as your next investment for your traveling ensemble.
IT Luggage World's Lightest Features & Benefits
Tough Fiberglass Structure with High Tensile Fabric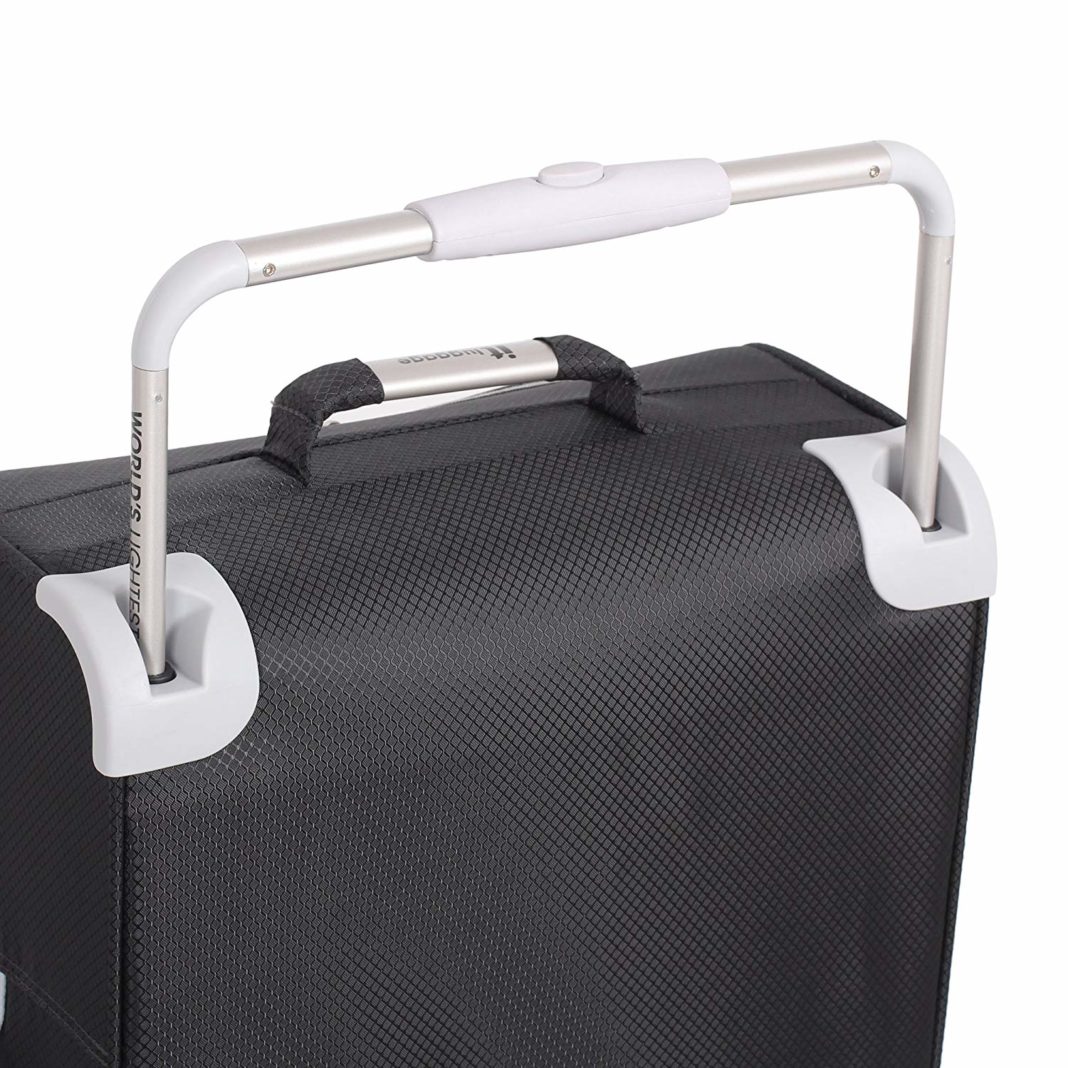 Any piece of equipment is only as strong as its weakest link. Thankfully, the frame, fabric, and zippers on the IT Luggage World's Lightest carry on are all made exceptionally well. IT Luggage started with a durable and tough fiberglass frame. It is deceptively strong and built to last long past the ten year warranty. To cover this, they used a high tensile fabric, similar to that of a parachute. This incredibly strong fabric will endure just about anything aside from sharp objects coming at it. On top of that, it is quite resistant to stains and wipes off easily. So, if you're traveling with kids, you shouldn't worry too much about this getting ruined even with the wear and tear the littles can put on things.
Multi-Stage Locking Handle Resulting in a Flat Pack Interior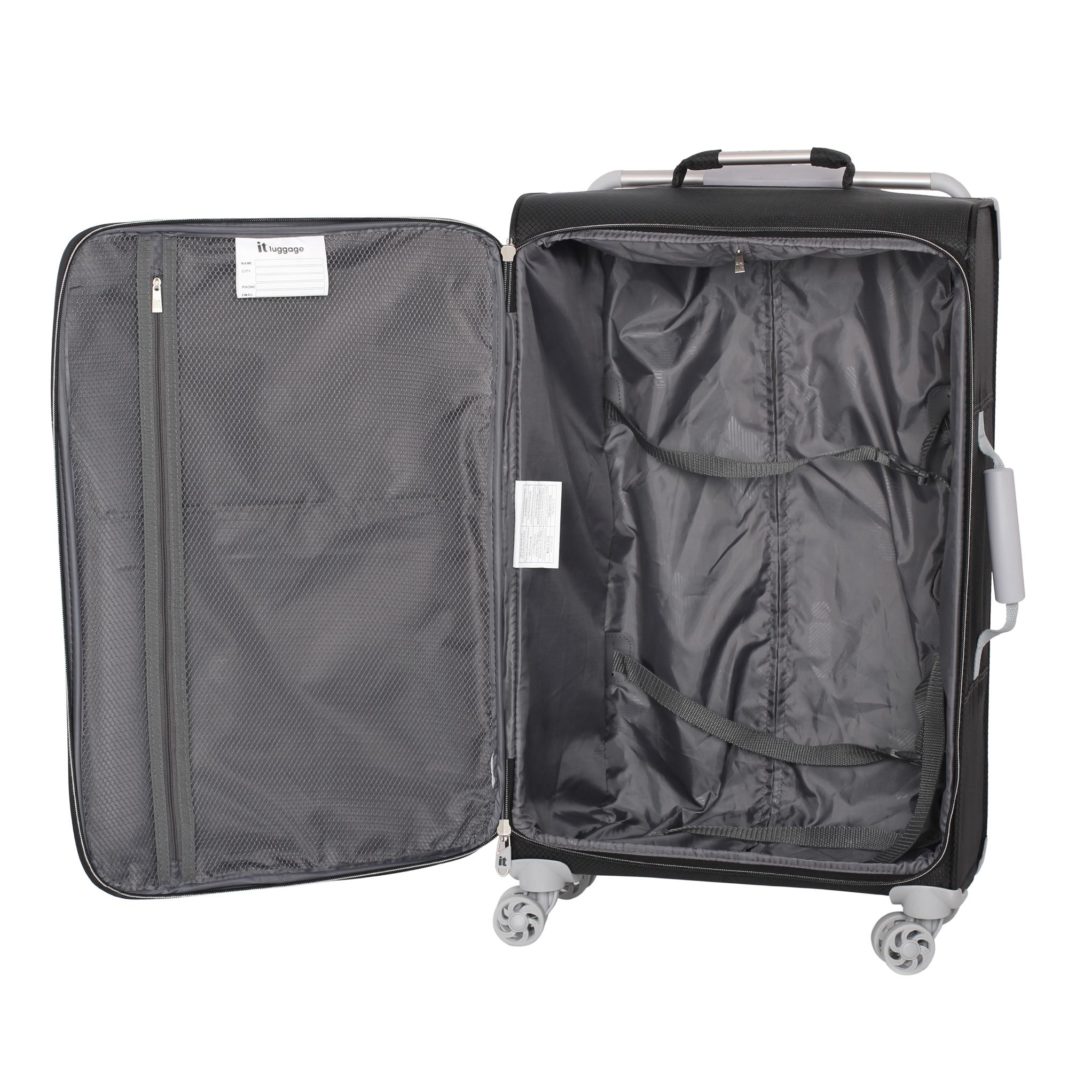 Have you ever packed your carry on by placing socks on the bottom level to fill in the awkward space around the handle? Maybe that's just me. But, one of the incredible features of the IT Luggage World's Lightest is the flat pack interior. By making the handle stretch all the way across the top, the handle tucks away in the corners of the suitcase. This allows the bottom to simply be flat for wrinkle free packing.
The handle itself locks at multiple stages to accommodate different user heights as well as if you'd like to pull it behind you or alongside you. In addition, the handle is crafted by a single piece of lightweight aluminum. This eliminates any potential for breakage or sliding malfunction from multiple pieces of metal sliding against each other. Overall, the handle of the IT Luggage World's Lightest is a great invention to create a new kind of suitcase.
Incredibly Lightweight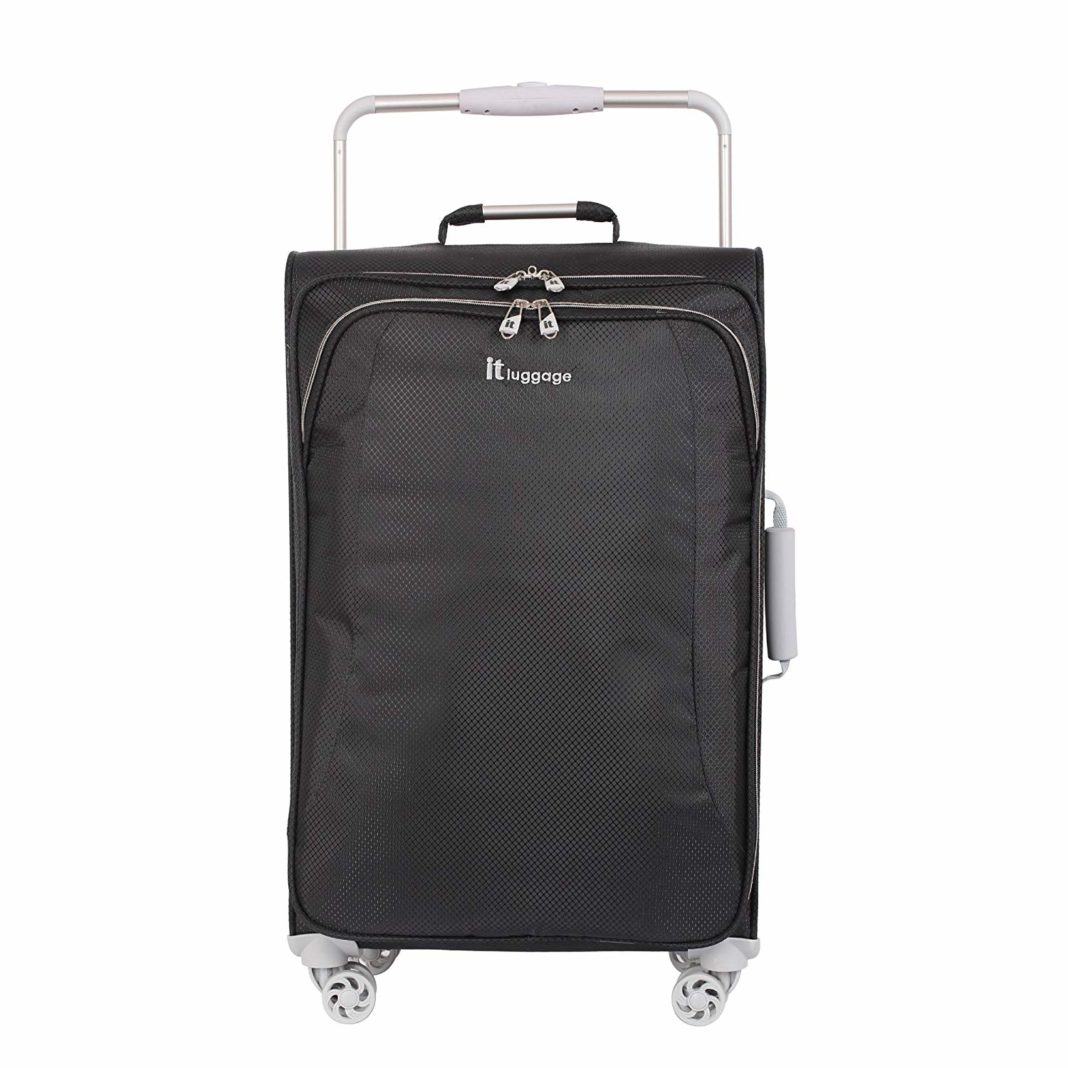 It is easy to forget that there are not only size restrictions on carry ons, but also weight restrictions. Often, your carry on needs to be less than 35 pounds, but on some foreign flights, it needs to be even less than that. If your suitcase weighs between five and ten pounds, that is quickly taking away valuable packing and souvenir space. Because of the fiberglass, aluminum, and fabric structure, the IT Luggage World's Lightest comes in at just 4.51 pounds. Being that lightweight is practically unheard of in the luggage world.
Not only is this wonderful for fitting more things in, it also is helpful for those tired of lugging around a heavy suitcase. Whether you can't lift heavy things into the overhead bins or simply get back pain when traveling, this is a great option for you. Almost everyone can lift the IT Luggage World's Lightest suitcase with one finger when it's totally empty. Can you do that with your current carry on? No? Well, perhaps that's your main reason for converting over to the spectacularly light IT Luggage World's Lightest.
8 Wheels for Superior Control
Two-wheeled suitcases can only be pulled behind you. Four-wheeled suitcases fumble between being pulled and running alongside you. So, IT Luggage decided to double that number to eight wheels. Each set of wheels is located on a corner of the suitcase, providing sturdy support. The dual wheels make rolling the IT Luggage World's Lightest carry on a breeze. They rotate around for 360-degree maneuverability. In addition, they switch seamlessly from being pulled behind you to rolling on all eight wheels right beside you. So, whatever type of suitcase puller you are, the IT Luggage World's Lightest will adapt to you.
10 Year Warranty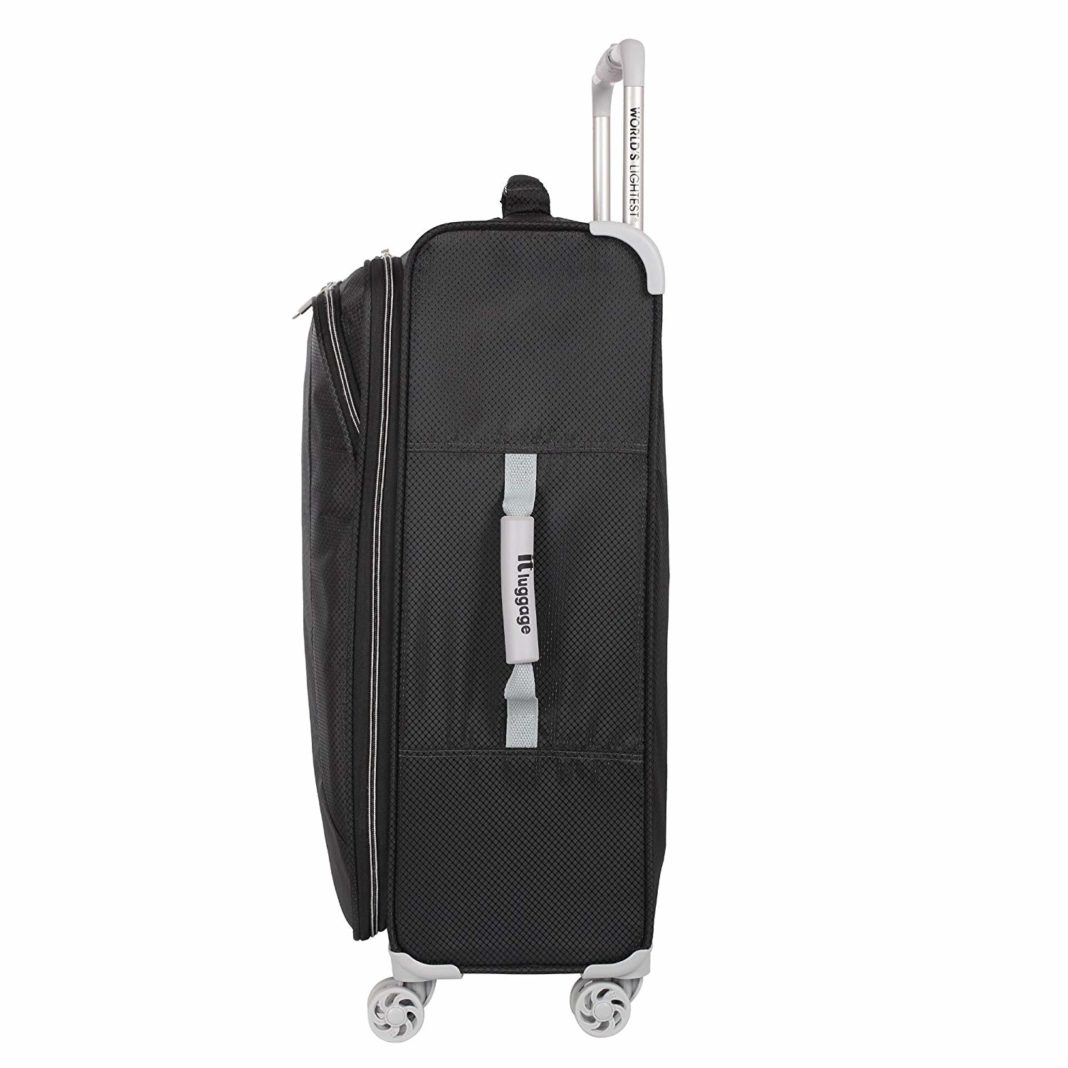 Suitcases get beat up, we can all agree on that. Whether that by you or by the airport baggage workers, they get thrown around. So, you need a carry on that can withstand years of use and travel without breaking down. IT Luggage understands that. They began by simply making an unbeatable suitcase, but in case you do find an error, they back it up with a ten year warranty. So, if you want to invest in a suitcase that will last you well into your traveling years that also has unique features, this is it.
What Travelers Are Saying About the IT Luggage World's Lightest
Averaging 4.3 out of 5 stars, the IT Luggage World's Lightest scores quite well across the board. Travelers report spending weeks abroad and taking multiple foreign flights. When assessing their suitcase after this intense travel time, it still looks brand new. The endurance of the IT Luggage World's Lightest is one of the most commonly affirmed attributes of this carry on. Second, consumers adore how light this suitcase is. Weighing less than five pounds, you will be unable to find another for this price.
A few travelers note that the package came damaged that they ordered it in, but that can't be blamed on IT Luggage. It is good to know that there is no expansion on this suitcase. That being said, it is still roomy but stays within common carry on dimension standards. It measures 27.6 x 16.1 x 9 inches on the exterior, with interior dimensions of 24 x 15.9 x 9 inches. All in all, the IT Luggage World's Lightest carry on is ready for whatever adventure you choose to take it on.
Alternative Lightweight Carry Ons You May Like
Hartmann 7R Global Carry On Spinner
If you're looking for a hardshell carry on that is just as spiffy as the IT Luggage World's Lightest, the Hartmann 7R Global Carry On Spinner is a great choice. With a woven polypropylene shell that is both durable and lightweight, all your belongings will stay safe. It has four wheels to pull the suitcase beside or behind you as well. The retractable metal handle and leather carrying handles allow you to maneuver this carry on with ease. Finally, it comes in three sleek colors: black, silver, or gold. It is just as lightweight as the IT Luggage World's Lightest, but it does cost quite a bit more. Made by Hartmann, you can trust that this carry on will last a lifetime. They've been making these since 1877.
Kenneth Cole Reaction Out of Bounds Four Wheel Upright
Needing a cheaper alternative? Look to the Kenneth Cole Reaction Out of Bounds Four Wheel Upright Carry on. With a durable hard shell, four 360 degree wheels, and lightweight construction, it is a solid option B. The fully lined interior allows you to pack both sides of the suitcase as it opens directly in the middle. This is a bit different than having a specific top and bottom that many suitcases do. Finally, it has molded feet to easily rest it on its side. This being said, it is a few pounds heavier than the IT Luggage World' Lightest, coming in at 6.9 pounds. So, if you're willing to sacrifice on weight, this is a good alternative.
Samsonite Omni PC Hardside Spinner
For a hard sided suitcase that allows you to have a little more spunk in your life, check out the Samsonite Omni PC Hardside Spinner and all its color options. Choose from blue, pink, bronze, or teal, among many others. Combine these color options with the durable and scratch resistant hard shell and you have a cute carry on. With a retractable handle and four wheels, you're not sacrificing any amenities with this alternative to the IT Luggage World' Lightest. The last unique feature of this suitcase is that it does have a mounted TSA lock to keep your things safe but comply with TSA locking standards.
The IT Luggage World' Lightest is set apart as a unique and well-loved lightweight carry on option.
For your next weekend trip or spring break excursion, think about investing in a new, lightweight carry on. Not only will your back thank you, but everything you carry in your suitcase will as well. With durable protection, a unique wrinkle-free flat packing feature, and smooth wheels, your next adventure can be fantastic. Ok, we can't promise you a perfect vacation, but we can assure you that the IT Luggage World' Lightest carry on will alleviate so much stress from packing and traveling.
Related Article: Best Lightweight Carry On Luggage (Plus How to Make the Best Choice)