A tactical sports watch is a must-have for any traveler. One of the best styles is the Casio ProTrek PRG-270-1.
Here, style and function come together in a way that will help to guide you on your next adventure. Most tactical sport watches come at a high price point. While we understand the appeal of luxury watches, we also know that not everyone can afford them. You'll be surprised to see just how affordable this watch is. The Casio ProTrek PRG-270-1 does a great job of bringing quality at a great price point.
You don't have to break the bank to find what you need in a travel watch. In this review, we will go over the technical features of the watch. From design to storage battery, power saving functions, and more, there are so many reasons why the Casio ProTrek PRG-270-1 is a great buy.
The Casio ProTrek PRG-270-1 Features & Benefits
You don't have to sacrifice the best in style for useful watch features. As one of the most popular entry-level tactical sport watches, the Casio ProTrek PRG-270-1 checks all of the boxes.
Watch Casing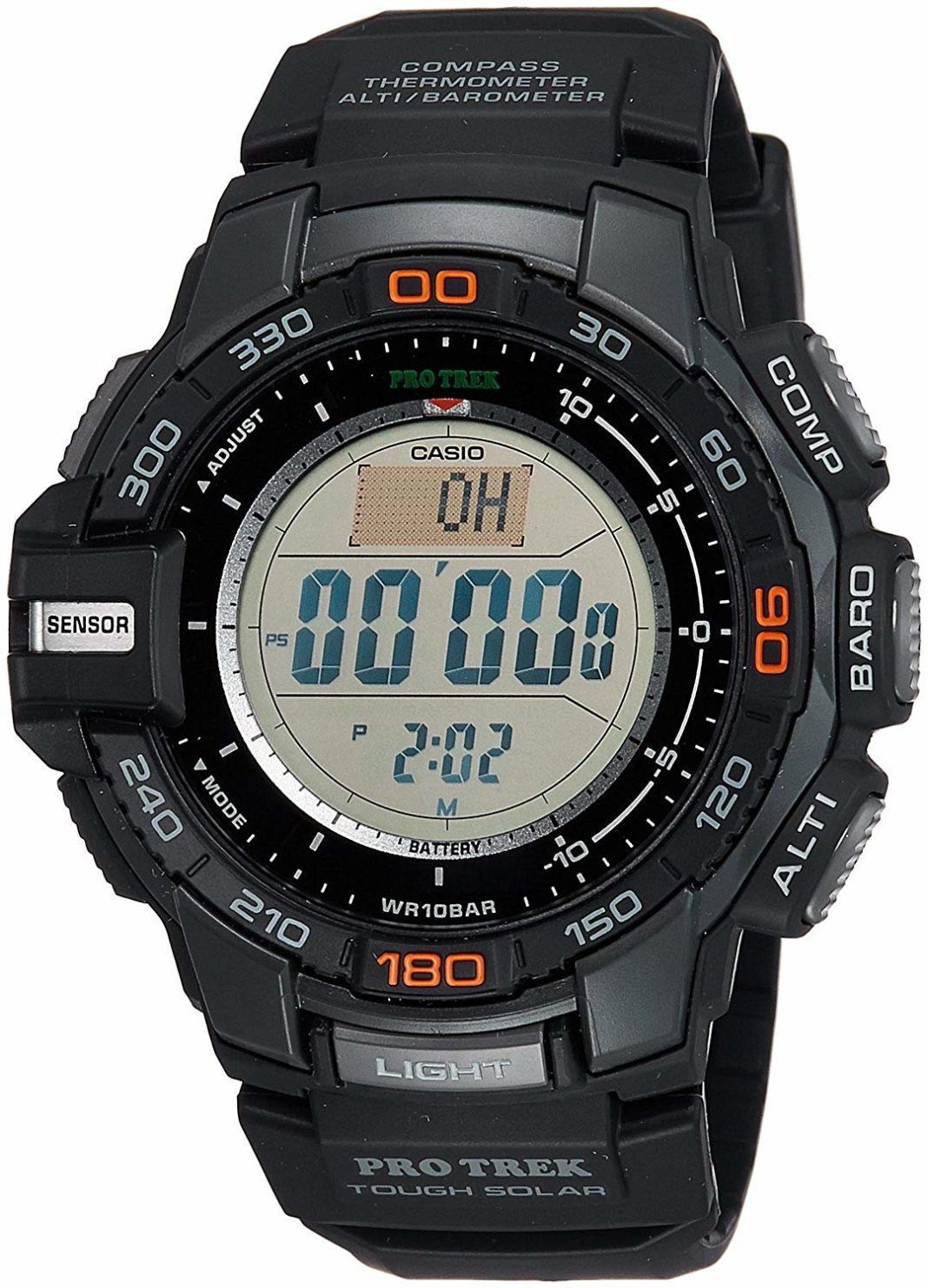 Credit: Amazon
Take a look at the stainless steel casing of the Casio ProTrek PRG-270-1. It's clear to see that it was made with durability in mind. Measuring in at a diameter of 5.2 cm and offering a 14 mm thickness, the shell can stand up through the bumps of travel. You won't have to worry about taking it out on all of your adventures. Whether you are hiking or swimming, the Casio ProTrek PRG-270-1 will hold its own. It's both water resistant and can handle low temperatures. The resin coating even keeps the watch safe in moist climates.
The Band
Moving on to the band, you can see that it matches the bezel perfectly. Standard in length and measuring 21mm in width, it is sure to fit comfortably at all times. Thanks to the resin coating, the Casio ProTrek PRG-270-1 is not only safe from damage due to moisture but it is shock resistant as well. You'll never have to worry about your watch slipping on your wrist again.
Dial
Crafted out of mineral, the Casio ProTrek PRG-270-1 offers a scratch resistant dial. Since other watches at this price point have a tendency to scratch easily, we appreciate the durability of this style. In addition, the lit back display makes it easy to keep the watch at full functionality. Small notches located around the bezel help to keep track of many functions. But they do not detract from the style in any way.
Solar Powered Battery
This could be our favorite feature. Thanks to a solar powered battery, you will never have to worry about replacing a battery when you need it the most. So, even if your phone dies when you're hurrying through the airport to catch a flight, you can still keep track of time. The battery indicator shows you how much percentage you have left at all times.
ABC
What does the ABC in the Casio ProTrek PRG-270-1 stand for? It's short for altimeter, barometer, and compass. No matter what type of trip you are seeking, you can rest easy knowing that you are set with these handy features. On the left side of the watch is a simple sensor. To the right, you can switch between three features. Keep track of where you are going and how far you have come.
The altimeter is easy to calibrate. Make sure to do this before you venture out. You can use height markers to set the altimeter as well as GPS way points. This is a great reference feature to have when you're hiking in the hills and want to confirm your position. We all know our map can lead us astray once in a while. We have found the altimeter to be accurate and reliable.
For a wrist meter, the barometer is impressively accurate too. The watch also features an alarm that can signal a rapid change in pressure. This is ideal for environments where weather can change on the fly. The Casio ProTrek PRG-270-1 also has a thermometer. While this feature isn't the most solid on its own, when used in conjunction with the barometer it proves to be useful.
Tech Specs:
Solar powered

Water resistant up to 100 meters

Battery level indicator

check

GPS way points

check

Thermometer

check

Altimeter, barometer, and compass

check

Sensor on the left side

check

Low Temperature Resistant: 14 degrees F

check

Affordable price
What Travelers Are Saying About the Casio ProTrek PRG-270-1
Overall, travelers love the Casio ProTrek PRG-270-1. With a 4.3 out of 5-star rating and well over 400 reviews, the user testimonies speak for themselves. Since this model is smaller than its predecessors, the designers have moved the sensor location from the 10 o' clock position to the 9 o'clock position.
The triple sensor makes these watches sometimes called ABC watches as they have Altitude, Barometer & Compass readouts. Overall, users found the smaller design makes it easier to wear everyday, however the face is still relatively busy looking. The sensor at the 9 o'clock position sits higher than the raised section at the 3 o'clock position. The crystal is recessed nicely as usual on Casio G-Shocks and Protreks.
The watch is light, weighing only about 67 grams (2.36 ounces). In addition, it is water resistant, which means it is ok in a rain shower, or shallow swim, but it wouldn't be ok with a scuba dive. Let's go back to the more technical features. We find that all altimeter watches without GPS embedded will calculate the estimate of altitude by changes in air (barometric) pressure.
Air pressure can change due to many things, like change in elevation, change in weather, your physical location and wind. So for example, if you get a low pressure system coming through over night, while you leave your watch on the table, it could appear that you have ascended a few hundred feet in your sleep. Similarly, if you take the watch on a commercial airplane, it will not give you a reading on the actual altitude, but a lower altitude, based on the pressure within the cabin. If you fly in an unpressurized aircraft, it will give you a more accurate altitude reading.
Users have found that the altimeter and barometer readings tend to vary with temperature, and gives marginally more accurate readings off the wrist especially if you have been hiking and your wrist is warm. For accurate altimeter readings, you still need to calibrate your altimeter watch to your reference altitude on a fairly regular basis.
You can do this when you want to log altitudes before a hike/climb. An easy way to do this is to check Google Earth which gives accurate altitude readings when you put your location. You can then calibrate the barometric pressure from your local meteorology service.
Still, this can vary, and the altimeter watch is not a scientific instrument, but only designed to give you an estimate on current altitude. Overall, for the price, this is a very good triple sensor watch that because of the smaller size from previous Protreks you can use for everyday wear. If you understand the limitations of ABC watches (they are not intended as precision instruments), this is a great first ABC watch.
Alternative Hiking Watches You May Like
Men's Vincero Kairos Wrist Watch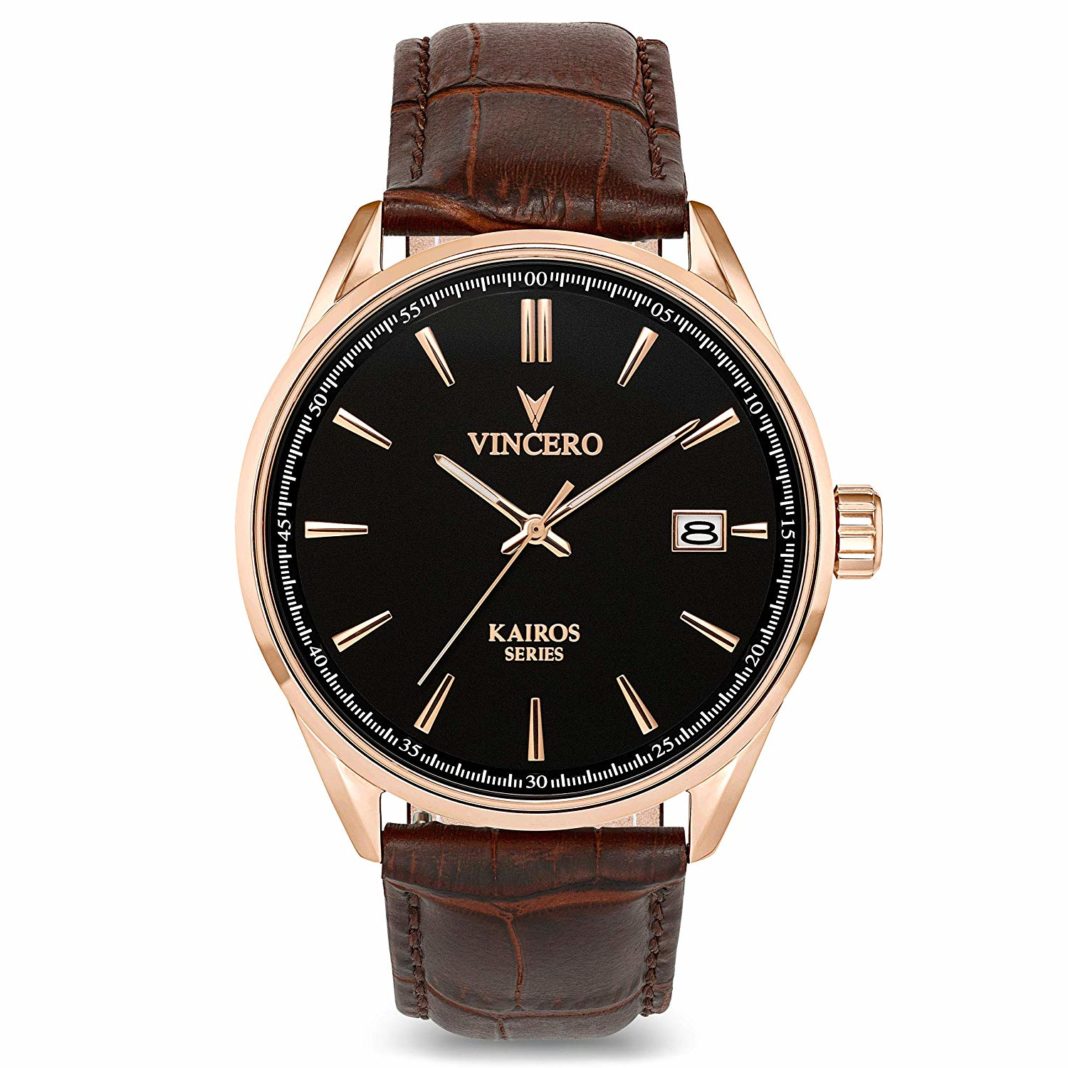 Here is another great style that offers fashion and function. The Men's Kairos Wrist Watch from Vincero offers a luxury look at a price you can afford. The caseback features gorgeous Italian marble. Besides offering a desirable aesthetic, the watch is practical too. Surgical grade stainless steel provides a durable structure. It's also scratch resistant and water resistant. So no matter where you take it, it can face the ups and downs of travel.
Tech Specs:
Premium leather band

22mm wide band (interchangeable with easy release button on the back)

Italian marble caseback

check

Surgical grade stainless steel body

check

Scratch resistant

check

Water resistant

check

Affordable price, luxury style

check

Citizen Miyota Quartz movement
SKMEI Men's Digital Sport Watch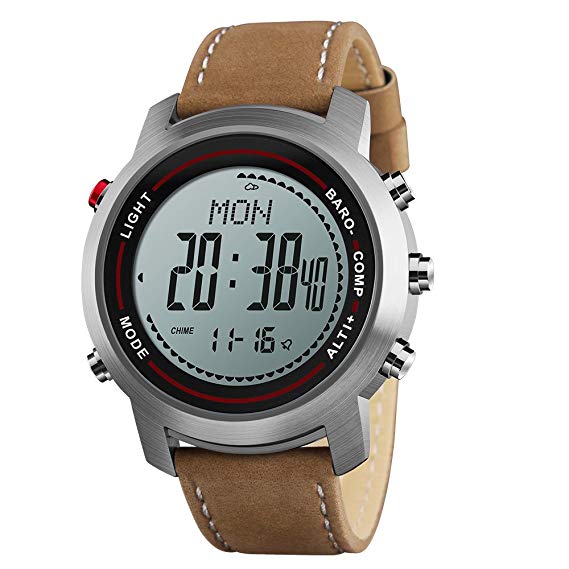 Durable, fashionable, and sporty, this men's watch from SKMEI checks all of the boxes. As an outdoor sport and casual fashion brand, they provide products you can take just about anywhere. A digital display offers great precision. Even better, it supports long time use. No matter what type of traveler you are, you will enjoy the features on this watch.
Similarly to the Casio ProTrek PRG-270-1, it has an altimeter and pedometer. Track your moving steps with the pedometer. You will know how far you walk and how long between you and destination. The memory storage records the last 7 days data in the watch and the sequence of screen display is in step of distance, calories, sports time.
Tech Specs:
Imported

Multifunctional: The altimeter measures the altitude on a graph and the barometer shows air pressure

Track your steps

check

Digital sports watch: Use a countdown and two independent alarms

check

Waterproof watch: Waterproof up to 164 feet
Invest in the Casio ProTrek PRG-270-1 for Your Next Adventure
We hope you enjoyed reading our feature on the Casio ProTrek PRG-270-1 along with some of our other favorite brands and styles. Casio offers affordable quality products you can count on. All the quality and care put into the ProTek cannot be overlooked. From the stylish design to tech specs, we can't get enough of this menswear style.
Related Article: The Best Hiking Watch: 6 Top Contenders And How To Pick The Right One