Portland is home to hipsters and tech-heads, so it's no surprise its hotels are some of the nicest (and coolest) in the U.S.
Though it was originally known as being a city with a major shipping port (Port-land, get it?) as of late, Portland is best known for its liberal and artsy vibes. While you can't believe everything Fred Armisen and Carrie Brownstein have told you about Portland… Some things are true. Yes, Portland is home to some of America's hippest hipsters. Yes, you will drink some of the best coffee of your life in Portland. And yes, there are a lot of tech-heads and thrift store fanatics who are often looking for old pieces of furniture and rundown buildings to restore. It just so happens many of these reconstructed projects have been turned into some of the coolest, best hotels in Portland.
From an Art Deco hideaway to a high-tech European hotel chain, Portland has it all. Enjoy your stay in Stumptown in style by staying in one of the best hotels in Portland, Oregon.
1. McMenamins Crystal Hotel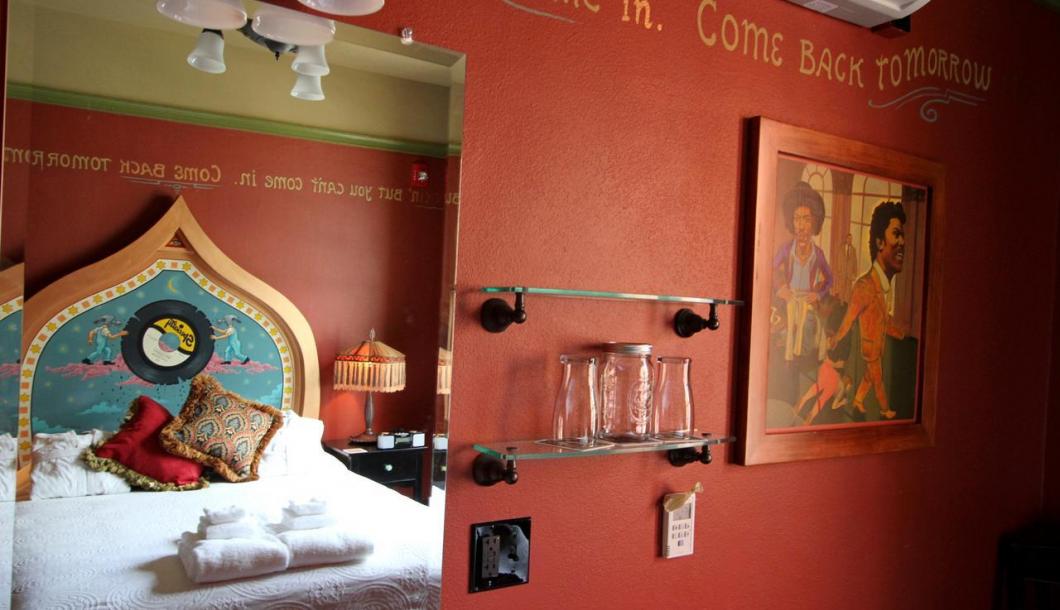 Credit: McMenamins Crystal Hotel
Simply put, this hotel is a cool place to stay. Located in downtown Portland's West End, on the edge of the Pearl District stands the McMenamins Crystal Hotel. It's hard to miss, considering the exterior has a gorgeous, classic, century-old flatiron style. Just next door to the hotel is the McMenamins Crystal Ballroom. Built in 1914, the historic building is best known for holding dances and parties through the Great Depression. The hotel took inspiration from the ballroom's history when designing its 51 guest rooms, each of which has a decor that is inspired by a song or performance that was done at the ballroom over the past 100 years. McMenamins' dedication to history and unique design is what makes it one of the coolest and best hotels in Portland.
And yet, there's more. Not only is McMenamins an incredible hotel, the company also owns many pubs and bars throughout the city that are worth checking out. They always have a wide range of craft beer, wine, spirits, and ciders on tap to ensure that there is something for everyone to enjoy.
Location was an important factor we considered when ranking the best hotels in Portland. The location of the McMenamins Hotel is one that you can't beat. Right within the Pearl District is plenty of art, music shows, shopping, delicious local restaurants, and other events that are sure to give you an authentic taste of Portland, Oregon. It's also right down the street from Powell's City of Books, the largest new and used bookstore in the entire world. One downside to the McMenamins Hotel is that the rooms do not come with a television set; but who really cares when there's so much outside to explore?
Overall, McMenamins is a funky, fun, and luxury place to stay for travelers interested in booking the best hotels in Portland, Oregon. Visit their website to learn more.
2. Caravan: The Tiny House Hotel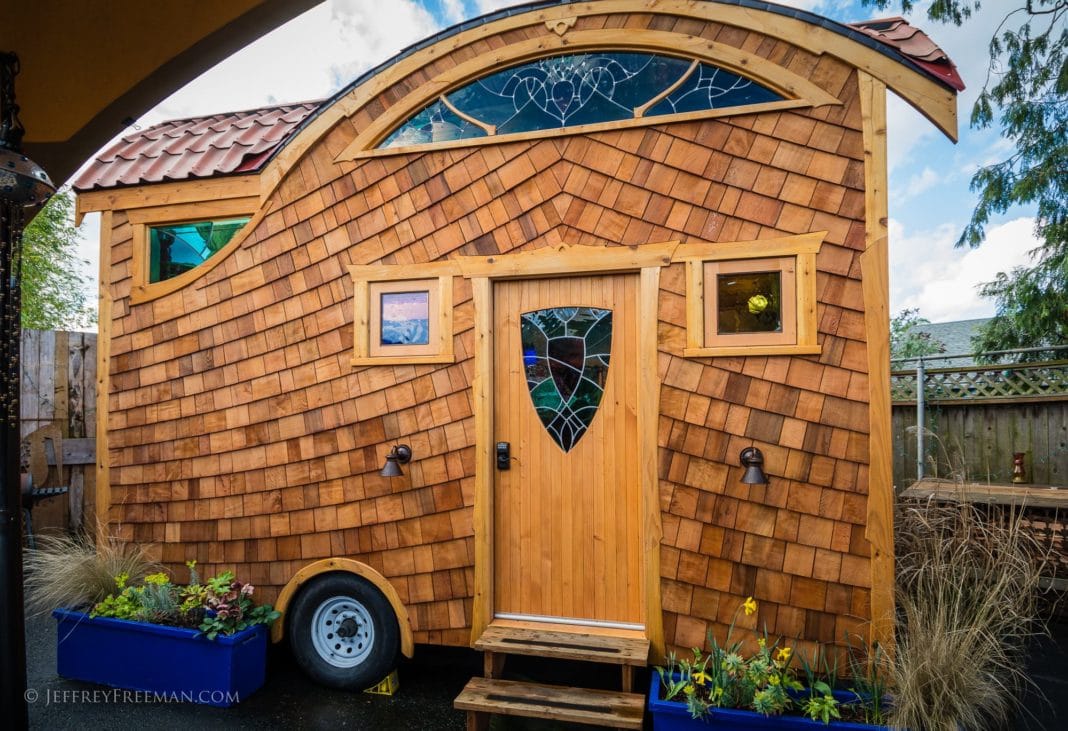 Credit: Caravan: The Tiny House Hotel / Facebook
Though this next stop may be a step down in size, it doesn't get much better than this if you're looking for luxury with a truly Portland vibe. Caravan: The Tiny House hotel is a one-of-a-kind stay, making it one of the best hotels in Portland. Located in the heart of the popular and vibrant Alberta Arts District, Caravan offers travelers the chance to experience "what it's like to stay in a custom-made tiny house on wheels." Each house was custom made by Oregon-based builders and range in size from 120-170 square feet. Each "tiny house" rocks its own funky and artistic design that is so Portland. Don't be fooled by their size: each house has "multi-functional, space-efficient" furnishings and all the necessary "basics" (i.e. toilets, showers, heat… need we say more?)
There are just six custom houses on Caravan's lot, making this stay at one of the best hotels in Portland even more unique and intimate. In the communal space located in the middle of the tiny houses, there is a fire pit, ping-pong table, and locally made art adorning the grounds. To top it all off, included in your stay is all-your-can-eat S'mores – with vegan marshmallows, organic graham crackers (which can be gluten free) and Fair Trade chocolate, of course. What did you expect? This is Portland, after all.
Though it's easy to feel secluded during your stay at Caravan, there is plenty of activity just down the street to take part in. Some restaurants that the locals love are just nearby, including Radio Room, the Alberta St. Pub, and the "famous" Grilled Cheese Grill. If you're looking to go all out, you have the option to rent out the entire lot!
Visit their website for more information.
3. Hi-Lo Hotel, Autograph Collection
Credit: Hi-Lo Hotel, Autograph Collection / Facebook
Sometimes a stay at a really nice, really luxury, really fancy hotel chain is just what you need. If you identify as a techie who loves having the latest gadgets at hand, then this may be one of the best hotels in Portland for you. Hi-Lo Hotel has the perfect mix of rustic, Portland vibes and high-tech elements to balance out your stay in P-Town. The concrete and wood decor of the guest rooms have a very modern feel that is easy to relax in. Accordingly, each room is decked out with the latest high-tech features, including radiant headed floors and flatscreen LED TVs. Hi-Lo Hotel understands the importance of being able to unwind after a long day adventuring through the city and enhance each room's comfort with "Portland-esque" touches: plush, locally sourced bedding and complimentary Wi-Fi to put you "right at ease."
If you find yourself exhausted after a long day of walking around and don't have the energy to leave the hotel for food, don't fret. Alto Bajo is the onsite restaurant at Hi-Lo Hotel and serves the best Mexican dishes in all of portland. If you do want to adventure out for the evening, you're in luck. Hi-Lo Hotel has a prime location in downtown Portland near the Portland Art Museum, Pioneer Courthouse Square and Portland Saturday Market. It's also just across the street from vedor trucks, restaurants, and bars that have an authentic, local feel.
Visit their website to learn more.
4. The Heathman Hotel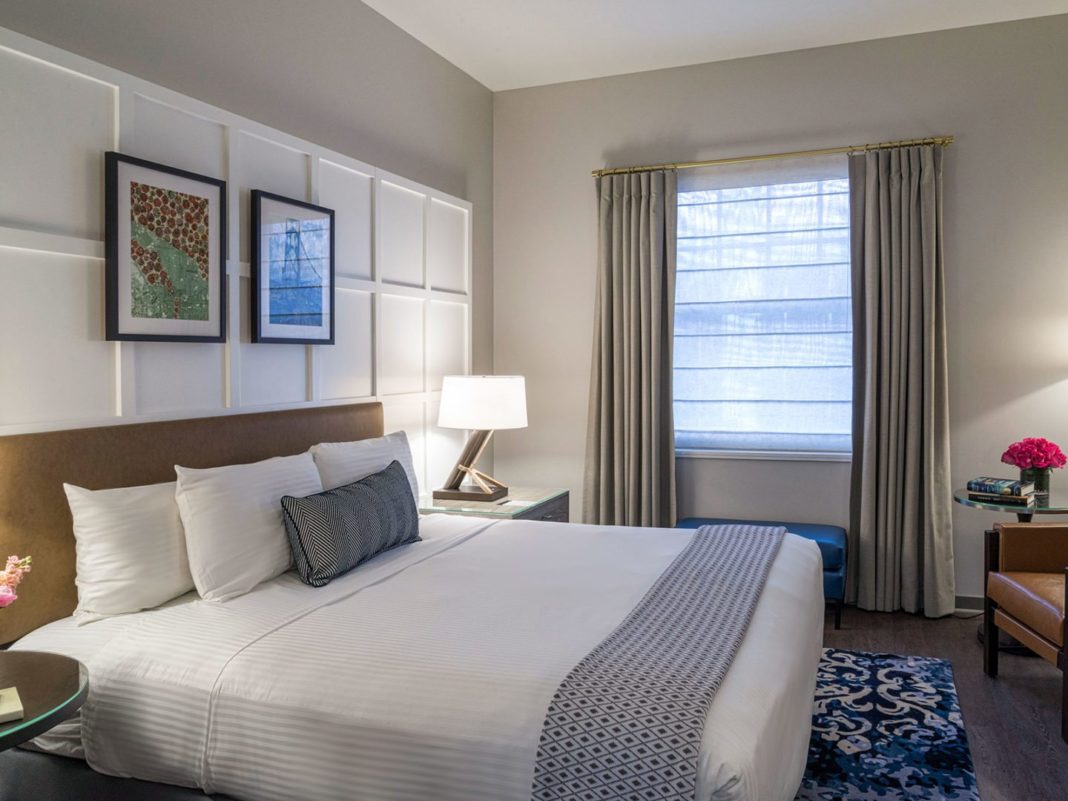 Credit: ​The Heathman Hotel
You know you've been guaranteed a luxury stay the moment you step through the doors of The Heathman Hotel. Upon arrival, guests are gifted a complimentary beverage (alcoholic or not, it's dealer's choice) before being led to their comfortable rooms. Though this hotel may feel new and modern in ways, it has a long and rich story in Portland's history. The Heathman has been welcoming travelers to Portland since it was built in 1927. Though it has since been renovated, the hotel still identifies itself as one of the city's "most recognizable landmarks" that is dedicated to appreciating and showcasing the arts, as seen through the artful decor all throughout the hotel.
After all these years, The Heathman continues to be one of the nicest and best hotels in Portland, especially around the holidays. During the Christmas season The Heathman is transformed into a winter wonderland. The beautiful wooden staircases and adorned with wreaths and ornaments while guests are offered Christmas-themed cocktails and a special copy of "A Christmas Carol." Another perk of staying at The Heathman is the its right next to Snitz Concert Hall. Therefore if you plan on coming into town for a show, this is the most ideal location you could stay at.
Another reason why The Heathman is one of the best hotels in Portland is its location. Nestled in the heart of downtown, The Heathman is just a stone's throw away from the hustle and bustle of Portland nightlife. Fan-favorite local restaurants, coffee shops, and pubs are just around the corner from The Heathman, with nothing worth seeing being more than a quick Uber drive away.
Visit their website to learn more.
5. Kimpton Hotel Monaco Portland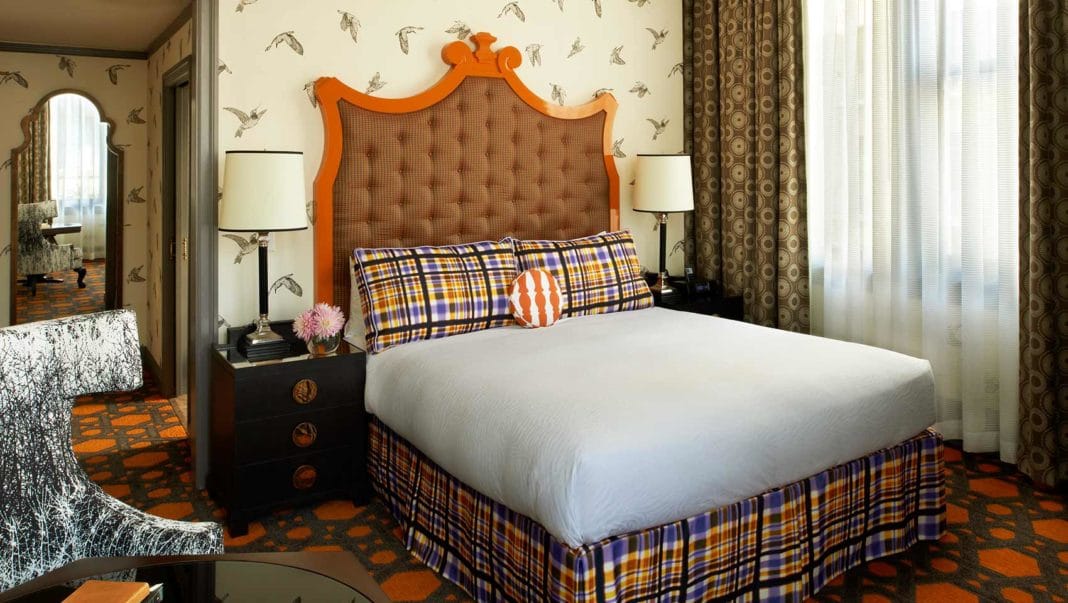 Credit: Kimpton Hotel Monaco Portland
We're not the only ones who think #5 on our list is one of the best hotels in Portland. Crowned "Most Beautiful Hotel In Portland" by Architectural Digest in 2017, the Kimpton Hotel Monaco Portland makes guests feel like royalty. Though the circa-1912 building has been heavily renovated, the rooms have maintained quirky yet comfortable decor in honor of the spirit of Portland. Kimpton Hotel Monaco Portland also makes for one of the best hotels in Portland for those traveling with furry friends! It's extremely pet-friendly, and the staff is courteous and accommodating to any of you and your pet's needs.
Some Kimpton-exclusive perks that enhances the luxuriousness of your stay is its nightly, somewhat complimentary happy hour. Every nightt from 5-6 p.m., the Kimpton offers cocktails and live music in the lobby.It's a perfect opportunity to mingle with other guests, or take a slow start to your evening before exploring the surrounding downtown area.
Overall, the Kimpton is a great place to stay for travelers who don't require a traditional hotel settings and are interested in a place with a lot of character (and fun perks!) Visit their website to learn more.
6. Hotel deLuxe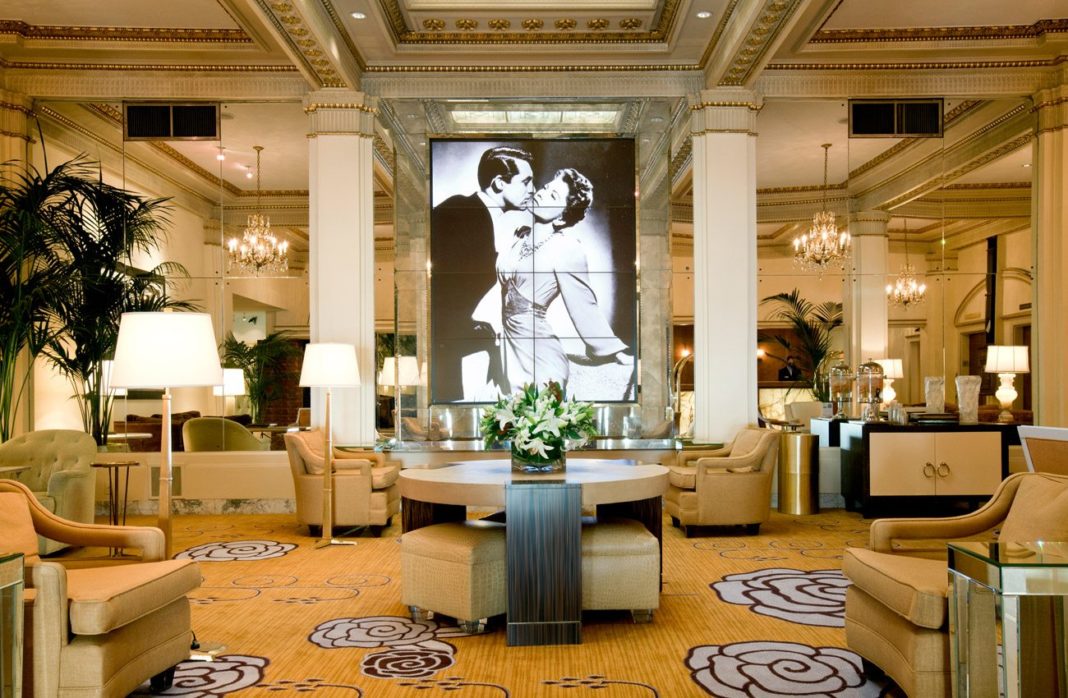 Credit: Hotel deLuxe
To travelers in search of a lavish stay: need you look no further. Inspired by the design of and style of Hollywood's Golden Age, Hotel deLuxe has a one-of-a-kind, royal feel that "combines an art deco aesthetic with modern art." The theme generates a romantic, classy atmosphere and the glamorous black and white film stills adorning the walls make guests feel like they've stepped back in time. Even the hotel's bar, the Driftwood Rooms, gets into the Hollywood spirit. The bartenders (rather, "mixologists") dress the part and personably craft your cocktails to make you feel like true Hollywood royalty. Its these details and the staff's dedication to creating a memorable experience that qualifies Hotel deLuxe as one of the best hotels in Portland.
At Hotel deLuxe, guests are made to "feel like a star." Every day the hotel offers complimentary afternoon tea and screenings of classic Hollywood movies. Gracie's, the onsite restaurant, offers a memorable fine-dining experience with a menu that features "Pacific Northwest Dishes." Just because the hotel transports you to California doesn't mean they aren't proud of their Oregon roots! Hotel deLuxe partners with local businesses, artists, and entrepreneurs to bring in as much of Portland's magic into the hotel as possible. During tea time you can taste Portland-based Steven Smith Teamaker's green, black, and herbal teas. The chefs make use of Jacobsen Salt Co.'s kosher sea salt while Bee Local, Portland's premier producer of artisan local honey, is stocked in guest room bars. But we saved the best for last: guests can have Salt & Straw, Portland's famous artisanal ice cream, delivered right to their door.
We love when businesses work together to help travelers authentically experience the city they call home. That's yet another reason why Hotel deLuxe is one of the best hotels in Portland for visitors who want a genuine taste of the city and a luxury stay to go with it.
Visit their website to learn more.
7. The Nines, A Luxury Collection Hotel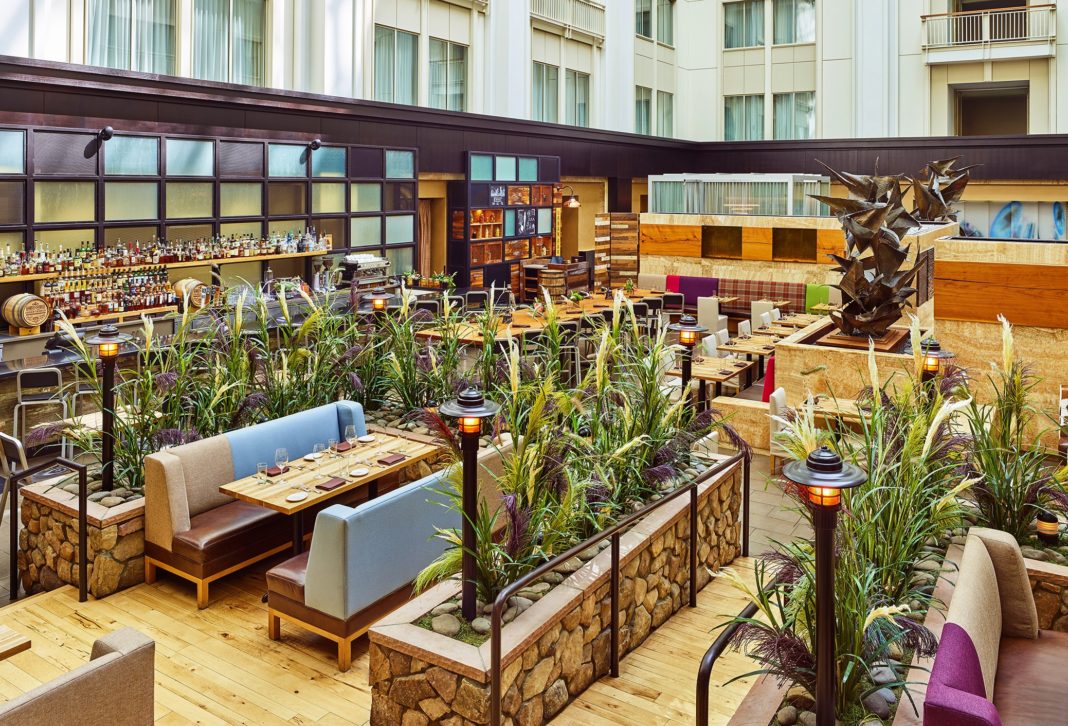 Credit: The Nines
The Nines is the definition of "modern luxury." Nestled atop the former Meier & Frank department store building, The Nines is centrally located in the heart of Portland with plenty to offer onsite and in surrounding areas. The guests rooms ooze with upscale comfort and regal style with crystal pendant lights, ivory colored satin drapes and bedding, leather headboards, and a view of the cityscape from every room. The 9,000-square-foot rooftop bar is a favorite spot among locals. From its vantage point, guests have the perfect view of Mt. Hood and the surrounding areas. The upscale vibe of The Nines makes it one of the best hotels in Portland for business events or couples looking for a romantic, luxurious weekend getaway.
The Nines is in close proximity to cute boutiques and restaurants. Alternatively, guests can use the nearby eco-friendly MAX light rail to travel to the Japanese Garden, the Portland Art Museum, and other "chic neighborhoods" throughout the city. The hotel also has two dining options: the Departure Restaurant + Lounge, which is on the rooftop along with the bar, and the Urban Farmer Steakhouse. The Departure offers Asian cuisine with a side of scenic views, while the Urban Farmer can serve you up the best filet mignon in the city. If neither suit your fancy, there are plenty of local spots in the surrounding area to try out.
One very unique trait of The Nines is that the walls are decorated with works of art by students from the Pacific Northwest College of Art. It seems most hotels in Portland are proud of their history, art, and culture, and The Nines is no different.
The Nines is hands down one of the fanciest and best hotels in Portland. Visit their website to learn more.
8. The Society Hotel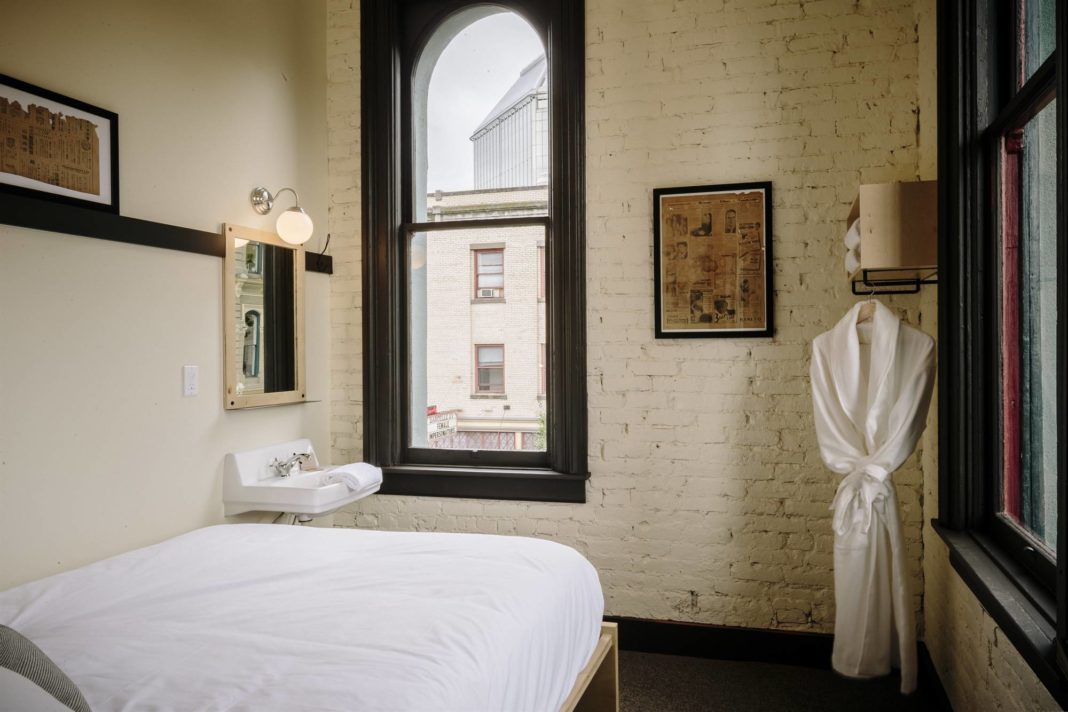 Credit: The Society Hotel
Located in the historic neighborhood of Old Town Chinatown, The Society Hotel "redefines and resurrects" the history of Portland in what was once known as a sailor's hotel. The story goes that in 1881, the Seaman's Friends Society built the hotel, originally known as the Mariners Building, to serve as a "safe haven for sailors" who came in to the city's shipping ports. Though it was lifted during renovations, the building was originally three stories. you may notice that the front of the building has a very unique window display: this is due to the fact that those windows were once the entry way to the The Society Hotel. The hotel's dedication to keeping its history alive is one of the most interesting things about it. In our opinion, it's also a big reason why The Society Hotel is one of the best hotels in Portland.
Being in such a popular neighborhood, it should come as no surprise that The Society Hotel is just a stone's throw away from some pretty great local eats. The Society Hotel is especially good for young guests looking to have a late night (you're in Chinatown, after all) and late night eats to go with it! The Roxy, a hole-in-the-land Portland staple. Open 24-hours a day, this diner is one of the best places to people watch in all of Portland. There's also Sizzle Pie Burnside, a pizza joint with vegan options, in addition to plenty of food carts just down the street.
One thing we love about this boutique hotel is how excited the staff is to help guests tour their city. Their website even features a guide, "Things We Wished We Knew About Portland Before Visiting" to ensure guests get a genuine feel for what life is life in Stumptown.
Overall, The Society Hotel is one of the best hotels in Portland for young travelers looking to live it up. Visit their website for more information.
The best hotels in Portland are some of the hippest, classiest, and most historical hotels you'll ever visit.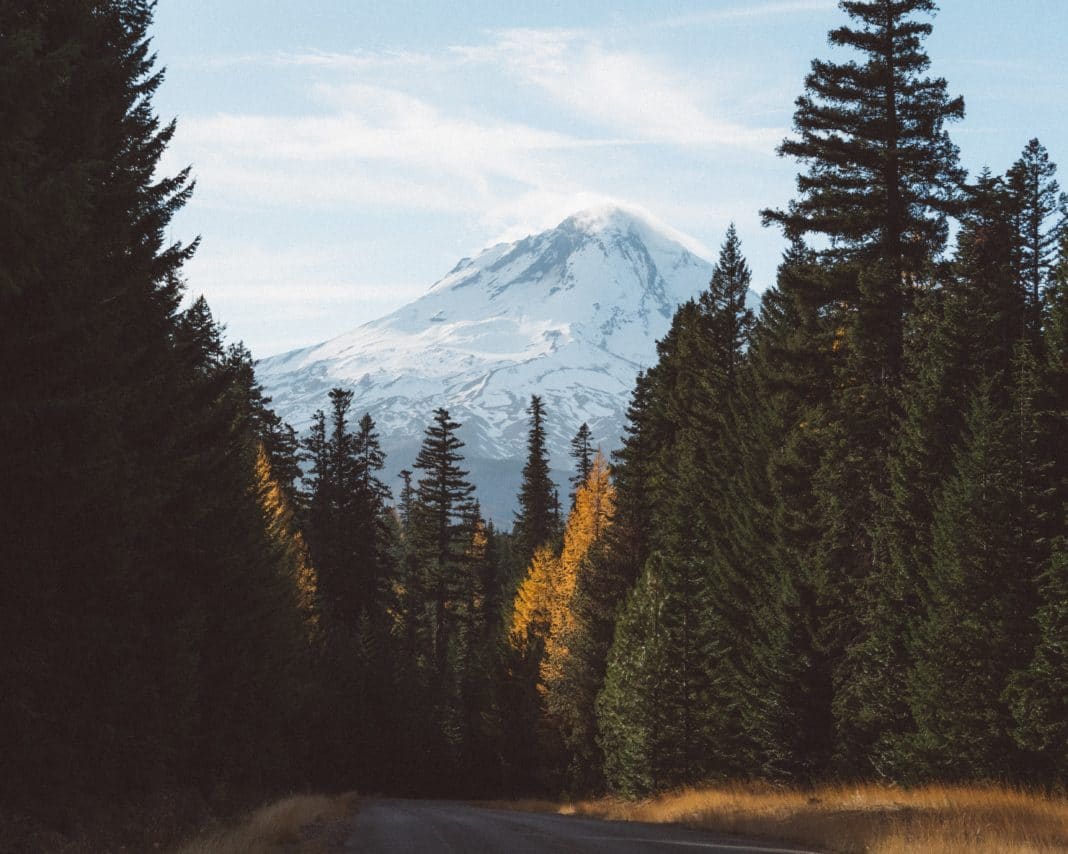 This was not an easy list to compile. As you can see, Portland residents are proud to call their city home. As a result, they have built an array of incredible hotels that show visitors why life in Portland, Oregon is so great! From incredible local eats to beautiful waterside views to a collection of some of the most unique and diverse neighborhoods, there is something for everyone in this cool hipster town.
This is just a small taste of the best hotels in Portland for you to consider. Regardless of where you stay, we're sure your trip to P-Town is going to be one to remember.
Related: 11 of the Best Hotels in West Palm Beach and Palm Beach