Homeric Poems is the perfect resting point along your Odyssey through Santorini, Greece.
In a nod to Ithaca, the birthplace of the owner Homer's role model, Odysseus, Homeric Poems brings together luxury, mythology, and hospitality. This top-rated hotel sits in the village of Firostefani on the Grecian island of Santorini. Despite being in close proximity to several restaurants and cafes, Homeric Poems offers an intimate and restful setting for your next getaway. With incredible service, relaxing yet chic accommodations, and world-class cuisine, this top hotel is the perfect place to stay as you explore the closest thing to heaven on Earth — Santorini.
Features & Benefits of Homeric Poems
Being that Santorini is a top travel destination that delivers quality travel and views, its understandable that you want to stay in the best hotel. Homeric Poems allows you to do just that! Its luxurious accommodations, exquisite cuisine, and many amenities make this boutique hotel a top choice.
For a small added fee, Homeric Poems will pick you up from the port or airport to head up your welcoming committee. Upon check-in, it only gets better — Homeric Poems serves guests a welcome drink to erase any tensions brought about by your journey. As you look around in awe of the crisp white walls set against the vivid blue sea, be sure to take in the authentic Greek ornaments from the owner's collection. Leave room for dessert though, because Homeric Poems is just getting started on winning you over as one of the best luxury hotels in Santorini.
Let's Talk Accommodations
As you're being led to your room, the excitement mounts. Homeric Poems offers a variety of lodging accommodations that are sure to meet, if not exceed, your expectations. While their are variances in the rooms depending upon which option you select, it is worth noting that all of the following are available, no matter which room you select:
Nespresso machine and mini-bar
Bathroom with shower, luxury toiletries, bathrobes, slippers, hairdryer, and a full-length mirror
Doc speaker
Wardrobe
Boiler
Direct telephone line, Free Wi-Fi, and a flat-screen TV with access to movies and sports
Air-conditioning
Soundproof windows
View of the sea
Safety deposit box
Daily room cleaning, laundry service, and wake-up service
Whether you stayed within your budget or splurged on your suite, you won't ever miss the comforts of home. Homeric Poems has thought of everything you could possibly need. Read on to learn about each room's benefits.
Double Room and Deluxe Double Room
Credit: Facebook, Homeric Poems
For the most economical sleep that Homeric Poems offers, opt for the double room or the deluxe double room. For couples, the double room is the best fit, whereas some of the deluxe double rooms can accommodate up to three guests. Nonetheless, both options are classified by abundant natural light, traditional architecture, and private balconies. The quiet refuge of the balcony promises the best views of the caldera and sunset.
The major difference between the double room and the deluxe double room are the spacial arrangements. Deluxe double rooms come standard with a lounge and sofa bed not found in the double room. Nonetheless, both of the rooms gift travelers with expansive sea views, and thereby, endless photo-ops!
Cave Suite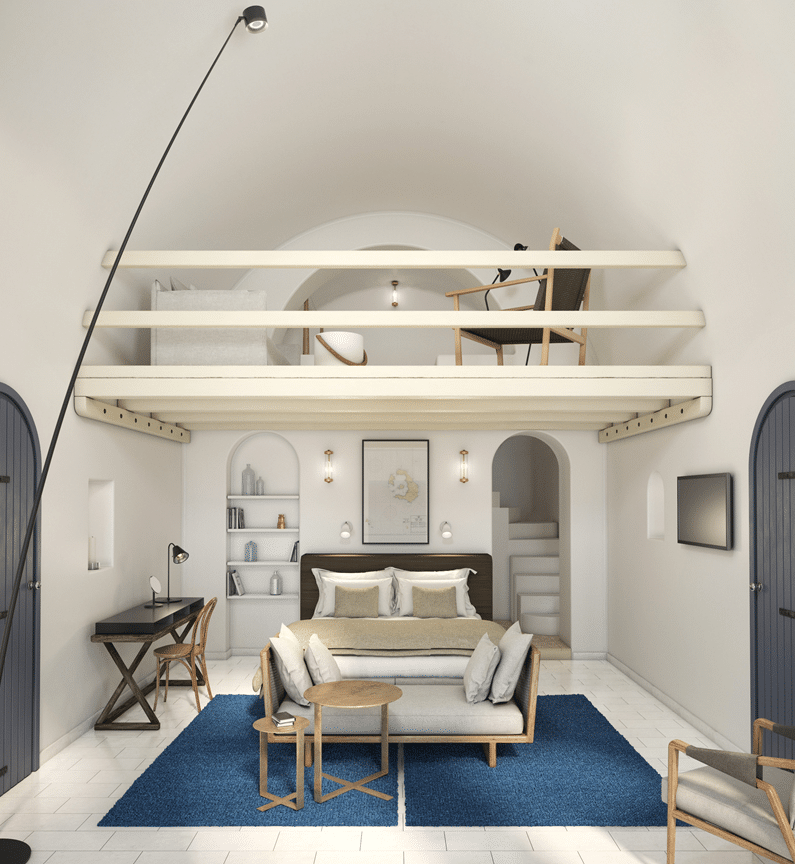 Credit: Homeric Poems / 3D Render of New Cave Suite
Four of Homeric Poems suites are known as the Cave suite. Situated in a separate part of the hotel, these rooms are two levels and sleep up to four people. Complete with a bedroom on the upper level, bathroom with shower, dining table, lounge, sofa bed, and balcony, the Cave Suite is the perfect option for treating your entire group to a taste of the finer things in life. That being said, the suite is currently under renovation, so you can anticipate an even more luxurious upgrade.
Grand Suite
Credit: Facebook, Homeric Poems
The Grand Suites represent a slight departure from the traditional design found in the rest of Homeric Poems. Even still, these suites will not disappoint. For ultimate seclusion and intimacy, opt for the Grand Suite's private pool, entertainment system, separate lounge, bathroom with a Jacuzzi. Prepared to be wowed by the indoor hot tub and pool that leads to a hidden cave, or by the colored stucco walls and fiber optic ceiling. Choose the Grand Suite for couples looking for an all-inclusive resort feel.
The Honeymoon Suite
Credit: Facebook, Homeric Poems
The Honeymoon Suite at Homeric Poems is as romantic as it sounds. Sleeping up to two people, this room offers queen size beds, marble bathrooms with a Jacuzzi, a lounge, and stellar views of the caldera from your balcony. You and your lover can soak up the views while enjoying the company of the one you love. Who knows? You may never want to leave!
Let's Talk Dining
Luxury hotels are nice and all, but what good is staying at a place with food that isn't on point or better?! Luckily, this is no issue at Homeric Poems. The hotel's highly-trained chef draws on his education and travel experience to ensure that your belly never growls.
Homeric Poems Restaurant
Credit: Facebook, Homeric Poems
The restaurant of the Homeric Poems hotel takes a note from Odyseesus' joy of sharing food with family and friends. Guests love that each dish at Homeric Poems features locally grown produce and ingredients from nearby islands. Head chef Dimitris Skarmoutsos creates dishes that have been tried and true among Mediterranean cuisine. However, that's not to say these dishes aren't 5-star. As a former reviewer for the Greek "Master Chef," Mr. Skarmoutsos brings the flavor, color, and aroma to your table. Enjoy the unique delicacies from the privacy of your terrace or in the restaurant/bar area. Either way, you definitely won't long for the tastes of home while you stay at Homeric Poems.
Local Options
Credit: Wikimedia Commons, Klearchos Kapoutsis
Being that Homeric Poems is located in Firostefani, you are never far from great dining options. The hotel's close proximity and walk-ability to nearby villages makes ample restaurants, cafes, and bars available. While each provides a slightly different atmosphere and menu, it is safe to say that you cannot go wrong. Ask the hotel staff for recommendations on the best places to eat near Homeric Poems.
Let's Talk Amenities and Activities
Shelling out money on a luxury hotels means that you expect the best amenities and a smattering of nearby activities. Not to worry! Homeric Poems checks both boxes, ensuring that travelers are well pampered during their stay and always entertained.
Amenitites
Credit: Facebook, Homeric Poems
The amenities at Homeric Poems are numerous and top-notch. While we cannot possibly name each amenity, we've chosen to highlight the most helpful, highly-rated, or desired qualities. With such pampering, you'll never want to leave this paradise.
Swimming Pool
Like most of the pools in Santorini, the one at Homeric Poems offers guests unbeatable views of the caldera, ocean, sunrises and sunsets. However, we love the pool at this hotel for a different reason — it has everything you need! Guests find that they do not need to bring their own towels or even the towels from their room as these are provided. Lounging around on the many sunbeds underneath the equally as numerous umbrellas is a favorite activity of travelers. Additionally, the pool bar lounge is nearby, meaning that hotel staff will keep the drinks coming at your beck and call.
Friendly Staff
One of the scariest aspects about traveling overseas is often the prospect of dealing with a culture and language different than your own. Homeric Poems makes your experience pleasant in a myriad of ways. On top of being extremely helpful, the staff is multi-lingual, thus eliminating any language barriers and blunders.
Attitude isn't all though! The staff at Homeric Poems provides room service, 24-hour reception, concierge service, a porter, daily cleaning of the rooms, dry cleaning, wake-up service, and an on-call doctor if you so need. Furthermore, Homeric Poems' owners and employees are the top source of information on the best local bars, restaurants, shopping, and sight-seeing. They are more than happy to offer information, assistance, and recommendations, in addition to arranging airport transportation, boat trips, and car rentals on your behalf. The exceptional staff of Homeric Poems is a testament to true Greek and Santorini hospitality.
Massage and Beauty Treatments
To complete your stay at Homeric Poems, the hotel also offers massage and beauty treatments upon request. This is perfect for those who desire pampering and spa-quality treatment in the comfort of where they already are staying. Although these service cost extra, travelers love that they have these services as their disposal should they choose to utilize them.
Activities
Credit: Facebook, Homeric Poems
Chances are, relaxation and rest are likely two major reasons you selected Homeric Poems to be your home base while in Santorini. While the hotel affords plenty of chances to catch up on your sanity, for those with an adventurous spirit, there are also plenty of activities. For instance, travelers walk to the other villages at the caldera. There, Fira, Imerovigli, and Oia present trekkers with shops, markets, restaurants and more. For beach bums, the volcanic deposits give a unique opportunity to see red, black, and white sand. Wine conissuers find guided wine tours and tastings at their disposal. Similarly, guests may arrange cruises around the island to take in the beautiful views. For history buffs, Akrotiri, the site of an archaeological dig, and a variety of museums afford the chance to learn about ancient Santorini life.
As you can see, no matter your interests, Santorini has an activity suitable for all. We highly recommend speaking with the hotel staff for recommendations on the best sights to see. Better yet, the staff at Homeric Poems willingly arranges excursions on your behalf (although these are not included in your stay). Regardless, boredom does not exist at Homeric Poems or in Santorini.
What Travelers are Saying About Homeric Poems
Homeric Poems pleasantly surprises travelers with its luxurious accommodations, yet unpretentious atmosphere. While most guests enjoyed their stay, there were a few small qualms. See our list below of the most commonly cited pros and cons.
PROS:
Great location
Spacious rooms with comfy beds
First-class service
Arrangements for transportation, excursions, and more are easily arranged by hotel staff
Privacy
Unmatched views
Excellent cuisine
CONS:
Costly
Few entertainment options if you plan on spending much time in the room
Some guests had trouble using hot and cold water
Not suitable for those with limited mobility (think steps, steps, and more steps)
Despite a few nuisances, Homeric Poems ranks well compared to other hotels in the area. While high prices may deter some, the value and service you receive for what you pay certainly makes this one of the best luxury hotels in Santorini.
Stay at Homeric Poems to experience heaven on Earth.
Cross Santorini, Greece off your bucket list this year! Regardless of whether you are just passing through for the night or if you book an extended stay, prepare to be wowed by Homeric Poems. Friendly staff, complimentary amenities, and luxurious accommodations are only a few of the reasons that this hotel is a step above the rest.
Start planning your Odyssey by booking a stay at Homeric Poems!
​
Related Article: 8 of the Most Luxurious Hotels in Santorini