Topping headlines and making bucket list dreams…That's what the best hotels in Iceland do.
Come along with us as we take you on the ultimate tour. Enjoy unparalleled scenery of one of the most beautiful countries on the planet from the comfort of your suite. If you don't already know, Iceland is one of the hottest travel destinations for 2018. Social media influencers, photographers, and nature lovers flock to this breathtaking northern destination. Needless to say, the best hotels in Iceland are filling up fast.
To get your chance at staying in one of the most beautiful accommodations, you're going to need an inside scoop. Luckily for you, we've got you covered. While there are many beautiful places to choose from, we narrowed down our selection to the top places to stay in the land of fire and ice.
Here Are Our Picks for the Best Hotels in Iceland
1. Hotel Ranga
Credit: Hotel Ranga
Welcome to Hotel Ranga. This beautiful stay in south Iceland offers a one of as kind experience. Here, guests are fully immersed in all the of the local wonder. Fifty-two cozy and luxurious rooms are offered at varying price points, including the renowned continental suites – themed after the 7 continents as well as a royal suite.
When you're not lounging in the comfort of your room, there are plenty of adventures waiting just outside your door. Hotel Ranga is perfectly located to explore all that southern Iceland has to offer, from the Golden Circle in the west to the Glacier Lagoon in the east. Icelandic highlands, glaciers, volcanoes, black sand beaches, and charming fishing villages are all just a short drive away. All year around, there is something amazing to explore.
Southern Iceland is apparently the most popular part of the country for winter tourists due to attractions such as the Northern Lights, nearby Eyjafjallajökull, the Glacier Lagoon, and other stunning sites. All can be explored through the adventure packages offered by Hotel Ranga, one of the best hotels in Iceland.
2. City Center Hotel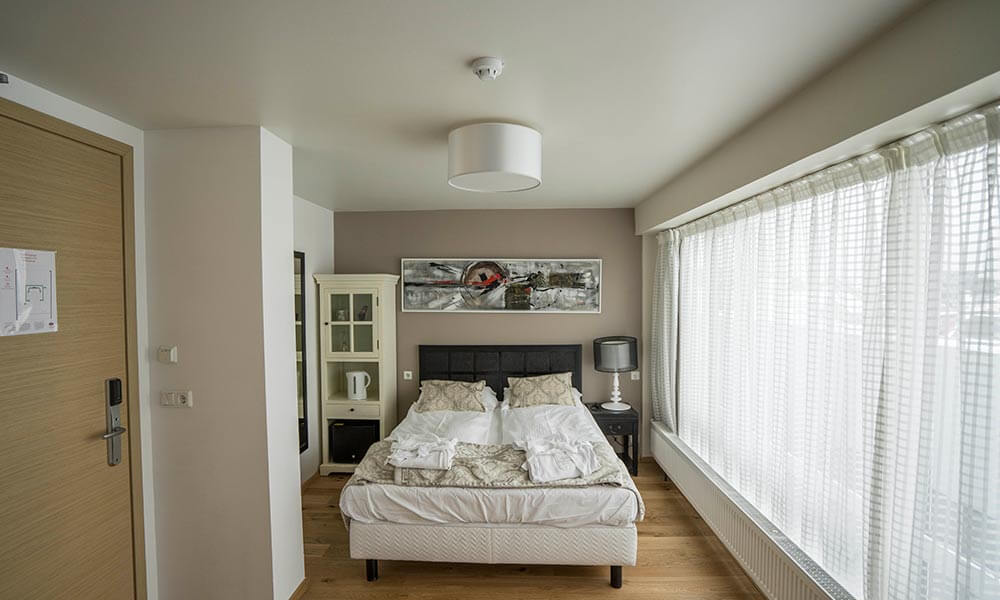 Credit: City Center Hotel Reykjavik
Come and stay at the City Center Hotel, located right in the heart of Reykjavik. A towering six floors on Austurstraeti, one of the oldest streets in the city, this stay offers high quality accommodations with a standout location. They thrive on offering close proximity to some of the best restaurants and clubs, offering exceptional quality, service, and value.
Thirty rooms offer modern and classic amenities such as free Wi-Fi, a hair dryer, minibar, LCD TV with satellite, and a coffee and tea maker. The Superior Rooms on the upper floors have a great view over parliament square and some have balconies as well. Guests are provided all the comforts of home. Wind down after a long day of adventures in a plush bathrobe and slippers and sip some Nespresso. In the morning, treat yourself to a continental breakfast before you head out for the day. The City Center Hotel is simple perfection. There's no doubt it's one of the best hotels in Iceland.
3. Room With A View Apartment Hotel
Credit:​ Room With A View Apartment Hotel
It's all in the name. Come and enjoy a spacious stay at Room With A View Apartment Hotel. Whether you're looking for a long stay, a romantic weekend, family holiday, or business trip, there is the perfect room for you here. All of the apartments are furnished to a high standard and no two are the same. Since it's based in the heart of Laugavegur, you'll be surrounded by all the life of Iceland.
All the comforts of home await you thousands of miles away. Make your morning cup of coffee in a full kitchen, soak up the city views from the window, or opt for an-in room jacuzzi. The choices are entirely up to you at Room With A View.
4. Frost and Fire Hotel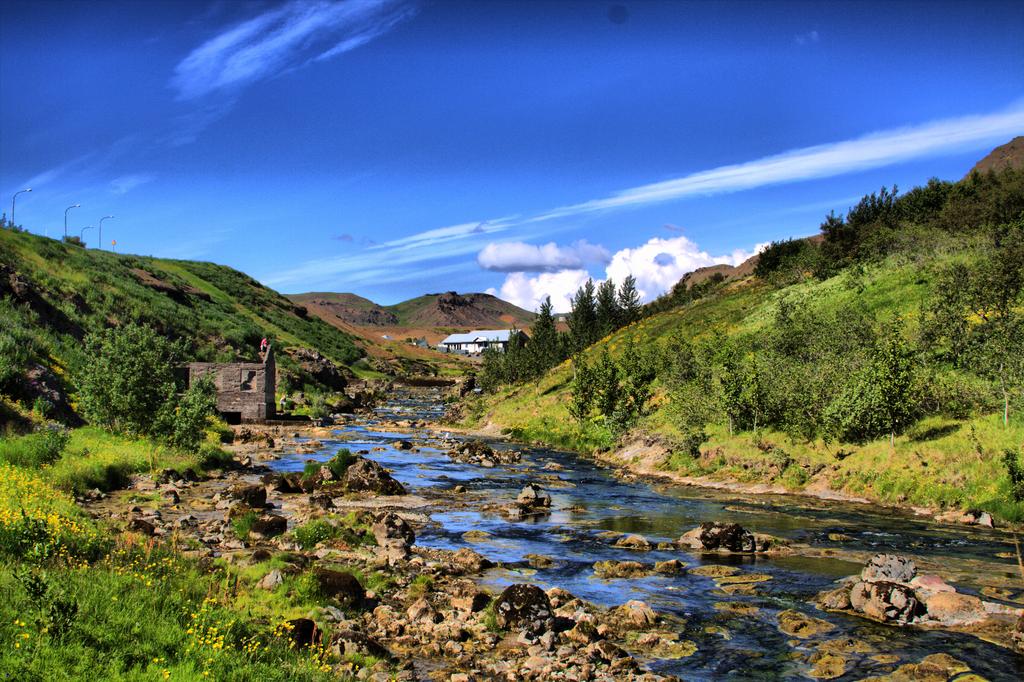 Credit: Booking.com
Welcome to one of the best hotels in Iceland. Spend your amazing holiday in a secluded location with close proximity to some of Iceland's most beautiful natural wonders. What does the Frost and Fire Hotel offer? Well, the answer is a little bit of everything. You'll find it located next to the bubbling hot springs in Hveragerdi, offering up a lovely outdoor pool and two hot tubs of its own. All of the rooms feature a bright, modern decor as well as work by various artists. All have wooden floors, large beds, and a private bathroom.
When you're ready for a bite, head over to the on-site Restaurant Varma, offering a la carte dishes based on the slow food concept. Decorated by Icelanders, it offers lovely views of the River Varma and delicious fare from organic farms. After your done with your meal, hop in the car. The stunning Thingvellir National Park is a 40-minute drive from Hotel Frost and Fire. A tourist office and local shops are within 10 minutes' walk.
5. Hótel Egilsen
Credit: Booking.com
This old red house stands by the harbor in Stykkisholmur, a small fishing town with numerous islands. Originally built in 1867 by a prominent businessman, the house was renovated and reopened as a boutique hotel in 2012. Hotel Egilsen transports you back in time, retaining that charming, old-timey feel of an Icelandic home in the 19th century. However, it still offers all the chic modern amenities you would want in a hotel, including a popular guest lounge.
Here, travelers come together to share stories, mingle with the locals, and browse through the in-house library, drink in hand. Right outside the doorsteps, you will also find the town's three museums, restaurants, and galleries, as well as the picturesque harbor. While there are only ten rooms, they are everything you would want them to be and more. Comfortable and cozy, the interiors are inspired by the sea, as the modern design mixes with the old.
Just outside your door, adventure awaits. Brave the cold or head out in the full swing of summer. The choice is up to you. Iceland is beautiful year round. Roam the diverse landscape of the Snaefellsnes Peninsula, mountains, glaciers, beaches, and the nearby islands of Breidafjordur Bay. Enjoy great local eats, visit museums, or just walk around town. Anywhere you go, you are guaranteed to have a good time. Egilsen is one of the best hotels in Iceland.
6. Hotel Búdir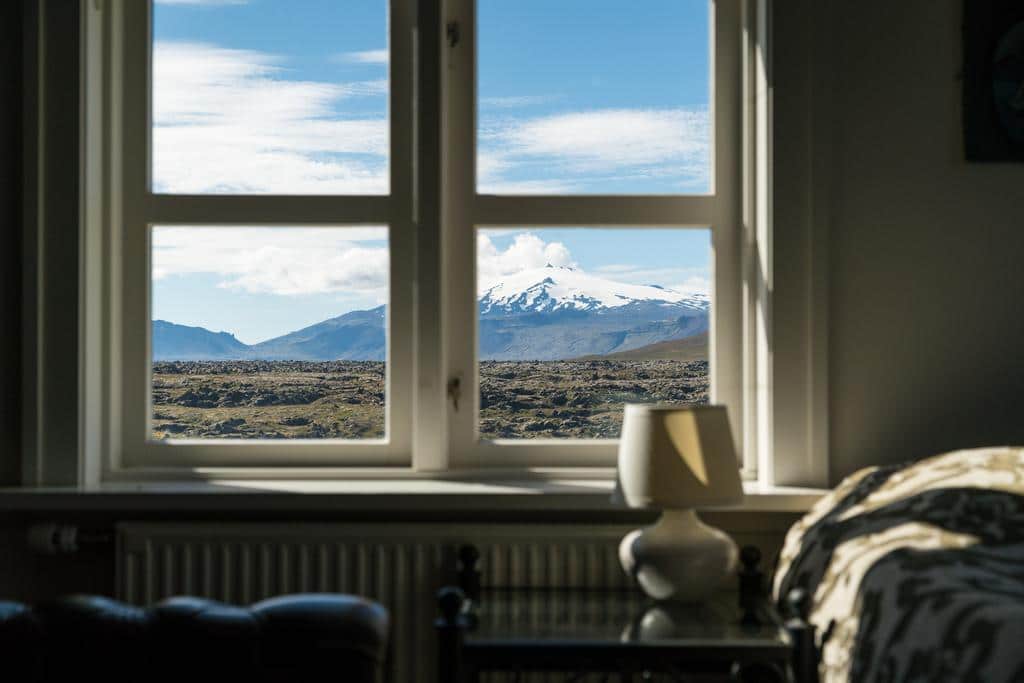 Credit: Hotel Budir
Experience remote luxury at Hotel Búdir. Located in one of the most beautiful places in Iceland, it is just a two hour drive from Reykjavik. Among the locals, it is known for its charming atmosphere and restaurant with exquisite cuisine. The elegant hotel is in a league of its own, boasting all amenities and nothing short of amazing service.
All of the Budir rooms have a great view. Whether you're facing the sea, glaciers, mountain, black church, or the extensive lava field, the sights are breathtaking.  There's also a gourmet restaurant on-site renowned for its unique fresh and local gourmet fish and lamb dishes, original starters, and heavenly desserts. When you're ready for some activities, there are plenty to choose from. You can go hiking, ice climbing, cave exploring, embark on a super jeep safari, and go horse riding among other things.
7. Siglo Hotel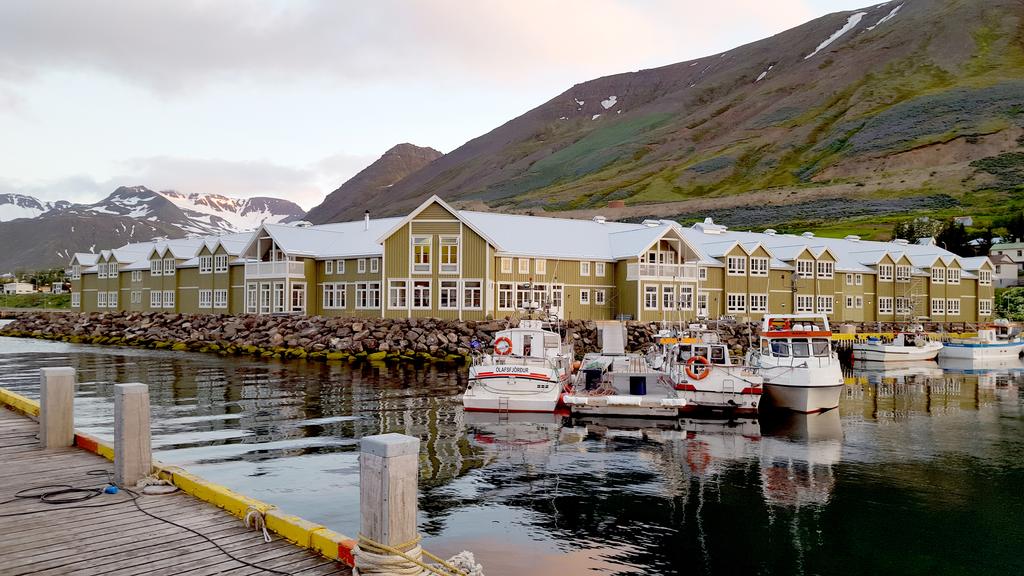 Credit: Siglo Hotel
Built into the fisherman's marina, all the rooms at Siglo Hotel offer wonderful views of the surrounding mountains and peaceful Siglufjordur. When it comes to accommodations, you can choose from classic or deluxe bedrooms or junior suites and suites. From your suites, you can enjoy the fresh harbor breeze and sights of the local life passing by all from your private balcony. Down below, you'll find the colorful marina village, adjacent small fisherman boats, and the main harbor.
While you certainly can go out for a meal on the town, you don't have to. Siglo offers four options for a good meal. Restaurant Sunna, the in-house restaurant, is named for the building that once stood where Siglo now stands. Just outside the windows, the daily catch gets brought in. If you're lucky, you can catch a sneak peek of the enthusiastic chefs whipping up dishes from some of the freshest catches in Iceland.
Siglo's lobby cafe and bar is also a great place to relax. Outside, you'll enjoy a picturesque view of the marina and Herring Museum. Indoors, you can either recharge by the bar or take a seat by the cozy fireplace. A simple menu provides you with all the energy you need before you head out and explore the town.
You'll find the third eatery, Hannes Boy, located in the bright yellow house by the marina. Named after the legend of a late local sailor, this is a great place for those looking to relax in a quiet, cozy environment. Last but certainly not least, we have Kaffi Rauðka. This is a great place to meet the locals and take in the atmosphere. During the summer time, you'll find plenty of outdoor seating and a broad international menu. Whatever you're in the mood for, chances are you can order it here. You can choose from items like traditional Icelandic fish to BBQ baby back ribs.
8. Icelandair Hotel Reykjavik Marina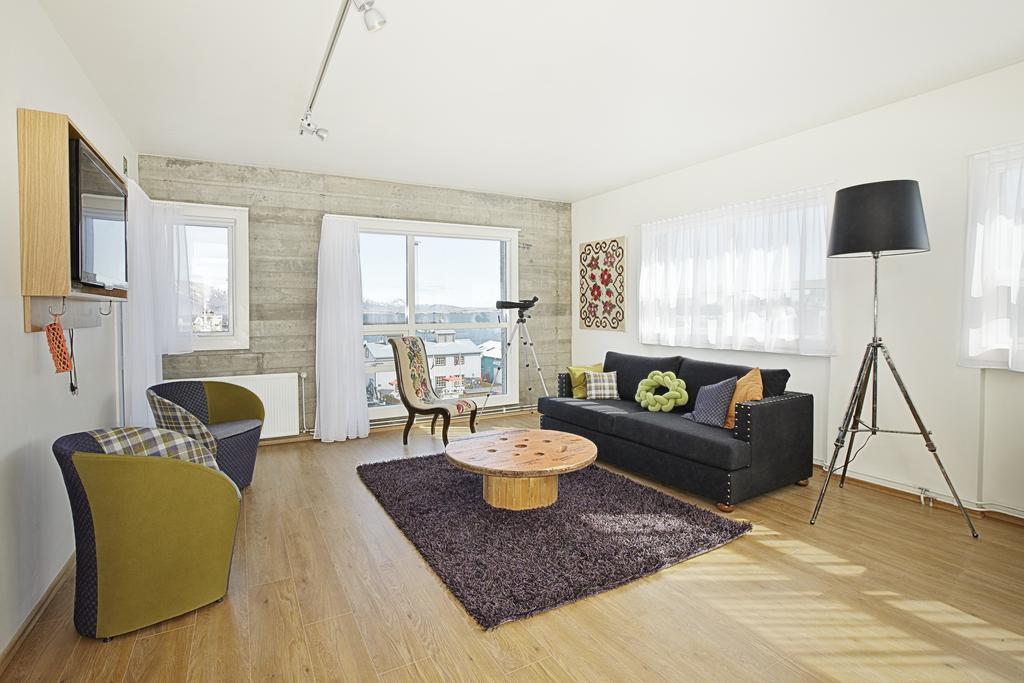 Credit: Icelandair Hotel Reykjavik Marina
Just steps from downtown Reykjavik, this Icelandair Hotel is situated in a four-story landmark building that has become a landmark among the locals. You'll find it next to the historical, dry dock Slippur. With an emphasis on blending the dynamic, creative atmosphere of the district with local traditions, the Icelandair Hotel Reykjavik Marina offers everyone the opportunity to experience the capital at its most colorful and creative.
Inside and out, you'll find whimsical, quirky designs. The Icelandair lobby is bright and cheerful, creating a welcoming ambiance. Colored wallpaper, locally sourced antiques, and other fanciful odds and ends stand out. You'll love the warm atmosphere, cozy seating, and comfy spots by the large fireplace. When it comes to rooms, you can expect light, airy accommodations with modern styling and amenities throughout.
Last but not least, when you are ready to go on some adventures, the Icelandair hotel offers some pretty epic day tours. Among them include puffin express, inside the volcano, and a one-hour guide through nature via a dune buggy. Sign us up.
9. ION Adventure Hotel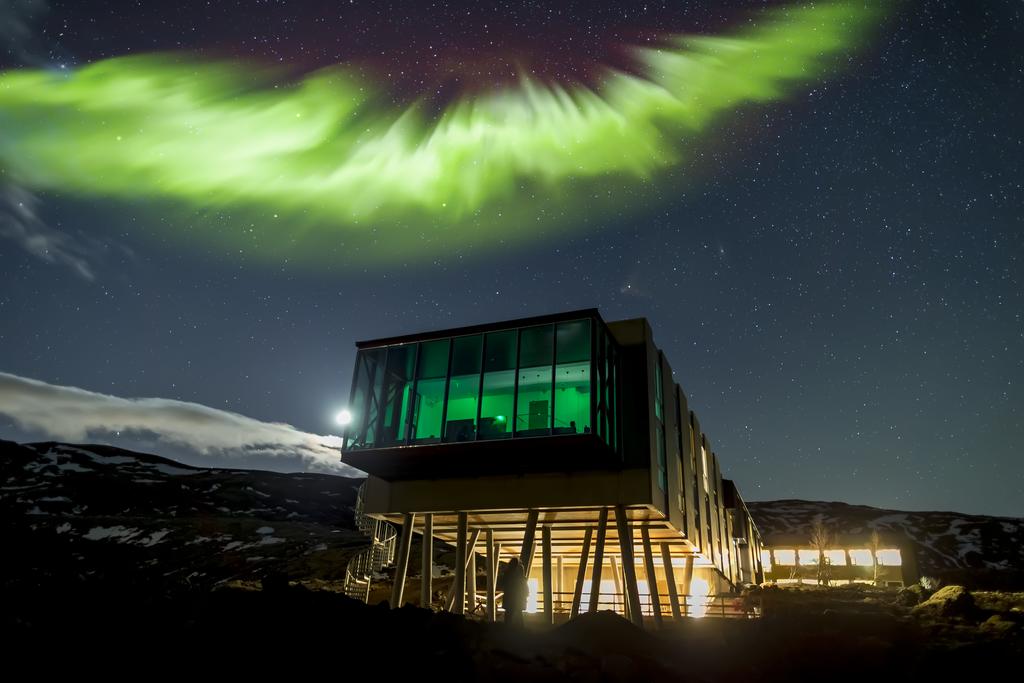 Credit: ION Adventure Hotel
ION Adventure Hotel offers a truly unique experience. Whether you are seeking a quiet night beneath the Northern Lights, a challenging trek across ancient glaciers, or a day of fly fishing in the wild, you'll find it here. Less than an hour's drive from Reykjavik and set against a majestic backdrop of mountains lava fields, it's clear that ION Adventure Hotel is one of the best hotels in Iceland. Everything you want is only a wish away.
It's close proximity to the "Golden Circle" makes it the perfect base from which to explore Iceland's rich heritage, hardy flora and fauna, and unique opportunities for adventure. Thingvellir National Park (a UNESCO World Heritage) site is nearby and ION Adventure Hotel provides easy access to all the essential attractions in the land of fire and ice. The rooms, Silfra Restaurant, bar, and Lava Spa all offer magnificent views of a landscape that stretches all the way into the sun. Recharge, reflect, and rejoice.
10. Hotel Grimsborgir Luxury Rooms and Apartments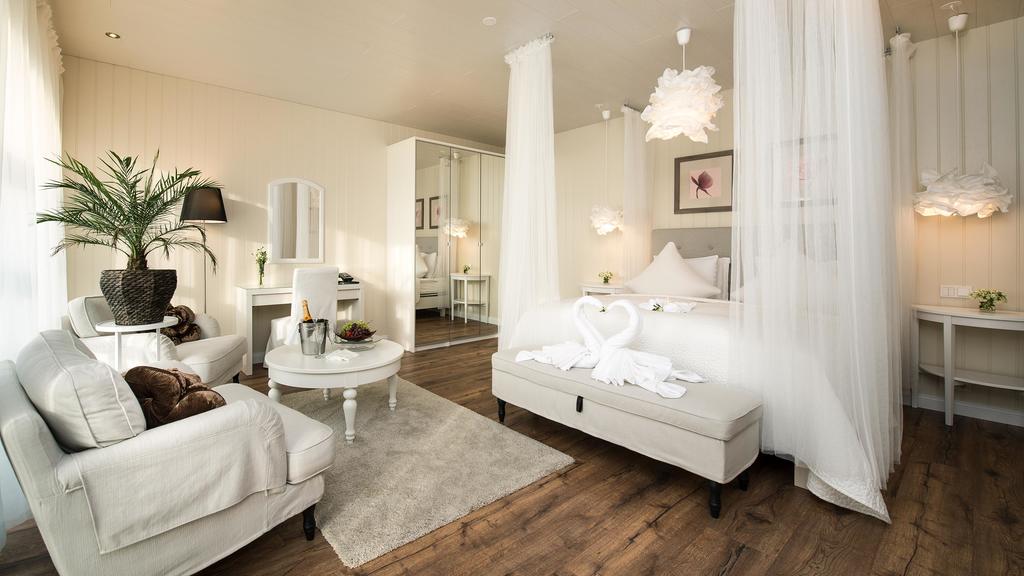 Credit: Hotel Grimsborgir
Consider the Hotel Grimsborgir your holiday home in Iceland. Due to its ideal location in the heart of the Golden Circle, you'll find it next to some of Iceland's most amazing attractions such as Gullfoss, Geysir, and Thingvellir National Park. It's not wonder it's one of the best hotels in Iceland. Travelers come from around the world to spend a night – or two or three. With friendly world-class service and luxurious amenities, you'll soon find you have everything you need at Grimsborgir.
11. Hotel Viking
Credit: Booking.com
This has to be one of the best hotels in Iceland. Sharing a building with the West Nordic Culture House, you'll find Hotel Viking in the seaside town of Hafnarfjordur. The decor and furnishings in the Hotel Viking's guest rooms are inspired by local history and culture. Psst. We recommend snagging one with the sea and harbor views.  When you're ready to sit down for a meal, head over to try out some of the traditional and regional cuisines in the cozy Valhalla Restaurant. Hotel Viking also offers a cold, Icelandic breakfast.
12. 101 Hotel
Credit: Booking.com
You have to admit it. The 101 Hotel oozes an effortless cool. Modern lines, local artwork, and a soothing palette of neutral colors come together to convey pure Nordic cool. The rooms offer sleek minimalist accommodations with all the amenities you need to experience the comfort of a home away from home.
Book Your Stay at the Best Hotels in Iceland
We hope you enjoyed reading our article on the best hotels in Iceland. As you can see, this country is such a unique place to visit, offering some of the most spectacular sites on earth; the scenery will leave you in awe. The best time to visit Iceland all depends on what you want to see.
Our hotel selections are right in the middle of it all, offering close proximity to either the city of Reykjavik or natural attractions. Each one is truly unique and equipped with luxury amenities, sure to satisfy the needs of any traveler. Which one of the hotels on our list was your favorite? Let us know in the comment section below.
Questions and Comments
Do you have any questions or comments for us? If so, feel free to leave us a message below. We will be sure to get back with you soon.
Related Article: 10 Best Luxury Hotels In Lisbon