Upgrade your travel style with a Garmin Fenix 3 GPS Watch.
If you're a traveler who spends a lot of time outdoors, you could benefit from a GPS watch. These travel accessories enable outdoors enthusiasts to know their exact location at all times. At the same time, these watches allow travelers to check the time and track health statistics as they move. This means runners and hikers will appreciate being able to count their steps and follow their heart rates during exercise. However, not all GPS watches have been made in the same way. Some may appear too bulky and dissuade travelers from wearing the watch on a daily basis. Other products could promise a variety of features but fail to live up to expectations. With the Garmin Fenix 3 GPS Watch, travelers will get to enjoy various features designed for outdoors explorers. Additionally, the watch won't make you feel weighed down, as its slim, stylish construction makes it ideal for everyday wear. Read our article below to learn all about the Garmin Fenix 3 and its amazing features.
The Garmin Fenix 3 GPS Watch Features & Benefits
Navigational Abilities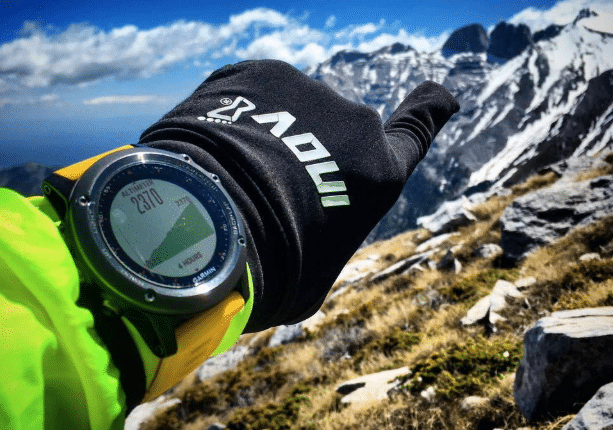 Credit: Garmin Fenix 3 / Facebook
When you're looking to purchase an outdoors watch, GPS capabilities should be a priority. Since you'll be outside for long periods, you may not be able to rely on phones or computers for navigation. If you're not comfortable utilizing a compass, the stress of not knowing your location may be challenging. Additionally, if you decide to use your cell phone to navigate, cell services might not always work in remote spots. This can lead to anxieties when you're outside and unsure about your positioning in relation to other locations. Similarly, carrying around maps and compasses can get annoying, especially if you're already brought tons of items.
Accordingly, the Garmin Fenix 3 GPS Watch remains ideal for travelers who want to track their every move. This watch contains a top-notch GPS, so you can track your positioning on the globe at all times. As such, travelers won't have to worry about not knowing their location when they make expeditions outdoors. A 3-axis compass, altimeter, and barometer each work together to let travelers understand their surroundings whenever they need. You can also utilize a mapping system to create the perfect travel plan through your outdoors location. This feature makes the Garmin Fenix 3 Watch the perfect travel accessory for outdoors adventures.
Health Tracking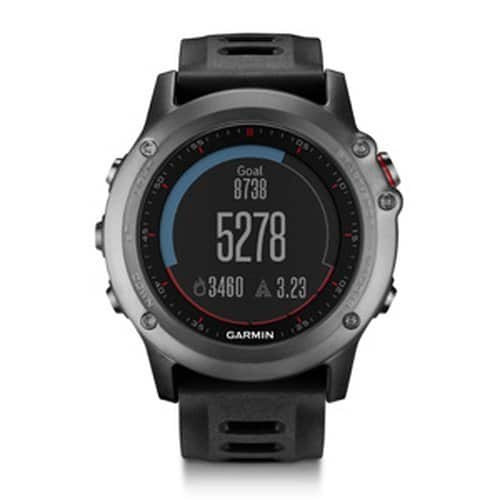 Travelers concerned about their health may know the importance of tracking certain physical measurements when outdoors. Things like heart rate trackers and step counters can aid travelers in maintaining optimum health levels. These statistics may be especially important if travelers have certain health conditions that may be affected by exercising. If you're worried about measuring your heart rate during a run, you might have to deal with annoying chest straps. These products might help travelers understand their bodies while exercising but feel cumbersome to wear. As such, devices that can measure pulses while travelers remain on the move may be especially useful.
With the Garmin Fenix 3 Watch, travelers will get to track a variety of health-related measurements. For instance, the watch tracks travelers' pulses when they wear the watch on their wrists. This means wearers won't need to don a chest strap simply to check their heartrate when exercising. Additionally, the watch has advanced running features, including vertical oscillation and vertical ratio, that help athletes measure their condition. Those who enjoy running outside will appreciate the watch's ability to show physical measurements. You'll have peace of mind as these measurements give you a better sense of your body's physical conditions when traveling.
Durability
Credit: Garmin Fenix 3 / Facebook
Sometimes, watches designed for daily wear may not have been constructed to last a long time. These products could appear stylish and fashion-forward, but fail to withstand normal wear and tear. If you're planning to wear a watch when outdoors, the possibility for damage will only increase. As you trek through mountains and forests, your watch may experience some rough usage. Unpredictable weather patterns might also mean the watch will need to survive getting wet or experiencing extreme changes in temperature. All of these concerns mean that typical watches without sturdy designs won't be ideal for outdoors adventures.
When you purchase the Garmin Fenix 3 Watch, you'll be able to rest easy knowing the watch will remain durable. This watch was created with outdoors travelers in mind, so the product maintains a highly sturdy construction. Instead of falling apart at the slightest touch, this watch will be able to withstand hours of usage. Since travelers will be wearing this watch outside, the device a bright and durable screen that remains visible in daylight. The watch has also been water-rated up to almost 330 feet, so it can get wet and still stay functional. In this manner, the Garmin Fenix 3 Watch will not disappoint you when it comes to durability.
Stylish Design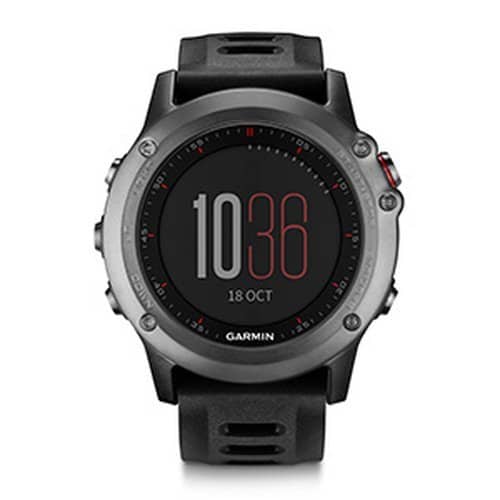 Travelers in search of the best watches for men may prefer products with stylish designs. Certain watches might promise various features, like GPS tracking and heartrate monitoring, but appear bulky in construction. These clunky watches won't appear attractive when you're wearing them with everyday clothing. At the same time, bulkier watches don't feel great to wear on the wrist. The massive size will feel cumbersome after a while, and stick out in an unattractive manner. While you may want an outdoors watch with tons of functionality, an attractive appearance might also be a priority.
The Garmin Fenix 3 Watch doesn't just contain a ton of useful features for outdoors travelers. This watch maintains a stylish design that makes it stand out from other outdoors watches. The product has been constructed in a slimmer and streamlined manner, so it won't stick out on the wrist. Thought the watch has a larger design, it doesn't appear bulky on the wearer. Instead, this watch appears fashionable and sleek, appearing like an everyday travel accessory. If you want an outdoors watch that provides various features while maintaining an attractive look, choose this product.
Customizable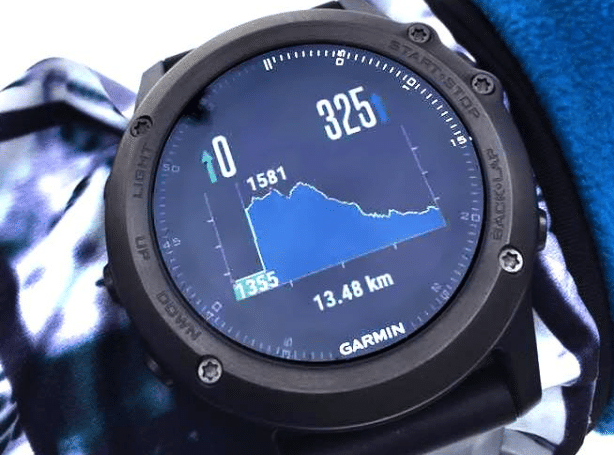 Credit: Garmin Fenix 3 / Facebook
A lot of watches available for purchase fail to let travelers customize the devices at their will. This can lead to frustrations as travelers want certain features that remain unavailable on the watch. On the other hand, if you don't want some features on your watch, you should be able to remove them. With so many technological advancements occurring today, your outdoors watch should maintain a level of customization.
With the Garmin Fenix 3 watch, travelers can have the chance to change the watch's features whenever they want. A companion app enables users to download certain features onto the watch and remove others. Congruently, the Garmin watch offers travelers the chance to make the watch their own.
What Travelers Are Saying About the Garmin Fenix 3
Travelers who purchased the Garmin Fenix 3 Watch raved about the product's ability to track movement. Since outdoors enthusiasts often trekked through remote locations, the watch provided the assurance they required. Instead of worrying about a lack of cell service or unknown destinations, travelers knew exactly where they were. This meant that travelers wouldn't need to utilize devices such as compasses and phones that could die at any moment. Additionally, those who loved to exercise outdoors appreciated the watch's ability to track heart rate. Avid runners liked having the ability to know the extent of their efforts while trekking through their environments. The watch allowed these travelers to avoid wearing heart rate belts, so they could move in greater comfort. Similarly, the watch's stylish construction let travelers feel unencumbered when wearing the product on their wrist. While some GPS watches might have been constructed in bulky manners, the Garmin watch remain slim and comfortable to wear.
A few reviewers wished that the Garmin Fenix 3 Watch had a greater battery life. Some found that the watch died after only using it for short periods of time. This meant that outdoors travelers had to cut trips short due to a lack of functionality from the watch. On a similar note, some travelers thought the watch could have had more accurate weather alerts. Occasionally, the alerts about severe weather conditions were inaccurate, leaving travelers unsure whether they should vacate areas or not. However, overall, travelers considered the Garmin watch ideal for all kinds of outdoors expeditions as well as daily wear.
Alternative GPS Watches You May Like
1. TomTom Adventurer GPS Hiking & Trail Running Watch
Travelers who weren't entirely convinced by the Garmin Fenix 3 Watch should consider the TomTom Adventurer GPS Watch. This device maintains similar features to the Garmin product, such as GPS tracking abilities. No matter where you travel, you'll know your exact location if you decide to wear the TomTom Adventurer watch. The watch also remains ideal for travelers who love exercising outdoors. Hikers and runners will appreciate the watch's heart rate monitor. Since travelers might want to test their physical capabilities, the watch will let them log health statistics on the move. This remains especially helpful if you don't want to feel encumbered by a heart monitoring belt during your expeditions.
Additionally, the TomTom Adventurer GPS Watch allows travelers to change the watch's health tracking features based on their chosen sport. For instance, if you go on a snowboarding adventure, you'll get to alter the watch according to that activity. You'll also have the chance to log your steps and pace, so you can test your physical skills accordingly. A built-in music player even enables travelers to motivate themselves while they explore the outdoors. You could listen to your favorite tunes as you trek through the woods or up mountainsides.
2. Suunto Traverse GPS Smartwatch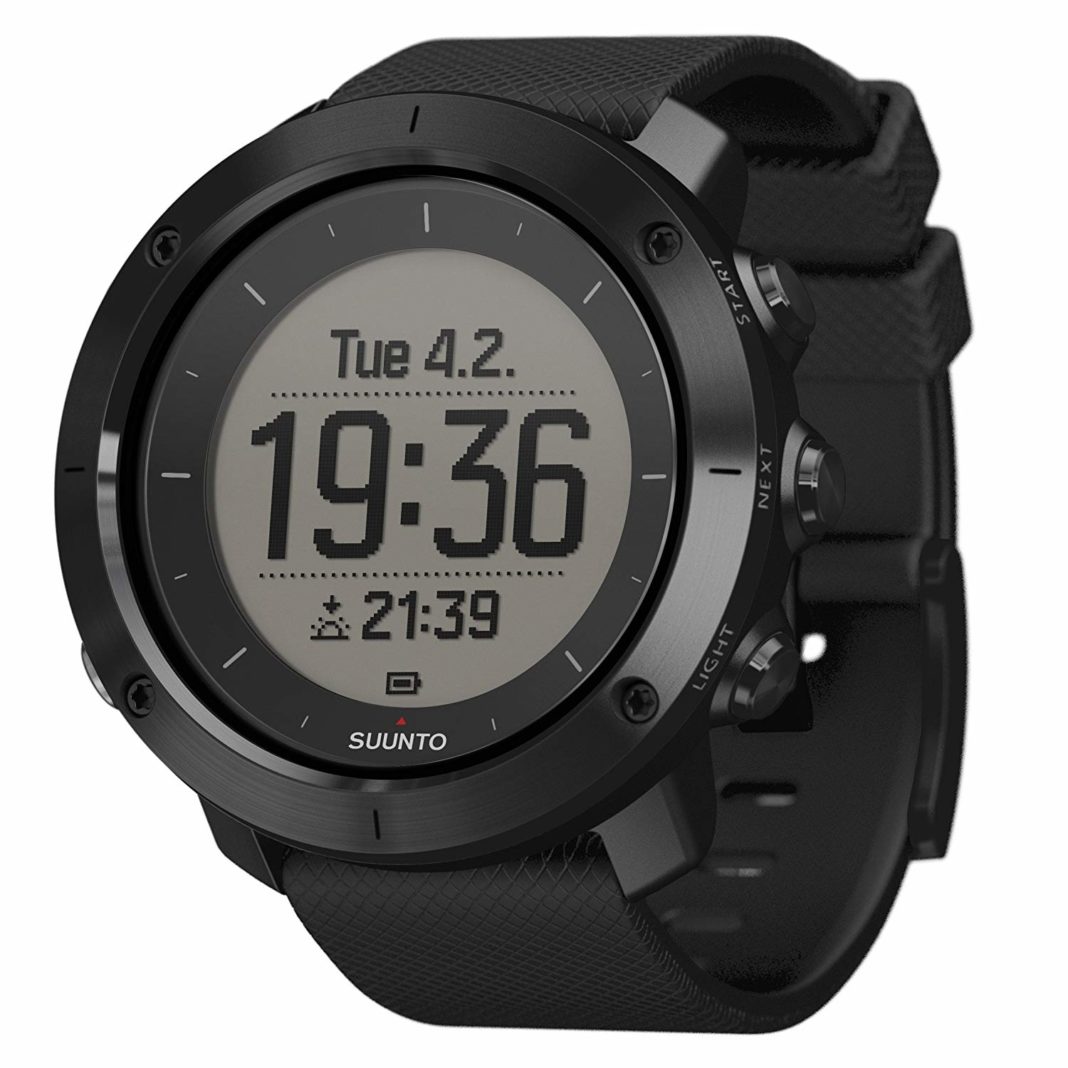 With the Suunto Traverse GPS Smartwatch, travelers will have the opportunity to track their location constantly. Like the Garmin Fenix 3, this watch maintains GPS tracking abilities, so you'll always know your spot on the map. As you trek up the mountains, you'll have the chance to remain aware of your surroundings at all times. This means the watch remains an ideal product for any travelers who like to spend most of their time outside. Similarly, the Suunto Traverse GPS Smartwatch allows wearers to plan their routes and utilize a topographic map. In this manner, the Suunto Watch enables outdoors enthusiasts to create an ideal trip through the woods.
The app that connects to this watch will even let you know about the best places to visit. Popular locations to go for a run, swim, or hike can be viewed on the watch's companion app. You'll be able to find the best spots around when you wear this watch and utilize all its exciting features. On a similar note, the Suunto Watch Power Pack Bundle includes a battery pack to ensure your watch stays charged. As such, the watch won't leave you wondering about your location after the device suddenly dies when you're outdoors.
3. Garmin Vivoactive 3 GPS Smartwatch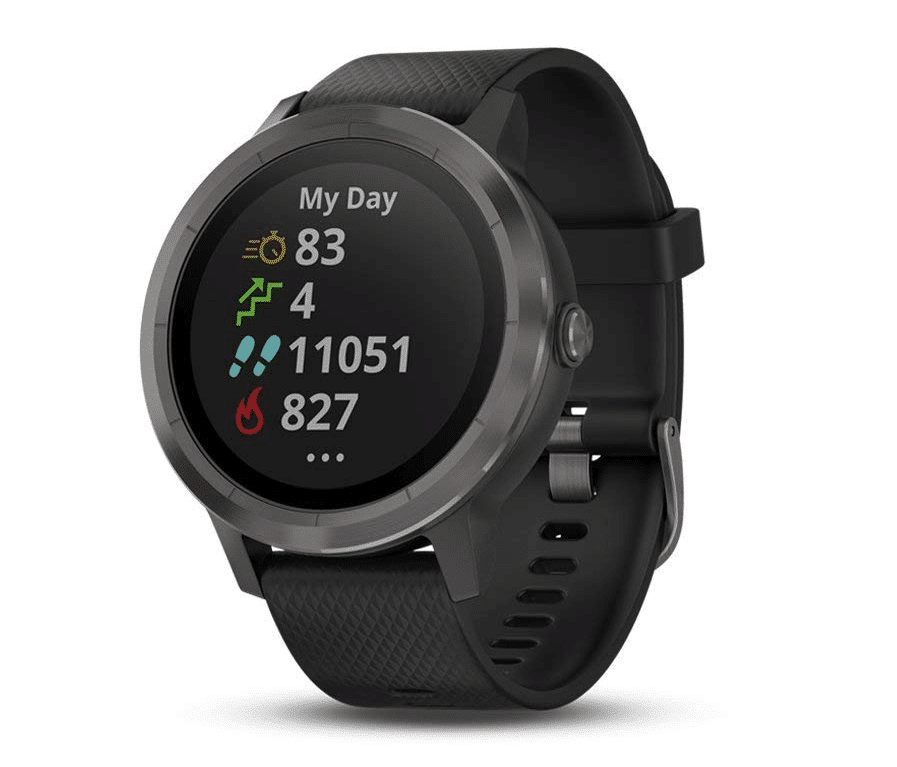 The Garmin Vivoactive 3 GPS Smartwatch represents a great alternative to the Garmin Fenix 3 Watch. As another product from the brand, the Garmin Vivoactive 3 also maintains a high-quality design. This watch allows travelers to track their location while trekking through various destinations. The Vivoactive 3 GPS Smartwatch also calculates your speed, so runners will know how fast they're going whenever they want. Thanks to the calculating features, the watch can tell you if how much stress your body remains able to handle. Accordingly, health-conscious travelers should think about purchasing this watch. You'll never have to worry about your heart or your physical condition while wearing this watch outdoors.
A stainless steel cover on the watch ensures the produce won't obtain tons of scratches when you wear it outside. The watch will remain in mint condition, despite hours of usage. You can also personalize your watch according to your specific needs and wants. The companion app lets you change and add features to do the device at your will. Additionally, those who get bored of the same look on their watch can even purchase other watch faces instead. If you want a product that contains top-notch features for outdoors fans, then buy the Garmin Vivoactive 3.
Embark on countless outdoors adventures confidently while wearing a Garmin Fenix 3 Watch.
Travelers who spend frequent amounts of time outdoors require travel gear that assists them on their journeys. Outdoors travelers often worry about knowing their location when traveling from place to place. Since taking a trip to remote areas can mean a lack of cell service, GPS tracking devices remain essential. Devices that also track movement will enable travelers to log information about their welfare and location. Runners and hikers might also appreciate travel accessories that track health information, such as heartrate and pace. Accordingly, items like the Garmin Fenix 3 Watch remain ideal products for outdoors travelers. These watches track movement and health statistics, so outdoors travelers can know everything they want when on expeditions. Be sure to purchase a top-notch GPS watch before embarking on your next mountain adventure or expedition across vast landscapes.
Related Article: The Best GPS Watch for Hiking: The Top Performers