Throw on your Osprey Escapist 32 Daypack, hop on your bike, and explore the great outdoors. 
Why do I love the Osprey Escapist 32 Daypack? Well for starters, Osprey is a brand I know and trust. I've had one of their smaller scale backpacks for years now and it's stuck with me everywhere from camping trips to backpacking for a month at a time around Europe. These packs are clearly built to last. 
Osprey Escapist 32 Daypack Features and Benefits
Anchored by a biostretch harness and hipbelt, this low-profile pack is made to keep you balanced with a heavy load – even when descending the roughest terrain.  Thanks to the airscape mesh back panel, you'll stay cool and dry even when you're grinding up a mountain pass.
When you need to access your gear, the main compartment has a convenient zippered front panel, so you can see all of your gear at once. In addition, a zippered divider at the base of the pack provides optimal storage.
Additional features include plenty of external storage options. Three handy stretch mesh pockets offer ample room for snacks and your electronics. The hip belt also offers twin zippered pockets. You'll never run out of storage room with this bag. That's not all. A zippered external front pocket is designed especially to keep valuables secure. You don't have to worry about scuffing up that favorite pair of sunglasses anymore.
1. Size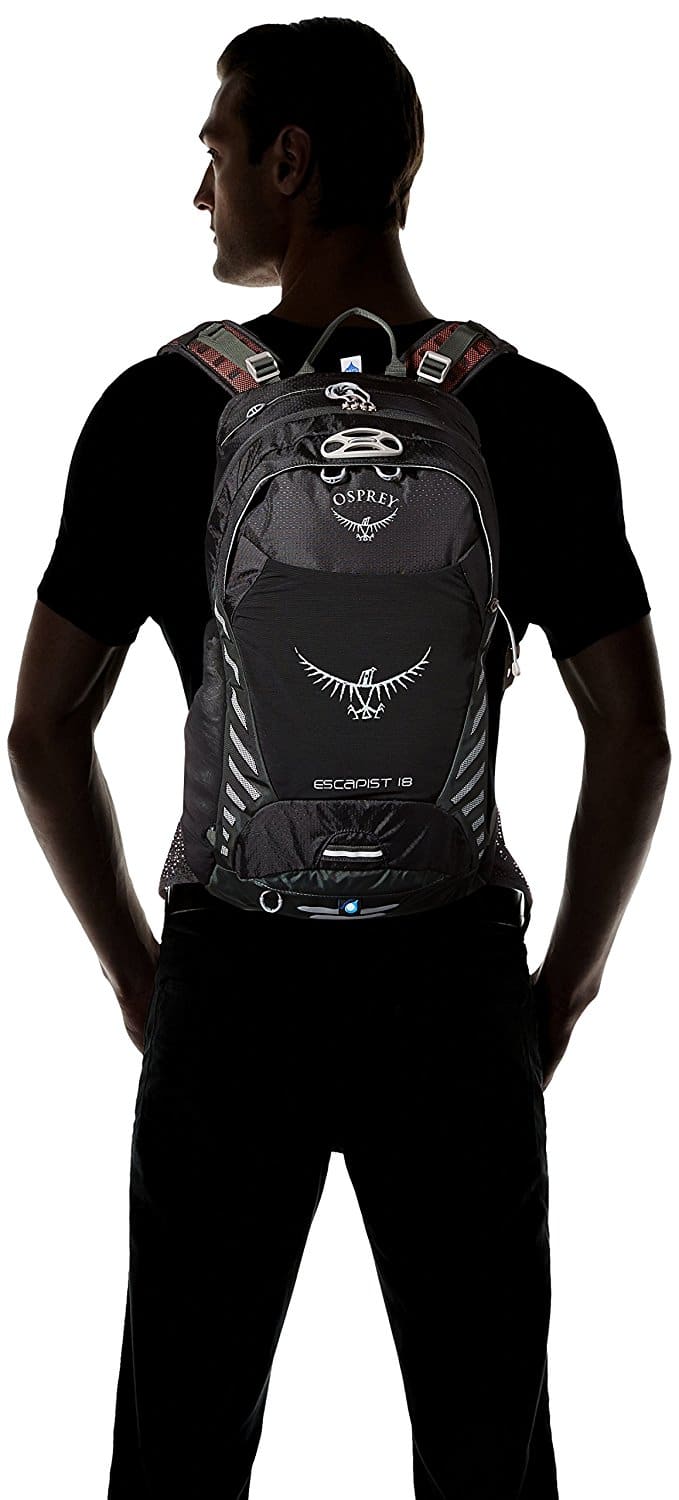 Credit: Amazon
Yes, this pack is big. That's to say the least. While Osprey offers several Escapist models in varying sizes, we're convinced 32 liters of storage is the way to go. It's large enough for you to easily fit your sleeping bag, a bivy sack, a spare set of clothes, reusable water bottles, a large hydration bladder, energy bars, accessories, and electronics in it. And there's still ample space leftover. 
We know that when it comes to choosing a daypack, size matters. But it's not everything. A good pack should help you carry your essentials but you also need to know what qualities you're looking for. I'm happy to say that the Osprey Escapist 32 Daypack fares well in my book. There's a nice mid-sized compartment with multiple pockets for tools, bike pumps, and everything in between.
2. Smart Storage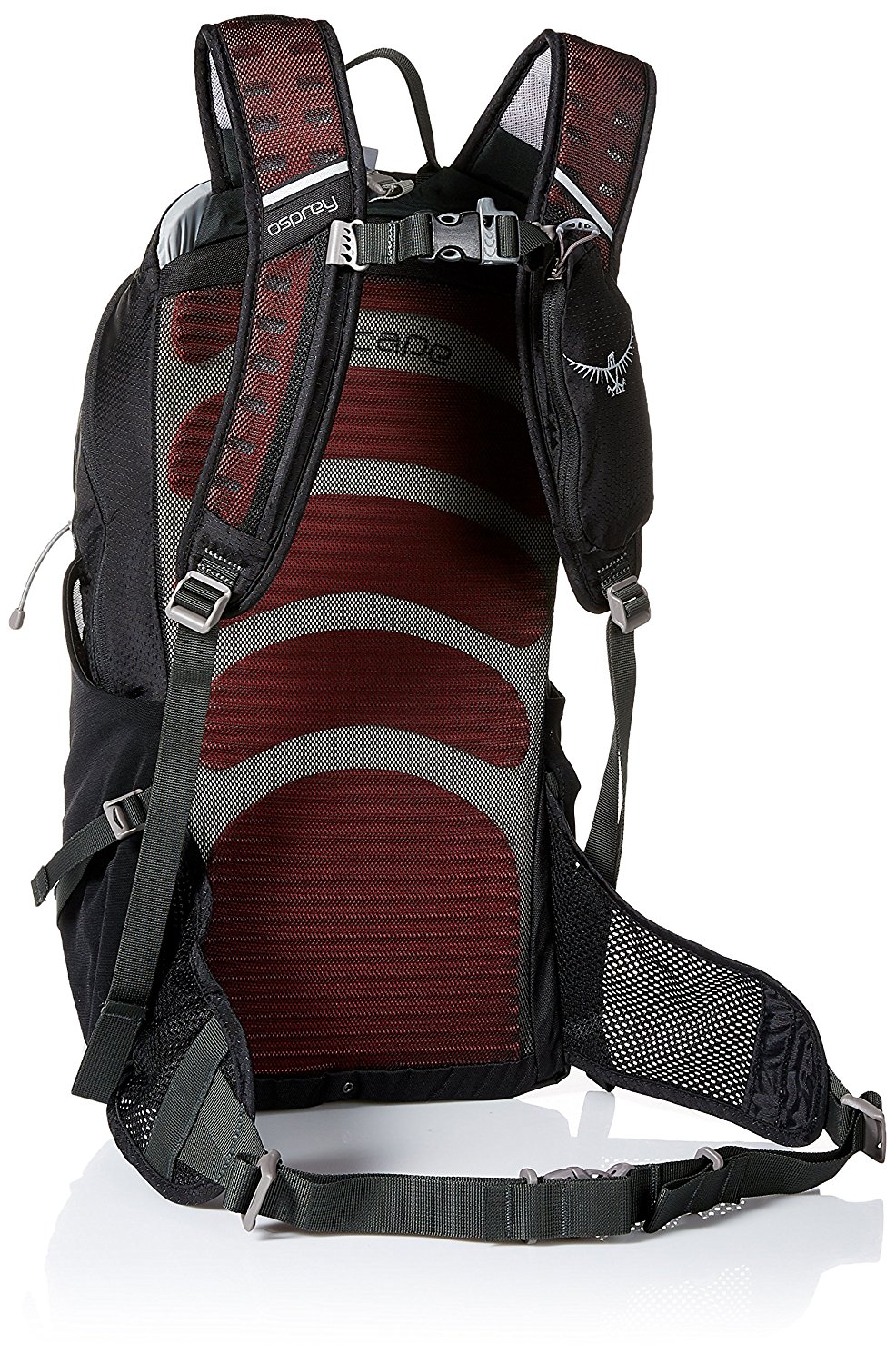 Credit: Amazon
Alright, so you already know the Osprey Escapist 32 Daypack has plenty of options for storage. But did you know the bag offers a smart storage design? In addition to the smaller pockets I mentioned, the bag also offers two large storage compartments. The one on the bottom is ideal for stashing a sleeping bag or perhaps used laundry. If you don't like the division of the compartments, you can simply unzip the interior divider. Now, you're looking at one massive compartment space.
I know there are a lot of storage options, so I'm going to run through them one more time. There is a small pouch on the shoulder harness, two hip belt pockets, and a large scratch-free pocket atop the bag. Last but not least, two cinchable side pockets offer the perfect placements to store extra water bottles. While your main source of water will no doubt come from the hydration bladder, it's never a bad idea to bring along some extra H20.
3. Comfortable Fit and Wear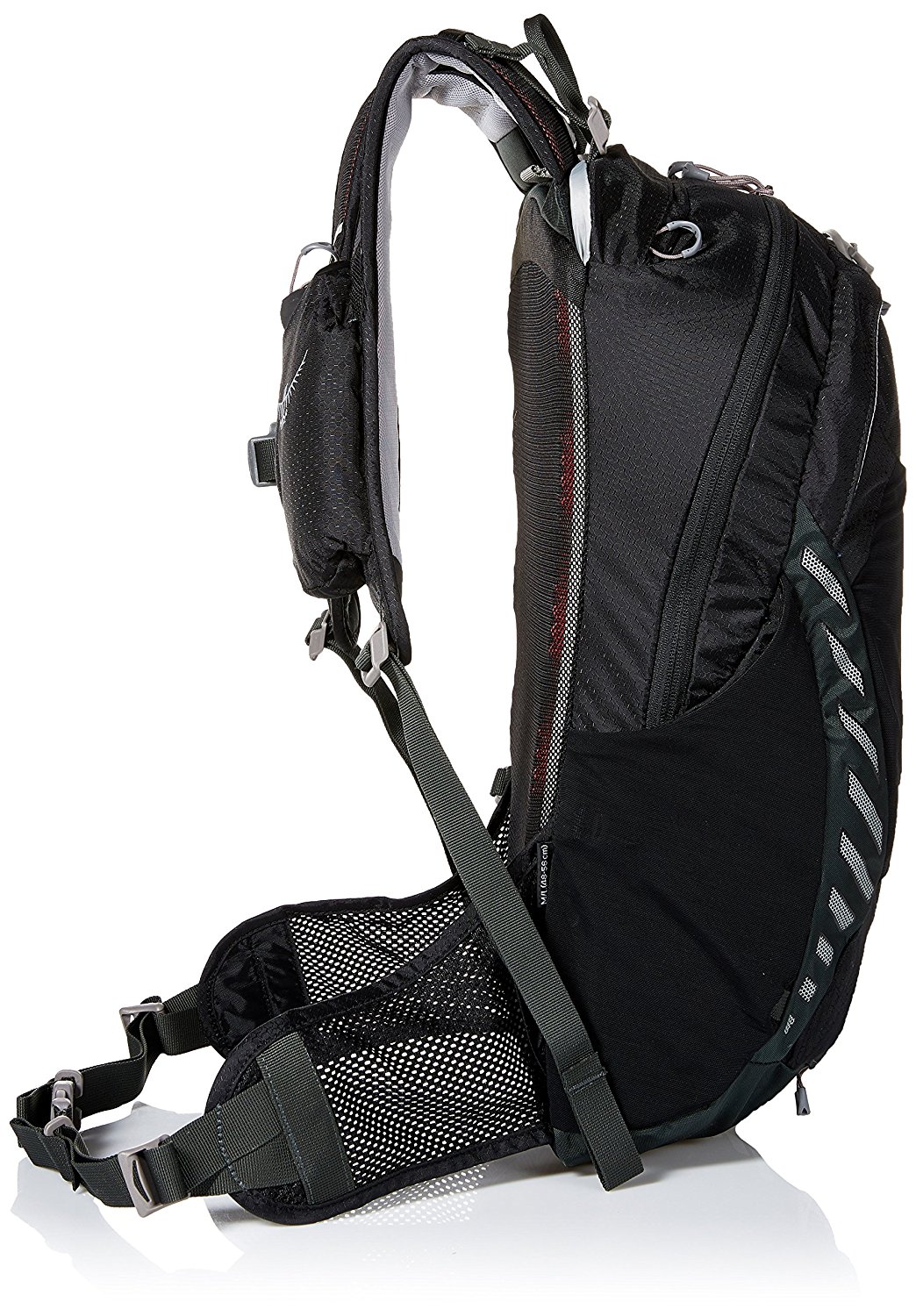 This is where a lot of daypacks fail. While most of the ones on the market offer ample storage space, they often fall short in the comfort department. The Osprey Escapist 32 Daypack does not. While I acknowledge it is a big pack, it's surprisingly light, weighing in at only two pounds, six ounces. Furthermore, you can tune the pack's fit and weight distribution. This is helpful when you're hitting the trail and want to avoid an unbalanced load bouncing around on your back.
So what features help keep it comfortable and stable? First, the combination of the sliding sternum straps, side and lower compression straps, and adjustable back harness make for a daypack that can accommodate just about any build. Finally, the shoulder straps, back panel, and hip belt employ the use of perforated EVA foam. This is what keeps you cool in the summer heat.
4. Other Cool Features
The Osprey Escapist 32 offers some other well-thought-out features to help you out on the trail. Reflective highlights on the sides and the bottom of the pack add visibility. An attachment point for blinking commuter lights and a built-in rain cover are extra perks. Last but certainly not least, there's even Osprey's LidLock helmet attachment for those moments where you want to take a break from the bike.
What Are the Downsides?
To be honest, it's hard to find any. In the event you're looking for a smaller bag, you can always go with the 18 or 25-liter models. I wouldn't recommend trying to strap anything larger than a 32 liter bag to yourself while you ride. Putting aside its lightweight body, the nylon exterior is very durable.
If I had to choose one thing to nitpick, it would be that the Osprey Escapist 32 Daypack doesn't come with its own hydration bladder. You'll need to purchase and add your own. But then again, you have the option to go and purchase whatever type of hydration bladder you want. So is it really a con after all?
Tech Specs and Additional Information
Airscape Backpanel: A mesh-covered ridge foam back panel provides ventilation and comfort when hauling heavy loads or climbing big hills. The Escapist 32 also features a adjustable harness.

Integrated Raincover: Built-in, snug fitting high visibility rain cover keeps your gear dry.

Sleeping Bag Compartment: A zippered divider pocket at the base of the pack provides segregated storage for dirty clothes or a sleeping bag.

check

Internal Organization: Panel opening to main compartment which contains specialized storage to help keep things organized.

check

Lidlock Helmet Attachment: This handy feature keeps your hands free after you park your bike.

check

Blinker Light Attachment: Use it at night or on low-visibility rides.

check

Scratch-Free Pocket: This zippered scratch-free top pocket is perfect for storing sunglasses or electronics.

check

Zippered Harness Pocket: This pocket provides easy access for phones or other items.
What Travelers Are Saying About the Osprey Escapist 32 Daypack
All in all, it's easy to see that travelers love the Osprey Escapist 32 Daypack. If you're looking for a large day pack for around town or short hikes and trips,this is the pack for you. Thanks to a good hip belt, you know you won't have to carry a lot of weight on your back. It's durable and offers convenient storage. But let's get back to the hip belt.
 For many users, the hip belt was the key feature that sold them on the Osprey Escapist 32 Daypack. Most smaller day packs are either lacking a hip belt or only offer a thin inadequate one. Tighten the hip belt and loosen the shoulder straps so they provide mostly balance. The chest strap is then important to hold the pack against your back. The weight is now all on your hips where it should be.
The two hip belt pockets and the shoulder strap pocket are convenient to access keys, cash, coins, etc. without removing the pack. They are too small for a smartphone or a wallet.
The two large "water bottle" pockets on the sides are well secured with elastic bands and useful for all kinds of quick access items. There is a large flat elastic-topped pocket on the back which keeps quick access stuff in well without a zipper. In general if you don't use any of the smaller pockets the space can be taken up by the main compartment. Overall, this pack works great. It's very comfortable, comes in various sizes, and has enough adjustments for a pack of its size. People love that it holds its shape well too. Overall, it's a fantastic buy.
Alternative Hydration Packs
If you still want to shop around a little, here are some other great hydration packs you might be interested in. 
Camelbak MULE Hydration Pack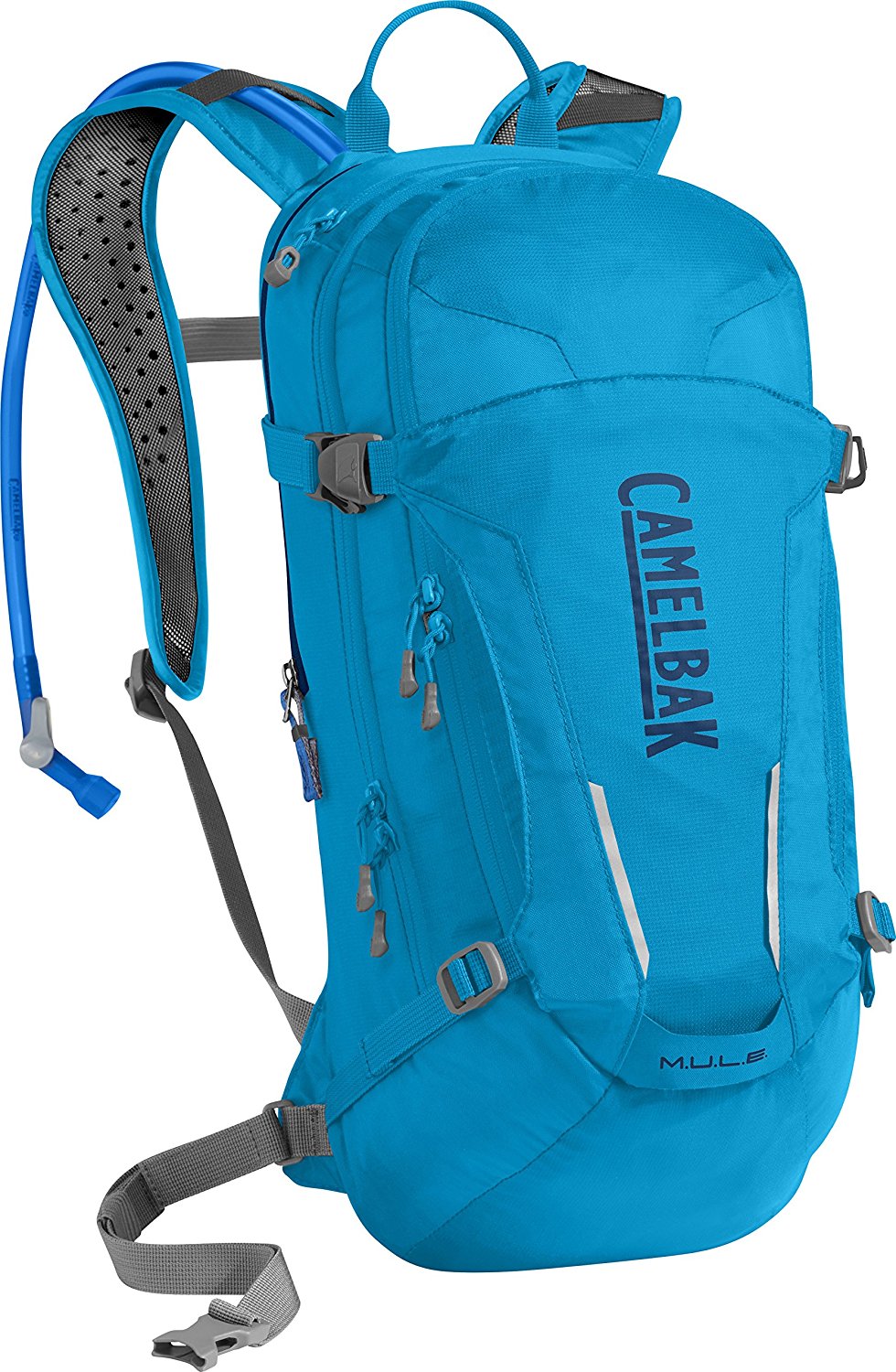 Are you on the search for easy to use functional gear? If so, you'll be sure to love the Camelbak MULE Hydration Pack. With a 3L hydration bladder, leak-proof valves, ample storage space, and antimicrobial lining, you're all set to go on your next adventure. Just don't forget to pack the snacks.
Nathan HPL Hydration Running Backpack
What makes the Nathan HPL a great running pack? It's extremely lightweight, the harness stabilizes the load, and it offers ventilation for comfortable movement. As a runner, I know that all of these things are so important. When you're on the move, you want a quality pack you can trust. The Nathan HPL offers just that.
Osprey Escapist 32 Daypack: A Great Travel Investment
I honestly can't say enough about the Osprey Escapist 32 Daypack. Offering ample room on the trail, this bag is designed to keep you and your gear balanced on even the roughest terrain. If you're anything like I am, I'm sure you like to keep busy in the summer months.
Well, don't sweat it. The airscape mesh back panel offers plenty of ventilation when you're going up the mountain pass. We've already been over the storage options; they're plentiful. While it's not wise to overpack, you should know that this bag does have enough space for everything you need and then some. You don't have to worry about deciding what to leave behind.
Related Article: The 5 Best Hydration Packs To Bring On Your Travels