We've been on the search for gear that is as functional as possible. We found it all and more in the CamelBak MULE Hydration Pack.
Have you ever been a few miles into a hike and realized you packed way too much? You can literally feel your pack weighing you down on the trail. The hot sun is beating down through the trees. You go to take a sip of water and realize you're already down to the last few drops in your bottle. Well, we have good news. You can skip all this frustration by investing in the Camelbak MULE Hydration Pack. It's built for rugged adventures. Let's take a closer look at the product and see what it has to offer.
CamelBak MULE Hydration Pack Features and Benefits
There's a reason the Camelbak MULE Hydration Pack is one of their bestselling, longest-running packs: it's got everything you need, and nothing you don't. The M.U.L.E. has a narrow-gauge design that keeps it light and maneuverable—so even when it's fully loaded for a day of mountain biking, it won't get in your way.
The latest edition is built around the brand new Crux reservoir, which is even easier to load and refill, and delivers more water with every sip. Since M.U.L.E. launched in 1996, mountain bikers have been telling them that it hits the sweet spot of size vs. storage: it's lightweight, but big enough to carry three liters of water and a day's worth of snacks and gear.
Over the years, they've also added air channels to keep your back cool, universal helmet hooks, and clever compartments for stashing tools, keys and electronics. The latest version also features a magnetic tube trap that snaps easily into place, so you can hydrate without taking your eyes off the trail.
3L Crux Reservoir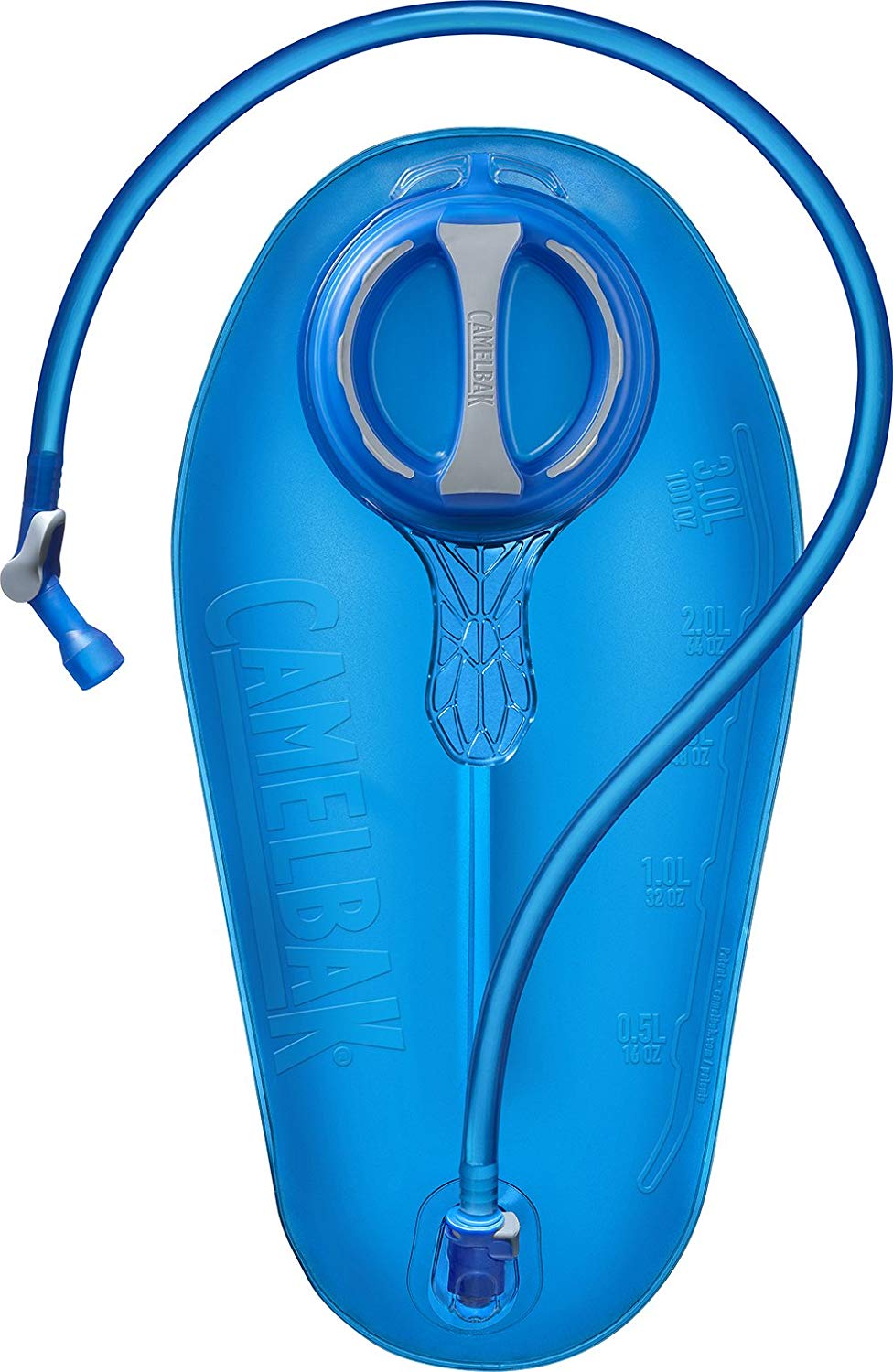 The new Crux reservoirs deliver 20% more water with every sip in a package loaded with the latest in hydration technology. The easy-open leak proof cap is redesigned for easier refilling and seals shut in just a few twists.
Quick Link System
Press the button to quickly disconnect the drinking tube from the reservoir. This feature lets you remove and refill your Crux without unthreading the tube from your pack harness.
Leak-Proof On/Off Valves
Seal your water supply shut with a flick of your thumb. Just close the valve, and you can toss your pack anywhere without worrying about drips or leaks. The CamelBak Crux reservoir on/off valve pairs with the Big Bite valve, shutting off the water flow for added security during transport.
Anti-Microbial HydroGuard Coating
Hydroguard technology inhibits the growth of bacteria in the tube and gives you 20% more water with every sip. It is 100% free of BPA, BPS and BPF.
What Travelers Are Saying About the CamelBak MULE Hydration Pack
Overall, the CamelBak MULE Hydration Pack is holding up perfectly. We are so impressed with how durable and comfortable it is. Travelers loved that even when the water was filled completely, there was still a decent amount of space for other essentials like maps, a small first aid kit, bike tools, and a few energy bars to snack on.
Best of all, it fits like it should. We really like how the bladder detaches and how well the fill cap works. We usually go with a 50/50 mix of ice and water in the summer and the big mouth on this bladder make it easy to get ice cubes in right from a big cup. You can still make a mess with the quick disconnect at the bottom of the drinking tube though; although the bladder doesn't leak when you remove the hose, any water in the hose can (and will) come out, so this maneuver is best done over a sink vice your couch. There's plenty of storage — most of it useful.
Ratings
Rated 4.5 out of 5 stars, it's clear that travelers love their CamelBak MULE Hydration Pack. Most travelers who wrote their reviews rated the product after several months of use. Many used it for adventuring racing (mountain biking and kayaking), while others used it for hiking. Some reviewers noted putting 40-50 miles on the gear while mountain biking and 10-12 miles on foot while hiking and jogging.
Travelers have used theirs regularly for mountain biking and for adventure races – Most were really glad they decided to replace the generic hydropack they've been using the past two years with the Camelbak. Sure it's a bit pricey but it's definitely worth it. The construction is excellent; you get what you pay for with this. People who've complained about the shoulder straps need to try on some of the old ones! You'll be saying you should have gotten this sooner.
Tech Specs:
Crux delivers 20% more water per sip, with an ergonomic handle for easy refilling and an on/off lever to prevent leaks.

Magnetic Tube Trap™ keeps your tube secure and accessible when you need it

Air director back panel offers air channels to keep your back cool

check

External hooks let you carry your helmet while still allowing full access to your pack

check

Stretch overflow storage compartment lets you easily stash a rain shell or extra layer
Alternative Hydration Packs
Did you know there are multiple types of hydration packs to choose from? There are hiking hydration packs, biking hydration packs, and running hydration packs. Let's take a look at each of these and see what they can offer. Then, we'll take a look at some different styles and brands.
Hiking Hydration Packs
These packs are specifically designed with a greater storage capacity for items like extra clothes and food. They tend to have a similar structure to that of a regular backpack, with the difference of extra pockets and special materials. Spending long days on a trail will require that extra space for gear. Just make sure you don't stuff your pack too full.
Hiking hydration packs can also be purchased in a variety of sizes. Items for single day use will be smaller and those for longer trips, larger. Packs with greater water reservoirs tend to be more expensive.
Biking Hydration Packs
If you're looking for a biking hydration pack, wear and fit is more important than anything else. As you ride over uneven terrain, you want your hydration pack to stay in place. The best hydration packs will feel comfortable and secure as you go on your adventures. Hydration packs designed specifically for biking will usually come with a stabilizing feature like a belt to help keep it in place.
Running Hydration Packs
Runners need lightweight packs that fit very comfortably. No one wants their pack swinging around when they run. These types of packs often have ventilation features which provide breathability and moisture wicking properties. This will ensure you won't be covered in back sweat as you run along the trail.
Some of these hydration packs are referred to as vests, meaning they easily fit over your shoulders and back. This type of hydration pack will stay in place when you're on the move. Running hydration packs feature more traditional designs and utilize hip belts for extra support. Backpack style hydration packs also allow for greater support. They also tend to come with tubes to allow you to drink while you're on the go.
1. Platypus Siouxon Hydration Pack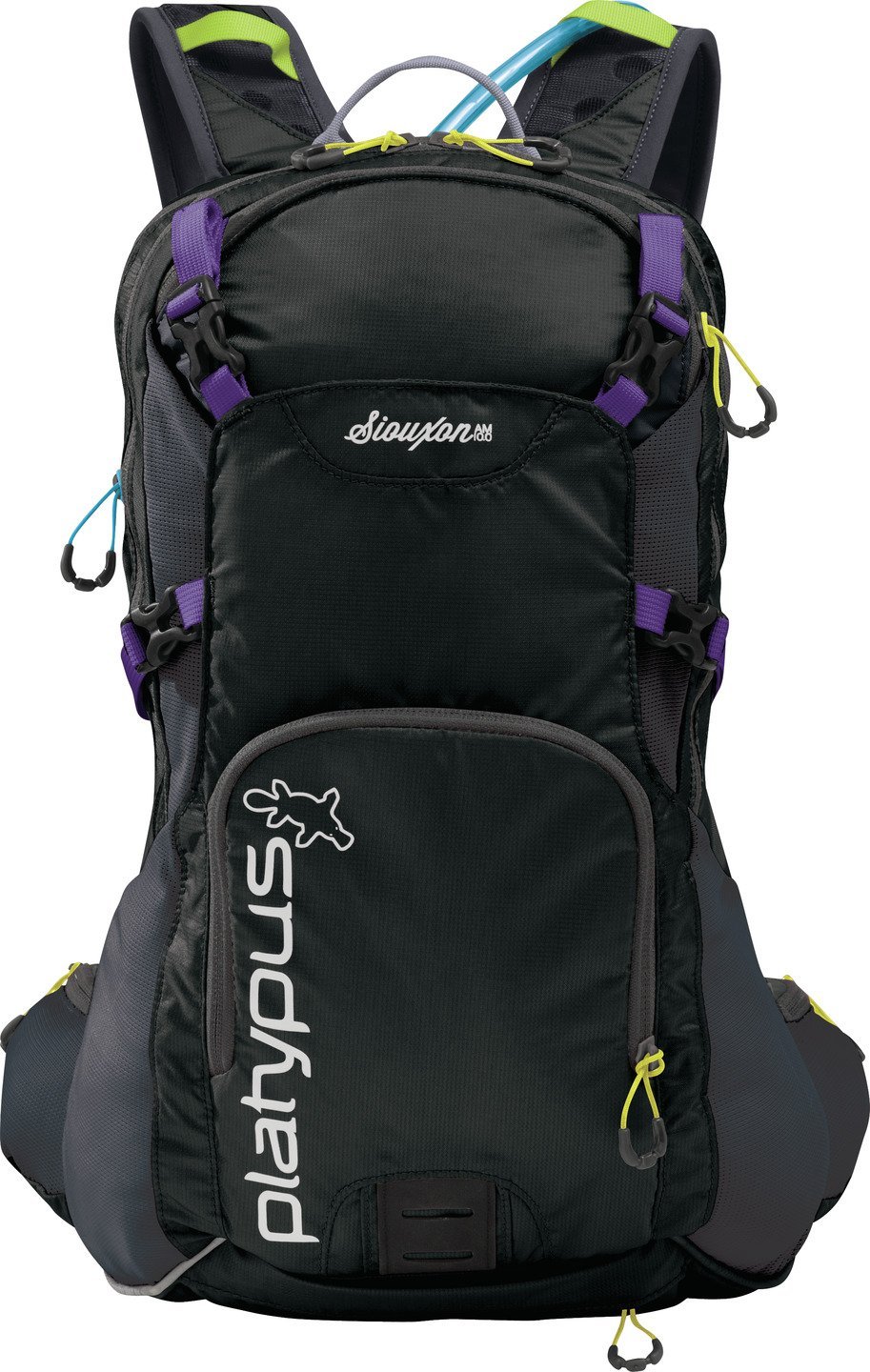 Made for ripping all-mountain trails all day long, the newly redesigned Platypus Siouxon (Sue-sonn) 10.0 hydration pack offers a stable, tailored fit, plenty of space to organize your riding essentials, and boasts the new, airy FloatAir back panel to keep you cool all day long.
Designed and built for optimal fit and comfort, this pack features soft-touch materials at body contact points, an optimally sized back panel length, anatomically shaped and angled waist belt and shoulder straps, as well as long-track sternum strap adjustment.
2. Osprey Escapist 32 Pack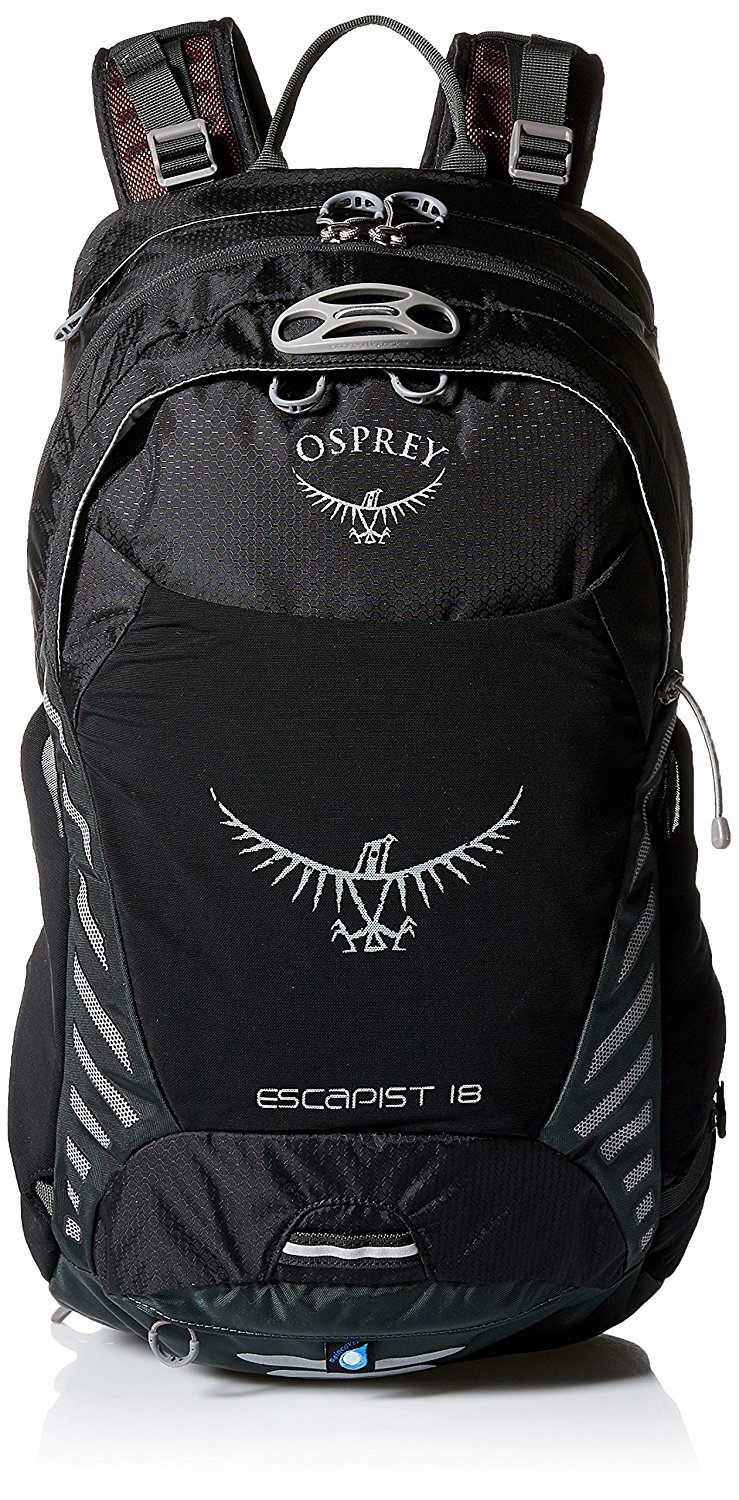 This pack offers ample room for trail riding storage, touring or commuting with extra space for all your gear. The low-profile Osprey Escapist 32 pack is designed to keep the load balanced when descending rough terrain. The Airscape mesh back panel provides ventilation when you're grinding up the pass.
A zippered divider at the base of the pack provides segregated storage. Additional features include a myriad of external storage options starting with three handy stretch mesh pockets—one on each side and another in the front. The hip belt has twin zippered pockets for snacks and there's a phone-sized pocket on the shoulder strap. A zippered external front pocket keeps valuables secure and a non-scratch glasses pocket protects your shades. The external hydration sleeve makes for easy reservoir refills.
3. Nathan HPL Hydration Running Backpack
Power your long-distance runs with this extra lightweight, ultra comfortable hydration vest, the Nathan HPL Hydration Running Backpack. Just when you thought it couldn't get any better, this vest has been redesigned with lighter weight fabrics and an updated 3way Propulsion Harness that moves with you, not against you.
You'll run hot while staying cool in dry, airy comfort thanks to the moisture-wicking, breathable mesh shoulder straps and back vent panel. Plus, while you're sipping easy you can store extra stuff in the stretch mesh pockets, ideal for energy gels, snacks and small essentials.
Miracol Hydration Backpack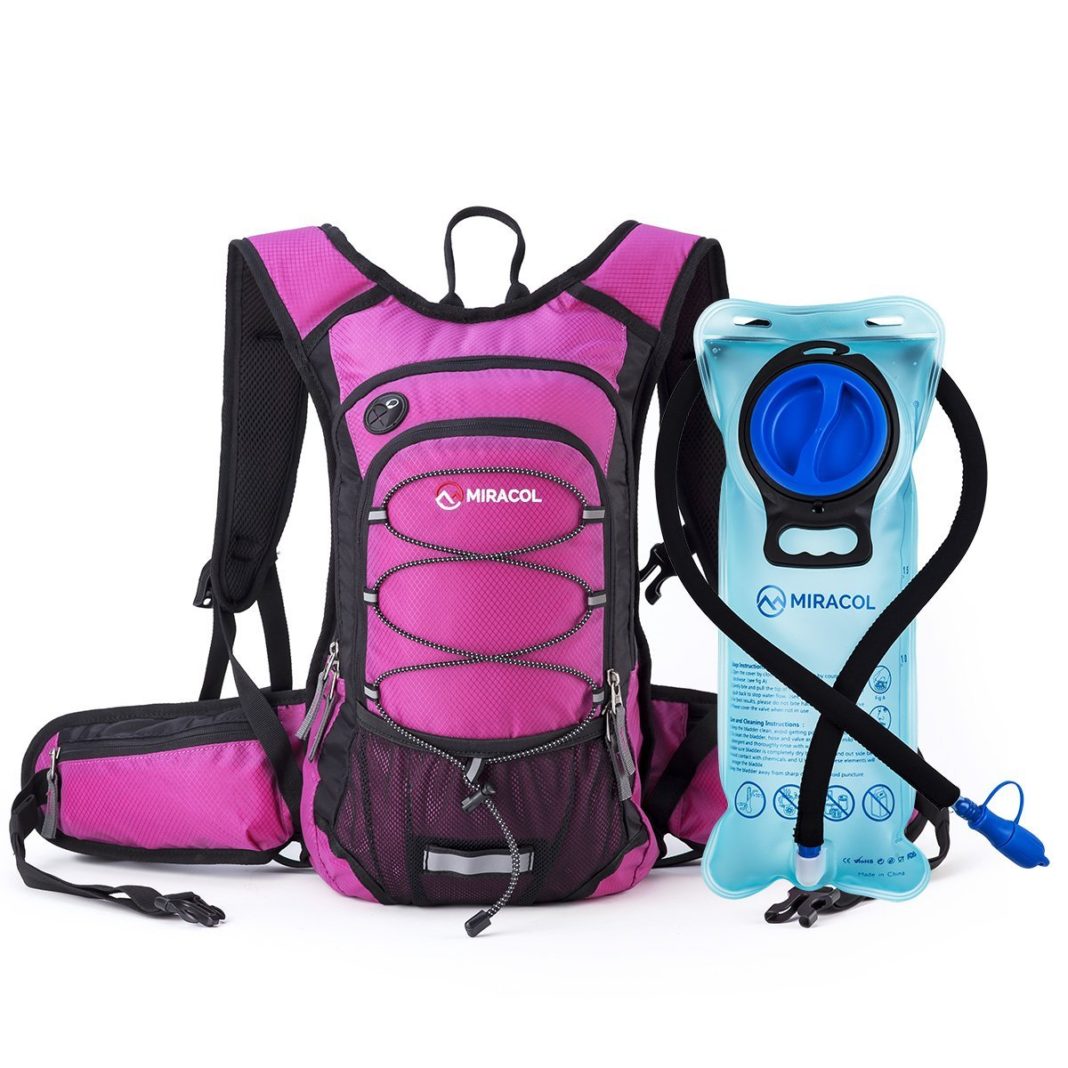 Attend to your hydration needs with style. Stay happy and hydrated. Are you an outdoor enthusiast who like spending weekends extreme sporting on the trails or just a long hike on your favorite hills? This jam-packed backpack offers all the features needed to get you and all your gear wherever you're heading and is definitely indispensable. Better yet, it will supply you with cold water for a minimum of 4 hours, Miracol thermal-insulated backpacks are the perfect solution for all your hydration needs.
Flaunting the latest sporty looks, this backpack will make sure you enjoy to the fullest, all while taking a cool sip. They also make it easy to replace the hydration bladder if needed. Unique insulation is meant to keep you hydrated during your entire adventure. Their thermal-insulated backpacks are no doubt the best solution for all your hydration needs whether you're running, cycling, hiking or traveling.
Invest in Travel Gear for All Your Adventure Needs – the CamelBak MULE Hydration Pack
When you're on the go, it's so important to stay hydrated. Whether you're an avid runner, hiker, or biking enthusiast, having the right hydration pack remains so important. If you're going to be wearing the pack for hours, make sure it is the right fit and weight for you.
The CamelBak MULE Hydration Pack offers all the features you could need. It's durable, lightweight, stays in place when you're on the go, and can store a large reservoir of water.
Questions and Comments
Do you have any questions or comments for us? Perhaps you have a favorite hydration pack that didn't make it on our list. Whatever's on your mind, we'd love to hear it. Feel free to leave us a message in the comment section below. We will be sure to get back with you soon.
Related Article: The 5 Best Hydration Packs To Bring On Your Travels