The Kingdom Resort is one truly reserved for royalty. A unique premier stay nestled among the South African plains, it is perfectly positioned by Sun City and only 2 km from the Pilanesberg National Park, a beautiful view in the distance.
Here at The Kingdom Resort, you're just a stone's throw away from some of the most spectacular landscapes in all of South Africa. Another equally important draw for guests is that Sun City – a sweeping complex complete with a casino, golf course, live shows, restaurants, waterpark, and a myriad of other activities – is nearby. Whenever you want to take in a show or play a round of putt putt, take advantage of the complimentary shuttle service and enjoy all that the area has to offer. Take it wherever you want. 
A Choice of Accommodations Available
Second, there is also a choice of accommodation options available at The Kingdom Resort. From hotel-style suites to four-bedroom luxury villas. Did we mention you can also purchase one? A holiday home could be yours to own if you really want it. Imagine being able to come and stay at the resort every year, without having to worry about availability. You can choose from a number of chalets and villas available on either a sectional title or vacation ownership basis.
Let's Talk Accommodations
To blend with the aesthetic of its natural landscape, The Kingdom Resort was designed to resemble a collection of small villages. Moreover, each village is grouped together to resemble a horseshoe named Kraal and consists of a number of chalets and villas that look out upon the lovely Bushveld Terrain. Let's take a look at the suites, chalets, and villas to see what they have to offer.
1. Chalets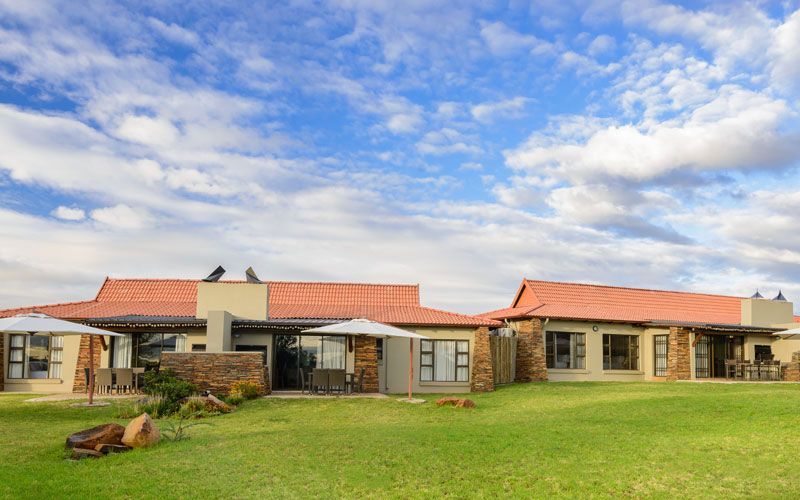 Credit: The Kingdom Resort
First, let's take a look at the chalets. In like manner to the topography of the region, natural materials and earthy tones come together at the chalets. The result is an effortless blend of the beauty of their natural surroundings.
The Kingdom Resort values authenticity in design and aesthetic, evidenced by the building's well-thought-out style. Choose from two and three bedroom self-catering, luxury chalets all fully furnished, boasting an amazing kitchen and entertainment area. This accommodation style is perfect for families looking for a serene place to stay and catch up on some R&R.
2. Villas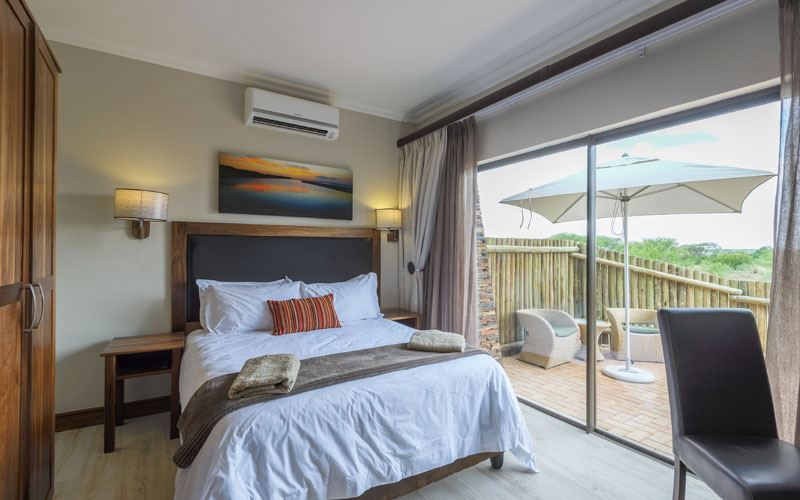 Credit: The Kingdom Resort
Second, let's take a look at the villas. These luxurious villas feature stunning interiors furnished with solid wood tables, granite top kitchens, comfortable and stylish bedrooms, air conditioning and DStv. For the most part though, you'll be outside exploring. Who needs a TV here? Furthermore, choose from two, three, and four-suite self-catering, upmarket villas with their own private splash pool and fire pit. You bring the firewood and we'll bring the marshmallows.
3. King Suites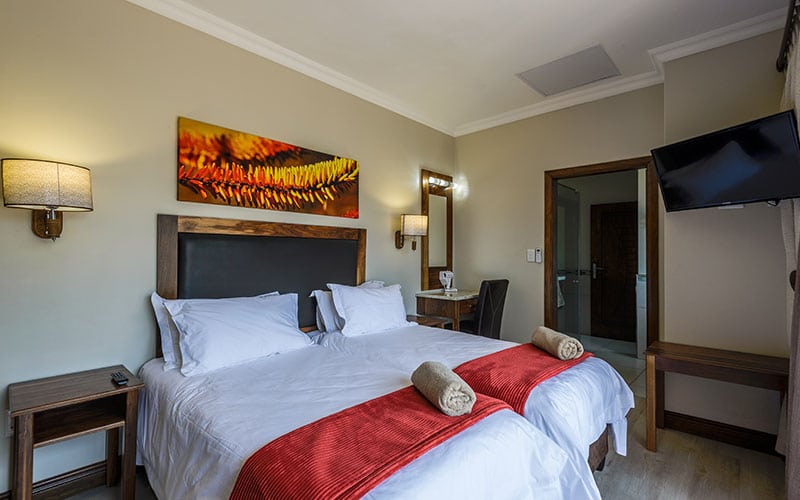 Credit: The Kingdom Resort
Third, let's look at the king suites. These rooms are perfect for corporates, tours, or simply a romantic getaway that's long overdue. Single and double options are complete with DStv, air conditioning, tea and coffee making facilities, and a private patio. What's better than drinking a cup of hot coffee while watching the sunrise over the plains?
4. Yours to Own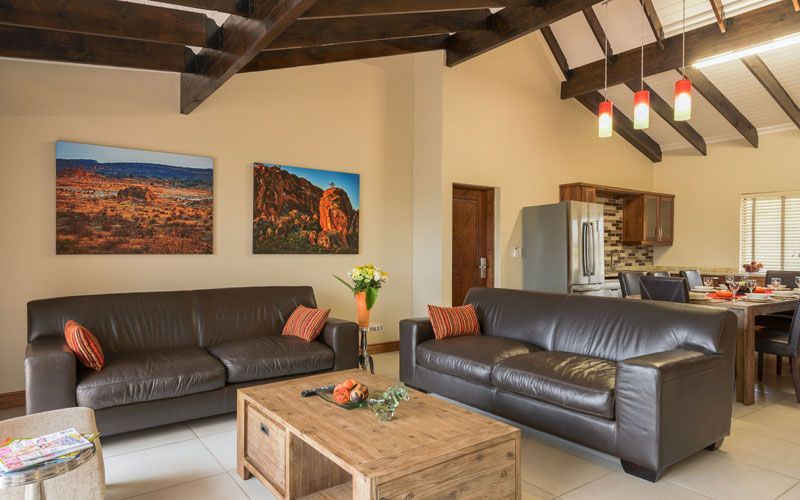 Credit: The Kingdom Resort
Fourth, The Kingdom Resort has three exciting purchase options available. You can choose from a Timeshare or Sectional style ownership. Let's take a look at both of the options and see what they have to offer.
Timeshare
Vacation ownership is just at your fingertips. The Kingdom Resort offers the following offers to timeshare owners:
check

Superior self-catering resort accommodation with use of free on-site facilities

check

1 or weeks of exclusive usage time of a 2 or 3 bedroom chalet every year

check

Holiday flexibility

check

Alternative high-quality exchange resorts at no cost

check

Over 4,000 resorts worldwide to choose from for a nominal exchange fee

check

A managed rental pool
Exchange Your Usage Time for Holidays Worldwide or for Rental Income
In the event that you find yourself unable to use your week yourself during the year, you have the options of exchanging it for a more convenient time at The Kingdom Resort (whenever you want it).
When you want, you can also swap out for an accommodation at another resort within South Africa and worldwide too. Because of this flexiblity, you also have the option of exchanging your unwanted usage time in order to participate in the Beekman Managed Portfolio Rental Pool. Please visit The Kingdom Resort website for additional details.
Purchase – Sectional Title
In the event that you are pursuing a purchasing option, another way to purchase a vacation chalet or villa at The Kingdom Resort is through a sectional title. They offer the following options to Sectional Title owners:
check

Luxurious resort accommodation with free use of on-site facilities

check

Self-contained Presidential Suites; individual or two, three, four, and five-suite villas

check

A managed rental pool

check

4,000 resorts worldwide to choose from for a nominal exchange fee

check

Alternative high-quality exchange resorts at no cost

check

14 weeks exclusive usage time every year
Guaranteed Holidays Every Year
In the event you decide to indulge and get a stunning Presidential Suite or even an entire villa at The Kingdom Resort, you will enjoy 14 weeks in paradise at this South African oasis. Your family – or maybe just you and your significant other – are guaranteed a place to stay every year even in the preferred weeks and seasons. As we mentioned before, you can also use these weeks for exchange with the other BMP resorts, exchange into local and international resorts, or place additional weeks in the rental pool. We can't think of a better deal.
A Potential Source of Rental Income
Here's a pro tip. If you do decide to purchase a chalet or villa, it's also great for the purpose of rental income. Another benefit of the Investor Club is that 37 weeks of your purchased rental are automatically placed into the resort's rental pool on your behalf. What does this mean for you? For one thing, the income from owner's rentals is equally shared amongst participating villa owners.
It's important to realize that with the rising tourism boom in South Africa, this could be a great and fun way to make a little extra monthly cash. Plus, you'd have a vacation home awaiting you right by one of Africa's most beautiful national parks. By all means, we want in. 
Location, Location, Location
Credit: The Kingdom Resort
Set in the crater of an extinct volcano, the stunning Pilanesberg region of South Africa's North West province is nothing short of a feast for the eyes. It's no wonder that this setting was chosen as the site of the Pilanesberg National Park, the 4th largest in South Africa. Here, you will find syenite koppies, ravines covered in thick forests, rolling grasslands, and wide sweeping plains – all of this is home to The Kingdom Resort.
Let's Talk Dining
While The Kingdom Resort offers the lovely Acacia Terrace Cafe on-site, there are also plenty of other options to choose from nearby. Some local favorites include the Mohican Spur Steak Ranch, Casa Bella Sun City, The Brew Monkey, and Tusk Bar & Lounge.
Mohican Spur Steak Ranch
This US-style diner chain serves up a family-friendly vibe, alongside steaks, burgers, ribs, and wings, and the like. Bring the kids along for some of the best tasting food and dessert from their famous Spur menu.
Casa Bella Sun City
Indulge yourself in a fresh, authentic, and carefully-crafted Italian cuisine. Here at Casa Bella, there's a pretty catchy motto. Eat first and then do everything else. Their mouth-watering pizzas are hand-pressed to every order, maintaining a rare authenticity through imported Italian 'OO' flour and only the freshest ingredients. For this reason, it's one of the most beloved restaurants in the area. Each pizza is topped lavishly with melted, creamy mozzarella, and then finessed in their signature wood-fired oven. This lovely little spot will instantly transport your taste buds right to the heart of Naples. Buon Appetito!
The Brew Monkey
In a word, the drinks here are amazing. Ordinarily you wouldn't expect a regular looking shop to have the best stuff on the block. But this lovely little coffee house and deli serve up some of the best cappuccinos and cafe breves you'll find for miles around. Want to know our personal favorite? The Ghirardelli hot cocoa poured up with lots of frothy goodness. Obviously, we're hooked. 
Tusk Bar & Lounge – Sun International
Embark on a culinary adventure at this safari-themed cocktail bar and lounge. The Tusk Bar & Lounge at The Palace transports its visitors back in time and style, to an era when grand explorations captured the imagination. After all, who doesn't want the excuse to dress all fancy and wear a big floppy hat?
Let's Talk Amenities and Activities
The Kingdom Resort takes full advantage of the lovely sunny Pilanesberg climate. In order to keep everyone happy and entertained, guests are provided with a selection of complimentary activities. By all means, dive right in. Who's up for a hot air balloon ride, four wheeling, rock climbing, and pool lounging? Us. Definitely us. The following amenities, activities, and facilities are included during your luxurious stay: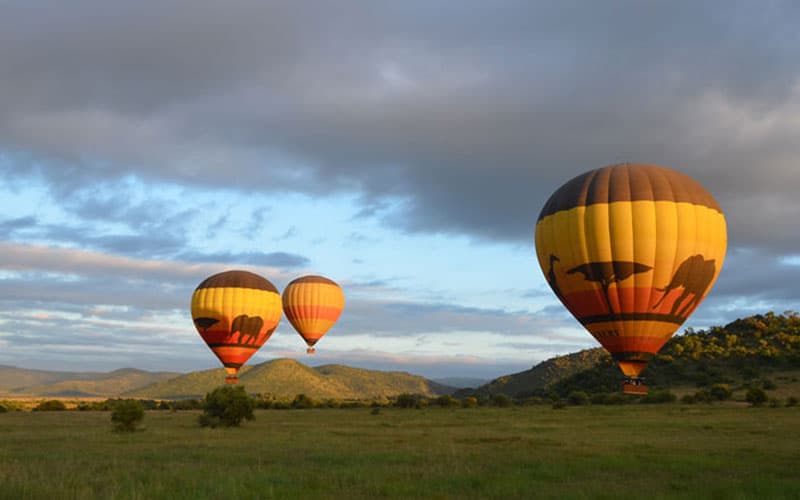 Credit: The Kingdom Resort
Resort Facilities:
checkWelcome Center: An on-site sales office with qualified sales staff that can assist you with information on investing at The Kingdom Resort.
check​

Splash Kingdom Waterpark: C​​​

ool down and have fun at the awesome waterpark.

check

Body Bliss Day Spa:

Relax, be pampered and indulge in some beauty treatments to melt your stress away.

check

Jungle Gym:

Made from plastic and with educational features, it's safe for children to enjoy for hours on end.

check

Adventure Golf:

With water and rock features, it's a scenic course suitable for all ages.

check

Bicycle Hiring:

Visit our Reception Desk and rent one of our bicycles and explore the resort grounds.

check

Outdoor Cinema:

A large outdoor movie wall has been created for guests to enjoy a selection of movies whilst picnicking under the stars as well as viewing popular sports events.

check

Jumping Pillow:

An internationally popular attraction that has recently been introduced to our country and showcased at selected resorts. Guests young and old love this new take on the traditional trampoline.

check

Pizzeria:

The on-site café, Acacia Terrace Cafe, now has a Pizzeria, perfect for grabbing something delicious after a day full of activities!

check

Swimming Pool:

Custom designed to mimic a rock pool, it has a slide for kids, an island for sunbathing and a waterfall feature.

check

VolleyBall:

Play in the designated sand area and challenge your friends and family to a tournament.

check

Trampoline:

Shaded and surrounded by a safety net, the trampoline is suitable for kids of all ages.

check

Acacia Terrace Café:

Open 7 days a week between 7 am and 9 pm, the café serves a variety of light meals, breakfast as well as alcoholic and non-alcoholic beverages.
Additional Outdoor Activities and Offers
check​Jungle Bar And Lounge: An African lounge experience, serving guests with a variety of drinks while they relax and unwind.
check

Rock Climbing Wall:

An 8 meter, multi-challenge, climbing wall has been built behind the brand new outdoor cinema.

check

Outdoor Table Tennis:

Table tennis is situated outdoors by the pool area.

check

Archery:

Try your hand at the ancient sport of Archery and master this skill with a unique bow. Experience the ancient art of archery with the help of modern-day equipment. Competent instructors will help you master the technique of shooting a recurve bow.

check

Boma:

Relax, enjoy a braai and meet and mingle with other guests at the Boma.

checkKids Play Area: Situated in the Acacia Terrace Café area, little ones will have fun in the kids' pool, jungle gym, playground area, and trampoline.
check

Restaurant:

Savour sumptuous breakfast buffets, delicious lunches and dinners at the on-site Acacia Terrace Restaurant.

check

WiFi:

With our improved WiFi signal, sharing those holiday selfies has never been easier!

check

Mountain Bike Trail:

Hire one of our mountain bikes and explore the resort grounds. We have marked trails to make the most of your excursion.

check

Free shuttle service to Sun City:

A complimentary shuttle service that runs periodically to and from Sun City. Booking is essential.
What Travelers Are Saying About The Kingdom Resort
Travelers who stayed at The Kingdom Resort instantly felt at home. They appreciated the friendly staff and loved that their rooms look just like the ones pictured on their site. The rooms are spotless, chic, and comfortable and the amenities are a nice touch.
For a lazy day, enjoy grabbing a delicious breakfast and lunch at the Acacia Terrace Cafe on-site and then soak up the sun poolside. For nightlife, head over to the nearby Sun City. You'll have such a great time, you might just forget to take pictures..but we don't recommend that. You've got to get those memories snapped!
Book Your Stay At The Kingdom Resort, A Luxurious Escape On the South African Plains
Experience and embrace the tranquility of the untamed and the spectacular landscape of South Africa's North West province. All in all, The Kingdom Resort offers a relaxing stay amongst the most stunning natural beauty of the region and close proximity to many of local attractions. Signature amenities and a stunning pool provide added luxury.
One Of Our Favorite Resorts
All things considered this is one of our favorite resorts. At the present time, this place is peaceful and largely undiscovered. However, with the boom in South African tourism, there's no doubt that The Kingdom Resort will be topping travel sites sooner or later.
We're just glad we could tell you about The Kingdom Resort first. Book your stay now because all of a sudden, some travel influencer will post a picture here and this little gem will be trending in no time. 
Related Article: Couples Resorts: Take Your Pick From The World's Best Romantic Getaways