We used to think cute wallets were a vanity accessory. But when you travel frequently, having the right one can be a lifesaver.
Have you ever found yourself rummaging for your ID or spare change for a coffee at the airport? You're not alone. But you do need a better organizational system. You need a wallet that's sturdy enough to hold your cards, loose change, passports, and receipts. Cute wallets get bonus points for style. If this sounds like something you need in your life, read on to find our picks for the ultimate travel wallets.
The Top Cute Wallets for Travel You Need Right Now
Alright. Let's get to the good stuff. We've asked around and scoped out the best cute wallets on the internet. Isn't it great when the guesswork is taken out of shopping? These wallets are more than just fashionable. They're functional and equipped with RFID protection. After all, it's so important to know how to keep your money safe while traveling.
1. Zoppen Multi-purpose Rfid Blocking Travel Passport Wallet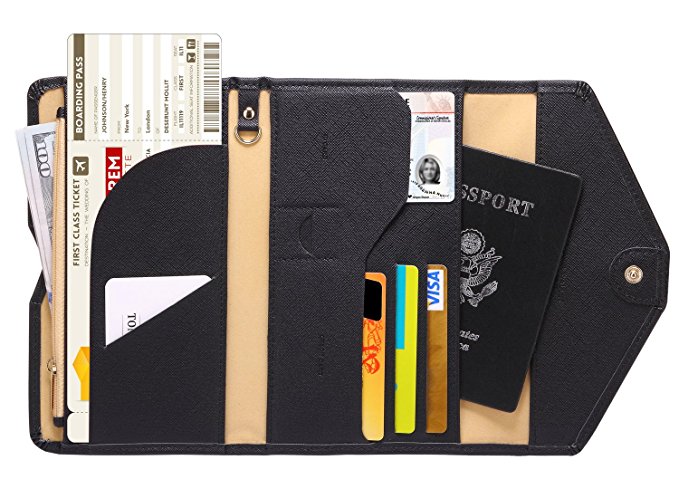 Travel smarter with this cute wallet by Zoppen. Made from high-quality, eco-friendly PU leather, it passed the Euro Reach quality standard. Better yet, it offers the ultimate travel protection. Keep identification theft at bay and protect your personal information with inside RFID blocking shield material.
This roomy and collected space offers plenty of space for all your valuables and information. Inside, you will find one passport pocket, one boarding pass compartment, three credit card slots, one ID slot, one sim card pouch, one coupon ticket slot, a cell phone pouch, and even holders for your spare change. Travel smart. Store your carry-on essentials and travel documents in one slim lightweight bag and never miss or lose them again.
But that's not all. The Zoppen Multi-purpose Rfid Blocking Travel Passport Wallet offers a chic style in addition to its multi-functional design. It comes in a soft, vintage design in various colors to match your taste.
Tech Specs:
Imported

Travel Priority – the wallet is made from high-quality ECO-Friendly PU leather, passed Euro reach Quality Standard, US EN71 and US CA Prop 65 Test

Travel Protection – Keep Identification theft away  and protect your personal information with inside RFID blocking shield material under frequency 13.56 Mhz

check

Travel Organized – Roomy and Collected, 1 passport pocket, 1 boarding pass compartment, 3 credit cards slots, 1 id slot, 1 sim card pouch, 1 coupon ticket slot, 1 cell phone pouch (max 5.8 inches), 1 money & coins zippered pocket (fit U.S. money), 1 key holder and 1 pen holder, 1 slim pocket

check

Travel Smart – Store your carry-on essentials and travel documents in one slim and lightweight bag and never miss or lost them if you really needed

check

Travel Classical – Vintage looking, Chic style, Multi-functional design, Soft and Comfort touching, various refine colors to match your taste
2. Borgasets Women's RFID Blocking Small Wallet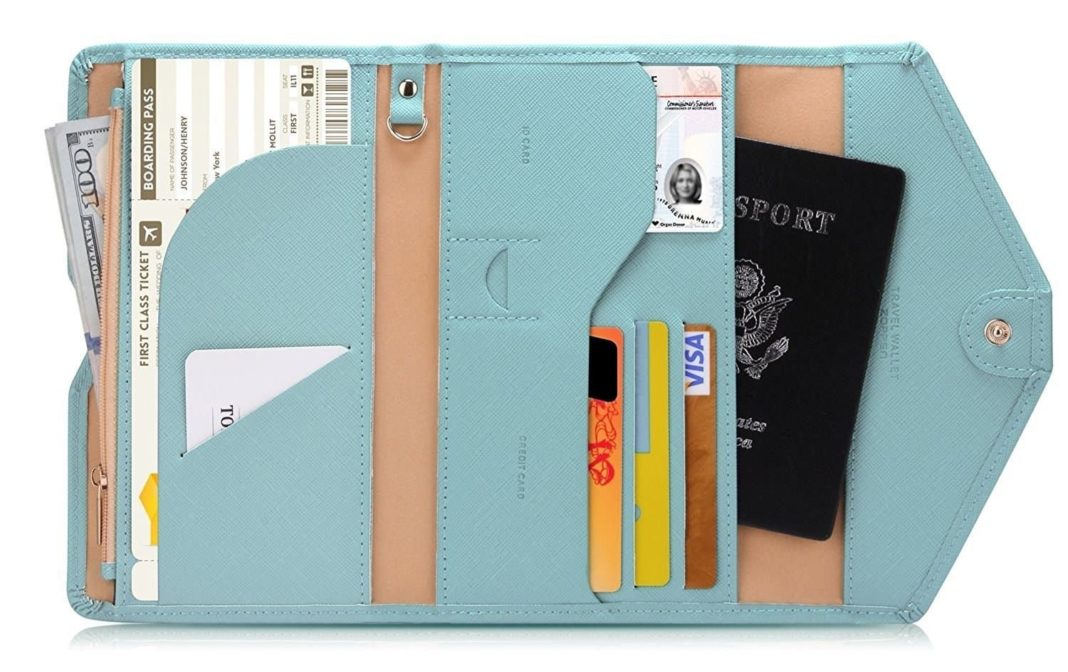 Isn't this one of the most cute wallets you've seen? Well made and compact, it's designed for both fashion and function. This Borgasets wallet is made from 100% pure genuine leather. You'll get the enjoyment of a high-end-feel product without actually having to spend too much money.
So what do we love most about it? Well, it's hard to just pick one thing. First of all, it's compact. You can easily slip it into your jeans or coat pocket without it being uncomfortable. In addition to great quality, it also offers a reliable RFID safeguard and an ergonomic design. You can easily fit all of your valuables inside without it being overcrowded.
Tech Specs:
Compact: Compact yet small enough to put into your coat, pants pocket. Dimension: 3.85″ x 4.13″ x 0.59″.This is a mini size little wallet.

Reliable RFID Blocking Safeguard: Tested & Approved RFID Blocking Technology which is far superior to many alternatives in the market & Features a unique military-grade shielding technology & Proprietary blocking material, which protect your money and all vital private information stored on RFID chips safe, now just say "no way" to unauthorized cards scans.

Functional Design: 8 card holder,1 full-length bill section. It stays closed and flat when stuffed.

check

Genuine Leather:  Each leather wallet is made with premium oil wax cowhide leather, giving it durability, handsome character, and gorgeous style.

check

Convenient: This is perfect for ladies who don't like to carry a big wallet around town. A clear layout and bi-fold design are made for you to easily access to cash and credit cards. It comes in a cute gift box and ready to be a gift for someone who likes compact small wallets.
3. Zero Grid Travel Wallet & Family Passport Holder w/ RFID Blocking- Document Organizer Case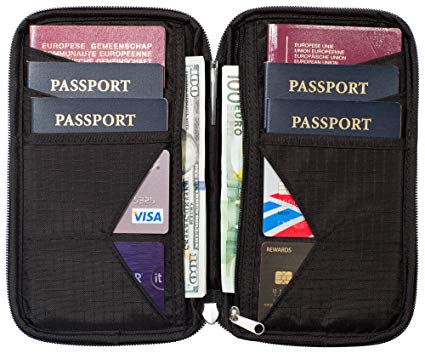 Enjoy the perfect travel wallet for the whole family. This organizer is built to help your next vacation go smoothly. The Zero Grid Family Passport Wallet organizes all of your family's travel documents, credit cards, IDS, and cash into one easy to use accessory. When you're off to the airport for that big trip you've been planning for months, the last thing you need is to lose a passport or boarding pass.
Keep all your valuables in one place with this zippered wallet. You'll find that there are multiple pockets for tickets, passports, IDs, cash, and more. Just keep the family-sized wallet in your personal bag so no one in your family needs to worry about keeping track of your important papers and cards. Thanks to a two-sided design, the wallet won't bunch up when it's filled. A compact design helps you to make the most of your space in your personal bag for other travel items. It also has a water-resistant fabric to protect your important documents from rain, spills, and other moisture when closed with the zipper.
Unlike your average wallet, the Zero Grid Family Passport Holder offers a cut-away pocket design so you can see what's in each storage pouch without needing to rummage through it to find what you're looking for. It also has  RFID-blocking technology integrated into its durable nylon fabric. This shield doesn't block your cell phone signals, but it will prevent unauthorized card and ID scanning.
Get ready for the next leg of your vacation in just minutes. Stop fumbling with multiple ticket holders and wallets. This travel organizer isn't just for families: it can also keep tour groups, backpacking trips, and camping trips on track. Some customers also use it to organize and protect documents like car registration, insurance cards, and other important documents.
Tech Specs:
Flexible Storage and Organization:  Stores money, up to 6 passports, tickets, 4-10+ cards & travel documents. Includes Micro Travel Pen for customs forms.

Protects Your Valuables and Identity: Built-in RFID Blocking material safeguards your personal information against identity theft. BONUS GIFT – 7 RFID Blocking Sleeves for your ultimate peace of mind (6 Credit Card & 1 Passport) – use when your passport or credit cards aren't inside the wallet.

Lifetime Money Back Guarantee

check

Durable and Easy to Carry: Water-resistant Ripstop nylon and zipper closure for all-weather protection. Fits snugly in your pocket, backpack, purse, or carry-on luggage.

check

Designed for Safe International Travel:  Invaluable for airports, crowded marketplaces, buses, trains, sporting events, and festivals. Keeps everything in 1 place.
4. Travel Design All In One Travel Wallet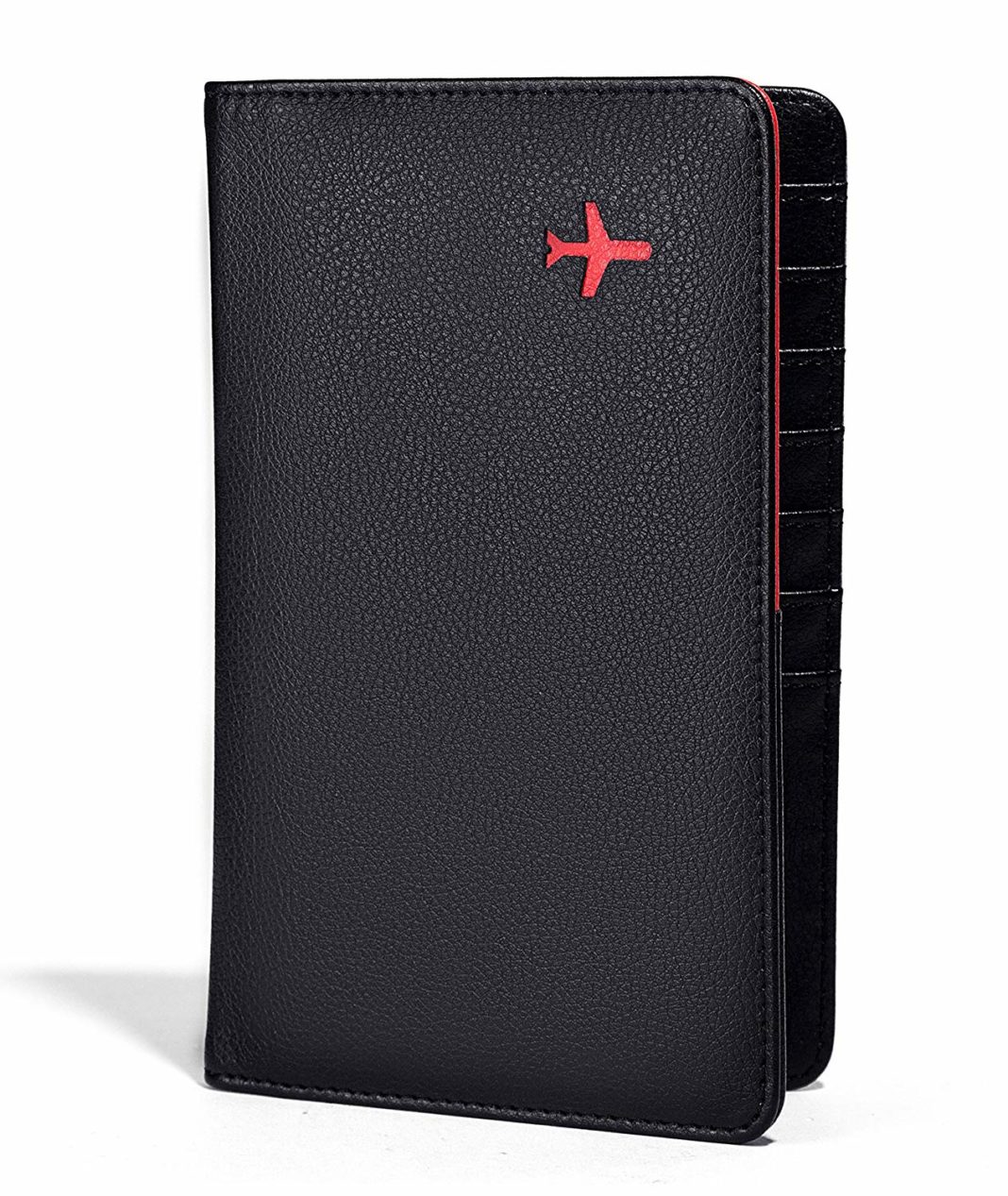 If you're looking at some cute wallets for your next trip, this one should be at the top of your list. You don't need to buy some bulky travel wallet or organizer. Travel Design offers you an all in one solution. Easily slide it into your pocket, bag, or clutch for simple storage. Slightly larger than a standard passport wallet, it fits cash, credit cards, two passports, boarding passes, and a pen. Want to know the best part? It's all well placed.
Tech Specs:
All In One: Special size. It's slightly larger than a standard passport wallet. That's why your cash, credit cards, two passports, boarding passes, and a pen can all be well placed.

For the Ladies:  Classy Travel Design. Trend color – Flamingo (cute pink). This Passport Wallet ( passport holder, case, cover ) perfectly suits for women.

The Best Gift Idea: Gift a necessary and stylish product. The Travel Passport Wallet is packed in a premium travel design gift box. This is Your best choice of travel accessories.

check

Slim, Soft, and Durable:  Premium PU Leather provides a comfortable feeling and protection from dust and abrasions.

check

Actual Dimensions: Travel Passport Wallet – 7.1″ Height x 4.4″ Width x 0.32″ Depth / Gift Box – 7.6″ Height x 4.84″ Width x 0.7″ Depth
5. Travelambo Womens Wallet RFID Blocking Bifold Multi Card Case Wallet with Zipper Pocket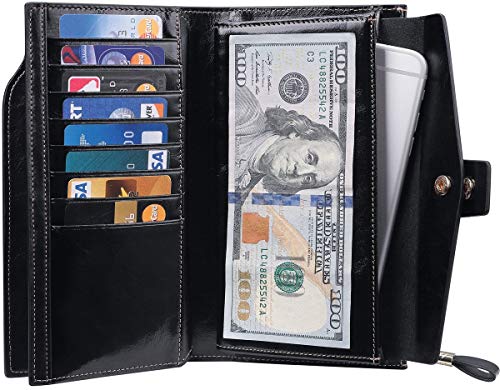 Organize everything you need in one of these cute wallets from Travelambo. This multi-case wallet comes with an RFID blocking feature, which will keep your information from being scanned and stolen. A two button design makes this wallet fit in more situations. Users can use the inner button when they're holding a few things and the outer one when the wallet is empty.
A simple, practical design will satisfy both your fashion and function needs. Better yet, there are 24 choices for color, so you're guaranteed to find one that fits your style. Last but not least, it offers excellent craftsmanship. Each wallet is 100% handmade. Travelambo doesn't mass produce their products in a factory; a team of fifteen craftspeople with more than ten years of experience produces each wallet.
Tech Specs:
The Inexpensive Wallet: High-quality Synthetic leather + simple polybag packing + superb craftsmanship = an inexpensive and yet high-quality women's wallet

Material: high-quality faux leather: soft and durable

Size: 7.5″ X 4″ X 1″

check

Practical Design: 18 card slots;1 ID slot; 15 card slots, 2 zipped long slots for cash and mobile

check

Guaranteed Quality: with hassle-free return or exchange
6. Herschel Supply Co. Men's Charlie RFID Blocking Card Holder Wallet
We couldn't talk about cute travel wallets without adding in an option for the guys too. Everyone knows the brand Herschel; it's iconic in both the fashion and travel world. This palm-sized slim, sleek polyester holder won't bulk in your pockets. It includes multiple slots on both sides, perfect for storing your cards and cash. Besides its obvious style and practicality, it also offers RFID blocking protection for your valuables. Is this a score or what?
Tech Specs:
100% Polyester

Imported

Hand Wash

check

7.5 centimeters high

check

10 centimeters wide

check

Signature striped fabric liner

check

Multiple card slots and top-access storage sleeve

check

Engineered red and white striped tab

check

RFID blocking layer to help prevent the unwarranted scanning of identification, credit and debit cards
Invest In A Cute Wallet for Your Every Day and Travel Needs
We hope you enjoyed reading our article on the best cute wallets for travel. As you can see, you don't have to sacrifice style for function. The cute wallets we chose for travel offer the best of both worlds – style, good storage, durable construction, and RFID protection.
When you're traveling, RFID protection has become more important than ever. Companies have begun to incorporate it into their design and we've got to say we're pretty stoked about it. There's nothing better than traveling organized and stress-free. Which one of the wallets did you like the best? Let us know in the comment section below.
Questions and Comments
Do you have any questions or comments for us? If so, we would love to hear them. Feel free to leave us a message below. We will be sure to get back with you soon.
Related Article: Your Guide To Finding The Best Travel Wallet | Review