Ladies, listen up. Have you heard of the Platypus Siouxon Women's Hydration Pack? It's a game changer for hikers and bikers hitting the trail.
The mission of Platypus is simple. They believe in the importance of having clean water. Thus, they strive to create the finest reservoirs, bottles, and water filters on the planet so you're never without clean water. That's why they put thousands of hours of laboratory testing and field use behind every piece of gear they sell. The result is clean and taste-free hydration you can count on day after day, anywhere in the world. That's what you'll get with the Platypus Siouxon Women's Hydration Pack. It really does pack a punch.
Features and Benefits of the Platypus Siouxon Women's Hydration Pack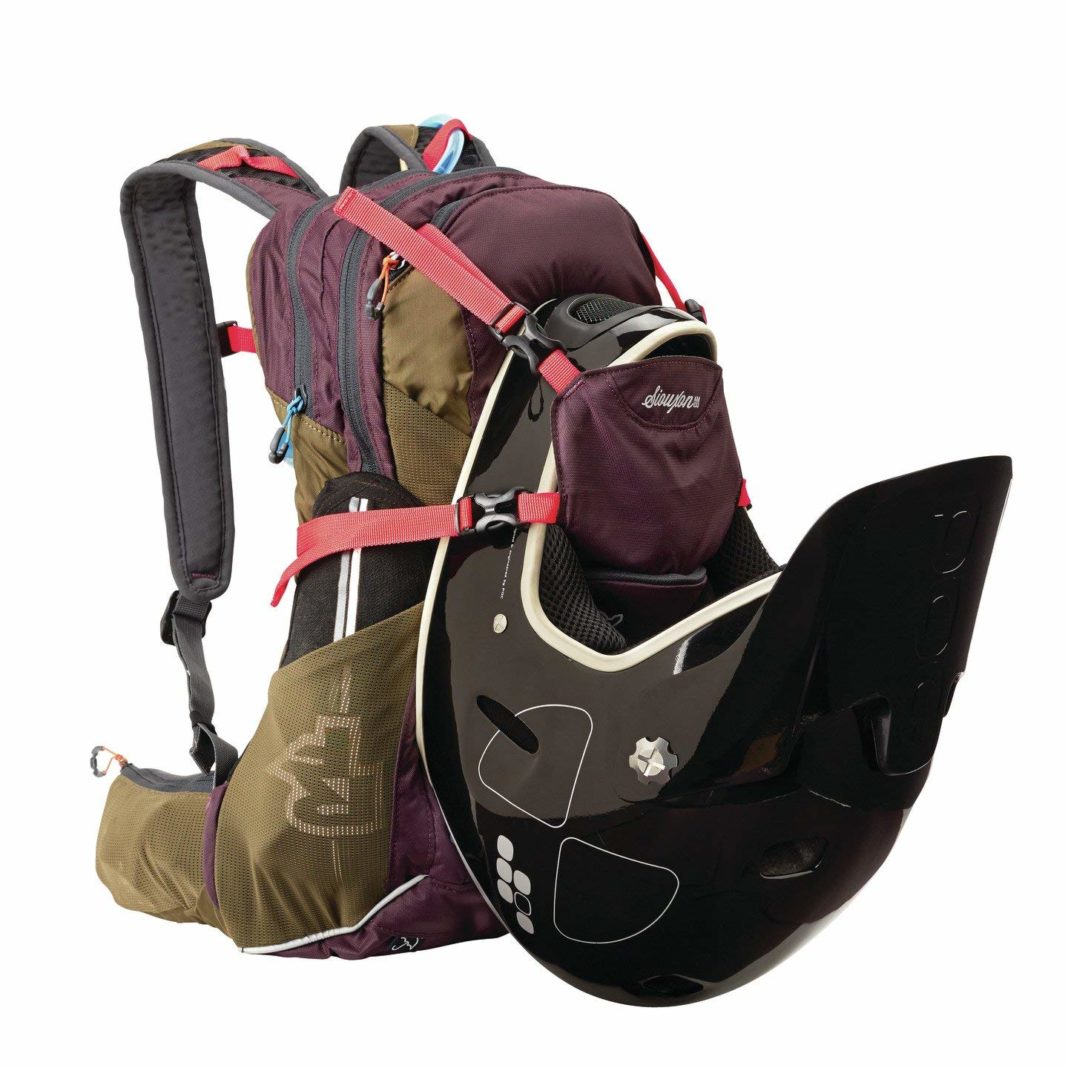 This roomy full-featured pack is designed especially for women. Made for ripping all-mountain trails all day long, the newly redesigned Siouxon 10.0 hydration pack offers a stable, tailored fit, plenty of space to organize your riding essentials, and boasts the new, airy FloatAir back panel to keep you cool all day long.
1. Women's-Specific Fit
Designed and built for optimal fit and comfort, this pack features soft-touch materials at body contact points, an optimally sized back panel length, anatomically shaped and angled waist belt and shoulder straps, as well as long-track sternum strap adjustment.
2. A FloatAir Back Panel
Highly breathable mesh is placed over a lightweight wire frame, floating the pack over your back and optimizing cooling airflow; the wire frame is reinforced to help prevent the pack from compressing against your back, maintaining airflow. Even in the hottest summer days, you'll feel cool and comfortable. You just can't beat this tech.
3. A 3-Liter Big Zip LP Reservoir
Premium, taste-free reservoir features a low-profile shape, a wide-mouth opening that locks securely, and a quick-disconnect hose. This makes it super convenient to stop and take a quick sip of water while you're on the go. It's clear this pack is designed for runners.
4. Smart hydration pocket
Reservoir suspension hooks hold reservoir securely in place while you ride; dedicated hydration pocket makes it easy to access, clean and refill reservoir. Cool down and refresh anytime and anywhere. It really is that easy. This is such a handy feature to have for the heat of the summer months.
5. Full-face helmet and pad carry
Okay, this honestly isn't as intense as it sounds. Here's the 411. A front stash pocket with adjustable straps, quick-release buckles and stretch side pockets securely stow a full-face helmet and protective pads. That's all, folks.
6. Tool organization and separate pump sleeves
Main compartment features a zip mesh pocket with key retainer and three mesh stash pockets to organize tools, repair kits, snacks, and other gear for easy access; two pump sleeves conveniently secure a shock pump and tire pump.
7. Fleece-lined eyewear pocket
Located at top of pack for fast, easy access, the soft fleece lining of the pocket protects your sunglasses or goggles—or your media device—from scratches. We absolutely love this feature. How many times have your shades gotten all scraped up in your backpack?
8. Waist belt zip pockets
This is honestly such a convenient feature. Not only does the waist belt keep your pack from sliding around while you run, but you don't have to worry about your valuables. It's so easy to have your keys fall out of regular short pockets while you run.
9. Rainfly
Protective rainfly can be quickly deployed from its dedicated pocket on bottom of pack for on-the-go protection from rain and mud; it can also be detached for easy post-ride drying and cleaning.
10. Reflective detailing
Reflective hits enhance your visibility to others when you're on the trail or traveling between rides. If you like to run at night, this feature is so helpful for your safety.
11. Light loop
The light loop is an attachment point for rear blinking light. Isn't this a cool feature?
12. Magnetic hydration hose retention
The magnetic hydration hose retention offers clip-free access to the bite valve.
Tech Specs:
Internal and external tool organization with up to 7L of storage

Comes with Platypus 3L BigZip hydration reservoir with magnetic hose retention and multiple hose routing options

Carry system for pads and full-face helmets, along with fleece lined eyewear pocket, integrated rainfly, commuter light loop and two pump sleeves

check

Designed to work with a wide range of body types and torso lengths, the FloatAir back panel keeps you cool and comfortable all day long

check

Long-track sternum strap for tailored adjustments and ergonomic shoulder straps for increased comfort
What Travelers Are Saying About the Platypus Siouxon Women's Hydration Pack
Overall, travelers really love the Platypus Siouxon Women's Hydration Pack. It has just the right fit for a variety of female figures and distributes the content's weight equally. We highly recommend breaking it in before you take it on your big trip. Pack it as you would for your main upcoming trip and take it on a quick day hike.
Travelers said this is a great way to get a feel for the fit of the pack and just how much content you want to carry. It's the perfect size to prevent over-packing while still bringing all the essentials. To minimize weight, you can fill the bladder up to 2L and refill as needed. You'll never feel sore or tired after carrying it. Overall, the bag holds up very well. Investing in high quality gear always pays off.
Alternative Hydration Packs
Osprey Escapist 32 Daypack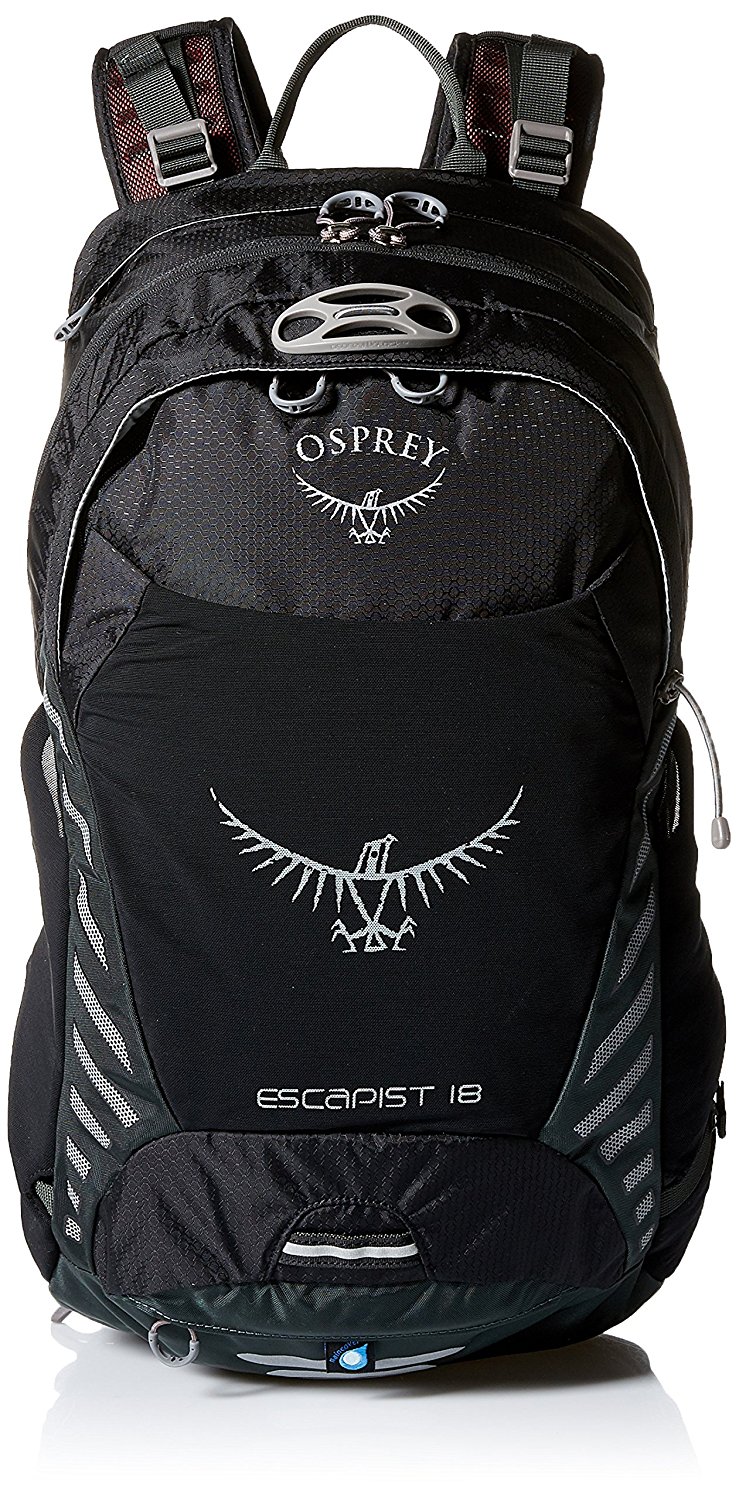 Osprey is such a high-quality brand. This low-profile pack is designed to keep you balanced as you explore rough terrain. When you're grinding up or down the pass, the Airscape mesh backpanel provides plenty of necessary ventilation. At the base of the pack, a zippered divider provides optimal storage. There are also external storage options including three handy stretching mesh pockets. There are one on each side and another at the front of the pack.
The hip belt also offers twin zipper pockets for snacks. On the shoulder strap, you'll find another phone-sized pocket. A zippered front pocket is handy for keeping your valuables secure and a non-scratch glasses pocket will protect your shades. Last but certainly not least, an external hydration sleeve makes for an easy reservoir refill.
Nathan HPL Hydration Running Backpack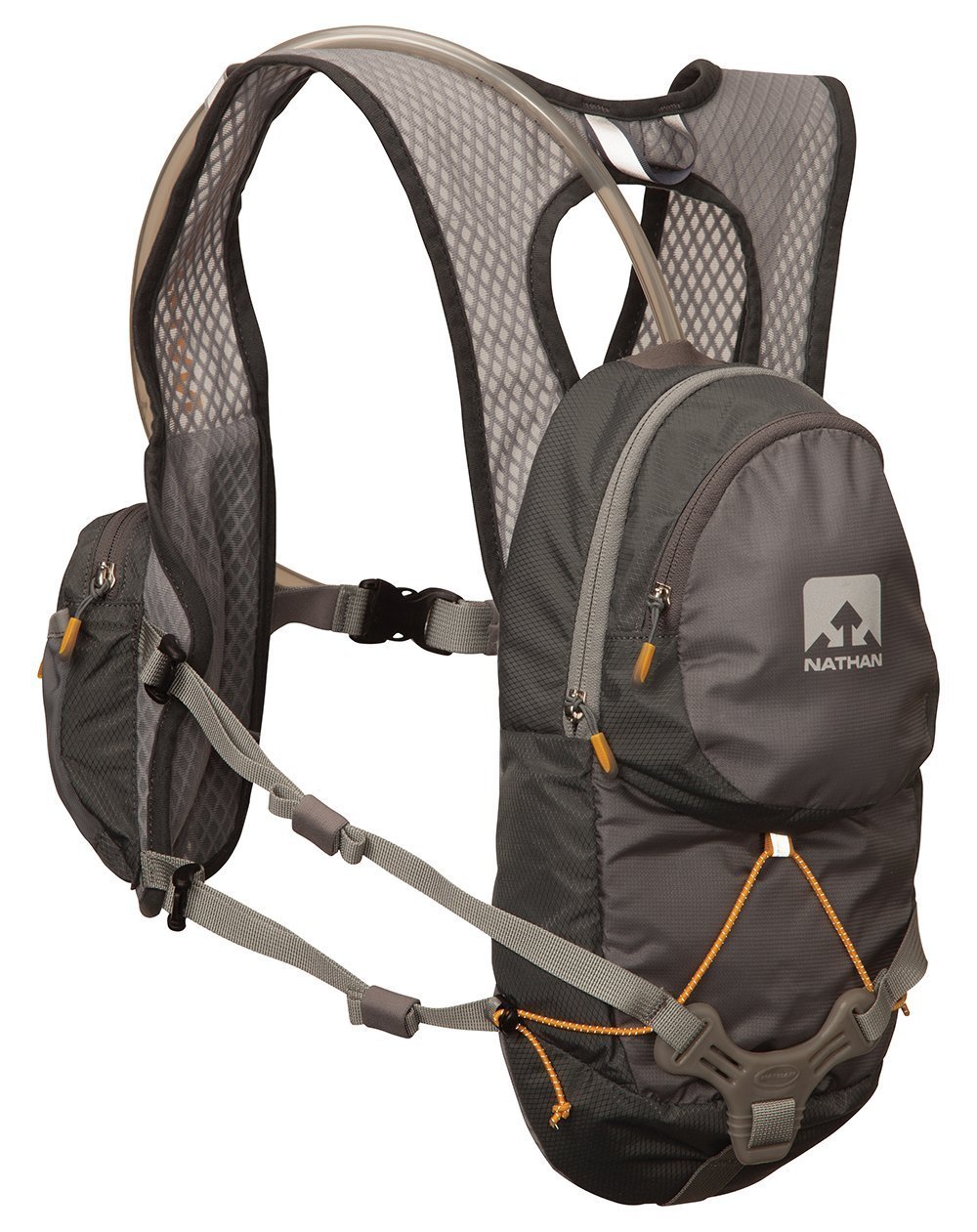 Power up for your long distance cardio sesh with this extra lightweight hydration vest. You won't find a more comfortably fitting hydration vest than the Nathan HPL 2L. Just when you thought it couldn't get any better, the vest has been re-desgined with lighter fabrics and an updated 3-way propulsion harness.
Thanks to its moisture-wicking properties, breathable mesh shoulder straps, and back vent panel, you can run in hot weather and stay cool and dry. While you're sipping, rest easy knowing your goods are safely stored in the stretch mesh pockets. Feel free to bring your for energy gels, snacks and small essentials.
CamelBak M.U.L.E. Hydration Pack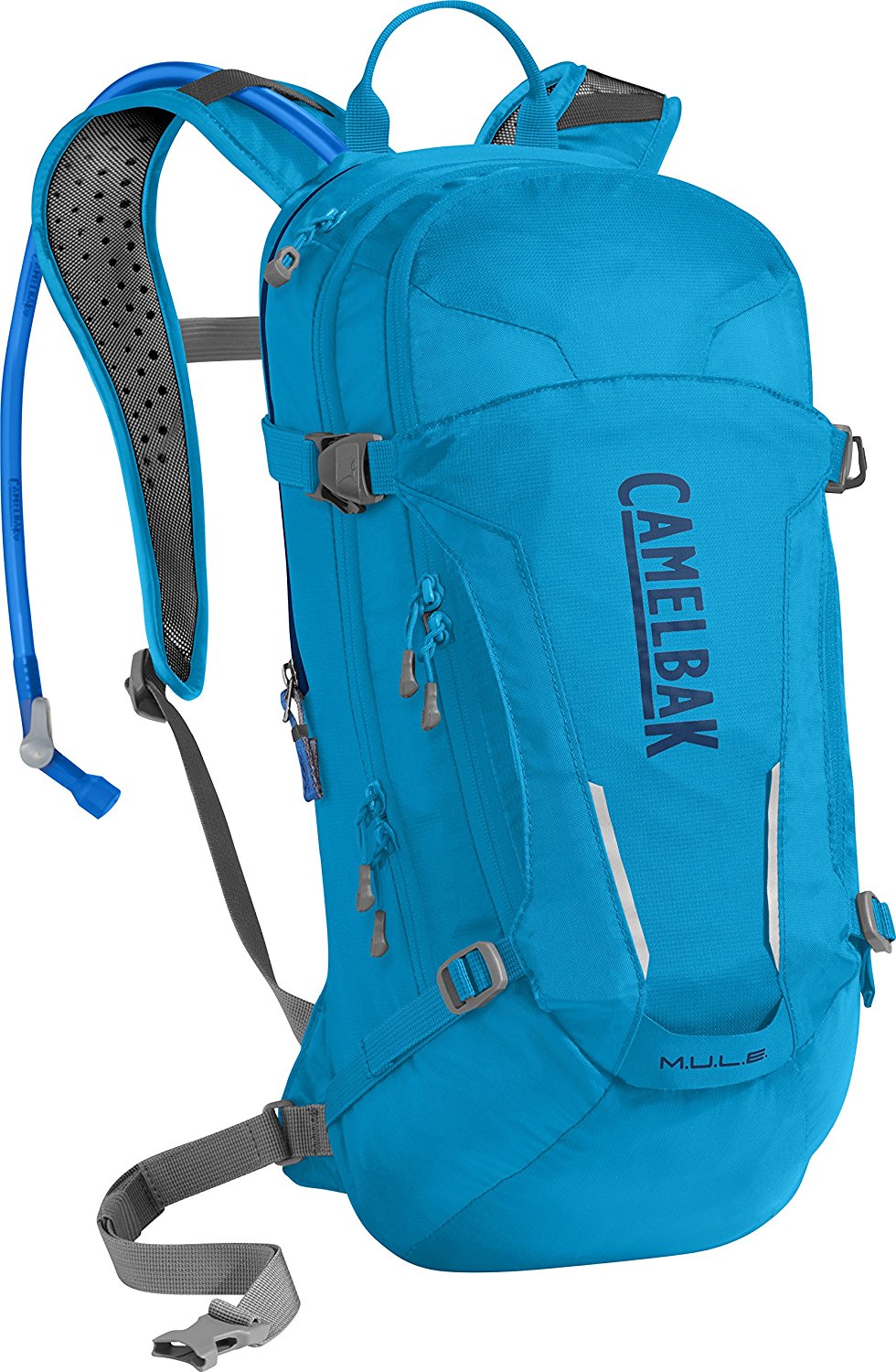 There's a reason the Camelbak MULE is a best-selling running pack. It's got everything you need and more. The MULE offers a narrow-gauge design that keeps it light and manageable. Even when you're loaded up for a full day of mountain biking, it won't get in your way. The latest edition is built around the brand new Crux reservoir, which is even easier to refill than you'd think.
Ever since the first MULE launched in 1996, mountain bikers everywhere have been praising its sweet spot of size vs. storage. It's lightweight but big enough to carry three liters of water and a day's worth of snacks and gear. There's no need to over stuff this pack; it has all the room you'll need for your adventures.
Invest in the Platypus Siouxon Women's Hydration Pack for Your Next Big Adventure
We hope you enjoyed reading our feature on the Platypus Siouxon Women's Hydration Pack and alternative packs. Investing in the right hydration pack for your adventures is so important. Being comfortable on your travels ultimately leads to a more enjoyable experience overall.
Make sure to choose a pack that fits well, is the weight you need, and is able to possess the hydration capacity you're seeking. You don't need to stuff your bag with everything you might need. If you're going on a short trip, a lightweight hydration pack will do the trick. More sturdy hydration packs are geared towards longer trips. Pack lightly.
Are you interested in more outdoor gear. We've scoped out the best travel gear on the net just for you. Hikers and nature enthusiasts, check out these great reusable water bottles and smart backpacks.
Questions and Comments
Do you have any questions or comments for us? Perhaps you've sampled some hydration packs and have a favorite brand or style. Whatever's on your mind, we'd love to hear it. Feel free to leave a message for us in the comment section below. We will be sure to get back with you soon.
Related Article: The 5 Best Hydration Packs To Bring On Your Travels