Stay connected during your travels by purchasing a smart backpack.
Your days of highschool canvas backpacks are over. People like yourself are constantly seeking new products for ease of travel. These days, the world offers up the smart backpack capable of doing things like streaming videos, charging your iPhone, creating light, charging from solar energy, and more.
Whether you're looking for a smart backpack to bring with you on weekend adventures, camping trips, or backpacking trips across the globe, we've found the best ones out there. Take a look at these smart backpacks that do a heck of a lot more than just holding laundry.
Why You Need A Smart Backpack
There are plenty of great reasons to invest in a smart backpack. If you choose the right one, you are investing your money for ease of future trips. Just having one brings you peace of mind.
1. Use It to Charge Your Phone and Laptop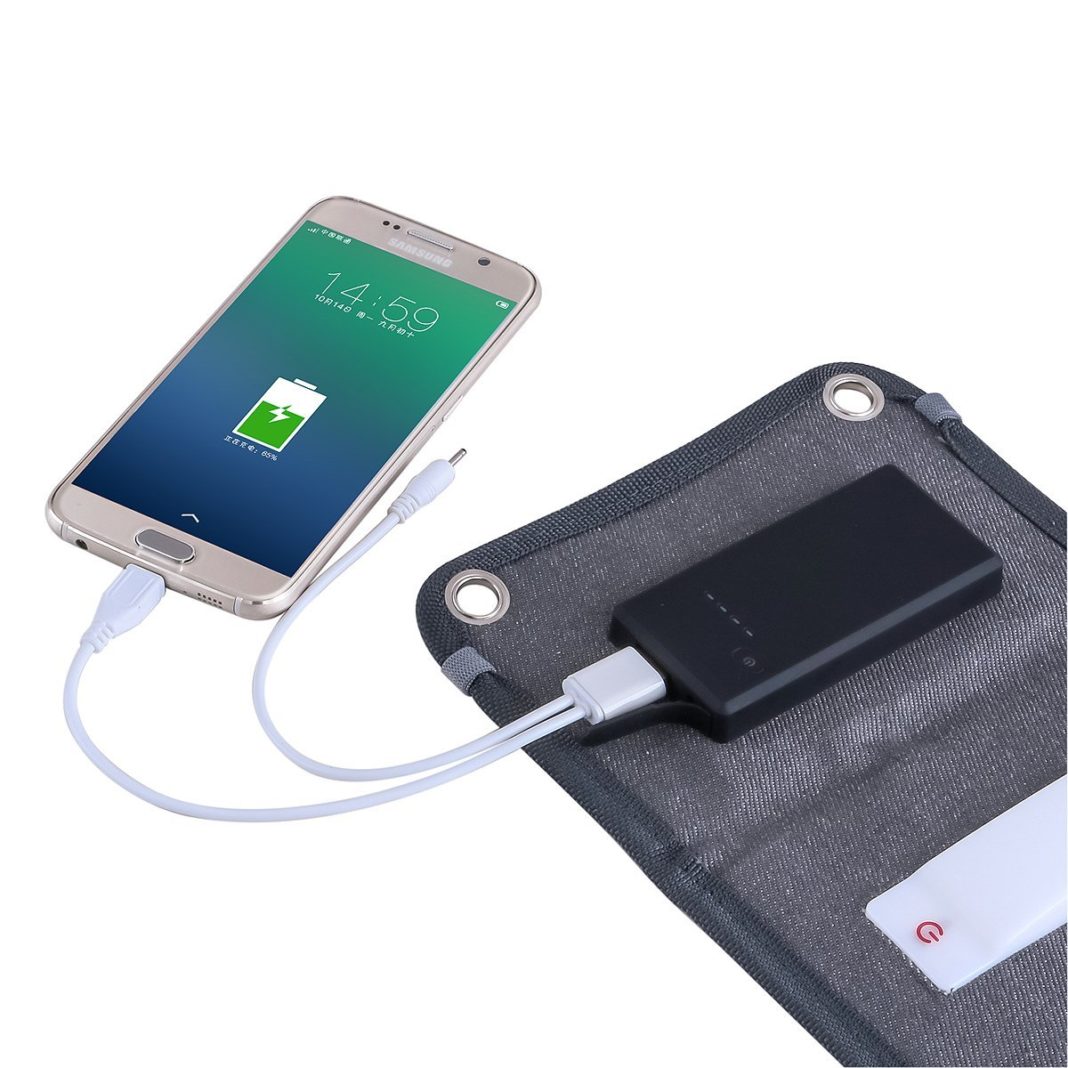 Imagine the worst possible scenario. You've already gone through airport security with your mobile boarding pass and you're trying to make it to your gate. When you reach your gate huffing and puffing and get in line, you realize your phone's battery is about to die. You frantically dig around in your bag and realize you've also forgotten your phone charger wall piece. What do you do?
Well, smart backpacks are developed to eliminate these types of problems. Many of today's models offer USB charging ports for mobile phones and laptops. In this scenario, you could just plug your iPhone USB cord into the backpack and charge it while you wait in line. We're also a fan of having a backup printed mobile boarding pass just in case.
2. Get All the Water You Need On A Long Hike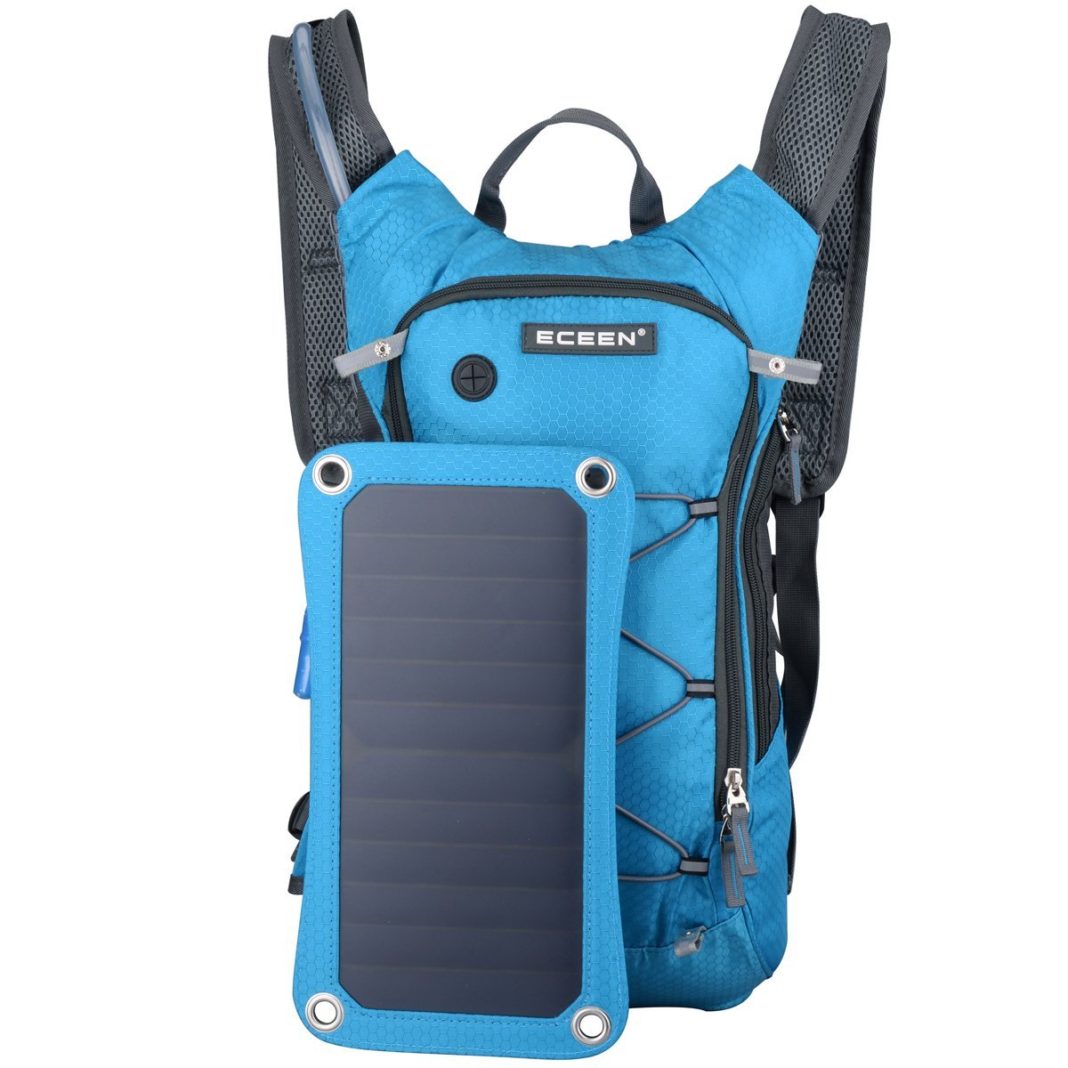 ECEEN Solar Hydration Backpack / Credit: Amazon
Holding a water bottle in your hand the entire time you hike is annoying. That's where a smart backpack comes in. Styles like ECEEN's hydration pack can store up to 1.8 liters of water and charges naturally due to built-in solar panels. Designs like these are particularly useful on long hikes, mountaineering trips, and camping expeditions. It really is a great travel accessory.
​
3. Use LED Chips for Emergency Light Signals
The Trendsetter Smart LED Backpack / Credit: Amazon
Let your backpack soak up the energy during the day so you have some to spare at night. All the energy will be stored in a waterproof battery pack. Some backpacks like ECEEN's Hiking Daypack Backpack come with LED chips. Let's hope it doesn't come to this but if you really need to, you can use the LED chips as emergency light signals or just as a source of bright light in the wilderness. You can typically choose from three light modes: low brightness, high brightness, and SOS and emergency flashing.
Features
Don't let its super-slim size fool you. This ECEEN isn't your normal backpack. It's a smart backpack. Okay, that's cheesy. It's a hydration pack. This solar-powered hiking backpack charges your phone. You never have to worry about your phone dying and not being able to get any pictures before you reach the summit (but hey, there are some good travel cameras for that too).
The ECEEN hydration pack features a built-in solar panel that's woven into the fabric, offering a clever way to charge your phone, tablet, or any other electronic device you may be using. If you're camping, you can charge up your Kindle Voyage before you turn in.
Furthermore, this hydration pack holds up to 1.8 liters of water. Even the bag itself has an 8-liter compartment where you can roll up clothes, stash snacks, books, or other accessories. Since it provides solar power and water, you can just consider this bag a mini survival kit.
4. Tear Resistant and Waterproof Material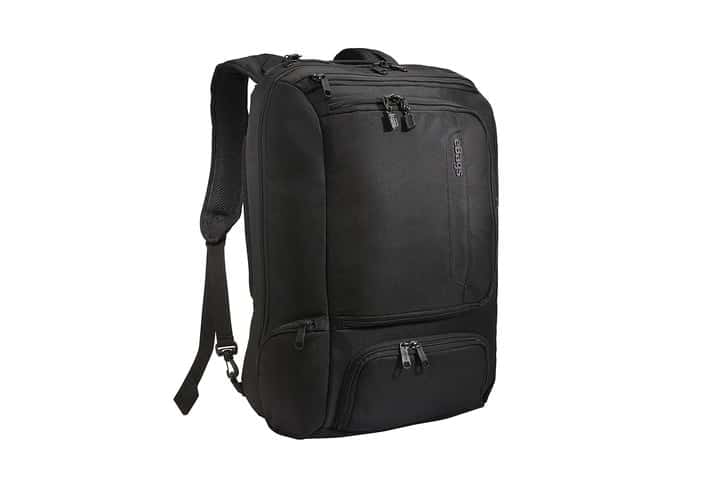 eBags Professional Weekender / Credit: Amazon
If you're going to be spending good money on a smart backpack, you want one that's durable. Luckily for you, a lot of smart backpacks are made from tear resistant and waterproof materials. This is not only useful if you get caught in a city rainstorm but it also keeps your belongings safe from the elements in the great outdoors.
5. Take Advantage of the Built-In Wi-Fi Hotspot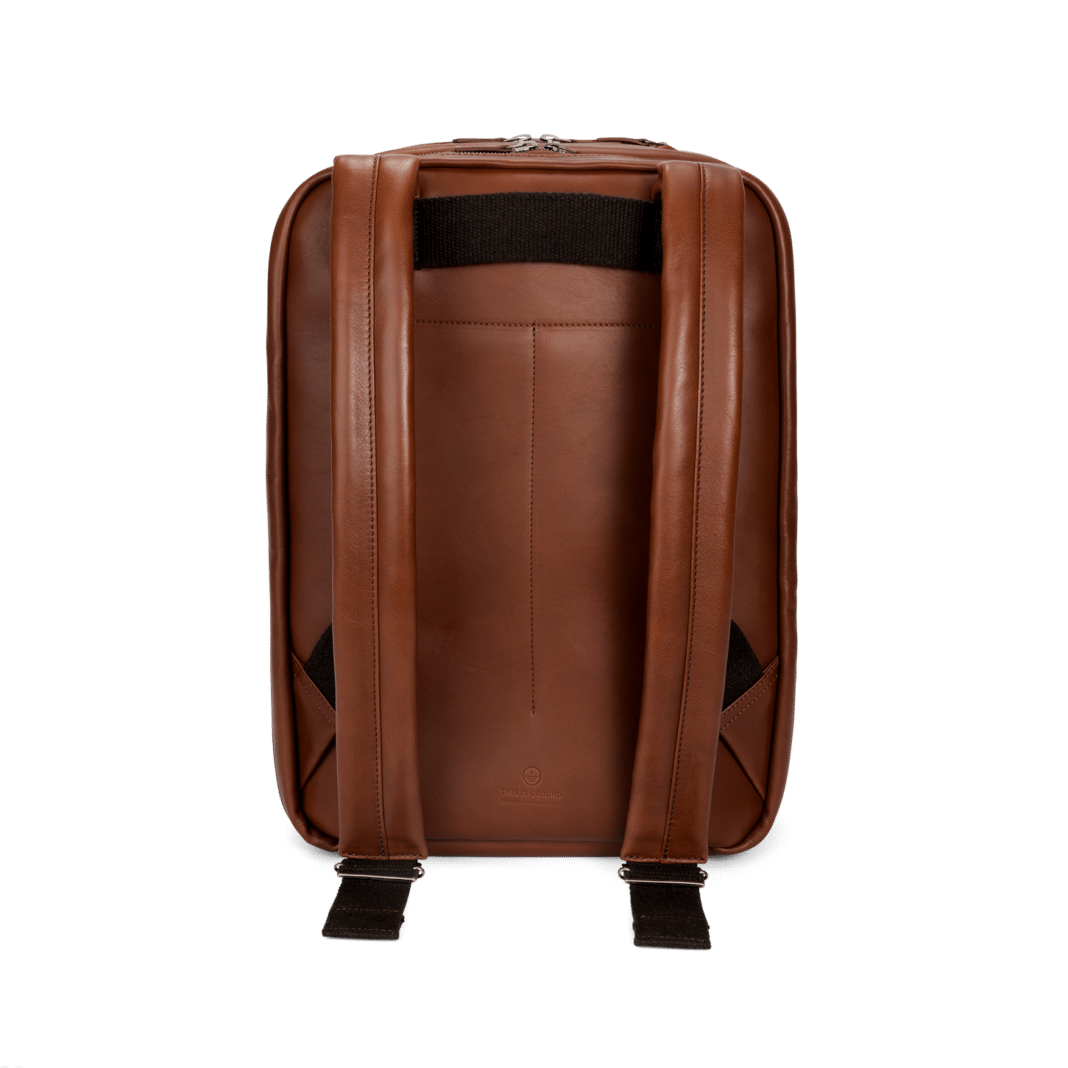 Credit: This Is Ground
Have you heard of the Ground Venture 2? If not, it's about time you did. While this backpack is definitely expensive, the benefits could potentially outweigh the cost. This laptop bag from This IS Ground is one of the best on the market hands down. Its high-tech construction enables it to provide you Wi-Fi anywhere you go. Whether you're finishing up some work on the plane, connecting during a flight, or plugging in at a coffee joint, you'll have a high-speed connection straight from your backpack.
Oh yeah. The Venture 2 also has a built-in tracking device (aka the Tile Slim). So, you don't have to worry about someone trying to sneak off with your backpack when you're not noticing.
6. TSA-Approved Options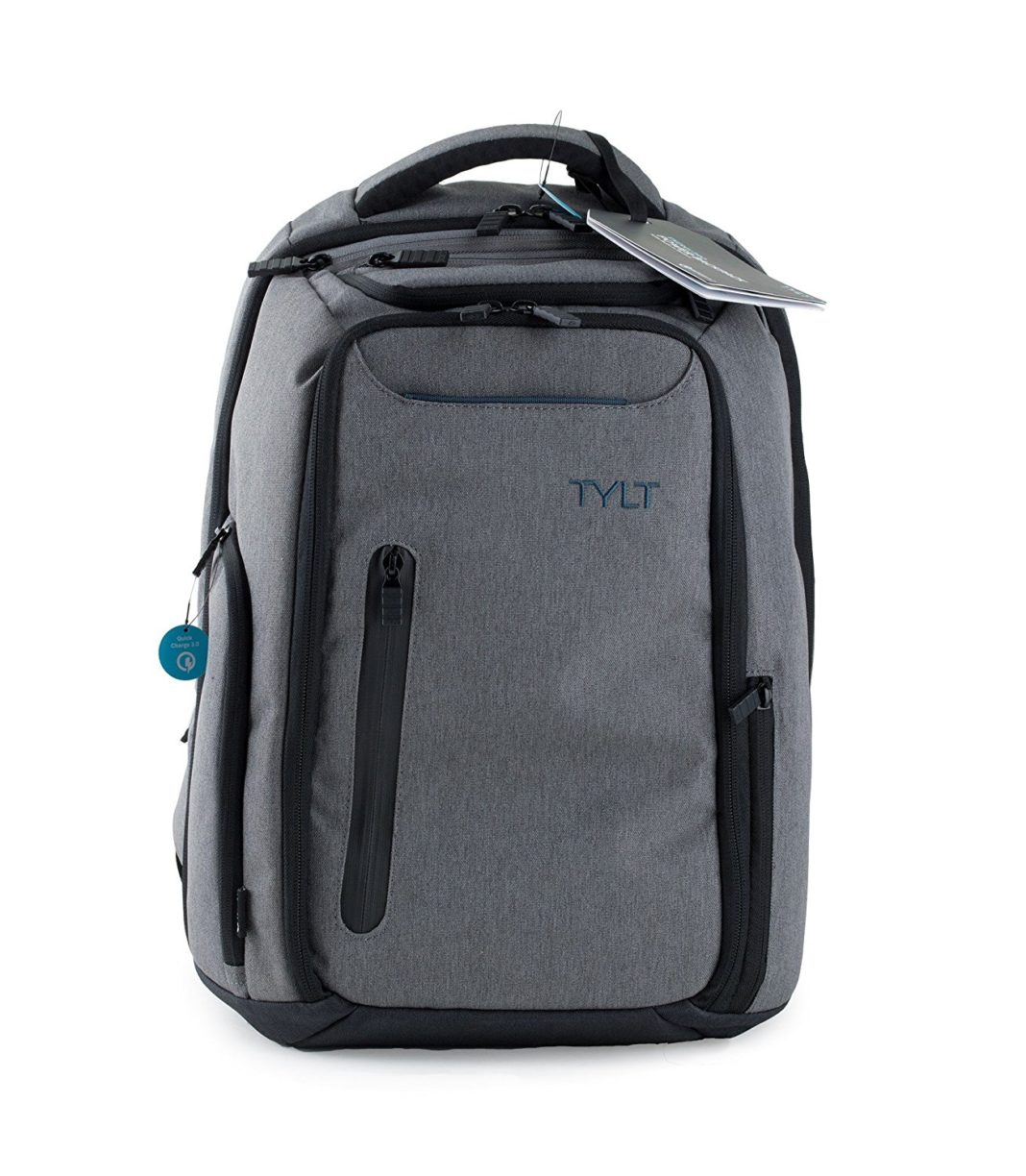 TYLT Energi Pro Power Backpack / Credit: Amazon
Consider the eBags Professional Weekender. You've probably seen we've mentioned this bag before. But we love it so much it's worth another one. If you're a frequent traveler or freelancer, you know the pain of taking your laptop out of your bag every time you go through security. Well, this TSA-friendly bag is here to solve all of your problems. Just let TSA know it's there and they will scan your device from inside the bag.
In addition, the backpack comes with a lightning fast charge power bank (aka the lifeboat). Keep in mind that the main compartment doesn't have a lot of space. That's why the bag was aptly-named the weekender.
The Best Smart Backpacks On the Market
Okay, so we already mentioned the ECEEN Hydration Pack, eBags Weekender, and the This Is Ground Venture 2. We're going to show you just a few more so you have an expanded selection to choose from.
Trakk Shell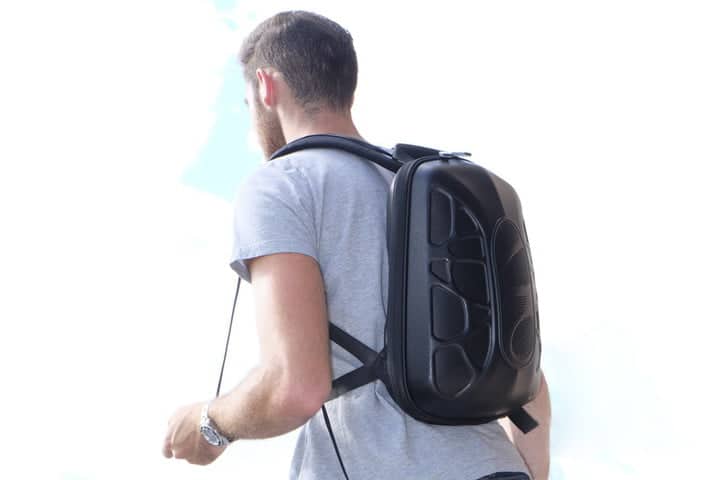 This weatherproof trekking pack is designed with a built-in Bluetooth speaker. Play music while hiking up a canyon or setting up camp with this durable backpack. This tough speaker is waterproof, shock-proof, and dust-proof. Do you know it has an IPX5 rating? In a nutshell, this means you can hike with it in the rain all day or even briefly drop it in a stream without ruining the sound.
Features
A powerful 20-watt output makes it capable of playing for 12 hours, along with a subwoofer that makes the most of bass technology. Whip-fast Bluetooth sports Advanced Connectivity Technology, meaning that you can pair it from up to 65 feet away. In addition to the Bluetooth speaker, the Trakk Shell also has a built-in power bank with a 5200 mAh battery for full charge on up to two devices.
Co.alition Colfax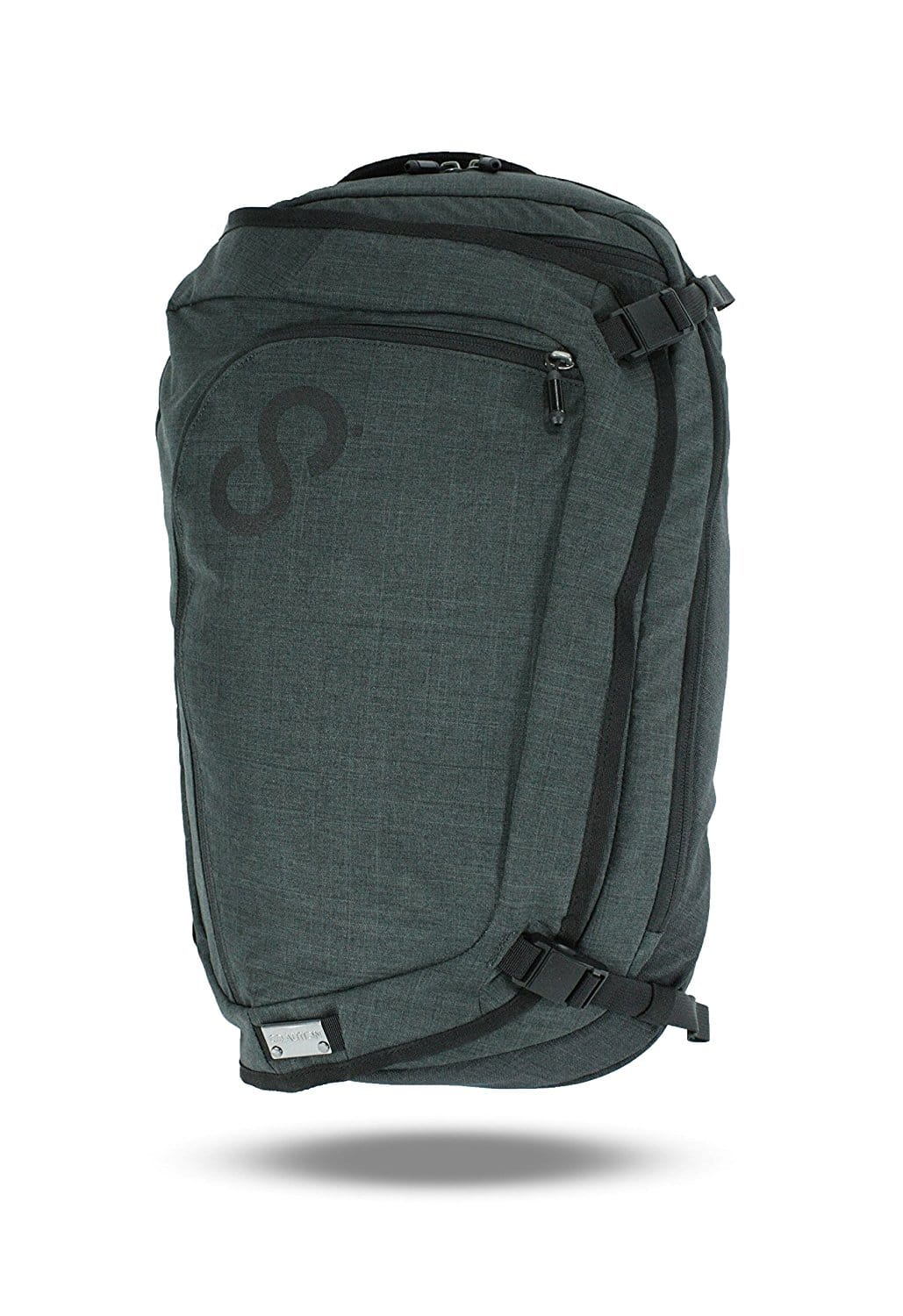 This commuter pack has a hard drive you can stream videos from. Forget about charging your laptop multiple times a day to take music, videos, or other types of media, this backpack acts as a wireless mobile hard drive itself. Use it to upload files, as an external hard drive, to free up space on your phone, and more.
It's Pass-Thru technology allows you to charge both the backpack's power supply and your device simultaneously using a single wall outlet. You can also route your cords through the ports to any of the bag's pockets for ease of use.
Trendsetter Smart LED Backpack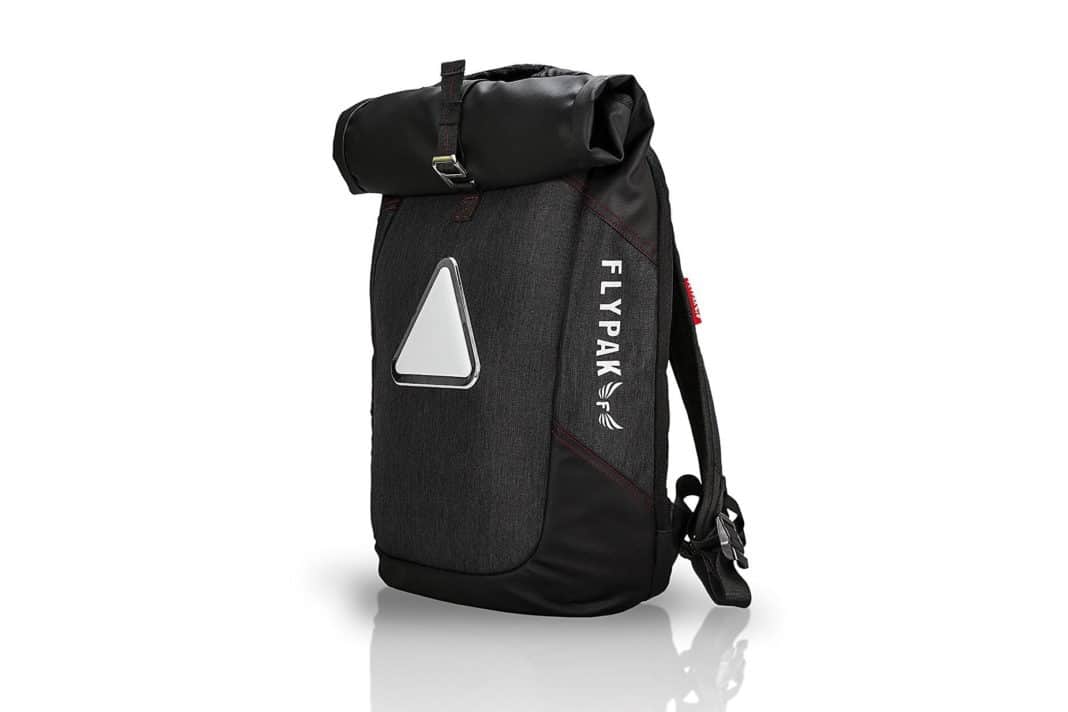 Trendsetter Smart LED Backpack / Credit: Amazon
This roll top smart backpack features a smart LED light and USB port. This little bag packs a punch. Charge your electronics with the integrated USB port. You'll never have to worry about your laptop running out of juice again. You can control the small LED light via your smartphone. A multi-purpose triangle shaped light offer several different colors to match your style and mood. It's also a great reflective device for night hiking, camping, and more. Last but certainly not least, the Trendsetter's clever design allow for it to be converted from a smart backpack to a duffel bag complete with an anti-theft system, hidden pockets, and zero-exposed zippers.
Which Smart Backpack Are You Interested In?
There are so many good reasons why you should invest in a smart backpack. If you're a frequent flier, road tripper, or any kind of traveler for that matter, you know you'll take whatever measures you can to make your trip easier. Our picks for the best smart backpacks offer just that.
Whether it's USB charging, solar power energy, or LED lights, these backpacks offer just the right fix for the right time. If you are interested in smart luggage, click here. For great travel gadgets, click here. For the best travel cameras, click here.
We hope you enjoyed reading our piece about the best smart backpacks on the market right now. Do you have any questions for us? Perhaps you want to share some of your favorite styles and brands with us. If so, please leave us a message in the comment section below. We will be sure to get back with you soon.
Related Article: Every Smart Traveler Needs A Smart Backpack | Review