You're most likely looking for a tent to keep you safe from the elements, whether that is the sun, insects, wind, rain, heat, or snow.
You will be asking a lot of this little structure, so think through all of the types of tents to see what will fit you and your adventures best. On top of the elements, you will want to factor in size, stability, weight, roominess, comfort, and venting. Tents usually have a waterproof floor, but not all. Depending on where you're going and what you're using this for, do you need a rainfly? You actually breathe up to a pint of moisture while you sleep, so making sure the tent vents well is important. No one wants to wake up damp and stuffy. Lastly, it can be difficult to set up a tent, so depending on your experience you may want one easy to set up. So, we'll review the different types of tents and their best uses so that you can have confidence when choosing a tent.
Pop Up Tents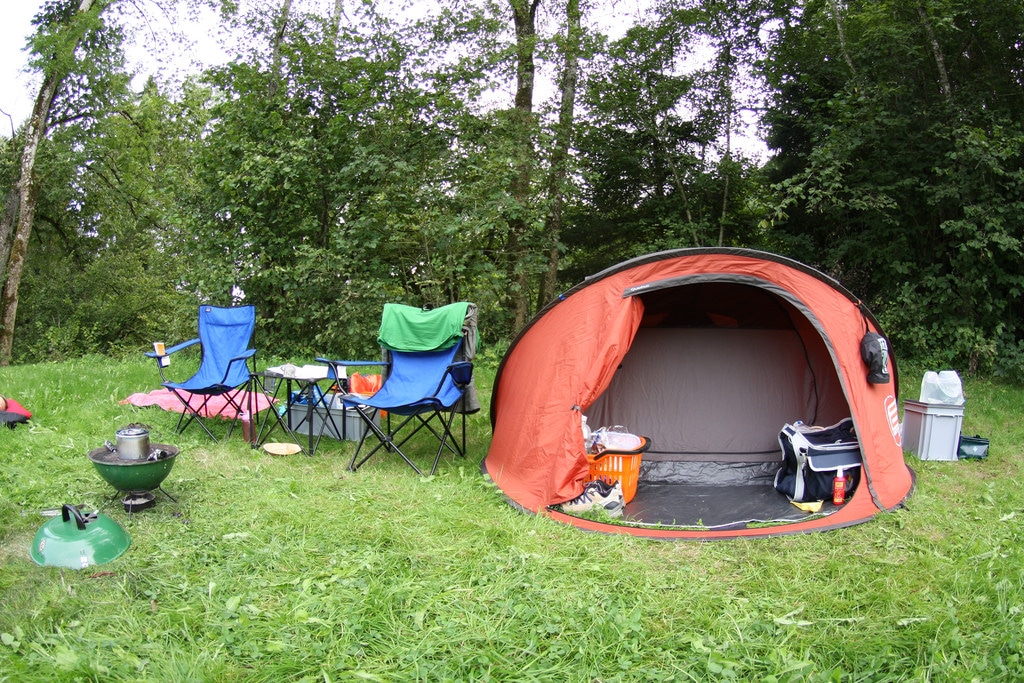 Credit: Oliver Hiltbrunner / Flickr
These tents are getting incredibly popular for their ease of use. It says it in their name, you toss in on the ground and it literally pops up. The way the poles are packed and structured, the tent sets itself up with just a shake or two. That being said, these tents are quite expensive because of the technology and do not stand up well to wind or rain. They have become quite popular for easy car camping, such as one mild night out in the woods at a campground or at a music festival. Pop up tents do not allow you to stand up, and generally only hold about two people.
So, if you're looking for a super easy setup and have a few extra dollars to spend, a popup tent will be great for you. Just keep in mind to not push it past its basic capabilities of giving you a shady, bug-free spot to sleep. Anything more than few dry nights at a music festival might push it over its limits.
Dome Tents
These tents are most likely the most common two and four-person options for backpacking and light camping. Made of two main polls in an "X" position, this type of tent creates a nice dome shape for you to sleep. Due to the shape, there is plenty of headroom, but you cannot stand up. If it has more than two poles, it will be quite sturdy, and easily moveable before you stake it down. Many dome tents have a vestibule, which is a porch section you can leave your gear and shoes out in to keep the inside dry and uncluttered.
These tents often have a removable rain fly on them. This means that you can leave it off if you know it will be a dry night, and you will have more air flow and even get a chance to stargaze if you do. While they usually cannot withstand high wind and heavy precipitation, they will fair well in all normal weather. So, for a versatile, low-cost, and popular type of tent, look into dome tents.
Tunnel Tent
While there are all different types of tents, the tunnel tent is the best family or group car camping tent. With a series of 'U' shaped poles holding up the tunnel, you will have ample space in here. Usually, you can stand up inside and will have more than enough room for your gear. It is quite a versatile tent and can withstand many different weather situations without concern.
Make sure to face the smaller ends into the wind so that it does not catch the large side of the tunnel tent. This could easily blow it over, but that is a catastrophe easily avoided with a little foresight. Keep in mind that this tent is larger and will take extra hands to set up. Once you have it set up, you won't be able to easily move it either. But, if you're getting the friends together for a big campground trip, the tunnel tent should be a great choice when looking at all the different types of tents.
Ridge Tent
If you were to ask a little kid to draw a tent, they would most likely draw you the ridge tent. While not as popular today, the ridge tent has always and continues to pass the test of time. Usually constructed with two upside down 'V's at either end with a pole connecting them, it is quite stable. Although it may take a few tries to set it up correctly the first time, once you understand the set up it can go rather quickly. Ridge tents can be as small as a one-person tent or one that easily fits eight people.
Due to the shape, there isn't much headroom on either side of the tent, but sitting up in the middle gives you ample room. These tents tend to be quite durable and stable, as a triangle is the strongest shape there is. Keep in mind that while this tent is quite durable and easy to use, it tends to be heavier. While you could use this for backpacking, we would recommend this for car and campground camping.
Geodesic, Four-Season Tents
For those of you planning a high adventure, you're probably looking for the most durable and protective type of tent. With a geodesic design, they can create more room inside while still keeping a low profile. With more crisscrossing of poles, these tents can withstand rain, wind, and even snow. That being said, you will have to pay a prettier penny for them. So, if you're planning on extreme weather planning or need something lightweight for mountaineering, this is the way to go. When looking at all the different types of tents, these technical tents tend to live longer but also be pricier. So, weigh all the pros and cons before jumping in, although a geodesic four season tent will serve you well.
Backpacking Tents
All of the above tent shapes might make it into the backpacking category in one way or another. But, what makes a backpacking tent, well, a backpacking tent? They should be incredibly lightweight, so they often sacrifice head room and extra space. That being said, they often have a vestibule for gear built into the rain fly. Due to their small size, you won't want to hang out in here, but if you're backpacking, you want to hang out in nature anyway. As they tend to be more technical tents, they withstand weather very well, especially due to their low profile. Lastly, as there is only so much to a backpacking tent, they tend to be quite easy to set up.
Bivvy Tents
For solo backpacking and mountaineering adventures, check out a bivvy tent. They are so lightweight, they will beat out a backpacking tent in weight every time. This being said, they don't have any extra room. A bivvy will fit you and you alone. It depends on the bivvy, but it will most likely be waterproof and bug proof. Overall, the bivvy is the most minimalist of the different types of tents available.
Hammock & Suspended Tents
You've probably been observing the hammock craze. We love it too. Being able to string up a lounging spot just about anywhere has its perks. Now, imagine sleeping in your hammock with the protection of a tent. Yes, you can have the best of both worlds. Essentially, it is a rain fly and or bug net that you string over your hammock. This will keep you dry and uneaten by bugs, but it can get quite cold. With this setup, you will want to make sure to have a sleeping pad or other padding underneath you in addition to your sleeping bag. But, this is a very lightweight and quite comfortable option to avoid roots and rocks on the ground.
If you don't have a hammock, go ahead and look into suspended tents. They have a "floor" that is essentially strung up between the trees, just like your hammock. It gives you more space and can hold two people comfortably. So, as long as you protect the trees you use, these types of tents also have a nonexistent footprint and therefore a lower environmental impact.
Bell & Teepee Tents
These large, heavy tents are not really portable or worth putting up and down often. But, usually being made of thick, durable canvas, they can be an excellent choice for glamping. With one or two central poles and the rest of the tent extending out from that, there is ample room inside for everyone. You can often put a wood stove inside and have it vent out the top. So, if you want a semi-permanent camping structure that can stand up to the elements and keep you toasty warm, these tents and the choice for you.
Rooftop Tents
Our last category in our types of tents article is quite unique. Rooftop tents give you a place to stay as long as you have a car to put it on. This is great for camping just about anywhere you can park your car legally overnight. While they are quite pricey, they can withstand rain and will keep the bugs away. This is an incredibly unique option, but we would recommend staying away unless you have a very specific trip or purpose in mind.
​We've covered all the basic types of tents, but there are even more options out there are you begin your tent search.
For kayakers or those looking for a super easy setup, you can even check out inflatable tents. Yes, they are just about what the name says. While they are not camping tents, there are also beach tents and dog tents. So, with all the different types of tents, we're sure there is one for you, just as there is a perfect campsite for you, too. You can also look into different ways to connect these tents together, creating a little village for your friends and family. Whatever adventure you're going for, we're excited for you. Let us know what type of tent you ended up choosing and for what purpose. Often, the best tent to will be one that a friend already has and will let you borrow. As long as you get outside and spend some time in nature, that's all that matters. So, happy tent shopping!
Related Article: The Best Pop Up Camping Tent: 5 Top Options