Have you been searching for the best watch brands for women?
There are so many options out there that it can be hard to find just the right one. Knowing your budget before you shop is a smart way to narrow down your selection. The best watch brands for women are established, offering quality, style, and features that make your travel life just a little bit easier.
When you're thinking about what kind of watch to get, consider your personal style in addition to your budget. We're always a fan of sleek, minimalist wear for easy pairing. The kind of tech and features you need all depends on what your intent of purchase is. Are you looking for something like a classic wristwatch for when you travel? Or are you seeking out some higher tech smartwatches to stay fit and organized on the go? Whatever you're in the market for, these brands will have what you need.
Here Are Our Picks for the Best Watch Brands for Women
1. Anne Klein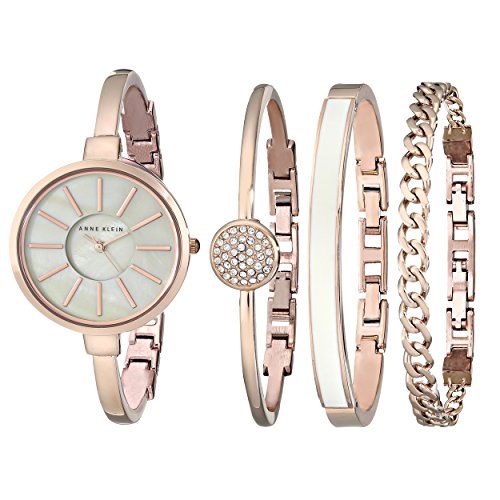 We're sure you've heard of the brand Anne Klein before. For about fifty years, this company has been synonymous with American sportswear. Back in 1968, Anne Klein founded her namesake brand and forever changed the landscape of women's apparel and accessories.
As the first American designer to create two-piece outfits, she offered a wide range of apparel including jackets, tops, and bottoms. Five years later, she competed in the Battle of Versailles, joining big names like Oscar de la Renta and Bill Blass, helping get American styles to the top of the global fashion map.
Throughout the years, designers have created clothing under the Anne Klein label, expanding it beyond womenswear. Today, it includes accessories, eyewear, footwear, legwear, watches, and more. The brand does so much more than simply meet your fashion needs. The line's elevated essentials will live at the top of your drawer. Anne Klein merchandise is available in 40 countries worldwide with global partners. This year, they are celebrating 50 years of business. A chic, cutting edge company, they offer stylish picks for the fashion-conscious female traveler.
Our Pick:
If you're looking for a stylish piece to add the perfect touch to your outfit, consider the Anne Klein Women's AK/1470 Bangle Watch and Bracelet Set. This imported, round style face watch adds just the right touch to tie your look together. Featuring a stylish glossy dial and gold hands, the set comes with a chain bracelet, enamel inlay bangles, and another bangle accented with Swarovski crystals. Since it is not water resistant, this watch is definitely more for fashion than function. But isn't it beautiful to look at?
2. Timex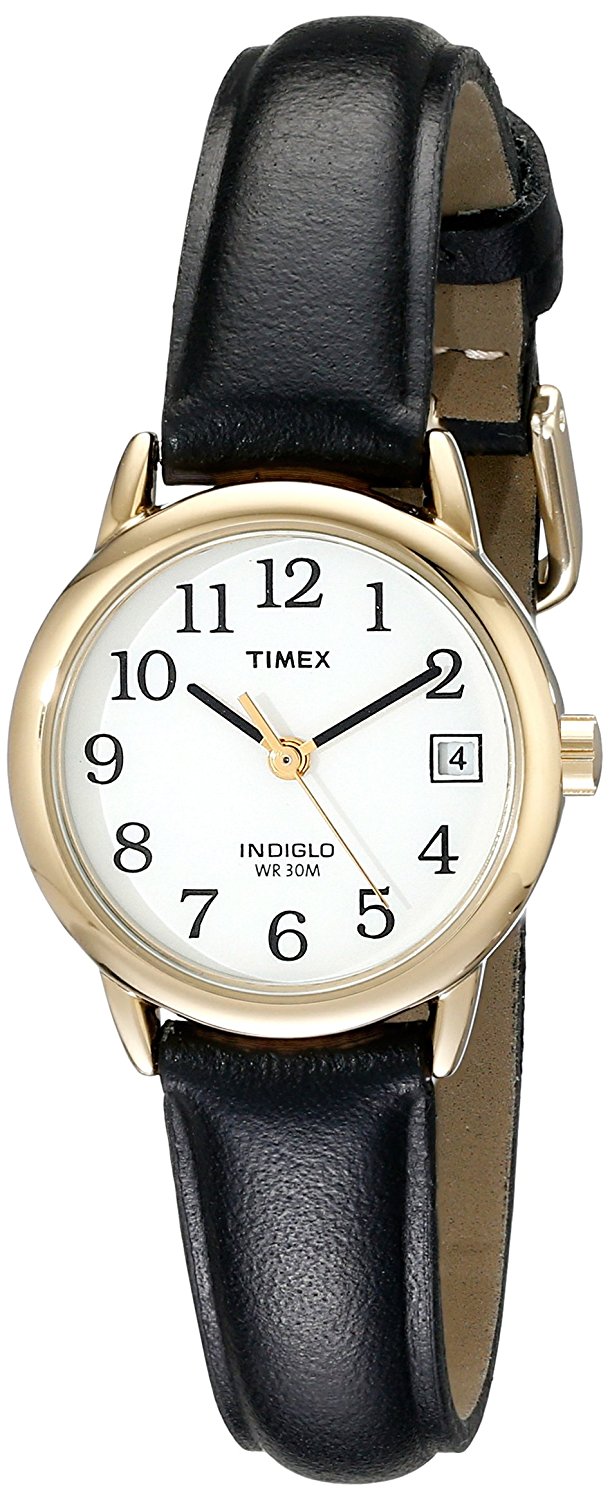 Timex has been around for a long time. But ever since their founding in 1854, the company has always championed quality. It doesn't have the glitz and chic look of an Anne Klein. But nonetheless, the style is classic, simple, and honestly, something we love. With this said, there styles are certainly not plain jane. If you've ever heard of the Southview or Easy Reader Dress styles, you'll know what we mean. This is one of the best watch brands for women.
Our Pick:
The Timex Women's Indiglo Easy Reader Quartz is a great find. Whether you're looking for a classic timepiece, gifting that special traveler in your life, or just treating yourself, the Timex Indiglo has what you need. This classic is only $29.95 on Amazon. The face features an easy to read white dial with Arabic numerals, a black leather strap, and date window. In addition, it is water resistant up to 99 feet. Needless to say, you won't have to sweat it if you're caught in the rain.
3. Citizen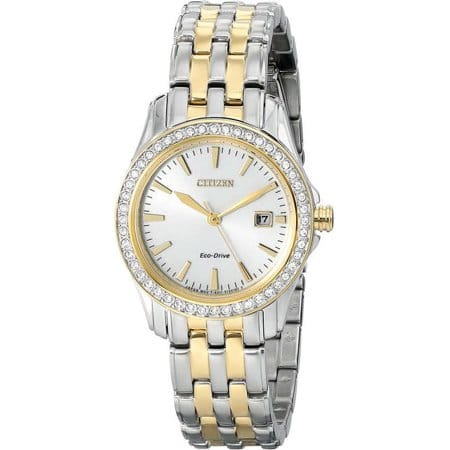 What do we love most about Citizen? As one of the best watch brands for women, their watch styles are powered by light – any light. That's right. They never need a battery. They've been around for 100 years and developed quite the name in watchmaking and innovative technology, excellence, and creativity within their craft. Their motto is "better starts now" and we've got to say they've kept up with it.
We particularly love that Citizen aligns their values with scholarship associations, contributes to charities, and carries the mentality of a global citizen. For over forty years now, their eco-driven technology has been at the forefront of environmental stability in the fashion world. Their concept is simple let revolutionary.
Eco-Drive technology utilizes the power of light (natural or artificial) and converts it to energy. Think about how useful this is when you're traveling on the go. When your phone battery is dead, you can use your watch to make sure you're on time to that flight. Better yet, by using a renewable natural resource, it reduces the amount of junk that ends up in discarded landfills (e.g. batteries).
Their name even appeals to the modern traveler, invoking a multicultural mindset. The idea? Their timepieces should be enjoyed by citizens all over the planet. This year, the company has reached even further, solidifying a partnership with Disney. As Citizen will be the official timepiece of both Disney World and Disneyland, you will find branded clocks in both theme parks.
Citizen shares our concern for our impact on the environment. That's a big part of why they are sponsoring Eric Larsen, a polar adventurer with expeditions to the North and South Poles this year. Larsen is also an expedition guide and educator. He's spent the past twenty years traveling in some of the most extreme conditions on the planet. On his upcoming adventures, he plans on using Citizen watches to keep his adventures on track and on time.
As you can see, this brand is a worldwide leader in technology. They've designed the world's slimmest LCD watch , the first ever professional dive watch with an electronic depth sensor, and a voice recognition watch. The technology is truly astounding. It's all with the goal of making the experience progressively better for each customer. It's easy to see why Citizen is one of the best watch brands for women.
Our Pick:
We absolutely love the Citizen Women's Eco-Drive Silhouette Crystal Watch. Stainless steel, mineral crystal and sapphire crystal come together in the most elegant way. This two-tone silver and gold watch goes with just about anything. Round crystals at the bezel and silver sunray dial add a beautiful touch.
Our favorite feature though has to be the water resistance. You wouldn't expect a dressy-looking women's watch like this to be able to withstand exposure to the elements but it can. This Eco-Drive style is water resistant up to 100 meters (330 feet) and is suitable for swimming and snorkeling.
4. Casio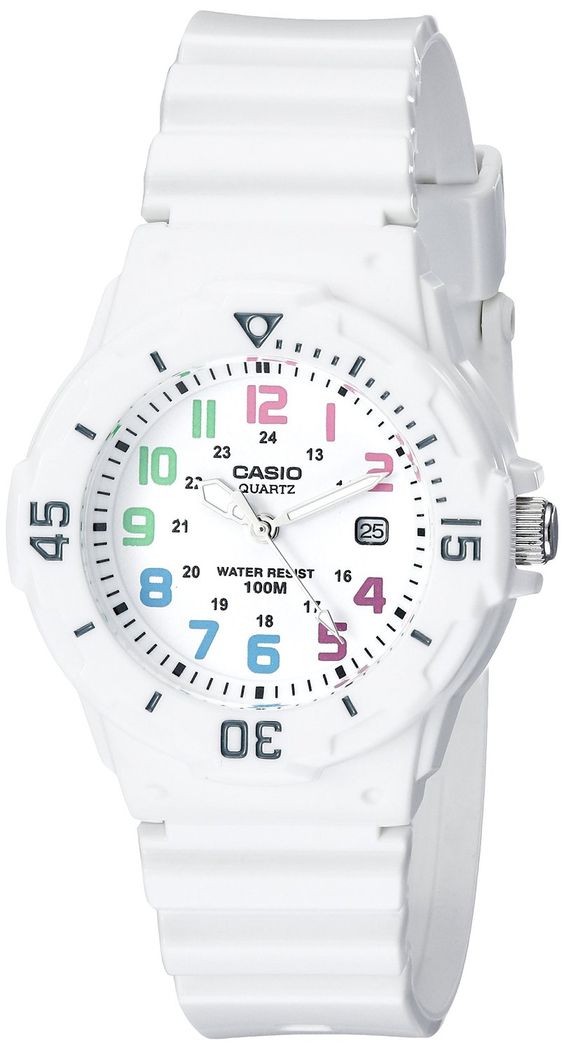 This Japanese company is one of the best watch brands for women. Known throughout the world for their large signature watch faces and high quality products, they've been making consumers happy since 1946. Just about thirty years ago, Casio became an integral part in the global revolution of watchmaking. It was until 1974 when the company joined the timepiece market.
The first model, a digital wristwatch called Casiotron, featured an automatic calculator. After the electronic watch revolution, the background served as a calculator. Due to their prior success in other markets, it was easy for Casio to step over into the watchmaking industry. They were one of the first ever brands to develop crystal watches – both analog and digital. To give you a perspective at just how innovative they are, their first model presented in the eighties has a thermometer and could translate 1,500 Japanese words into English.
Today, their lines focus on practical application for everyday wear. This is great for the traveler seeking a watch to ease the stress of an on-the-go lifestyle. Their line of timepieces has expanded to include features like clock synchronization, a solar battery system, water resistance, and more.
Our Pick:
One of our favorite products from Casio is the Casio Women's LRW200H-7BVCF Watch. Simple and small, this classic style comes from their line of dive-inspired analog pieces. This 3-hand timepiece includes features like 100 meter (300 feet) water resistance, a date display, and bi-directional rotating bezel. It is available with both hour numerals and markers. While the watch is certainly more on the sporty side, it can be dressed up as well. The gloss white resin band is simple and clean; a multi-colored face adds a nice touch.
5. Seiko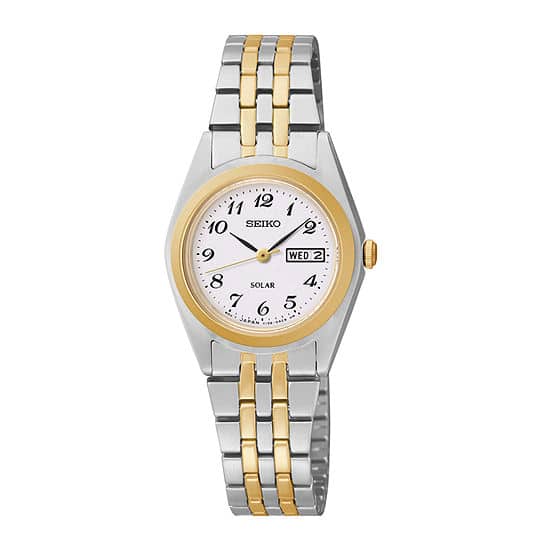 Here's another one of the best watch brands for women. Seiko's story began in 1881, when twenty-two year-old entrepreneur Kintaro Hattori opened up a shop selling and repairing watches and clocks in central Tokyo. After more than 130 years of innovation, Kintaro Hattori's company is still dedicated to the perfection its founder always strove to achieve. This is what makes it one of the best watch brands for women.
Our Pick:
Our favorite style from Seiko at the moment if the Women's SUT116 Stainless Steel Two-Tone Watch. This dress watch features glossy black hands, a polished gold tone, Arabic numbers, and a matte white dial. With solar-powered movement, you don't have to worry about its battery life. Furthermore, it is water resistant up to 90 feet. So, getting it wet is just another thing you won't have to worry about.
Invest in a Product from the Best Watch Brands for Women
We hope you enjoyed reading our article on the best watch brands for women. As you can see, there are so many high-quality brands on the market to choose between. The type of watch you need as a traveler depends on where you want to go and what activities you are pursuing on your getaway. The brands and watch styles we included all offer style and function. Sleek minimal looks meet practical design with waterproof elements and a durable design you can take just about anywhere.
Common Questions
Are you looking for more women's travel accessories? Check out these articles for those little things that make your life easier on the road:
Questions and Comments
Do you have any questions or comments for us? If so, we would love to hear them. Feel free to leave a message for us below. We will be sure to get back with you soon.
Related Article: The Best Watches For Fashion-Minded Travelers