Keep Your Cash, Passport, Credit Card, and Other Valuables Safe While Traveling
You know the familiar panic of scrambling for your passport, credit card, cell phone, or driver's license while traveling? Have you ever felt uneasy in large, crowded cities, worrying about the safety of your belongings? To retrieve your items quick and to ensure the protection of your money, passport, and other valuable items while on the road, travel neck wallets are the product to invest in. Neck wallets are a smart way to travel because they provide convenience and safety. They are worn around the neck and typically under your shirt to prevent theft. While convenience and safety are two aspects that all neck wallets have in common, there are many differences in the size and shape of travel neck wallets.
The Winks Travel Neck Wallet is the product we will be reviewing today. To protect important documents and belongings while on the road, consider investing in a travel neck wallet. It is the smartest way to travel.
A Little About Travel Neck Wallet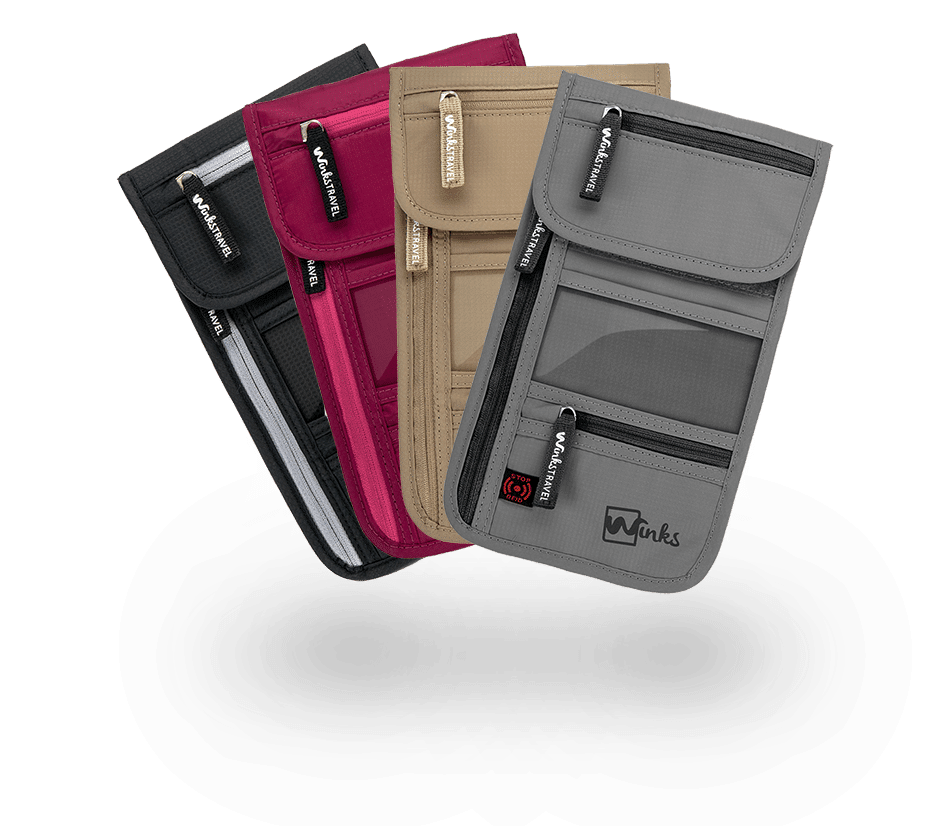 Credit: Winks Travel
Neck Wallets are convenient and practical travel accessories. Having your wallet right in front of you is convenient for everything from airport travel to new city exploration. Travelers can place their passport, credit card, cash, boarding pass, excursion tickets, and more within their neck wallet. Travel neck wallets range in size, so you can even purchase neck wallets that fit multiple passports (ahem, parents with lots of children to keep track of). It can be a hassle to dig through your backpack, purse, or carry-on luggage in order to find these items. Make it easy with a travel neck wallet.
Another benefit of travel neck wallets is the security measure. Placing your valuable items around your neck and under your shirt will prevent pickpocketing. Plus, many neck wallets have RFID blocking technology to prevent electronic pickpocketing as well. For these reasons and more, many travelers choose to wear a travel neck wallet. While there are many neck wallets to choose from, the one we will be reviewing is the Winks Travel Neck Wallet. Let's start talking about the key features and benefits of this product. We have so much to share with you about the specifications of this product, as well as what fellow travelers as saying about the Winks Travel Wallet.
Winks Travel Neck Wallet Features & Benefits
The Winks Travel Neck Wallet provides stand-out features and benefits. If you are interested in purchasing a neck wallet, then it is important that you compare each product's features to find the one most suitable for your travel needs. Without further ado, here are the main features and benefits of the Winks Travel Neck Wallet.
Winks Travel Neck Wallet Specifications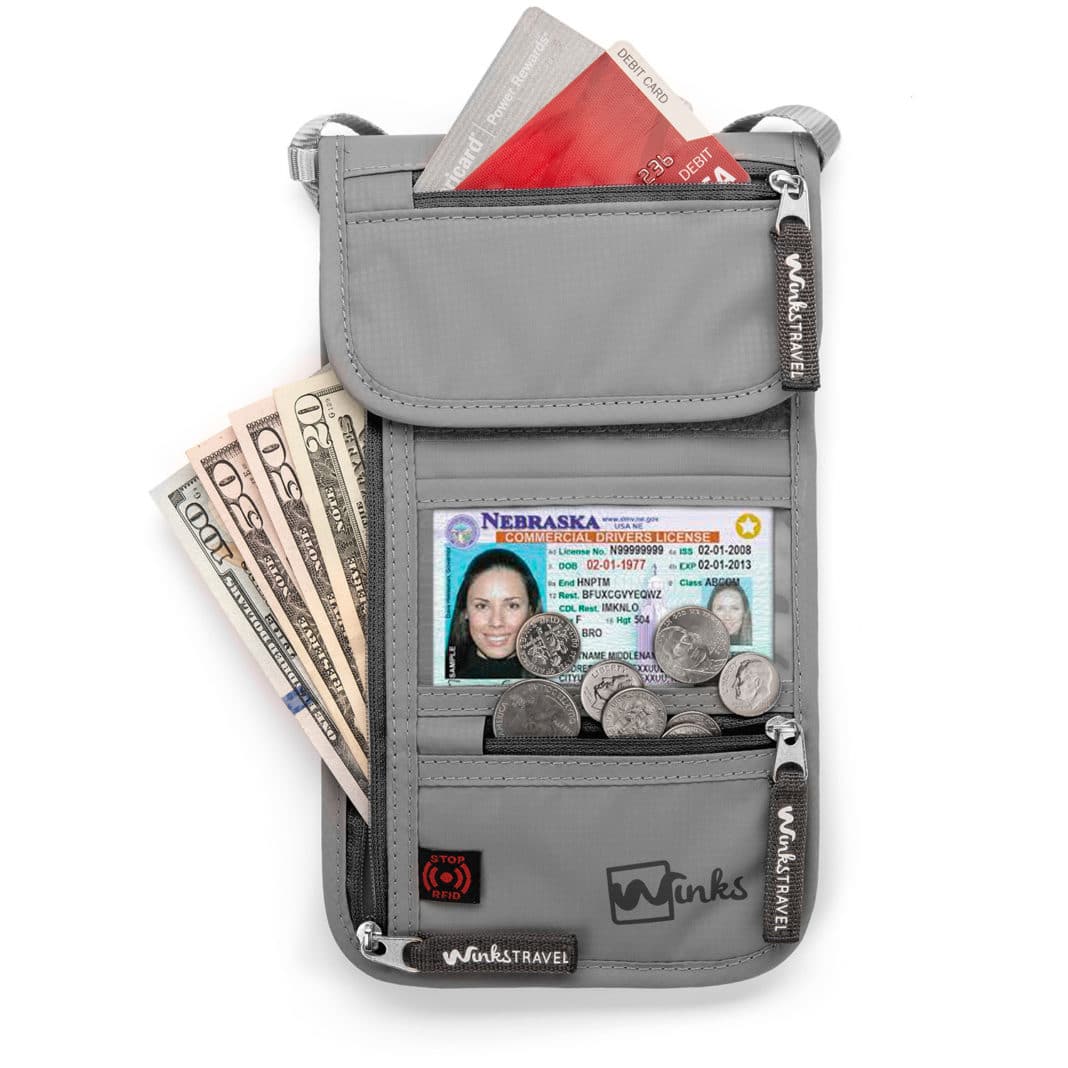 Credit: Amazon
The dimensions of this product are 9 x 0.2 x 5.5 inches. The size alone makes this product stand out among other neck wallets. The large size of this product provides plenty of space to store extra belongings. Plus, there are 7 pockets to fit all your travel essentials. With the Winks Travel Neck Wallet, there is space for money, coins, credit cards, a smartphone, a driver's license, passport(s), car keys, hotel room keys, Band-Aids, boarding passes, maps, itineraries, brochures, headphones, pens, mints, tissues, lip balm, and more. Anything you could need while out and about at your travel destination can be placed within this neck wallet. Even with its large size, this product is slender enough to be stored under your shirt without being uncomfortable.
RFID Protection
Credit: Winks Travel
The Winks Travel Neck Wallet is designed with RFID Blocking Protection. RFID skimming (also known as electronic pickpocketing) is a type of digital theft. To prevent the possibility of wireless identity theft or credit card theft, the Winks Travel Neck Wallet has RFID protection. Since electronic pickpocketing is on the rise, the Winks Travel Wallet was built with 2 layers of RFID protection. Two barriers make it highly unlikely for electronic pickpocketers to be able to steal your information.
Water-Resistant Material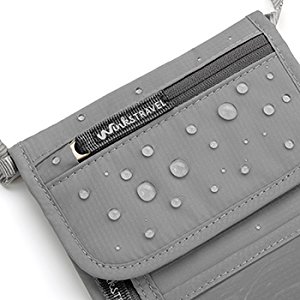 Credit: Amazon
Purchasing a travel neck wallet that is water resistant is a must. Or, take it up a notch and get a waterproof wallet. If nothing else, you need a neck wallet that can handle water and snow. While traveling, the weather can be the most unpredictable thing. You never know when you will be caught in a light rain shower or a downpour. Therefore, you must be prepared. When you are on the road, the last thing you want is a damp passport and a malfunctioning cell phone.
As far as this product's material, the Winks wallet is made of 210D Rip-stop Nylon. This tough Nylon is water-resistant and tear-resistant. You won't have to worry about the neck strap breaking or your valuables getting damaged when you are carrying the Winks Travel Wallet.
Convenient for Many Occasions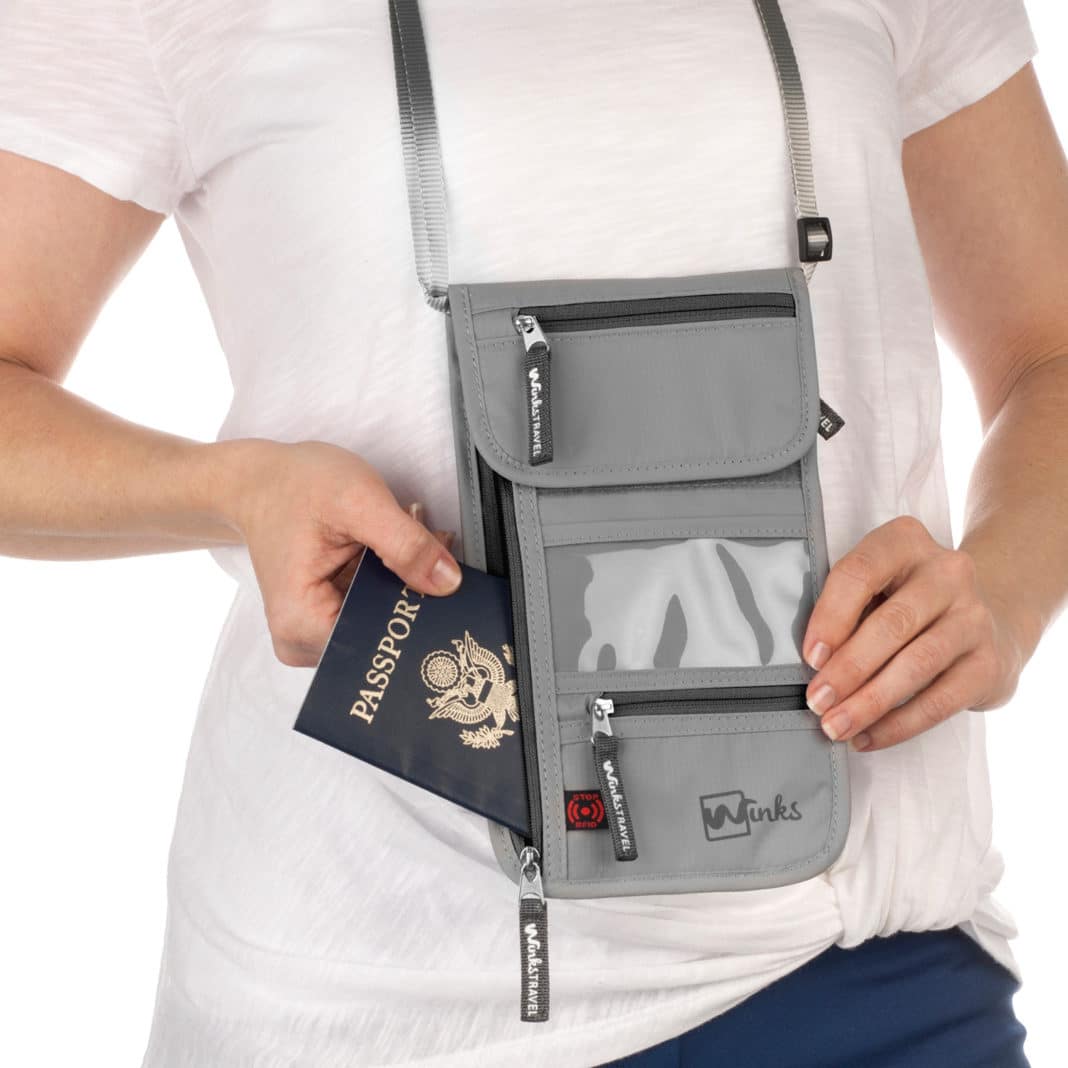 Credit: Wink Travel
The Winks Travel Neck Wallet is ideal for plane rides, train rides, and family vacations. However, this wallet is also made for more than just travel. You can take this product with you to an amusement park, water park, music festival, concert, or sporting event. When you are running errands around town, this wallet can go with you as well. From the bustling streets of New York City to a Disney Cruise Ship, we appreciate the versatility and convenience of this product. All of your most-reached-for items will be right around your neck. When a great photo moment arises, you will be able to reach quickly for your cell phone and take a picture. When you're in line to board your plane, you will be able to easily grab your boarding pass and passport as well. There are so many benefits to this travel wallet.
What Travelers Are Saying About the Winks Travel Neck Wallet
The Winks Travel Wallet is reported to be a "must-have" for travelers. There is so much storage space for large and small items within this product that travelers are pleasantly surprised. Parents have mentioned how necessary this product is when traveling with kids. The size of the Winks Travel Wallet gives adults the ability to store their children's passports with their own inside the wallet. Extra items such as Band-Aids and Tylenol can also be stored in the wallet. Even with so many items stuffed into the wallet, travelers report that the wallet is not bulky. This is a major plus. Travelers say that the Winks Wallet is comfortable to carry around your neck.
One important thing travelers note is that this water-resistant product should not be confused with being waterproof. The Winks Travel Wallet is not waterproof. The product can handle some water, but certainly cannot get soaked.
Alternative Travel Wallets
Zero Grid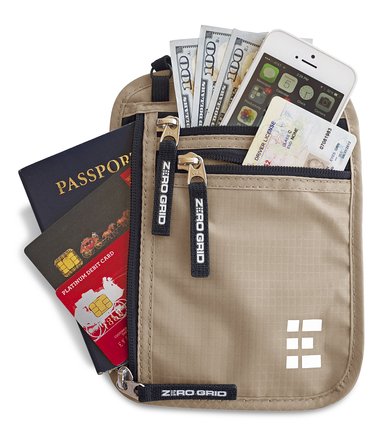 The Zero Grid Travel Wallet is slightly smaller than the Winks Wallet at 7.5 x 0.1 x 5.1 inches. This product also has RFID blocking technology that keeps your information protected from electronic pickpocketing. There are also many zippered compartments to store your personal belongings. In comparison to the Winks Travel Wallet, Zero Grid's product is more sleek and slender. If the Winks Travel Wallet was a bit too cumbersome and overwhelming for you, then the Zero Grid is a great alternative travel wallet. This product can also fit a smartphone, passport(s), credit cards, keys, and other belongings. Color options include black, light grey, dark grey, and tan.
Venture 4th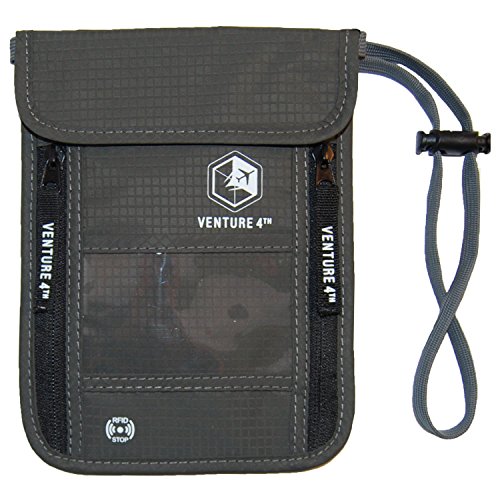 Like the Winks Wallet and the Zero Grid Wallet, the Venture 4th Neck Wallet also provides RFID protection and enough storage space for your personal items. The goal of Venture 4th is to provide peace of mind while traveling. Their 8.3 x 0.2 x 5.9-inch neck wallet does just that. The internal storage compartments have mesh separators to keep your gadgets, cards, and ID's scratch-free. The exterior is also made of waterproof material. This product is another great alternative to the Winks Travel Wallet. The Venture 4th Wallet is very durable and capable of keeping your belongings protected from theft.
Never Worry About Theft Again
You know how your heart drops when you have that thought of, "did I forget my passport?" or "where's my credit card?" To rummage through purses and backpacks to find these items is bothersome and unnecessary. Why waste time and risk losing your important belongings when you could instead hold them securely around your neck? With a travel neck wallet, all of your important items can be stored and found in the same place. Also, the items can be easily reached when you are on-the-go. From the amusement park to the airport, the Winks Travel Wallet provides convenience and safety. The large size of this product allows storage space for everything from smartphones and tissues to passports and credit cards. First Aid Kit supplies can even be tucked into the Winks Travel Neck Wallet.
We highly recommend investing in a neck wallet because there are countless benefits to wearing one. With the holiday season among us, this product can make the ideal gift for the traveler in your life!
Are you a fan of neck wallets? Let us know how you prefer to travel in the comments section below.
Related Article: ​Your Guide to Finding the Best Travel Wallet | Review​​​