Keep your laptop safe with the Mobile Edge ECO Laptop Messenger Bag.
If you work on the go, you need a bag that can keep your electronic equipment safe. Laptops remain crucial to everyday tasks, so finding a proper laptop bag should be a priority. However, not every laptop bag has been made alike. Some products might look attractive and match your style but fail to provide proper protection. Others offer optimal amounts of padding yet appear bulky and don't fit your personal tastes. Travelers searching for the ideal laptop bag should consider the Mobile Edge ECO Messenger Bag. This product combines both functionality and style, letting you feel confident while carrying a laptop throughout your daily travels. Check out our article below to learn all about this awesome bag.
Mobile Edge ECO Laptop Messenger Bag Features & Benefits
Padding Protects Items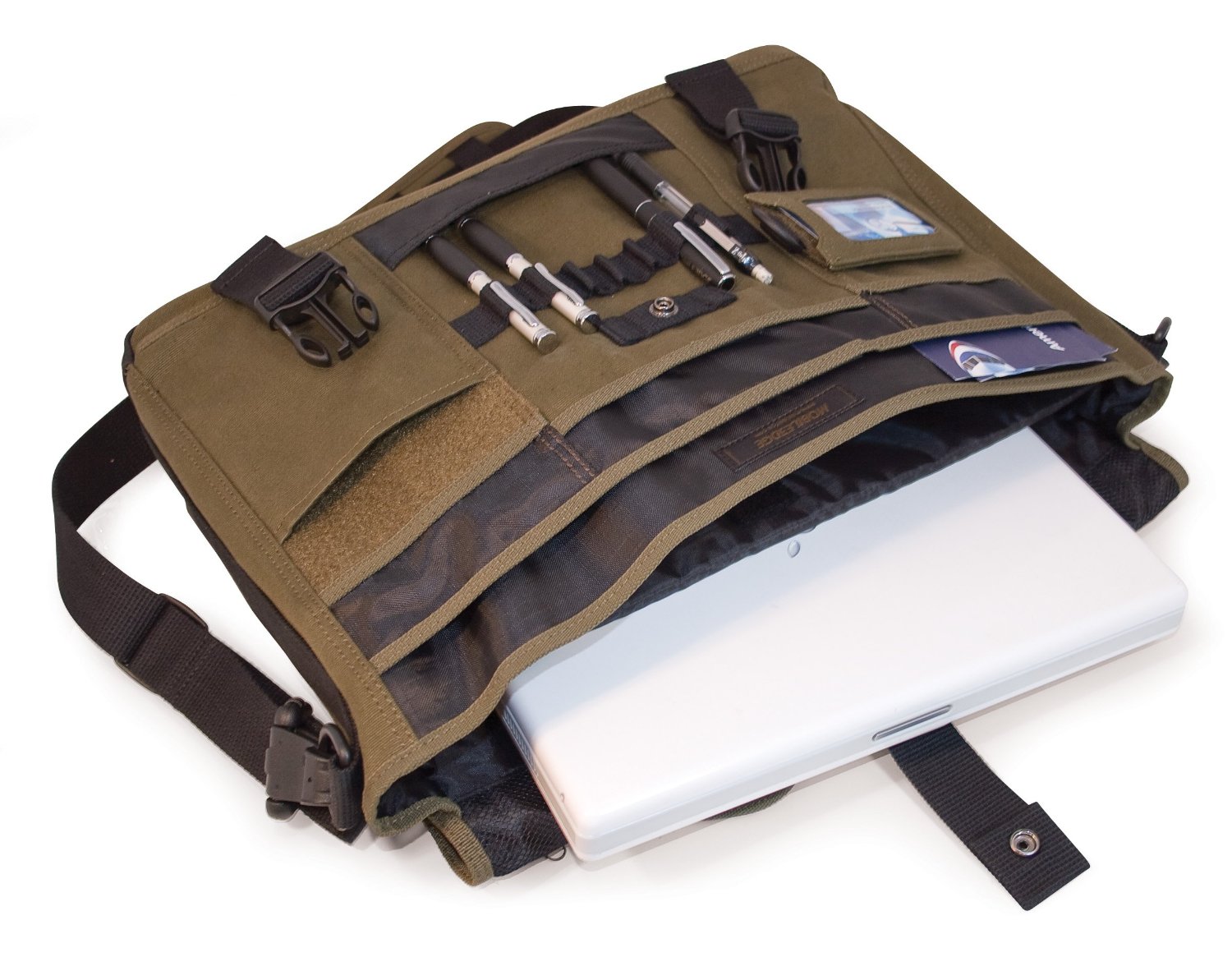 When you're looking to buy a laptop bag, the main priority should entail its ability to keep your laptop safe. Many laptop bags don't offer enough padding to protect the laptop during your travels. Often, you might think your laptop has proper protection, only to find it has been damaged later on. Travelers who must be frequently on the move need to have confidence in their laptop bag's ability to protect items.
Thankfully, the Mobile Edge ECO Laptop Messenger Bag features a specific, padded laptop compartment that's perfect for stowing your computer. You won't have to worry about the laptop getting scratched or dented as you move from place to place. This bag offers sufficient padding for computers, so they won't be disturbed despite frequent travels. Other items inside the bag will additionally remain separated from the laptop, ensuring pencils and books won't damage the computer.
Organizational Features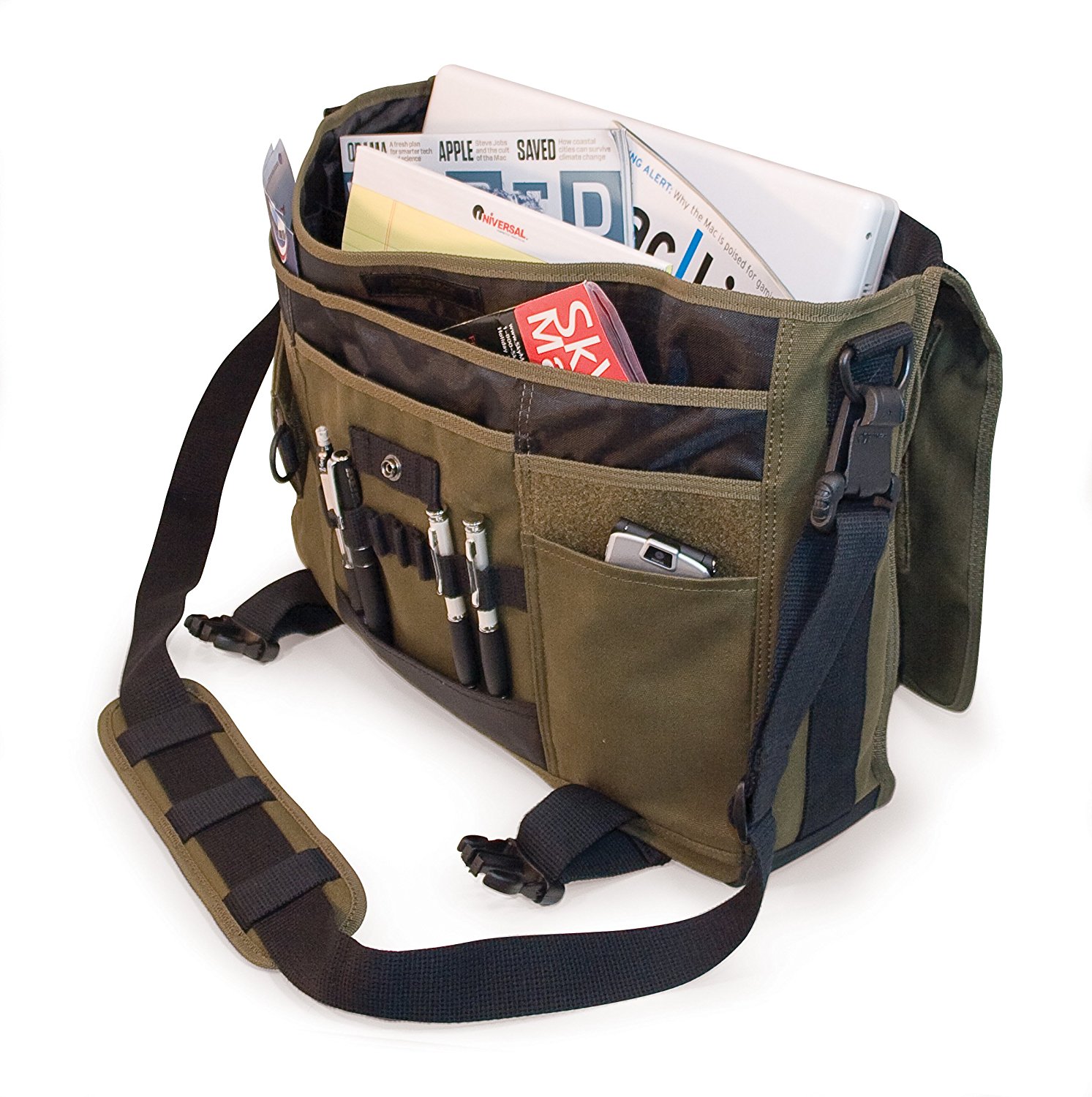 If you want a laptop bag for daily usage, the product should probably offer places to put other items. It would be annoying to have to bring multiple bags with you on your daily errands or travels. Similarly, some bags might provide lots of space for items, but lack organizational features. You could have a massive bag, but nowhere to place important or smaller belongings. Travelers need bags with places to store items separately to help them with organization.
With the Mobile Edge ECO Laptop Messenger Bag, travelers will have multiple pockets to aid in organization. The fully padded computer compartment remains the ideal spot to store your laptop. Another padded back panel provides a great spot to store other important items, like documents and electronics. Additionally, you can place small belongings, such as phones and wallets, inside the multiple interior pockets. A specific removable ID holder, with Velcro backing, remains the perfect spot to keep your license or passport.
Environmentally Friendly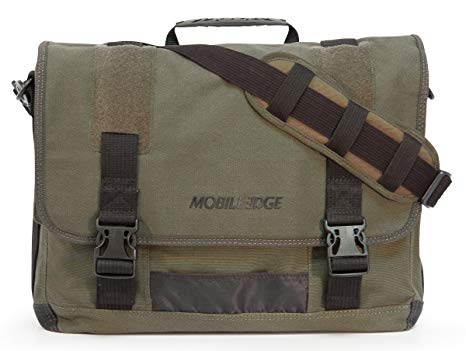 More and more these days, travelers have become aware of their impact on the environment. Countless products, which may be crafted with plastic or other materials, may be detrimental to the Earth. Nowadays, companies design products using materials that won't be harmful to our planet. If travelers want to purchase a bag for their laptops, they might not be able to find many eco-friendly options. Despite constant development in eco-friendly items, you still can't buy a huge number of these kinds of products.
The Mobile Edge ECO Laptop Messenger Bag has been created with the environment's wellbeing in mind. This bag utilizes a 100% cotton canvas exterior, making it an eco-friendly bag. The all-natural exterior remains ideal for environmentally conscious travelers who don't want to harm the Earth. When you carry this bag around, you'll feel great knowing that you're also helping to save the environment.
Durable Design
The best bags for travelers maintain extremely durable structures, lasting throughout countless journeys across the world. When you're looking to buy a bag to store items like laptops, you need a bag that's long-lasting. These products should have designs especially crafted for frequent usage, so travelers can carry them every day. Exciting trips to European cities or through South American landscapes may be ruined by a ripped laptop bag. You don't want the stress of needing to buy another bag because your old one fell apart during a trip.
Luckily, the Mobile Edge ECO Laptop Messenger Bag maintains a durable design, ensuring travelers can use it for many months. Despite holding heavy gear, like books and electronics, the bag will stay intact throughout every expedition. At the same time, the bag's straps won't fall apart even if the bag grows heavy. Though a canvas exterior might seem flimsy, this bag feels sturdy and will keep your items secure.
Style Choices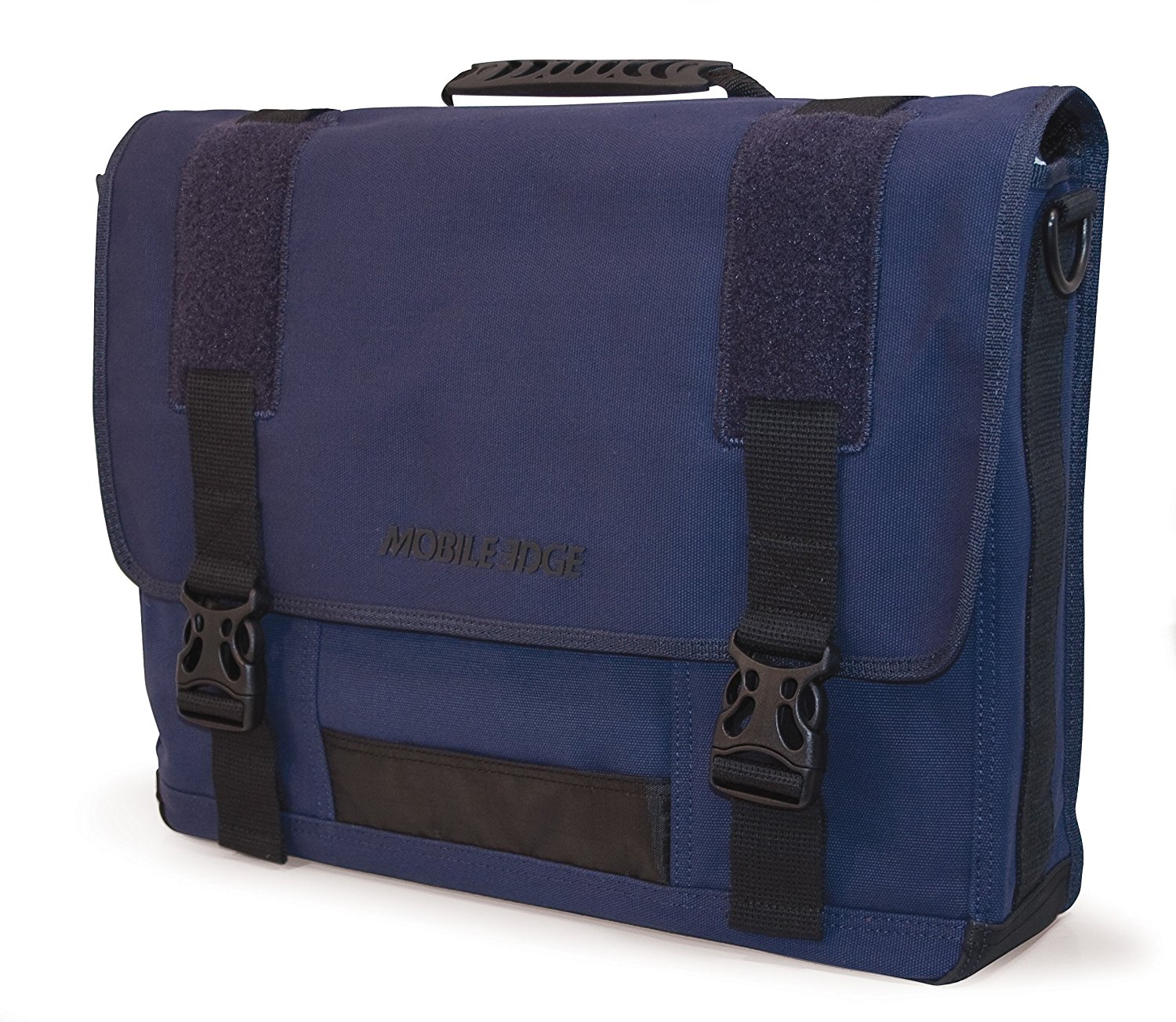 Sometimes, using the same bag every day can be a bit boring. This may especially be the case if your daily travel bag appears drab and neutral. Lots of laptop bags have been made in similar ways, making them all look the same. Black and bulky bags remain a standard for many travelers, simply because they have no other choice. While some may prefer simple-looking travel bags, others might wish they had a more exciting bag to use.
When you consider buying the Mobile Edge ECO Laptop Messenger Bag, you'll get to choose from various colors. The bag comes in shades like olive green, navy blue, and light grey. This means you don't have to stick with the same boring black bag if you don't want to. Of course, those who like black laptop bags can still choose the black shade when buying this bag. The stylish canvas exterior of the Mobile Edge bag also makes it stand out from other products.
What Travelers Are Saying About the Mobile Edge ECO Laptop Messenger Bag
Travelers who purchased the Mobile Edge ECO Laptop Messenger Bag raved about the product's ability to keep their laptops safe. The bag's thick, durable material protected laptops from getting damaged, even after long periods of use. Students, teachers, and other working adults could fit lots of books as well as their laptops in this case. This meant that they didn't need to carry additional bags in order to bring all their necessary belongings with them. Other reviewers loved the Mobile Edge ECO bag's numerous pockets, which enabled greater organization. Smaller items, such as pens, phone chargers, and wallets could be stowed away inside the various pockets easily.
Some reviewers found that the straps on the Mobile Edge ECO Laptop Bag felt uncomfortable when the bag was full. These travelers wished that the bag had more padding underneath the straps for better comfort while carrying many belongings. A few reviewers also found that the bag didn't remain completely intact after using it for some months. This meant that they had to purchase another bag or risk the bag ripping with their belongings inside. Overall, though, the majority of reviewers considered the Mobile Edge Laptop Bag to be an awesome product for the price.
Alternative Laptop Bags You May Like
1. Timbuk2 Command Laptop Messenger Bag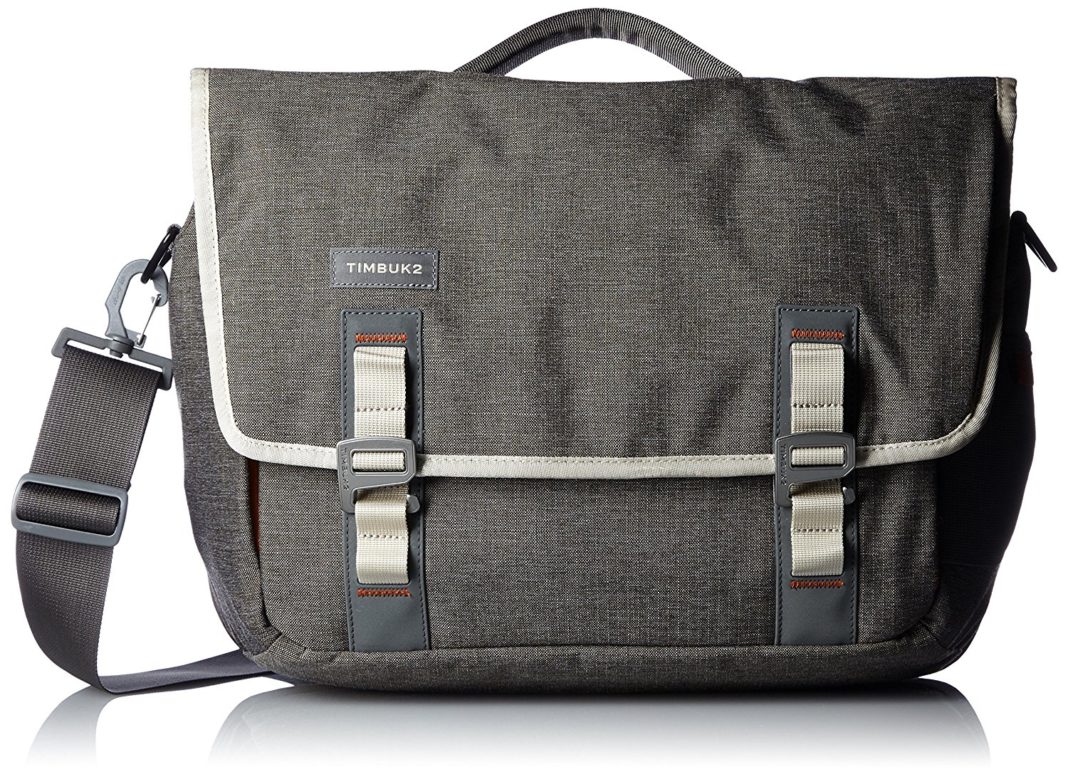 If you weren't completely floored by the Mobile Edge Bag, consider the Timbuk2 Command Laptop Messenger Bag. This laptop bag has a similar design to the Mobile Edge product, with a messenger style that uses comparable straps. However, this bag doesn't use canvas on the exterior, but rather utilizes 100% polyester. This ensures that the Timbuk2 bag maintains a weatherproof design, so your belongings will stay dry despite rainy weather. The polyester material even makes for easier cleaning if you spill coffee or food on the bag. Like the Mobile Edge bag, the Timbuk2 Command Messenger contains a specific laptop compartment for stowing away your computer. Additional pockets provide greater opportunities for organization, like the external access zipper pocket. Chargers and other devices may be placed in this pocket for easy access. This bag also comes in a variety of colors, such as navy blue, light grey, and black with red accents.
2. AmazonBasics 15.6-Inch Laptop and Tablet Bag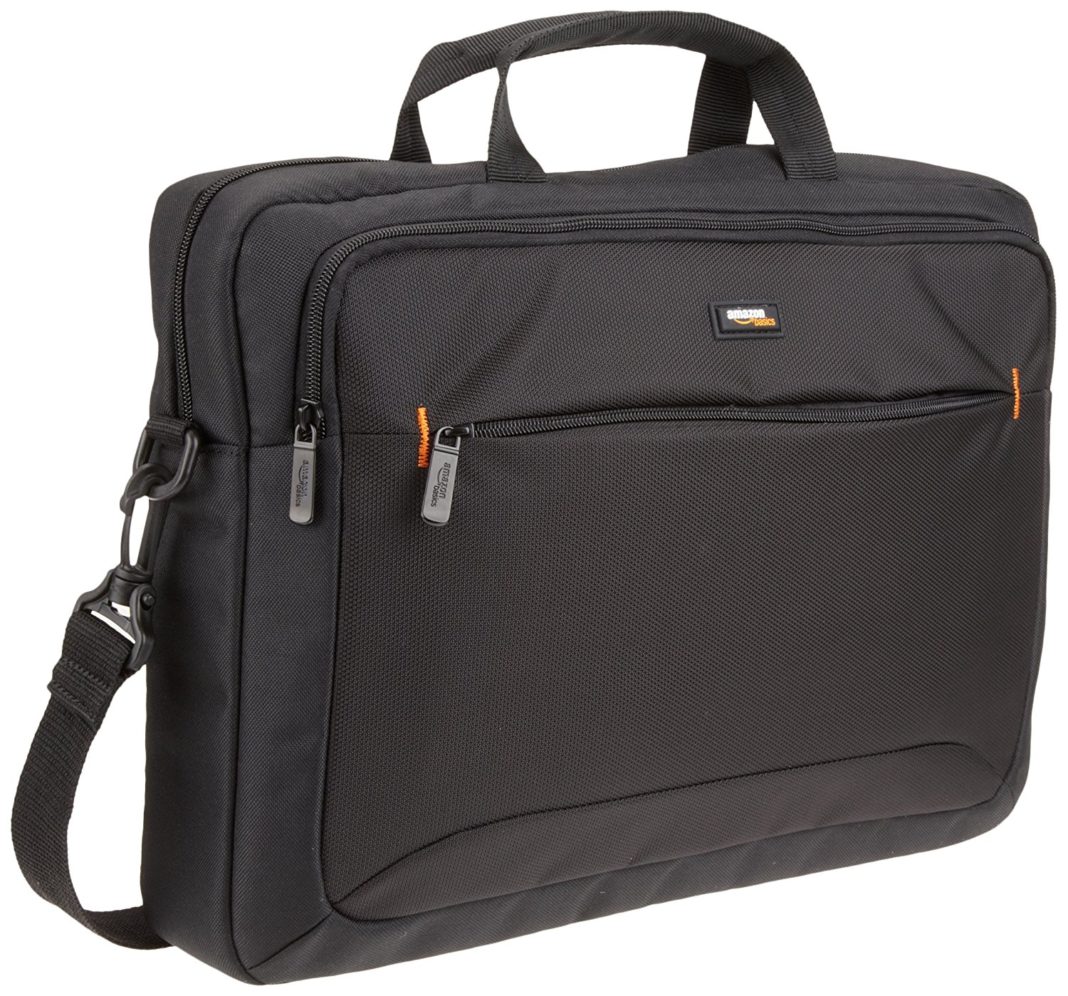 The AmazonBasics Laptop and Tablet Bag remains a great alternative to the Mobile Edge Messenger Bag. This product has a similar messenger bag style, with a shoulder strap and slim design. Inside this bag, you'll find a laptop compartment with padding for easy storage of computers. The AmazonBasics laptop bag also has a large main compartment for keeping other items, like documents and passports. Three additional smaller pockets have been specially designed for stowing phones, iPods, pens, and portable mice. You can carry everything you need inside this single, sleek case. With its non-bulky design, you won't feel weighed down as you travel while using this bag. This bag also costs very little compared to other laptop bags, so it won't blow your whole budget. Accordingly, the AmazonBasics Laptop Bag remains ideal if you're looking for the best cheap travel bags.
3. STM Trilogy Backpack for Laptops
Some travelers prefer to carry backpacks instead of messenger bags, as this provides greater support for the back. If you're one of those people, check out the STM Trilogy Backpack for Laptops. This alternative to the Mobile Edge Messenger Bag lets you keep your belongings safely on your back as you travel. Padded shoulder straps make the backpack comfortable to carry, even when the backpack is full of heavy items. You won't have to worry about keeping all your bag's weight on one shoulder while moving from place to place. The STM Trilogy Backpack also has a protective, suspended tech cell to keep your laptop from being weighed down. This means that your computer won't get smashed by books or other equipment when it's inside your bag. A thin front pocket compartment provides the perfect place to store documents and passports. Interior pockets with lots of space remain ideal for organizing all your extra belongings.
Carry your laptop inside the Mobile Edge Messenger Bag.
Almost every traveler has a laptop that they like to bring with them on journeys. Whether you travel often for business or for pleasure, a laptop bag remains an essential item. With so many laptop bags available, it can be difficult to find one that works for you. Certain bags fail to protect laptops properly, while others prove heavy and too bulky for daily travels. Thankfully, the Mobile Edge Laptop Messenger Bag maintains an attractive, yet highly protective design to keep your laptop safe. When you carry this bag around, you won't feel burdened by a heavy case that also doesn't look very stylish. The Eco-friendly bag will even appeal to any environmentally conscious travelers. Make sure to purchase your Mobile Edge Messenger Bag before embarking on another adventure.
Related Article: 12 Best Laptop Backpacks and Messenger Bags for the Efficient Traveler