Looking for affordable android wear? The Ticwatch S by Mobvoi is just the travel accessory you need.
Smartwatches are picking up steam on the market. When you're on the go, you need a simple device to manage your calls, emails, apps, and more. We're in love with the Ticwatch S. Not only can you stay on top of your communication, track your steps with the fitness wear, and even pay for that cup of coffee at the airport with Android Wear.
A Little Bit About Mobvoi
Founded in 2012, this Chinese-based company aims to push the boundaries of human interaction with AI technology. Pushing the boundaries in the fields of voice recognition, natural language processing, and vertical search, Mobvoi is on the forefront of the latest tech releases and discoveries. Through the creation of critically-acclaimed consumer products in wearables, automobile, and home categories, Mobvoi makes life simpler.
To date, they've developed a close partnership with Google through Android Wear and Google Assistant, as well as its joint venture with Volkswagen Group. Headquartered in Beijing, Mobvoi has over 400 employees and offices in Seattle and San Francisco. Many of the staff have played leading roles in some of the world's most prestigious tech companies including Google, Microsoft, Amazon, Nokia, Tencent, and Baidu.
Ticwatch S Review Features & Benefits
Credit: Amazon
We've never seen a better value for smartwear technology than the Ticwatch S. It's no wonder it won the Google Design award. The Ticwatch S comes with a 1.2Ghz dual core processor from MTK. In addition, it also has a bright 1.4″ OLED display with 400×400 pixels (that's 287 dpi) in resolution.
Even though the watch is an entry level model priced at $199 for the express version, it features a heart rate monitor, a proximity sensor, an accelerometer, a gyroscope, wifi, and onboard GPS. It's also IP67 rated which allows you go under water up to 3 feet for up to 30 min. I wouldn't go for a swim, but you technically don't have to take off the watch when you take a shower or wash your dishes.
One of the great advantages of Android Wear over Apple Watch OS is the sheer unlimited amount of watch faces. While the Apple Watch only has a couple that come preinstalled, on Android you have literally hundreds of options to choose from. Many of these feature complications like the calendar app, weather, step count, or your heart rate. All in all, it's the perfect travel and workout companion.
Unleash The Power of Google Play and a Personal Assistant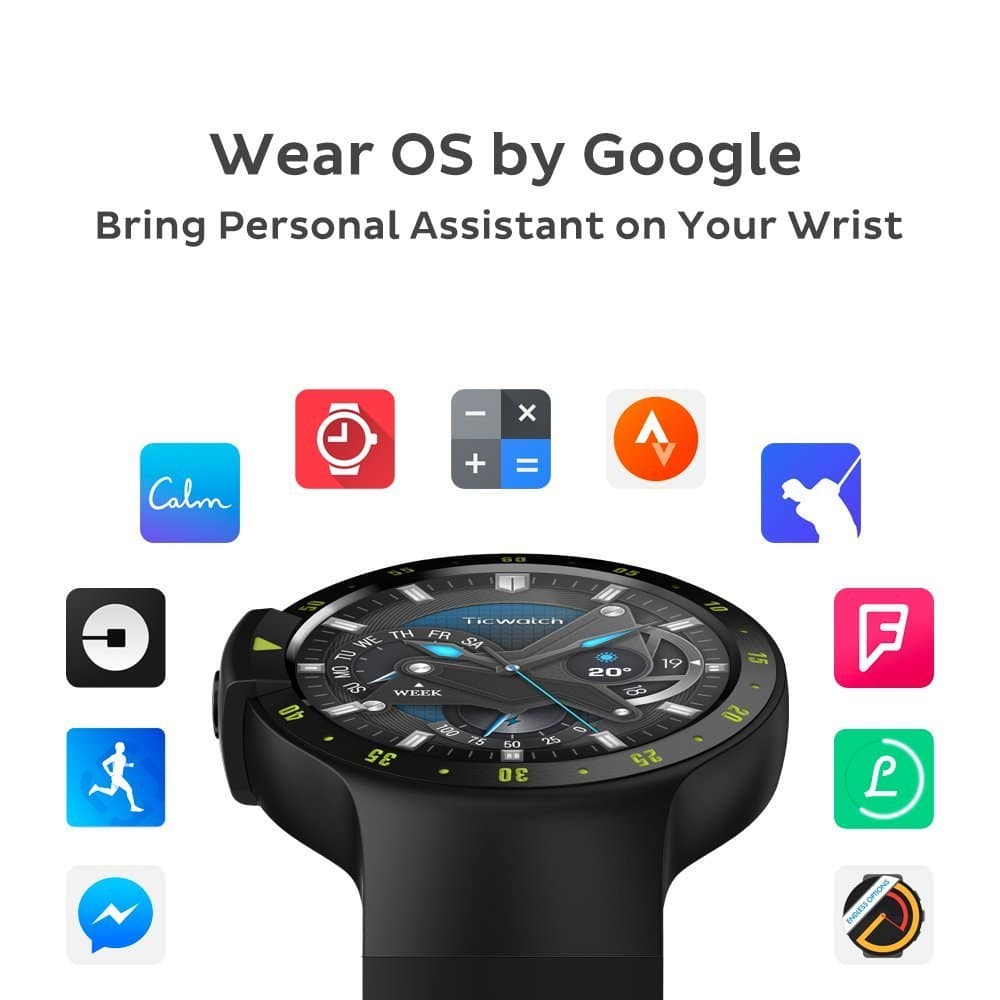 Credit: Amazon
Okay, so that's a little dramatic. But it sounds cool, right? Stay fit on the go with top-rated fitness wear OS apps like Google Fit, Strava, Sworkit, and more. There's endless possibilities all in one place – which is good for time management and bad if you're addicted to your technology. Monitor your sleep patterns, call an Uber, listen to some music, watch the news, and more.
Lightweight & Stylish
We love that this watch is IP67 water and dust resistant. Never worry about sweating it out. While it's not suitable for complete submersion, you can get it a little wet or go swimming without having to worry about it.
Built-in GPS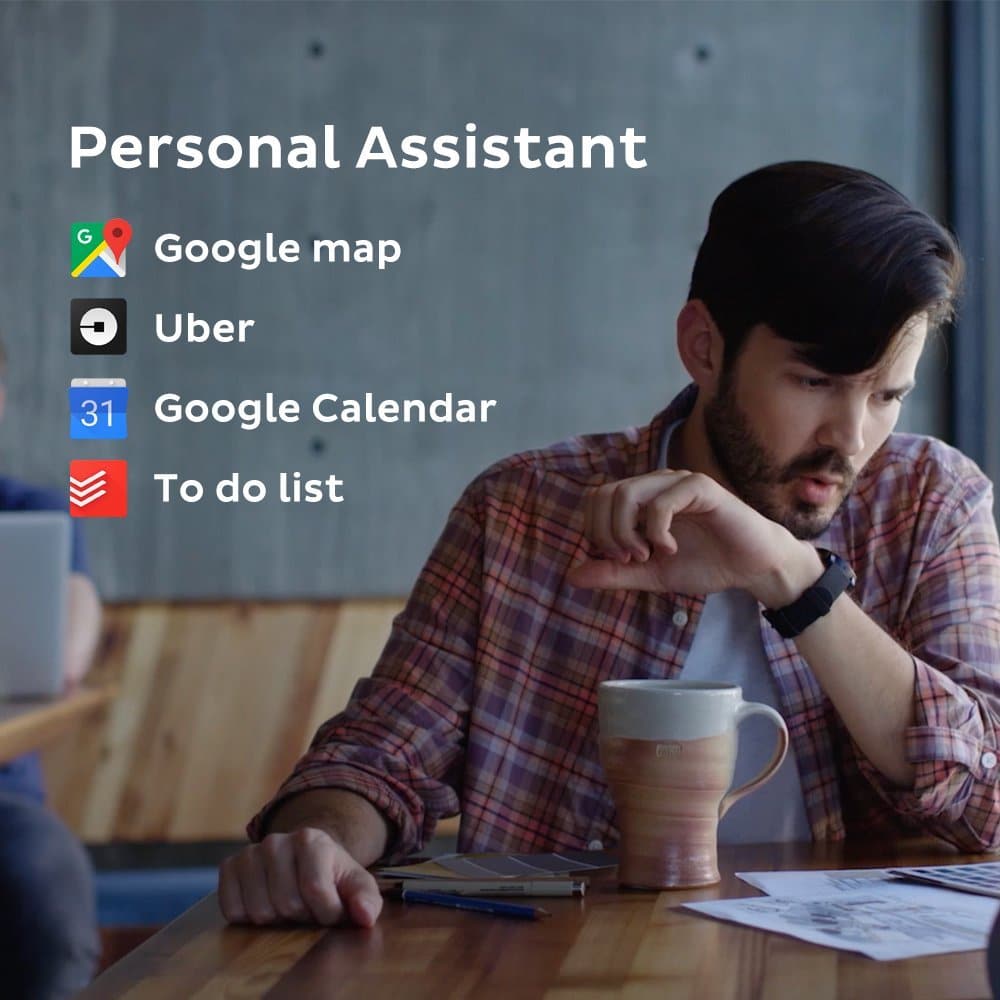 Credit: Amazon
Map out your jogs with the Glonass and GPS Sensor. Thanks to the Ticwatch S, you'll enjoy independent navigation whether you're walking, running, or cycling. Accurately track your performance with statistics like steps, speed, distance, calories burned, and more.
Heart-Rate Monitor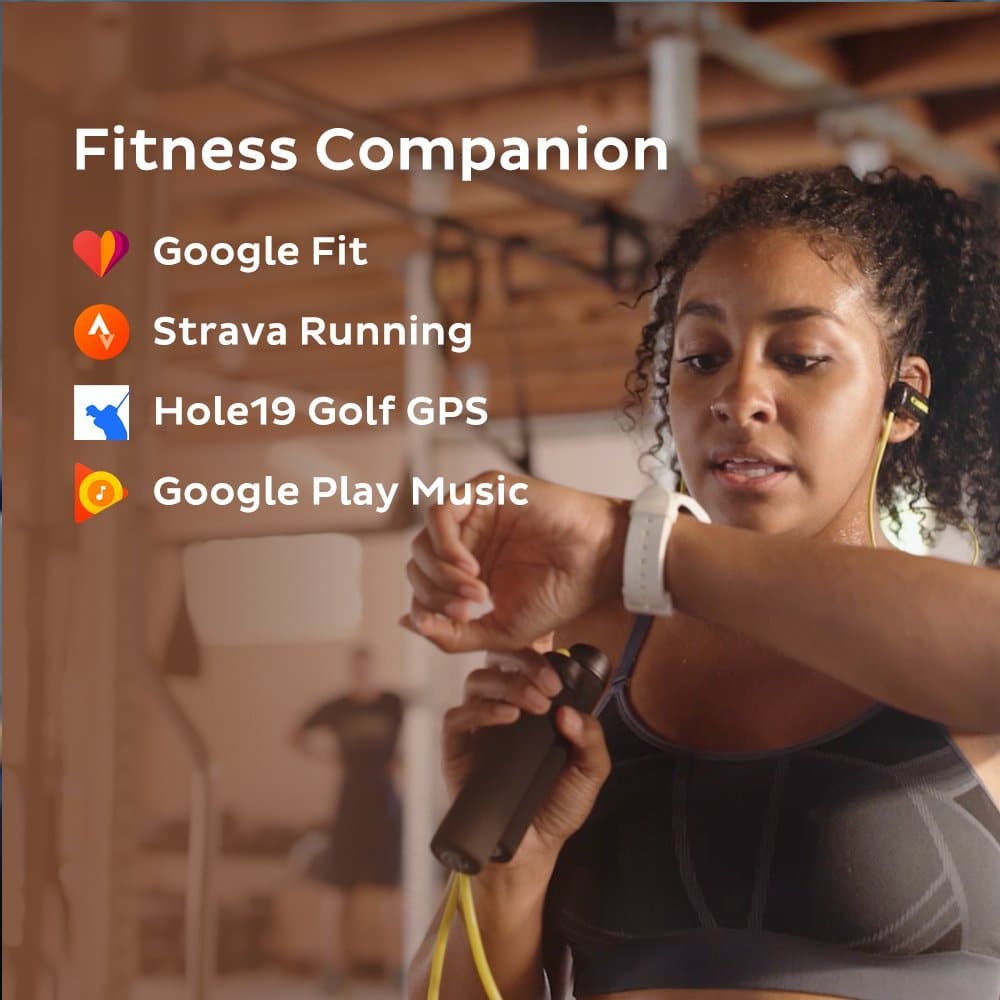 Credit: Amazon
Take your heart rate in real-time with the built-in PPG sensor. Get training mentor with six heart-rate intervals data.
Music From Your Wrist
Say goodbye to those annoying headphones that fall out when you run. Unplug and get on the go. The Ticwatch S offers Google Play, so you can enjoy music without your phone. It's perfect for those who live on the go.
Stay Connected and Updated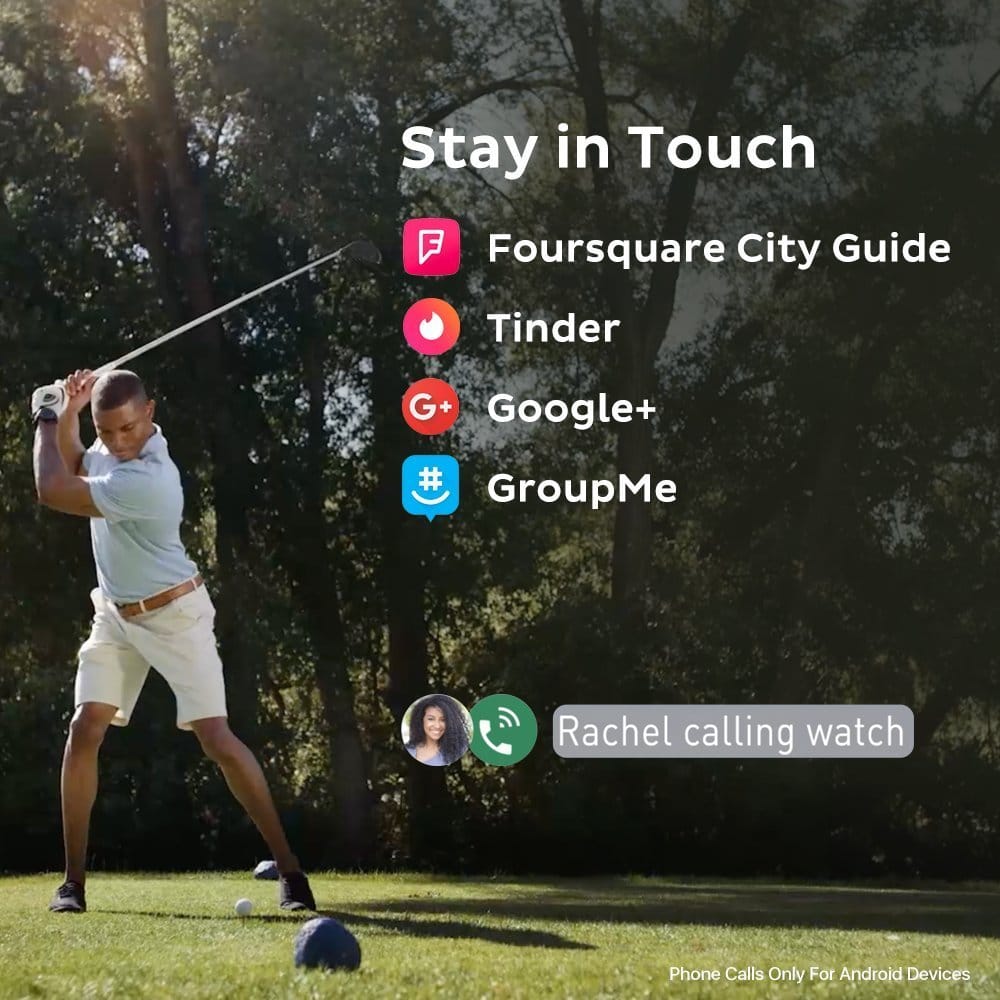 Credit: Amazon
Get notifications of incoming calls, messages, emails and news with just a glance. For Android users, the TicWatch S enables you to receive calls, make calls and reply to messages right from your wrist.
Change Your Watch Face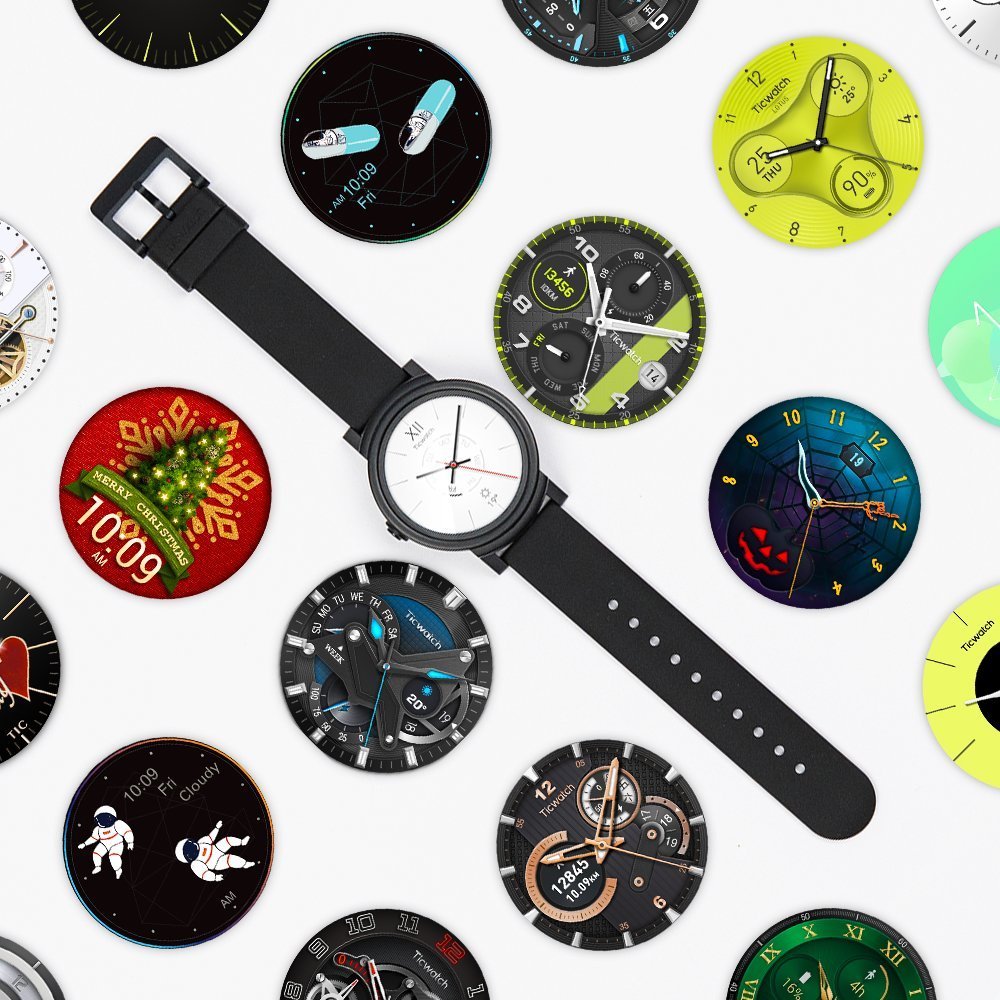 Credit: Amazon
Personalize your display options with a variety of customized watch faces available on the Google Play Store.
What Travelers Are Saying About the Ticwatch S
The Ticwatch S is a great device for travelers. With a four out of five-star rating and over 1,100 product reviews, the numbers speak for themselves. We decided to test it out and see what all the hype is about. Reading through reviews and getting to see from personal use, this watch is a great buy.
Ticwatch is being made by Mobvoi, a Chinese manufacturer backed by Google. After a lot of research, we decided to test it out. Mobvoi previously had created the Ticwatch 2 which was crowdfunded through Kickstarter and received great reviews. It featured a unique touch bar on the right side of the watch that allowed users to effortlessly scroll through content.
Unfortunately, that bar didn't make it into the Ticwatch S but instead Mobvoi listened to the user feedback and switched their previously proprietary operating system over to Google's Android Wear 2.0. This was a great decision, as it allows us users to now install apps from the app store, including two-factor authentication apps like Instagram.
The Ticwatch E comes with a 1.2Ghz dual core processor from MTK. It's not a Snapdragon Wear 2100, but so far it has been zippy and worked well for us. It has a bright 1.4″ OLED display with 400×400 pixels in resolution.
One of the great advantages of Android Wear over Apple Watch OS is the sheer unlimited amount of watch faces. While the Apple Watch only has a couple that come preinstalled, on Android you have literally hundreds of options to choose from. Many of these feature complications like the calendar app, weather, step count, or your heart rate. The watch is an entry level watch, but the materials feel like they are good quality. The processor is zippy and the display is bright with beautiful colors. Android Wear 2.0 is a great operating system.
Personally, we love that they put the button of the watch on the left side, easy to reach for my right thumb. It also prevents you from accidentally triggering the button when you bend my wrist. The watch has a speaker and a microphone, should you want to make phone calls on your wrist. If this is something you care about – you have that option. The battery has 300mah – a bit less than an Apple watch 2. In our experience you'll have to charge the watch out alot – but we're ok with that. We just hope that future generations will have longer battery life.
The watch weighs 41.5g and is 13.55mm thick – it's very comparable to the popular Casio G-shock. For the price, we're quite happy with the watch. It's an entry level Android Wear 2.0 device that will serve you well. Is it the same built-quality as an Apple Watch Series 2 or Series 3.
Tech Specs:
Android Wear 2.0. Make the most of every minute.Get your favorite apps and watch faces.Request a car ride. Perfect your golf swing. Explore a new neighborhood. With thousands of Android Wear apps, there's no limit to what you can do with your watch.

Stay connected with a glance.Personalize your watch face to show your next appointment, your fitness stats, or your contacts. Android cell phone could check calls and respond to messages, right from your watch.

Follow your fitness.Track workouts data from Google Fit and your favorite apps. Get fitness coaching, measure heart rate and stream music right from your wrist. Android Wear watches with cellular connectivity let you use apps even when leaving phone behind

check

Android Wear requires a phone running Android 4.3+ or iOS 9+. Supported features may vary between platforms. Android Wear for iOS is available for iPhone 5 and later.

check

30-Day Money-Back Guarantee for Any Reason, 12-Month Warranty for Quality-Related Issues
Alternative Travel-Worthy Watches You May Like
Want to browse through a few more styles? We've got you covered. Here are a few of our other favorite travel-worthy watches on the market.
Casio F-108WHC-4ACF Classic Red Stainless Steel Watch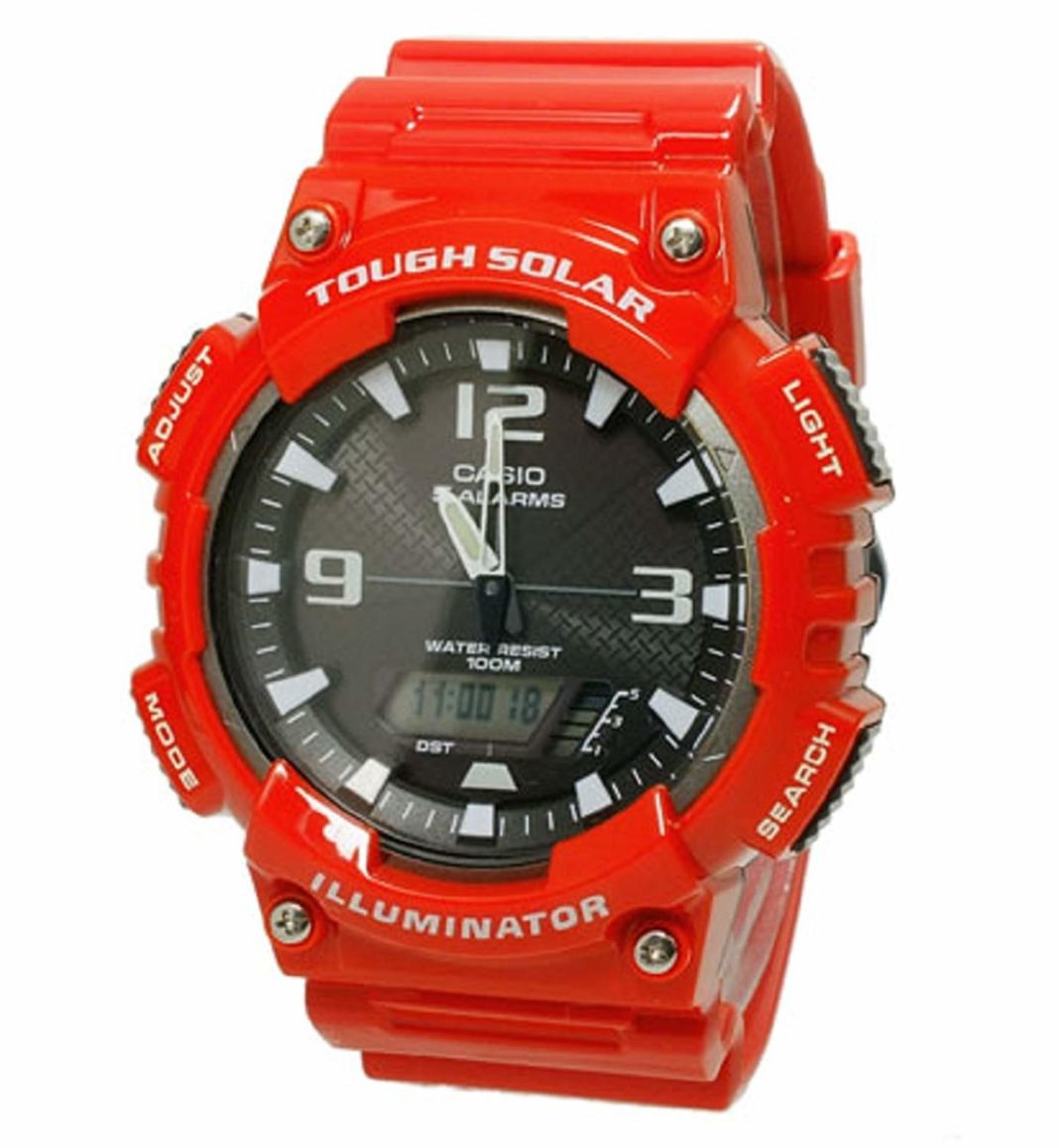 Sleek and cherry red… This lovely little timepiece is inspired by classic design and has an octagonal case shape and button guards that prevent accidental operation. The large case and a 7-year battery make for stylish and reliable timepiece.
We love that it's water resistant. So whether you're working out or taking a refreshing dip, you don't have to worry about it. Casio is a company that offers cutting-edge tech with a fun, cheeky side of fashion. This imported style features a quartz movement with a digital display and a resin band with a buckle closure.
Tech Specs:
Imported

Stainless steel rectangular red watch with digital display featuring five alarms, 1/1000 24-hour stop watch, and 1/10 24-hour countdown timer

43 mm stainless steel case with mineral dial window

check

Quartz movement with digital display

check

Resin band with buckle closure

check

Water resistant to 50m (165 ft): In general, suitable for short periods of recreational swimming, but not diving or snorkeling
Samsung Gear S3 Frontier Smartwatch (Bluetooth)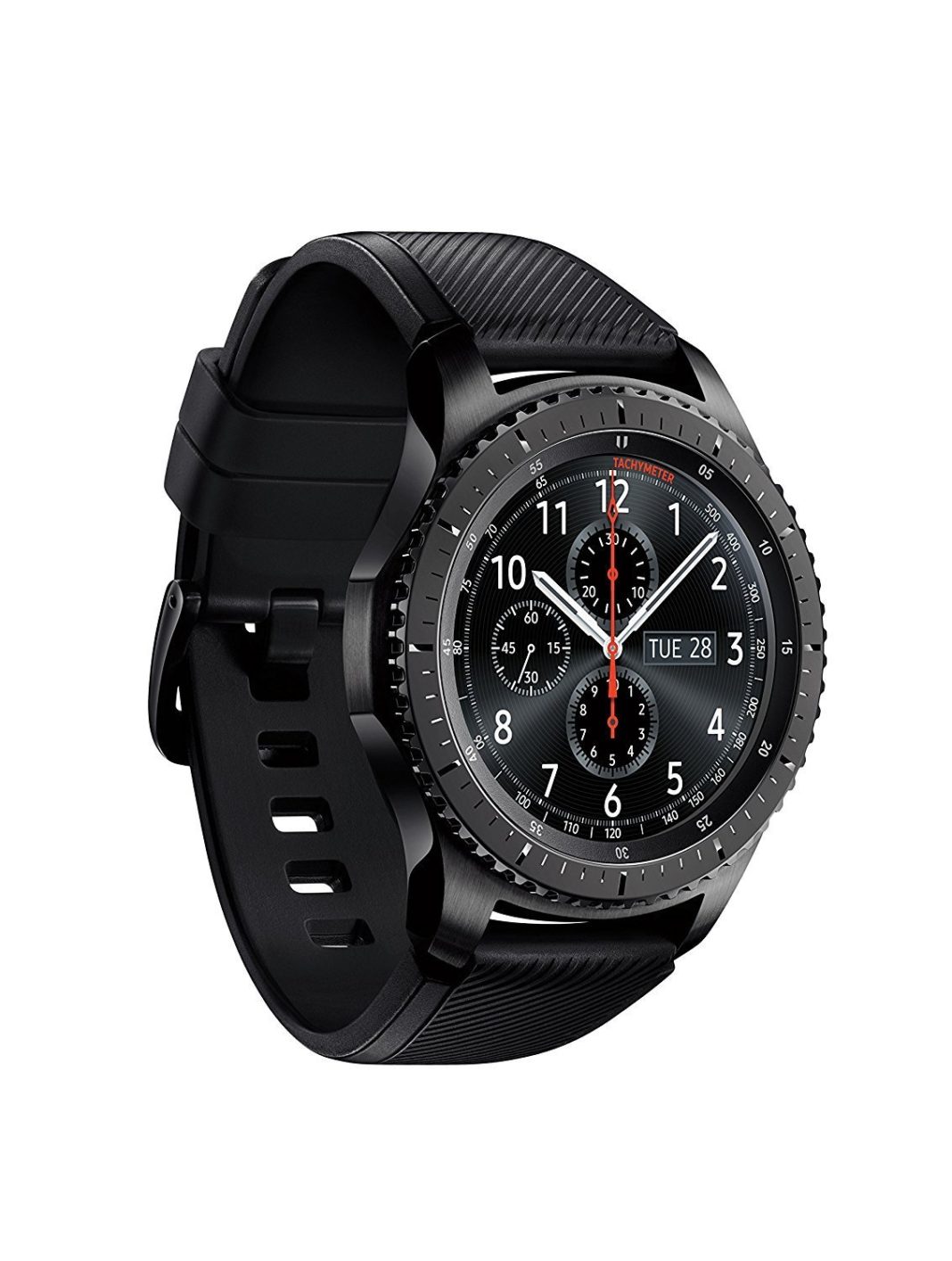 Here is yet another smartwatch with style. Thanks to the Samsung Gear S3, you can receive texts, calls, emails, and more without having to reach for your phone. Featuring a built-in speaker and microphone, you can also make and answer calls hands-free.
Have you ever been in an airport digging for change to get a cup of coffee? Don't sweat it. You can also pay with your watch too. With Samsung Pay on the Gear 3, you can easily make a payment wherever and whenever you need to. It's just as easy as swiping or tapping your debit card.
Here's the best part. Designed for the elements, this watch is made from military-grade parts. It is able to withstand water, dust, temperatures, and the occasional drop. Venture out with confidence. So get out there and explore. GPS tracks your activity and makes it super simple to share your location. Last but certainly not least, it is able to go nonstop for days on a single charge. When it's time to recharge, the wireless charger lets you power up without slowing down.
Tech Specs:
A distinctive steel bezel that you can rotate to access apps and notifications.

Text, call and get notifications directly from your watch through your Bluetooth connected smartwatch.

Make payments with Samsung Pay almost anywhere you swipe or tap a credit card.

check

With military-grade performance, the Gear S3 resists water, dust, extreme temperatures and the occasional drop.

check

Compatible with Android and iOS smartphones Gear S3 supported smartphones may vary by carrier and device. For a list of compatible smartphones and features, please visit Samsung.com. For best results, connect with compatible Samsung Galaxy smartphones.
Invest In a Great Smartwatch for Your Next Trip – aka the Ticwatch S
We hope you enjoyed reading our product review on the Ticwatch S. This little device is great for people on the go. Checking your emails, missed calls, and staying fit while you travel has never been simpler. We love the sleek stylish design and sophistication it brings to any look. Staying organized on the road, plane, or wherever you are has never been easier. Looking for additional styles with both fashion and function? Check out these picks.
Questions and Comments
Do you have any questions or comments for us? If so, we would love to hear them. Feel free to leave a message for us below. We will be sure to get back with you soon.
Related Article: The Best Watches For Fashion-Minded Travelers