Are you looking for the best watch brands for men?
There are so many options that sometimes it can feel impossible to find what you want within your budget. Think about your first watch; it probably wasn't anywhere near what you wanted. Whether you like something digital, something durable for travel, or a little more classic with real metal, we've gathered the best watch brands for men across the web and put them on one easy list. It's never been simpler to scroll through and find exactly what you want. Are you ready? Let's go.
Here Are Our Picks for the Best Watch Brands for Men
1. Timex
Founded in 1854, this brand's focus has always been about quality. While the aesthetics certainly are simple, there's something charming about the style. While they've been around for some time, Timex made its claim to fame in the 1980s and has never looked back since. Its successful product lines go to show that this is a quality brand you can count on. We're sure you've heard of its Ironman, Expedition, and Intelligent Quartz styles.
If you're looking to give a gift to your son, this is a great starter watch. You don't have to invest much initially. Classic looks like their Weekender and Camper watches only run about $50. Both have a handsome design and won't steer you wrong on durability. Timex is truly one of the best watch brands for men.
Our Pick:
Of all the Timex styles to choose from, we like the Weekender Classic best. It's easily one of the most comfortable, versatile and effortlessly cool watches on the market. Designed with an interchangeable slip-thru and quick-release straps, this weekender allows you to easily swap them out and have some fun. Make your suit feel a little less stuffy. Timex has a strap for every style.
2. Seiko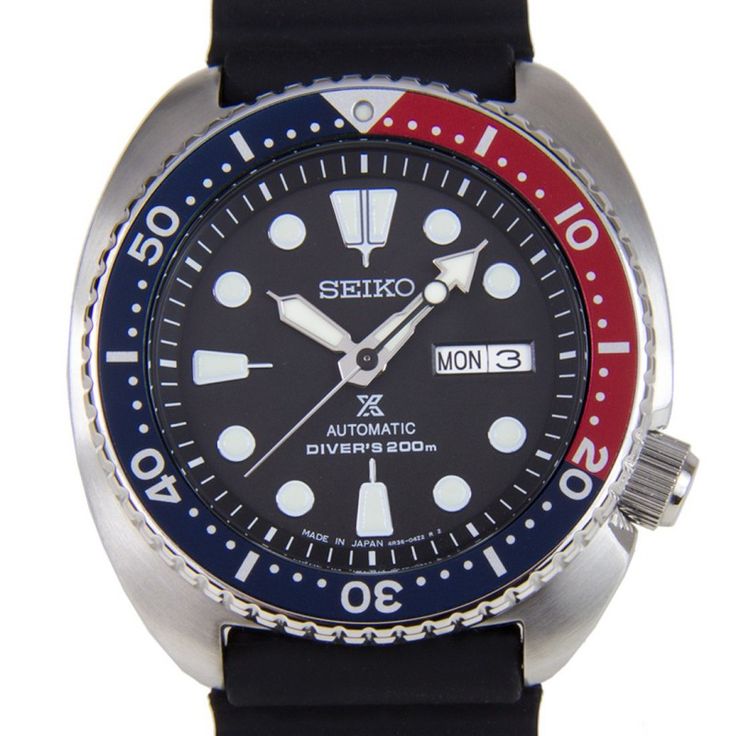 Here's another one of the best watch brands for men that goes way back. Seiko's story began back in 1881, when twenty-two year-old entrepreneur Kintaro Hattori opened up a shop selling and repairing watches and clocks in central Tokyo. After more than 130 years of innovation, Kintaro Hattori's company is still dedicated to the perfection its founder always strove to achieve. This is what makes it one of the best watch brands for men.
Our Pick:
Before the introduction of Seiko's Orange Monster, the 007 and 009 Seiko divers were the dive watch to own. They both are still hugely popular and big sellers all over the world. They feature Seiko's well proven automatic (self-winding) movement with a day and date display, highly luminous treated hands and markers, a large offset crown,, scratch resistant hardlex crystal and a solid etched, and a screw-down case back. The case is made from solid stainless steel and has a 43mm diameter.
3. Invicta
Have you heard about Invicta? As one of the best watch brands for men, they are always on a mission to advance and perfect their designs. The brand focuses on surpassing industry expectation. And they do. Invicta reaches new heights, bringing forth timepieces of inspired exception to match any price point.
The Invicta Watch Group leads in innovation and nurtured with the consistency of quality and brand personality. The company began more than a century ago with the belief that supremely crafted timepieces should be in modest sums, Invicta holds true to this objective today and continues its brazen journey in the future.
Invicta is all about making statements. The expertise and execution in design, as well as case construction, is intrinsic to their inventive reputation and style. With this forward-thinking energy, Invicta is fully equipped to suit and satisfy the most particular and diverse of tastes. The aim is to always achieve creative articulations in time from different points of view.
Taking the meticulous art of case construction to new levels, Invicta is recognized as a master of their craft. Because of the exceptional engineering found in each model, technical revelations deliver outstanding performance in every watch. The brand has now grown to encompass over 30 diverse collections.
Utilizing high-quality materials generally found only in high-priced brands, each timepiece is crafted and tested to ensure optimum standards. From skeletonized movements to a unique gold layering technique to exceptional construction, Invicta is one of the most technically capable watchmakers in the world.
Our Pick:
Plunge into any horizon using the steadfast guidance of the Invicta 17885 Pro Diver. Stylishly classic, you can willingly navigate in depths up to 100 meters with it. The style is certainly admirable too. This round face watch features a unidirectional black ion-plated stainless steel bezel with a gold top ring, luminous hands/markers, and chronograph functions with 60 second/30 minute/12 hour subdial. It also offers a 48 mm 18k gold ion-plated stainless steel case with synthetic-sapphire dial window. Swiss quartz movement with analog display accents the polyurethane band with gold-tone insets and buckle closure.
4. Orient Watch Company
Orient Watch Company's roots date back to 1901. Throughout the years, Orient Watch has honed in on the specialization in the manufacture and growth of mechanical timepieces. In 1950, moved to the forefront of the production of mechanical watches in Japan.
When it comes to watchmaking, this brand doesn't an obscure history. Why can you count on their mechanical watches? They've been producing them for more than sixty years. Today, Orient Watch Company is one of the top three watch manufacturers from Japan and produces more than 2 million watches per year. It just might be the biggest watch brand you've never heard of.
Every one of their movements is exclusively made in Japan and no iteration in manufacturing is outsourced. The value of owning an Orient watch is that the only way to enjoy its tremendous quality is through ownership. This company prides itself on the premise that its timepieces are a "watchmaker's watch"– a no frills mechanical watch that is robust and trustworthy.
Their online reputation suggests that an Orient watch is reliable right out of the box. We tested that theory and it's been proven tried and true. This can be attributed to Orient's undying dedication to mechanical watches.
Following the quartz revolution of watches in the 1970s, the other top Japanese brands went on to predominantly manufacture quartz. But Orient remained focused on its mechanical movements. While Orient does produce quartz watches, all movements are supplied by its parent company. You're probably wondering – what's the difference between quartz and mechanical? Despite moving parts, the short answer found with the sweeping second hand of a mechanical watch versus the short tick of a quartz movement.
Since they're an in-house movement producer, Orient joins a short list of watch companies that actually manufacture their movements in-house and exclusively for their own use. In the industry, it is highly uncommon that a company produces their own movements in-house, and by doing so Orient Watch can ensure that the quality of their wristwatches are held to the highest standards— Orient's watches have often been lauded for their rich styling, dependability, and tremendous value. They are truly one of the best watch brands for men.
Our Pick:
Our favorite pick from Orient Watch Company is the 'Ray.' Similar to the Orient's Mako series, it offers a brighter, stronger, and more luminous material on both the hour hands and markers. In addition, it has a black dial 21-jewel automatic movement, quick set day and date feature, screw-down crown, and a black rubber dive strap with a dolphin logo. We love that this watch is water resistant up to 100 meters, making it perfect for swimming and snorkeling.
5. Skagen
This brand is a newer one on the scene. Founded in 1989, Skagen drew its inspiration from the lovely namesake Danish coastal town. The name's not all they borrowed though; the company also adopted a warm spirit and a minimalist mindset. We absolutely love this brand. They create high-quality watches, wearables, jewelry, and other goods – always driven by the same driving principle. Skagen champions a good design for better living.
The way they see it, simplicity is key. It not only captures what is truly essentials but also what you need for style. It's pretty clear to see that this company is passionate about design. Chalk it up to their Scandinavian roots. The result is a clean, simple, and streamlined aesthetic. A less-is-more approach means they are more likely to edit than embellish. Skagen's understated product line looks good with anything, anywhere. These designs won't fade away ten years from now. Simplicity isn't just beautiful, it's versatile.
Their designs compliment the lifestyle of an active traveler. Style and function don't have to be separated, you know. To the folks at Skagen, the two are intrinsically linked. This means you get cleaner watch dials, slimmer cases, and an overall sleeker design. That's a mission we can get behind.
Our Pick:
Have you ever seen the Men's Grenen Quartz Titanium and Stainless Steel Mesh Casual Watch from Skagen? Well, now you have. And it's perfect. Strong and lightweight, it is just the right watch for any occasion. It features a 100% titanium ultra slim case and easily adjustable mesh band, mineral crystal with navy blue dial, number indicators, and date function. For the businessman's wardrobe, the Skagen men's titanium watch is a sophisticated addition.
Let's take a look at the timepiece. It's made with a 38-millimeter titanium case, a titanium bezel, and a stunning 22-millimeter titanium mesh bracelet with fold-over safety clasp. A durable mineral dial window protects the striking navy blue watch face, which features silver-tone Arabic numerals, a date calendar at six o'clock, a subtle 24-hour display, and silver-tone hour, minute, and second hands. In addition, this quartz-movement-powered timepiece is water resistant to 99 feet.
6. Fossil
The all-American lifestyle brand Fossil was founded in 1984, rooted in an authentic vintage and classic design. The company strives to create the highest quality products that preserve the past while offering modern features. Channeling iconic inspiration from the 50s and 60s, Fossil offers consumers a unique style that reflects the very best of what it stands for. Their products couple fashion with a streamlined design, offering nothing but the best hues and materials.
With each purchase, you will enjoy a complimentary watch tin, another nod to times past. The company set out to make a unique packaging that served a purpose, one people would treasure. The Fossil watch tin served as a natural extension of the earliest vintage-inspired watch designs, not only in form but also in its ability to deliver the authentic look and feel of the same period.
Our Pick:
Our favorite Fossil watch at the moment comes from their Machine collection. The Fossil Men's 42mm Machine Black IP Stainless Steel Dress Watch was inspired by high performance tools. With its rugged texture, oversized case and aeronautical-inspired gauges, Machine has an industrial feel we can't get enough of.
Invest In A Product from the Best Watch Brands for Men
We hope you enjoyed reading our article on the best watch brands for men. As you can see, there are so many high-quality brands on the market to choose between. The type of watch you need as a traveler depends on where you want to go and what activities you are pursuing on your getaway. The brands and watch styles we included all offer style and function. Sleek minimal looks meet practical design with waterproof elements and a durable design you can take just about anywhere.
Common Questions
Check out these other travel products that also make wonderful accessories for travelers:
Questions and Comments
Do you have any questions or comments for us? If so, we would love to hear them. Feel free to leave a message for us below. We will be sure to get back with you soon.
Related Article: The Best Watches For Fashion-Minded Travelers