The Everlane Twill Weekender renews the standard of travel bags.
Everlane continues to break the mold of the clothing industry with the high-quality, minimalistic products their team curates. You may ask, "what is Everlane"? What makes Everlane stand out from the crowd? No-fuss wardrobe staples at a fair price. Initially being an online retailer, Everlane opened storefronts within the last couple of years. Furthermore, their team wants to expand within their product-line beyond Everlane clothing pieces; which is why they created the Everlane Twill Weekender.
Despite most places moving to the online marketplace, the physical Everlane store continues to thrive. Everlane also continues to track popularity on social media platforms. The Everlane brand is committed to providing radical transparency to consumers. In a world of the fast fashion trend, Everlane desires to show consumers where their product came from and how it developed. You can find their "Transparency Tuesday" talks on their Instagram stories feed and streamed on their other pages. On these talks, consumers get their forum questions answered about the brand or specific products. Aside from asking the team, you can always go to their website and track the factories and process of where your products derive.
More on the Everlane Twill Weekender
There are plenty of impressive qualities of the Everlane brand. It is no surprise that the reviews are no less than stellar for the Everlane Twill Weekender. This bag keeps the same minimalist aesthetic and quality of their other pieces. With a diverse team, the Everlane Twill Weekender created something where all factors were thought of intentionally. Read on for more details on this beautiful weekender:
Specs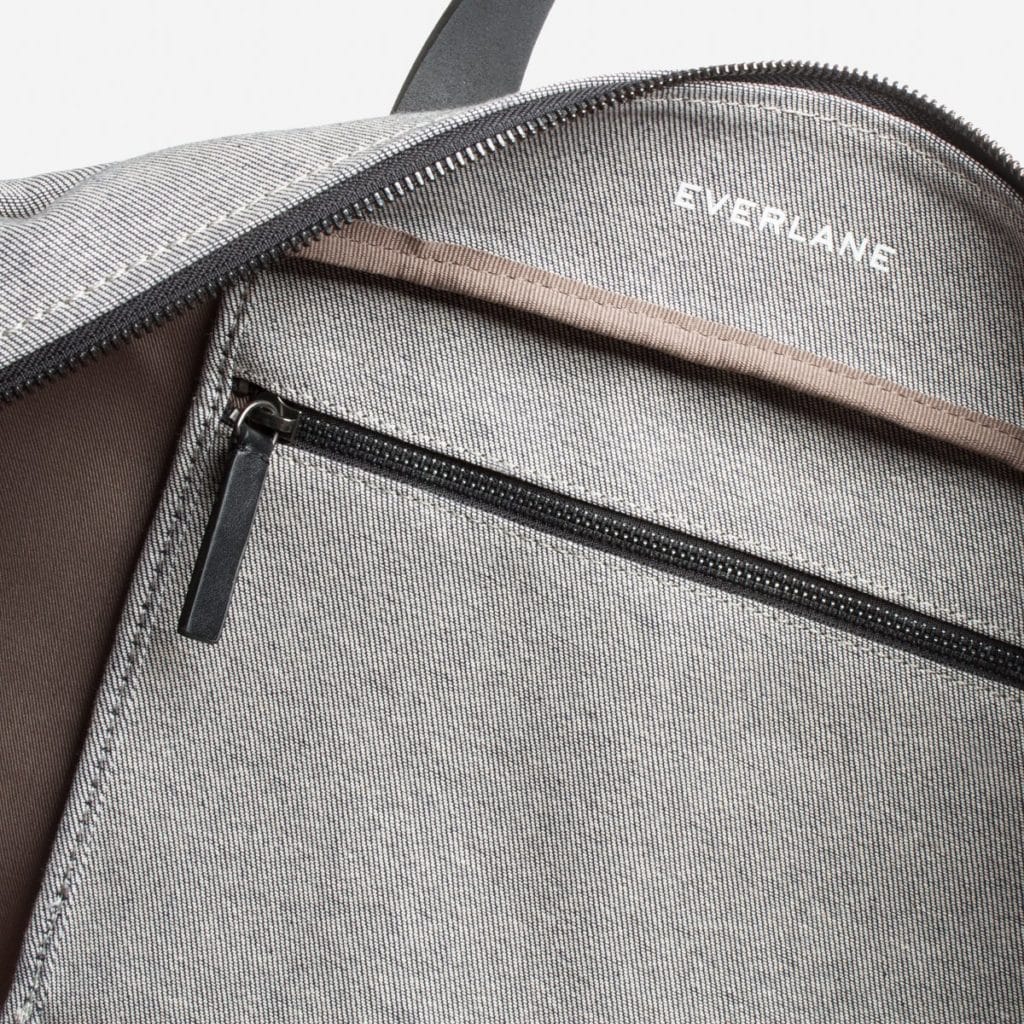 Credit: Everlane
For those who like to travel light, get excited! The Everlane Twill Weekender fits in any overhead compartment. This Everlane weekender bag ranked on top of the best, and not just for being an easy carry-on. The twill weekender has one large, zip-up compartment and a small zip-up pocket in the interior. Everlane bags are effortless.
The inner extent feels spacious enough for those who may want to compartmentalize a bit more. The exterior portion got some love during the development of this bag too. On the base of each luggage, there are gunmetal feet that help protect your contents from scraping the ground. Overall, the dimensions of the twill weekender are 22 inches long, 8.5 inches wide, and 12 inches tall. The shoulder straps drop 12 inches. Everlane kept it straightforward with this weekender.
Design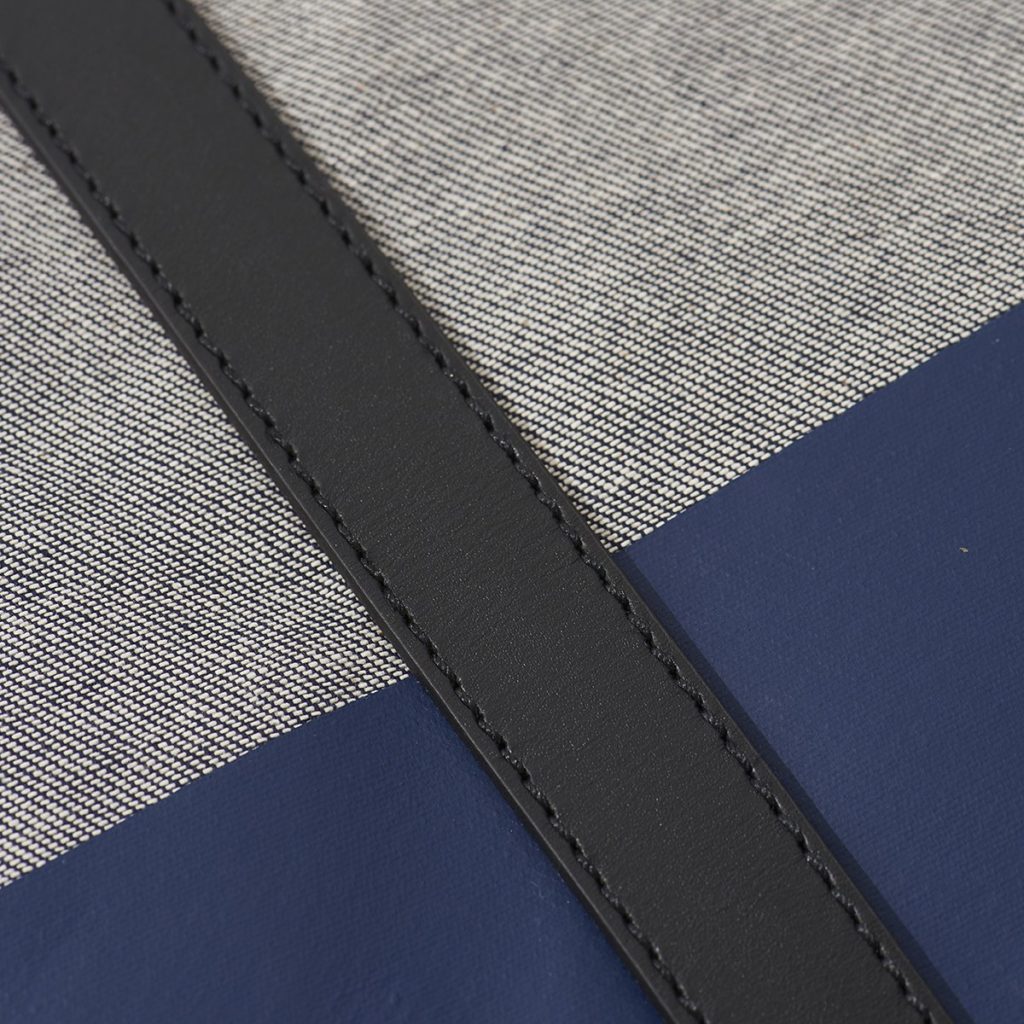 Credit: Everlane
The Twill Weekender fits the appearance of the majority of Everlane's fit. The outside of the bag itself looks sleek and tidy. For those who do not enjoy big brand names pressed across apparel and items, this weekender has you covered. The visible Everlane branding itself stays hidden in front of the interior zip pocket. The Twill Weekender keeps you incognito and others wondering where you got it.
This Everlane Weekender Bag comes in five colors: reverse denim/black leather, navy/black leather, black/dipped black, reverse denim/dipped navy, and reverse denim/dipped black. OKAY, that seems like plenty of the same colors. You are probably thinking, "how many ways can someone design with these colors"? However, do not doubt the possibilities! The designers at Everlane are incredibly good at making the same color palette look fresh.
Development
Credit: Everlane
Remember when we mentioned that Everlane loves "radical transparency"? Yeah, sometimes being honest feels super hard. However, the Everlane team knows that nothing comes easy. Their whole company can walk in confidence knowing that the production of their items occurs in ethical factories with quality materials. On top of that, Everlane also shares what it costs to make each product. No overcharge. No markups.
Everlane's travel bag factory, where the Twill Weekender comes to life, runs at a healthy pace in Dongguan, Southern China. Found in 2004, Eastrade Handbag Co. contains 1100 employees. On their website, you can discover how Everlane partnered with Eastrade. An inspiring written biography and photo series trace each factory that produces Everlane goodies. Everlane may genuinely want to shift some perspective by connecting a face to a product. They may do just that with the stories they tell.
Functionality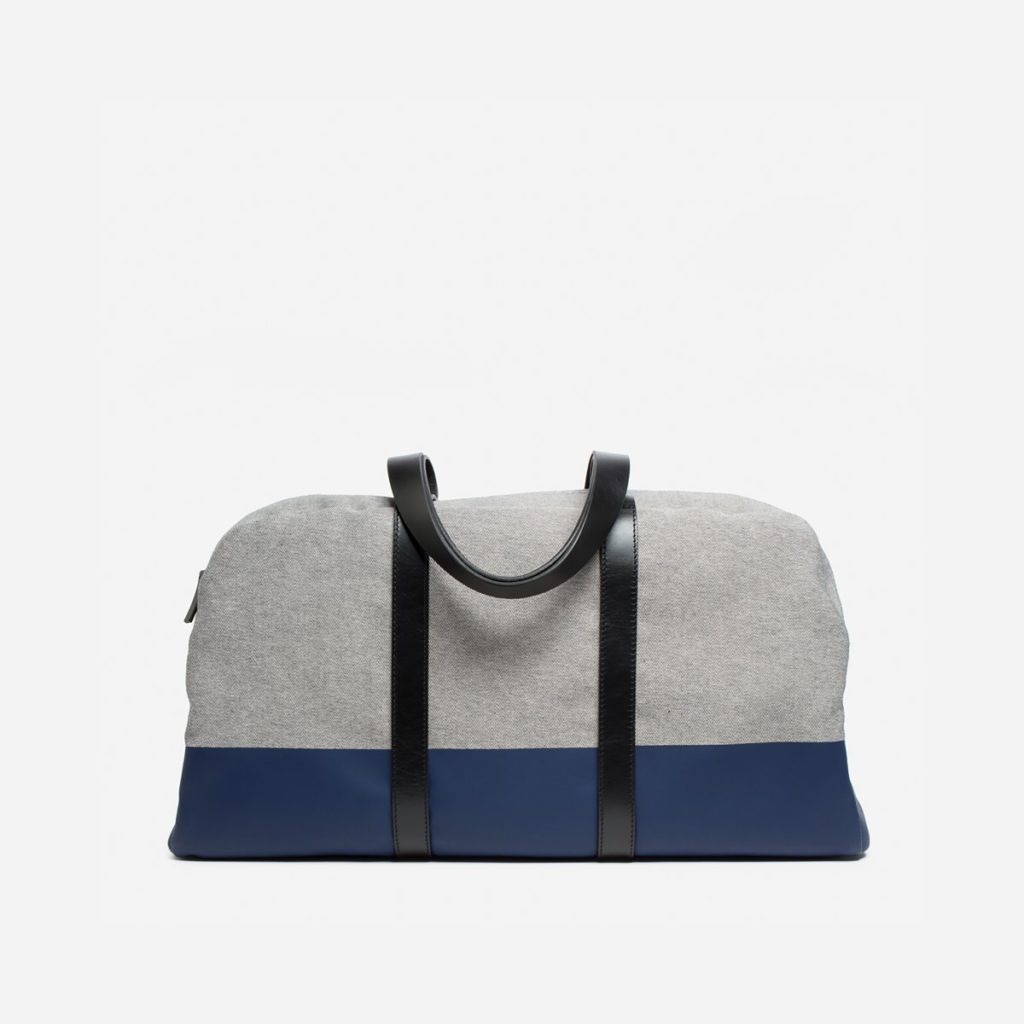 Credit: Everlane
If fabric bag materials bring back haunting memories of stains and dirt, do not turn away just yet! The Twill Weekender does not act like the others. With a durable dyed twill fabrication, the Everlane Twill proves its strength. Each bag also carries with durable leather straps that will endure your adventures. This bag might seem soft, but you can put its resistance to the test.
The Weekenders without a base are 100% water resistant non-slub cotton twill exterior. The rest have a contrast base screen printed 11 times. Yes, 11 times. Everlane did not come to play with a bag that falls apart quickly. The base protects against wet and dirty surfaces. You will not want to put this bag down; but when you do, you can put it down with ease.
What Travelers Are Saying About the Everlane Twill Weekender
Everlane requests feedback once customers purchase a product. They want to hear feedback because they want to improve their service and products. For the Twill Weekender, customers left 256 reviews in total. The average rating gave 4.62/5 stars for the luggage piece. We could keep telling you how great this Everlane Weekender is, or we could show you real reviews:
Everlane Reviews
Five Stars: Best Bag for Anyone, "I love this bag and buy it for every teenager I know graduating from high school and going off to college. It's classic, sturdy, and is perfect for the weekends at home or on the road visiting friends. It suits both men and women and can be customized with patches. I'm told I'm the best gift giver because of this bag!"
Five Stars: Clean, Elegant, Utilitarian, "Basic and timeless, this weekender is everything you need for your everyday travels from here to there. Durable construction and a pleasing design that doesn't brag or beg for attention. All at a price point that leaves a smile on your face after clicking purchase."
Reviews Continued
Fives Stars: Solid, Stylish Bag, Perfect for a Weekend or Week! "Super durable, stylish, and roomy without being bulky. This is a great bag for a weekend or even a full week. I love the little pocket that can fit a water bottle or a few items for easy access on the side. It would be cool if there were one on the other side, but its nonessential. There's another great little zip pocket inside! I'd recommend using packing cubes. It feels like this bag will last me for years to come, and the dark denim with black leather is timeless."
The five-star reviews go on, except for a few who ranked it 3-4 stars for being less room than expected. Overall, safe to say that this bag delivers. The Everlane Twill Weekender met the expectation, and consumers love this go-to piece. With the Weekender, design meets function. Many of these comments sound like they will have a significant and straightforward luggage piece for years to come.
Other Weekender Bags You May Like
The Professional Weekender Bag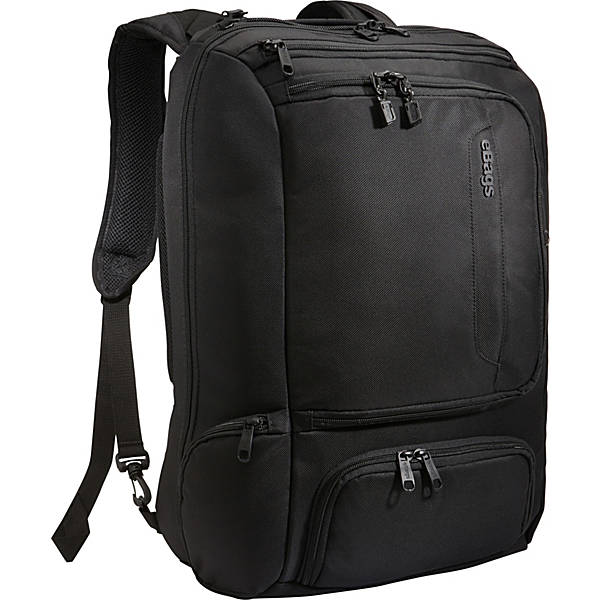 Credit: Amazon
For the seasoned and frequent traveler, you need something reliable and versatile. The Professional Weekender Bag by eBags impresses and runs in the ranks with Everlane's Twill Weekender. The difference being that each bag brings something different to the table. The Professional Weekender feels lightweight and contains a multitude of compartments. The art of organization reaches a new level with this bag.
One of the compartments offers ample room for clothing and intentionally separates this section from the rest of your belongings. In another chamber, a padded neoprene sleeve tucks away your laptop or tablet safe and sound. The front pocket conveniently holds items like tickets, passports, or liquids that may need more immediate access. Want to know the best part about the Professional Weekender? It is TSA approved. Mostly, say hello to effortless airport security.
Herschel Supply Co. Novel Duffel Bag 1-Piece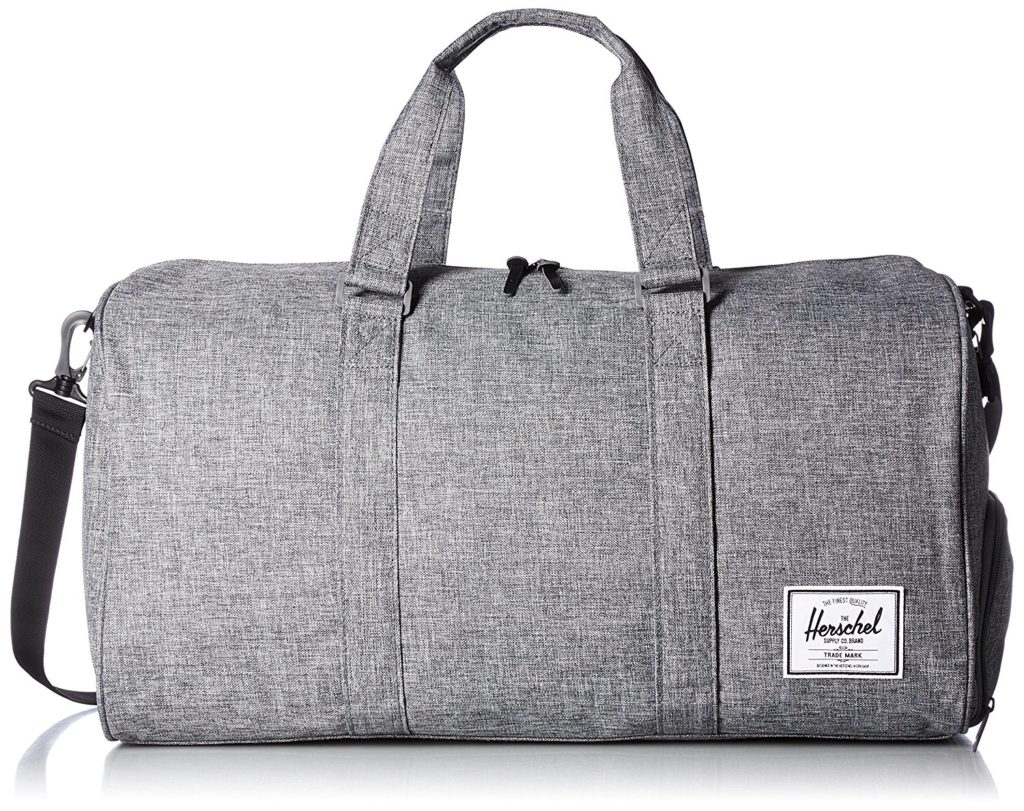 Credit: Amazon
It immediately impresses how many color choices are possible for the Herschel Novel Duffel Bag 1-Piece. This Canadian based company already has a reputation for putting out great backpacks, bags, and other travel goods. There is no surprise that they produced highly rated duffel. Herschel also provides exceedingly detailed pieces that last. In fact, they stand so firmly behind their products having no material or manufacturing defects that they give a limited lifetime warranty.
The warranty itself covers regular wear for the duration of the original purchaser's lifetime. The Duffel 1-piece contains fewer compartments in comparison to eBag's Professional Weekender. This weekender gives a good in between for people who want a little bit of organizational structure. This bag contains Herschel's signature fabric liner, a two-way waterproof zipper, and a smart shoe compartment. Customer's reviewed the Herschel Novel Duffel 1-piece 4.2/5 stars; this one grabs the trekker's attention.
Filson Medium 25″ Duffle Bag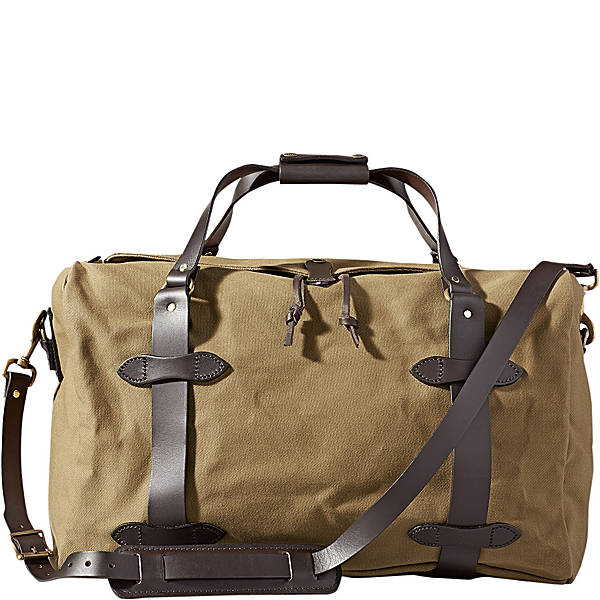 Credit: Amazon
This duffel bag may price out more than the others, but you may deem it worth the cost. The Filson Medium 25″ Duffle Bag ranks 4.5/5 stars and comes in more earthy tones: tan, desert tan, and otter green. Made in the USA, this leather comfy carry zips up with a two-way brass zipper. This robust, water-repellent option will last its user for many trips.
Whatever the trip, the Everlane Twill Weekender can take it.
If you love to travel light and if you enjoy simplicity, Everlane has got you covered. This quality bag- and its alternatives- will help people go with less stress. Having this reliable bag can change our packing habits; maybe even the culture of Everlane can also influence our consumer habits. Do you have an Everlane Twill Weekender? What are your thoughts on this bag? Leave your comment below!
Related Article: Best Weekender Bags for Travel in 2018
Insert Symbol or Content Template