The Kelty Redwing Backpack will keep you adventuring. 
Stay adventurous with the Kelty Redwing 50 Travel Backpack. With plenty of helpful features, you can be sure that nothing about this backpack will hold you back from the adventure you're looking for. Easily pack your belongings for short or medium length trips. You won't have to worry about this backpack breaking down on you, whether you're cramming it full in the airport security line, or out in the middle of the woods. If you want a hassle-free trip, carry your belongings comfortably on your back. The Kelty Redwing 50 has you covered with what we know is important for travel as an adventurer: lots of space and good packing compartments, durability, and features for added comfort.
The various pockets and zippers prove that Kelty Redwing 50 creators know exactly what it's like to live out of your pack for a trip. Furthermore, Kelty Redwing 50 creators understand that you don't plan on wheeling your belongings along city sidewalks, but rather you'll be hiking, or walking, or just plain moving around a lot. Therefore, they've made sure that you won't have to stop your adventure because of an uncomfortable pack. 
A little about Kelty Redwing Backpacks
Credit: Kelty 
Kelty Redwing has made their backpacks for the true adventurer. You'll find pockets meant for ice axes or hiking poles, and other pockets intended for quick access for rain gear. The dual-use pocket that serves as a hydration sleeve, or laptop pocket shows that Kelty Redwing knows the modern traveler needs a versatile pack. Whether you're headed to a conference in San Francisco, or a hiking excursion in Switzerland, the Kelty Redwing backpacks have you covered. The sizes available mean that you can use this backpack as a weekend bag, or pack it full of survival gear for a short backpack trip. The Kelty Redwing 50 pack, specifically, is prepared to be your companion in the wilderness while not wearing you down. 
With a headquarters in Colorado, the Kelty company has placed itself right in the adventure state. Since 1952, they've been officially creating outdoor gear for the adventure enthusiast. 
Kelty Redwing Backpack Features and Benefits
The Kelty Redwing PerfectFIT Suspension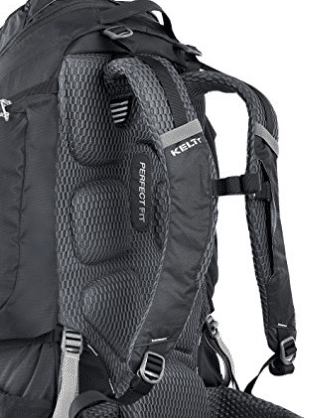 Credit: Kelty
The Kelty Redwing Backpacks can guarantee a comfortable fit thanks to their PerfectFit Suspension. Part of this system features many adjustment straps, to help pull the backpack snug in different areas. Of course, the hip belt is adjustable, as well as the shoulder straps. However, that's not where it stops. The load lifters are located on the top, and can be pulled in while the backpack is on. On the lower left and right sides, you'll find more adjustment straps. The shoulder straps are on a track located at the top of the backpack. Once the pack is on, you can pull on the lower adjustment straps, and the top of the shoulder straps will pull snugly against you. The load lifters that you can pull from the top draw the top of the backpack closer to you. This  helps to settle the weight on your hips, rather than force the pack to away at  the shoulder  straps.
The U Zipper Design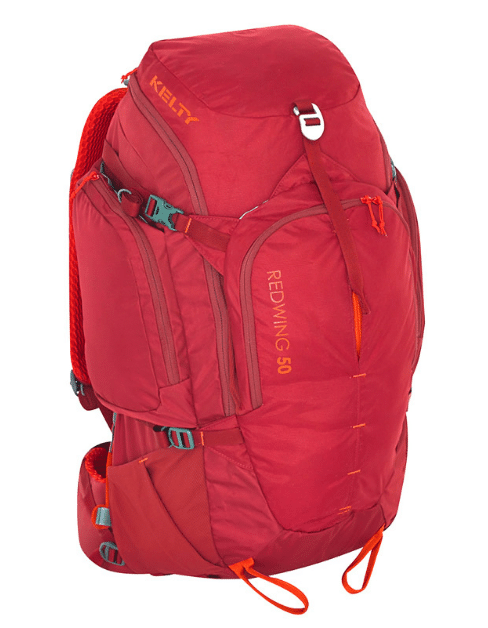 Credit: Kelty
If you've ever spent some time living out of a backpack, you'll understand the inconvenience of digging down through the top of your bag to find your rain jacket on the bottom. Thankfully, the Kelty Redwing features a hybrid-loading U zipper design. This means that you can unzip the top to access belongings there. Or, you can also continue zippering further down and unveil the clothes deeper down. Since you'll be packing light for these backpacking trips, you'll be accessing most of your items frequently. Therefore, it'll be nice to have that longer zipper to make the bag more accessible. 
Plenty of Pockets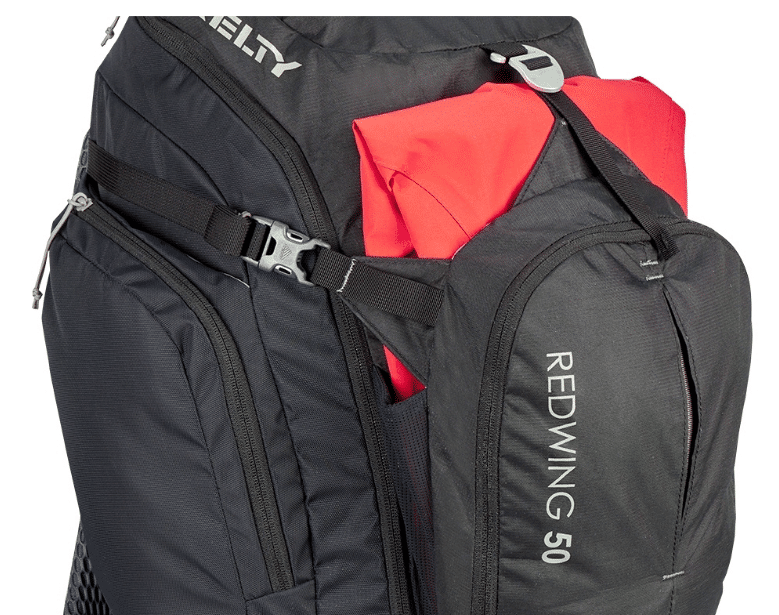 Credit: Kelty
Of course you understand that a trustworthy piece of luggage means that you can locate your items quickly. No more digging through with the Kelty Redwing 50. In addition to the U zipper which provides great access to the main compartment, you'll also find some excellent options for external pockets. This is one of our favorite things about the Kelty Redwing 50 backpack. You'll find dual side pockets and a front pocket with organization. Plus on top, there's an additional stash pocket that's great for a thin extra jacket. The hydration bladder pocket within also serves as a padded laptop compartment (talk about making this space efficient!) Side compression straps help to draw everything in together. Kelty proves they understand what it's really like to be an adventurer through the addition of these details: the slip-through outer pockets hold long things (poles or axes) and the daisy chain to hook things to.
Stretch Front Pouch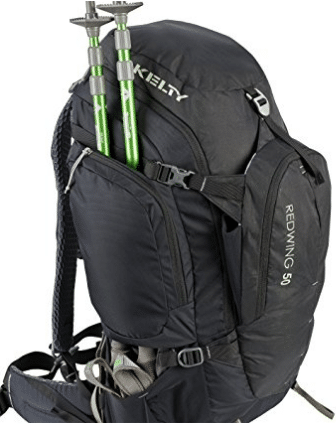 Credit: Kelty
Behind the front zippered pocket, you'll find a bonus stash pouch. This is not a zippered pocket, but it's a nice addition for storing books, maps, or perhaps a smaller, folded daypack. We appreciate that the Kelty Redwing offers this pouch when many other backpacks don't have something similar. The side compression buckles pull it in snugly, and the top is secured with a top strap. 
Comfortable, Strong Support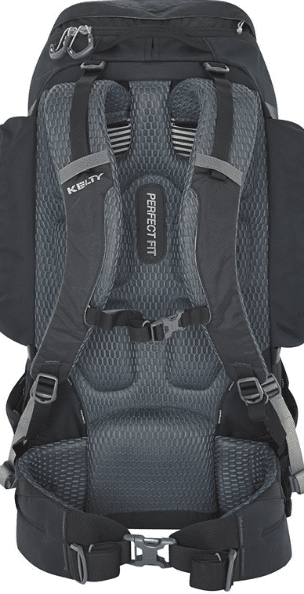 Credit: Kelty
The frame material is aluminum plus HDPE which helps contribute to the backpack's lightweight feature (3 pounds 11 ounces to be exact). The Lightbeam patented single aluminum stay help provide the support for the Kelty Redwing Backpack. Not only is the backpack strong, but it is also comfortable. The Dynamic Airflow back panel helps to keep you cool. The back is padded, yet ventilated. Plus, since the shoulder straps ultimately help out the weight on your back. In addition, you will find these add to the comfort, too.
What Other Travelers Are Saying About the Kelty Redwing 50
Travelers generally love the Kelty Redwing 50 Backpack for its great use of space, as well as its level of comfort. The size is just right for travelers looking in this category. The exact use of the bag depends on your packing needs, since some can use this for a 4-5 day backpacking trip. For others, it might be too small for that length. Some have even reported being able to use it as a carry on piece of luggage, although that will depend on specific airline requirements. This backpack could serve as an excellent backpacking backpack to travel to Europe, and many reviewers have done just that with this pack. Many adventurers appreciate the easy access to belongings in the many compartments and pockets. 
Alternative Kelty Redwing Travel Backpacks
Kelty Redwing 50 L Tactical
Credit: Kelty
This backpack is very similar to the Kelty Redwing 50, but advertises a more rugged, military feel. Therefore, this is more so intended for deep-woods adventuring. There are adjustable, military style straps on the back. This backpack weighs about six ounces more than the Kelty Redwing 50. This pack still has a laptop strap, and it also has three tool loops. There are no mesh pockets on the outside, and this backpack comes with "low profile colors for blending in." These colors include black, green and navy. 
Kelty Redwing 44 L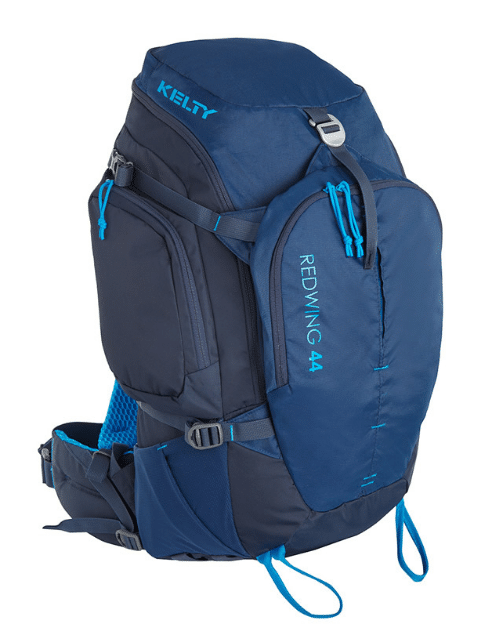 Credit: Kelty 
This smaller version of the Kelty Redwing 50 Backpack is a nice option for those looking for a slightly smaller pack. Some travelers with smaller statures appreciated the smaller size, and were able to pack this bag comfortably with about 25 pounds. The smaller size also means that it may be more useful as a possibly carry on backpack. Like the Kelty Redwing 50, this bag offers great organization in the various pockets. Reviewers suggest that this backpack isn't built for someone with a waist greater than thirty six inches. This backpack is built very much like its bigger brother. It has a sturdy, comfortable frame for support, and the same pockets. The difference is the 44 liter size. 
Kelty Redwing 32 L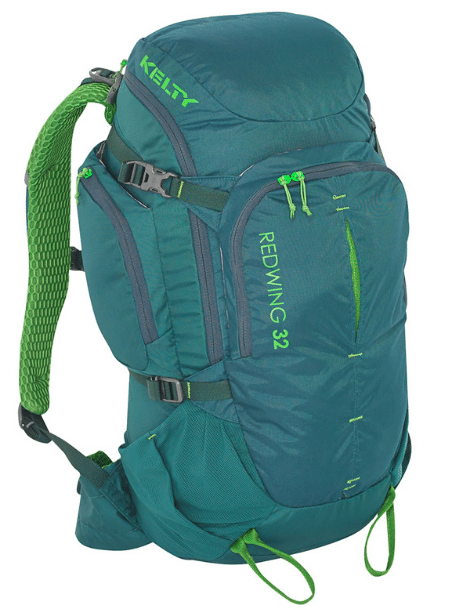 Credit: Kelty 
This sized-down version of the bigger backpacks still offers the usual Kelty durability and comfort. Its great as a day pack when traveling, or as a hiking bag for day-long hikes. The full access U zipper means that you won't have to dig for your belongings through the top. The nice side pockets and front pockets allow you make the best use of these 44 liters of space. You'll still find the HDPE frame for rigidity. Plus, you can adjust with various straps so this pack fits comfortably on your back!
The Kelty Redwing Backpack Keeps Your Adventure Going
All in all, the Kelty Redwing 50 backpack is a great pack for your future adventures. You can rely on this bag's durability and comfort. You can be sure this backpack won't allow any inconveniences to arise and ruin your trip. The Kelty Redwing 50 backpack offers that great internal space for trips, or choose a slightly smaller size if you're able to get away on a shorter trip or packing less. We love the many pocket options (and the cargo-like look those pockets add to the bag). Plus, use the backpack's loops and straps in whatever ways fit your unique needs! 
Related Article: ​​​10 Best Travel Backpacks Of 2018 For Your Next Adventure​​​