Brighten someone's day-for any occasion- with these great gifts under $10.
I personally really like to give gifts that are unique to my friends' personalities or preferences. Even better, sometimes I'll find something that pertains to an inside joke, such as the fact that she can't keep a plant alive (see below for a solution to that!). Additionally, I'm also a big fan of giving gifts "just because." And there's no better way to do that than with these great gifts under $10. For these prices, you can send some love to brighten someone's day, simply for no reason other than that! Let's send a little more love via cute gifts, and it's easy with these inexpensive gift ideas. Check out these great gifts under $10.
A No-Maintenance Succulent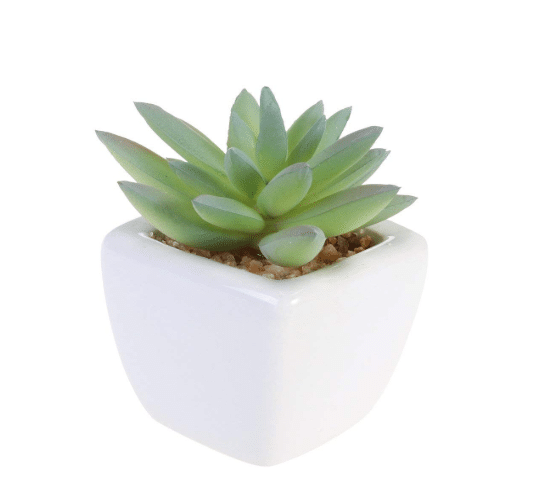 Credit: Amazon
Sure, succulents require a minimal amount of care, but you know what's even better? A houseplant with absolutely no work required, this fake succulent is a great gift! It will brighten a windowsill or desk. It's one of the great gifts under $10 since it's inexpensive, yet thoughtful and likely greatly welcomed by your friend. It looks realistic and comes in the simple white flower pot. There's no mess since there is no dirt, stones, or water. The succulent and pot measure about three inches high. It's just the right size to be adorable without taking up too much space. Even better, it looks real, but you actually don't ever have to water it! Therefore, it is a great gift under $10.
A Cute Dish Towel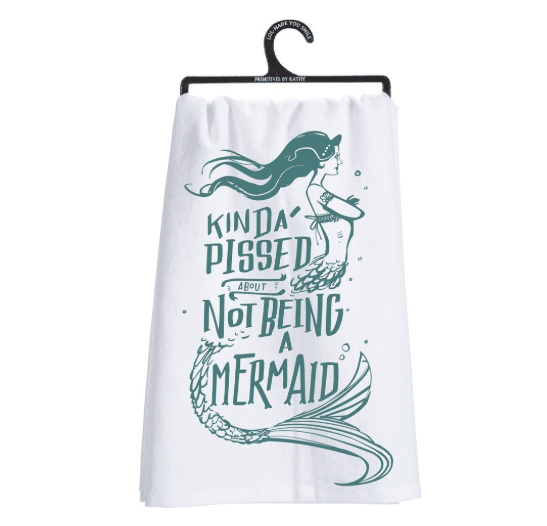 Credit: Amazon
Dish towels are a fun way to add some personality to the kitchen! Plus, it's always nice to have a few extra on stash. This dish towel, reading "kinda pissed about not being a mermaid," is just one of the various options from Primitives by Kathy. Other options include sassy wine quotes, or even mom's sayings that would make this a great mother's day gift. It is 100% cotton and measures a 28-inch square. What a fun way to show a friend you're thinking of him or her! Pick out a saying or a style that'll match a friend's favorite things, and this kitchen dish towel will be a new favorite gift! It's an inexpensive gift that'll brighten up a kitchen!
A Luxury Lip Balm Set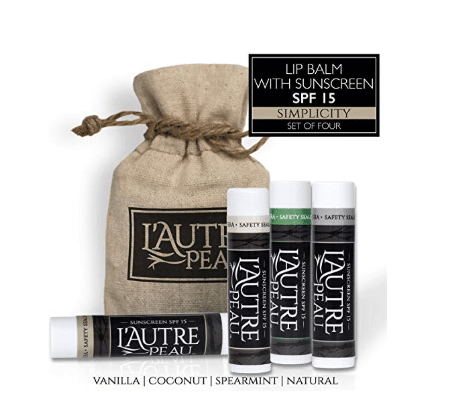 Credit: Amazon
Lip balm is always a welcome present. What a great way to share a present with a friend. This whole set presents really nicely since the four lip balms come in a cute little sack. Furthermore, there are four different flavors included in the set: vanilla, coconut, spearmint and natural. Each one leaves your lips feeling luscious. Even better, this gift is well under ten dollars, and you can even give a different flavor to four of your friends! This makes a really cute "thinking of you" gift. The lip balms have both vitamin E and aloe vera in them. They're great for protecting your lips against the sun. In fact, they have an SPF of 15. Lastly, there's another set of lip balms also from L'AUTRE PEAU if you'd prefer a different set of flavors. These include green tea, Asian pear, honey, and pomegranate. Yum!
A Pretty Notebook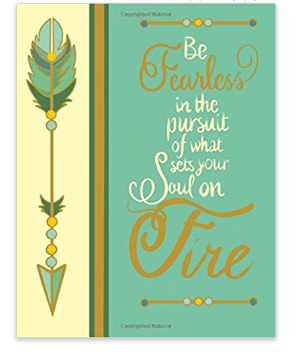 Credit: Amazon
There are so many options to gift your friend a unique notebook. We love this one because of the inspiring message on the front. Therefore, it not only becomes a notebook for your friend but a reminder to be inspired. This notebook is a great way to remind someone that you care about them, and you're rooting for them! This one is inexpensive and measures 8.5 by 11 inches. We appreciate that this larger size means it's easy to carry around with other papers or folders in a backpack since it won't fall to the bottom and get smushed. Inside are 100 pages to fill with thoughts, lists or ideas. For other cute notebooks, check out these great travel notebooks.
A Colorful Keyboard Cover
Credit: Amazon
This keyboard cover is one of the great gifts under $10. It's a nice soft silicone that fits nicely over a Macbook Air or a Macbook Pro. Additionally, there are so many great colors and patterns to choose from! You will likely be able to find something that your friend will love, or even seems personalized for him/her. It's a great, inexpensive gift that'll brighten someone's day as she or he types away at work. You can find lots of different shapes and sizes for various laptops, too. It's not only about being pretty, though. This keyboard cover also helps prevent dust and crumbs from entering in the cracks. Therefore, you can help your friend out by gifting a cute keyboard cover!
A Fun Bumper Sticker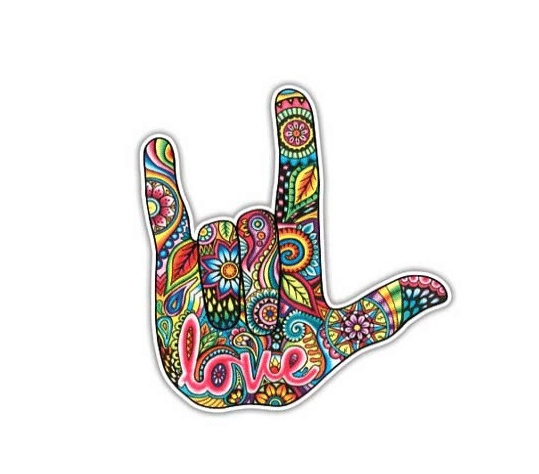 Credit: Amazon
A bumper sticker is one of the great gifts under $10 because it's not something that's totally necessary. The point is to add a little style and fun to a water bottle, car, laptop, or anything, really. And that's why it's a great gift! You can never have too many, and it's a simple way to bring some fun and happiness to someone's day. We think this one specifically is super fun and colorful, but you can pick from many different designs that will capture your friend's style. Even better, it's easy to gift to a friend far away; just send it in an envelope! Therefore, buy a couple of these fun bumper stickers to mail to some faraway friends.
A Sassy Throw Pillow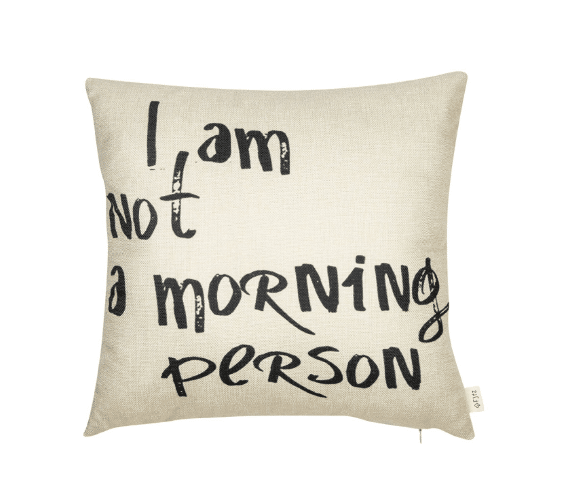 Credit: Amazon
Throw pillows don't have to be the exorbitant prices that you find in upscale home catalogs! Throw pillows can be an inexpensive way to display some personality in your home. It's one of the great gifts under $10, well, because it's less than $10. But even better, it allows you to personalize a gift for a friend. Maybe you can find one that seems to perfectly describe your friend, whether it's a saying or a favorite animal. This one specifically reads "I am not a morning person." (Maybe you and your friend can relate!) It's linen. Additionally, throw pillows are an easy way to change up the style in your home, or room, so you can never have too many throw pillows! We like the script and saying of this throw pillow, but there are so many decorative pillows that make great gifts under $10.
A Cute Love Knot Bangle Bracelet
Credit: Amazon
We love that this bangle bracelet is simple, with a little "twist." The knot design in the bracelet makes it so that you can wear this on its own, without other bangles. Or, add a few bracelets to your arm in addition to this one. The bracelet is adjustable (just squeeze it tighter, or pull to open wider). It's elegant, and decent quality for a gift under $10. This piece of jewelry even comes in a cute little gift box, making it a perfect present. Pictured here is the rose gold option, and it's beautiful and shiny in person! It makes a great present to let a friend know you care.
A Self-Watering Bird Glass Bulb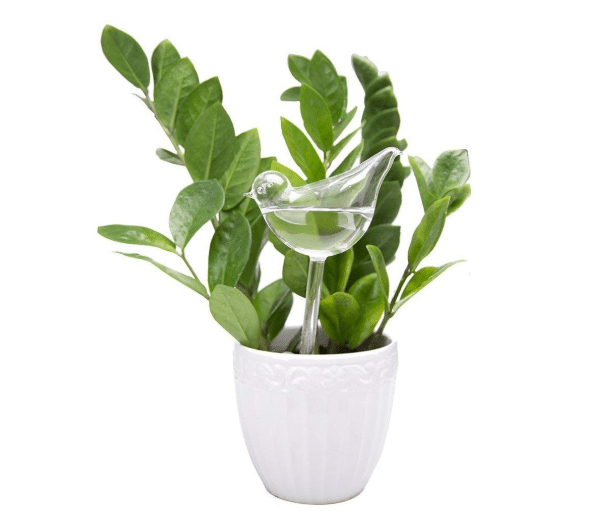 Credit: Amazon
Have a friend who jokes about not being able to keep a plant alive? Help that person out! This cute little clear glass bird holds water inside. Fill it up, stick the tube into the soil, and the water will release over one to two weeks to keep the plant watered! Plus, it's a cute house plant decoration, and it's a unique gift for under $10. This self-watering glass bulb would be a great accompaniment to a houseplant that you could gift your friend. You can fill about six ounces of water in this one, so it's suitable for a small plant, or you can purchase a pack and use multiple for bigger plants, or share them with a few friends!
Corgi Socks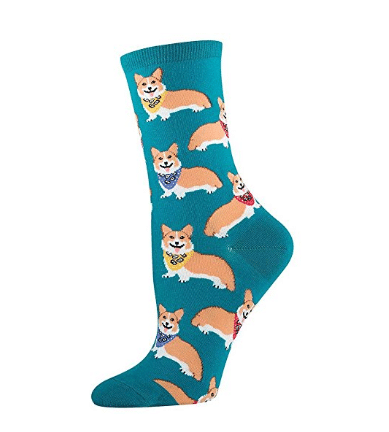 Credit: Amazon
Okay, so you don't have to pick the Corgi dog socks specifically, but how cute are these? Socks are always a fun gift, especially since they seem to get lost in the laundry so often and are therefore in high demand. Any socks from Socksmith make a great gift (and in this case, a gift under $10) since they feature tons of patterns, prints and styles that will reflect whatever your friend loves. Perhaps you can find some that represent an inside joke, or just something you know your friend is oddly crazy about. Of course, there's always these Corgi ones specifically. These are mostly cotton, with nylon and spandex for some good stretch. They fit most women's shoe sizes and are designed in California!
These great gifts under $10 are an easy, inexpensive way to cheer up a friend, or simply celebrate your friendship!
A little bit of love can go a long, long way. What better way to show it than with something tangible. Add some color and style to their keyboards, cars, kitchens, or gardens. With these gifts under $10, there's no reason not to send a little present to a friend or two. Additionally, you could stock up on some of these inexpensive gifts, so when a birthday comes along, you won't be scrambling last minute.
Related Article: ​Cheap Gifts Your Travel-Obsessed Friend Will Treasure​​​