Your friends, family or coworkers will love these super budget-friendly, travel-inspired gift ideas.
We get pretty excited about all the fun travel trinkets out there. From wanderlust quotes, to travel accessories, we're sure your travel-loving friend will enjoy some of these cheap gifts. Perhaps you're celebrating a birthday, a friend's upcoming trip, or just your own love of travel. These cheap gifts are so inexpensive that you won't even need an occasion to buy them! It's fun to have some home decor for the times you aren't traveling, as well as items that will make your travel a bit smoother. Take a look below for gift ideas for both men and women who love to travel. Find the exact products on Amazon, and buy ones for yourself, too.
Travel Journal
Journals always make for great cheap gifts! This leather "travel journal" is a great gift for anyone. That's especially the cool part; the stamped leather exterior is a sophisticated look for both men and women. The stamped compass and medallions hanging from the edge give it a look that's personalized for the travel-loving friend. Plus, the inside is filled with 160 non-lined pages. Therefore, it could serve as a mini sketchbook or journal since creativity won't be impeded. Pick out your friend's favorite color with the various colors they offer.
The price may vary, but this nice-looking, cheap gift shouldn't cost you more than about ten bucks. Despite its low cost, this specific journal is pretty high-quality. The inside features pages bound in six spiral rings. Unclip the rings and you can pull out pages in any order. Your travel-loving friend will likely need a place to jot down travel adventures, keep a bucket list, or take notes for an upcoming trip. If you're looking for cheap gifts under $5, there are plenty of journal styles for that low cost, too.
Scratch-Off Travel Map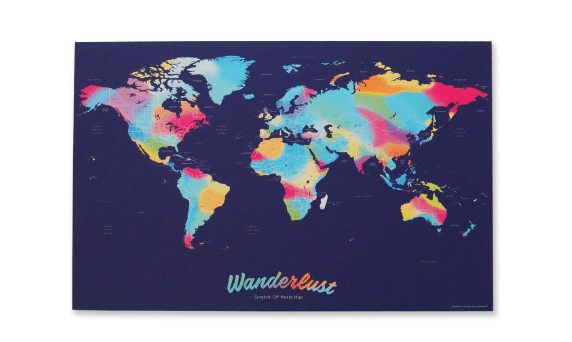 Those who are well-traveled often have some great stories (and perhaps bring those up quite often). For those true travel lovers, there's always the list of "been-to" destinations and "next-up" places. Help your friend celebrate his/her travels with this travel map. The map's background is navy, and countries are covered in gold paint. For each destination visited, your friend will get to scratch off the gold paint covering that country and reveal the colors underneath. (That's one of our favorite things about this map specifically; we like the vibrant color combinations upon scratch-off). The outlines of the countries are clear before you scratch-off, so that way you get ensure the exact shape. Once the gold paint is etched off, you'll be able to clearly display which countries you've visited.
Additionally, this map even comes with its own scratch pen, and five stickers to add to a water bottle or guitar case. This specific map is quite large, at 16 by 24 inches. The one pictured above doesn't come with a frame, but you could purchase separately. You can find alternative sizes for scratch-off travel maps if you're looking for other cheap gifts that are slightly less in size and therefore cost. Either way, a scratch-off map is a thoughtful gift for your travel-loving friends since they can celebrate their travel destinations.
World Map Passport Cover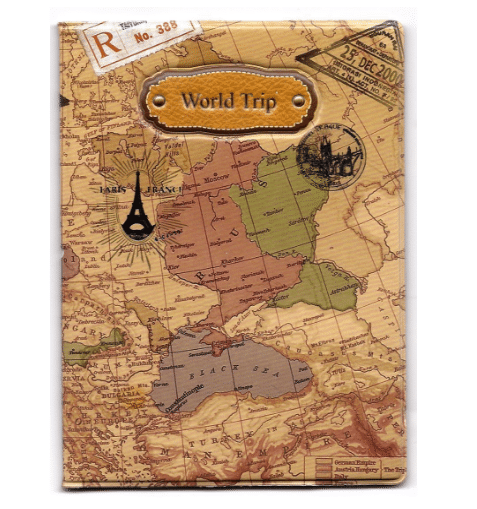 Here's another great cheap gift idea for your traveler: a passport cover. It's useful because it'll protect against bend corners, water damage and an unraveling spine. Secondly, it'll help make the passport easier to locate in a purse or backpack with other items. Therefore, you can show your friend that you're supporting them as she's out to travel the world! The fun pattern (the vintage-looking world map) gives a pretty ordinary object some extra flair. And perhaps the best part: you can find a passport cover for under ten bucks! You could even combine the passport cover with another of the cheap gift ideas for a whole collection of travel goodies!
A Guide Book for an Upcoming Trip
Lonely Planet writes some excellent and thorough travel guides. If your travel-loving friends are headed somewhere soon, purchase a book for them as one idea for cheap gifts. Sure, we realize that you can research a place online, but there's something still special about having a book, complete with vibrant photographs. Additionally, travel guides often have super handy pull-out maps. Plus, if your friend is in a foreign country, there won't necessarily be access to the internet. Therefore, carrying either a little pocket guide or referring to the larger book will be helpful! Lonely Planet covers many destinations (Italy, Thailand, Paris, to name a few) in addition to featuring some beautiful photography in their general travel inspiration books.
In addition to its use during a trip, the books are fun to display afterwards. They serve as a collection of the places visited. You can find most destination-specific books (ie "Lonely Planet Guide to Ireland") for between ten and twenty bucks.
Cute Luggage Tags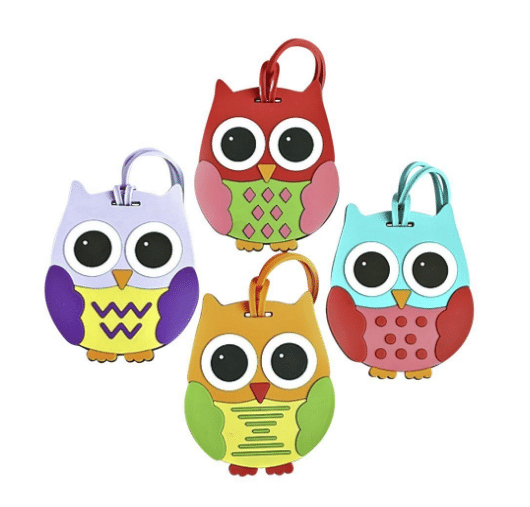 Who won't love these super-cute owl luggage tags? For anyone who's watched all the solid black carry-ons rotate around the airport carousel, you'll know the importance of a luggage tag. Your travel-loving friend will especially love these. The little pop of color will make it easy to identify a piece of luggage. Additionally, the little owl still features a clear window on the back, to reveal the owner's information. Even if your travel-loving friend isn't into owls, personalized luggage tags make great cheap gifts. Amazon also offers a plethora of fun luggage tags, adorned with favorite sports teams, colors, or shapes. With so many colors and patterns out there, your friend will be able to add some style to all of his/her bags!
Wanderlust Necklace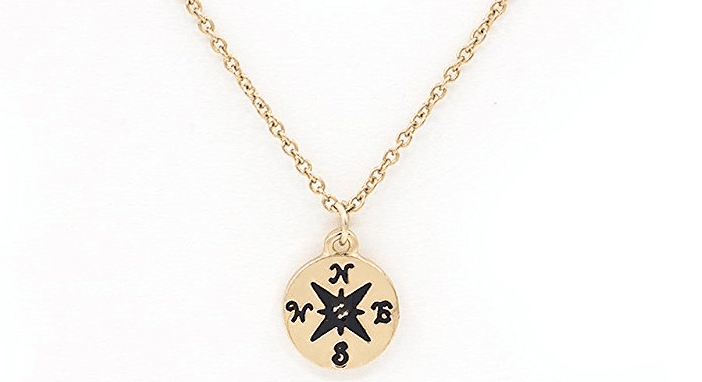 Jewelry designed for travel-lovers makes for great cheap gifts! You won't need to spend an enormous amount of money to find a necklace that celebrates your friend's love for travel. This little pendant, featuring a compass, is a pretty little accent. This necklace comes displayed on a well-packaged card, encouraging your friend to "go confidently in the direction of [her] dreams." It has a lobster-claw back, and the chain isn't cheap-looking, despite the nice price of under twenty bucks. Amazon also offers a variety of jewelry for explorers and travelers. You can find bracelets with wanderlust quotes, or mountain-shaped rings and necklaces. Your travel-obsessed friend will surely welcome any travel-related jewelry, or any "wanderlust" necklaces or bracelets.
Wood Hanging Display (for Postcards)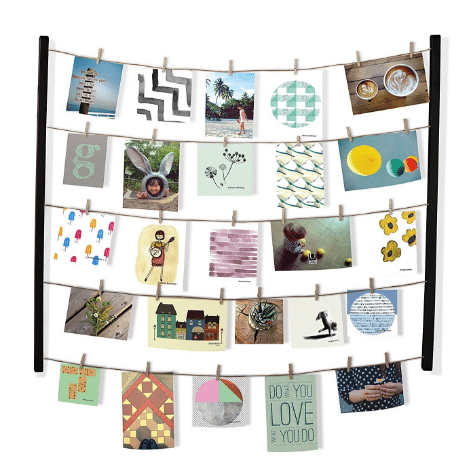 Postcards, in our opinion, make for great souvenirs. They're practically weightless, which means you won't have to worry about that fifty-pound limit on your return flight. Plus, it's a fun collectible to bring home from every destination you've visited. You can encourage your travel-loving friends to start a postcard collection, and then use this hanging frame to display them. While this frame is advertised for hanging pictures, the clips mean that you can hang postcards in either direction and of any size! Additionally, your friend could hang other memorabilia from his/her travels: tickets, photos, postcards, letters, etc. The frame is easy to assemble and mount. It comes with the wooden pieces, cord and mini clothespin-type clips to hang your postcards. Your friend will love being able to display postcards, and you'll love that these are cheap gifts.
Sleep Eye Mask
Show your friend some sympathy regarding an upcoming long flight. That red-eye isn't going to have any shut-eye without some sleep. Get your friend an eye mask as a going-away gift. This unique gift idea is pretty practical. Perhaps a coworker, relative or friend has an upcoming trip. This is a great way to show you've been thinking about him or her. Plus, these specific eye masks make great gifts under $5. Or, if you're willing to stray a bit beyond the five dollar gifts, you can find some silk or contoured eye masks for still under ten dollars.
Wanderlust Bumper (or Laptop/Water Bottle) Sticker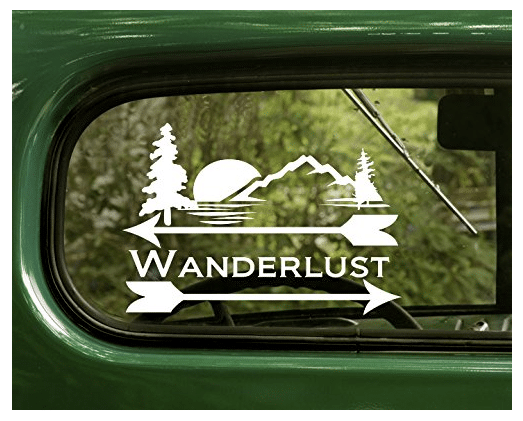 Here are some more thoughtful, yet cheap gift ideas: bumper stickers! These "wanderlust" stickers are great for both men and women. Their cool design features a sun, the mountains, and arrows pointing east and west, framing the word "wanderlust." It's a fun way to claim your identity as a travel-lover. Get these cheap gifts for friends so they can stick them on their cars, water bottles, laptops, guitar cases or travel journals! These are great gifts that could be under five dollars. Amazon also offers other designs with compasses, travel quotes, and mountains. Pick out some of your favorite stickers so your friends can start decorating.
These Travel-Inspired Gifts are Cheap Enough to Buy for All Your Friends, Plus Yourself!
These cheap gifts show your friends you've been thinking about them; you care about the memories they create while traveling, and you want to support their love for travel. Any of the low-cost gift ideas above will surely be welcomed by those who love travel.Plus, it's a perk for you that they're not super costly! It's likely those friends don't have these items already, or could always use more. Buy some of these little gifts to have ready for your friends' upcoming birthdays or travel! They're sure to be much appreciated.
Related Article: ​Gifts for Travelers: The Ultimate Gift Guide​​​