Give the gift of coffee to those you love most.
Everyone likely knows someone who is a caffeinated liquid connoisseur. You know, that person who treats the coffee pot like their personal mug. Or perhaps the one who forever has a Starbucks latte in hand, made to their exact specification. When it comes to buying gifts for these sort of people, you are in luck. There are so many coffee related products out there these days. Of course, this can be a bit overwhelming when trying to pick out the perfect thing. Let us help simplify your search by featuring our favorite gifts for coffee lovers. At a range of prices, you can choose a gift that fits your budget just right.
These Gifts for Coffee Lovers Are Sure to Please
Driftaway Coffee Subscription
Credit: Driftaway
This is the kind of gift your coffee loving friends will rave about. What better way to share the love of coffee than to have it sent to your caffeine fanatic's own door? Consider signing your friend up for a Driftaway Coffee subscription. Driftaway Coffee is unique because it personalizes the coffee bean experience to suit your fancy. Conviniently, the first order you receive from Driftaway Coffee is a sample pack of four different coffees. The variety of blends each offer a different roast for you to try. Once you have an idea of your personal taste preference, you can let Driftaway Coffee know. From then on, you can expect them to send only your favorite coffees to your doorstep. Keep in mind that they only ship whole bean coffee, so you or your friend will need a coffee grinder.
KRUPS F203 Electric Spice and Coffee Grinder
Speaking of freshly ground coffee, this accessory is the perfect addition to your friend's coffee collection. If they are not already grinding their own coffee on the regular, this is a chance for them to step up their game. Coffee grinders allow you to purchase whole bean coffee, and then grind it fresh as you need it. This ensures that the flavors are as bold as possible. The KRUPS F203 Electric Spice and Coffee Grinder is an ideal grinder to begin with and one of the best gifts for coffee lovers. This petite coffee grinder makes the perfect beans in seconds. Its compact size helps minimize counter space and makes it easy to take along on the road.
Buluh Organic Bamboo Drinking Straws
Drinking coffee is good for the soul, but less beneficial for your teeth. If left unchecked, coffee can stain your pearly whites. Of course, you can take necessary precautions against this to avoid tooth discoloration. One such way is to use a straw when drinking coffee. To avoid upsetting the environment, consider using a eco-friendly straw. These organic bamboo drinking straws are the perfect solution. Bamboo drinking straws are among the most unique gifts for coffee lovers. The benefits of these straws are twofold, not only do you get to help the environment but you can also prevent discoloration of your teeth.
Nespresso Pixie Espresso Machine by De'Longhi
A little on the pricier side, the Nespresso Pixie Espresso Machine by De'Longhi is the ultimate luxury gift. This single serve espresso maker offers an avant-garde design. Enjoy freshly brewed espresso, right from the comfort and convenience of your own home. The water heats in under 30 seconds and has two settings for Espresso and Lungo. Now you can be your own barista and create magnificent specialty coffee beverages right at your counter.
Black French Bulldog Mug
Credit: Vistaprint
What person doesn't smile at the sight of a French Bulldog wearing glasses? There is really no better way to begin your day than with this dapper puppy adorning your mug. With Vistaprint, you can also personalize this mug for that special someone. This is one of the cutest gifts for coffee lovers. Make the gift that much better with a heartfelt greeting, or even your coffee lover's name inscribed on the outside.
OXO Good Grips Cold Brew Coffee Maker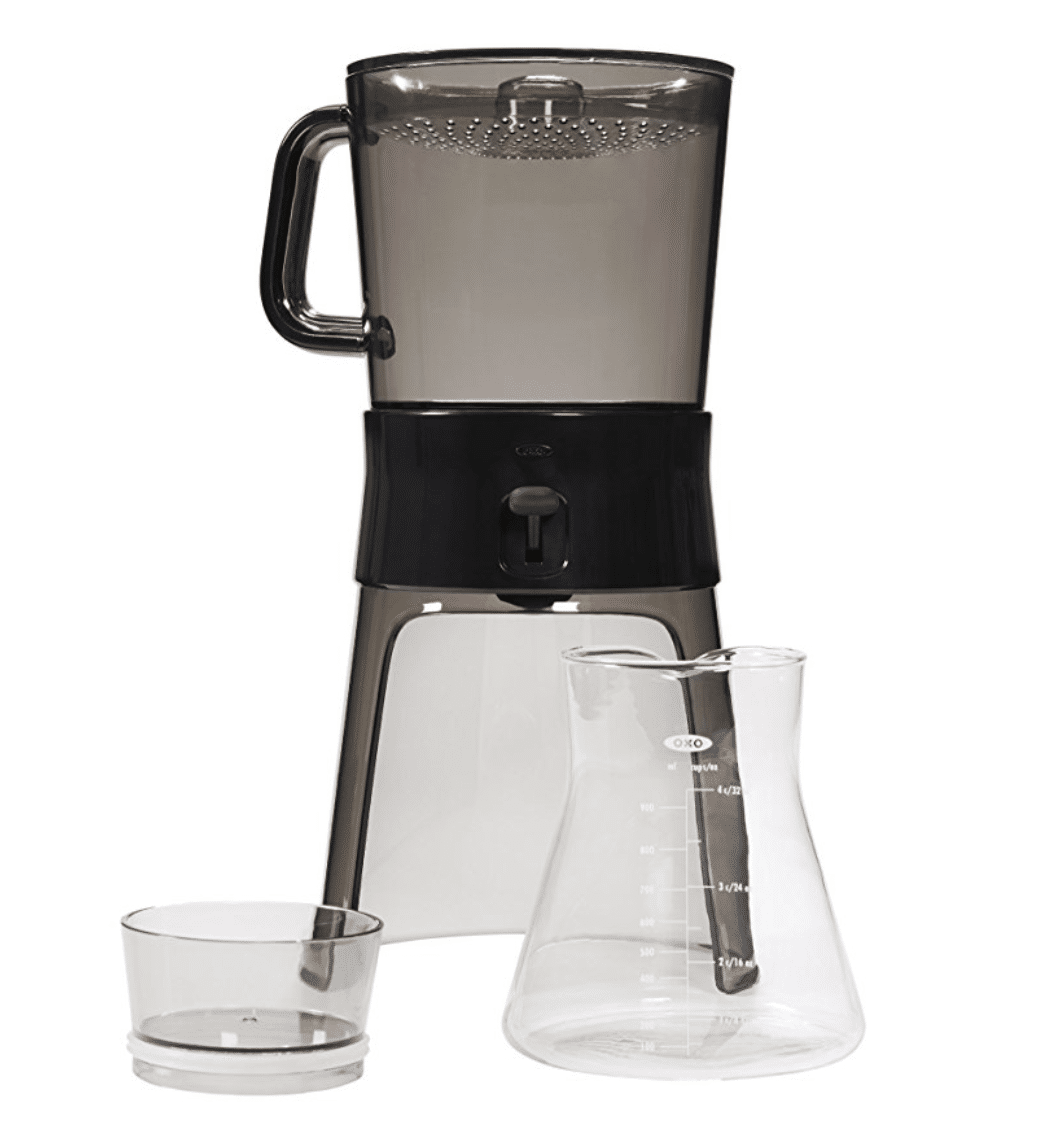 Cold brew is forever a popular coffee beverage. Its caffeine potency and refreshing flavor make it an ideal summer choice. Of course, there is no true time limit to how long you can enjoy cold brew. With the OXO Good Grips Cold Brew Coffee Maker, coffee lovers can make the stuff year round. The perforated rainmaker allows the water to evenly distribute, and the simple controls make the process as easy as one click. This particular cold brew coffee maker kit even includes a glass carafe and stopper for fresh coffee storage.
Chemex Pour-Over Glass Coffee Maker
This timeless coffee maker is the mark of a true professional. The Chemex pour-over coffee makers ensure that your coffee game is always on point. As a timeless method to creating the best drip coffee, Chemex helps keep everything fresh. Surely one of the best gifts for coffee lovers, the Chemex makes the coffee experience truly memorable.
Espro Coffee Travel Press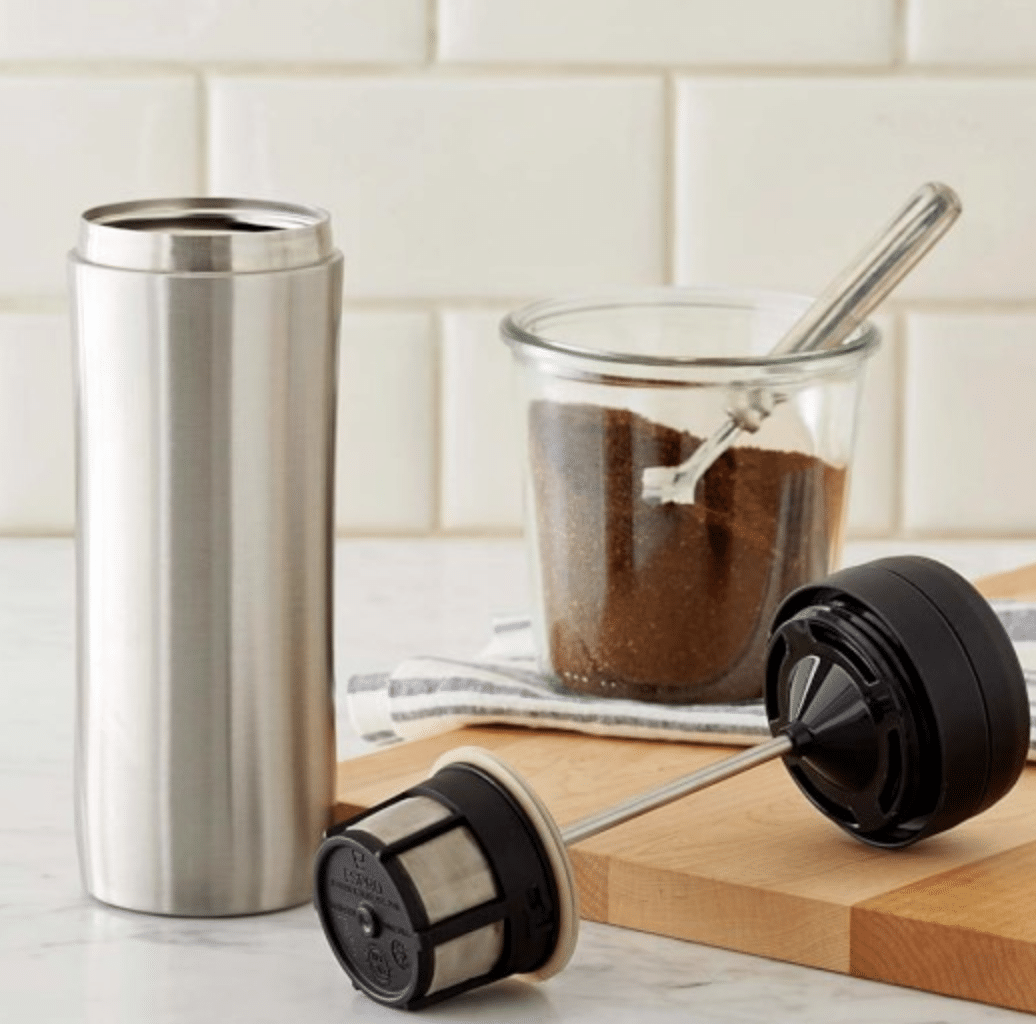 Credit: Espro
This is the perfect gift for that busy coffee drinker in your life. Of course, if they are busy, they probably drink coffee. Full schedules and full coffee cups seem to always go hand in hand. Being constantly pressed for time might be a cause for your own personal coffee travel press (pun totally intended). The Espro Coffee Travel Press is just the thing they need to make mornings that much easier. This convenient tool ensures that no matter how busy you get, your coffee quality does not suffer. The specialized plunger helps keep the coffee grounds at the bottom of the mug, while freshly pressing French press coffee on the go.
Brew: Better Coffee At Home
What better coffee gift than a book about how to make better coffee? This piece of writing is surely one of the best gifts for coffee lovers. Brew: Better Coffee At Home is written by a professional barista about stepping up your home coffee game. Coffee expert Brian W. Jones delves into the complexities that surround making the best coffee at home. This includes pour over, French press, and moka pot techniques. You can even get extra creative with Jones' specialized recipes for coffee-based drinks and cocktails. Make coffee the life of the party by experimenting with Brian W. Jones creations with coffee.
Now you know just what gifts to get for the coffee lovers in your life.
These gifts are sure to put a smile on your favorite coffee lover's face. Give your friends, or yourself, a coffee themed gift that is unforgettable with any of these incredible coffee inspired gifts. Speak to that person's love language (coffee) by giving a practical and thoughtful tool. Help coffee be a part of each area of life when you spice up their home brew game, offer caffeinated liquid literature, or give them a nifty coffee tool. These items and many more are the perfect gift to let that person know just how much you care about them.
Related Article: Choose The Best Travel Mug For Your Next Adventure