Guys, are you looking for a great pair of hiking shoes? The California Trekking style from TFO could be just what you need.
If you're anything like us, you're out and about in the summer. Even though the days are scorching hot, you just don't want to waste those beautiful extra hours of daylight. The sun doesn't poke out from the cloud 365 days a year, you know. Summer days call for adventures and what better way to explore than hiking? To stay cool and comfortable while you're on the go, The First Outdoor (TFO) designed the best pair of breathable trekking shoes.
A Little Bit About The First Outdoor
We recently learned about this brand and of course, had to check out their gear. Founded in 1999, The First Outdoor (TFO) was started by a group of professional outdoor explorers from California who shared a common interest. In the spirit of adventure, TFO places a high emphasis on the customer experience from travelers, bringing high quality to their products. Through innovative patented technology, they're pushing the bounds of apparel evolution.
TFO products include tents, sleeping bags, outdoor apparel, shoes, caps, bags, and more. All of the products are in accordance with the standards of both the American Safe Climbing Association (ASCA) and the American Alpine Club (AAC). TFO places an emphasis on new technologies and materials, including first-tex waterproof membranes, first-grip rubber outsoles, and more.
Men's TFO California Breathable Low Trekking Shoes Features & Benefits
TFO made some of the best climbing shoes on the market. With an anti-skid, wear-resistant shoe, you would think you have it all. But there's more. They're breathable and don't retain odors. How great is that? Thanks to the breaking anti-skid feature, you can climb all types of terrain and still retain a good grip.
Durable Material Construction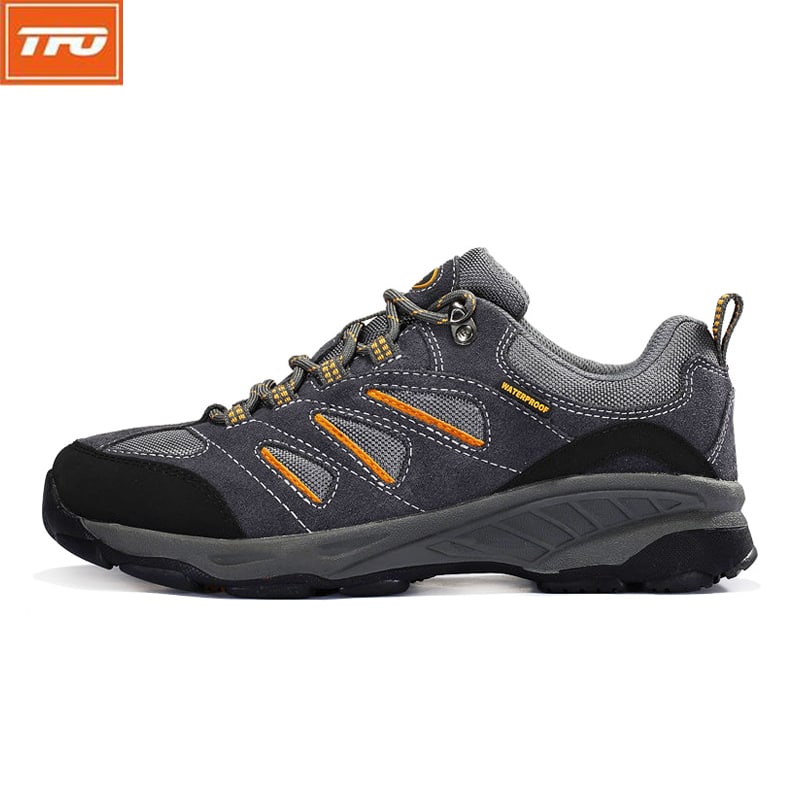 Credit: Amazon
We love the material these shoes are made from. Despite the affordable sticker price of $39.99 – $59.99, the fabric is great. An anti fur leather and nylon mesh fabric upper come together. When you're on the trail, you don't have to worry about sand or dirt getting in the shoe. The TFO California Breathable Low Trekking Shoes feature a high foam one-piece shoe tongue. While it prevents dirt and dust from getting in, it's also great for ventilation.
Removable ECO EVA Foam Insole
Here's just a small part of why the shoes are so breathable. First-comfort air circulation insoles provide freshness, deodorization, dehumidification, shock absorption, and more.
Rubber First-grip Outsole
Check out this first grip rubber design from Italy. With a non-slip road holding sole, you can climb all kinds of surfaces without worrying about falling. Besides being good on all kinds of terrain, they are also wear-resistant, safe for your outdoor activities.
Breathability
The TFO lightweight trekking shoes offer optimized support and extra ventilation for those hot summer days. They are meant to keep you light on your feet for climbing, hiking, and walking in temperate, dry weather.
Weight of the Shoes
Most seasoned hikers will tell you that boots weigh them down. When you're already tired on a hike, an extra five pounds can feel like an extra fifty. While heavier boots are more durable, they are designed for intense hikes and terrain. If you're going to be doing easy to moderate hikes, the TFO California Trekking shoes will do the job. We love that they are not only supportive but also lightweight as well.
Weather Resistance
Did you know that most hiking shoes are outfitted with a weather resistant membrane? The TFO California style offers not only a durable construction but also protects you from the elements.
The rubber outsole and nylon material are comfortable and well-constructed. Generally speaking, when you're hiking, you want shoes that will keep your feet cool as opposed to dry. With this said, opt for plenty of moisture wicking material and mesh that will let the sweat out from your footbed. The removable EVA foam cushion and mesh lining do just that.
Fit
Now that we've covered material, breathability, weight, and weather resistance, let's look at the fit. You could have all of the above qualities but without a good fit, the shoes won't do you any good. Make sure that you know your proper sizing before you buy.
The length and width of the shoes often varies not only by the company but also where the shoes are made. If you're going to be wearing thick socks or gel insoles with them, take that into consideration before you decide on the proper size. We love that these shoes run true to size and width.
When you first lace up, pay attention to how the shoes feel on your feet. First, slide your toes forward to the front of the shoe. Then, insert your index finger between your heel and the back. You should have about ½ an inch to ⅝ of an inch of wiggle room. Yes, it's gross but feet can swell as you ascend a mountain; the elevation changes can really throw your body off. If you're stuck between half sizes, opt for the larger one.
Tech Specs:
Imported

Rubber sole

Performance anti fur leather and durable nylon mesh upper. Protective rubber toe cap.

check

Rubber First-grip outsole : non-slip, bites into all types of terrain well and swallows rough terrain

check

Removable insole, TFO ECO blended EVA foam air cushion in the heel absorbs shock and adds stability, zonal arch and heel support, 5mm lug dept

check

Heel measures approximately ONE inch . Breathable mesh lining, nylon arch shank. Closed-cell foam tongue keeps moisture and debris out.

check

Best service, if you have any questions, please contact us at any time, we will deal with your problem within 12 hours
What Travelers Are Saying About the Men's TFO California Breathable Low Trekking Shoes
All in all, travelers love the Men's TFO California Breathable Low Trekking Shoes. One of the things we noticed is that they are comfortable straight out of the box. Just slide them on and walk around a bit. You don't need to break them in as much as you would standard hiking shoes. At this price range, you really can't beat them.
Alternative Men's Hiking Shoes You May Like
The North Face Men's Ultra 109 Gtx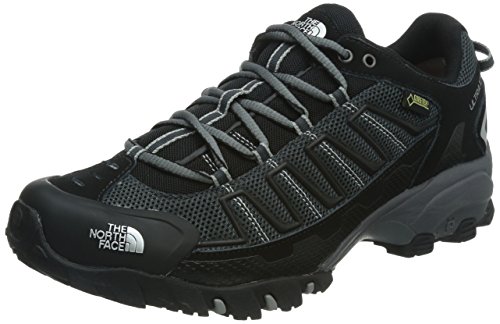 Are you looking for a good, sturdy trailblazing shoe? The Ultra 109 Gtx from from The North Face offers just that. Enjoy stability and traction, even when blazing down slick, uneven trail. The upper body is constructed from gore-tex extended comfort range waterproof, breathable membrane and the PU-coated leather upper provides strong midfoot support. You will also enjoy the lace up closure for a snug, custom fit and a protective TPU toe cap for added durability. Lastly, the UltrATAC rubber outsole makes it a stable running shoe. These are among the best hiking shoes for men.
Tech Specs:
Leather

Imported

Lace-up closure

check

For maximum protection underfoot and subtle pronation correction, the Ultra 109 GTX from The North Face gives you stability and traction when blazing down slick, uneven trail.
RAX Men's Quick Drying Slip-Resistant Aqua Water Hiking Shoes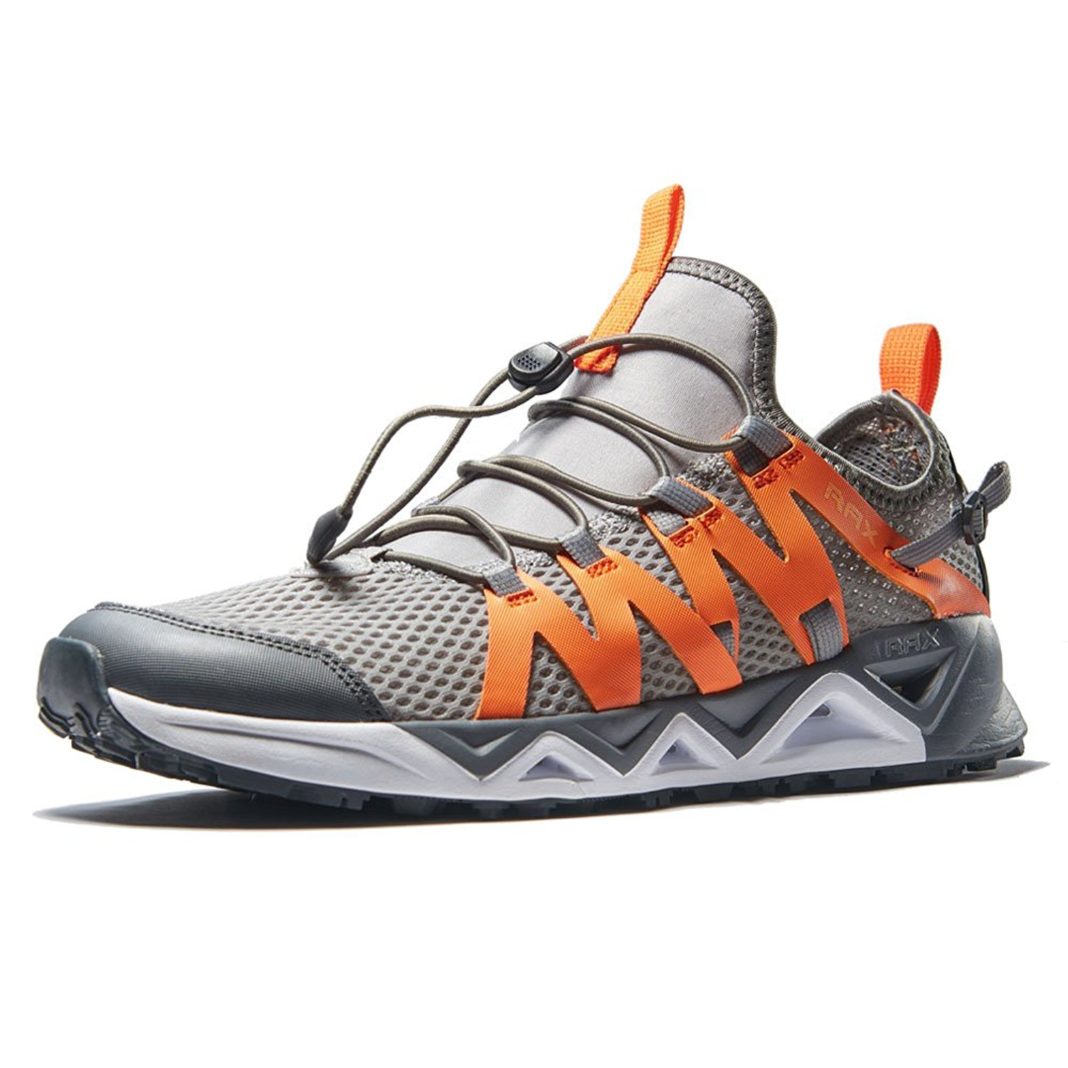 What's better than some anti-slip, quick drying shoes? This style from RAX has to be one of our favorite picks. So much care has gone into it for those who love the outdoors. Take them anywhere. They're lightweight, durable, and provide good breathability. In addition, the shoes also have double-slope drainage, so if you get them a little wet, they'll dry out fast.
Built for maximum comfort, the cushioning EVA midsole comes with high density EVA material and a triangular design. It can improve stability by up to 30%, elevate damping capacity by 20%. A quick lace-up system offers an easy fastener to keep your feet from sliding around when you're adventuring in the great outdoors.
A rubber slip-resistant outsole is wear-resistant, similar to a car's tire. The polygon lugs make it antiskid too – perfect for outdoor walking and exploring. These are some of the best hiking shoes for men.
Tech Specs:
Imported

Rubber sole

Slip-resistant rubber outsole provide exceptional traction in wet and slippery conditions

check

Shoe toe wrapped by rubber and TPU, for good toe protection

check

Multi-use,perfect for water hiking, also available for daily walking in summer

check

Breathable and durable air mesh upper allow the foot to breathe

check

Quick dry material and hole on the sole and keep your feet dry
Merrell Men's Moab Edge Hiking Shoe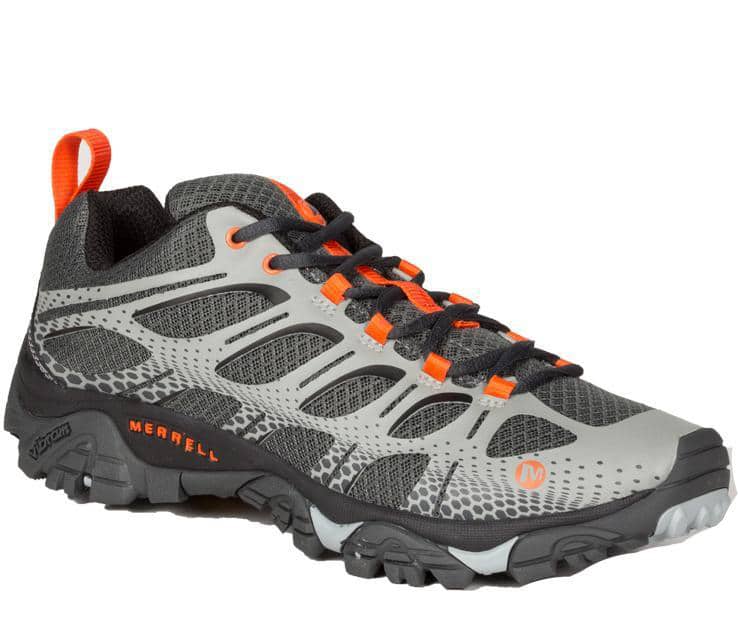 Nothing should get in the way of you enjoying the great outdoors. That's why Merrell made a solid line of hiking boots, trail running shoes and apparel. The Moab Edge Hiking Shoe offers nothing less than an excellent quality and performance.
Thanks to the vibram lug patterns, the shoes provide stability in all conditions. No lugs placed under the arch, so your foot flexes more naturally for greater comfort. Expect sure traction on both wet and dry surfaces in even the most extreme temperatures. Long-lasting M Select Fresh prevents sweat and moisture from affecting the freshness of your shoes. Our antimicrobial agents penetrate and disrupt the reproduction of the odor causing microbes in your shoes.
Tech Specs:
Mesh upper

Imported

Vibram sole

check

Lace-up hiking shoe featuring breathable mesh upper with bellows tongue and rear pull loop

check

Breathable mesh lining

check

EVA contoured footbed with odor control

check

Vibram tc5 plus outsole
Invest in the Best Summer Hiking Shoes – aka the TFO California Trekking Shoes
We hope you enjoyed reading our feature on the TFO California Breathable Low Trekking Shoes. As you can see, these shoes are a great accessory to take on your summer travels. Lightweight and durable, they offer the support you need on the trail and grips for various types of terrain. Our favorite feature is the breathable mesh fabric and EVA sole, necessary for these hot August days.
Common Questions
Are you looking for more gear and tips for your outdoor adventures? Check out these articles:
Questions and Comments
Do you have any questions or comments for us? If so, we would love to hear them. Feel free to leave a message for us below. We will be sure to get back with you soon.
Related Article: The Best Hiking Shoes For Men: Durable, Lightweight Picks