Looking to enjoy the laid-back island side of life? Cozumel all inclusive resorts have all you need.
Close your emails and pick up that pina colada. Located just off the gorgeous Yucatan Peninsula, Cozumel all inclusive resorts are a perfect choice for travelers seeking a beach getaway. Where better to work on your tan than a slew of luxurious stays that dot the isle? Hold your calls. Enjoy nothing but the pure bliss of blue skies and crystalline Caribbean waters.
So what makes Cozumel such a wonder for travelers? Well, for one, it's home to the second largest coral reef system on the planet. Second only to Australia's Great Barrier Reef, these waters offer nothing but prime opportunities for diving and snorkeling excursions. On the island's southern coast, you'll find the three-mile long Palancar Reef, famous for its appearance in 1950s documentary by ocean explorer Jacques Cousteau. Needless to say, it's regarded as one of the best diving spots in the world.
In wind of the adventures you're about to have, you should know Cozumel's also the perfect basecamp for quick access to the Riviera Maya and Playa del Carmen. If this doesn't get you stoked, we don't know what will. To the north, you'll find the famous sands of Cancun. Look south and Tulum's world-class beaches are right below. When you're ready to dive into some local culture and history, make sure to visit the Mayan ruins of Chichen Itza. Tours can be arranged via local companies or even through resorts like Occidental Cozumel and Cozumel Palace.
Take Your Pick from Any of These Cozumel All Inclusive Resorts
Are you ready for the vacation of a lifetime? Not only are these resorts affordable but we dare you to find a more beautiful place to spend your PTO under the sun. Lounge around, eat your weight in fresh fruit at the breakfast buffet, and adventure around the coast. You've earned it. Here are our picks for the best Cozumel all inclusive resorts in no particular order.
1. Grand Park Royal Cozumel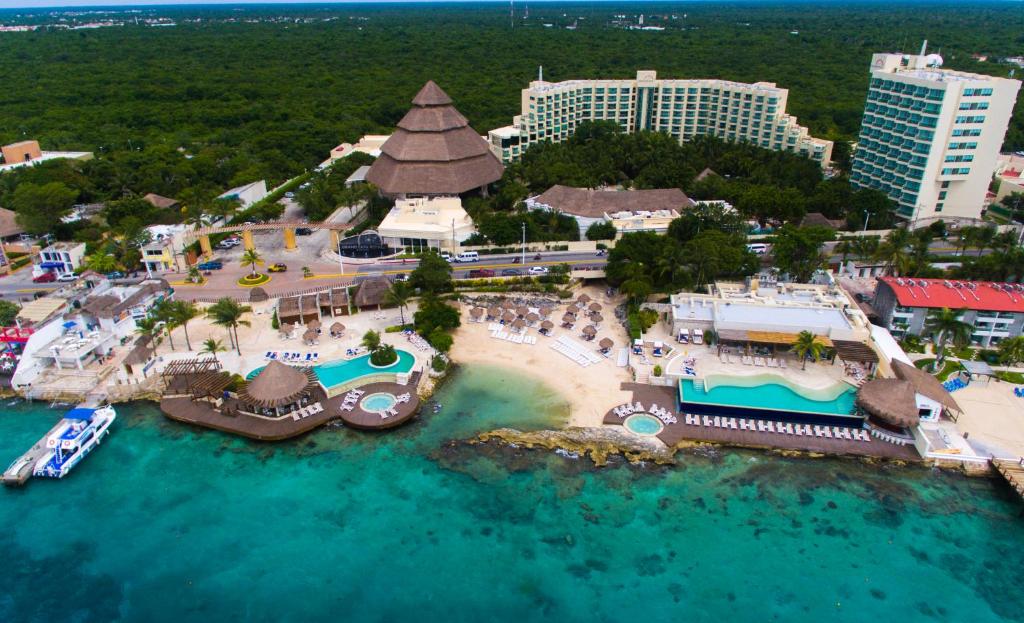 This oasis under the Caribbean sun is the island's leading all inclusive resort. Featuring stunning accommodations, attentive service, and unending amenities within reach, it's clear to see that Grand Park sets the bar high. We love that this vacation package includes all meals and imported drinks can be ordered at any of the hotel's five cocktail bars and lounges.
Everywhere you look, you're surrounded by 360 degrees of natural beauty. With a massive main pool, two seaside infinity pools, whirlpools, gardens, and terraces, there's no shortage of places to relax. That's not all. Through a private underpass in the garden, you can access a secluded beach club. With onsite dining, nightly entertainment, a kids' club, fitness center, spa, and sports, there's no stopping your imagination from sailing. Of all the top Cozumel all inclusive resorts, this one just might be our favorite.
2. Fiesta Americana Cozumel All Inclusive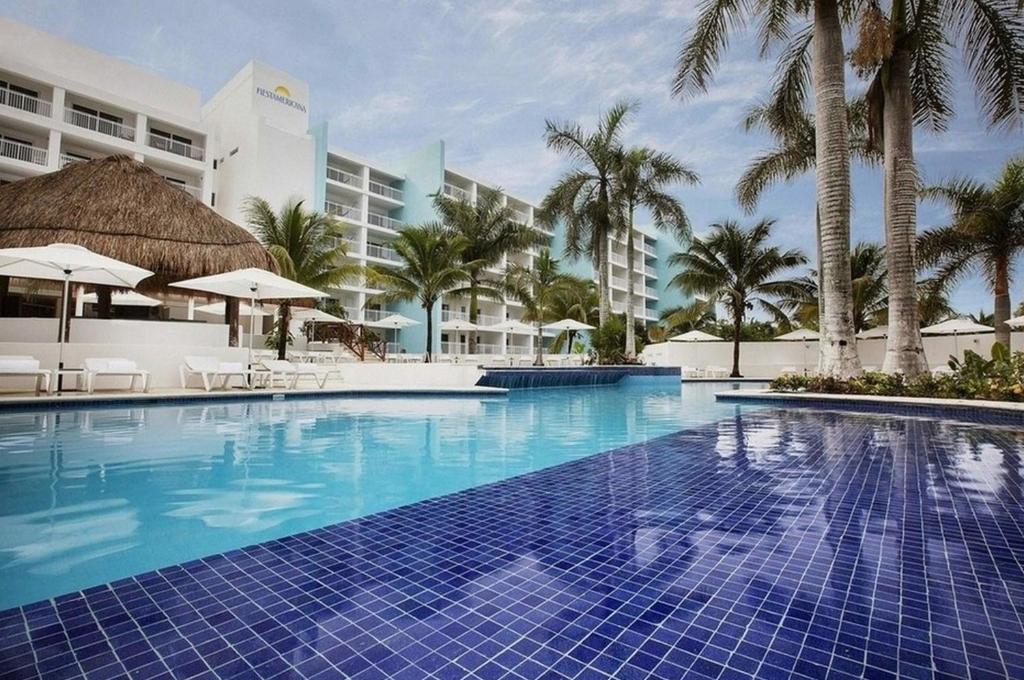 Redefine your family vacation experience with modern vibes at Fiesta Americana Cozumel. This all inclusive resort knows just how to help every guest find their happy place. Whether you're looking for a luxurious getaway at private beach clubs or a fun adventure like snorkeling packages, you'll find it here and everything in between.
Located on the island's southwestern edge, the hotel offers a close proximity to some of the best dive sites and tourist attractions. It's all just a few miles from downtown San Miguel. This scenic seaside resort is the perfect place to post up for the week. Wake to views of the lush jungle forest and a fresh ocean breeze. Just nearby, you'll find the private beach club complete with boat docks, Chankanaab Natural Park, Mayan ruins, the Cozumel Museum, shopping, nightlife, and more.
When you're ready for a bite, choose from five on-site restaurants and multiple bars. A la carte and buffet dining are offered all day and all night long. For your convenience, the hotel also offers a business center, workout room, boat dock, kids' club, movie area, game room, and a variety of lounge areas.
3. El Cozumeleño Beach Resort – All Inclusive
Just minutes north of San Miguel, you'll find the lovely El Cozumeleño Beach Resort. If you're seeking the finest in accommodations, you'll be hard pressed to find a better stay. Guests love the spacious rooms and we're sure you will too. Enjoy a romantic sunset from your private balcony. This elegant yet cozy hotel puts everything you need right at your fingertips. Stop stressing and striving. This is your vacation time!
Do you have your eye on some fun escapes? The in-house Water Sports Office can help you book a variety of fun activities ranging from snorkeling, diving, and fishing to a perfect sunset cruise that departs from the hotel's large pier. Offering warm traditions, beautiful accommodations, and the best service, it's no wonder it's one of the best Cozumel all inclusive resorts.
4. Cozumel Palace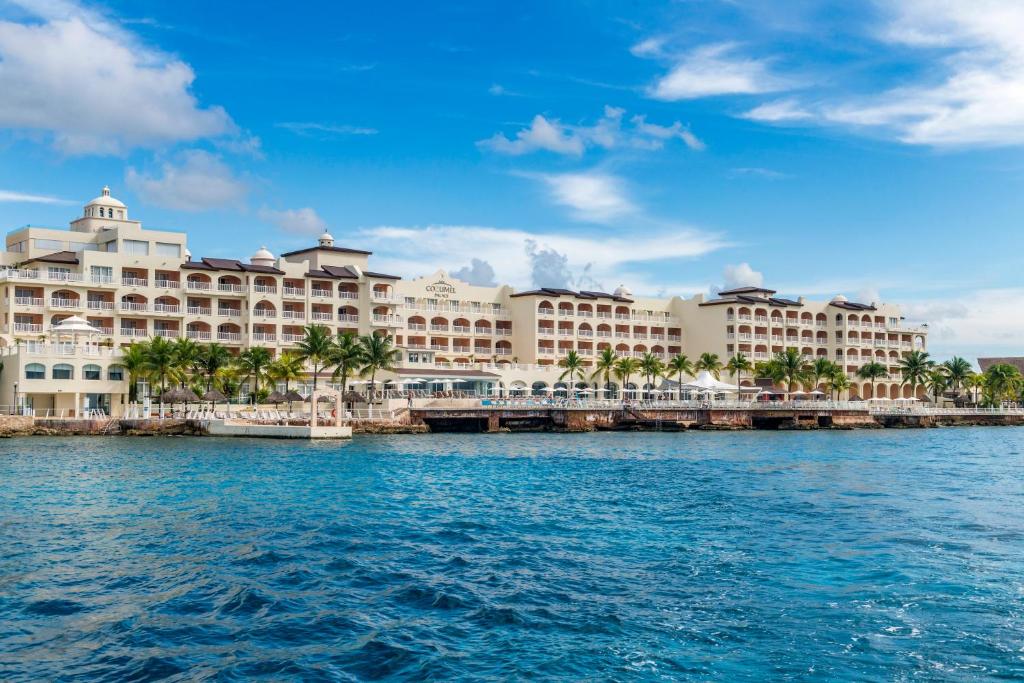 Have you ever wanted a personal island getaway? Well, you're in luck. Dive right into the magic of Cozumel Palace by taking part in their scuba adventures around the world's second largest coral reef. Snorkel in Cozumel's crystal clear water right in front of the resort, then take advantage of the many pools, excursions, entertainment, and spa services.
This stunning hotel offers mesmerizing, spacious rooms, high quality amenities, and gorgeous interior designs. Each guest room features whirlpool tubs, large bathrooms with CHI brand products, hair irons, blow dryers, and liquor dispensers. When you're ready for a late night drink, take your pick from labels of whisky, rum, tequila, and vodka.
Wait, there's more. When you're ready for a bite, Cozumel Palace offers lovely fine dining programs. Using only the finest ingredients, a team of magical in-house chefs whip up unique culinary creations from American, Mexican, Italian, and Pan-Asian dishes. Don't want to leave the comfort of your room? No problem. A wide selection of options is available to you 24-hours a day. Best of all, it's all included! This is one of the best Cozumel all inclusive resorts.
5. Iberostar Cozumel Hotel
You'll find this five-star resort nestled in an enclave of beauty along the Mexican Riviera. Two hundred ninety-three guest rooms offer a laid-back atmosphere, perfect for spending free time with family or just soaking up the Caribbean experience.
You have everything at your fingertips. Thanks to the hotel's prestigious location, the resort is the closest to the best tropical reefs in Cozumel. Crystal clear waters create an unforgettable experiences for lovers of the ocean and all things marine life. The hotel knows the importance of Mexico's beauty to its guests. With this in mind, you'll find lovely bungalow accommodations, hammocks, and small private patios where you can appreciate the flora and fauna. We love that the Iberostar Cozumel is a holder of the Green Globe Ecologic Hotel Certification.
With such magnificent beauty all around, is it any wonder that the hotel's the perfect place to relax your mind and body too? After spending the morning at the beach and the afternoon at the spa, end your day with a night at the theater. Here, you'll find a wide array of entertaining live shows and performances every night.
6. The Explorean Cozumel All Inclusive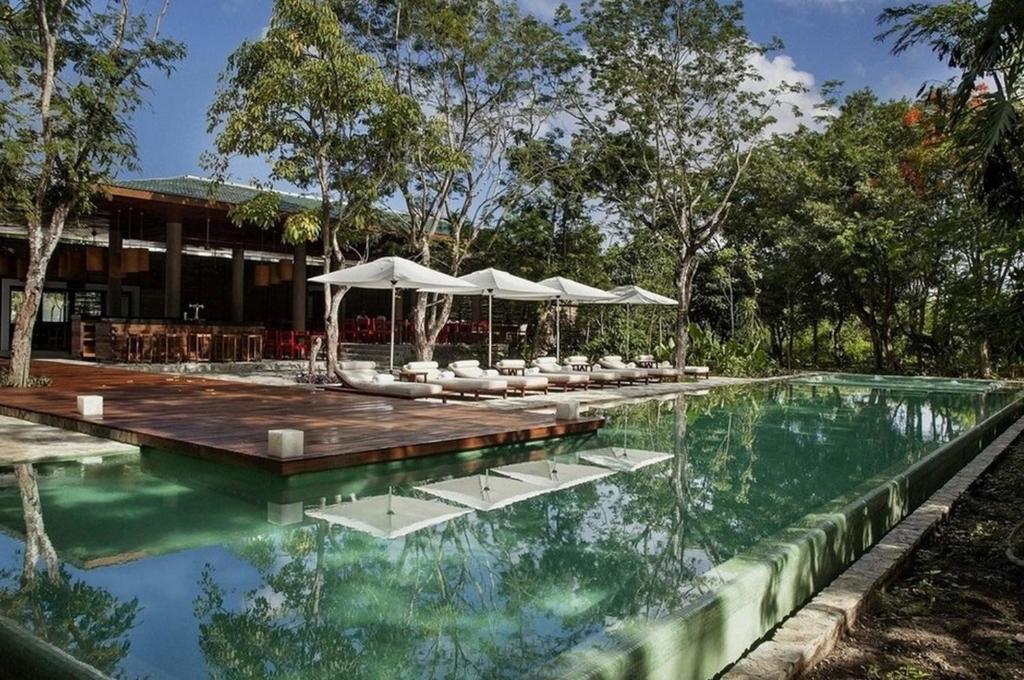 Welcome to one of the best Cozumel all inclusive resorts. This luxurious base camp is perfect for island activities and all-around adventure enthusiasts. The best places are often off the beaten path. Nestled between the ocean and the jungle, this Cozumel getaway lives on Uvas Beach, only a mile from Chankanaab National Park and just minutes from the Mayan ruins, coral reefs, and hidden lagoons. And while you may feel like you have the island all to yourself, the best shopping, nightlife, and traditional charm of the city is just ten minutes away. You really do have the best of both worlds.
Be a traveler, not just a tourist. There's nothing wrong with sitting on the beach sipping on a margarita but you've to get to know the local culture too. Travel is so much more meaningful when you try to dig deeper. This adventure resort offers daily guided treks and trips to the ocean, around town, into the jungle – wherever you'd like.
Learn about the island the best way possible – immerse yourself. Cycle, snorkel, go horseback riding, kayaking, hiking, drive a dune buggy… It's all included in the room rate. While the Explorean Cozumel is the smallest resort on the island, that doesn't mean it should be overlooked. It's quite the contrary actually. While it has just 56 rooms, guests receive a more personal experience with attentive staff. Highlights include jungle swimming, a private beach club, free wifi access, chef-prepared meals, a workout room, swimming pool with a swim-up bar, and more.
Don't even get us started on the rooms. They're seriously something out of a dream. Upscale guest rooms are housed in two-story bungalows, each with private balconies opening up to the Mayan jungle. Premium bedding, a spacious sitting area, and oversized rain showers lend to an enchanting environment. Refresh every morning with fresh bread, coffee, and juice delivered to your room every morning.
All in all, the Explorean Cozumel combines relaxation with adventure in a truly unforgettable way. Come and experience a majestic charm in one of the best Cozumel all inclusive resorts. The hotel offers the same level of quality you would expect from Fiesta Americana hotels but with an entirely new adventurous style and flair exclusive to the Explorean brand.
7. Occidental Cozumel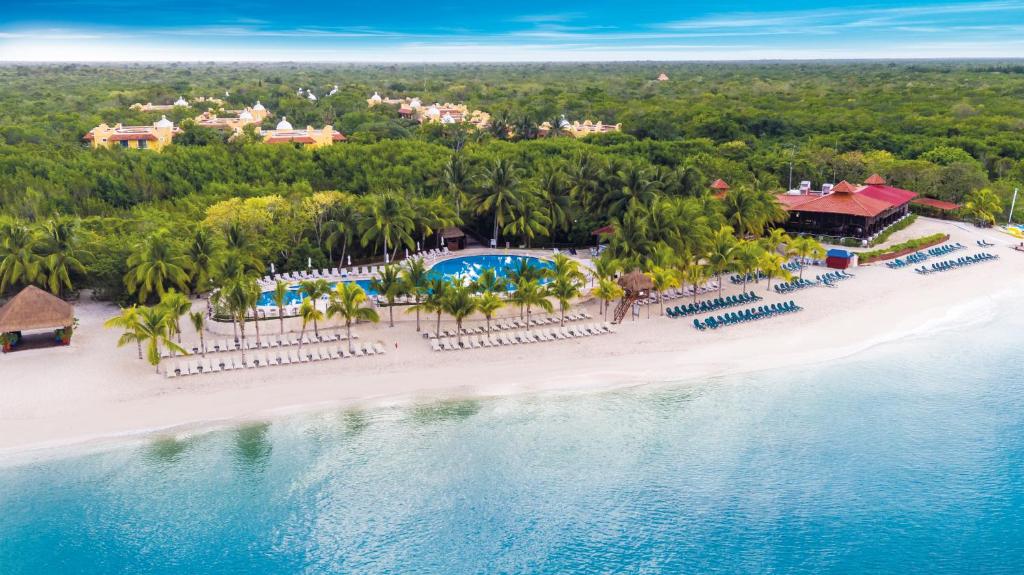 The Occidental Cozumel offers unparalleled treasures off the Palancar Reef. Enjoy a trip to this idyllic island in the Mexican Caribbean, only 45 minutes from Playa Del Carmen. We're convinced you have to stay here at least once in your lifetime. It's truly one of the best Cozumel resorts. While many resorts stand out from their natural surroundings, this one blends in effortlessly.
Relax on white sand beaches amongst mangroves and tropical gardens. Offshore, you'll find one of the top five scuba diving destinations in the world. The wonderful staff at Occidental Cozumel are fully prepared to help diving enthusiasts with anything they might need to enjoy life among the dolphins and sea turtles.
You can also take part in a wide range of other sports such as kayaking, sailing, snorkeling, and water polo. There are three pools, a spa, gym, beach club, and seven restaurants. Whether you're traveling for a family vacation, romantic getaway, or friend's time, this hotel as everything you need and more.
8. Secrets Aura Cozumel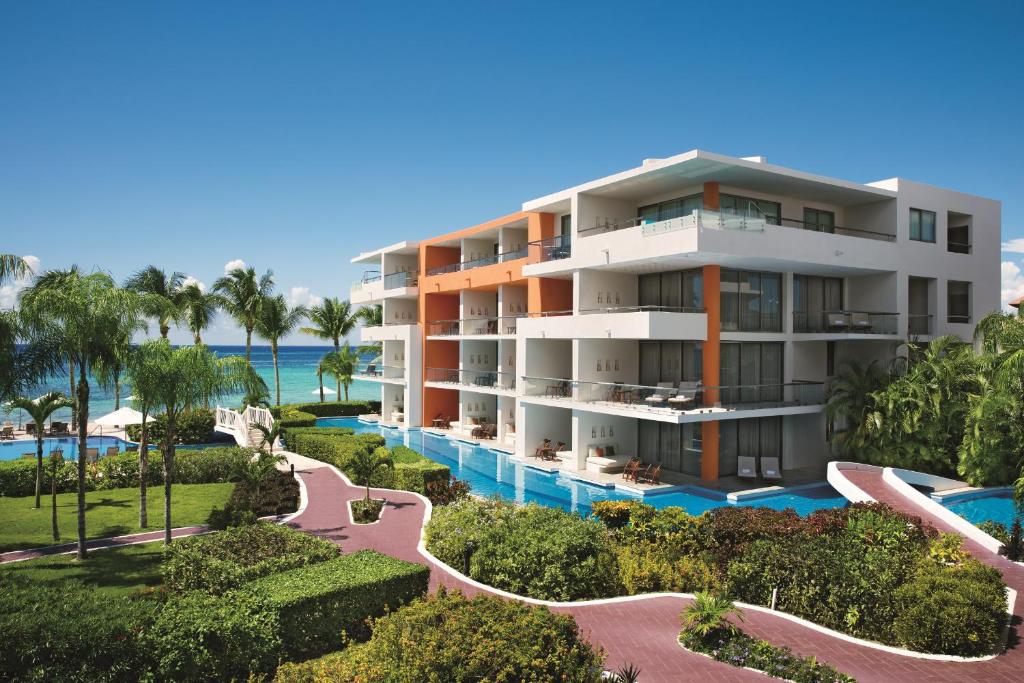 Experience Caribbean beaches, ancient Mayan culture, and golf. So much of the island is left untouched. For those seeking a secluded and intimate vacation experience, venture to Secrets Aura Cozumel and bask in the quiet luxury this destination has to offer. As the only adults-only hotel on this island, the resort combines amenities of unlimited luxury with the charm of a beautiful coastal getaway.
Gourmet dining options include an array of international cuisine. Choose from four a la carte restaurants , buffet venue, grill, and cafe. Want to know the best part? Reservations are never required. Sneak away for a romantic meal in your suite or even on the beach. If you're hungry late at night, 24-hour dining options exist too. Hallelujah! Enjoy late night bites at the Coco Cafe or stay in and order room service. It's entirely up to you.
When you've eaten your fill and you're hungry for adventure, endless opportunities await you. Soak in the sun at three glistening pools or on the sugar sand beach. To get a workout in, break a sweat in the fitness center with cardio machines or visit the Cozumel Country Club, an 18-hole 72 par professional golf course designed by pro golfer Jack Nicklaus.
9. InterContinental Presidente Cozumel
This hotel places you right on the fringe of a Caribbean island in one of the world's largest coral reef systems. Here at InterContinental Presidente Cozumel, the options for fun never end. Swim in an Instagrammable beachside infinity pool, relax in the beautiful spa, or host an event in one of the elegant ballrooms.
Dining options include gourmet Mexican food, authentic Italian, or contemporary Mediterranean cuisine. All 220 guestrooms feature Egyptian cotton duvets, flat-screen TVs, free wifi, and offer furnished balconies overlooking ocean, pool, or garden views. When it comes to activities, needless to say, diving and snorkeling options abound.
10. Playa Azul Golf Scuba Club
Playa Azul is always a good idea for your holidays. This charming oceanfront property is one of the best Cozumel all inclusive resorts. Family run, it has earned a reputation for attentive service from both the staff and owners. For those who love luxury but still want all the touches of home, you've found just the place.
Love birds, listen up. This is a great place for a wedding or honeymoon. For those who are just seeking out a place for vacation, the hotel offers 50 units: 32 oceanfront rooms, 8 oceanfront huge deluxe suites, 4 ocean view suites, 4 oceanfront suites with a jacuzzi on the balcony, and 2 oceanfront junior suites (1 is an accessible room).
While Playa Azul is a breakfast hotel, if you prefer the all inclusive vacation, the resort offers the best menu for food and beverages is offered under this plan. If you are coming with family, a group of friends, or for a large gathering, let the hotel know in advance of your stay. They will work with you to create a custom package to suit your every need.
Book Your Stay At One of the Best Cozumel All Inclusive Resorts
We hope you enjoyed reading our article on the best Cozumel all inclusive resorts. If you've been to Cozumel before and have a favorite place to stay that's not on our list, let us know.
Questions and Comments
Do you have any questions or comments for us? If so, feel free to leave us a message in the comment section below. We look forward to hearing from you.
Related Article: 10 Best Belize Resorts & Luxury Hotels