Upgrade your traveling experience with an American Tourister suitcase.
Looking for a suitcase that's both stylish and functional? The American Tourister iLite Max 25" Spinner combines class and state-of-the-art technology to provide travelers with the best possible luggage for their purposes.
American Tourister iLite Max 25″ Spinner Features & Benefits
Easy Mobili​​​​​ty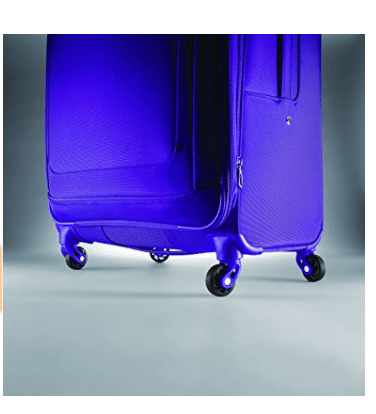 Credit: Amazon
Maneuvering a suitcase filled to the brim with your personal belongings can often be a nightmare. Even if your luggage has wheels, the rolling mechanism might be faulty, leaving you incapable of turning or moving backwards if necessary. This can lead to frustrations and anxiety, especially when you're trying to go somewhere in a hurry.
Luckily, the American Tourister iLite suitcase has four, multi-directional airflow Spinner Wheels, enabling users to move in any direction they choose. These wheels employ advanced technology that differs from other brands, making them uniquely functional. Making sharp turns as you hurry down the street or rolling backwards from place to place is a breeze due to these wheels.
In addition to the multi-directional capabilities, the suitcase also rolls upright, meaning there won't be any weight on your arms and shoulders. This is crucial for any traveler, as you don't want to feel weighed down by your luggage. Straining your body leads to pain and discomfort, but with the iLite suitcase, any tension will be alleviated.
Large Packing Capacity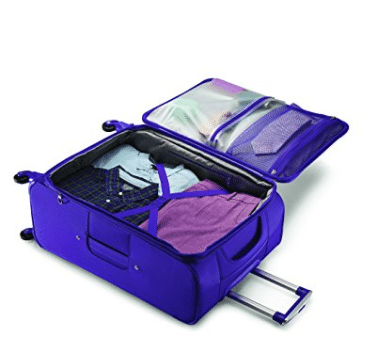 Credit: Amazon
Anyone who likes to be prepared for every situation knows the difficulty of what some might call "over-packing." In these instances, trying to fit as much of your belongings as possible into a tiny suitcase seems impossible. You might try sitting on top of the luggage, attempting to smash your items down. Or, you'll end up defeated and choose to remove some things from your case, much to your disappointment. This decision frequently leads to arriving at a destination having forgotten something necessary, or wishing you had indeed brought the item you removed.
With the American Tourister iLite suitcase, the need for extra room will never be a problem. The cases expand easily for extra packing capacity, allowing you to fit the majority of your wardrobe inside the luggage without an issue. Bulky sweaters, winter coats, and chunky shoes will all find their place inside this product.
On the front of the suitcase, two large panel pockets allow for those last-minute additions to your luggage to fit nicely inside. The easy frontal access also means you won't have to worry about searching through your case to find something quickly, like a phone charger or passport. With the American Tourister, you'll maintain an ease of mind knowing you've brought everything you needed to your travel location.
Durability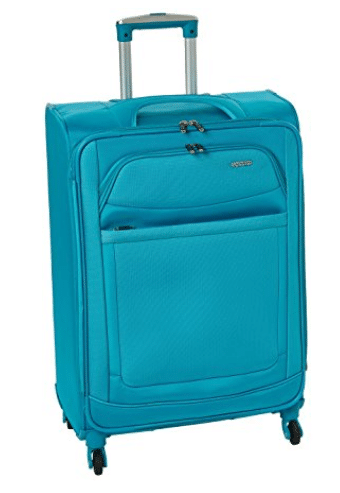 Credit: Amazon
Do you ever find rips or tears in your suitcase? Too often, we pick up our suitcase from the airport and find multiple gashes in the fabric, leaving us to wonder whether any of our belongings might have fallen out. Or, maybe your suitcase got dragged across the harsh pavement and is now splitting in multiple places. Not knowing if your luggage can withstand travel is a worry many of us must face.
Wearing a combination of both Nylon and Polyester fabrics, the American Tourister iLite Spinner suitcase has an incredibly durable material that will survive all kinds of travel wear and tear. Even when your luggage receives some less-than-gentle handling, the outside fabric will maintain its integrity. You'll never have to worry about holes in your luggage again with this product.
The water-resistant fabric also ensures the resilience of the American Tourister suitcase in different types of weather, so your luggage can battle against the elements for you. A light sprinkling outside won't mean the end for your silk top or electronic equipment.
Various Color Options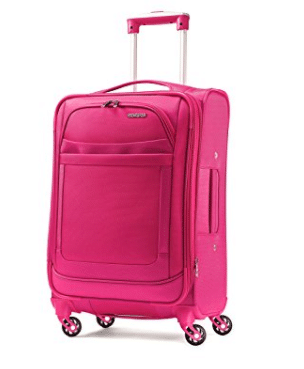 Credit: Amazon
Sometimes, having the same black suitcase can be boring. It seems that the most functional luggage is often not very attractive. Or, you're limited to only a few color options. Not to mention, trying to locate your suitcase amidst a bunch of other similar-looking cases can be challenging.
With the American Tourister suitcase, you can select from a range of different colors and designs. Is your favorite color pink? There's one just for you! Want something that matches the blue backpack you already own? We've got that color too. Other fun designs like purple with stripes mean you won't have to worry about blending in with the crowd ever again.
Co-molded Zipper Pulls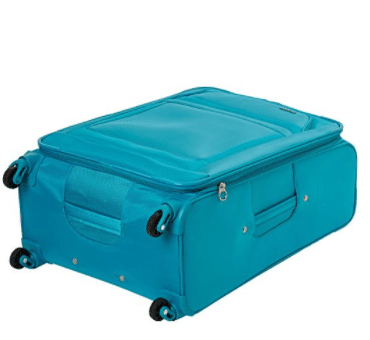 Credit: Amazon
After you've finally fit everything into your luggage and you're ready to head out the door, zipping up your case is the last thing on your to-do list. The co-molded zipper pulls ensure you won't get stuck while trying to shut your suitcase. Closing your luggage will be a breeze as the zipper glides effortlessly across the case.
What Travelers Are Saying About the American Tourister iLite Max 25″ Spinner
Users of the American Tourister iLite suitcase claim the luggage is very sturdy, withstanding airplane transport and multiple rides to hotels. According to customers, the wheels are smooth and glide easily over many types of ground. The rolling mechanism allows for movement by pushing or pulling the case. The unique color choices and patterns of fabric make the case easy to locate when retrieving luggage from the airport.
Other reviewers have emphasized the amount of space the suitcase offers, letting them fit large amounts of clothing without any trouble. Many agree that the American Tourister is the perfect size suitcase for bringing onto an airplane. Overall, most customers concur that the luggage is ideal for all their traveling needs.
Alternative Checked Luggage
Merax Flicks Aluminium Frame Suitcase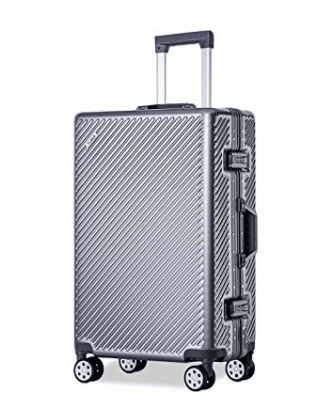 Merax Flicks Aluminium Frame Suitcase is the luxurious luggage you've been waiting for. An aluminium-magnesium alloy frame and extra durable PC+ABS shell give the suitcase an eye-catching appearance while ensuring the product's durability. The suitcase also comes in multiple shades, including gold, black, gray, silver, and white. You'll be sure to stand out no matter which color you choose.
If you're especially concerned with keeping your belongings secure during your travels, the suitcase is equipped with a two aluminum Customs TSA lock to ensure every item stays safe inside the luggage. The fully-lined interior provides an additional defense for protecting your belongings.
With its many multi-use pockets, your clothing, shoes, and toiletries can be organized neatly inside the case. This means more efficient packing as well as ease of access when trying to locate items.
Maneuvering the suitcase is a cinch with the product's dual airplane spinner wheels and an adjustable 3-step telescoping handle. If you're unhappy with your purchase, the suitcase also comes with a free 3-year warranty.
Delsey Helium Aero 29″ Expandable Spinner
Just as its name suggests, the Delsey Helium Aero 29" Expandable Spinner provides an extra-large packing capacity. Two large compartments offer plenty of room for clothes and bulkier items. Phone chargers, glasses, and other important belongings can fit safely inside a zippered accessory pocket. An additional compartment in the lid also includes a zippered divider for better organization.
If you've packed more than you intended, no fear! The case expands up to 2" for more packing space. Once everything is inside the luggage, you can use the elastic web straps to keep the clothes in place throughout your journey.
When you're ready to start moving, four twin spinner wheels ensure multi-directional maneuvering as you travel. The case's molded, ergonomic grip handle delivers a comfortable handling experience. Picking up the luggage is also manageable with top and side carry handles.
Travelpro Platinum Magna 2 25″ Expandable Spinner Suiter
This premium checked luggage is a great option for those interested in products of the highest quality. The Travelpro Platinum Magna 2 25" Expendable Spinner Suiter is constructed with ballistic nylon fabric and leather accents. A coating of DuraGuard® ensures the suitcase can withstand staining and abrasion. Ironing clothing in a hurry won't be an issue for travelers who use this suitcase, as the deluxe suiter feature keeps clothes wrinkle-free.
Moving the case easily across any surface is assured with 360-degree dual spinner wheels that will always roll straight. A special aluminum PowerScope Extension Handle is designed to reduce wobble. The handle's Patented Contour Grip also guarantees a comfy maneuvering experience.
In addition to classic black, the suitcase comes in various enticing colors, like Navy, Olive, Charcoal Grey, and Marsala Red.
Maintain peace of mind and individuality with an American Tourister suitcase.
No matter where you're going, the luggage you bring can set the tone for entire your trip. The wrong suitcase might mean more frustrations and less enjoyment during your travels. Any product carrying your personal belongings should be easy to use, spacious, and stylish. Luggage like the American Tourister iLite Spinner combines functionality and fashion, ensuring you don't have to make any compromises when it comes to finding the perfect suitcase.
Related Article: 7 Incredible Features That'll Make You Want a Smart Suitcase ASAP