Travelpro Platinum Magna 2 25″ Expandable Spinner Suiter Review
Making the right decision on purchasing a new suitcase can always be tedious. With virtually unlimited choices and options, from inexpensive to costly, the decision can be tricky. Think of the luggage industry like mobile phone industry. There are thousands of different companies making and promoting their own, while each phone is designed for a with a specific audience in mind. A smartphone has a plethora of its own features, while a flip-phone sticks to the basics. They're all phones but aren't limited to one class. Luggage is the same idea. One suitcase might offer the bare minimum, while the next could be tailored with the business professional in mind. Meeting the demands of both interests, the Travelpro Platinum Magna just might be your perfect travel companion.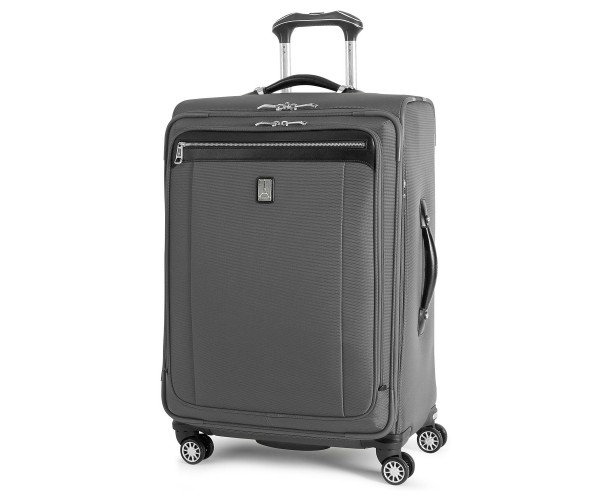 Credit: Travelpro
Travelpro Platinum Magna 2 25" Expandable Spinner Suiter Features & Benefits
The Travelpro Platinum Magna 2 25" is the perfect suitcase that falls right in the middle. It boasts superior quality all while incorporating the most advanced luggage technology. While it's certainly a handsome piece, it doesn't scream "Steal me!" if left alone in an airport.
Durability – High-Density Ballistic Nylon
Due to its size, the Travelpro Platinum Magna is a check-in piece only. Let's be honest. All air travelers, at some point or another, have some level of fear about checking their luggage. Damaged suitcases, lost bags, missing contents, etc. It's truly set apart from the rest. The Platinum Magna is built with what the company calls, " High-density ballistic nylon fabric". Long story short, this bag is virtually rip and tear proof. It's also coated with "Duragaurd" which protects from the ever-so-rare liquid spill and provides abrasion resistance.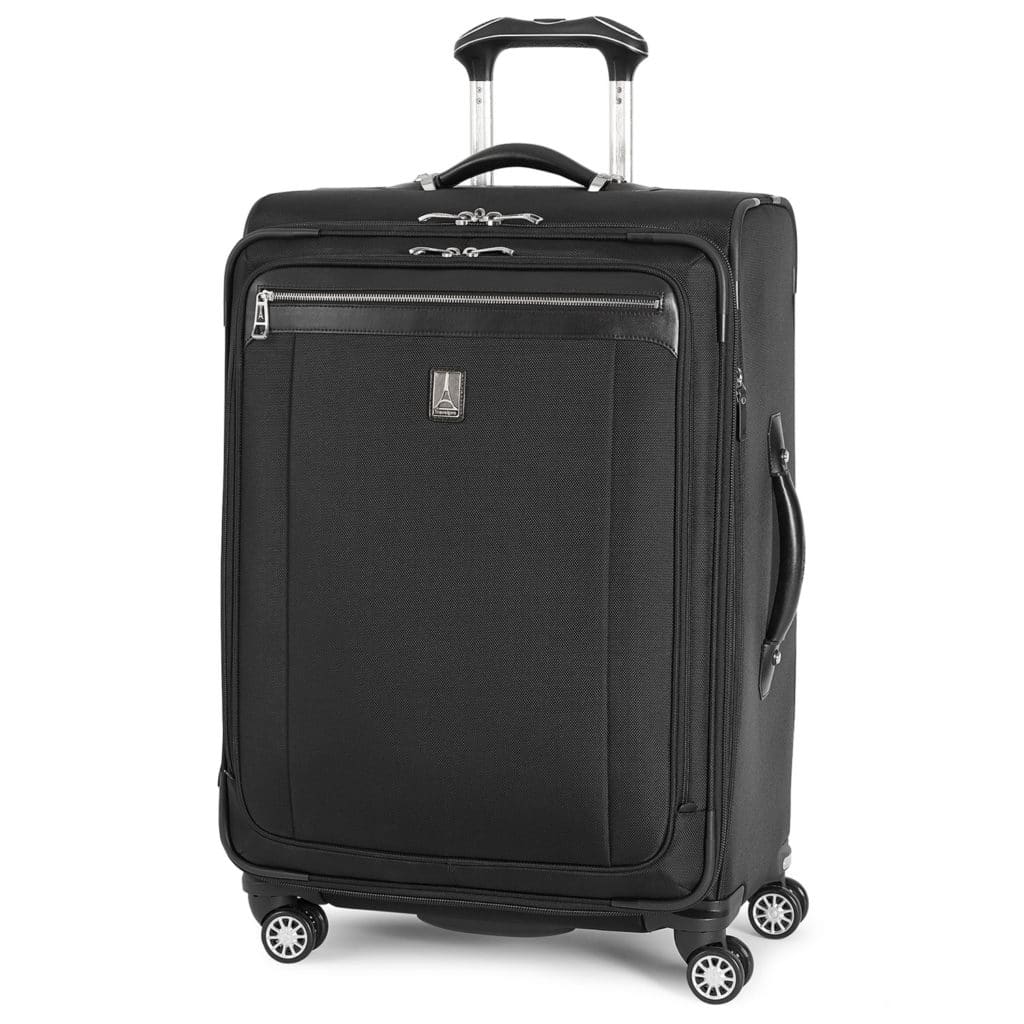 Credit: Travelpro
Smooth Rollin' – MagnaTrac
We've all been there. The two-wheeled suitcase that keeps swinging from left to right. Your four-wheeled spinner that won't move in a straight line. It frustrates to the point where you wish you would've just used a backpack. The Travelpro Platinum Magna 2 incorporates "MagnaTrac" self-aligning dual spinners to ensure that your bag will roll in a straight line. This time in the line you want it to go.
Not only does the suitcase promise smooth rolling, but it also has crash-guard wheel housings, skid guards, and molded corner guards. No more frayed corners from baggage claim.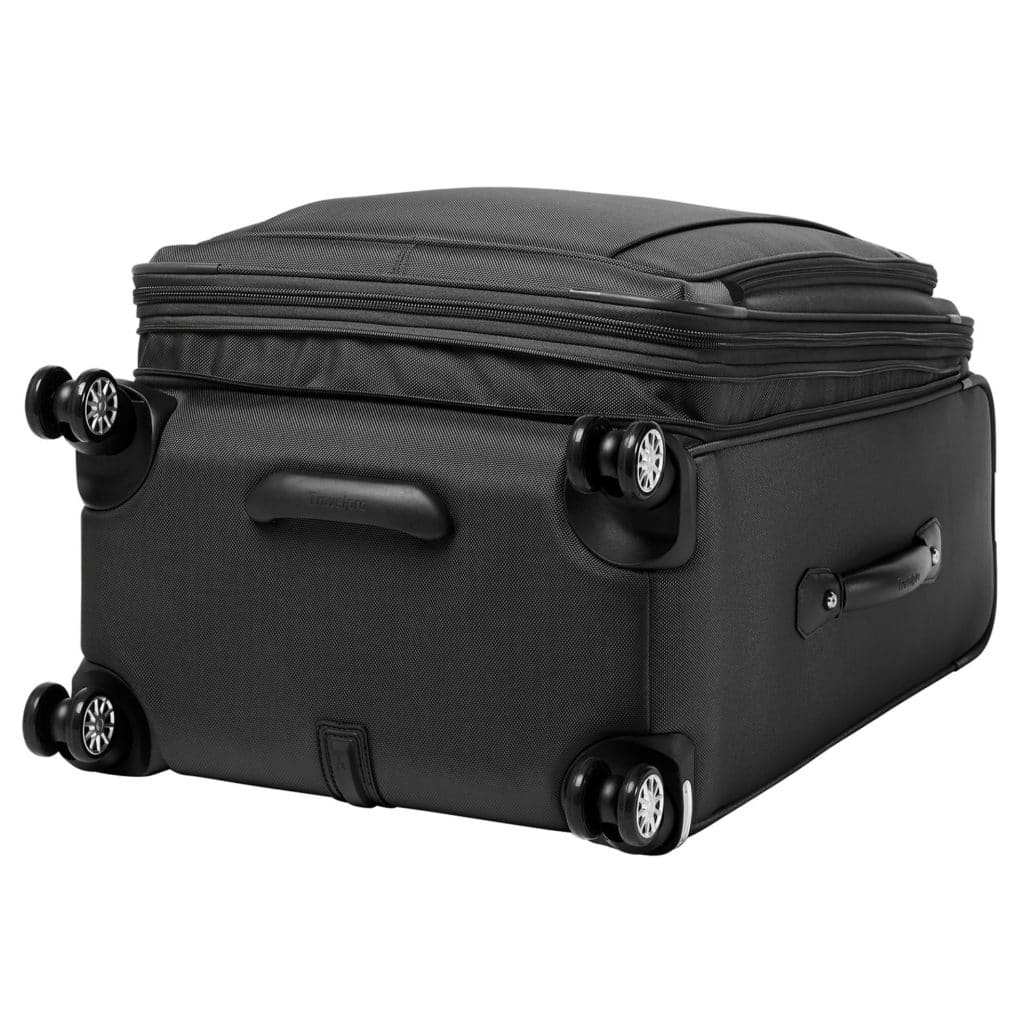 Credit: Travelpro
A Real "Suitcase"
Designed with the true business professional in mind, the Travelpro suiter can comfortably house 1-3 suits. This is important because often many bags will limit space cutting down the ability to pack larger sized garments such as suits. Its dimensions, at 18″W x 11.25″D x 27"H ensure that you can pack as much in as possible, all while sporting an ergonomic size. The bag also has a deluxe 3-panel suiter located inside the lid of the bag that folds out at your leisure. There is also a tie-down system to make sure that your garments hold their same form. Inside the Magna are several accessory pockets that will help you keep all of your gadgets and accessories safe and sound. Need more space? It extends an extra 2" on top of the already spacious interior of 25".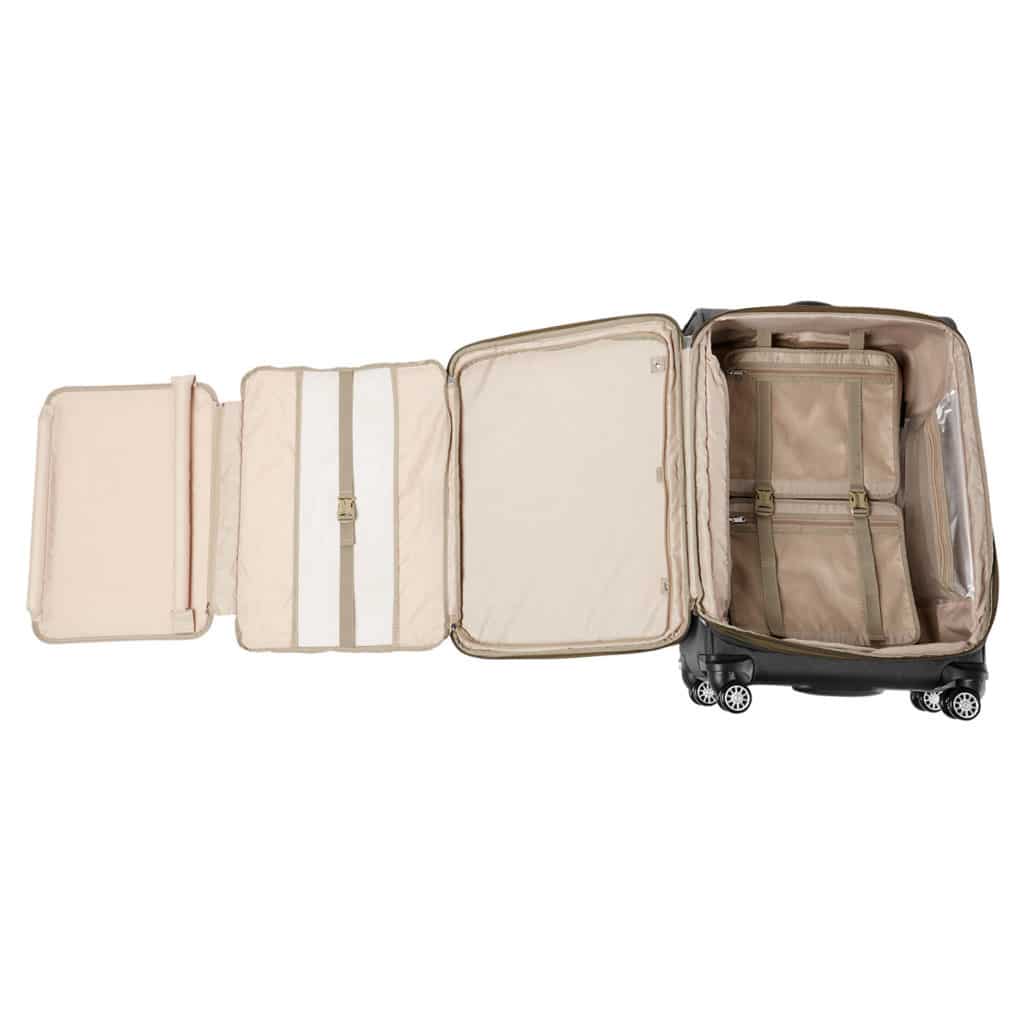 Credit: Travelpro
For the Love of Luxury
Discussed earlier, this bag is designed not only for the frequent business traveler but also for the fashion conscious in mind. For those of us who actually do care about everything when it comes to fashion, this one's for you. Think of it in this way. It wouldn't make sense to wear a designer jacket yet walk in torn up, ugly shoes. The same goes for luggage. Why would you want to put all those stylish garments in an ugly, worn out bag? It sounds like an upgrade is calling your name. For starters, there are two handles, both made of real leather, on both the top and side. What better way to prove quality and style that real leather? You can purchase yours in one of four color palettes: olive, charcoal, marsala red, and every man's favorite, black.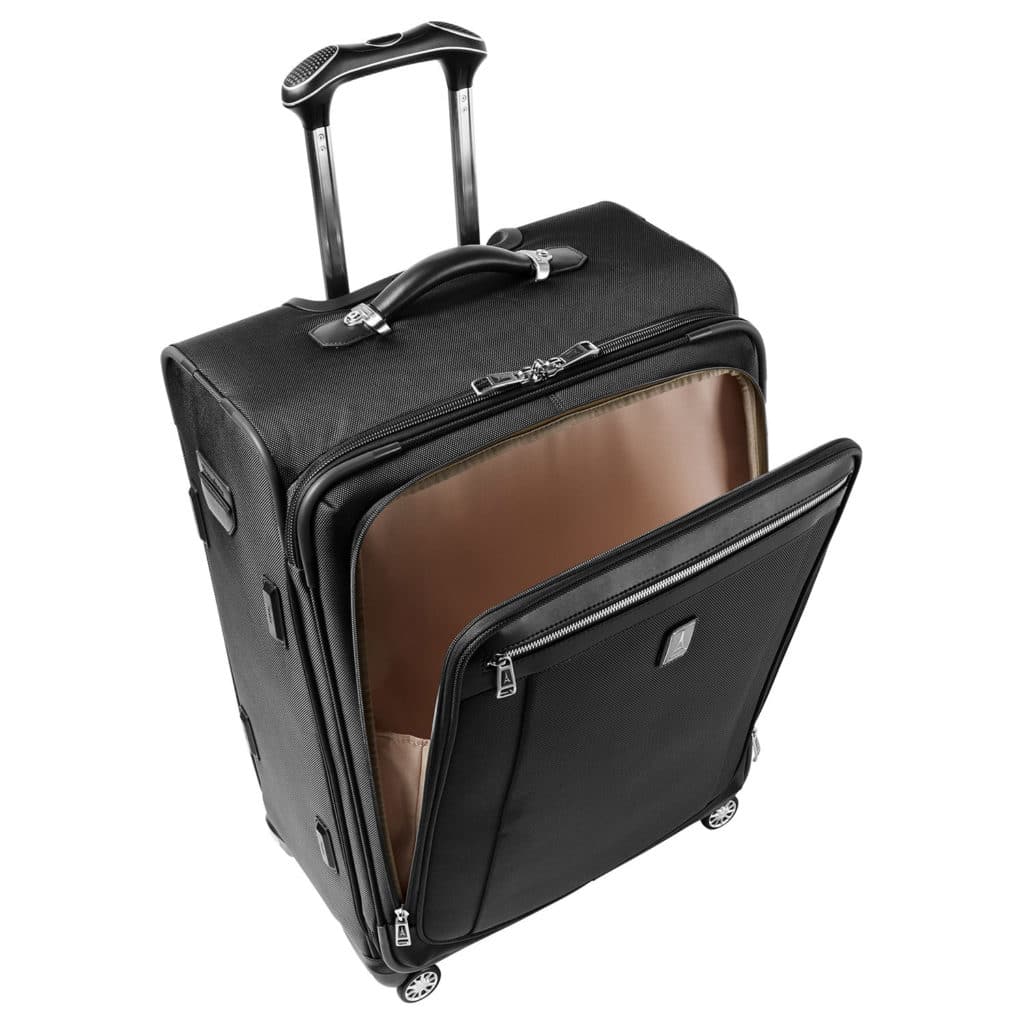 Credit: Travelpro
Ease of Use
Besides how well the wheels perform, the handle itself is something to note. It's a patented Contour Grip and has been proven to help relieve fatigue on the arm by providing cushioned touch points. The extending "PowerScope" handle has three stops at 38", 40", and 42.5". Its aluminum build has shown to minimize wobbling.
What Travelers Are Saying About this Travelpro Platinum Magna 2 25″ Expandable Spinner Suiter
Being true to its word, The Travelpro Platinum has continued to bring the brand loyal customers. Some of the pros are that it's spacious, has an excellent wheel system, and is stylish. It is also sturdy, has strong handles, and includes a built-in 3-Panel suiter. On the other hand, a few owners have said there is no included lock, no name-tag, and has the potential to tip. One owner said "Glides beautifully. Easy to pack. Like the compression system internally. The expansion part is only on the bottom portion to prevent the suitcase from toppling over when rolled. I really like that you can lower the handle some. We have checked it 3 round trips stuffed on continental US trips. So far it is wearing well."
Many customers have stated that the bag is on the pricey side compared to the competition, but that the small details go a long way, and are definitely worth the premium. Not often will you find a piece of luggage that has such a large fanbase.
​
Alternative Checked-Luggage Bags
As great as this bag as the Travelpro Platinum Magna 2 25″ may be, there certainly are other viable options that may just compare. Check them out to see what features or style that would best match you and your travel needs.
Samsonite Cruisair DLX 26" Hardside Spinner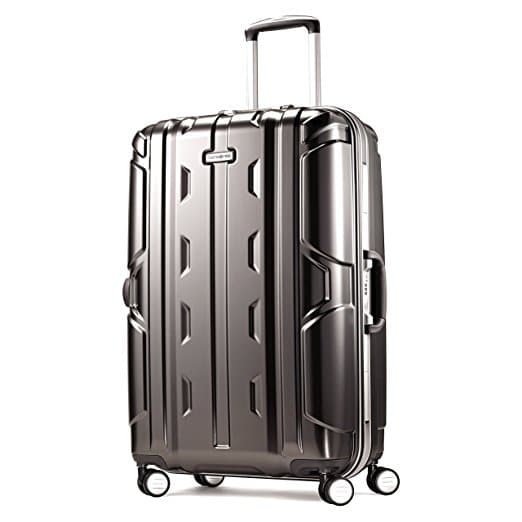 At just over an inch larger and two pounds heavier, this hard shelled suitcase is a great alternative to consider. If budget is your main concern, this may one may just suit you, at 250$. Samsonite has made a name for itself in the luggage industry and continues to make high-quality pieces that are sturdy and long-lasting. The frame is aluminum and the hard shell is 100% polycarbonate. This suitcase is also a four, dual spinner roller. The main difference between the Magna and the Cruisair is the that the first is nylon and the latter is polycarbonate. So you're looking to save a few extra bucks but still need looking for durability, look no further.
Briggs and Riley BRX Explore Large Expandable 26" Spinner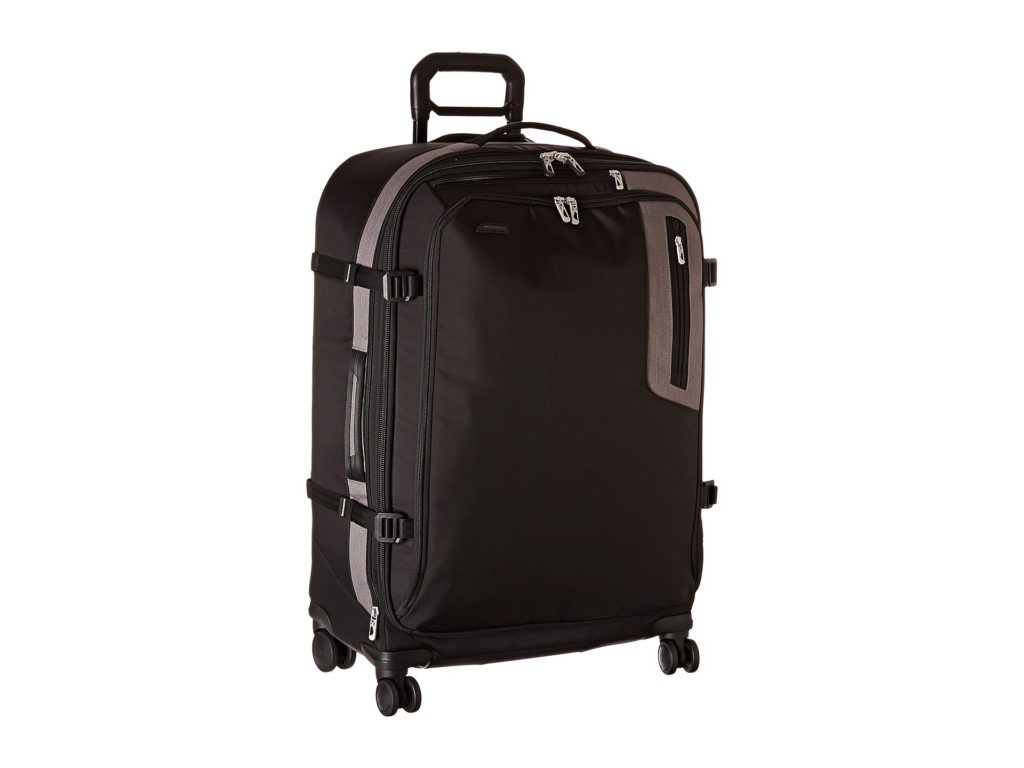 If you have the means and don't mind paying a little more for a more unconventional side of the wheel, then consider this. Briggs and Riley's BRX Explore Large 26" is the same size as the Magna, yet features a more lightweight and sporty design. The fabric is woven of water-resistant tarpaulin/nylon and has a v-grooved handle system that guarantees less jamming. Why this one over the Magna? Well, that's yours to decide. But if you want a bag that offers just as many functions but a more sporty, outdoor design, this suitcase might just be for you.
Delsey Quilted 25" Expandable Spinner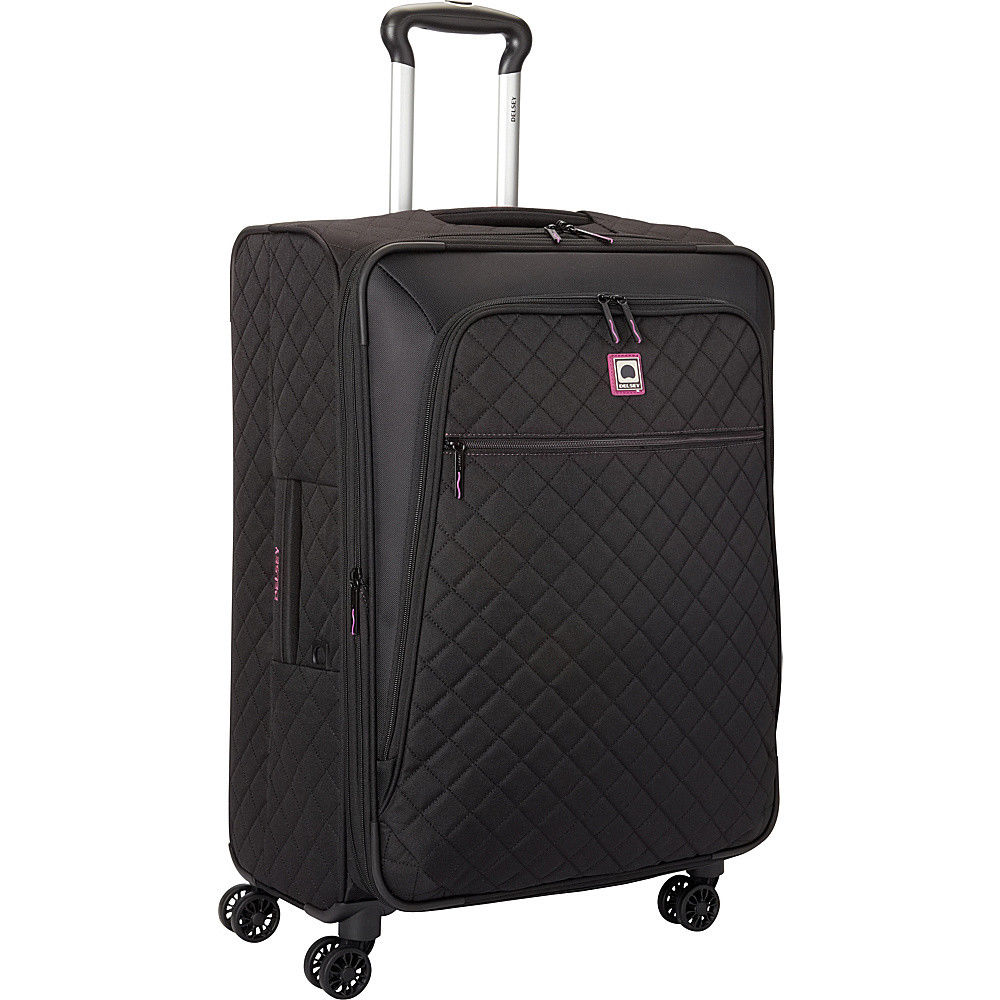 Lesser-known brand, Delsey, has certainly made a name for itself in the way of quality. Don't be fooled by it's lower price, as it certainly packs a lot of features (literally). Also at the same size of 25", this suitcase offers just about the same features, at of course a lower price point. The main distinction of this bag is its quilted exterior, which will certainly turn the heads of the fashion-conscious. Owners of this bag have generally nothing but positive things to say, so why not give it a shot.
Tommy Hilfiger Classic Hardside 25" Upright Spinner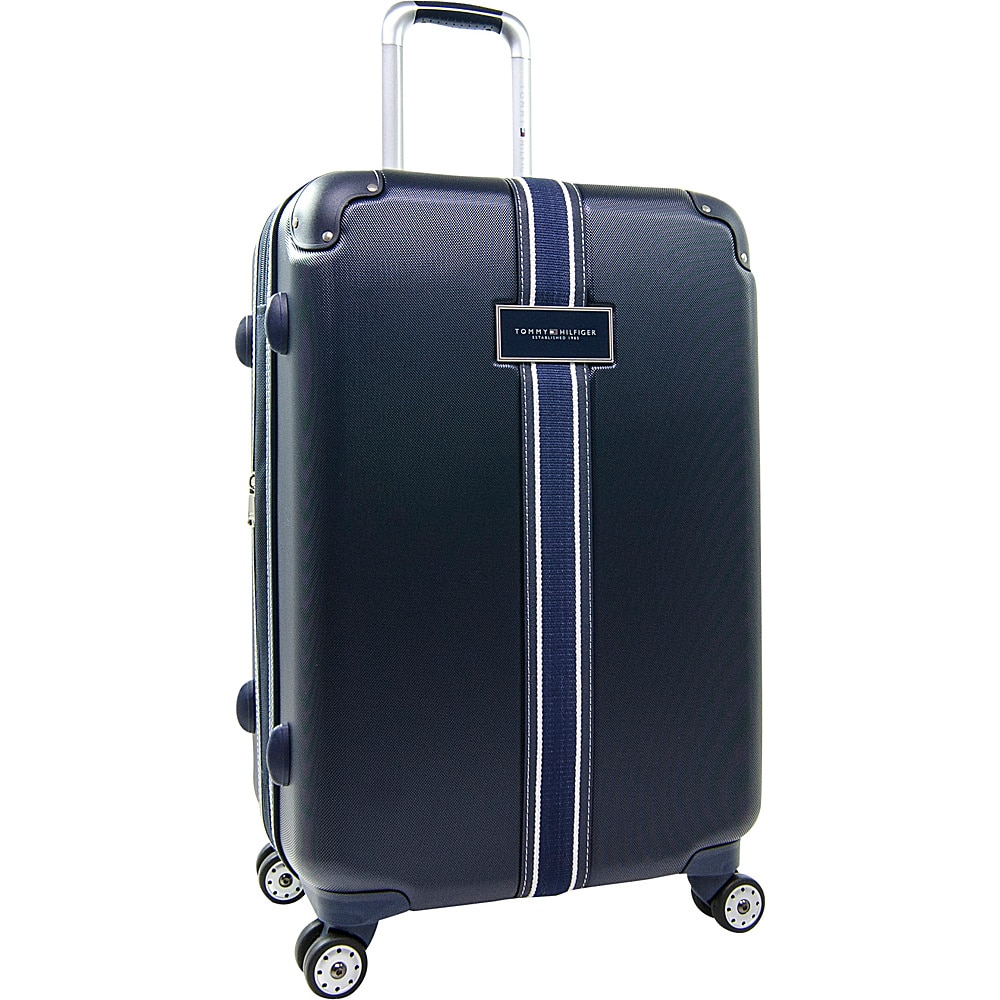 For all of you All-American men out there who like to coordinate: here's your dream suitcase. Classy but not too overpowering, this hard side upright spinner is the ultimate accessory. Crafted out of strong and sturdy ABS, you can rest assured that your valuables are safe and secure. There is also a built-in TSA approved lock. Despite its brand-name, this suitcase falls on the very affordable side of the scale. Some owners have reported that handles aren't as strong as they should be, but the majority seem to rate it as a legitimate suitcase. Just another option, if you're into the classy, American-cool.
A Trustworthy Choice
At the end of the day, the Travelpro suiter is an exceptional piece of luggage, but it's not perfect. But don't let that taint your decision. The bag is feature packed and offers both excellent form and functionality. As much as we may recommend this bag, you'll have to weigh the opportunity cost for yourself. Style and quality don't always come cheap, and that seems to be the case here. But as the old saying, "You get what you pay for" goes, that certainly couldn't be truer in this case.
So if you're willing to pay the investment then It may just be worth your while. But don't take our word for it, try out the Magna 2 for yourself!
Related Article: Best Checked Luggage Pieces (Plus How to Choose Yours)