Experience the winter months in style with the Kenneth Cole New York Coat.
During the winter, having the right kind of coat makes the difference between enjoying the weather and feeling miserable. No matter your style preferences, you need a coat that keeps you warm when venturing into the cold. At the same time, sacrificing looks for functionality isn't ideal either. With the Kenneth Cole New York Wool Blend Coat, you can feel cozy and fashionable while traveling throughout the winter.
Kenneth Cole New York Wool Blend Coat Features & Benefits
Optimum warmth
Credit: Amazon
The most important feature of a winter coat is its ability to keep you warm when outside. One of the worst things about purchasing a winter jacket can be realizing it doesn't maintain heat in the cold. Sometimes, even if a coat claims it gives protection from the chill, the jacket doesn't always live up to expectations. Spending time traveling throughout the winter months means you need outerwear that actually offers the warmth you need.
When you buy the Kenneth Cole New York coat, you'll be certain of staying warm during the coldest days. Combining wool and polyester fabrics for the exterior, the jacket ensures those blistering winds won't compromise your body heat. Similarly, the polyester and rib-knit filling offer tons of the toasty warmth you need to enjoy the winter weather.
Additionally, a stand-up collar, or bib, provides your face and neck with more defense against the elements. This means you won't need to wear a thick scarf to increase protection from the cold. You'll be able to forgo layering yourself in thick clothing, as the Kenneth Cole coat offers warmth on its own.
Classic Design
Credit: Amazon
As new and modern clothing options enter the market each day, many styles might seem incompatible with your tastes. Thus, it can be hard to find something with a more timeless look. However, you probably still want to feel up-to-date with fashion trends. In this manner, selecting a coat that combines both styles may be a challenge. With so many jackets to choose from, the selections can be overwhelming to any shopper.
One of the most attractive qualities about the Kenneth Cole New York coat is its sophisticated appearance. The wool fabric gives the jacket a classic exterior, making it perfect for those who prefer traditional yet stylish clothes. The coat also offers a slim look, so you won't feel bulky while donning the jacket. With button-front enclosures and a standing collar, the coat conveys a simple and fashionable style. Whether running errands or going to work meetings, you'll look and feel professional when wearing this coat.
Pockets for Storage
Credit: Amazon
If you like to bring multiple gadgets when traveling, you need a jacket that offers plenty of storage. Having to carry a bag can be annoying and a burden if you want to move with ease. At the same time, you don't want to leave certain items at home to maintain efficiency while you travel. Specific belongings should always be carried with you, like wallets, phones, and passports.
With the Kenneth Cole New York coat, you can be assured of finding a place to put your belongings. Two deep exterior pockets provide the perfect location to place your hands or your cell phone. These allow for the storage you need when journeying out into the brisk cold. You might also bring a small notebook to document your discoveries during your travels.
Color Options
Credit: Amazon
While a black coat can match multiple outfits, sometimes it's nice to try a different color for your jacket. However, you also want to buy a somewhat neutral jacket, as this lets you wear the coat with any clothing. Purchasing outerwear with a less common color additionally allows the wearer to stand out in a crowd. You can still feel unique without feeling overly vibrant or colorful.
When you buy a Kenneth Cole New York jacket, you'll feel sophisticated and stylish. The coat offers customers with three different shades for their jacket. Choose between black, charcoal, and light grey when purchasing this coat. These colors remain versatile, so you can wear the jacket with pretty much any type of clothing. With this color palette, you can be assured of finding the right shade for your style.
What Travelers Are Saying About the Kenneth Cole New York Wool Blend Coat
Customers who bought the Kenneth Cole New York coat raved about the item's classy look. Many loved that the coat came in different color options besides black. This allowed the wearer to feel as if they stood out in comparison to other coats they owned. The guys who wore this jacket found it to be a stylish addition to their winter wardrobe. Some even related receiving tons of compliments from strangers when they donned the coat outdoors.
A lot of reviewers stated they usually have trouble finding coats that fit their bodies. With the Kenneth Cole New York coat, the men found the coat fit perfectly without need for tailoring. Taller wearers also related there were no issues with too short sleeves or extra shoulder spaces. Additionally, those who purchased the coat found the inner quilt lining to be especially comfortable.
Besides providing wearers with a stylish look, the coat also lent to warmth in the brisk cold. Those who lived in harsh winter climates, such as in New York, found the coat ideal during chilly days. The stand-up collar on the coat helped provide more warmth around the neck and face. With the additional inner liner, the jacket ensured customers felt toasty even in freezing temperatures.
Alternative Men's Winter Jackets
Though the Kenneth Cole coat offers customers the best in winter coat functionality, some other options might fit your needs better. Read on to find out about a few other men's winter coats with comparable quality.
1. The North Face Gotham Jacket III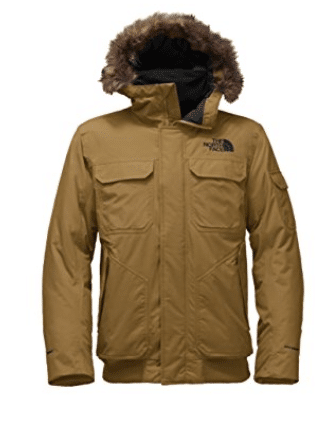 Credit: Amazon
Many winter coats, especially for men, often only come in colors like black or dark grey. That means most jackets tend to look the same when attempting to make a new purchase. The North Face Gotham Jacket comes in a wide range of shades, so you won't get bored by neutral color options. Some of the choices include Red, Khaki, Grey Herringbone, Urban Navy, and Taupe Green. When wearing this coat, you'll feel stylish and unique. Additionally, the coat doesn't skimp on warmth for stylish features. The jacket also has waterproof capabilities and a down interior to offer protection from the elements.
2. Wantdo Men's Winter Thicken Outwear Coat
Credit: Amazon
With a dense, fleece-lined interior, the Wantdo Men's Winter Outwear Coat offers exceptional warmth when out in the cold. You won't feel the need to maintain heat levels by wearing lots of layers if you wear this jacket. This coat also comes with a removable hood, assuring customers can change up their look if they choose. However, when it starts to feel extra chilly, make sure you keep the hood to provide your face with protection. Multiple interior and deep outer pockets also ensure customers can bring all their gadgets with them when traveling. This means you won't have to worry about lugging along a bag to carry your travel gear.
3. Chouyatou Men's Winter Wool Blend Peacoat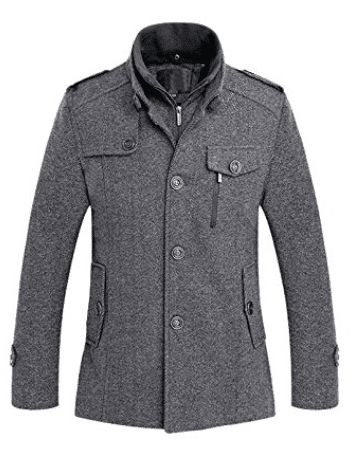 Credit: Amazon
The Chouyatou Men's Winter coat maintains a unique, military-inspired design for those wanting a more sophisticated look. High-quality wool and tweed fabrics make the exterior of this jacket look classic while providing interior warmth. A stand collar on the outside gives the wearer more protection from brisk winter winds. Similarly, an interior collar can be detached for when the weather grows a bit warmer. Button front enclosures give the coat a classic appearance and keep the cold from reaching your body. Additionally, chest and waist pockets offer multiple locations to store your items, like wallets and cell phones.
Leave your bulky coats at home and buy a sleek, Kenneth Cole jacket instead.
When purchasing a winter jacket, finding an item that will provide warmth and a fashionable look can be difficult. Frequently, coats appear stylish, but skimp on added protection from chilly weather. Or, bulky jackets that keep one toasty don't usually have the sophisticated design you want. When you choose the Kenneth Cole New York coat, you won't need to sacrifice style to feel warm when outdoors. Combining a classic exterior and protection from the cold, this jacket offers customers everything they need in a winter coat. Check online to buy this coat and make the most of the winter months.
Related Article: Best Winter Jackets for Men Who Travel