Amplify your music with the Bose SoundLink Revolve speaker.
Music livens up our days and provides motivation when we're working or feeling a little down. This means the device you use to listen to your favorite songs has to perform in the way you want. Whether you're finishing a work assignment or dancing at a party, you need a speaker that can project maximum sound. Yet, having to multitask means needing a device that can be transported easily and function from a distance. With the Bose SoundLink Revolve, you can listen to music at any volume and carry it on every journey. Rather than keeping your phone plugged into the speaker, you may accomplish your daily activities wirelessly while still playing tunes.  
A Little About Bose
Credit: Bose / Facebook
Bose has made a name for itself as a leading provider of audio equipment. The company's main values involve benefiting its customers with the latest in technological developments and continuing to innovate each day. A driven team of engineers, researchers, and marketers, Bose combines the skillsets of different employees to create the best products. Above all, the company emphasizes dreaming, encouraging its workers to never stop thinking of new inventions and achieving greater goals. Bose strives to produce devices that satisfy their customers' needs, making them a trusted company to purchase your listening technologies.
Bose SoundLink Revolve Features & Benefits
1. Amplified Sound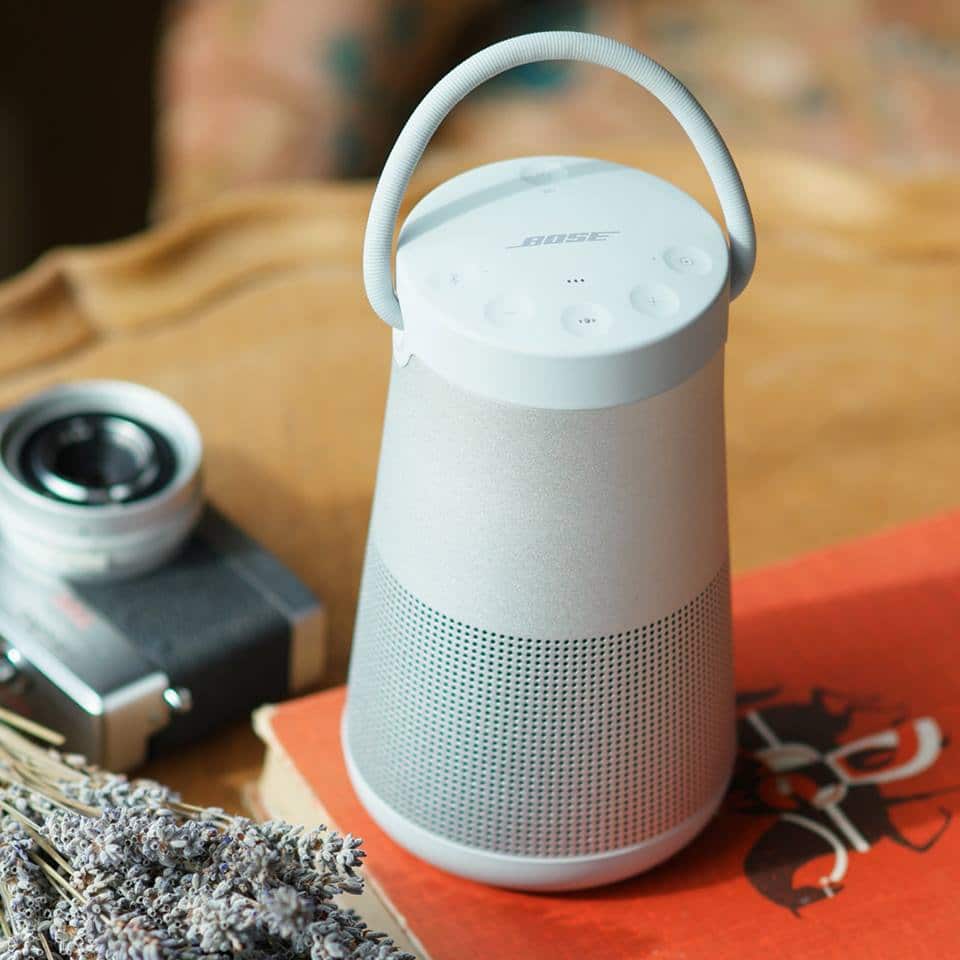 Credit: Bose / Facebook
When attempting to play music for a large crowd, you need a speaker that can produce wide-ranging sound. Some audio devices fail to create large amounts of noise, making a party or outdoors event feel less exciting. You want a speaker that can provide total sound immersion, so everyone might enjoy hearing your favorite songs.
With the Bose SoundLink Revolve, users can be assured their tunes will play loud and clear, no matter the environment. The speaker's 360-degree sound coverage means that the music will reach the ears of every person in the room. Containing dual-passive radiators and an acoustic deflector, the device can project sound at high volumes and over large distances. Despite the speaker's tinier size, the device also produces deep bass tones, letting you truly feel the music.
2. Bluetooth connectivity
Credit: Bose / Facebook
For travelers or multi-tasking employees, having a speaker that needs a wire connection can be a huge frustration. Instead of being able to move around with ease, you'll have to keep your phone plugged in at all times. This means limited mobility and a reduction in work efficiency, since you can't forget about the device and walk away.
Instead of feeling bogged down by wire connected speakers, consider purchasing a wireless device like the Bose SoundLink Revolve. The speaker utilizes Bluetooth to enable users to link their phones without the use of a cable. This allows you to play music from your cell and still use the phone as you go complete other activities. You might also pair the speaker with a digital assistant like Google Home, giving commands through the device's built-in microphone.
3. Resilient structure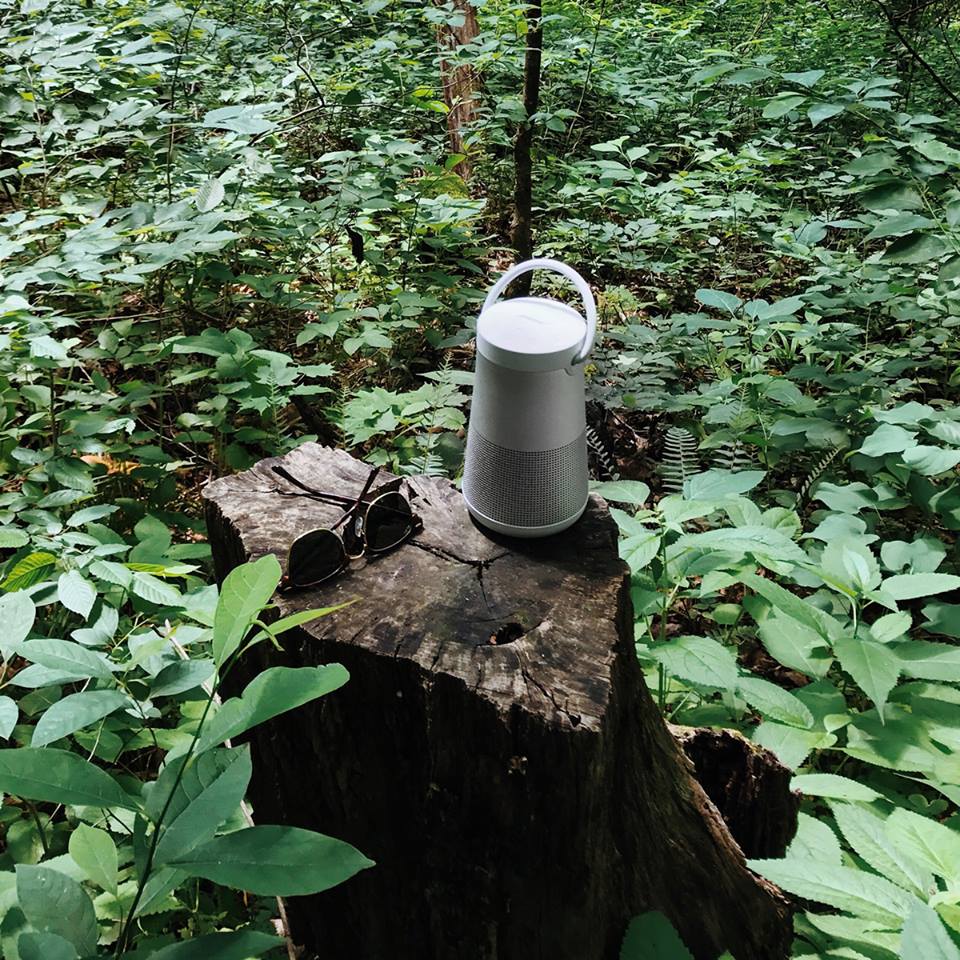 Credit: Bose / Facebook
If you're going to travel while listening to music, your speaker should be able to withstand a few injuries. Ventures to the mountains or the beach mean increased chances of dropping the speaker in water or on harsh terrains. Instead of enjoying your time outdoors while playing music, you'll probably be fearful that your speaker will incur some damage.
Thanks to technological advancements, speakers like the Bose SoundLink Revolve come equipped with a durable design. The device's waterproof capabilities allow for peace of mind when listening to tunes near water sources. Similarly, if you stumble and drop the speaker, you won't have to lament the loss of the device. An aluminum body provides the tough exterior necessary to survive any knocks against rough or hard surfaces.
4. Long-lasting power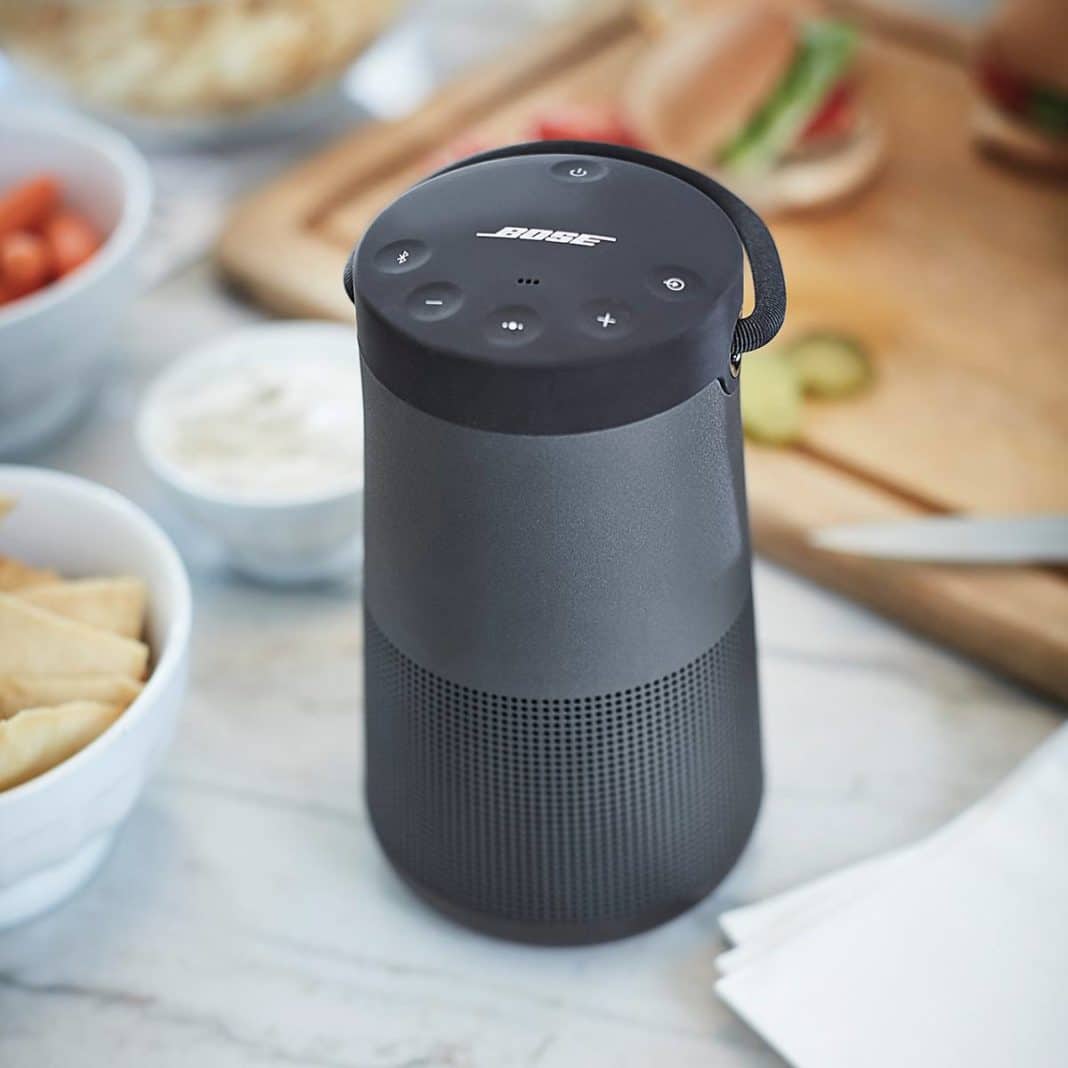 Credit: Bose / Facebook
Having a portable speaker means that you may bring the device on any trip. This can be great, except that many speakers have weak batteries, so they die after only a short period of time. When toting a listening device along on an outdoors adventure, you won't find an outlet to charge your speaker. Instead of getting to play your tunes throughout the trip, you'll have to forgo music after the speaker loses power.
Since the Bose SoundLink Revolve includes a lithium-ion battery, the device can be played for up to 12 hours. You'll be able to spend your entire day listening to music before needing to plug it in for a charge. Additionally, the rechargeable nature of the battery ensures you won't have to purchase extra batteries to bring with you.
5. Portable and minimalist design
Credit: Bose / Facebook
Before you decide to buy a new speaker, you should think about how much travelling you plan on doing. With most listening devices, the desire for high volumes leads to speakers with large, heavy constructions. If you want a device that's easily carried from place to place, smaller speakers should be considered.
As an extremely portable speaker, the Bose SoundLink Revolve allows users to bring the device anywhere they go. The speaker's tapered, cylindrical shape makes it easy to grab and stow in purses or backpacks. In a similar manner, the device's sleek and simple design provides users with straight-forward functionality. With just a few buttons included on the exterior, the SoundLink Revolve offers uncomplicated usage and a clean appearance.
What Travelers Are Saying About the Bose SoundLink Revolve
Those who purchased the Bose SoundLink Revolve raved about the speaker's ability to produce loud sound from many feet away. When placed in a corner of a room, reviewers found the speaker could emanate even more noise throughout the space. Many discovered the speaker didn't need to be used at maximum volume, as it created enough intensity in lower ranges. One reviewer utilized the speaker at an outdoor wedding, relating that hundreds of guests could hear the music perfectly.
The extended battery life of the speaker has also been a favorite feature of the device. With its hours-long usage time, reviewers found the device to be a great asset to bring on trips. Some even related that the speaker lasted around 16 hours before they had to charge the speaker. Similarly, users didn't have to wait a while for the speaker to charge, as it powered up very quickly. Rather than wasting time trying to charge the speaker, users could quickly boot up the device and continue their day.
Additionally, the Bluetooth connectivity meant that customers could link their phones to the speaker without needing a wire. Instead of leaving their phone plugged into the speaker, they could utilize their mobile devices from afar while playing music. This feature also allowed the reviewers to connect other devices, such as laptops, easily and with little instruction.
Alternative Bluetooth Speakers
Even though the Bose SoundLink Revolve offers so many amazing features, you might find it lacking in some aspect. Since everyone's needs and desires can be different, you'll have to search around to locate the best speaker for you. Read on below to discover three alternative Bluetooth speakers with comparable quality to the Bose SoundLink Revolve.
1. UE Boom 2
This Bluetooth speaker has an amazing range of sound, sending music over huge distances. When at a party or outdoors event, you can be assured everyone involved will be able to hear the tunes. Similarly, the Bluetooth connection can link with devices, such as phones, from 100 feet away. Rather than keeping your phone close to the speaker, you can continue to use your cell while doing other activities. The UE Boom 2's waterproof features mean peace of mind when adventuring outdoors. Dips in large depths of water for multiple minutes will not deter the speaker from performing. Rather than leaving the speaker in a backpack, you can bring it to the beach or by a river. The shock-absorption design of the device also ensures the speaker will survive any tumbles across the ground.
2. JBL Charge 3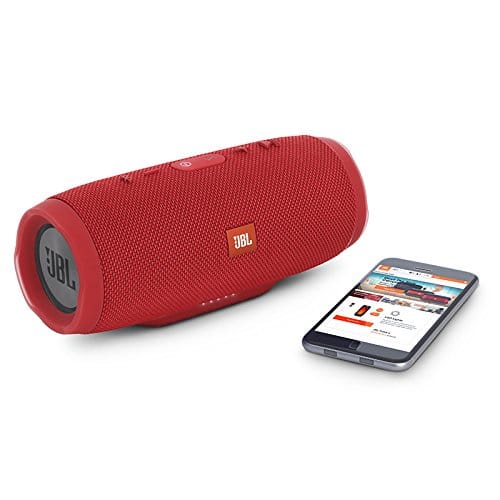 The JBL Charge 3 gives listeners the powerful sound they desire in a speaker. Volumes can go extremely high when playing music, so you'll be able to feel truly immersed by your tunes. Despite the speaker's smaller size, the device remains capable of producing intense, high-quality sound. With the ability to connect up to three devices, you can alternate song choices between you and your friends. Additionally, the inclusion of a speakerphone feature means you can take phone calls hands-free. This allows for greater levels of multi-tasking and working while on the go. Multiple color options also let the customer pick a shade that matches their personality and style. Choices like Camouflage, Red, and Teal offer unique exteriors to complement the user's tastes.
3. Bose SoundLink Color II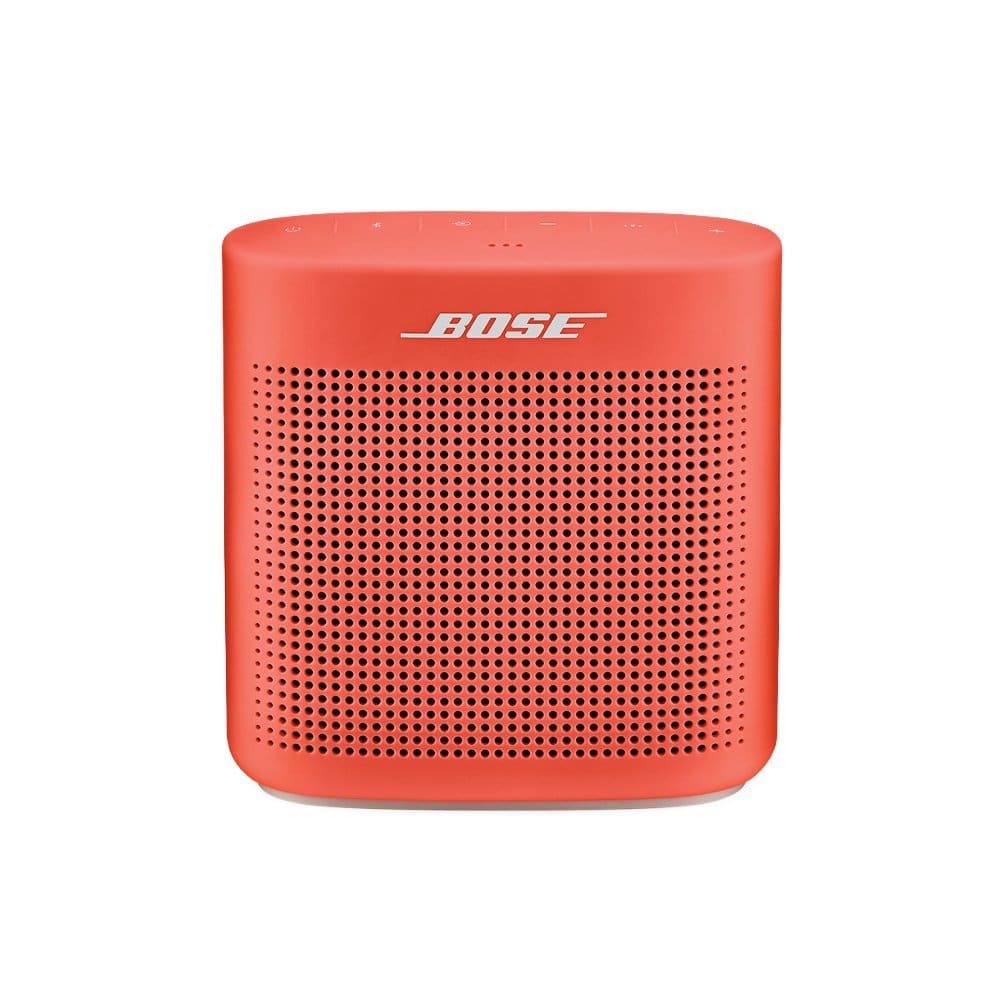 Another speaker from the Bose brand, the SoundLink Color II offers similar ranges of sound and volume. The device's silicone exterior allows for easier handling when carrying the speaker to and from different destinations. Since Bluetooth connecting instructions can be confusing, the speaker gives voice prompts to assist the user in linking their devices. Similarly, the SoundLink Color II comes with a built-in microphone to enable speakerphone usage or digital assistants, like Siri. This lets you command song choices or take phone calls without using your hands. For those who spend lots of time outdoors, the device's lithium-ion battery also allows listening times of up to eight hours.
Experience high-quality sound without the bulk of other large speakers.
When listening to music, the speaker you own can make the difference between lousy sound levels and amazing volume. Rather than wasting money on devices that don't perform in they way you desire, consider purchasing the Bose SoundLink Revolve. With this speaker, you can be assured the device will produce intense noise in any environment. Despite its smaller nature, the SoundLink Revolve delivers on creating maximum sound for every listening experience.
Related Article: 10 Best Bluetooth Speakers Money Can Buy | Review