Bose SoundLink Color 2 Small Speakers Sound Spectacular
Our favorite feature of the Bose SoundLink Color 2 is its ability to amplify some great sound, all from a small body. Of course, you want your speakers to deliver quality sound, but the Bose SoundLink Color 2 speakers include some extras as well. It's still relatively small (though not so portable that you'd have to sacrifice on sound quality), and backed by a brand name that has earned itself many loyal customers. Honestly, this Bose product isn't the highest quality sound of all Bose products, but it still has redeeming features that are important to keep in mind. Therefore, this small speaker pleasantly fills your backyard, campsite or living room with your favorite music from your phone or other device.
Bose SoundLink Color 2 Features & Benefits
Excellent Sound Quality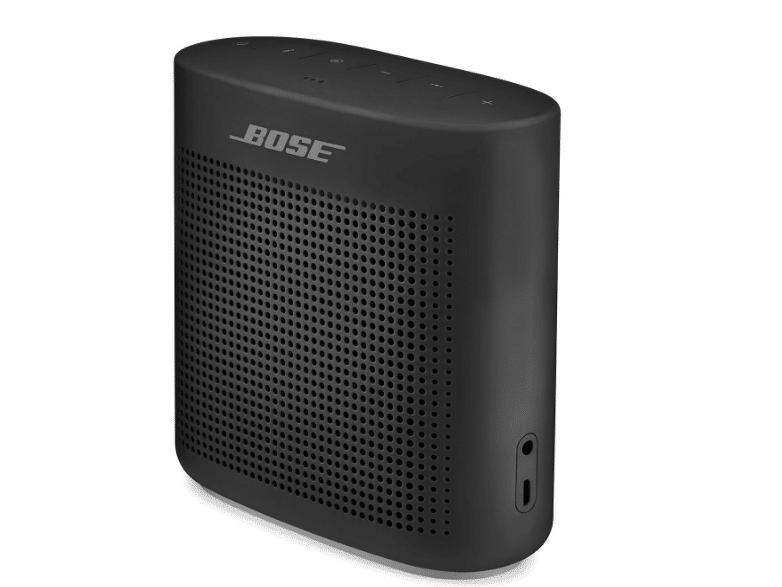 Credit: Amazon
Though this is still a small speaker, the sound is pretty amazing. It's not the smallest, most portable speaker available, but rather the size allows for a bit more bass than those competitors. It's still portable enough that you can take it on a trip and enjoy its pleasant sound wherever you go. You'll enjoy the clear sound, the decent bass. When you raise the volume, it doesn't become fuzzy. Therefore, the Bose SoundLink Color 2 delivers some superior sound quality, despite its relatively small size.
Super Compatible With Your Phone
Credit: Amazon
The Bose SoundLink Color 2 pairs easily with your phone. If you're using an NFC-enabled device, you can pair quite simply with a tap. Otherwise, you can use bluetooth to connect with the speakers and play the music from your phone. Additionally, the app you can download makes it extra easy to control the speakers right from your phone. When pairing using Bluetooth, the speakers will give you voice prompts to make the process extra easy. This also helps clarify which device you are connecting with, since other phones can pair, too. And finally, the Bose SoundLink Color 2 speakers include a microphone. This means that you can still get to Siri or Google by talking through the speakers.
Additionally, you can make calls on speakerphone using these speakers and their microphone feature. Therefore, the combination of the app, easy bluetooth pairing, and built-in mic for speakerphone, make this speaker extra compatible with your phone.
Rugged (and Colorful) Exterior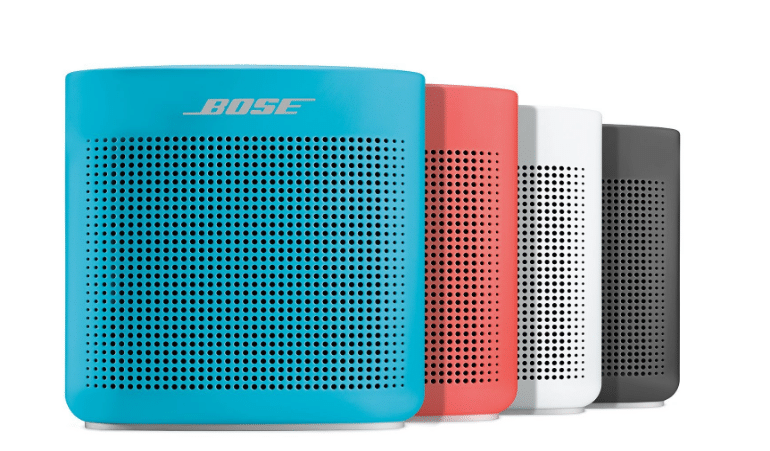 Credit: Amazon
Though the speakers might not survive a total plummet to the depths of the pool, they will tolerate some rain, splashes or spills. Realistically, the water resistance is a helpful feature since you can't listen to music underwater anyway! The outer layer of silicone makes it fun to grab; the soft-touch silicone will not slip through your hands. Plus, the silicone exterior contributes to the water-resistancy. Additionally, the Bose SoundLink Color 2 speakers come in an assortment of fun colors: deep red, bright blue, or white or black. The long, slender profile means that it won't tip over easily. Furthermore, we find that it's really easy to push the buttons on top, without having to pick up the speakers or knock them over.
Decent Battery Life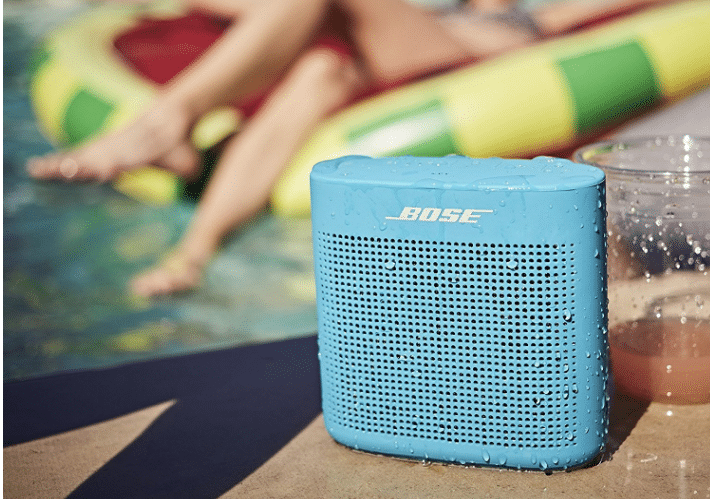 Credit: Amazon
When it's time to charge the Bose SoundLink Color 2 speakers, just plug it into a USB port. The cable comes with the speaker, so you can charge it with a laptop. The Bose Soundlink Color 2 speaker doesn't, however, come with a wall plug. Even when the volume's high and you've been playing music like this all day, the Bose SoundLink Color 2 speakers will still deliver about eight hours of playing time.
What Other Travelers Are Saying About The Bose Soundlink Color 2 Speakers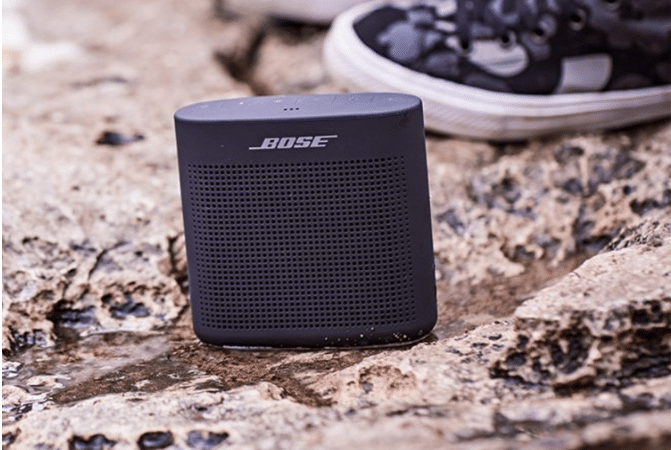 Credit: Amazon
It's hard to deny the great sound from this Bose product, and many other customers will support that feature. Other travelers find that this provides high-quality sound, especially for its compact size. Many say that unless you're looking for the most perfect stereo system, the Bose SoundLink Color 2 speakers perform well. Of course, this performance is based on expectations once realizing the true, small size of these speakers. After purchasing, many others feel that these speakers delivered the desired sound quality, or better-than anticipated sound quality. A factor in that overall sound quality is the bass. Other customers have found that the Bose SoundLink Color 2 speakers feature some good bass, too. Additionally, the Bose SoundLink Color 2 speakers won't get too fuzzy or shaky at a high volume.
On the other hand, the occasional customer reports some strange issues with the Bose SoundLink Color 2. Some purchase the speakers and then have trouble connecting them to a phone using Bluetooth. Additionally, there have been some complaints about the unit not working at all, even with enough charge. In those cases, the speakers seem to go dead, even soon after their purchase date. Therefore, there may be a risk when purchasing the Bose SoundLink Color 2 speakers, especially because the price indicates that it's a quality product. If purchased through Amazon, or directly from Bose, you'll want to check in to the return policy and consider if it's worth it. In summary, this happens in only a few, unusual cases. Overall, many other customers enjoy the great sound, decent battery life, size and colors of the Bose SoundLink Color 2 speakers.
Alternative Bluetooth Speakers
JBL Clip 2 Bluetooth Speaker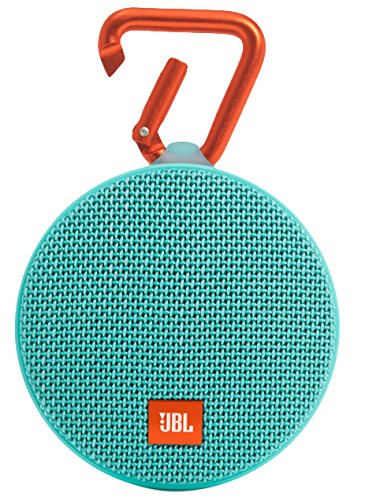 Credit: Amazon
The JBL Clip 2 Bluetooth Speaker's best feature is its ability to produce decent sound from a really small device. You can really take this anywhere with you, and it even comes with a handy carabiner clip. Therefore, you can hook it to lawn chairs, railings, backpacks, etc. Additionally, it's truly waterproof, rather than just water resistant. This means that you can accidentally dunk it in the pool, or keep it outside of your backpack during a torrential downpour. You can hold the JBL Clip 2 Bluetooth speakers basically in the palm of your hand. The speakers measure approximately 4 inches by 4.5 inches by 5 inches.
Because of its small size, customers are often pleasantly surprised by the sound quality. It is, however, important to keep in mind that since it's so small, there's just no way for it to get the bass of larger speakers. Additionally, you can link two of these speakers together to fill the room with more sound. The JBL Clip 2 pairs with your phone using bluetooth and includes a charging cable so you can charge it through a USB port. Overall, this little speaker offers some good sound and is incredibly portable.
Ultimate Ears Wonderboom Waterproof Bluetooth Speakers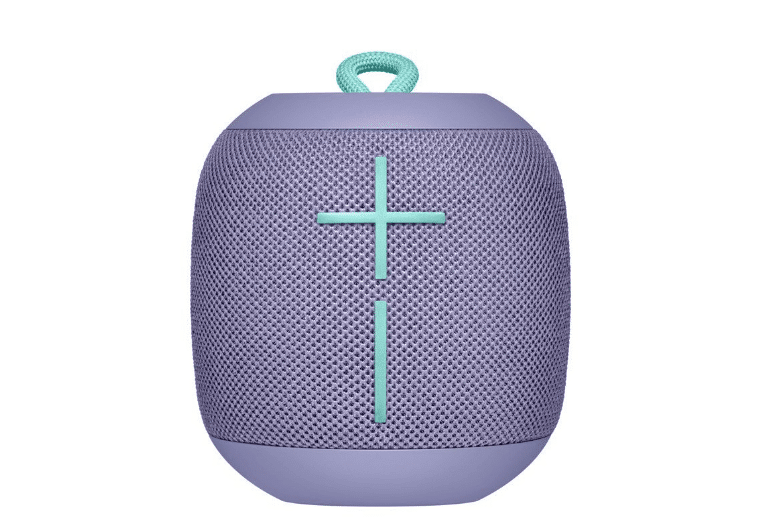 Credit: Amazon
These powerful little speakers are compact with good sound quality. They are pretty similar to the JBL Clip 2 Speakers, just slightly more expensive with arguably better sound. The dimensions are approximately 4 inches by 4.5 inches by 5 inches. You can choose from a variety of colors. These UE Bluetooth speakers pair with your phone, but don't have the option to plug in to a device through an audio cord. Battery life lasts pretty long, in fact, it's advertised at about ten hours. You will charge up the battery through a micro USB that is included. Additionally, you can even pair these Ultimate Ears speakers together (double-up) so that you can add more sound to a room.
These Ultimate Ears Wonderboom Speakers have a waterproof rating of IPX7, and will float for a little bit before becoming submerged (but no worries: it'll still work when you rescue it from the bottom of the pool). Additionally, you can control some features right on the speakers: play, pause, turn up or down, and skip to the next song. Overall, this little speaker is compact and offers good sound for a bluetooth speaker.
JBL Flip 4 Bluetooth Speaker
Credit: Amazon
While it's not an incredibly compact bluetooth speaker like the JBL Clip 2, the Flip 4 speaker is powerful. It's waterproof and cylindrical in shape. You can link many other JBL speakers to this (you're not limited to two in this case). The longer battery life promises around twelve hours of play time. Choose from a variety of fun colors and set this cylinder on a table top or poolside for some great background music, or dance-to sound. It doesn't handle bass incredibly well, but at the end of the day, it's still a small, portable speaker. It does, however, offer some good, loud sound, and you can easily bluetooth connect and travel with it. Overall, for a larger size than the JBL Clip 2, the JBL Flip 4 will fill the room with quality sound transmitted from your phone.
Bottom Line: Bose Soundlink Color 2 Speakers deliver some great sound.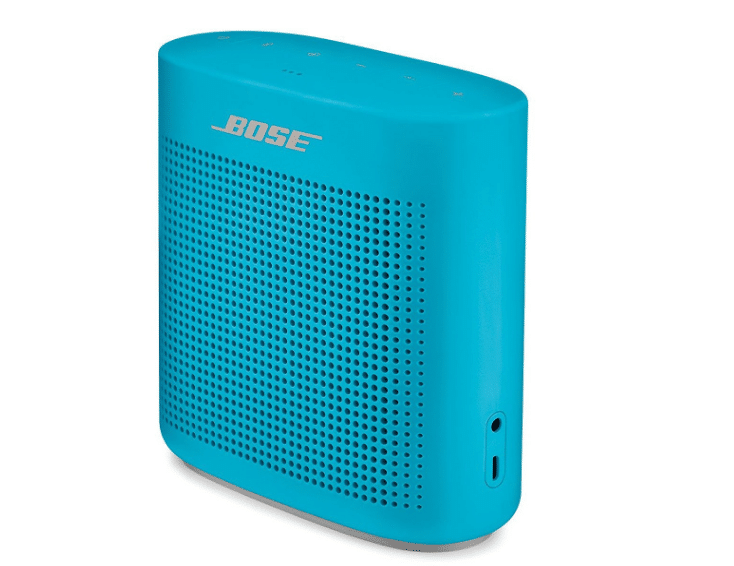 Credit: Amazon
The Bose Soundlink Color 2 Speakers are a pretty good deal. They're compact, yet they boast some nice bass and overall sound quality. Despite some users experiencing unusual issues with charging, most customers are glad to start the party with their Bose Soundlink Color 2 Speakers. Choose from some fun colors. You can trust that the water-resistant outside with hold up against the elements! They're portable, though not so small as to sacrifice some big sound!
Related Article: ​10 Best Bluetooth Speakers Money Can Buy | Review​​​