Fashion and function come together in the Skmei Men's Compass Watch. This is the accessory made for outdoor enthusiasts.
The SKMEI Men's Compass Watch is made for travelers who are frequently on the go. In the world of affordable sports watches, this is clearly one of our favorites. With a fashionable digital display, it offers high precision and a classic aesthetic. We're happy to note that it's also well constructed; so take it anywhere. It's going to be your travel companion for a long time.
About the Brand
SKMEI is an outdoor sport and fashion brand committed to delivering a casual style. They provide some of the best products and service in the industry. The SKMEI Men's Compass Watch offer high precision and an elegant appearance.
What Are You Looking for in a Watch?
This is an important question when you are shopping for a travel-oriented watch. Are you seeking something more for function, fashion, or both? The SKMEI Men's Compass Watch is a combination of the two. While the leather strap and face offer a sleek style, it is also durable and outfitted well for the elements. For example, it has a compass, barometer, and thermometer.
In addition, it is water resistant for up to 164 feet. Wear it on the streets exploring a new city, take it to the gym, go snorkeling, and swimming. Due to pressure underwater, we do not recommend taking it diving. Make sure the watch you purchase is able to perform the way you need it to. If you can take any opportunity to make your travels run more smoothly, why not do it?
SKMEI Men's Compass Watch Features & Benefits
Design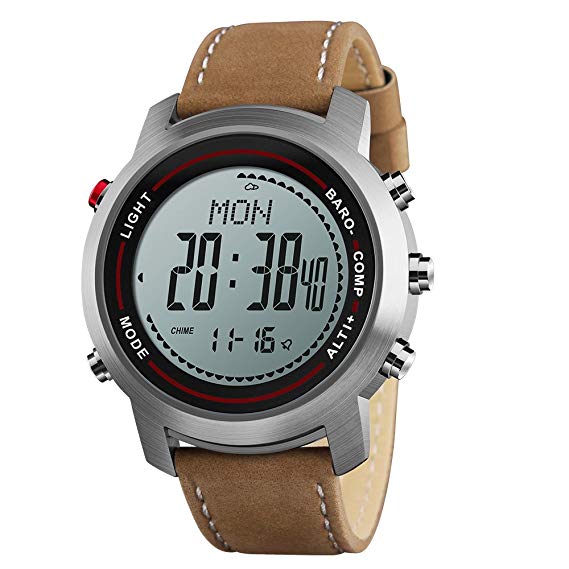 Credit: Amazon
The leather strap brings together a two-layer shang cowhide in a strong stitching process. This style is so comfortable to wear. Besides the wear, the SKMEI Men's Compass Watch is equipped with a compass for you outdoor adventure enthusiasts. When you are exploring out in the wilderness, this will help you to stay on course. One of the travel accessories we recommend that hikers carry with them at all times is a compass.
Barometer and Thermometer
The barometer shows the air pressure and the thermometer shows the temperature. As the air pressure rises, the weather might feel fine. But when it drops, the weather can quickly change to a rainy and cloudy atmosphere. With this temperature display, you can easily preview the weather when you're on the way out the door. We love how reliable and functional this altimeter is. It can draw an altitude graph in just 24 hours.
Pedometer
You might have thought the features to this watch ended after the barometer and thermometer. But you'd be wrong. The SKMEI Men's Compass Watch also comes equipped with a fully functional pedometer. If you don't already know, a pedometer tracks your moving steps. So, you will know how far you walk and how long you have until your destination.
Memory Storage
Record your last seven days of data in the watch. The sequence of your screen display shows your steps, total distance, calories, and time digitally.
Simple to Use
We love how easy the SKMEI Men's Compass Watch is to use. Make the user interface cleaner and easier to use by turning off unused menu items. If you'd like, you can always reactivate those menu items too. There are also some on-screen prompts to make setting up and using your watch easy. While you are active, the pusher on the watch face is easy to use too.
Core Features
Alright, here are the tech features you have all been waiting for. Made from a strong stainless steel and hardlex crystal, you can see the quality put into the SKMEI Men's Compass Watch . You can take this watch anywhere and everywhere. Go running in the morning; a little sweat won't hurt it. Rain won't either. Go swimming or snorkeling. All styles are water-resistant for up to 164 feet.
Tech Specs:
Multifunctional watch

Barometer

Thermometer

check

Men's Sports Watch

check

Compass

check

Stopwatch and Countdown

check

Pace to track your speed

check

Dual time zone

check

Two independent alarms

check

Calendar shows day and month

check

Waterproof

check

Water resistant up to 164 feet
What Travelers Are Saying About this SKMEI Watch
Overall, travelers seem to love the SKMEI Men's Compass Watch. For its price point, it is a pleasantly surprising, durable buy. Besides its use for an outdoor travel accessory, it is stylish too. A lot of sports watches look just like that – sports watches. But this style is one you can easily take from the beach to the streets and then dinner afterwards. Coupling fashion with function, it is a great buy.
Alternative Men's Watches You May Like
Men's Vincero Kairos Wrist Watch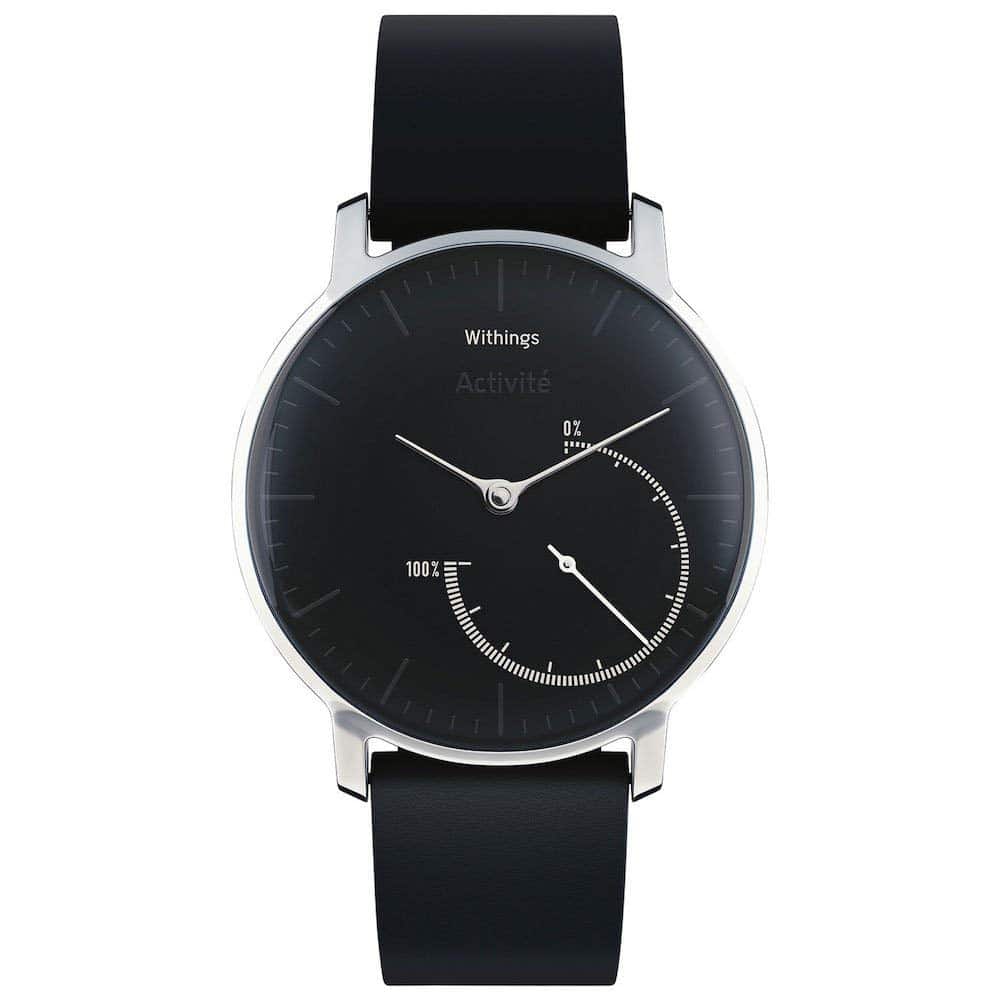 You don't need to hurt your wallet to enjoy a little bit of luxury. This sleek style from Vincero shows just that. If you haven't heard of this dynamic brand before, they craft luxury watches for the men with modern styles. At the core of their brand's philosophy is the belief is that you deserve the best quality product you can to look and feel at the top of your game. We all know that when you look good, you feel good, and when you feel good, you can do anything. Vincero's Kairos is one of the best men's watches.
On the back of the watch (and all the Kairos styles) is the motto "Live your legacy." This is a great reminder to never stop or settle. Endlessly pursue your goals. Every single caseback features gorgeous historic Italian marble. This timeless wrist piece is a reminder of persistence. Vincero's obsessive goal is to create pieces that match your hustle. And they definitely do just that. This watch certainly has a distinctive look and quality. You can feel it.
Luxury and quality are about so much more than prices or mere specs. It's all about value. It's also about attention to detail. They never take shortcuts and commit to always providing customers with nothing but the best.
Tech Specs:
Italian leather band

Surgical grade stainless steel

Scratch resistant and water resistant

check

Features historic Italian marble

check

Engraving on the back "live your legacy"
Armitron Black Digital Chronograph Watch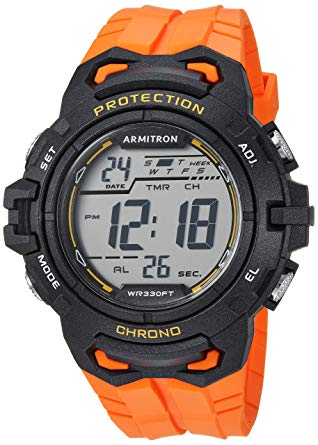 Have you been looking for a bold and functional watch? Good, affordable watches for travel can be hard to come by. Luckily for you, we've taken the guesswork out of it. We're happy to say that the Armitron Black Digital Chronograph is one of those hidden gems. As you know, what you purchase is only good for as long as it holds up.
The Armitron Black Digital Chronograph is a worthwhile investment. Made with a durable metallic plastic resin case, it's resistant to scratches and keeps the fragile elements of the watch safe. Spanning 48 mm across, you also have plenty of screen to see without feeling overwhelmed by its size. The material can easily be cleaned. So, if you're looking for a watch you can take from the gym to the streets, this is one for you. A little bit of sweat and water won't hurt it. Armitron really covered all the bases when they made this style.
Taking a look at the tech, we love the menu options. The display shows the time, date, day of week, and alarm all at once. So, you don't have to spend as much time navigating to find them. In addition, you will find more options for alarms, dual time, and military time. Last but certainly not least, there is also a backlight for the LCD Display too.
Since the watch is powered by quartz (cool, right?), you will always have the accurate time of day. It's up to you to change it when you switch time zones. Still, the Armitron Digital Chronograph Watch is accurate and doesn't need much maintenance besides the occasional battery change. That's a design we can get behind.
Tech Specs:
Metallic case and ring

Chronograph

Time lap

check

Alarms

check

LCD display

check

Dual time

check

Military time

check

Water resistant up to 100 meters
Treehut Redwood and Ebony Wooden Watch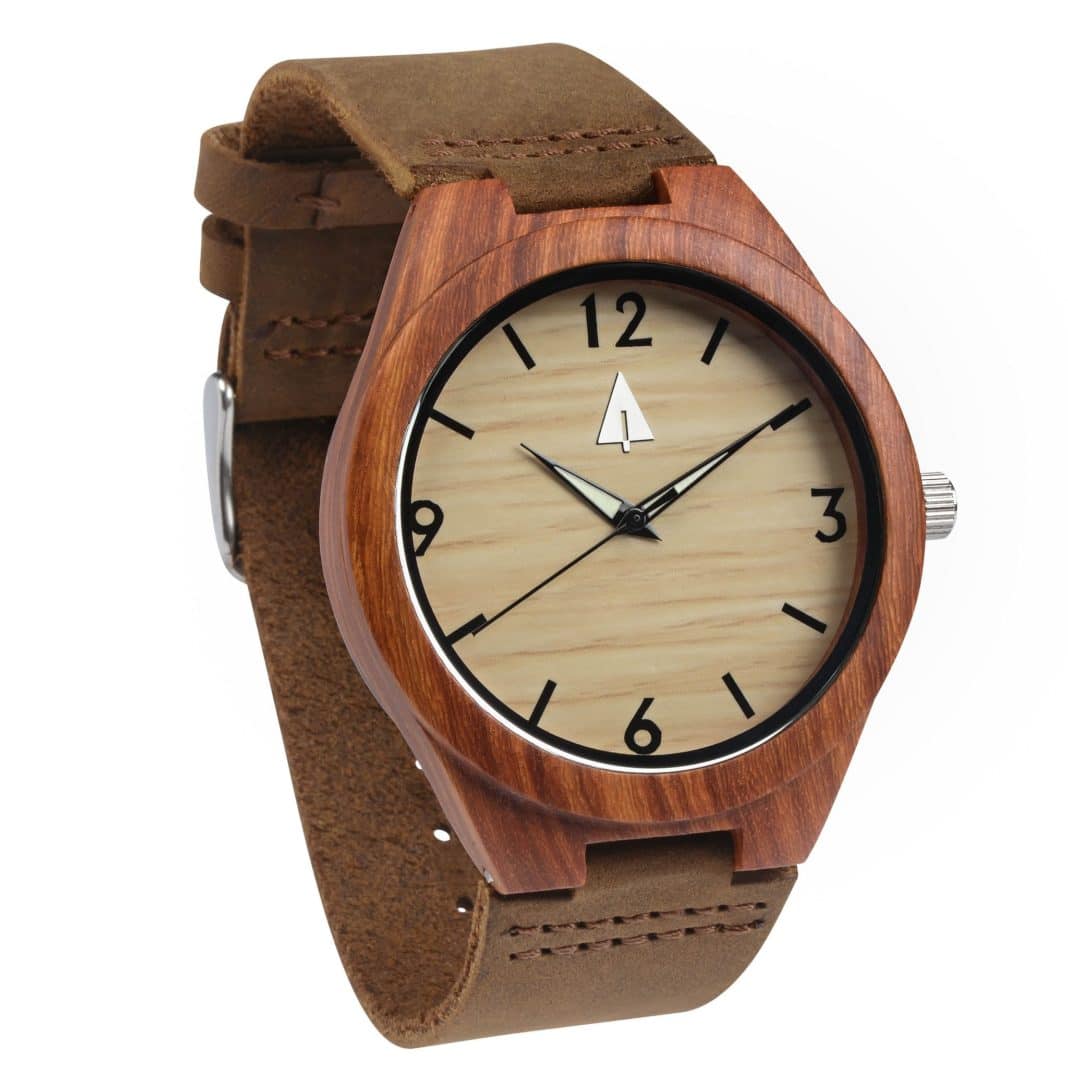 Have you been seeking out an eco-friendly minimalist style watch? In that case, you will love this style from Treehut. Check out this design – a Redwood and Ebony Watch made from all wood with a strap quartz analog. It features push buttons, stainless steel, and a tri-fold clasp. The absence of chemicals and paint means that it's not only eco-friendly but also safe for the skin to wear.
Equipped with high-quality Japanese Miyota watch movement, it offers an accurate and precise time. Since it's composed of Rosewood and Ebony, the watch's appearance is not only aesthetically pleasing but also highly durable.With this watch's wooden concept, it will fit any men's outfit. This watch's simple and classic design is suitable to man's taste, whether he is fashionable or meek. Rather than painted, its finish is a polished wood grain.
Don't worry about the battery because it can last up until 5 years. The bands can fit up to 8.5 inches and can be easily adjusted for when you want that perfect fit. Give yourself a great timepiece that is ideal for any occasion. Treehut's Rosewood and Ebony Wooden Watch for men keeps you ahead of the times!
Miyota movement ensures a battery life up to five years. Durability and style come together with unpainted polished wood grain finish and whole wood bands with a high quality stainless steel buckle, The bands fit up to 8 1/2 inches (wooden links with screwed pins can be adjusted when taken to jewelers.)
Tech Specs:
100% real wood

Classic design

Japanese quartz movement

check

High quality

check

Miyota time movement
Invest in the Best Men's Watches for Your Next Trip (aka the SKMEI Men's Compass Watch Review)
We hope you enjoyed reading our article on the SKMEI Men's Compass Watch Review and a few of our other favorite styles. As you can see, there are so many high-quality brands on the market to choose between. The type of watch you need as a traveler depends on where you want to go and what activities you are pursuing on your getaway. The brands and watch styles we included all offer style and function. Sleek minimal looks meet practical design with waterproof elements and a durable design you can take just about anywhere.
Related Article: The 5 Best Men's Watches Of 2018: Stylish, Affordable Options