Finding a bold and functional digital watch that doesn't pinch the wallet too hard can be difficult these days.
Thankfully Armitron has stepped into this issue for us. Whether you've been going through cheap watches from the department store or still haven't found the one that fits your personality, we get it. That's why we're going to talk about the Armitron Black Digital Chronograph Watch today. With its bright wrist strap and incredibly durable face, we can't help but get excited. Coming in just over twenty dollars, this is practically a steal. So, let's go through the features and specs of this watch before we get you too excited.
A Little Bit About Armitron
For over sixty years, Armitron has been designing and innovating watches with bold style and individuality. As they have pioneered well-made watches, they have kept to their mission of making these stylish, functional timepieces accessible to every person. This is definitely a mission we can stand behind. Armitron also strives to have a diverse customer base and does not use models in their advertising. Rather, they use the myriad of beautiful and unique customers they have to shine for them. Armitron empowers each consumer to share their own story through the different colors and designs they offer. If you're intrigued to know more about why they do what they do, check out their Many Faces Blog.
Armitron Black Digital Chronograph Watch with Orange Resin Strap Features & Benefits
Metallic Resin Case
Any accessory is only good for however long it lasts. Thankfully, the Armitron Digital Chronograph Watch has a durable black metallic plastic resin case. This provides just enough protection of the screen and your wrist to keep all the important elements and features safe. It is forty-eight millimeters across, giving you plenty of screen without being overwhelming on your wrist. In addition, this material is easily cleaned or wiped. So, if you're looking for a workout watch to get sweaty with, this is perfect for that. It won't soak up and hold the sweat either. The sleek black face is also stylish enough to wear at work or out for dinner later. Armitron thought ahead and made this watch both functional and versatile.
LCD display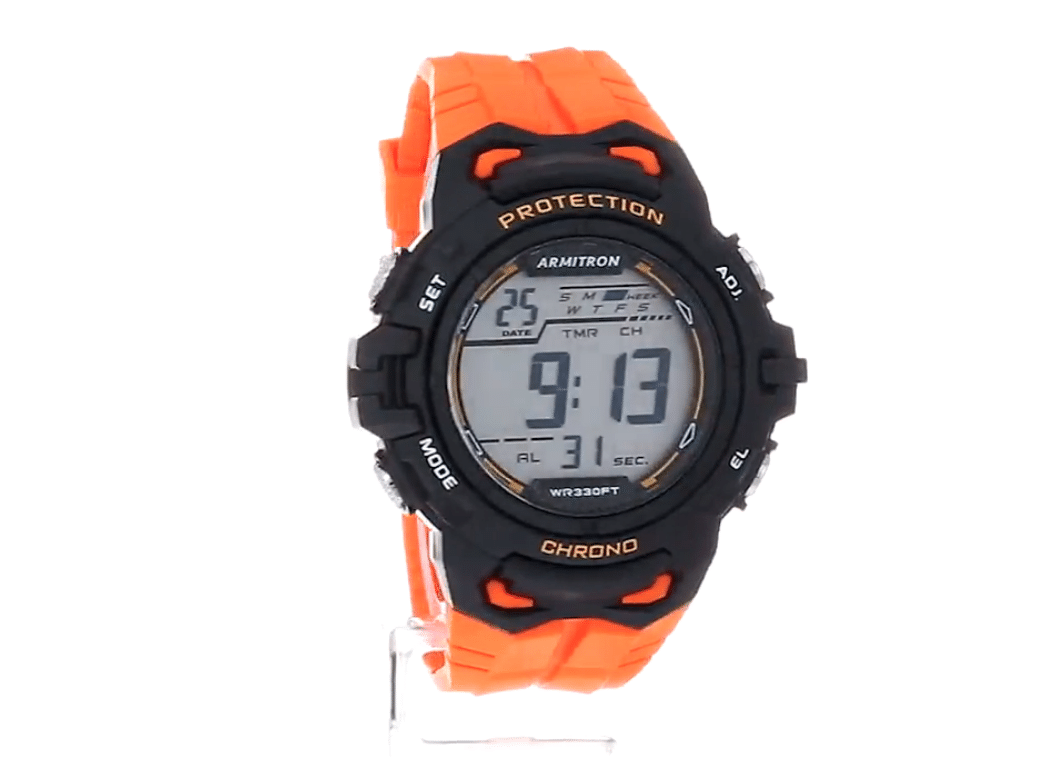 The Armitron watch display itself is made to last. With LCD technology, the watch won't miss displaying even a second of time. When cycling through the different menu options, it will be quick to respond as well. The display can show the time of day, date, the day of the week, and if the alarm is on all at once. This allows for you to spend less time pushing buttons and more time on the go. Additionally, there are options for different alarms, dual time, and military time. As expected, there is also a backlight for this stellar LCD display by Armitron, too.
Quartz Powered Movement
Powered by quartz, the Armitron watch will always give you the right time of day. However, it's up to you to manage that time well. The Armitron Digital Chronograph Watch is incredibly accurate and requires minimal maintenance aside from the rare battery replacement. So, if you're on the lookout for an easy and simple watch that you don't have to worry about upkeep, Armitron is a great choice.
Stylish Orange Resin Strap
Armitron is made for the individual. Usually making bold statements, the Armitron Digital Chronograph Watch is no different. The orange resin strap will stand out wherever you are, so be prepared. That being said, it looks really good. So, this standing out will probably bring you quite a few compliments. Being made of the same resin as the watch face, it is easily cleanable. On top of that, the watch has a stainless steel closure that provides a durable way to keep it on your wrist. Do note that this strap is built into the watch. Therefore, it is not able to be switched out with another color or type of strap. Overall, Armitron does add quality to their watch by choosing this resin strap for their digital chronograph watch.
Water Resistance
It can be quite disheartening to have a watch that stops working or begins to glitch after a quick dip in the water. Thankfully, Armitron has equipped their digital chronograph watch with water resistant materials up to 330 feet. Generally speaking, it is suitable for swimming and snorkeling, but stay away from deep sea diving in this one. But, for your daily workouts and your wet weekend excursions on the river, this Armitron watch should do the trick.
What Travelers Are Saying About this Armitron Black Digital Chronograph Watch
Travelers consistently enjoy this watch, especially given the price. Averaging around 4.1 out of 5 stars, we'd agree that is is a great bargain. Most positive reviewers comment on the great functionality and ease of the buttons. They don't stick, but rather provide just the right firmness to convey quality. In addition, consumers like that Armitron has included three alarms in this watch. So, whether you use those extra alarms for nap time or to remind you to take out the trash, this watch is ready to help you out. Other highlights of this watch by users are that it doesn't get dirty. For those working with chemicals or oils, you can easily wipe this watch off at the end of the day and no one will know what got on it. This is a great aspect of any watch, so thank you Armitron!
Many reviewers also note that the LCD display allows you to read the watch from any angle. Without the need to look straight on at it, you can easily check splits while running or safely check the time while driving. There's no need to do the classic straight arm, bend, and twist action to read it. Just a quick glance will do, friends. Reviewers note that this watch only comes in bright colors, which some wish they could change. But, Armitron is dedicated to bold style, so we can't see a tamer color hitting the market any time soon.
Alternative Travel-Worthy Watches You May Like
Casio Classic Red Stainless Steel Watch
For another fun but budget-friendly digital watch, check out the Casio Classic Red Stainless Steel Watch. Powered by Quartz as well, this watch is highly efficient and provides an easy to read display. Its face is a bit smaller than the Armitron, so for ladies or smaller wristed men, this is a great alternative. Being water resistant and having labeled buttons, this watch is an easy go-to for just about anyone. The bright red color also adds some spunk to whoever wears it. To top the Armitron watch, this one comes with five alarms! So, if you've been on the search for the watch to make sure you're up in the mornings, this is it. Lastly, the watch is made of stainless steel all the way around. This will keep it durable for quite a long time. So, for an equally priced alternative with just a few changes from the Armitron, check out Casio's Classic Stainless Steel Watch.
Treehut Men's Rosewood and Ebony Wooden Watch with All Wood Strap
If you're needing a more sophisticated style than the Armitron Digital Chronograph Watch brings, look towards the Men's Treehut Redwood Watch. This watch is crafted from 100% wood, making it lack any chemicals that would have been produced or a bi-product of many plastic watches. Handmade with care by watchmakers, this watch has been checked over for defects and will come in pristine condition.
As Treehut stands behind its beautiful watches, this one will come with a two-year manufacturer's warranty. With that, you can be comfortable wearing this anywhere. From work to the dinner party after, this classy wooden watch will showcase your style and ecological responsibility. Lastly, the watch has an easy tri-fold stainless steel closure, eliminating the need for a bulky buckle. So, if you're looking for a classy alternative to the Armitron watch, the Treehut Rosewood and Ebony Watch is a fantastic way to go.
Samsung Gear S3 Frontier Smartwatch with Bluetooth
For the smartest alternative watch to the Armitron, try out the Samsung Gear S3 Frontier Smartwatch with Bluetooth. Don't let the steep price point scare you away just yet, though. This watch has the sleek and classy design of a high-end mechanical watch, but the smart technology that we know Samsung always delivers. You can text, call, email, and read notifications on your watch face through the Bluetooth connection. On top of that, you'll be able to use Samsung Pay by simply swiping your wrist over the scanner. How cool is that?
It also has a built-in speaker and microphone so you can start and end calls with ease. You can easily scroll to the built-in GPS app using the steel bezel, and of course, you can access all your other apps from there as well. A phenomenal watch needs phenomenal protection, though. So, Samsung put in water, dust, and temperature resistance to keep your investment running well.
Overall, Armitron has proven their dedication time and time again to make a bold watch for every man.
If you're on the search for a low-priced digital watch that will last, the Armitron Black Digital Chronograph Watch with Orange Resin Strap will fit the bill. There is also a yellow strap option, so whatever spunky style you're going for, it'll work. Go ahead and dive in and grab this today. What's the worst that can happen anyway? It's a great looking watch for only twenty dollars!
Related Article: The Best Watches for Fashion-Minded Travelers