These beaches in Maryland offer serenity, fun, and natural beauty.
While Jersey typically gets the spotlight for its many beaches on the Mid-Atlantic, Maryland earns some attention, too, for her beaches. Between still-natural, preserved coastlines, and all the touristy fun, beaches in Maryland have a lot to offer. Beaches in Maryland offer serenity, fun, beauty and vastness. Head to these beaches for a fun family reunion, a couples getaway, or a gathering of friends. Thanks to Maryland's proximity to many major cities, these Maryland beaches offer an easy getaway or week-long vacation.
Furthermore, with both the Chesapeake Bay and the Atlantic Ocean, you can have you pick for your ideal waterside location. Maryland's bay side towns are lovely (and offer great seafood). Furthermore, many of Maryland's bay areas are preserved for their wildlife. That means natural beauty, nature trails, and wildlife sightings on these bay side beaches in Maryland. Enjoy these beaches in Maryland with their sandy beaches, walking trails, restaurants and ice cream shops, water parks and museums!
Ocean City, Maryland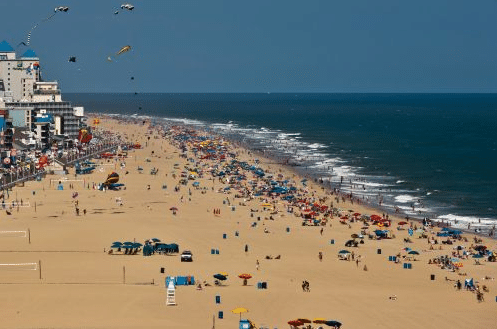 Credit: Ocean City Maryland Convention and Visitors Bureau
Though often confused with Ocean City, New Jersey, the Ocean City of Maryland is quite different. (Don't mind as we use this chance to shamelessly bash New Jersey). Ocean City Maryland is cleaner, the beach is wider, and it's just overall better than Ocean City, New Jersey. OCMD boasts about ten miles of shoreline, and a width of over 60 meters with plenty of sand to play in. There's a nice mix of bed and breakfasts, hotels, and houses for rent, whether you're looking for a romantic getaway, or a whole family reunion. Enjoy your days in the gentle waves, and then make sure to head to Justine's Ice Cream Parlour for what will become your new favorite ice cream shop.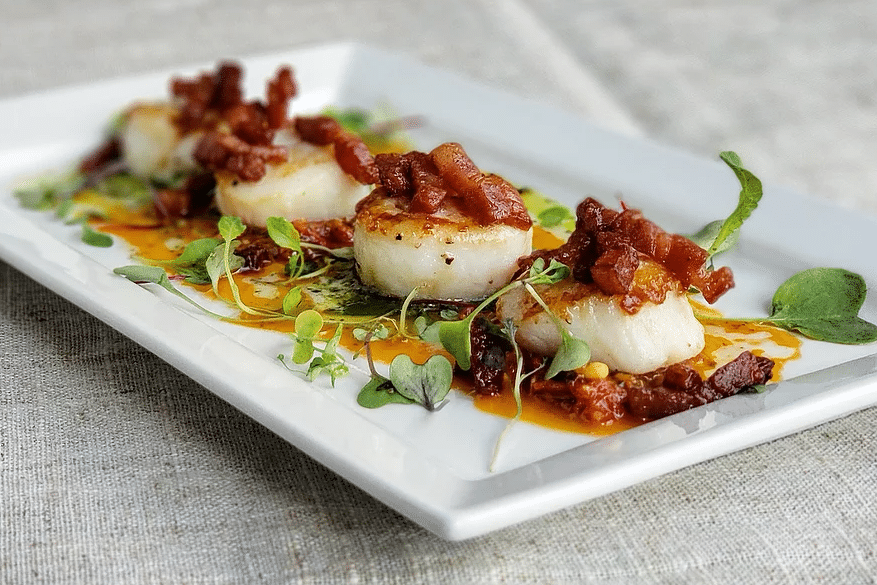 Credit: Ocean 13
For a scrumptious dinner, with American cuisine and seafood, head to Ocean 13. It has a beautiful interior, a whiskey bar, piano lounge, balcony and outdoor patio seating. But perhaps more importantly, the food is really good and so is the service. Choose from a not-so overwhelming menu options of scrumptious soups, salads appetizers and entrees: seafood, steak, chicken, lamb, for example. The whole experience is great at the fine dining at Ocean 13.
Of all the beaches in Maryland, this one is probably the most "touristy," but that's not always a bad thing. That implies competitive hotel rates, a plethora of dining options, and entertainment for the rainy beach days! Unlike some other beaches in Maryland, Ocean City has a really lively boardwalk. Even better, it spans three miles, offering arcade games, rides, souvenir shops and restaurants with everything from funnel cakes to crab cakes! Therefore, we vote Ocean City Maryland as one of the best beaches in Maryland (perhaps even THE best).
Assateague Island National Seashore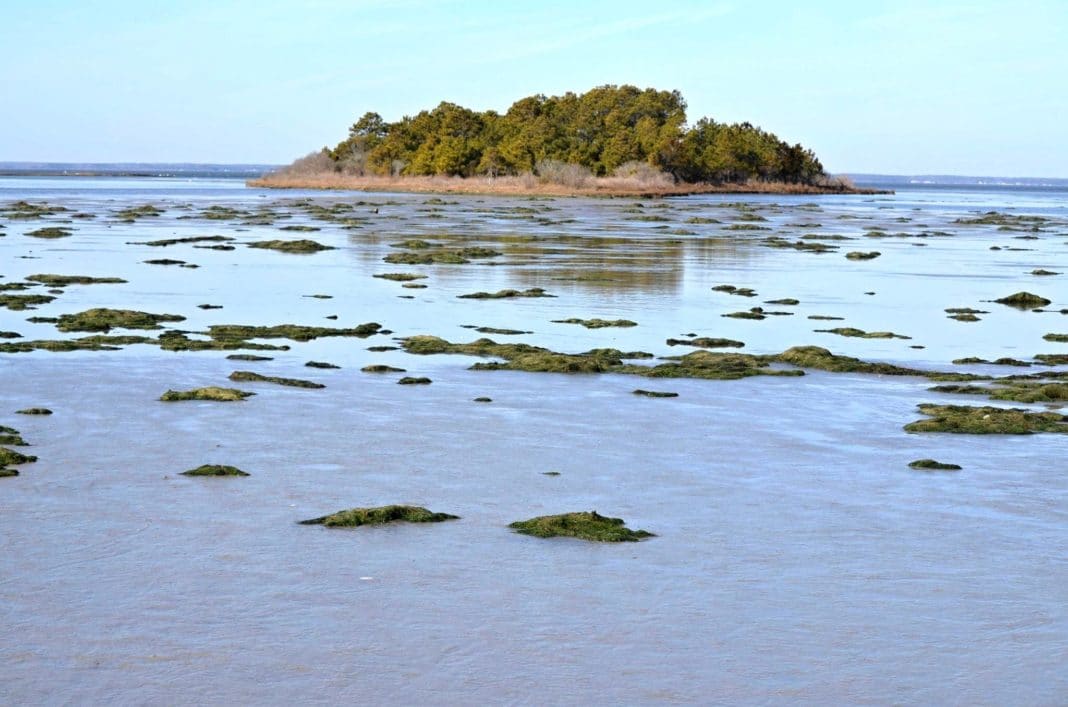 Credit: Assateague Island National Seashore / Facebook
Assateague Island offers beautiful, natural coastlines for you to soak in the summer sun, gather seashells, take sunset walks, and float in the waves. Assateague island is a preserved, natural area that is a sand barrier. The western side of the island creates Chincoteague Bay, and the eastern side opens to the Atlantic Ocean. Along the Chincoteague Bay side are some marshlands (and some areas with boardwalks to explore them). On the other side, the dunes open to wide sandy beaches and then the waves of the Atlantic.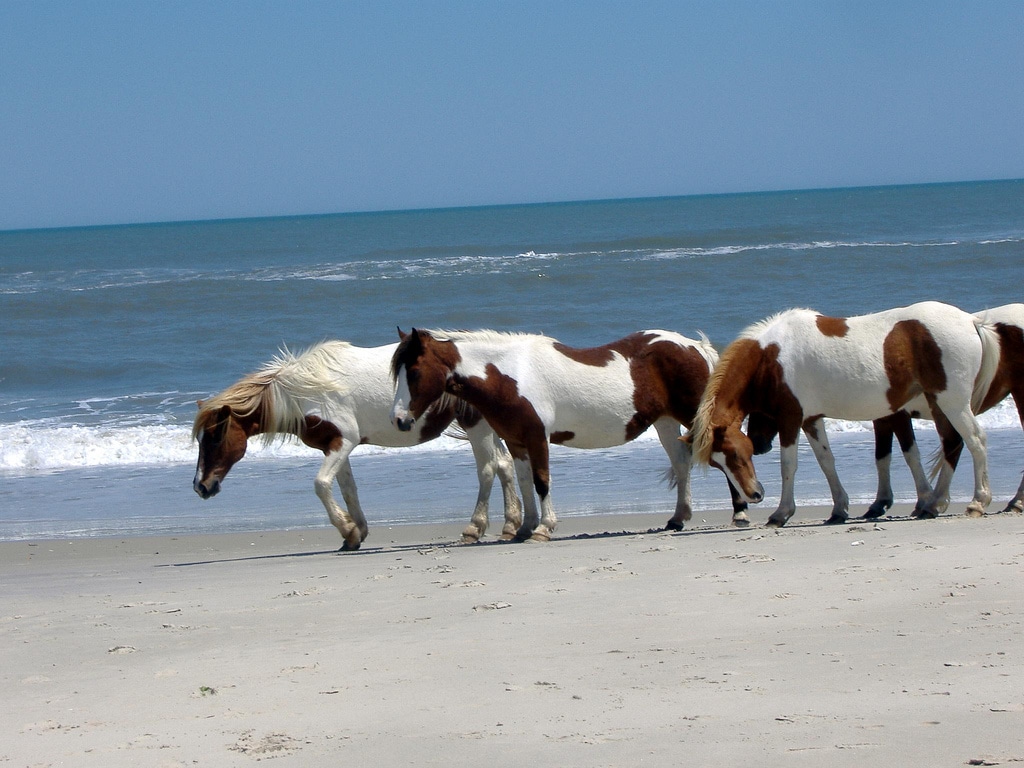 Credit: Flickr
Here on Assateague Island, you'll find wild ponies. Many people come to the area just for that reason: to catch glimpses of the wild animals, and even hang out on the beach with them. They're beautiful to watch, and you might spot them on the beaches, in the pine forest, or in the marshes on the island. These horses are a breed referred to as the "Chincoteague Pony," but they're wild and you'll want to avoid actually getting close. Additionally, the National Seashore of Maryland (part of Assateague Island) is also home to over 200 species of birds, deer, and various types of crabs.
Camping is really popular at Assateague Island National Seashore. Considering there aren't high-rise hotel buildings blocking up the coast, the camping here is pretty incredible. In fact, the Maryland side of the island is the only spot that you can camp on the beach at Assateague! You can choose a ocean-side walk-in or drive-in campsite, or a bay side campsite. Assateague Island National Seashore in Maryland is a great Maryland beach to spend your vacation on! It is quiet, relaxing, beautiful, and perfect for animal lovers.
Chesapeake Beach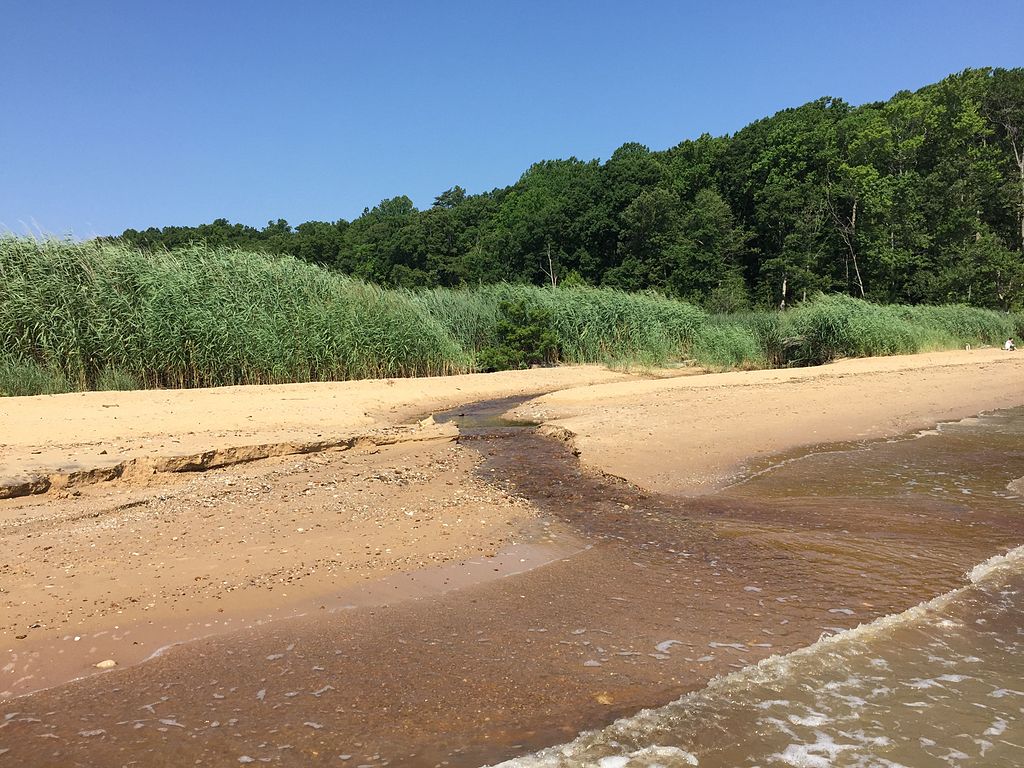 Credit: Flickr
Chesapeake Beach is located just below Annapolis, and just east of Washington D.C. Within Chesapeake Beach, there are various spots that you can enjoy the waters of the Chesapeake Bay and the surrounding land. First, there is the Sandy Point Beach, complete with an expanse of sand and gentle waves. The area is a convergence of rivers, and ocean, so there's a mix of salt and freshwater. Sand in the Chesapeake Beach area is sometimes tinted orange, as a result of the rocks and minerals that make up the sand.
Chesapeake Beach is a town, and just outside the limits is a Chesapeake Beach (as in, the actual beach). In the Chesapeake Beach area, there's a nice trail to bike or walk along. It is called the Chesapeake Beach Railway Trail. The trail winds around the marshlands and community, and bikers or walkers often get to see various types of wildlife along the way. Along the way, you'll find some signage about the area, plant life, wildlife, etc. There are also some good benches for taking a break while walking.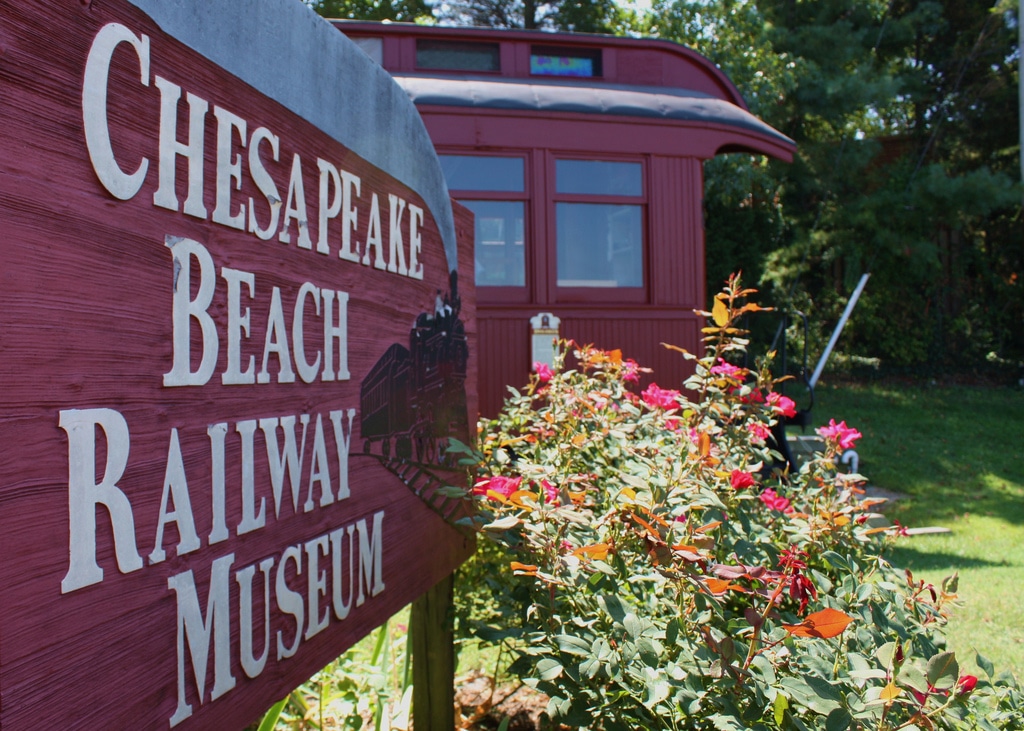 Credit: Flickr
The Chesapeake Railway Museum is also fun place to tour at this Maryland Beach. It's not huge, but fun to stop by since it's close to many things in Chesapeake Beach. Check out more about the Railway Museum here.
The beach area is quite natural; there aren't built-up hotels or boardwalks (besides the nature trail) along the way. However, that doesn't mean there aren't great restaurants. You'll find them very close by, in the town of Chesapeake Beach. Head to Rod N' Reel for some decent seafood or American cuisine options. They are located right on the bay, with plenty of windows around.Plus, their Sunday brunch is a scrumptious way to begin your relaxing day. Additionally, Traders Seafood Steak and Ale is a great spot for lunch or dinner, too. Their portions are big, and they're moderately priced. There are plenty of seafood and non-seafood options, too.
And lastly, there's a great water park close to Chesapeake Beach. It is located pretty close to the Chesapeake Bay, and offers a fun afternoon for kids of all ages. Overall, Chesapeake Beach, one of the beaches in Maryland, offers a relaxing getaway, thanks to the soft sand beaches and the lovely bay side town. Since Chesapeake Beach is located somewhat close to Baltimore and D.C., you could use the chance to explore those areas, too. Check out this guide to the super-cute Georgetown, D.C. and this guide to Baltimore's restaurants.
North Beach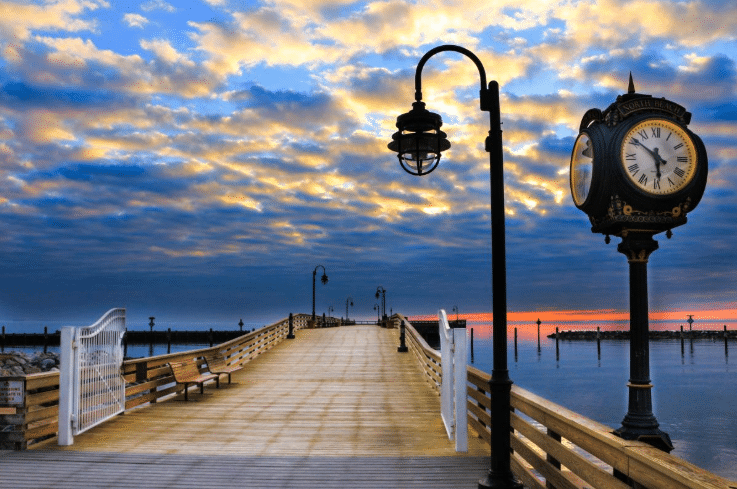 Credit: Town of North Beach
Located just north of Chesapeake Beach, North Beach is close to Annapolis and even Washington D.C. North Beach, another of the beaches in Maryland with a lovely beach town and boardwalk, offers restaurants, shopping. Everything is close and easy to walk throughout: the pier, boardwalk, beach, shops and dining. The pier is a beautiful place to take an evening stroll, and gaze out into the waters of the Eastern Bay and Chesapeake. North Beach has a great selection of summer events going on, and you can check out the schedule for the North Beach events here. Some of these include art fairs, movies on the beach, farmer's markets, and concerts at a pavilion. Additionally, North Beach hosts a wine festival and classic car cruise-ins throughout the summer.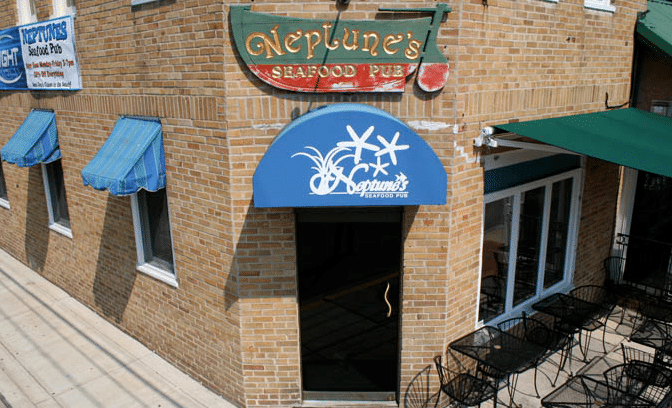 Credit: Neptune's Seafood Pub
For some delicious seafood at North Beach, head to Neptune's Seafood Pub. They serve some great crab cakes and other seafood options and American cuisine in a cozy atmosphere. This restaurant is a block off the bay, and they also serve some great local beers. Make sure to check out Neptune's Seafood Pub's specials menu, and also find out what their "beer of the month" is.
North Beach is great for spending some time relaxing in the sand and cooling off by swimming in the water. You can rent kayaks, check out the local parks, or visit the Bay Side History Museum. Furthermore, you can rent bikes to explore the town, or even just ride up and down on the half-mile boardwalk. Within the streets of North Beach in Maryland, you will find cute boutiques, candy shops, parks and playgrounds, antiques and restaurants. There is also the Wetlands Overlook Park, a simple park for a picnic or to see the marshy areas of the bay.
These beaches in Maryland offer great vacation spots because of their proximity to major cities, natural beauty, and the great dining and entertainment close by!
Choose your ideal trip from these best beaches in Maryland. They offer a peaceful, relaxing reunion with nature and wildlife, or a fun, thrilling adventure with vibrant beach towns. Even better, the fact that they're close to Pennsylvania, Washington D.C., Annapolis, and Virginia means that you can easily gather friends and family to come reunite for a fun weekend getaway in Maryland, or a week-long beach vacation!
Related Article: ​12 Best Beaches on the East Coast​​​