Willing to go out on a limb for your next trip? Check out the world's coolest treehouse hotels.
Have you ever dreamed of sleeping above the trees in the rainforest? Scrolling on Instagram, we're sure you've seen drool-worthy pictures of travel bloggers sleeping in luxurious open-wall hotels above spectacular views. Well, instead of just looking at these sites on your phone, it's time to experience them in real life. Start your 2019 travel journey by booking your stay at one of the world's coolest treehouse hotels. This is the stuff that dreams are made of. 
Here Are Our Picks for the World's Coolest Treehouse Hotels
While it might seem like a trend, spending a night in the world's coolest treehouse hotels is hardly a new idea. Brazil's stunning Ariau Amazon Towers Hotel has been enticing guests to stay in their scenic jungle canopy rooms for decades. Today, the concept has flourished. You can stay in lovely treetop stays anywhere between Seattle to China.
So why are treehouse hotels so popular? Besides offering stunning panoramic views of nature, they evoke your pleasant memories. Staying in a treehouse reminds us of our childhood. And who doesn't want to bring out their inner child every now and then? Traveling should be about having fun and these hotels offer nothing but the best recipes to make memories. We're drawn by the solitude and seclusion of sleeping in nature.
1. Treehotel, Harads, Sweden
Credit: Flickr
Welcome to one of the world's coolest treehouse hotels. Come and gaze out at the spectacular Swedish woodlands from this mirror cube hotel in Harads. A unique guest house tucked away in the north, it offers the perfect place to escape from the stress and demands of everyday life. Why not live it up in the pines? Wake up to the sun rising over the horizon, casting a warm glow on the snow. At night, you'll enjoy a front-row seat as the Northern Lights illuminate the sky. 
During the day, take a snowmobile out for a spin, go fishing, or berry picking in the wilderness. While how you spend your day is fluid, there's one thing that remains constant at the Treehotel. You will be surrounded by breathtaking nature and enriching experiences. Whether you are seeking the adventure of a lifetime or simply to wind down and enjoy the solitude of nature, the Treehotel invites you to experience the untainted beauty of Sweden in the most unique and memorable way.
2. Playa Viva, Juluchuca, Mexico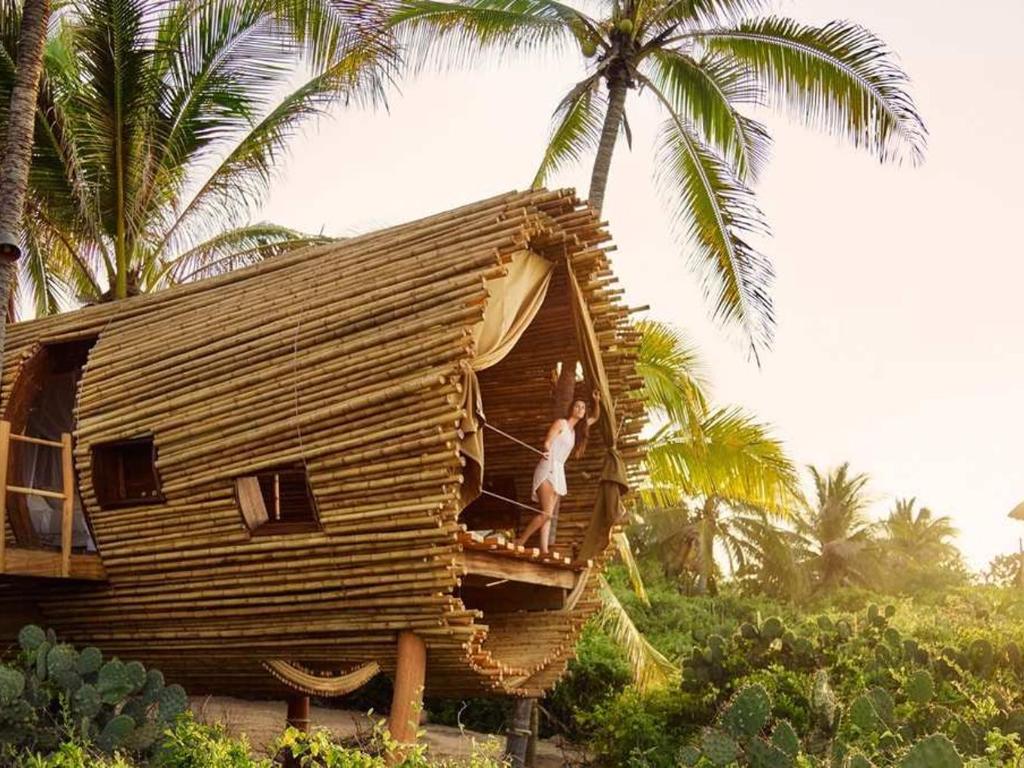 Credit: Playa Viva
While you might think of the world's coolest treehouse hotels as being primitive, there are some luxe boutiques sprinkled throughout them. A leading yoga retreat resort, Playa Viva is an eco-friendly resort located north of Acapulco on Mexico's Pacific coast. Each of the casitas is made from sustainable materials.
Step inside your spacious suite and take a look around. You will not only have a full bedroom but also a full porch for lounging and dining above the spectacular view. Choose from among twelve eco-luxury rooms, each with beachfront viewing. While you are here, there are so many options to immerse yourself in the culture and nature. Volunteer at the turtle sanctuary, take part in a local workshop, or simply relax on the pristine shores. Here, your vacation meets your values.
3. The Aviary, Lenox, MA, United States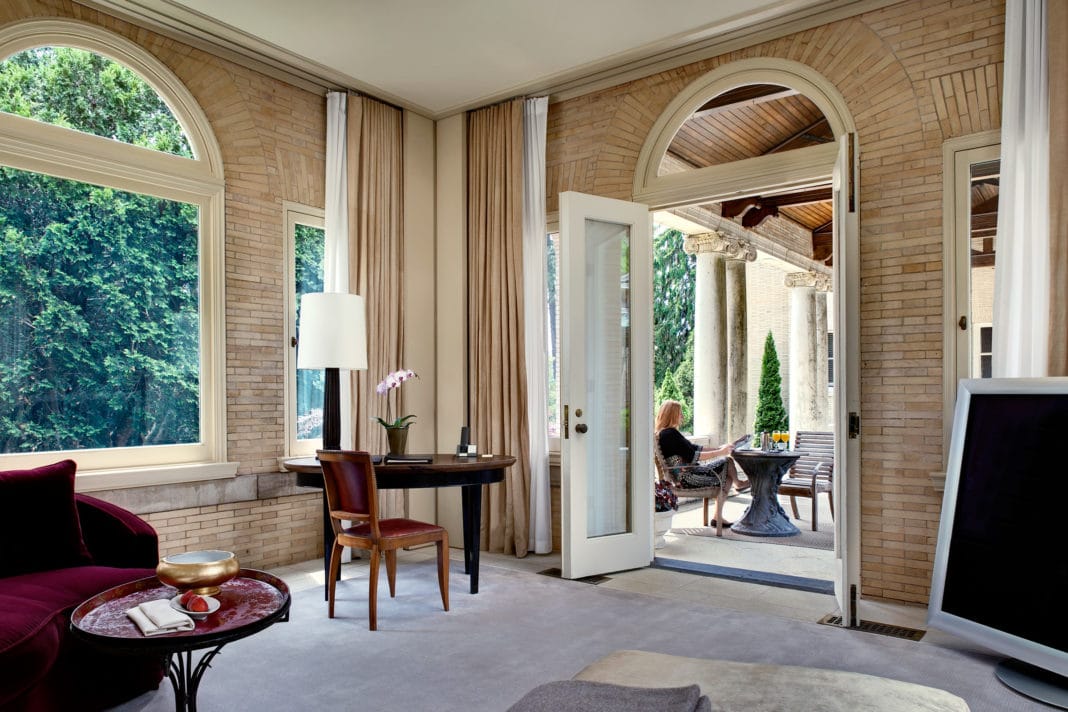 Credit: Wheatleigh Aviary
If traveling to Sweden or Mexico seems a little out of reach, check out this spot in the states. Formerly an aviary, this space has been renovated into a two-story room with a covered terrace. On the bottom story, you will find a luxury living room space and windows framing a state of the art Beovision 9-50 Entertainment System. Sculptural glass encloses circular stairs leading you to the second floor floating above the trees. The resort is also home to twenty-two acres of gardens framing the main building. Treat yourself to a delicious meal at the on-site gourmet restaurant and a beautiful pool. This is definitely one of the world's coolest treehouse hotels in our book.
4. Tree House Lodge, Limon, Costa Rica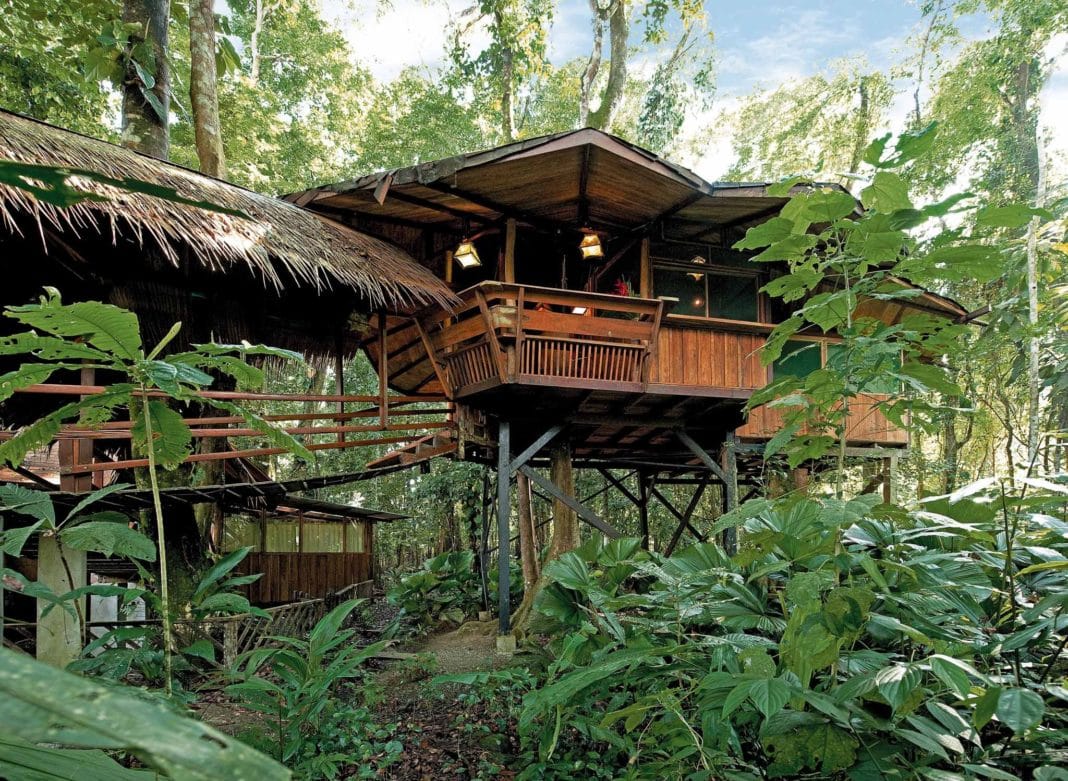 Credit: Tree House Lodge
Sprawling ten acres of oceanfront ecolodge, this tree house lodge offers spectacular views of Costa Rica's Caribbean coast. Its ideal blend of eco lodgings offers a serene escape in the lush rainforest right on the edge of the Gandoca-Manzanillo wildlife refuge. Choose from one of five open-air houses tucked away in nature. Whichever one you land upon, you will be just steps away from the pristine sands of Punta Uva beach.
Whether you're traveling with the family or seeking a romantic escape, you've found the most authentic Costa Rican stay. This off the beaten path destination offers much more than you would expect from the typical luxury hotel experience. Quiet, safe, and comfortable, it is the perfect place to get your fix of rest, relaxation, and adventure. After a day of unwinding, there are plenty of wildlife activities to engage in. Fishing, hiking, and chasing waterfalls are just a few of your many options. This is definitely one of the world's coolest treehouse hotels.
​

5. Bangkok Tree House, Bangkok, Thailand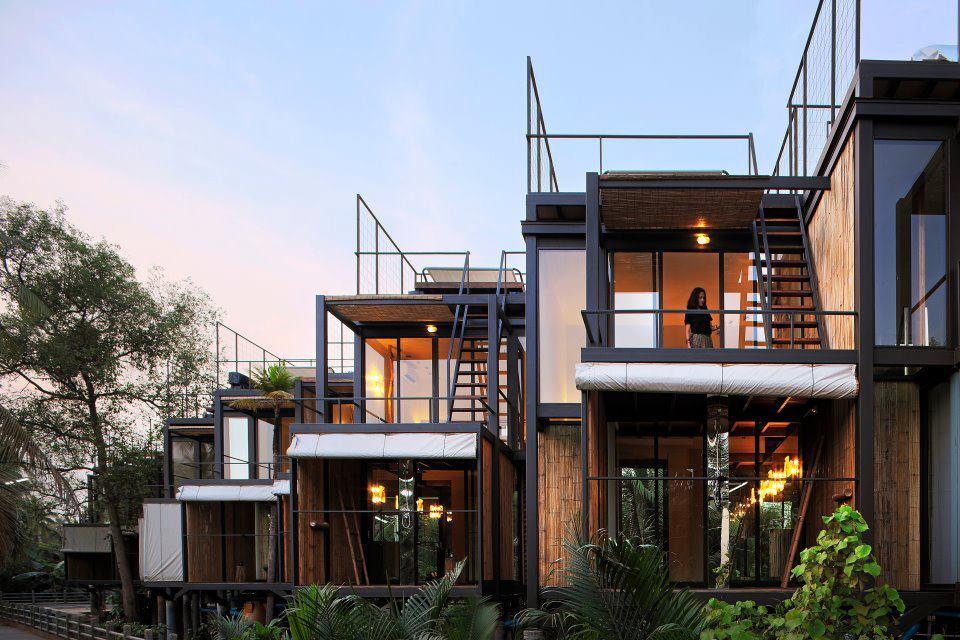 Credit: Bangkok Tree House
Inspired by Henry David Thoreau's Walden, Bangkok Tree House is a masterpiece of eco-friendly sustainability and solitude. Far away from the hustle and bustle of the city, this lovely stay offers a serene peek into the relaxing daily life in the fruit plantations and marshes of Phra Pradaeng. It remains an aura of seclusion due to the lack of road access. While the hotel owners admit this stay isn't for everyone, it's a dream come true for people like us.
If you'd love to book your stay here, make sure to do it far in advance. There are only twelve rooms on site and they tend to go quickly. One of our favorites is the floating double-bed aptly-named The Nest. Yes, it is literally a bed floating on the water. In the event that you'd rather opt for a bungalow, you'll find that these nests are dispersed over three levels with not only rooftop access but absolutely stunning views.
To make the most of your experience, rent a bicycle and take it into the city. Visit nearby temples, wander through the surrounding villages, or explore the famous Bang Nampheung floating markets. After you've worked up an appetite, come back and dine on-site and enjoy an organic meal with three dining options: seafood, Thai, and vegan. This is without a doubt one of the world's coolest treehouse hotels. Bangkok has done it well. 
6. Lion Sands, Kruger National Park, South Africa
Credit: Lion Sands
Spend a night under the stars in the South African wilderness. The Lion Sands luxury stay offers the utmost in bush bedrooms. Arrive at sunset to enjoy a mouth-watering dinner spread and spend the dusk appreciating the beauty around you as the sun tucks behind the horizon and the Milky Way is unveiled before your eyes. As one of the world's coolest treehouses, it's the perfect option for couples seeking an adventurous and romantic escape.
Whether you're seeking a digital detox, craving to connect with nature, or just want to see how many shooting stars you can count in an unspoiled sky, you'll fall in love with the raw beauty of this national park setting. All of the treehouses are raised above the ground where you can watch the animals below from a safe and comfortable distance. When you arrive, the on-site Field Guide will provide you with a complete orientation before sunset and remain on call via radio until it's time to check out. In the morning, wake up to a piping hot cup of coffee and enjoy breakfast with a view. We can't think of anything better.
7. Treehouse Point, Issaquah, Washington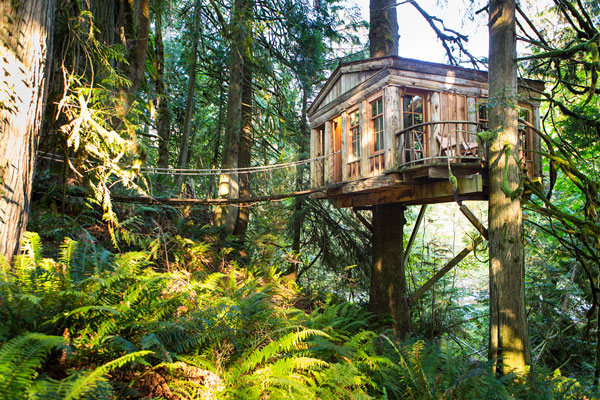 Credit: Treehouse Point
We told you one of the world's coolest treehouse hotels exists just outside of Seattle. Pick up your morning Starbucks order from their flagship location and get here in under an hour. Treehouse Point is just a 23-minute drive from the heart of the city. Can you believe it?
The work of a renowned treehouse builder, this bed and breakfast offers curious travelers a rustic yet modern stay. Leather chairs, large cedar beds, and private balconies all lend to a fun and memorable stay. Be forewarned though. The prices are a bit steep. Make sure to book in advance of your stay.
Book Your Stay at One of the World's Coolest Treehouse Hotels
When you're traveling, where you stay is part of the adventure. The world's coolest treehouse hotels are so much more than a place to lay your head at night; they play an integral part of your trip. As you can see, there is no shortage of creativity when it comes to the coolest hotels around the world. Which one would you like to stay in the most? Perhaps you have a favorite place to stay that wasn't included on our list. Let us know in the comment section below.
Related Article: 9 Incredible Secret Travel Destinations Around the World