2019 can be your year of adventure. It's time to book your ticket and escape to one of these incredible secret travel destinations.
There are some tourist destinations you just don't want to miss. The Eiffel Tower in Paris, the Coliseum in Rome, the Grand Canyon, and the Great Pyramid of Giza are just a few of these. As remarkable as they are unless you travel in the off season, they are flooded with tourists. You'll never get the place all to yourself. In this article, we're taking you on adventures a ways off the grid. Hop on board as we explore these secret travel destinations around the world that are worth the trek.
1. Hinatuan Enchanted River, Mindanao, Philippines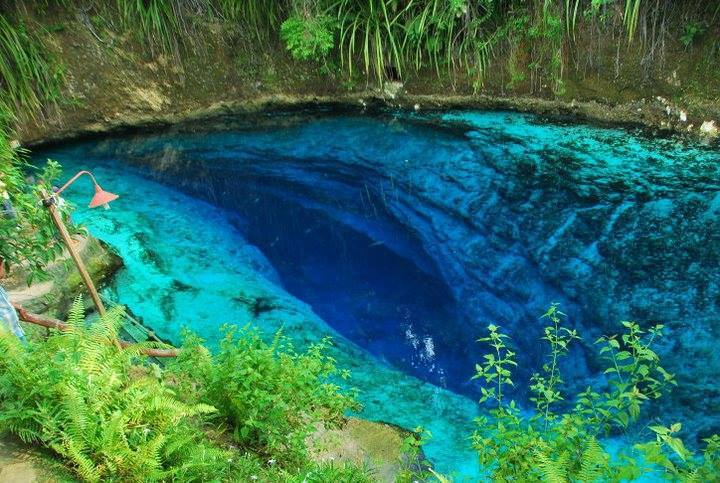 Credit: Wikipedia
Experience the wonder of this idyllic Filipino river. Tranquil sapphire waters, palm trees, and a balmy breeze make the Hinatuan nothing short of paradise. This magical, clear river seems to spring up out of nowhere, sending its water down to the sea. Around eighty feet deep, it draws adventurers from around the globe who want to experience the wonder of one of the most incredible secret travel destinations. While its a gem among the locals and a few in the know, we're happy to say that it's still very much off the travel radar.
There's one thing you should know before you go. If you're coming from the Bintuan City Domestic Airport, you can take a van straight into the town of Hintuan. Ask to hop off near the signboard for the Hinatuan Enchanted River. From there, you can take a motorcycle on a dirt road through the forested area winding down to the river. Another possible route is to come from Davao City and take a van or bus to the same signboard.
2. Crooked Forest, Nowe Czarnowo, Poland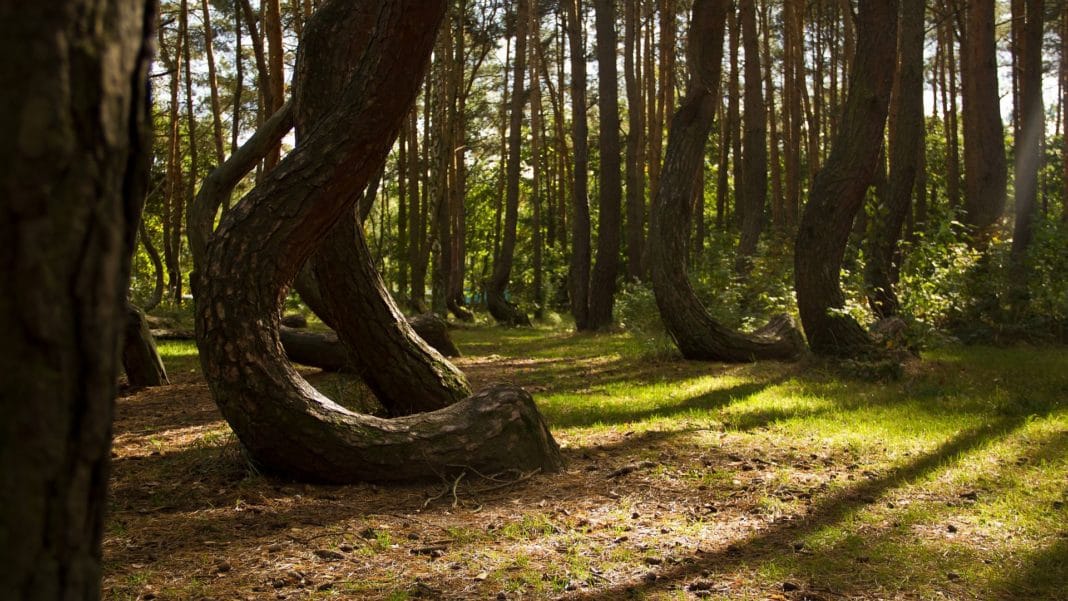 Credit: Wikimedia Commons
Doesn't this look like a scene from Stranger Things? In a small corner of Poland tucked away in the town of Gryfino, an eerie woodland covers the ground. Four hundred pine trees provide a thick canopy of shade to one of our favorite secret travel destinations. At eye level, they appear normal. Look down. At their base, each of the trees has grown crooked with a 90-degree bend. Curiously enough, this forest of 400 trees is enveloped by a larger one of straight growing pine trees.
Over the years, there have been numerous theories have been proposed about the crooked forest. It's estimated the trees were planted around the 1930s and were only 7-10 years old when they experience the force causing their curvature. One of the most popular theories is that during the invasion of Poland during World War II, enemy tanks drove through the young forest, flattening the trees so much that they were crooked when they grew back.
3. Jiuzhaigou Valley National Park, Ngawa Tibetan and Qiang Autonomous Prefecture, China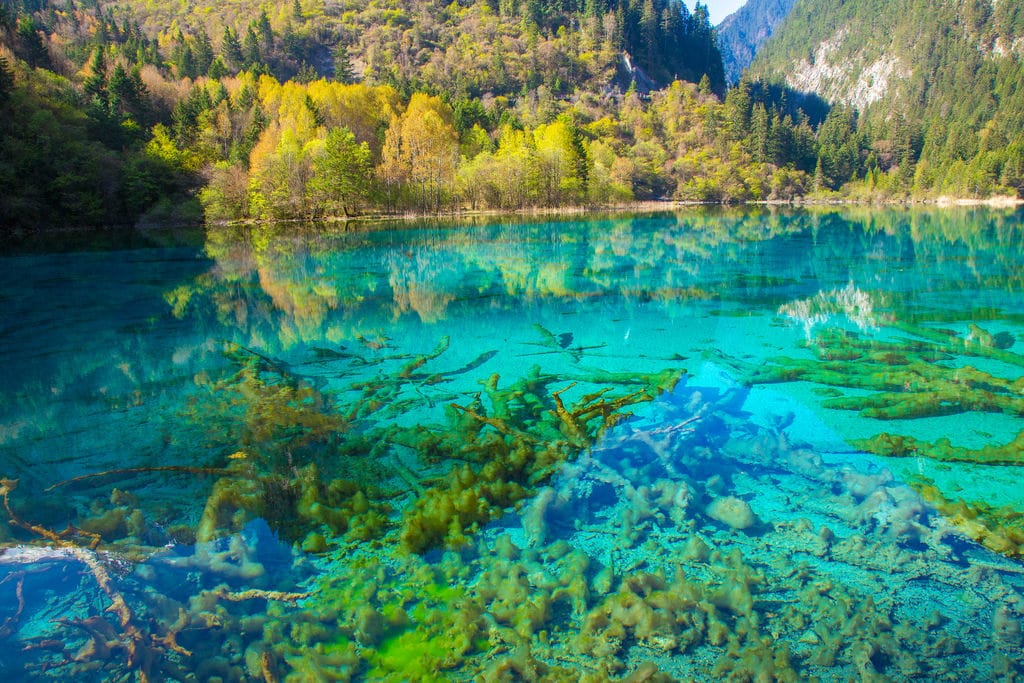 Credit: Flickr
We're big believers that Jiuzhaigou Valley National Park should be one of the natural wonders of the world. This dreamy scenery combines crystalline blue lakes, cascading waterfalls, verdant forests, and snow-capped mountains. According to local Tibetan and Quiang legend, the deity of the mountain Dago became infatuated with the goddess Semo. To woo her, Dago gifted Semo with a mirror crafted from wind and cloud. However, the devil appeared and troubled her. Frightened, Semo dropped and shattered the mirror into 108 pieces, which fell to the earth and formed these many lakes.
As if the color-saturated scenery wasn't enough, the park is also home to a rich variety of flora and fauna species. Spanning around 74,000 acres, it encompasses 2,576 species of higher plants and 400 lower plant species. Needless to say, the diversity of flora has provided a rich atmosphere for wildlife to flourish.
Among them are giant pandas, takins, golden monkeys, marmots, and blue sheep. Take your time while you're here. There are so many jaw-dropping sights you won't want to miss. Make sure to check Nuorilang Waterfall, Long Lake, the Five Color Pond, and Mirror Lake off of your list. There's no doubt Jiuzhaigou Valley National Park is one of the best secret travel destinations.
4. Hitachi Seaside Park, Ibaraki, Japan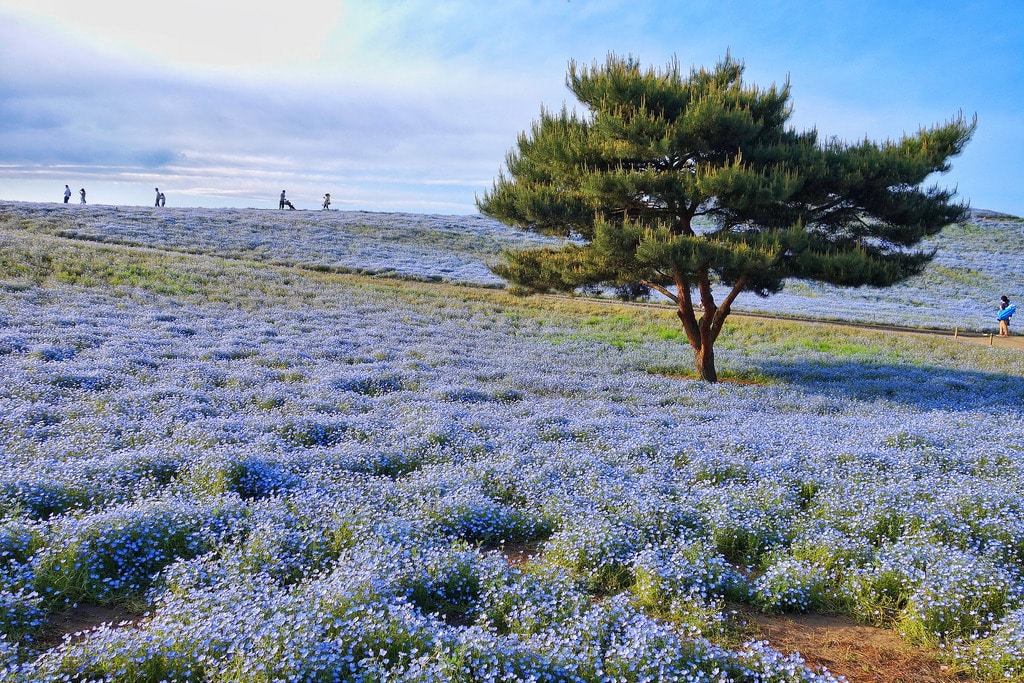 Credit: Flickr
Feel the fresh salty breeze on your face as it blows throw this lush seaside park. Located on the Pacific side of the Japanese coast, Hitachi is certainly a sight to behold. About a two-hour trip from Tokyo by public transit, it is a favorite day trip among the locals. The best part about it all is that the flowers bloom throughout the year.
Inside this sprawling park, you will also find sand dunes, grasslands, forests, and springs. Nearly two-quarters of a mile of it is open to the public, including numerous attractions. An amusement park, forest athletics field, cycling and BMX tracks, and cafes are just a few of the other main draws. It's important to note that drone photography is prohibited in this park.
5. Pangong Tso Lake, Himalayas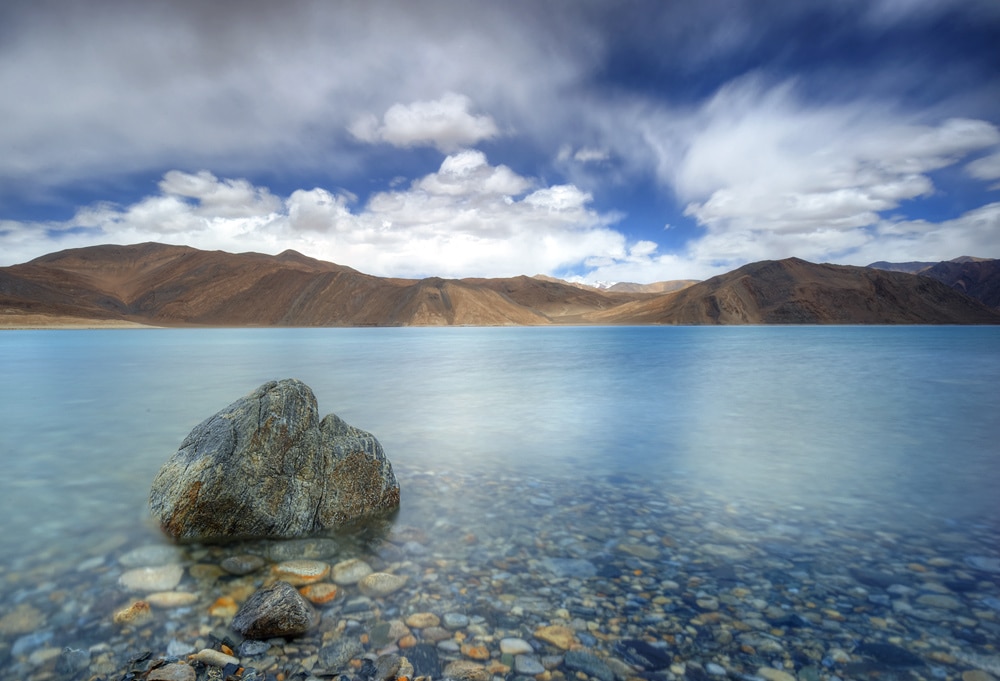 Credit: Flickr
Located deep in the Himalayas, Pangong Tso Lake runs from India to China. Stretching 134 kilometers, one-third of it lies within India and the other two-thirds are within Chinese borders. One thing that makes this lake so spectacular is that it is constantly changing colors to a deep sapphire blue. Its name comes from the Tibetan word for "narrow and enchanted" and rightfully so. While the location itself is stunning half of the fun is getting there. The route is absolutely stunning.
You'll pass through Ladakh, a great tourist attraction in India and drive over the world's third highest mountain pass, Chang La. This trip isn't for the faint of heart. Here's when you'll get your first glance at the lake. Make sure to bring a good travel camera; you'll want to stop and take pictures of everything along the way. This spot is a favorite among local photographers. If you're planning out a visit, be sure to avoid winter. The region is home to harsh temperatures and roads will be coated in a thick blanket of ice.
6. Apostle Islands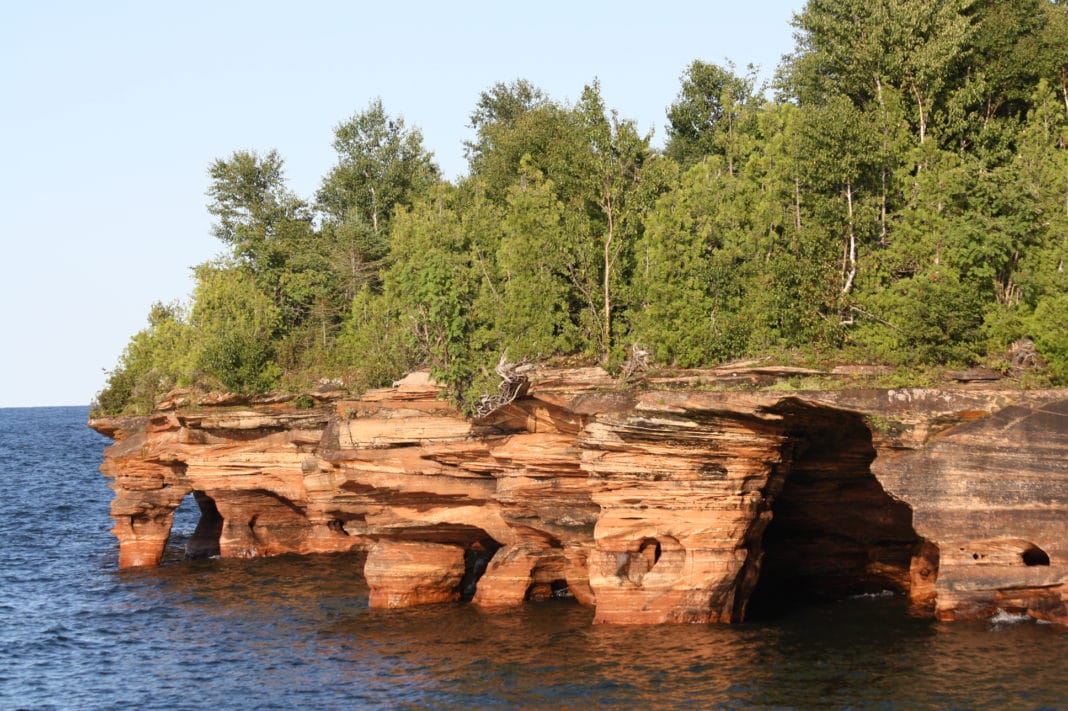 Credit: Wikimedia Commons
Take a look at the photo. Where do you think the Apostle Islands are located? At first glance, Australia seems like a safe guess. But you'd be far off. Believe it or not, they're located off the Wisconsin shore of Lake Superior. That's right, the cheese state has some tricks up its sleeve. These 22 islands are home to plenty of hidden caves, perfect for exploring.
One of the most epic ways to explore them is by kayaking. During the winter, curious travelers can also come and see frozen waterfalls and icicle-covered cave ceilings. It certainly is a beautiful sight to behold. If you've never heard of the Apostle Islands before, it's time to add them to your bucket list of secret travel destinations.
7. Huacachina, Peru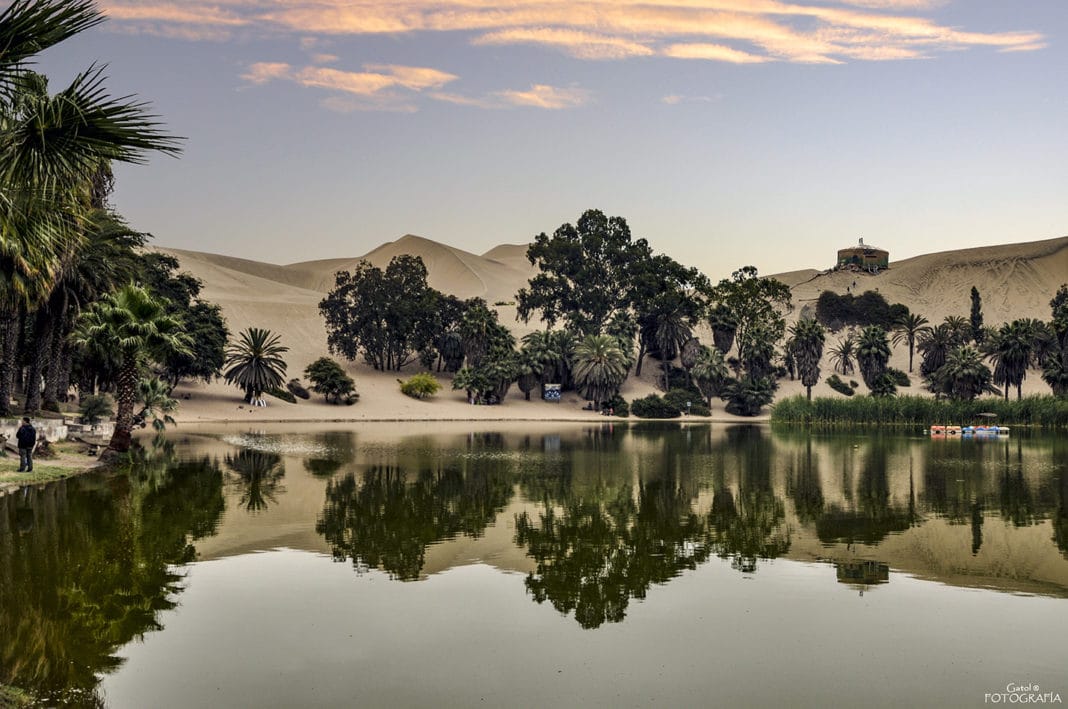 Credit: Wikimedia Commons
Come and experience a literal oasis in the Peruvian desert. Tucked away in the southwestern corner of the country, this quaint village is built around a small natural lake in the Southwestern Ica Region. You're probably wondering 'how is this gorgeous location still under wraps?' Most people pass it over on their way to the popular Gringo Trail. But that just means you get lucky. Less tourists is always a good thing in our book.
Dune buggy rides and sandboarding are the activities of the day here. While it will take you an exhausting twenty minutes to climb to the top of the dune, the good news is you can cruise down it in just one. As a spot for backpackers, expect some international travelers. Most people make it here for q quick day trip but we think it's worth it to spend the night. There's nothing quite like watching the sun cast its warm golden glow over this sandy landscape.
8. Door to Hell, Turkmenistan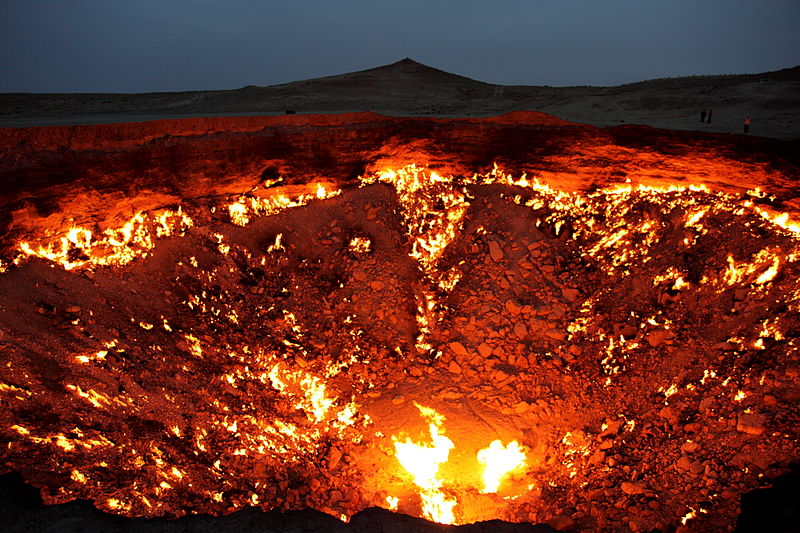 Credit: Wikimedia Commons
Possibly the creepiest destination on earth, the aptly named Door to Hell is a 230 foot-wide crater smack dab in the middle of the desert in the village of Dervaza. This scorching ring of fire has been burning nonstop for decades. More than forty years ago, the ground caved in as part of a drilling mishap. Soviet geologists were drilling for natural gas when they stumbled upon it back in 1971.
If you're crazy enough to want to book your flight out there and take a tour, make sure to check out Turkmenistan's visa information first. Getting a tourist visa is not possible without first booking a tour. Darvaza is close to the crater, located about halfway between Ashgabat and Dahsoguz.
9. Psychedelic Salt Mine, Russia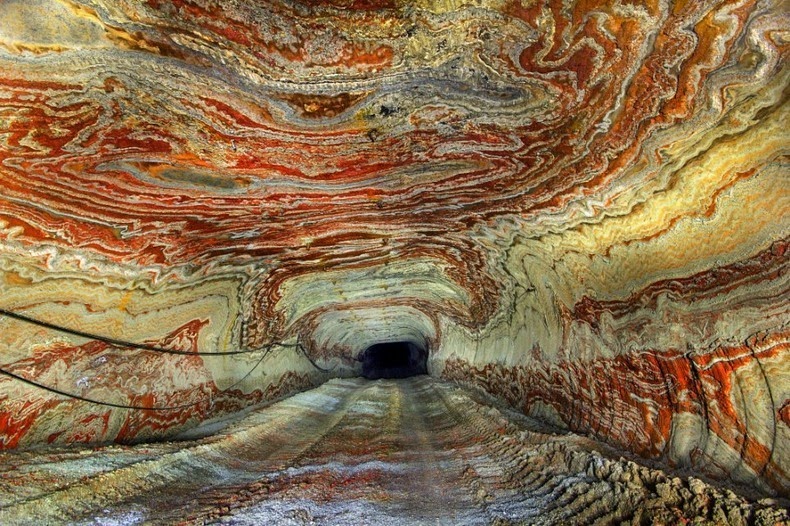 Credit: Caters News Agency
Have you seen pictures of the Psychedelic Salt Mine before? These caves have amazing shapes and colors spread across their walls. These cavernous structures are located hundreds of feet beneath the earth in the city of Yekaterinburg in Russia. Ornate and rich patterns provide a sensory overload; this location is every photographer's dream. They're so fantastic that they almost appear to be man-made. However, the cave walls are completely natural. The intricate structures you see are the result of layered carnallite, a mineral that creates colorful swirls inside of the rock.
Related Article:​ The 7 Coolest Hotels Around the World