We bet you've never seen anything quite like these Chinese mountains.
As an incredibly vast country, China is certainly not lacking in geographical diversity. Where would you like to go? Take your pick between the coast, crowded urban cities, northern deserts, river valleys, and the mountains. There's something about Chinese mountains that look otherworldly. We're going to take you on a tour to show you the most beautiful, crazy, and spectacular sites. It's time to visit China.
1. Rainbow Mountains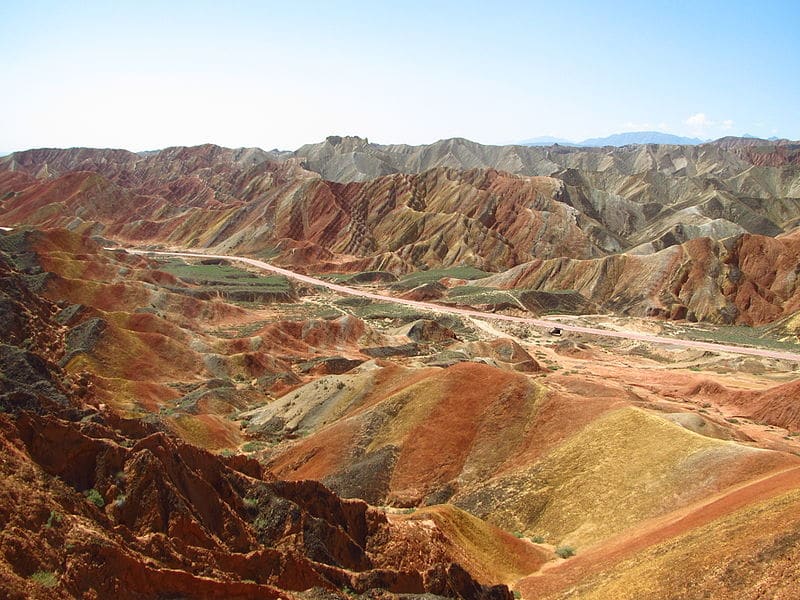 Credit: Wikimedia Commons
First, we are starting you off in the Gansu Province. You'll have to see these Chinese mountains to believe them. Did you know that this region was once home to a myriad of ancient Silk Roads? It only makes sense that these attractions would draw visitors from around the world who yearn to understand a significant piece of Chinese history.
We had a hard time believing this place was even real. Come on, look at it. Believe it or not, this incredible place actually exists. Layers of minerals and sandstone pressed together for twenty-four million years, buckled up by tectonic plates created a rugged landscape. After thousands of years of wind and rain, the region has been carved out. Since 2010, it has been listed as a UNESCO World Heritage Site.
You'll find the Rainbow Mountains located with the Zhangye Danxia National Geological in the Gansu Province. Spanning one hundred and twenty four miles, the main two sections of the park can be found in both the Ice Valley and Colorful Hills. Yes, that is its real name. Among the two, the Colorful Hills are definitely more well known. This scene seriously looks like something taken out of a story book. Rich mineral and sandstone deposits are responsible for creating this stunning picture. If you're looking to experience a unique piece of Chinese history (and get amazing photos while you're at it), this is the place to be.
2. Yuanyang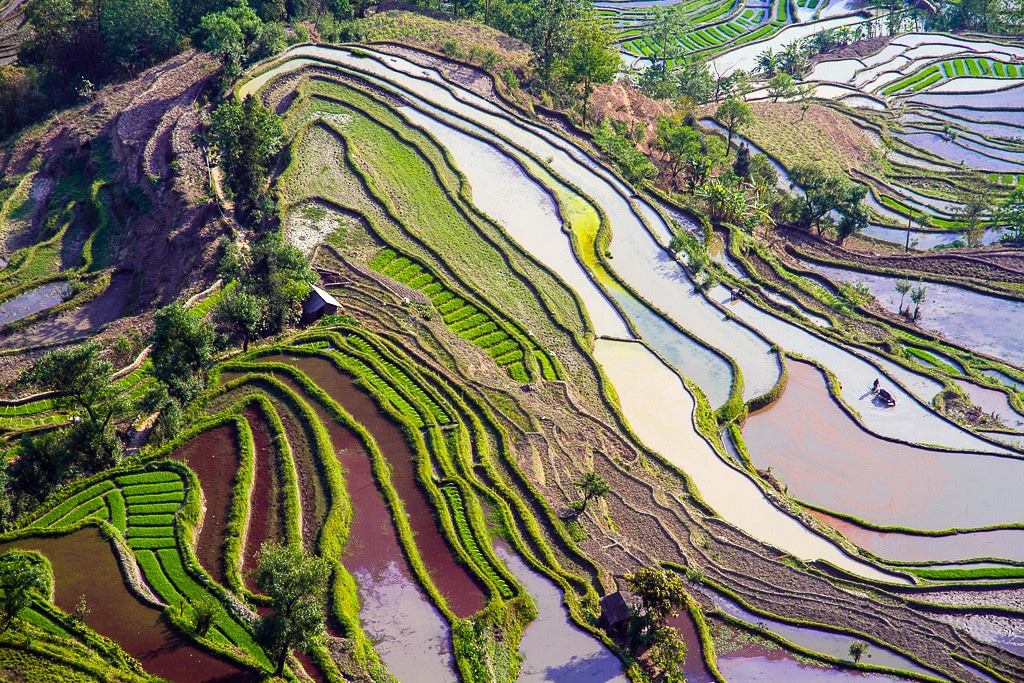 Credit: Flickr
There's no bad angle to photograph these Chinese mountains. You'll find Yuanyang located in the Honghe Prefecture in the southeastern Yunnan province along the Red River. This region is well-known for the spectacular rice paddy terracing, an item symbolic to China. Part of this area now forms the 45th World Heritage Site in the country. These are no doubt some of the most beautiful places on earth.
Here, the climate varies a lot, depending on where you are. One third of the population belongs to the Han group while the other sixty-six percent are composed of other minorities. You might be wondering how these people filled the rice terraces with water. After all, they're carved out of steep Chinese mountains. The answer is more simple than you would think.
In short, the winter brings a difference in temperature between the valleys (being more moderate) and the mountains (being much colder). This causes a great deal of evaporation. Water rises in the form of fog and clouds and evaporates, filtering through the forest and the mountains. All of this mist forms streams of water that flow into the rice terraces and back down to the river valley. While it is simple, it is incredibly efficient. Thanks, nature.
So what should you go see while you're in Yuanyang? While there are rice terraces all over this region, only three of them have observation points encompassed by the UNESCO World Heritage. At these points, large viewing platforms have been made to accommodate both eager tourists and photographers. To get here, you will have to pay a viewing fee of 100rmb (about $14 USD) but it's more than worth it. Are there a lot of tourists? It all depends on the time of year that you try to visit. The three viewing platforms are Bada, Duoyishu, and Laohuzui.
3. Jade Dragon Snow Mountain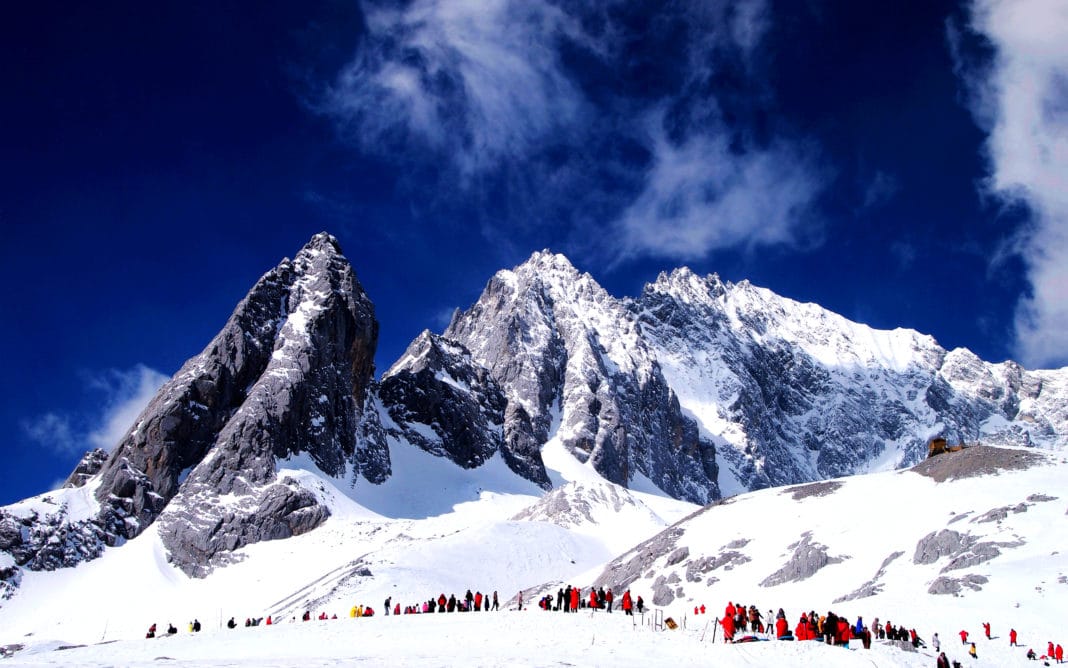 Credit: Wikimedia Commons
These thirteen peaks are a must-see attraction on your Yunnan tour. The village of Lijiang near Jade Mountain is lovely. Sure, it is touristy but we swear you'll never see anything as beautiful as this mountain. As the southernmost glacier in the northern hemisphere, you will find find flora here that you won't find anywhere else in the entire country. Scientists estimate that the cornet of Lijiang rose some 230 million years ago, beginning to take form around 600,000 years ago.
Of the peaks, Fan is the tallest. For those seeking out a little adventure, there are three ways to ascend. It all depends on your comfort level. There's a treacherous looking iron walkway, mule ride around the steep pathways, or you could take the cable car. We've got to say we're leaning towards option number three. Once you're inside the cable car, the coach will take you from the base of the mountain at lightning speed up some 2,000 meters. Passengers can buy air canisters for the trek up.
Be careful of taking a hike after a ride of that altitude. Remember to give yourself some time to rest. And make sure to pack warm. The temperature of this glacier are no joke. All in all though, this is a fantastic experience. These Chinese mountains are definitely ones to add to your travel bucket list.
4. Zhangjiajie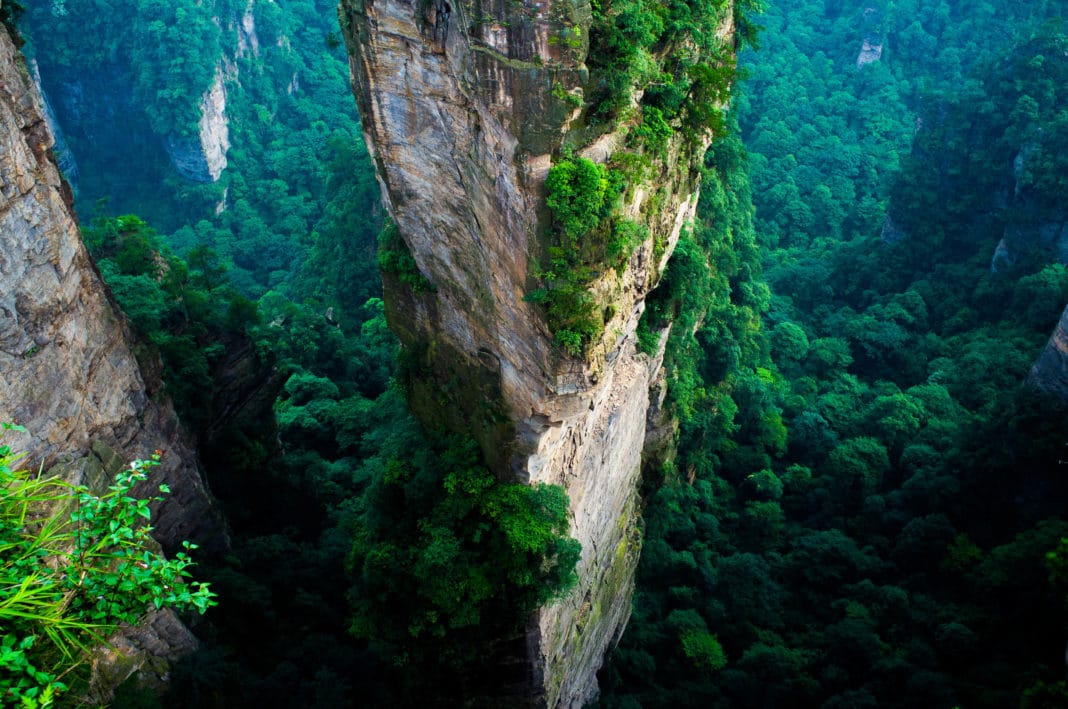 Credit: Wikimedia Commons
Here's the moment you've been waiting for – aka the otherworldly avatar-like landscapes. This region is famous for precarious peaks, dense forests, and vast cave system. After the movie Avatar, this region was thrust into the public's eyes. Did you know that the Hallelujah Mountains in the film were inspired by the Heavenly Pillar in Zhangjiajie National Forest Park. In 1982, it became the country's first ever national forest park.
Famous for its 3,000 vertical pillars, Zhangjiajie is nothing short of breathtaking. Each one stands hundreds of feet tall, jutting up into the clouds and dotted with thick green foliage. Over the years, they have been carved by erosion. It's no wonder these marvels of nature draw some 30,000,000 tourists each year. One of the tallest pillars, the Southern Sky Column was renamed in 2010. Can you guess why the name was changed? Oddly enough, it was because of the movie Avatar. After the highest grossing film, the column was renamed to the "Avatar Hallelujah Mountain." There's no doubt that this connection has brought many travelers to Zhangjiajie.
Go get up close with Avatar-style Chinese mountains and enjoy the spectacular scenery. Did we mention that you can take a walk on the world's longest and highest glass-bottomed bridge. What's cooler than taking a bridge suspended between two mountains and gazing into the valley below? Take the cable car to the top and make sure to bring a good travel camera. You're going to want to take so many pictures.
5. Yellow Mountain (Mount Huangshan)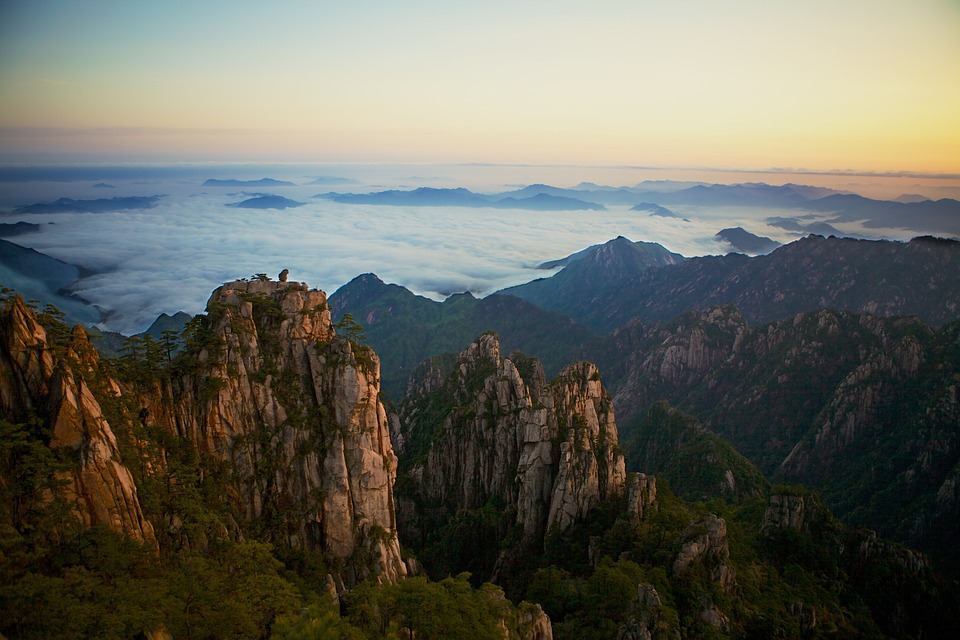 As one of the most beautiful Chinese mountains, it features imposing peaks, craggy cliffs, and fantastic cave networks. It's celebrated for having unique features including peculiarly-shaped pines, rocks, and mystical seas of fog and clouds. Designated as a UNESCO World Heritage site in 1990, it is chock full of things to do and sights to see.
The Yellow Mountains didn't get their name from their color. They got their name since the area was renamed after the Yellow Emperor (Huang Di) passed away in 747 AD. Over the years, many Buddhist temples have been built there. More recently, it has become a major tourist attraction. It is also said to be the place where the mythical ancestors of the Chinese ancestors lived, refining precious medicines.
Its classic attractions are known by the locals as some of the Four Natural Wonders, the Yellow Mountains include curiously-shaped pines, unique rocks, cloud formations, and hot springs. These Yellow Mountain pines seem to spring out of sheer rock. The result is a landscape unique both to China and the region. One of our favorite features here are the hot springs. There's nothing quite like spending a day hiking and then relaxing your muscles in the soothing mineral water.
These hot springs were discovered and tapped more than one thousand years ago. Legend has it that the Yellow Emperor (the nation's earliest ancestor), bathed in these springs, and became younger. So naturally, the springs were deemed the Springs of Youth. While you are there, make sure to keep your eyes open for a rare phenomena. Buddha' Light (an optical phenomenon) occurs every one in a while. Appearing as a rare halo surrounding your shadow, it appears when the conditions are right. You have to be standing between the sun and a cloud.
6. Changbai Mountains
The Changbai Mountains look like one of those place you'd save as your laptop screensaver. But why just stare at them from a screen? Make the trip. A major range in Northeast Asia, these Chinese mountains extend all the way from the Northeast provinces of Heilongjiang, Liaoning, and Jilin over the border between China and North Korea.
Spanning an area of 2,000 square kilometers, Changbaishan National Reserve is home to a host of flora and fauna and a part of UNESCO's Man and Biosphere Program. Here, you will find the stunning Tianchi Lake, mountains, thermal hot springs to soak in, and cascading waterfalls. There's nothing quite like Tiachi Lake (Heaven Lake). The mountains and their primitive forests make for an amazing travel destination.
Plan Your Visit and See These Beautiful Chinese Mountains
It's time to plan your visit to China (and brush up on your Chinese phrases while you're at it)! As the world's largest country by population and fourth largest by size, China has so much to offer the curious traveler. From flourishing urban centers to diverse topography, there is so much at your fingertips. The diversity of the landscapes here are unparalleled – the Chinese mountains evidence that.
Related Article: Best Chinese Dishes You Need to Try: Dive into a Diverse Culture