From its stunning coastline to flourishing metropolitan cities and rich culture, we can't get enough of the best places to visit in Spain.
There's no denying it. These diverse landscapes are enough to capture the adventurous soul of any traveler. The Pyrenees and Picos de Europa rise from the land like jewels in a crown. Moving on to the cliffs of the Atlantic Northwest, you'll find that its beauty is only overshadowed by the secluded coves of the Mediterranean. Historic villages perch on hilltops, meals are shared among friends, and a warm familial atmosphere pervades not only throughout the countryside but in city life as well. When it comes to finding the best places to visit in Spain, you'll be hard-pressed to narrow it down.
Here Are Our Picks for the Best Places to Visit in Spain
It's a well-known fact that most travelers flock to city life. Barcelona, Madrid, and Seville are certainly alluring. However, we've learned that to truly understand a culture, you have to get out to the countryside too. In this article, we will cover the major sites worth visiting. But we will also go a little off the grid. After all, what's the point of travel without getting a little lost along the way?
1. Granada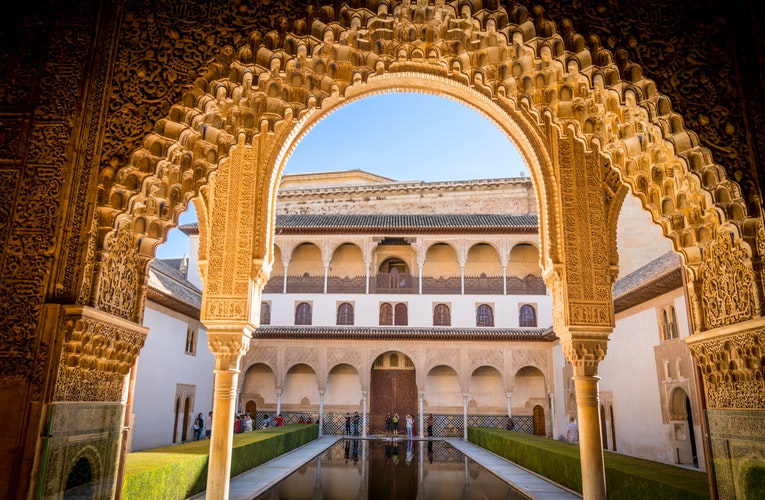 Located in southern Spain's Andalusia region, Granada is tucked deep within the foothills of the Sierra Nevada Mountains. Known for grand examples of medieval architecture, this is a history lover's paradise. Buildings and ruins date all the way back to the Moorish occupation, most notably, the Alhambra.
A sprawling hilltop fortress, it incorporates not only the royal palaces but also serene patios, and pools from the Nasrid dynasty. Try to stay in a mindset of being unsure what to expect. When you travel without predisposed ideas, you'll be more open to learning, understanding the culture, and trying new things.
What you'll find is a gritty city with a compelling story. Beautiful Islamic architecture is only complemented by the colorful Arab street life, stunning churches, and hole in the wall tapas bars. There's a certain energy in the streets, bohemian cafes line narrow cobblestone alleyways, musicians play in the streets, and traditional sights leave a lasting impression. Granada is a must-see on your list of the best places to visit in Spain.
2. Tenerife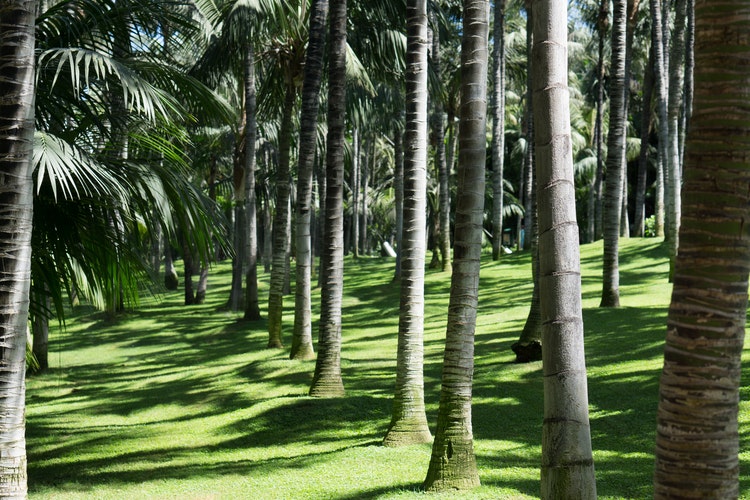 As the largest of Spain's Canary Islands, Tenerife evokes images of vibrant blue waters and pristine beaches. But this travel escape off the coast of West Africa has so much more to offer. The first thing you'll see when you arrive is Mt. Teide, dominating the landscape. This dormant volcano is home to otherworldly-looking lunar landscapes and the captivating Teide National Park where you can explore the peculiar landscape of craters, ancient lava flows, and Spain's most peculiar geological wonders.
3. Alicante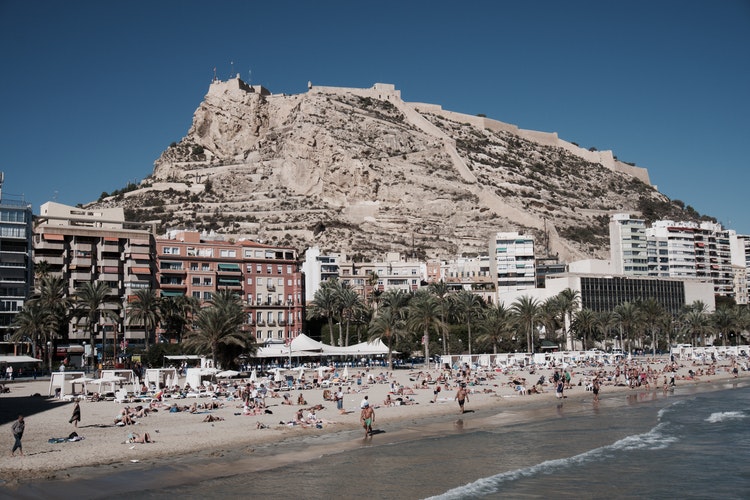 If you don't already have Alicante on your list of the best places to visit in Spain, add it now. Sunshine, sweeping views of the Mediterranean and the old town make this a prime coastal destination. While most travelers fly directly into the airport and post up on resorts along the beaches, all of Alicante is worthy of exploration. This port city has a fantastic beach scene with the towering Mount Benacantil as an epic backdrop. Take a walk by the marina, chat up the locals, and enjoy evening tapas and wine in the heart of the town.
4. Barcelona
Spain's second largest city, Barcelona is an eternal favorite for travelers. With a perfect Mediterranean location, iconic architecture, and city bustle, why wouldn't it be? The cosmopolitan hub of Spain's Catalonia region, it's well known for its art and history. This enchanting seaside city offers a whole world of life, culture, and a world-class culinary scene.
Did you know that some of its architecture dates back more than 2,000 years? Ancient city walls and stone corridors provide a glimpse back in time to the Roman era. Jumping forward to the Middle Ages, the Gothic quarter provides beautiful plazas and towering 14th-century cathedrals. There are so many places worth seeing. Sagrada Familia is a must, as is a trip up to Mount Tibidabo for views across the city and sea beyond.
While the entire city is gorgeous, Sagrada Familia is a wonder by itself. An unfinished masterpiece began by Antoni Gaudi, its construction dates back to 1882. The church is projected to be completed by 2026 and include 18 spires. Once is it complete, it will be the tallest church in the world. Even though it's under construction, visitors can enjoy tours inside and outside. Here's our pro tip. Buy tickets online to avoid long admission wait times. This is easily the most popular attraction in Barcelona, averaging about 3 million visitors per year. Barcelona is no doubt one of the best places to visit in Spain.
5. Seville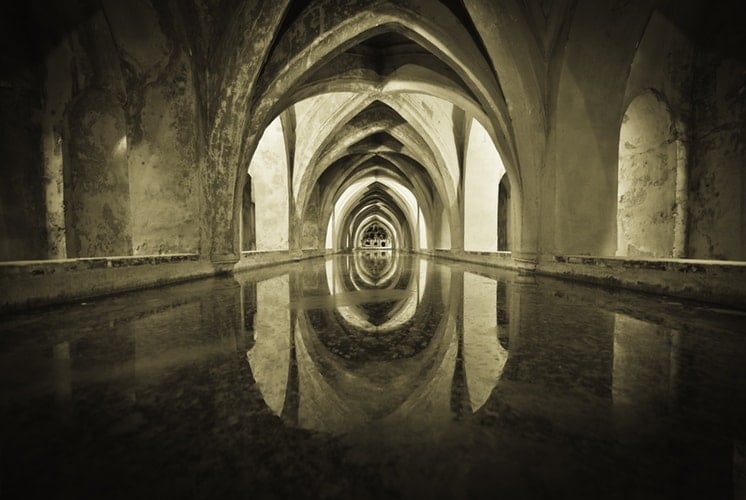 The capital of the Andalusia region, Seville opens a doorway to the past. The historic city center serves as the foreground for the towering Gothic cathedral. Interspersed throughout the skyline is a blend of the old and new. Mudejar palaces intermix with terracotta roofs, baroque churches, and twisting Medieval roads. Aristocratic mansions evoke Seville's past as a Moorish capital and a rich center of 16th-century world trade. While history reverberates through the streets, Seville is just as much about the new as it is the past. Come and eat tapas in a crowded bar or stop to take in the sunset views over a plaza.
6. Madrid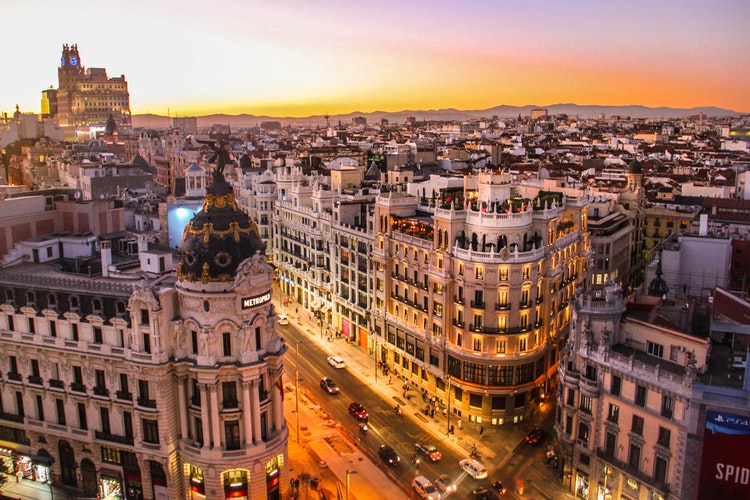 It's rare to find a city with such a rich cultural and artistic history as Madrid. Spend a few hours, days, or weeks wandering these streets and you'll find yourself wanting to return here again and again. When many travelers picture the best places to visit in Spain, they envision the colorful city of Barcelona and its seafood and tapas scene. If you're looking for a more sophisticated European getaway, Madrid is the place to be.
Here, you'll find lovely 18th-century landmarks towering over obscure shops and cafes. Little pieces of history lie everywhere. Due to recent rezoning, the city is now more pedestrian friendly than ever before. The mellow culture will have you roaming the streets from sunrise to sundown. Don't be surprised if you see whole families walking the streets into the wee hours. Last but not least, here's a tip. Don't try to buy anything around 4 PM. Everything closes for siesta (aka adult nap time).
For centuries, Spanish dominance pronounced a powerful display in the streets through ornate cathedrals and fine architecture. Masterpieces by famous painters such as Picasso, Dali, and Miro hang in world-class galleries. Madrid nights are amazing. After a day of exploring and a night of fine dining, take to the streets for ultimate excitement. Every corner comes alive with music, laughter, and free-flowing wine. This city seems to have more bars than any other on earth. Step out and find yourself swept in the moment of a crowd dancing till the sun comes up.
While you're here, we highly recommend visiting the Convent of Corpus Christi, the Museo del Prado, the Royal Botanical Garden of Madrid, Royal Palace, Temple of Debod, and the Market of San Miguel. And that's just a start.
7. Mallorca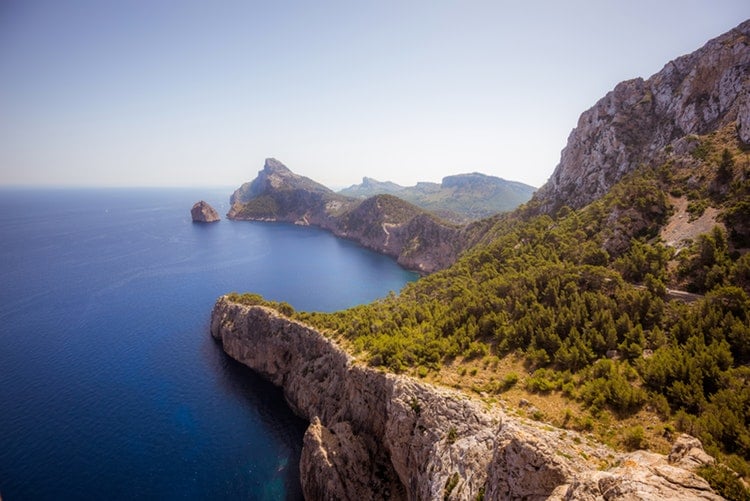 Doesn't this look like a scene off of a postcard? The gem of the Mediterranean, Mallorca's sunny personality shines through, making it one of the best places to visit in Spain. Lovely beaches, azure skies, hilltop towns make it the perfect escape for some sun and sand. Cars form a conga line along the winding coastal roads as travelers pour into this Balearic Island.
From Gothic castles to subterranean lakes and nature stops, we've found the top spots to see. Jardines D'Alfabia botanical garden, the Ruines Romanes de Pollentia, Ferrocarril de Soller, Museu Fundacio Juan March, Castell de Bellver, and Drach Caves are all worth seeing.
8. The Pyrenees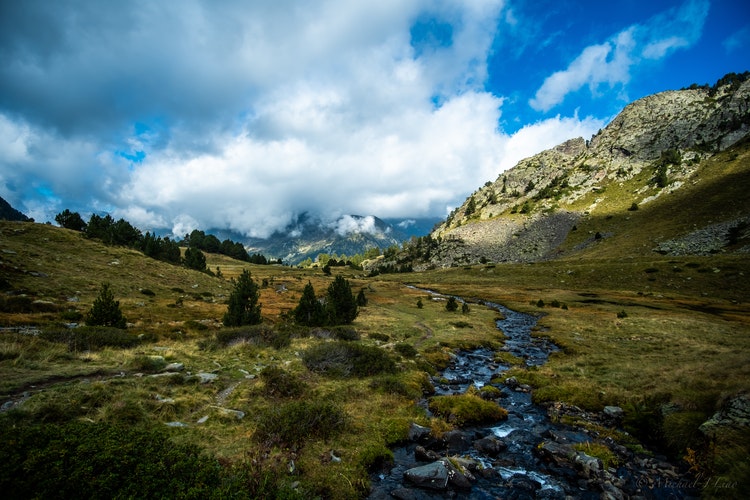 Travel to the Spanish-French border for a treat for the eyes. Snow-capped Pyrenees mountains dominate the landscape jutting craggy peaks past the clouds and into the great blue sky. Whether you are looking to hike, ski, explore great mountain villages, or take the photos of a lifetime, the Spanish Pyrenees are one of the best places to visit in Spain. Here, wine, delicious food, and stunning vistas come together to offer the perfect combination for any traveler seeking adventure this side of the world. The best part of it all is it's still a hidden gem. Well, at least for now.
9. Galicia
Travelers from all around the world flock to Galicia, Spain every year. After all, there's a reason why it has been named one of the most beautiful places in Europe. The diversity it has to offer almost makes it seem like a country itself. Did you know that residents of Galicia have their own language and history? Superb music pervades the scene, echoing through centuries of old stone walls, and wonderfully welcome people dance in celebration.
Here, over 1000 km of pristine coastline awaits beach lovers. It's all carved out by stunning inlets, framed by plunging cliffs, and dotted with charming seaside villages. Discover some of the world's tastiest seafood and one of the most beautiful places in Europe. This is the year to go to Galicia. Want our recommendation? Savor the local wine, indulge in amazing food, and lose yourself in this Spanish paradise.
10. Ibiza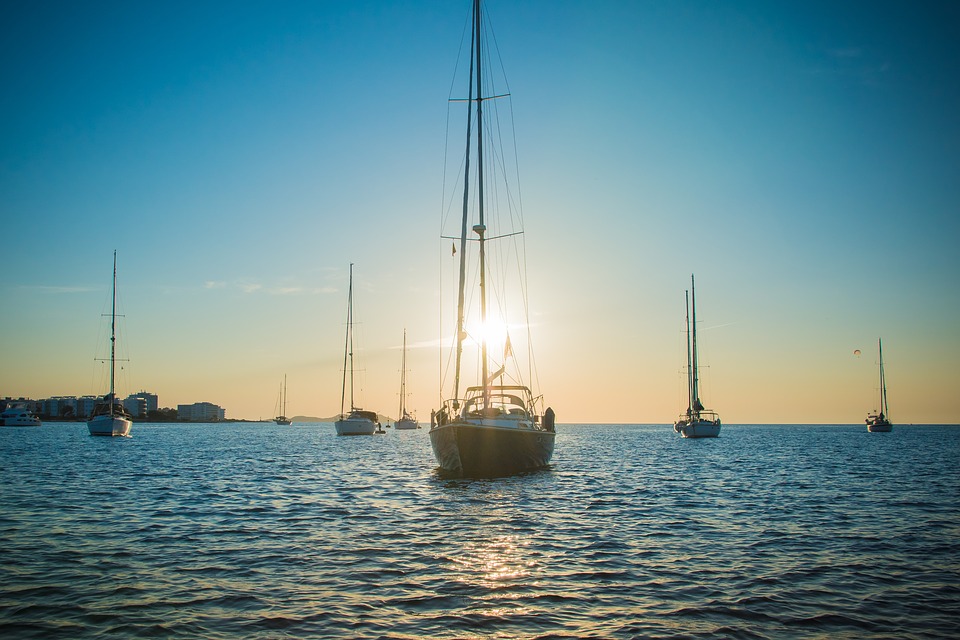 Looking for the best places to visit in Spain. Book your trip to Ibiza and forget the clubs. Come for the history and dreamy coastal views. An idyllic island in the Mediterranean, Ibiza boats the most breathtaking sun-drenched beaches. While it's notable for its insane party scene, we'd rather much explore the soul of a place. As a UNESCO World Heritage Site, it's home to stunning old churches, secluded north coast coves, and the famous Dalt Vila.
So what should you see when you're in Ibiza and what's to skip? While there's no harm spending a night or two dancing, take some time to really appreciate the place for what it is. Ibiza is so much more than a hip tourist destination and rave scene. Just take a look at the coast and you'll see that. Stunning turquoise water and white sand make it easy to see why 2.8 million people come here every year.
Want to know a fun fact? This is the place Nostradamus said you should be when the world ends. His 15th-century prediction listed Ibiza as the place of the earth's final refuge. Another fun fact is that only the finest hotels are allowed here. If you're looking for a budget destination or a cheap hostel for the night, move right along. In 2007, the local government passed a law stating that all hotels on the island must be five-star. So prepare to save up and treat yourself to a whole lot of luxury.
11. Gorbea Natural Park, Basque Country
Credit: Wikipedia
Welcome to the mystical forest of Spain. Gorbea Natural Park looks like a scene plucked from a J.R.R. Tolkien or J.K. Rowling film. But this little slice of heaven in Basque Country is so very real. Located between the provinces of Alava and Vizcaya, it incorporates so many limestone and ground waters. So, there are many naturally-occurring caves and grottos spread across the territory.
The forest's history began some 100 million years ago. Ancient trees drip in moss and shrouded in a thick fog lend to a mysterious ambiance. Through the haze, it's easy to mistake them for strange figures. Gorbea Park is more than just a dense forest though. After you break through the thicket, the land gives way to wide-open green meadows, footworn trails, and a variety of monuments, huts, and spectacular waterfalls.
While the forest may seem inhospitable from the outset, it's home to some fascinating creations. Over the past few centuries, men have created a museum of honey, small temples, mills, and chapels on its grounds. If you're lucky, you may even spot some wildlife. Deer, wild cats, alpine newts, stone lizards, lynx, mink, woodpeckers, hawks, and vultures are all indigenous to the region. If you're a fan of nature and dramatic landscapes, this is the place for you to be. Gorbea Natural Park is no doubt one of the best places to visit in Spain.
Go See the Best Places to Visit in Spain
Now that we've given you a head start, it's time to start planning your epic trip to see the best places to visit in Spain. There is simply no way to travel this country without being in constant awe by the diversity of culture, history, natural beauty (aka the best beaches), and culinary scenes. This unimaginable wealth of attractions offers so much.
For the adventurous traveler, Spain offers so much to explore. As you can see, this country carries a rich culture into the present and holds a special place in Europe's past. Besides its legacy, Spain offers unmatched coastal beauty to see. On our list, we have included picks from the most popular tourist attractions to off the grid wonders that you just can't miss. Which of the best places to visit in Spain would you like to see the most? Let us know in the comment section below. Seize the day and book the vacation of your dreams. It's time to travel to Spain.
Related Article: London, England Is The Best Place To Live In 2019