With hundreds of miles of coastline calling to you, how do you choose between the best beaches in Spain? Peruse through our list of our favorite sunny spots to figure out your perfect getaway.
Whether you first came to Spain to experience the vibrant culture or solely for the beaches, Spain has so much to offer. Even if you're in love with the architecture, history, and stunning art of Madrid and Barcelona, make sure to escape to Spain's coast to experience another side of the country. From the stunning waters, to quiet sands, to stunning cliffs and brilliant surfing, there is something for everyone. So, sit back and enjoy the ride as we take you through the best beaches in Spain. From families to surfers to romantic getaways, there is a perfect beach for you here.
1. La Concha Beach in San Sebastian
We mentioned above that Spain is known for its spectacular cities, which is how the urban beach of La Concha made our list. Located on the northern coast, the highs stay a bit lower here: think mid-70s. This will keep things cool for those not wanting to overheat while spending a whole day in the sun. With the urban skyline backing it up, La Concha beach is often voted the most beautiful beach in Spain. As it is well-known, it does attract many visitors, so this is not the perfect secluded getaway for two. But, if you love world class food and stunning scenery steps away from you beach towel, this should be your first stop.
Our favorite things to do while exploring La Concha is to take a walk along the La Concha Promenade. With its picture perfect white iron fencing and access to the Miramar Palace, it is well worth a few minutes of time. San Sebastian takes great pride in it's beaches as well, so you can always expect a wonderfully clean atmosphere awaiting you and your family. So, put La Concha top on your list of best beaches in Spain to visit this year.
2. The Benicassim Beaches in Castellon
Being home to Spain's best music festival, Benicassim beaches were a shoe-in for our list of the best beaches in Spain. Since 1995, the Festival International Benicassim has been drawing amazing bands to the town, such as the Killers and Two Door Cinema Club. This happens every July for those interested in many wonderfully long days of music and dancing. But, Benicassim is more than just this festival once a year.
Benicassim keeps the classiness of Spain in tact while creating a much more laid back and undiscovered atmosphere when it's not festival season. With villas, hostels, and hotels dating back to the late 19th and early 20th century, this town creates a timeless feel. Combine this with the delectable, specialized food of a smaller town and you have yourself a full week of respite awaiting you. Home to the Carmelite Distillery and Monastary, Benicassim oozes tranquility and relaxation. So, enjoy the small town feeling while spending your days on the Benicassim beaches to truly enjoy one of the best beaches in Spain.
3. Cala Salada Beach in San Antonio, Ibiza
No list of the best beaches in Spain is complete without one from Ibiza. This island off the eastern coast is a UNESCO World Heritage Site, but also well-known for it's electronic music dance scene. What makes this beach truly stunning, though, is the crystal-clear turquoise waters framed by deep green forested hills. This magical mix of water, trees, and sandy beaches makes for a wonderful day in the sun. The beach is on the smaller side at around 700 feet, so it will get crowded on summer weekends and holidays. But, if you can come before or after summer, or during the week, you're in for a treat.
If swimming and sunbathing isn't enough to draw you in, then head to the rocks for a bit of cliff jumping. A walk up a dirt path will also lead you to the caves of Ses Fontanelles for a little extra summer fun. When you've worked up an appetite, enjoy the proximity of stellar food, like the local favorite of seafood paella, at the beach restaurants. If you're in need of just a quick bite, they have ice cream and beverages as well. So, for an all-in-one beach with gorgeous scenery, head to Cala Salada. It's pristine beauty and close amenities easily let it sit on our list of the best beaches in Spain.
4. Los Gigantes Beach on the Canary Islands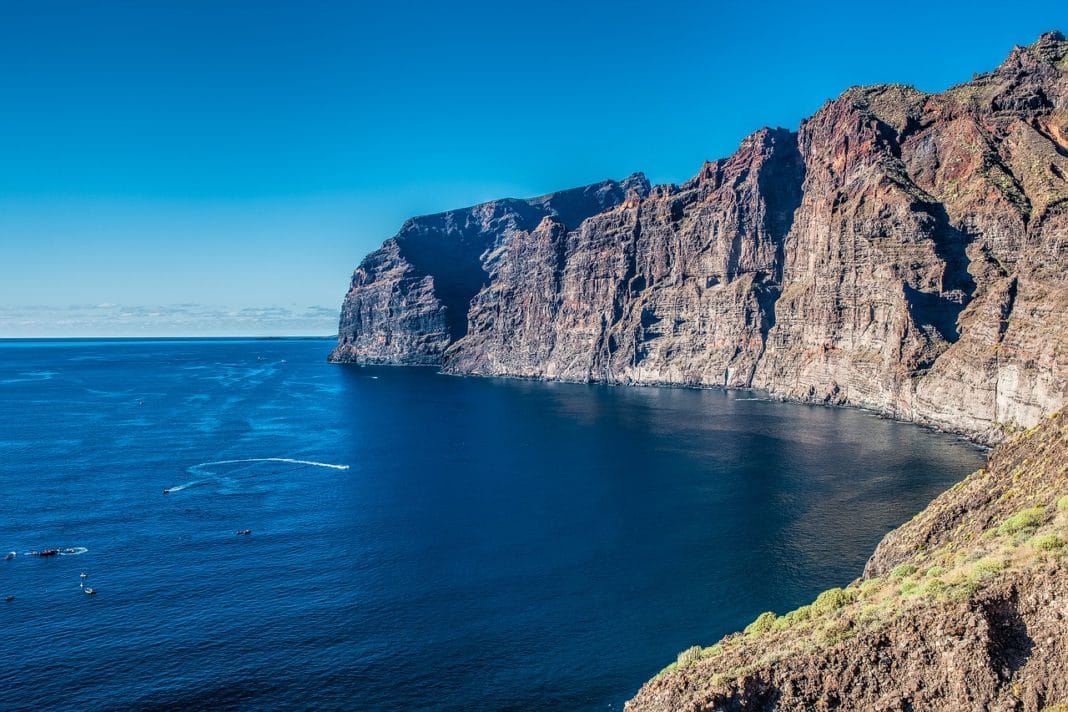 Black volcanic sand, steep, breathtaking cliffs, and shallow lapping waves. What more could you ask for from one of the best beaches in Spain? Ok, so Los Gigantes beach is located on the Canary Islands, but they are a part of Spain! But, these islands are off the coast of Morocco, so the plane ticket may be a wee bit pricey. That being said, the dramatic landscape of Los Gigantes Beach will surely put you in awe. In addition, the water is quite shallow, making it easy for the little ones to enjoy. But, be aware there are many rocks interspersed throughout the sand. Due to this, some may want water shoes on while they play. Don't let this dissuade you, though. Los Gigantes is truly a once in a lifetime view and experience.
5. Cala Mondrago in Mallorc​​​​​a
One of the most marvelous draws of islands is the fact that the ratio of coastline to inland is so high. This allows for an abundance of beaches, allowing Cala Mondrago to rise above as one of the best beaches in Spain. This white sand beach allows its patrons to rent the sun loungers or find your own spot along the sand. With the nearby Mondrago Natural Park, there is an abundance of walking trails to take a stroll out away from the sun while still enjoying the beauty of the coves. Lifeguards are also on duty during the peak season, allowing parents to take a little respite as well.
This is a wonderful beach to dabble in other water sports, aside from surfing. Feel free to learn to snorkel or take a quick boat ride around the cove. If you want to adventure yourself, rent a kayak or stand up paddle board to carry yourself around. This beach is also handicap accessible. Each of these amenities makes it an excellent choice for any beach goer.
6. Mundaka Beach on the Basque Coast
It is simply mandatory to include the most acclaimed surf spot in the country on our list of best beaches in Spain. An infamous fifteen foot tall left hand wave has received world-wide praise from the surfing community. This constant wave will carry surfers over 1300 feet to shore. This stunning natural phenomenon is clearly enough to put Mundaka on the map. Just know if you choose this beach, surfers will abound. In addition, the town of Mundaka has hosted the Billabong Pro and the World Surf League for many years. So, if surfing or watching big waves tickles your fancy, make your way to Mundaka.
7. Burriana Beach in Nerja
We'd be ashamed if we didn't include at least one beach on the Costa Del Sol, or "Coast of the Sun". The southern side of Spain is known for over three hundred and twenty days a year of brilliant sun. So, if you're needing an assurance of warmth, here it is.
We let Burriana Beach on our list of the best beaches in Spain for a myriad of reasons. First of, it's simply beautiful. The lusciously soft sand can't help but beckon your toes to stay for a while. Secondly, the town of Nerja has over three hundred restaurants. This allows even the pickiest eater to find something perfect on vacation. The beach itself also has a plethora of amenities. These include the typical showers and toilets, as well as play areas with volleyball courts. So, if you're looking for a great place to bring a bunch of your friends, this is a great choice. In addition, you can rent jet skis and kayaks to explore other beaches nearby if you need a change of scenery.
Burriana Beach on the Costa Del Sol is simply an all-around people pleaser. From the endless sunny days to great eateries, there won't be a complainer to be found. So, book your trip to the south of Spain to enjoy this gem.
From the infamous wave at Mundaka to the stunning shores of San Sebastian, the best beaches in Spain await you.
We've provided you a myriad of options depending on what exactly you're looking for in your Spanish getaway. If you're searching for a family vacation with safe, small waves and beautiful scenery, you will be appeased. There are also beaches for the music lovers and party-goers scattered across Spain and its islands. If you truly are simply seeking the sun, the Costa Del Sol will live up to its name. So, whether you're heading to Spain to see the cities, surf, lounge, or recharge, these best beaches in Spain will meet your every need. Pack your bag light, as all you'll really need is a towel, suit, and good sunscreen.
Related Article: 14 Absolutely Beautiful South Carolina Beaches