Summer's in full effect and you need some good equipment to play your tunes. We're here to help you find the best bluetooth speakers under $100.
We're here to help you find quality gear on a budget. Let's get started to find the best bluetooth speakers under $100. We're going to divide the speakers into categories, so you can scan through the list and find the perfect one to fit your needs. Water resistant speakers and outdoor speakers are included in this article.
When you're paying more for gear, it's got to be good. Many of us will easily drop $20 on a speaker without thinking twice about it. However, when you begin to spend upwards of $60, your speaker should be more of an investment than an accessory. Since summer is in full swing, you're going to want to take your bluetooth speaker with you on all of your adventures. You're going to need a product that can keep up with you. Lucky for you, we've found just what you're lucking for. Let's check out these products.
Best Bluetooth Speakers Under $100 – Water Resistant
Heading to the beach? Invest in some high-quality bluetooth speakers that can't get damaged by water. There are plenty of water resistant speakers on the market. Some can even withstand full immersion. Let's take a look; here are our favorite speakers in no particular order.
1. JBL Flip 4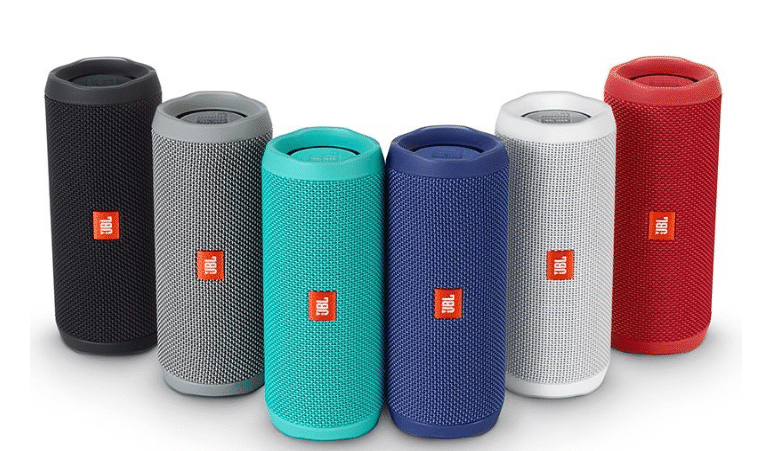 Looking for one the best bluetooth speakers under $100? You've found it in the JBL Flip 4. If you know anything about JBL, they've remained consistent with their Flip Series. While the JBL Flip 4 is in many ways similar to its predecessor, it also offers some serious improvements. It is one of the highest-rated water resistant speakers on the market.
This means you can submerge it in up to one meter of water for 30 minutes. We're not sure quite why you would want to… but that's beside the point. Even so, it's good to know that if you accidentally drop it in the pool, you have plenty of time to rescue it.
Another thing we love is that the new Connect+ button allows you to connect this speaker with up to 100 others to play music in sync. Battery life is also great. You can get up to 12 hours of playtime with volume at 50 percent. If you're looking for an all-around good speaker that is durable and sounds good, go with the JBL Flip 4.
2. Anker Soundcore 2 Portable Bluetooth Speaker
Ready to start the party? Crank up the volume on your Anker Soundcore 2. This is definitely one of the best bluetooth speakers under $100. Compared to its predecessor, it's easy to see there are some notable improvements. We love the simple control buttons at the top and the shape seems to give it a good bass. In addition, these speakers come with an 18-month warranty. You just can't beat this quality and price. If you're looking for some bang for your buck, this is a great choice.
3. Aomais Sport II Portable Wireless Bluetooth Speaker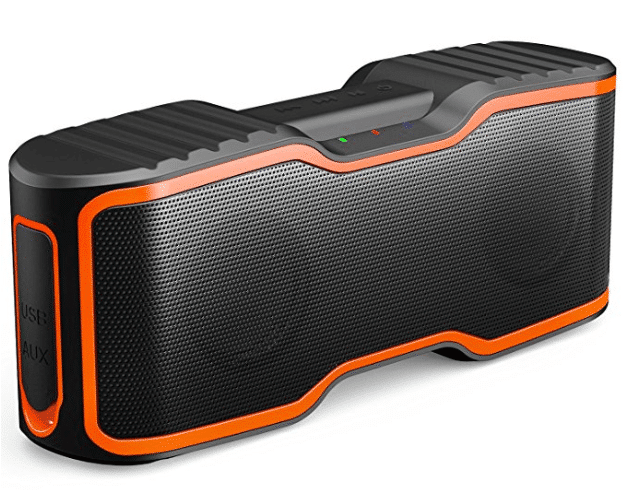 This is another great, affordable waterproof bluetooth speaker. In addition, it's rugged exterior means it can survive a few drops. Really. The company even advertises that you can run over them with a car – although we really don't recommend doing that. They're also larger than most speakers you can get at this price point, weighing 1.4 pounds and spanning 9 inches wide. Even so, you can definitely pack these speakers with you. They are great for the outdoors. This is definitely one of the best bluetooth speakers under $100.
Best Bluetooth Speakers Under $100 – Durable Outdoor
Are you going to be out and about exploring the great outdoors this summer? You're going to want a durable speaker. We've got just the thing.
4. Tribit Xsound Portable Bluetooth Speaker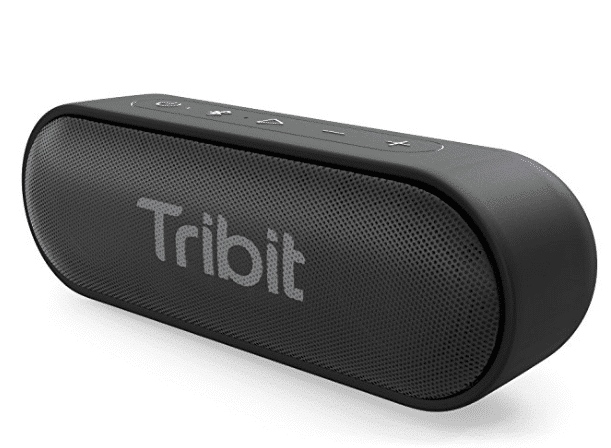 Enjoy 24 hours of play time all on one charge. When you're looking for quality, you'll find it in the Tribit Xsound portable bluetooth speaker. This little gadget is pretty amazing. Want to know some of our favorite features? It has a built-in microphone to take calls, stays connected up to 66 feet away from your phone, and comes with a lanyard for easy handling.
For its compact size, the speakers can get pretty loud. In addition, the music is relatively crisp and clear. All in all, these small but mighty speakers will bring the fun to your pool party, beach blast, or really wherever you want to take them.
5. WZK Portable Wireless Outdoor Bluetooth Speakers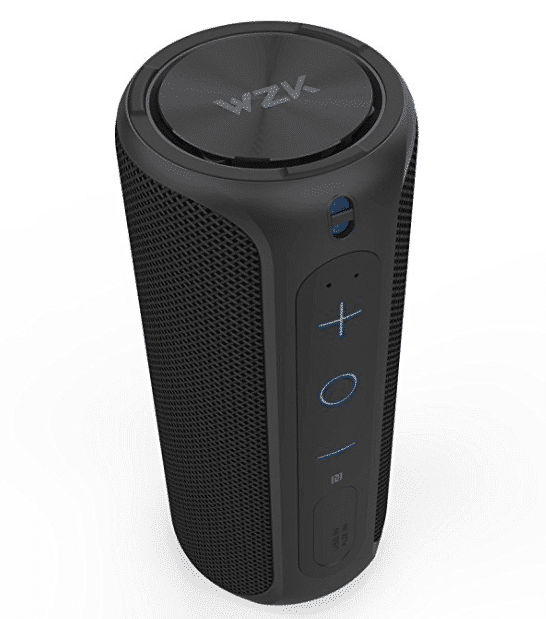 Enjoy crystal-clear sound and powerful bass with dual high-performance drivers and passive subwoofers. This speaker can produce incredible stereo sound, uses 5W2 speakers, and has a full range of output to use strong, crisp, bass-rich music wherever you are. Bluetooth range spans up to 10 meters.
Whether you are walking around the house, at a party, camping, skiing, hiking, cycling, you can always enjoy HD stereo volume.High-capacity rechargeable 2200mAh battery for up to 10 hours of playback time based on music volume. Built-in microphone Handsfree speaker: when connected to a smartphone, the mini speaker can be used to answer the call anytime, anywhere. In our book, this is one of the best bluetooth speakers under $100.
6. OontZ Angle 3 Ultra Portable Bluetooth Speaker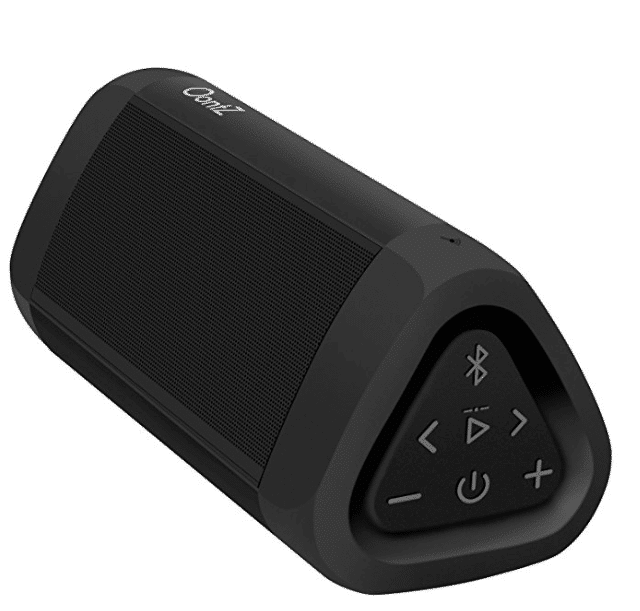 Come and enjoy superior sound quality with a rich full bass. The digital audio processor pumps up the bass and enhances the clarity of the mids and highs; 14 Watts of power delivers surprisingly loud room-filling volume from the dual precision stereo drivers and proprietary bass radiator.
Play up to 100 feet away from your device; the advanced antenna design provides fast connection and incredible wireless bluetooth range of up to 100 unobstructed feet from your audio device. Wirelessly connect two OontZ speakers together to play your music with awesome stereo separation from your Amazon Echo, iPhone, iPad, Smartphone, or other devices.
It's also the perfect shower and pool speaker, certified to resist water spray and splash. We think it is important to note that the Angle 3 cannot withstand being partially or fully submerged. Play from morning till night with up to 20 hours of playtime. Push to talk Siri support, when connected to your iPhone or iPad and update. The update also reduces a delay in the audio playback from a video or TV allowing an OontZ Angle 3 Ultra to play in sync with the video.
7. BenQ Trevolo S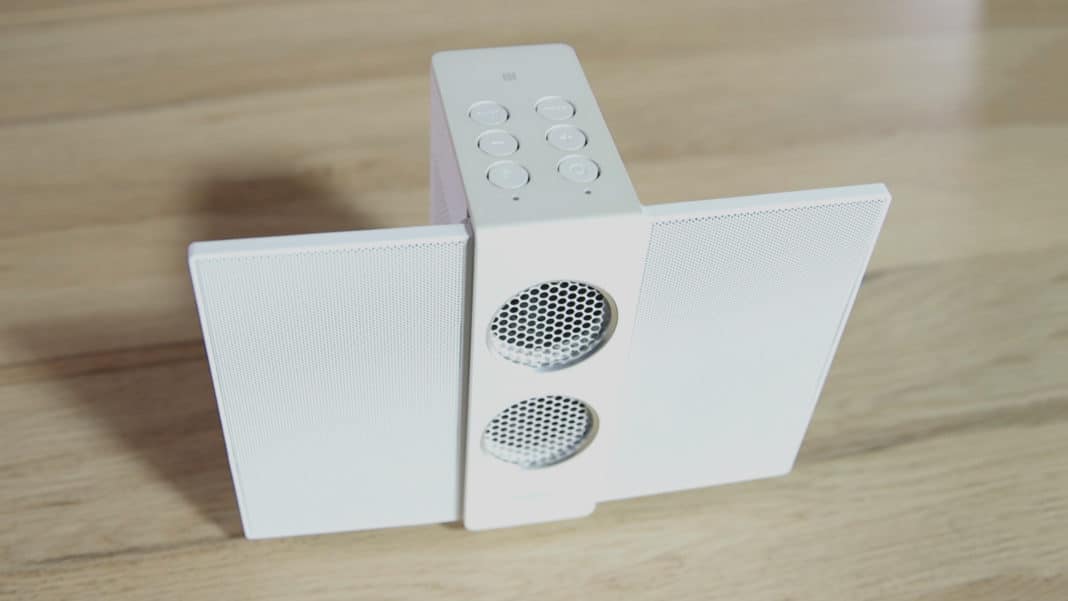 The BenQ Trevolo S is the smallest electrostatic speaker. This little device delivers astonishing clarity and accuracy for your favorite songs. Thanks to what's called an entire thin-film diaphragm, the BenQ Trevolo S offers bi-directional sound projection for a more detailed audio performance and accurate delivery of natural, crisp and clear sounds. Close your eyes and immerse yourself in a compelling audio scene with non-distorted 3D audio technology and rich bass. It's all powered by dual woofers and dual amplifiers. Enjoy a musical journey that elevates you, taking you to new heights of happiness.
Important to note – While it looks thick, the body of the BenQ Trevolo S is actually fairly fragile. It is capable of serving as an outdoor speaker but dropping it on the hard ground could do some serious damage. Since it is not water resistant either, be careful of spills and splashes. Despite these limitations, the speaker has some qualities that more than make up for it. It's NFC capable and definitely lives up to all of our sound quality expectations.
8. Harman Kardon Onyx Studio 4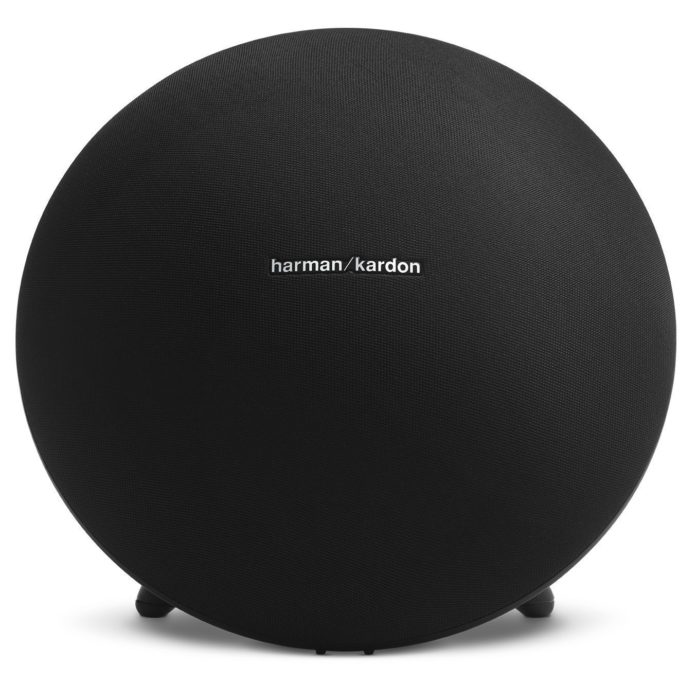 Sleek and sound, modern features come together in a beautiful harmony with the Harman Kardon Onyx Studio 4. Clearly, it was built with the ultimate music lover in mind. Even the highest notes sound crisp and clear. The mid-range carries its weight too. Low notes and bass emit an impressive larger than life rumble. Crisp treble creates depth to the music. Overall, the sound quality is great.
The design is made to suit any style. A circular body makes it easily portable. Tuck it in your coat pocket or slip it in the cup holder of your car. It's pleasant to add to any space. Last but not least, the fabric covering the speaker protects its exterior. Knowing Harman Kardon's experience making quality goods, you can rest easy with the Onyx Studio 4 bluetooth speaker. Features include wireless bluetooth streaming, a solid battery life, surround sound capabilities, and voice activation.
9. UE Boom 2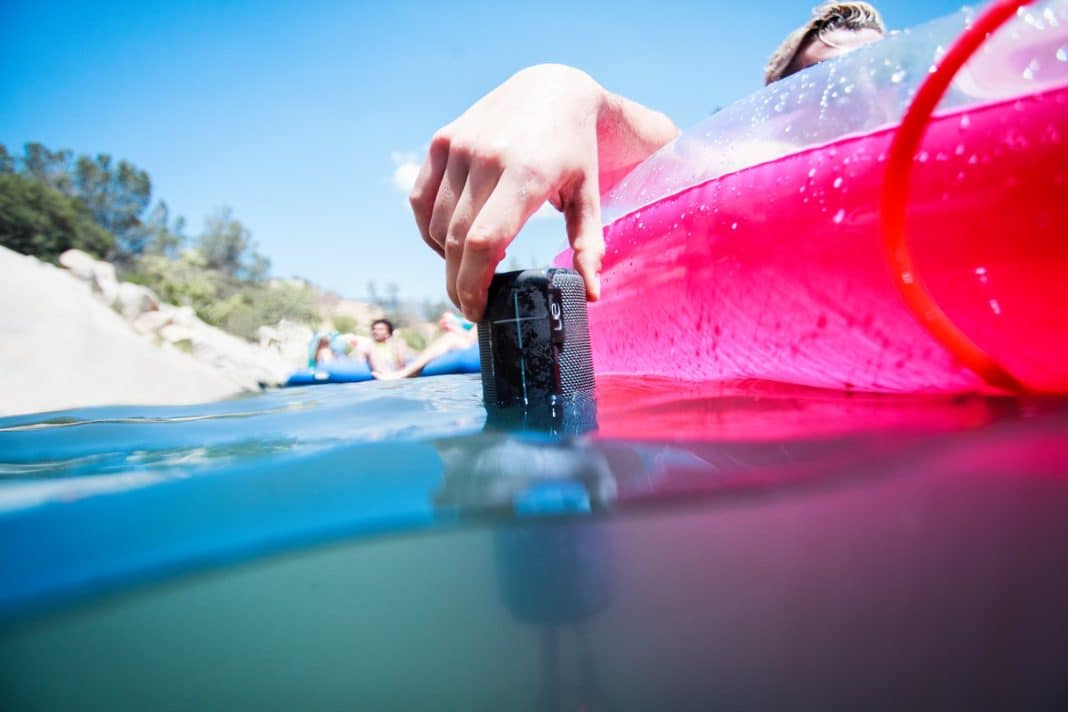 This speaker has been a home run since its release. It's affordable, has excellent sound, good range, and performs well all around. Even better, it responds to your voice, sports a waterproof body, and an even more boisterous sound. This is the speaker we'd recommend to any traveler. It's perfect to throw in just about any bag.
10. Ultimate Ears Wonderboom Waterproof Bluetooth Speakers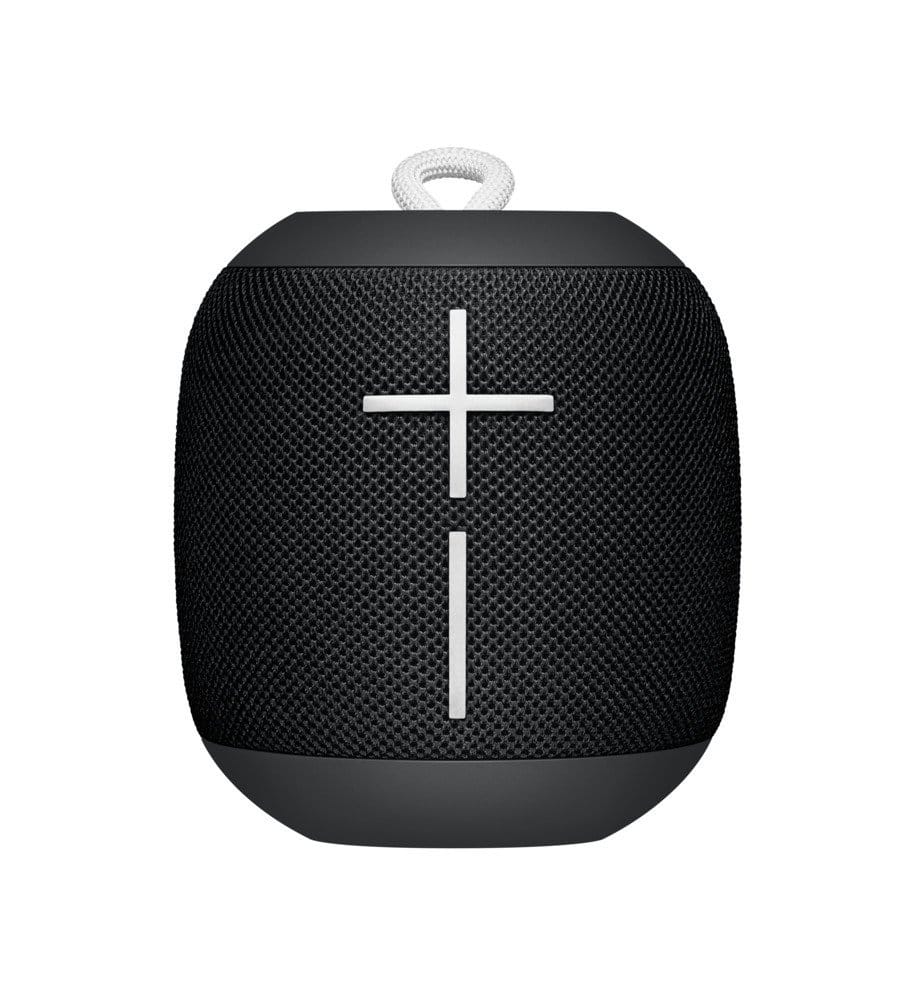 Bold. Loud. Exciting. If you've been wondering about which speaker to buy for your everyday needs, wonder no longer. Don't let its size fool you, the Ultimate Ears Wonderboom speaker comes jam-packed with a full 360 degree sound for every occasion.
The Wonderboom features up to 10 hours of sound and a lightweight, portable frame so you can take it wherever you need to bring the noise, even underwater — the device carries an IPX7 rating. Bring it into your bathroom in the morning, to the beach in the summer, or just wherever. It's no wonder with the Wonderboom.
Invest In the Best Bluetooth Speakers Under $100
We hope you enjoyed reading our article about the best bluetooth speakers under $100. Do you have any favorite speakers that are not on our list? Let us know. We always enjoy finding great new gear for summer.
Questions and Comments
Last but not least, do you have any questions or comments for us? If so, feel free to leave us a message in the comment section below. We will be sure to get back with you soon.
Related Article: 10 Best Bluetooth Speakers Money Can Buy | Review