For spectacular sound, sleek style, and modern features, the Harman Kardon Onyx Studio 4 is the most compelling choice.
From the days of cassette players to boom boxes, we have now arrived at portable bluetooth speakers. You now have the ability to stream music from multiple devices, conference call, and ask Google anything through one simple device. So, when there are an abundance of features to choose from, how do you pick the best speaker for you? I'd suggest that you look around. How much are you willing to spend? Do you want the speaker to look spectacular sitting on your coffee table or be ready for adventures by the pool? Do you want to be able to have multiple DJ's flipping songs or want it all on your shoulders? All of these things need to be taken into consideration. But, read on to see if the phenomenal Harman Kardon Onyx Studio 4 is the right choice for you.
Harman Kardon Onyx Studio 4 Features and Benefits
The Harman Kardon Onyx Studio 4 was built with the music lover and podcast connoisseur alike. The high notes come out clear and bright, while the mid range carries its own weight as well. The low notes and bass produce a larger than the speaker feeling which has impressed all so far. The crisp treble creates a depth to the music this speaker produces, establishing a wholesome sound for even the pickiest melomaniac. We'll also scroll through some of my favorite features and benefits of this speaker.
Wireless Bluetooth Streaming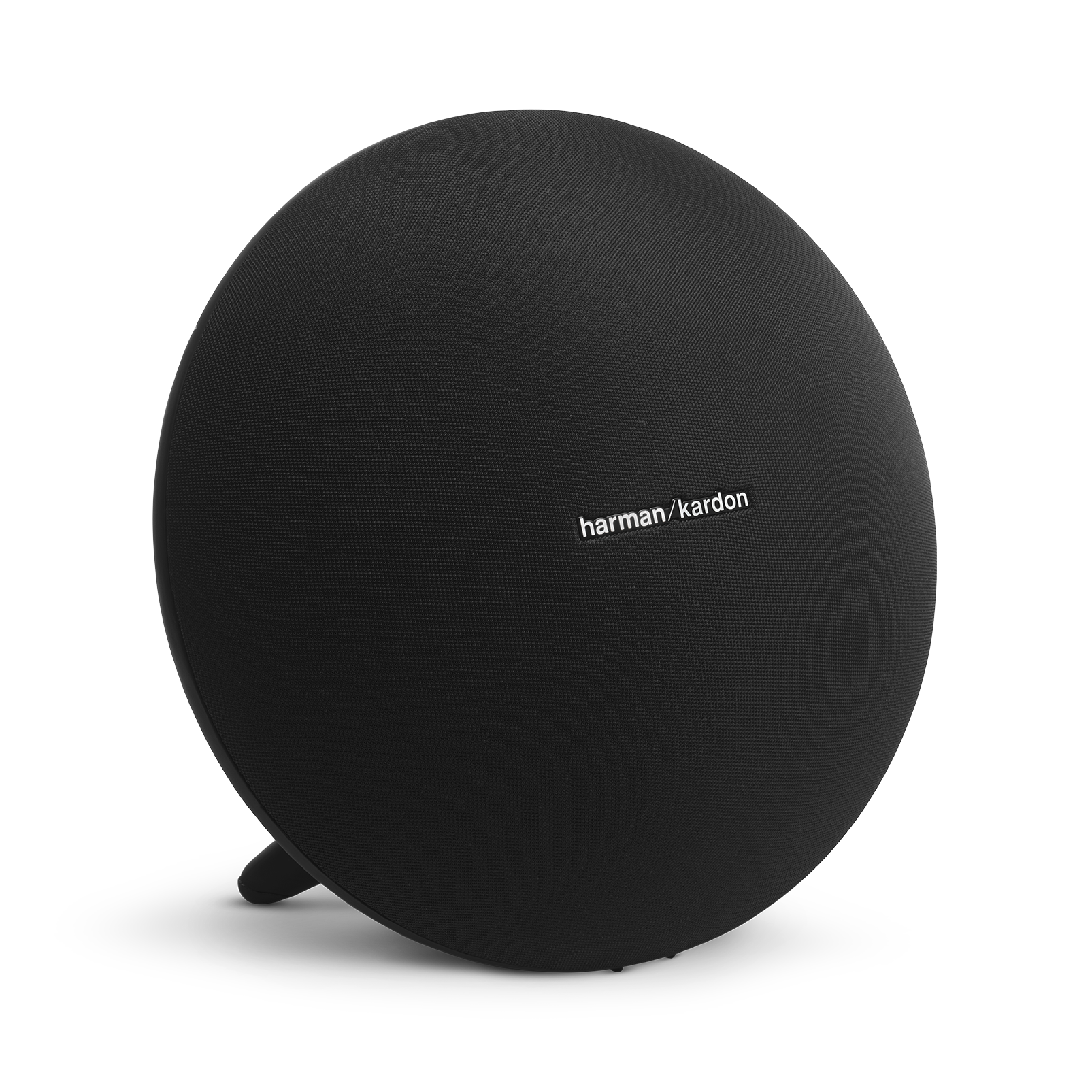 Bluetooth is a necessity in our cars these days because of it's safety and ease when picking music and making call. So, why isn't it a given in our homes as well? With the Harman Kardon Onyx Studio 4 bluetooth speaker, you can play music at the click of a finger on your phone. Use Spotify, Itunes, our Youtube to pick the tunes to fit the moment and let the worries drift away. Bluetooth is an essential part of speakers these days as it allows it to be wire free. So, you can bring it with you anywhere!
Multiple DJs
It can be hard to keep the right groove going during a house party, especially if you're the only one in charge. So, the Harman Kardon Onyx Studio 4 bluetooth speaker let's you share in the responsibility. By allowing two people to connect their phones, you can take turns picking the next songs. So, take advantage of the freedom and choices that this speaker offers.
Solid Battery Life
We've all run out of battery on our phones or computers at inopportune times. Right before the perfect sunset pictures or when you need to make that call to mom. But, with the Harman Kardon Onyx Studio 4 bluetooth speaker's eight hour battery life, you will be prepared for all your music emergencies on the go. Whether you go portable with your kid's birthday party at the park or for your backyard Sunday tailgate, the speaker will get you through the game.
Surround Sound Capabilities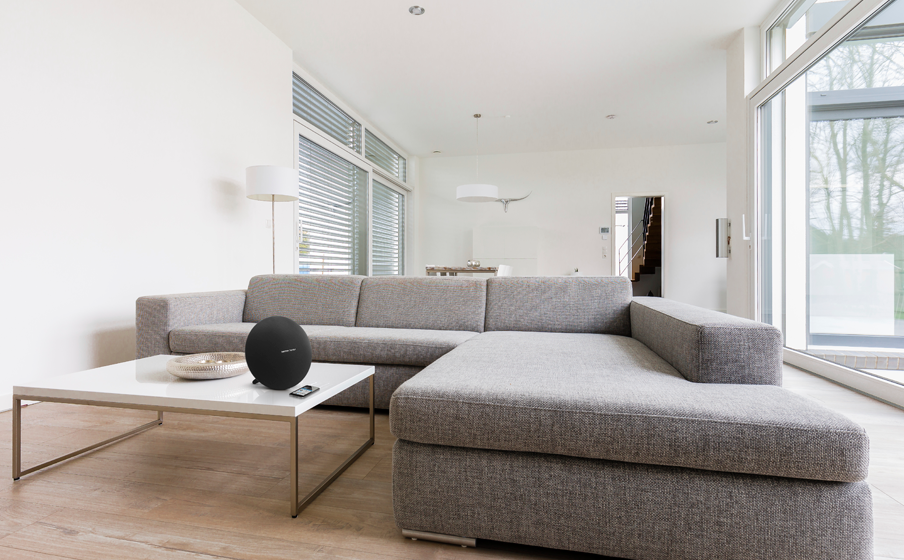 Don't you love how movie theaters create the surround sound to give you a true experience of being in the movie or a concert? Well, you can have just that feeling through the HK Connect+ abilities of this speaker. With over one hundred compatible speakers to connect with, just flip on the amplifying abilities and cruise.
Microphone Conferencing System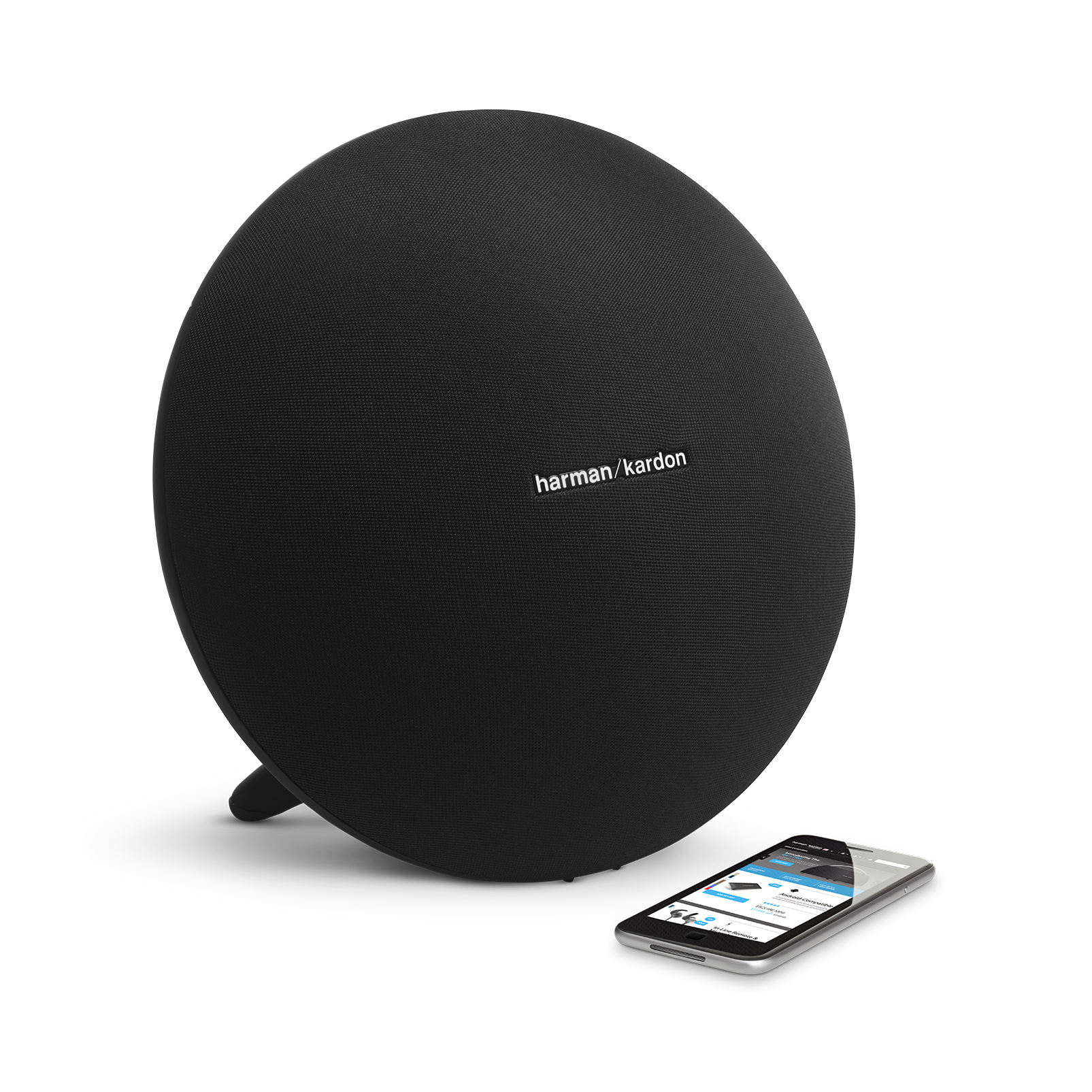 Are you ready to get the band back together? With the Harman Kardon Onyx Studio 4 bluetooth speaker's incredible built in conferencing system, you can do just that from far away. With state of the art noise and echo cancellation, you will be able to talk, play, and sing together with crystal clear sound. Not many other speakers on the market can give you this.
Access the World through your Voice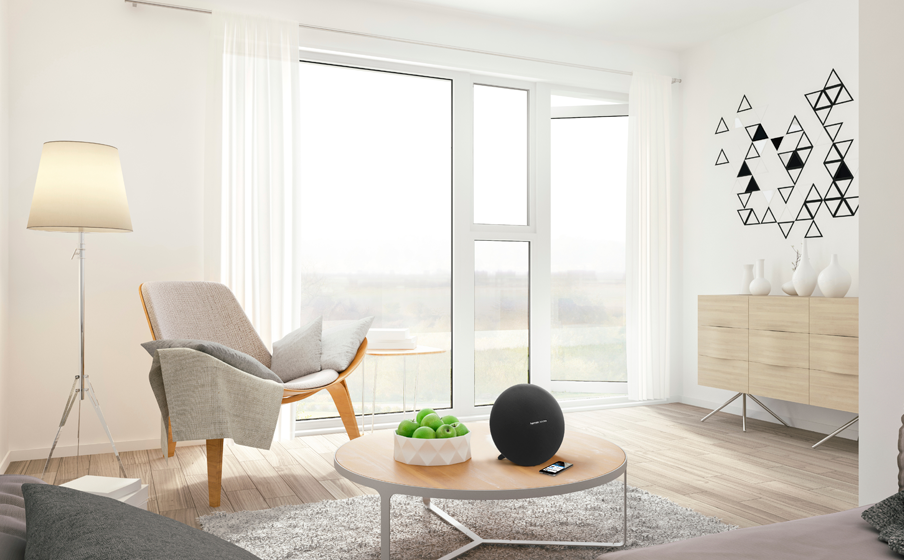 When your phone is still charging in the other room, the Harman Kardon Onyx Studio 4 bluetooth speaker can provide you with Siri or Google simply with the click of a button. After activating it on your HK Connect App, ask Siri what her plans are for the evening. Or, you could even ask Google to read you the best Harman Kardon Studio 4 Review. So, whatever questions you're begging to ask, this portable bluetooth speaker is ready to answer.
Superior Design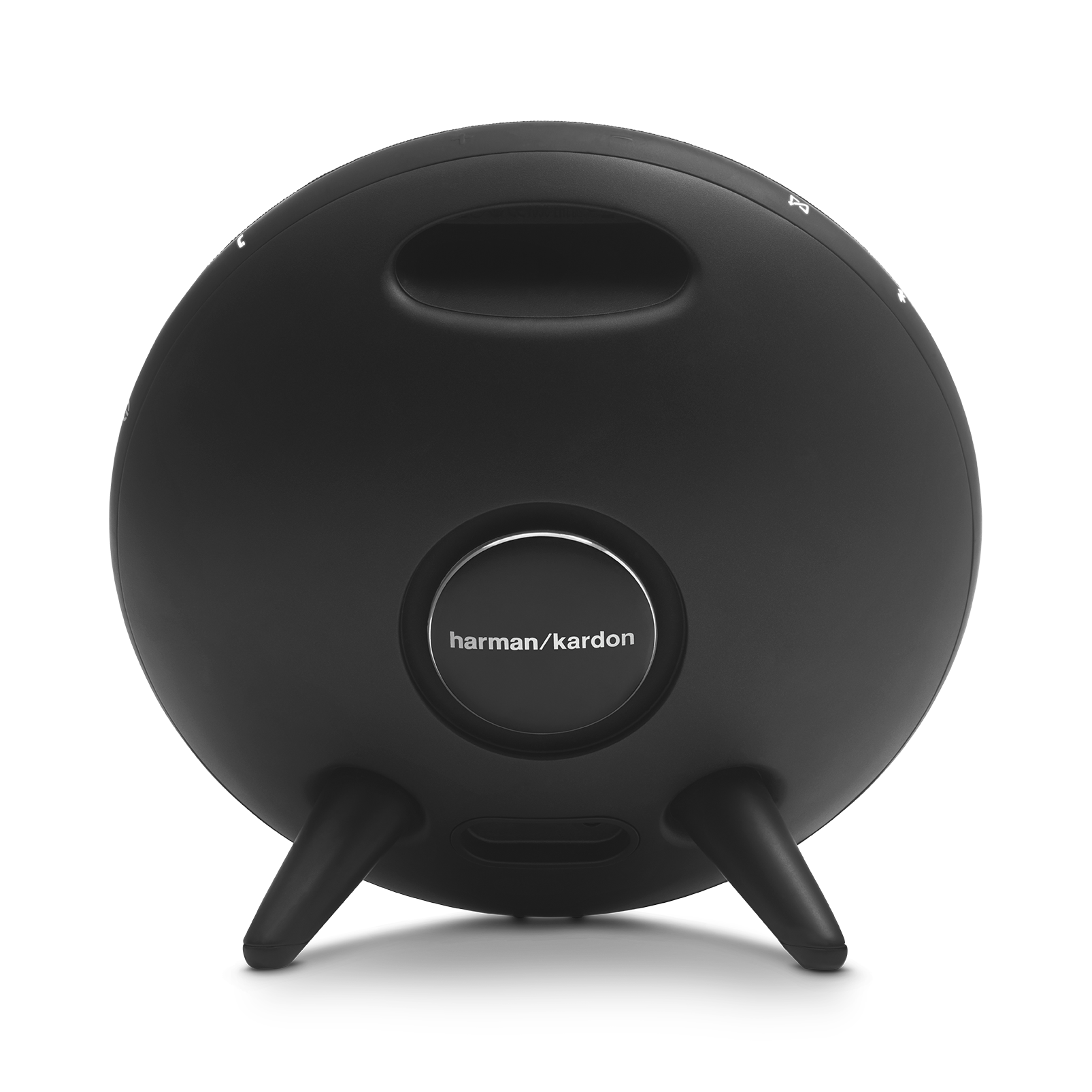 With its sleek and iconic design, the Harman Kardon Onyx Studio 4 bluetooth speaker will compliment any style. The black, circular body is a pleasant add to any room. You can tuck in on the coffee table or by the sink without worry of it messing up your groove. In addition, the superior fabric covering the speaker will hold up for a long time. With Harman Kardon's experience making quality goods, you can take confidence in their Onyx Studio 4 bluetooth speaker.
Incredible Sound
With its larger size, the Harman Kardon Onyx Studio 4 bluetooth speaker is able to put out a crystal-clear sound. The bass and sound quality are both beyond what anyone thought a bluetooth speaker was capable of. Harman Kardon has perfected the ability to fill a room with brilliant audio while keeping the price and size of the speaker manageable.
Multiple Color Options
With an ever changing style in this world, the modern black design isn't for everyone. So, Harman Kardon gives you the choice of one of three bold colors. You can pick the classic black, brilliant blue, or the clean, brisk white. Whatever you fancy, the Harman Kardon Onyx Studio 4 speaker will hopefully fit your style.
What Travelers Are Saying About the Harman Kardon Onyx Studio 4
Audiophiles everywhere are praising the Harman Kardon Onyx Studio 4 for it's sound capabilities. From Tech Gear Lab, the reviewers were impressed with the volume, but the weight and battery life of the device left something to be desired. This is not the best choice for the busy traveler or adventurer. But, if you're seeking out a great home or office sound system, many reviewers on Amazon tell you to look no further. This speaker has scored 4.7 out of 5 stars on the site, so is definitely a worthwhile deal. Reviewers from HDD Mag also say this is the best bang for your buck if you're looking for an at home speaker.
The Harman Kardon Onyx Studio 4 is originally priced around 450 dollars, but almost everywhere is on sale for $199. A few sights have also advertised it on sale for $150. If you find it at either of the later prices, I would say it is a solid value worth investing in.
Alternative Bluetooth Speakers
1. JBL Charge 3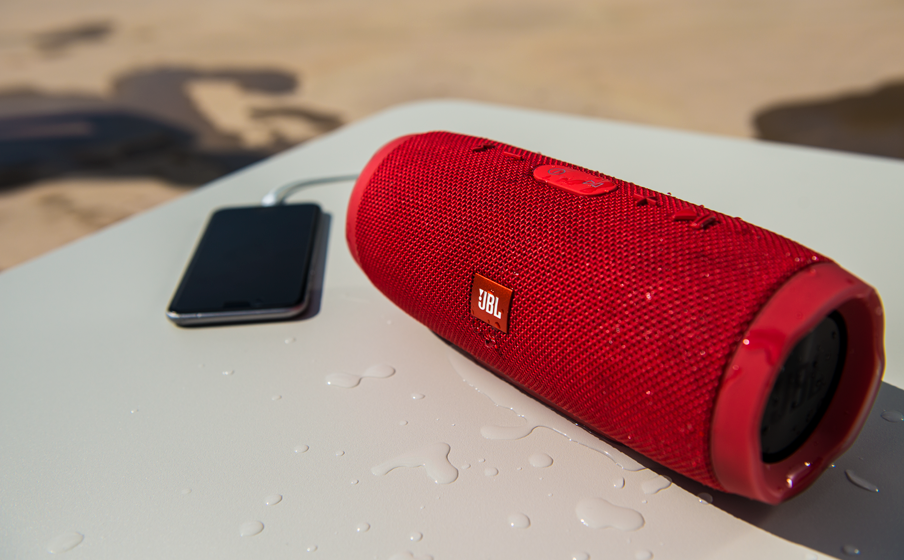 The JBL Charge 3 is an excellent speaker, but varies from the Harman Kardon Onyx Studio 4 quite a bit. The JBL Charge 3 is a speaker for those on the go. It if fully waterproof and can connect up to three different people wirelessly. With this, your next pool party can have the bass thumping in the water while three different DJ's shuffle the tunes. Or, you could even be more daring and take it kayaking down a river! In addition, it has a twenty-hour battery life. This over doubles the Harman Kardon Onyx Studio 4 battery life. Lastly, the JBL Charge 3 is able to charge your phones with its USB port. So, if you're in need of a speaker to get out and get messy, this may be a better choice.
2. UE Boom 2
The UE Boom 2 is similar to the JBL Charge 3 above. It is waterproof with bluetooth capabilities. These allow you to take your speaker on adventures while still staying connected. The UE Boom 2 also is designed to give you 360-degree sound coverage. This means it will fill your whole room or backyard with it's clear sound quality. With its sleek and stylish design, this speaker will add a little more spunk to your music and life.
3. JBL Clip 2
The JBL Clip 2 brings portability to the speaker world. The smaller version of its other JBL brothers, it still provides decent sound quality. Use the handy carabiner to hook in on when you're on the go. While it is a much smaller size, JBL didn't compromise on sound quality.
So, you have plenty to compare on these speakers. However, the Harman Kardon Onyx Studio 4 is a step above these in the audio department. But, these last three speakers provide a lower price point, waterproofing, and a more compact and travel worthy product. So, take some time to review all your options before you choose the best speaker for your life.
The Harman Kardon Onyx Studio 4 brings a stunning, full audio sound that will dazzle your ears and your pocket book.
Spectacular speakers can go for up to five and six hundred these days. But, Harman Kardon made a speaker that could fill your home, office, or busy kitchen with fantastic music while still staying on budget. While the speaker has a shorter battery life and weighs in at four and a half pounds, it's not easily portable. But what it lacks in ease of movement it makes up for in modern design and innovation. So, get the Harman Kardon Onyx Studio 4 so you can start enjoying music again.
Related Article: ​10 Best Bluetooth Speakers Money Can Buy | Review​​​