Located on Big Sur's Rugged Coastline is the Extravagant Post Ranch Inn
Post Ranch Inn is situated along the Pacific. The boutique style hotel is located in Big Sur, California to be exact. With garden courtyards, wide open glass windows, and modern, log cabin vibes, Post Ranch Inn serves up satisfying views along with satisfying meals. This hotel is truly a paradise on the edge of the Pacific. From the accommodations and the dining experience to the service and the surrounding scenery, we give Post Ranch Inn a 5-star rating. For all the details about this Big Sur hotel, then stick around. We are spilling all the secrets about Post Ranch Inn. If you are planning a trip to California, you must consider staying at this phenomenal, one-of-a-kind hotel. Here is why…
All About the Accommodations
Coastal Views
The Cliff House is by far one of the most popular accommodation options at Post Ranch Inn. The Cliff House has heated floors, a wood-burning fireplace, floor-to-ceiling windows, and a private deck that hangs over the cliffs. This accommodation also features a king size bed, an outdoor hot tub, an indoor spa tub, complimentary snacks from the mini-bar, complimentary wireless internet access, and more. While the structure itself is undeniably beautiful, just wait until you see the view. From morning until night, the Cliff House offers a front row seat to the stunning Pacific Ocean. Every evening, travelers can watch the sun descend from the comfort of their private deck (on the comfiest lounge chairs, we might add).
However, the Cliff House – and all of its extravagance – is only one of the lodging options at Post Ranch Inn. Pacific Suites offer many of the same delights as the Cliff House. This two-story building houses two suites for guests to stay in. The circular building structure allows for all around glorious views of the surrounding ocean and mountains. Ocean House is another luxurious accommodation that features a king size bed, a wood-burning fireplace, an indoor spa tub, a private deck, and panoramic views of the Pacific from everywhere in the home. Those wishing to see the sea, but also be among the wildflowers should opt to stay at Ocean House. Coast House is the final accommodation that showcases up close and personal views of the Pacific.
Mountain Views
For travelers wishing to see more of the mountains and less of the coast, check out the following accommodations. Peak House and Mountain House both provide guests with a private view of the mountains. Light a fire and get cozy as you sit back and enjoy the mountain range. Guests can also seat themselves on each House's private deck and breathe in the fresh mountain air. Post Ranch Inn's Butterfly Rooms allow for travelers to unwind and relax amid the Santa Lucia mountains and the forest views as well.
For an ultimate experience at Post Ranch Inn, check out their Tree Houses. Built nine feet in the air, guests can stay in their very own tree house. It will be just like you always dreamed of as a kid. Only this time, you won't be wrapped in sleeping bags. A spacious king size bed will be waiting for you inside, along with a fireplace, a stereo system, complimentary internet access, and nightly turndown service. Even better than in your dreams, right?
Private Houses
All lodging options at Post Ranch Inn give guests ample privacy. However, travelers wishing for even more privacy can stay in Post Ranch's private housing options – Post House or South Coast House. Both are wildly luxurious. Post House gives off a more classy log cabin vibe with wood paneled walls, a stone fireplace, a full-size kitchen, and a neutral color theme. South Coast House, on the other hand, adds pops of color and art to make the log cabin a tad more modern. South Coast House also offers a full-size kitchen, private decks, and two master bedrooms.
All About the Amenities
Post Ranch Activities
In addition to irresistible views, Post Ranch Inn offers morning yoga, stargazing, whale watching, and guided nature walks through the mountains. Morning yoga is available every Friday and Saturday. Guests of all levels can come participate in this outdoor yoga session. Every Thursday, Friday, and Saturday there are guided hikes available as well. On clear nights, Post Ranch Inn takes out their telescope and invites guests to observe the starry sky. Mondays, Tuesdays, and Wednesdays, the resort offers a tour of the Chef's Garden. Travelers can wander through the chef's organic garden, smelling, tasting, and delighting in all that grows there.
On the property, there is one heated swimming pool and two heated infinity spas. Both spas line right up to the edge of the cliff. Talk about picture perfect. A fitness center is also on site for guests to exercise on all of their favorite cardio and strength-training equipment. Post Ranch Inn's library provides books and games for guests to borrow, along with complimentary use of a computer and printer. Travelers wishing to shop can explore the Mercantile. Within the Mercantile, there is art, jewelry, clothing, books, photography, and predominantly organic clothing for sale.
Post Ranch Spa
Finally, the Post Ranch Spa is a must-visit when staying at this hotel. Nothing says recharge and relaxation better than an afternoon at the spa. Guests can choose to have their spa treatments in their own guestroom, in the spa treatment rooms, or in the couple's Spa Suite. From massages to facial treatments and beyond, check out the Post Ranch Spa. It is recommended that guests schedule their appointment two weeks or more in advance. Same week or same day spa appointments are based on availability. Therefore, secure your spot before you arrive. Doing so will ensure that you have a restful and relaxing time at the Post Ranch Spa.
All About the Dining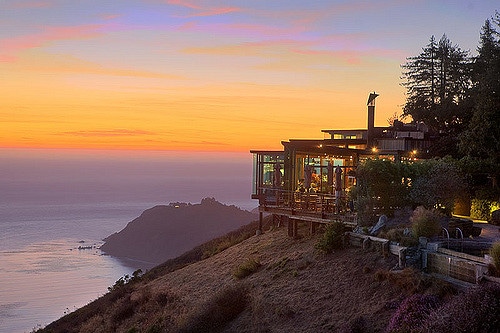 Sierra Mar is the delicious and grand restaurant on site. And it comes with a view, of course. What place on the Post Ranch property doesn't? Sierra Mar is situated on the cliffs with a stretching view of the Pacific. With their stay, guests receive complimentary access to the buffet breakfast at Sierra Mar. Lunch at this fine-dining restaurant is open to guests and the public. The price is set at $65 for a three-course meal. Reservations also must be made in advance for lunch at Sierra Mar.
As for dinner, reservations are recommended. A traditional four-course meal will be cooked and served to perfection. With organic vegetable and herbs that come straight from Chef's Garden on-site, all dishes are exquisite. Sierra Mar is also known for its award-winning wine cellar. When dining at Sierra Mar, guests will be astonished by the rich wine, the flavorful cuisine, and the blazing sunset views.
All About the Package Deals
Post Ranch Inn offers a number of package deals for guests. These include the Hideaway Package, Romance at the Ranch, and Ocean Escape. The three packages are popular among couples wanting a private and intimate stay at Post Ranch. If you are feeling the love, Post Ranch Inn certainly has you covered. Weddings, vow renewals, and celebrations are also common at Post Ranch. The hotel can help prepare and provide a serene, romantic place for couples to say "I do," or renew their vows. Separate honeymoon packages are also available. Newlyweds can choose from a two night, three night, five night, or customizable honeymoon package. With champagne upon arrival, Post Ranch Spa massages, gourmet meals and more, this resort is the prime honeymoon destination.
Post Ranch Inn also offers an incredible helicopter ride package. Escape Through the Skies Package take you on a helicopter adventure from Monterey to Post Ranch Inn. Couples will fly high into the sky and behold bird's eye views of the California coastline. This round-trip journey is a once-in-a-lifetime experience for those wanting to be whisked away in class and style.
Are You Up for A Pacific Getaway?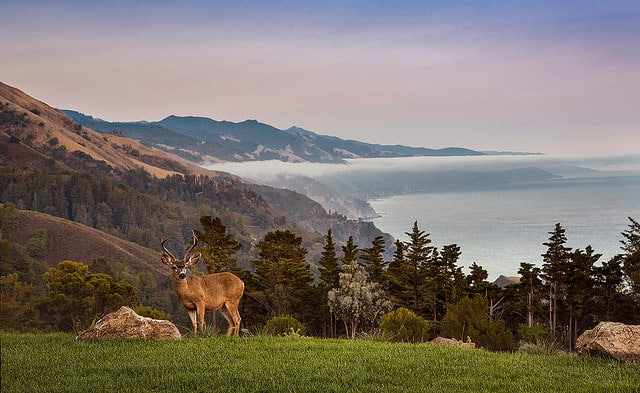 Located on Big Sur's rugged and beautiful coastline, who could resist Post Ranch Inn? This hotel is ideal for couples desiring a romantic getaway. Whether you are looking for a honeymoon detonation, an anniversary trip, or a "just because" vacation, come stay at the comfortable and luxurious Post Ranch Inn. Guests can choose from a number of accommodations, including the extravagant Cliff House or their very own up-scale Tree House. Travelers should also inquire about the package deals and perhaps even a helicopter ride when you stay at this stunning boutique style hotel and resort. From the spa to the food to the views, travelers will be itching to come back to Post Ranch. After you come once, you are bound to return. When traveling to California, don't miss the opportunity to witness the sunset views and impeccable service at Post Ranch Inn.
If you have stayed at Post Ranch Inn, we want to hear all about your experience! The comment section below is eager to hear about your trip.
Related Article: 8 Luxurious Napa Valley Hotels and Resorts