For a fair price, the JBL Clip 2 can offer you a truly portable, waterproof Bluetooth speaker with pretty good sound quality.
Carry this neat little pod shape, and you'll start listening to music practically all the time (if you don't already). Since it's a bluetooth speaker, it's easy to turn on and start playing. Play music while you're in the shower, doing chores around the house, tailgating before the game, or picnicking. The JBL Clip 2 has a few features we really like and sound that definitely isn't awful at high volumes.
JBL Clip 2 Features and Benefits
Portable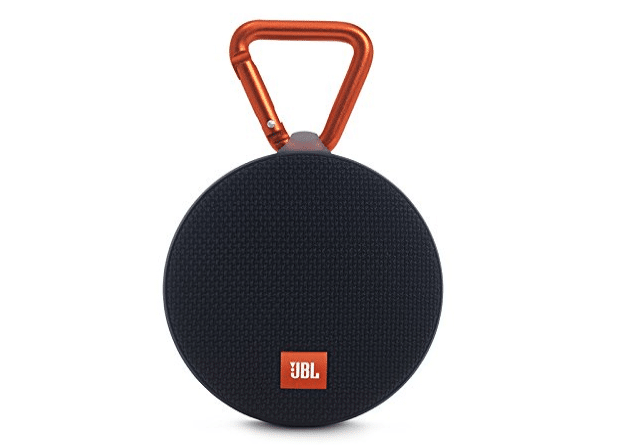 Credit: Amazon
Here's the category where the JBL Clip 2 really wins big. Hold the JBL Clip 2 in the palm of your hand, or set it on the edge of a windowsill. Clip it to the back of your lawn chair, or put it in the outside water bottle sleeve on your backpack. The JBL Clip 2 weighs 6.6 ounces and its dimensions are 3.7 x 1.6 x 5.5. For the size, it packs some powerful sound. And that's the key fact; it's nice and small. Therefore, it's one of our favorites for traveling. You won't have to worry about it taking up precious space when packing. It's truly portable.
Decent Sound Quality
Credit: JBL
There's no need for superfluous language here; the sound quality is decent. However, here's what you have to keep in mind: it's tiny and waterproof. Considering that, this little speaker earns some credit for its sound. It does get pretty loud (most definitely enough to be background music at a party), and there's even some good bass to it. Therefore, for a super portable bluetooth speaker, the JBL Clip 2 offers a good package deal, but considering the sound quality on its own isn't anything impressive.
Buttons, Battery Life, and Carabiner Clip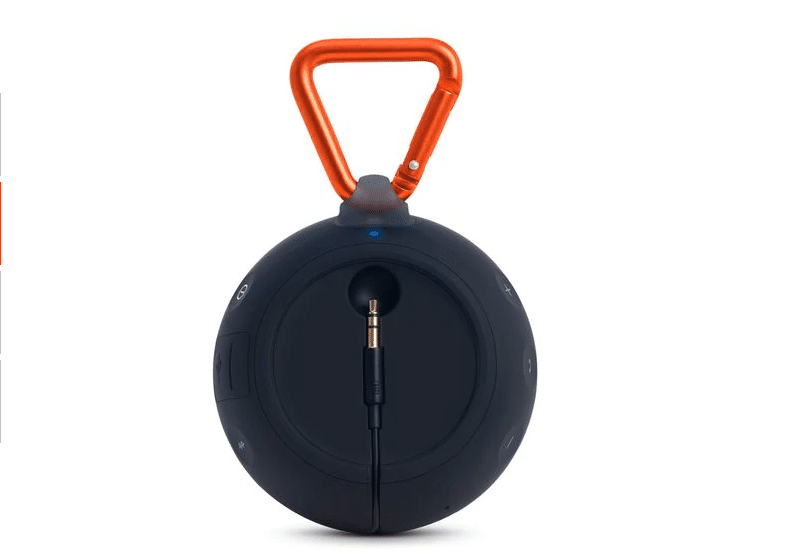 Credit: JBL
The JBL Clip 2 keeps things simple to use. For starters, there aren't too many buttons on the exterior. You'll press the buttons for volume, bluetooth pairing, and power press in along the bottom rim. You'll use your phone to switch songs. To charge these bluetooth speakers, plug into a USB port. There's no indicator on the speakers to show the percentage of battery life left. However, we'd say that the battery life of this tiny but powerful speaker is pretty long. JBL advertises around eight hours of play time for the battery life. The JBL Clip 2 looks sleek and compact. The tiny charging cord fits in along the edge, then folds up underneath its body.
Additionally, the JBL Clip 2 speakers come with a carabiner clip. It's a triangle shape, and you'll push in one side to clip this to a backpack strap, for example. You can also take the carabiner off if you will just be setting it on a surface.
Waterproof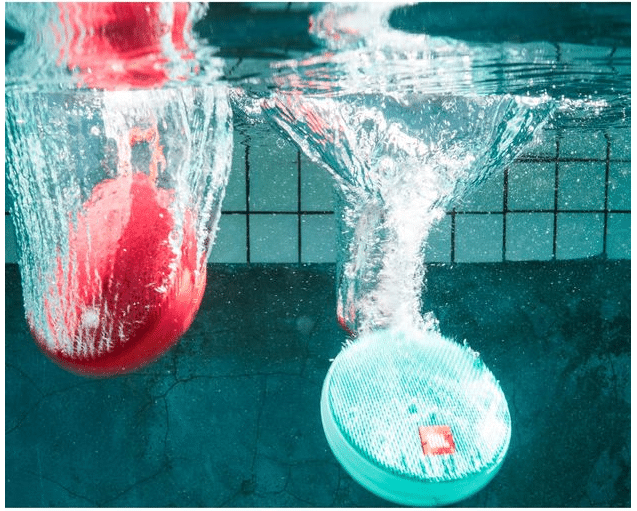 Credit: JBL
If you're using the JBL Clip 2 along the pool, you won't have to worry! Or, if a rainstorm starts up while you're camping, you won't have to relocate the speakers. Keep the party going! The JBL Clip 2 speakers have a waterproof rating of IPX7. It's not the highest-rated waterproofing, but you can rest assured that you're more protected than simply "dust resistant" or "water resistant."
What Other Travelers Are Saying About the JBL Clip 2
The JBL Clip 2 is a favorite among travelers. Its tiny size means that you can pack it with you without even worrying about the weight or space. Plus, the compact size means that many don't expect great sound, but often those people end up being pleasantly surprised! Some customers note that the JBL Clip 2 might be difficult to get to pair with your phone's bluetooth. A JBL Clip 2 manual is more like a short instructional guide that comes with the device. The pair button should work to pair with your bluetooth, but some have trouble and need to either hold the button for longer, or hit it briefly. Other customers have noted that the price is too high for these speakers, since their sound quality isn't anything worth spending such a price on.
On the other hand, some appreciate the fact that these speakers give you options for connecting to the music source; you can use bluetooth or plug directly into your phone or other device with the audio cable. Additionally, customers enjoy the ability to connect two Clip 2 speakers together, which amplifies the sound. You can connect two speakers through bluetooth. Customers say that the waterproof feature is one of the selling points for them; some other travelers have even submerged it in a pool and discovered that it still works well. In conclusion, others find this little speaker to be packed with goodness.
As long as your expectation for great bass isn't unrealistically high, the JBL Clip 2 will serve your needs well. Customers have clipped this on their belt loops, snowboarding gear, backpacks, folding chairs, shower curtain rods, for example, and enjoyed the chance to listen to music in a variety of atmospheres.
Alternative Bluetooth Speakers
Bose Soundlink Color Bluetooth Speaker II
Here's another great, compact bluetooth speaker. While it's a bit larger and a bit more expensive than the JBL Clip 2, this Bose bluetooth speaker is another fantastic option. It's totally waterproof, and perfect to bring poolside. Pair it easily with your phone, or other device. You can charge it conveniently with a USB and you'll have six to eight hours of play time with your music. The square shape (approximately 5 inches by 5 inches and 2 inches thick) is offered in various colors. The speakers can rest on a table top, shelf or ground, wherever you want to listen to music.
The sound from this little "music box" is pretty amazing. Pair it with your phone's bluetooth and you'll instantly have some great sound that can fill the party room, or be heard by the pool. The Bose Soundlink Color Bluetooth Speaker II weighs 1.2 pounds. The extra size and weight contributes to some better sound compared to the JBL Clip 2. However, that's precisely the trade off. If you're searching for some great sound and are willing to compromise with the not-as-compact size, then the Bose Soundlink Color Bluetooth Speaker II is for you!
Ultimate Ears Wonderboom Waterproof Bluetooth Speakers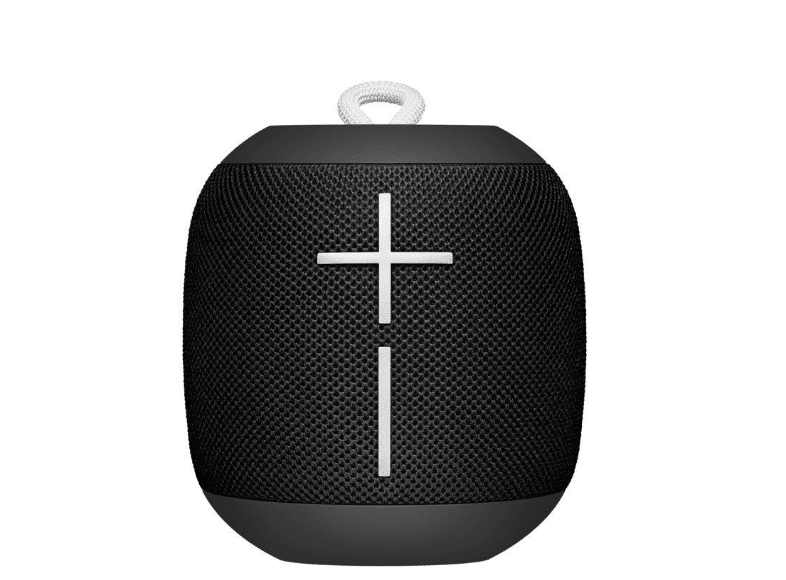 These powerful little speakers are compact with good sound quality. They're very comparable to the JBL Clip 2, just slightly more expensive with arguably better sound. The dimensions are approximately 4 inches by 4.5 inches by 5 inches. You can choose from a variety of colors. These UE Bluetooth speakers pair with your phone, but don't have the option to plug in to a device through an audio cord. Battery life lasts pretty long, at an advertised ten hours. Charge up the battery through a micro USB. You can pair these UE speakers together (double-up) so that you can add more sound to a room.
It has a waterproof rating of IPX7, and will float for a little bit before becoming submerged (but no worries-it'll still work when you rescue it from the bottom of the pool). Additionally, you can control some features right on the speakers: play, pause, turn up or down, and skip to the next song. Overall, this little speaker isn't quite as tiny as the JBL Clip 2, but it's still compact and offers good sound for a bluetooth speaker.
JBL Flip 4 Bluetooth Speaker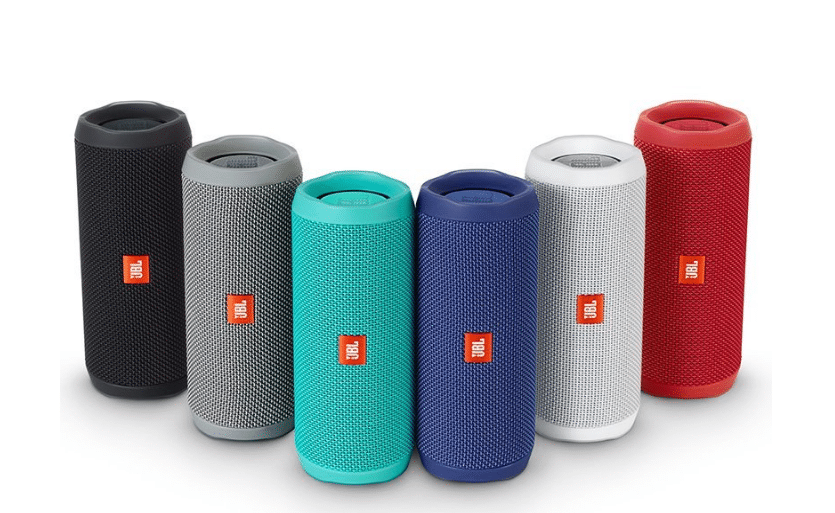 While it's not an incredibly compact bluetooth speaker like the JBL Clip 2, the Flip 4 speaker is powerful. It's waterproof and cylindrical in shape. You can link many other JBL speakers to this (you're not limited to two like many others). The longer battery life promises around twelve hours of play time. Choose from a variety of fun colors and set this bluetooth speaker on a table top or poolside for some great background music, or dance-to sound. We also appreciate that you can easily pair two phones to it, and then take turns selecting songs. Simple buttons on the outside keep it looking sleek.
It doesn't handle bass incredibly well, but at the end of the day, it's still a small, portable speaker. It does, however, offer some good, loud sound, and you can easily bluetooth connect and travel with. Overall, for a larger size than the JBL Clip 2, the JBL Flip 4 will fill the room with quality sound transmitted from your phone.
The JBL Clip 2 is a Great Little Speaker to Take On the Go
Credit: JBL
The JBL Clip 2 Bluetooth Speaker makes it really easy to bring some almost-stereo music with you wherever you go. The carabiner clip makes it easy to hang up anywhere, but that's not the only selling point. Between the nicely wrapped audio and charging cords, and the compact design, the JLB Clip 2 speakers look cool. Sure, the sound might not compare to its larger competitors, but it does a great job for its small size. In conclusion, the JBL Clip 2 Bluetooth Speakers are most definitely worth it. You'll find that you can stash these anywhere, and even sync two together to boost the sound in a room or outdoors. Enjoy these little speakers on the go!
Related Article: 10 Best Bluetooth Speakers Money Can Buy | Review