Discover the top hammock camping tents to bring along on your wilderness journeys.
If you're a traveler who spends time outdoors, you know that finding the right gear can be challenging. Items designed to be utilized outside must have a number of capabilities and features. This remains especially important if you're planning to go on a camping trip. Since you'll be sleeping outside, items such as tents provide the necessary shelter. However, not all tents have been designed in the same manner. Some may not offer you the protective features you need and might remain flimsy or difficult to construct. Travelers hoping to find new alternatives to typical outdoors shelters should consider purchasing a hammock camping tent. These unique products allow travelers to rest comfortably, while remaining portable and simple to set up. Check out our article below to learn about the top hammock camping tents available for purchase.
Things to Consider Before You Buy
Portability
When you're searching for outdoors camping gear, the product's portability remains an essential feature. If you can't carry an item with you on your adventures, the product will become a wasted purchase. You don't want to waste money on products that fail to provide you with the functionality you need. Similarly, some camping gear might promise portability, yet feel cumbersome to carry after all. Heavy pieces of outdoors gear will weigh you down, making it hard to move. You'll eventually find yourself feeling frustrated by your heavy backpacks and travel bags. Furthermore, heavier bags may also lead to back and shoulder pain over time. After traveling all day through the woods, you may end up doubled over in extreme pain.
Accordingly, if you're looking to buy a camping shelter, the product should remain very portable. That's why travelers should consider purchasing a hammock camping tent. These items maintain extremely lightweight designs, making them feel airy inside your backpacks. At the same time, the hammock can be folded up easily and stowed away in your bags. As such, you won't need to worry about bringing extra backpacks to accommodate for your massive tent. Rather, you might not even remember you're carrying the hammock camping tent, as the product will feel lightweight.
Space
Many times, camping tents don't provide a lot of space for sleeping. Travelers who go backpacking often might find their tents lacking the spaciousness they desire. However, since camping tents tend to maintain structures designed for portability, this can lead to sacrifices in space. In order to have portability, you may have to forgo extra room inside tents. Most camping tents provide a wide range of space for travelers to choose from. Some might remain rather small, while others offer tons of extra room. This means travelers should consider how much space they want in their hammock camping tent before purchasing one. In this manner, you'll know exactly what you're getting when you purchase the tent. Instead of finding yourself feeling uncomfortable as you sleep, you'll have plenty of room to stretch out.
With hammock camping tents, you may also find yourself having a different type of sleep. For example, the hammock design means you'll be cradled when you sleep at night. Rather than simply sleeping on the ground in a sleeping bag, you can lay comfortably during your camping trip. Additionally, be sure to think about how many people will sleep in one hammock. A lot of hammocks have been designed for single use, though others contain room for more than one person.
Comfort
Not every camping tent has been crafted with the same quality and care. Certain hammock camping tents might feel extremely comfortable, providing you with a cushiony place to sleep. These kinds of products remain ideal for when you decide to sleep outdoors. You can feel cradled and cozy as your rest if you find a top-notch camping tent. Conversely, some camping tents might remain extremely uncomfortable to spend more than an hour inside. Travelers may find themselves worried about body pain as they try to rest in cramped conditions.
If you're worried about getting rest while outdoors, you'll want to consider comfort when purchasing a hammock camping tent. Features like stretchy fabric and warmth can ensure you have a great rest. For instance, nylon fabric remains sturdy as well as comfortable. The fabric will provide the stretch you need for sleeping well in addition to a soft feel. On the other hand, hammocks constructed with nylon may feel a bit itchier and less comfortable. Since you may not be able to try the hammock before purchasing, knowing the fabric can help you predict comfortability. In this way, you won't end up having to sleep on a rough hammock while trying to enjoy the outdoors.
Weatherproofing Features
Spending time outdoors means planning for a variety of factors. As the weather remains unpredictable, you'll have to account for any kind of climate changes. This can be especially important if you're going to be sleeping for many days outside. If you don't have the proper shelter to protect you, you could end up getting sick or hurt. Accordingly, finding the right hammock camping tent involves searching for those with weatherproofing features. Insulating features will ensure you can stay warm, even in wintry conditions. These types of hammock features should be considered if you plan to be outside in cold climates.
Alternatively, hammocks that provide cooling aspects might be ideal if you will be outdoors in the summer. Fabrics that offer insulation may actually cause you to sweat at night. As such, cooler fabrics and ventilation features might remain ideal in these instances. Other hammock camping tents come equipped with things like rainflys, which prevent you from getting wet on rainy days. With these hammock coverings, you'll be able to remain dry and cozy despite the rain. Additionally, those spending time in muggier climates might appreciate a bug net to drape over their hammock. These kinds of coverings will allow you to sleep without being attacked by mosquitoes and other creatures while you sleep.
Here is our list of the ten best hammock camping tents for sleeping outdoors.
1. Hennessy Hammock – Hyperlite Zip – Ultralight Camping and Survival Shelter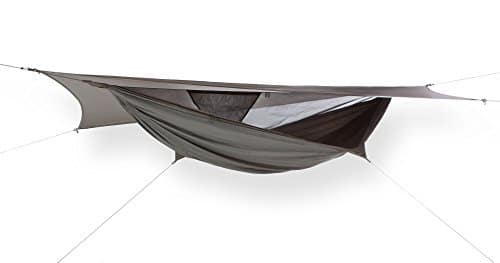 Travelers hoping to purchase a top-notch hammock camping tent should consider the Hennessy Survival Shelter. This product remains ideal for all kinds of outdoors travel, but backpackers may especially appreciate the tent. Since the Hennessy Hammock maintains an extremely portable design, you can carry it inside all your backpacks or bags. The shelter won't take up much room, as it has been constructed with extremely lightweight fabric. As such, you could simply fold up the tent and place the product inside your coat pocket. Beyond the Hennessy Hammock's portability, the tent also provides excellent levels of comfort while you rest. Thanks to an asymmetrical design, you'll can stretch out your entire body while sleeping in this hammock. A structural ridgeline even ensures travelers will have an amazing rest each night they set up the tent. Rather than feeling uncomfortable in a normal tent, why not buy this product and have an amazing sleep outdoors?
2. Everest Double Camping Hammock with Mosquito Net
With the Everest Double Camping Hammock, travelers will have a super spacious place to sleep outdoors. As this hammock has been designed to contain two people, you can have lots of room as you rest. If you decide not to sleep as a pair, you'll have the ability to stretch out completely while sleeping alone. Additionally, the net that comes with this hammock ensures you can avoid getting eaten alive as you sleep. Bugs won't get to enter your personal space if you purchase this hammock for camping adventures. The simple construction of this hammock also makes it fairly easy to set up. This means you won't waste time struggling over complicated hammock-building instructions. Once you've finished hanging this hammock in a tree, you'll get to continue on your adventures or take nap.
3. Sunyear Single & Double Camping Hammock with Mosquito/Bug Net
The Sunyear Single & Double Camping Hammock remains an ideal camping shelter for those who want portable travel gear. If you're interested in hammock camping tents with lightweight structures, you may especially enjoy this product. The Sunyear Camping Hammock has been crafted using nylon fabric, meaning it will feel airy in your bags. Though nylon can be itchy, this kind of nylon remains especially soft and cozy for sleeping. If you've never built a tent before, you won't have trouble constructing this product. This tent has been constructed with a simple design, so anyone can find it easy to build it. You'll have the opportunity to simply set up the tent and go about your travels if you choose this product. Similarly, the Sunyear Hammock comes with a mosquito net, so you don't have to deal with bugs on muggy days.
4. ETROL Upgraded 2 in 1 Large Camping Hammock with Mosquito Net
If you want an amazing hammock camping tent, the ETROL Upgraded Large Camping Hammock should be a top contender. This camping product maintains an extremely lightweight construction, allowing you to carry it on countless adventures. Instead of feeling back pain after hefting around heavy tents, this hammock will feel light and airy. You won't have to rest due to heavy loads and uncomfortable weight on your body. The antibacterial, nylon fabric used to construct this tent means you won't have to deal with dirty surfaces while sleeping. When you lay down to rest, the hammock will cradle you in a comfortable manner. As such, you can feel extremely comforted by this tent's design. When you're attaching the hammock to a tree, you'll also find the straps easy to maneuver. The product won't fall down either as soon as you climb inside.
5. WintMing Patent Camping Hammock with Mosquito Net and Rainfly Cover
When you're thinking of buying a hammock camping tent, you should always consider the product's weatherproofing capabilities. A product like the WintMing Patent Camping Hammock provides the ideal features you require when spending time outdoors. As the hammock includes a mosquito net, you won't need to deal with bugs as you rest. At the same time, a rainfly cover offers protection from the rain and snow. This means you can remain dry and toasty, despite the pouring rain outside. Tree straps with ropes also ensure the hammock won't fall off a tree as you sleep. You don't want to deal with falling onto the ground when you're trying to relax. Similarly, the WintMing Patent Camping Hammock contains a unique swinging feature that remains ideal for babies. Your children can feel cradled to sleep as they rest within this camping hammock.
6. Lawson Hammock Blue Ridge Camping Hammock and Tent
Many travelers know the importance of finding a comfortable shelter for sleeping outdoors. Frequently, camping tents and sleeping bags fail to provide the ideal comfort you crave. These kinds of products don't feel cozy for sleeping due to uncomfortable fabrics and rough materials. As such, hammocks like the Lawson Hammock Camping Tent should be considered. This product maintains an extremely cozy design, letting travelers have amazing nights of rest outdoors. If you're tired of feeling achy after waking up inside a sleeping bag, consider buying this tent. The item has a design that eliminates the cocooning effect often created by many hammocks. This means you'll be able to sleep on a flat surface, rather than feeling curled up. On a similar note, the hammock also has a unique spreader bar system that distributes weigh evenly between poles.
7. Ridge Outdoor Gear Hammock with Mosquito Net Tree Straps
With the Ridge Outdoor Gear Hammock, travelers will have the chance to remain at ease when they sleep outside. This hammock camping tent includes various features that make it feel super comfortable. For instance, the specially crafted nylon fabric has been enhanced for an even softer sensation. As such, you won't have to deal with a rough, itchy surface when you're sleeping. This remains especially important if you're sleeping in warmer conditions and wearing little clothing. Similarly, this kind of nylon will be able to withstand tons of weight and long periods of usage. Even if you camp every weekend, this hammock will remain as sturdy as the first day you used it. Additionally, the tent has been designed for a super easy setup. Travelers without much experience building hammocks or tents can easily construct this camping shelter.
8. OUTFANDIA Camping Hammock with Mosquito Net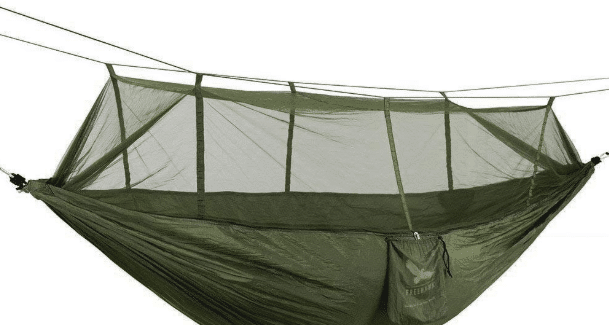 The Outfandia Camping Hammock won't disappoint travelers embarking on exciting outdoors adventures. As a top-notch hammock camping tent, the Outfandia product offers a variety of useful features for travelers. For example, the hammock has been constructed with lightweight and strong materials. This means you can carry the tent everywhere you go, and the device will remain durable. At the same time, the Outfandia Camping Hammock offers tons of support as you sleep. Immense support offers pure comfort, as the tent takes strain off pressure points. You can let your body completely relax as you lay within this hammock. The material also remains super easy to clean, so you can wipe off dirt in a cinch. A hook holder and ropes with lots of strength ensure you can hang up the hammock tent easily. A mosquito net also ensures you can stay bug-free while sleeping in warm, humid conditions.
9. Tentsile Flight+ 2-Person Ultralight Suspended Camping Tree Tent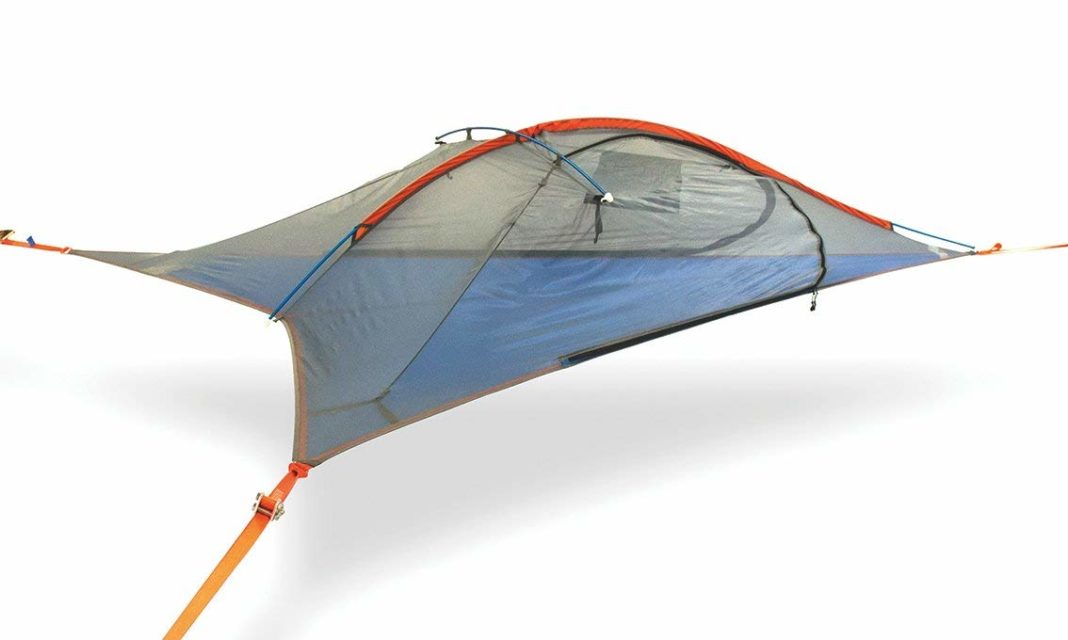 When you buy the Tentsile Flight Ultralight Camping Tree Tent, you'll have the chance to sleep in a comfortable setting. The treehouse style camping tent allows travelers to build their dream tent in any environment. Powerful webbing straps enable travelers to hang the camping tree tent over a variety of landscapes. A triangular layout provides the ideal shape for travelers to stretch their legs when they sleep. This tent remains ideal for those traveling in pairs, as the product has been crafted to fit two people. As such, those who enjoy a romantic camping adventure as a couple will appreciate this tent. Mesh netting on the ceiling of the tent protects travelers from insects and provides views of the sky. Accordingly, you can stare up at the stars while you rest in this hammock camping tent.
10. Flying Tent: Unique All-in-ONE Hammock Tent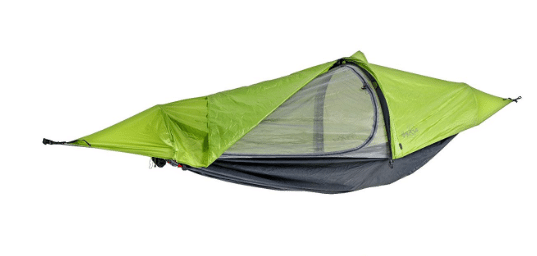 The Flying Tent Unique All-in-One Hammock Tent contains various useful features for travelers. This hammock tent may be easily set up and placed between two trees. You could have the tent up in just a few minutes before having a great night's sleep outside. The pop-up design ensures those with little experience building tents may have no problem building this product. A high-quality backpack comes included with this tent, ensuring you can easily stow it away when finished resting. Since the tent has been made with waterproof materials, you won't need to worry about getting wet on rainy days. Similarly, the tent may be converted into a poncho to keep you dry as you walk around.
Never explore the outdoors again without your ideal hammock camping tent.
Those interested in embarking on an outdoors adventure should consider trying out a hammock camping tent. These unique camping shelters enable travelers to sleep comfortably when they travel outside. At the same time, the hammocks remain extremely portable, allowing you to carry them wherever you go. If you want to have an amazing sleep outside, consider purchasing a hammock camping tent. You'll wonder how you ever explored the outdoors without these tents after using them on your wilderness expeditions.
Related Article: Sleeping in a Tent: 6 Ways to Make the Most of Your Experience