For backpackers and those who enjoy in the comforts of elevated camping, the lightweight and compact Tentsile Flite+ Tree Tent is the perfect addition to your adventure gear.
If you enjoy overnight adventures in the backcountry, or tent and hammock camping in general, there are few pieces of equipment more recommended than the Tentsile Flite+ Tree Tent. The light and portable hybrid shelter is part hammock and part tent. It is super-lightweight, weighing less than two pounds, and sets up in no time. Sounds great, right? We thought so to, which is why we decided to find out if its really the excellent piece of equipment that it seems to be.
A Little About Tentsile
Tentsile creates some of the most diverse tents in the world. These elevated shelters are the best of a hammock combined with the versatility of a raised tent. The unique tents are made to be suspended above the ground to avoid uneven terrain as well as bugs and moisture. However, if the earth is flat and dry, Tentsile tents can also be set up like a traditional tent. Camping with a Tentsile tent will give you a camping experience like never before.
The Tentsile Flite+ Tree Tent is one of the unique alternatives to a traditional three season backpacking tents currently available on the market. It is not quite a tent, but it is far from being a simple hammock. The Tentsile Flite+ Tree Tent is 100%-waterproof and comes with a rainfly as well, so you never have to worry about getting rained on in the middle of the night. This unique shelter offers enough space to accommodate for two adult individuals but can be condensed into a more compact shelter for one as well. The simplistic yet impressive design of the shelter's lateral wing doubles as protection to your gear stored on the ground below. When you're ready to move on, the Tentsile Flite+ Tree Tent is quick to break down and store in its convenient stuff sack.
The Tentsile Flite+ Tree Tent Features & Benefits
Now that you have a better idea of what the Flite+ is, we're going to look at what makes it so special compared to other hammocks, tents, and elevated shelters. Here are some of the most significant features and benefits that we found while reviewing the Tentsile Flite+ Tree Tent.
Lightweight, Compact, and Perfect for Backpackers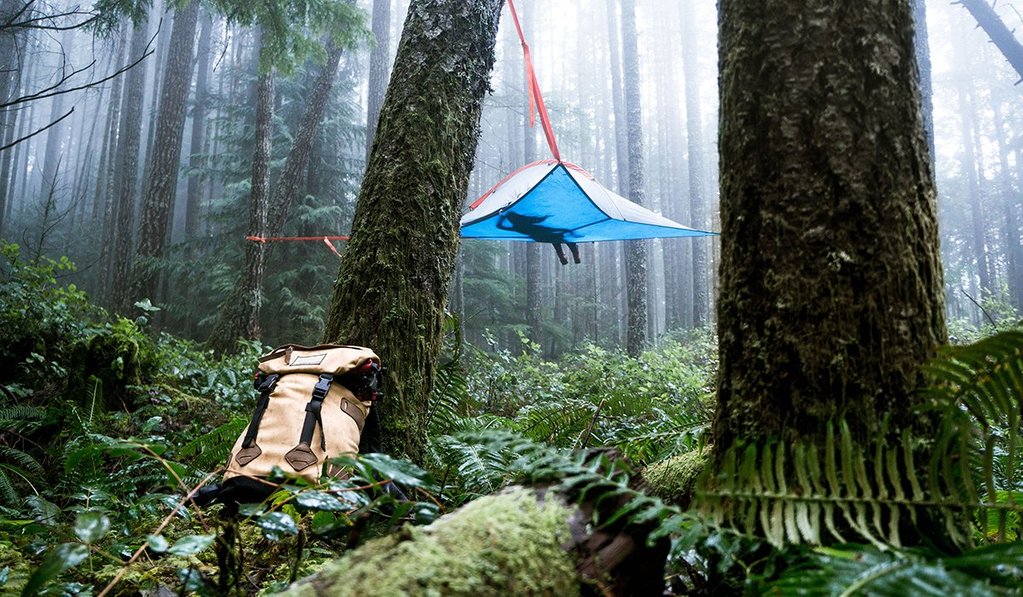 Credit: Tentsile
The Tentsile Flite+ Tree Tent is first and foremost for backpackers. That said, one of its main benefits is that It is both compact and lightweight. You barely even notice it among your gear while hiking. All you need to do is select three trees in a basic triangle formation, and you're ready to set up camp. The shelter is quick and easy to set up in comparison to how you would regularly hang a hammock. In less than five minutes you will be ready to sleep soundly, raised, and safe from danger. Also, the breakdown is painless and the rainfly, ratchet, webbing, poles, and shelter fits into a stuffable carry sack.
Diverse Suspension and Treehouse-like Structure
Credit: Tentsile
The versatile suspension of the Tentsile Flite+ Tree Tent is another of the main features that make it stand out among other cool hammocks and tents. Unlike most hammocks, and hanging canvases, the Tentsile Flite+ Tree Tent utilizes three webbed support lines instead of the conventional two lines. The shelter has a unique waterproof treehouse-like structure with a rainfly and lateral wing which turn the whole tent into a barrier between your gear back on the ground and the wind and rain. For your viewing pleasure, the tent's see-through mesh netting allows you an undisturbed one-of-a-kind look at the starry night sky.
Intelligent Spacious Design
Credit: Tentsile
As far as the hammock vs. tent debate, whether you prefer tents or hammocks, isn't relevant. The Tentsile Flite+ Tree Tent is designed in such a way to impress even the most scrutinizing outdoor fanatic. A 40 square foot tent bottom, or hammock (however you want to look at it), with a 485-pound maximum weight limit in place with an internal floor strap and three support lines. The shelter has two entries and claims to provide enough room for two campers. However, many owners say that they've fit three campers comfortably. A cross brace on the inside also allows for more head space as well.
Works Well as a Stackable Shelter
Credit: Amazon
The Tentsile Flite+ Tree Tent is one of the most versatile backpacking tents, or hammocks, currently available on the market. This is primarily due to its ability to work so well in such a diverse range of circumstances. Not only does it make a great place to relax in general, but it also makes the perfect shelter for those into outdoor adventures. It also works excellently as a stackable hammock shelter. When using the Tentsile Flite+ Tree Tent as a stackable, an additional elevated sleeping and storage area is created. The stackable shelter also doubles as a shelter from the elements to campers sleeping on the group below.
What Travelers Are Saying About the Tentsile Flite+ Tree Tent
Now that we've discussed the Tentsile Flite+ Tree Tent in a bit more detail, including its main features and benefits, let's have a look at the most significant pros and cons of the shelter. Then we'll move on to comparing it to other popular tree tents currently available on the market.
The most significant advantages of the Flite+ are its lightweight and portable design and its ability to keep you up and off the ground. Furthermore, it doesn't require a sleeping pad like most hammocks and elevated tents. The major drawbacks, on the other hand, include less warmth than a traditional tent as well as the possibility of not finding three trees where you want to camp.
The Tentsile Flite+ Tree Tent is available on Amazon where it has a rating of 4.4 out of 5 stars based on customer reviews. Also, Trailspace Outdoor Gear Reviews rated the shelter with 4 out of 5 stars. Also, if you are not happy with the tent, Tentsile will refund you 100% of your money.
Alternative Tree Tents You M​​​​​ay Love
We are loving everything about this tree tent from Tentsile. However, we still wanted to see how the Flite+ stacked up against the competition. So, we put it up against three competitor products. Here's what we found!
Eagles Nest Outfitters – JungleNest Hammock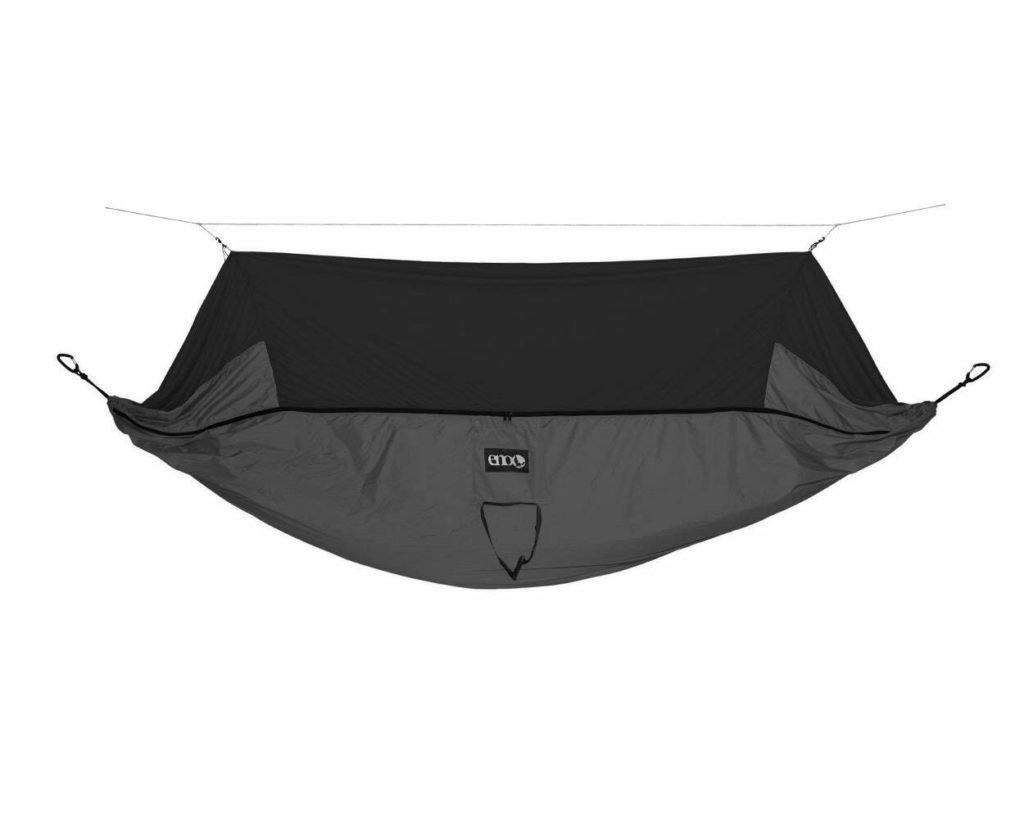 The first alternative tree tent that we looked at is the Eagles Nest Outfitters JungleNest Hammock. Similarly designed to the Tentsile Flite+ Tree Tent, the JungleNest combines a hammock with a "tent" of bug-net-mesh and a full-length zipper. The shelter consists of 210D nylon taffeta with heavy-duty stitching. Maximum weight for the JungleNest is 400 pounds, nearly 100 pounds less than the Flite+. The support lines are nautical grade cordage and connect to the JungleNest via stainless steel snap links and aluminum carabiners. Furthermore, the Eagles Nest Outfitters JungleNest weighs less than two pounds which makes it more than ideal for backpacking. The shelters dimensions are 9.4 inches in length by 4.9 inches in width.
Lost Valley Camping Hammock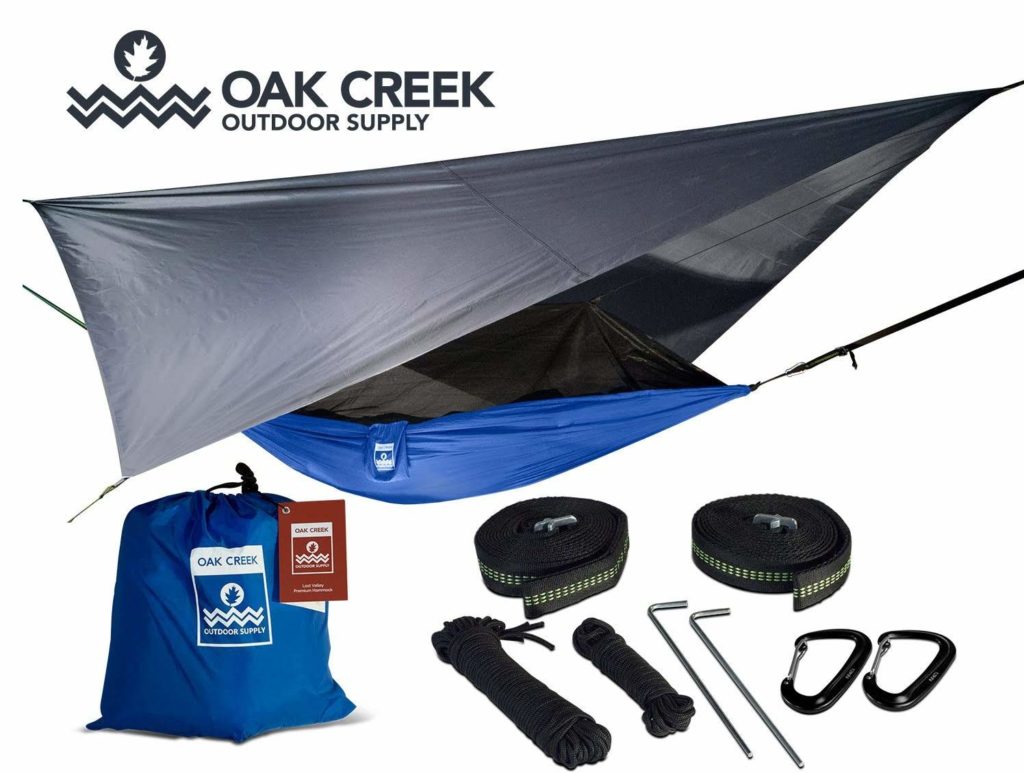 The next Tree Tent that we compared to the Tentsile Flite+ Tree Tent is the Lost Valley Camping Hammock from Oak Creek Outdoor Supply. The Lost Valley Camping Hammock comes with two aluminum carabiners, two stakes, two support lines, a bug net, rainfly, and a single hammock. The hammock's material consists of rip-resistant parachute nylon with reinforced stitching. Maximum weight for the tree tent is 350 pounds, which is over 125 pounds difference than the Flite+. On the inside of the camping hammock, there is an accessory pouch as well. The Lost Valley Camping Hammock is lightweight, portable and takes less than five minutes to set up. It comes with a stuff sack and weighs less than four pounds, double the weight of the Flite+.
Outfandia Camping Hammock with Mosquito Net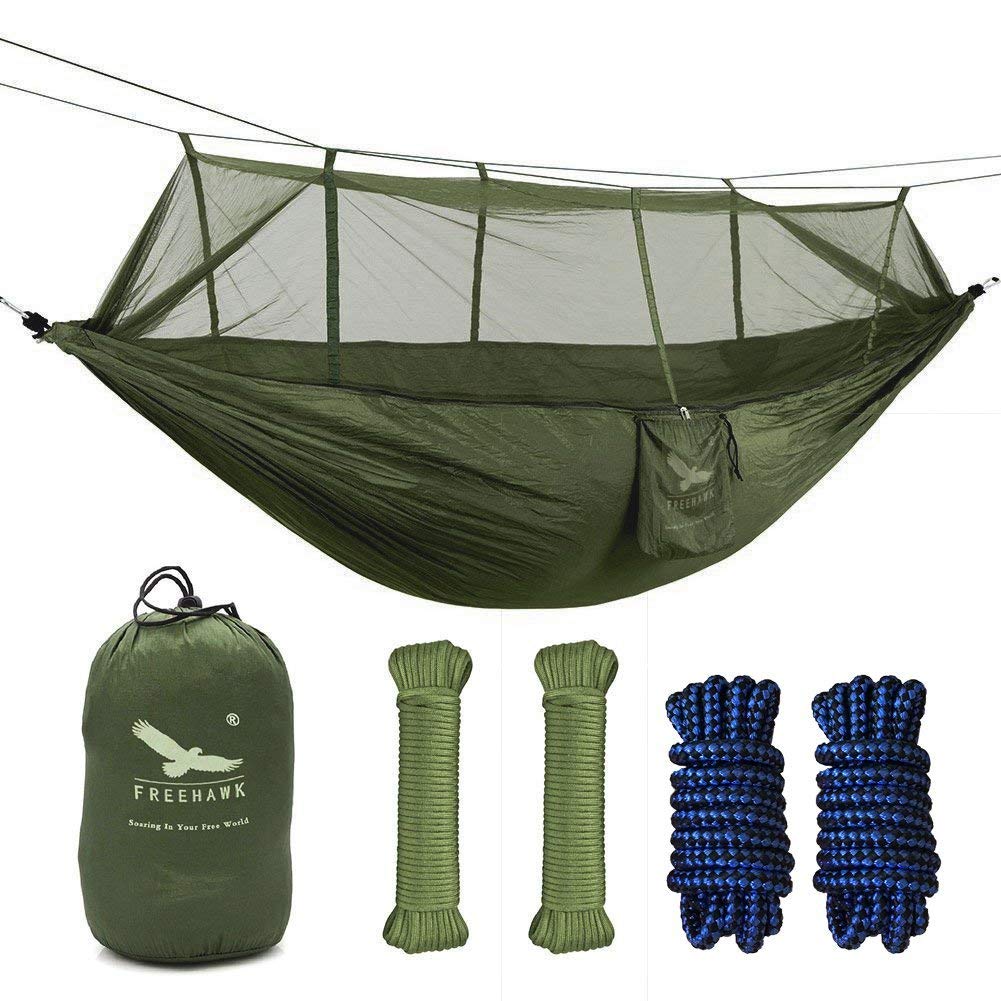 The last tree tent we looked at in comparison to the Flite+ is the Outfandia Camping Hammock with Mosquito Net. If you are into backpacking and camping, the Outfandia is an ideal addition to your outdoor gear. This tree tent consists of lightweight 210T nylon with an impressive maximum weight of 660 pounds. The shelter is completely breathable, comes with a durable rainfly, and super-fine no-see-um bug netting. Set-up only takes around five minutes total, and when you're ready to break camp, it breaks down just as fast. Also, if for whatever you are not 100% happy with your purchase, Outfandia will refund you every penny.
The Tentsile is not precisely a hammock, but not exactly a tent either. No matter what you classify it, however, it makes an excellent shelter for two adventures on the go.
Whether you're looking for the coolest hammock on the market as an addition to your backyard, or a new backpacking tent, the Tentsile Flite+ Tree Tent is worth looking into. If you're planning on purchasing a hammock which requires accessories, the Flite+ is a great alternative. Not only do you get a comfortable hammock, but you also get an elevated tent that is stackable as well. All in all, I would suggest the Tentsile Flite+ Tree Tent to anyone who is considering trying elevated camping or anyone looking for a cutting-edge hammock.
Have you recently purchased the Tentsile Flite+ Tree Tent? How did it hold up against your expectations? Do you agree or disagree with our review? Let us know in the comments below!
Related article: 5 Best Tree Tents and Hammocks for Your Next Outdoor Adventure